This post may contain affiliate links. Please read my disclosure policy.
This recipe for Simple Roasted Sweet Potatoes is so easy and creates a sweet and tender side dish that is perfect to pair with any meal. Make-ahead to enjoy all week!
If you are craving more simple and deliciously roasted side dish recipes, then be sure to try making some Easy Roasted Potatoes and Maple Roasted Brussels Sprouts.
Do you need a side dish that is sure to compliment any meal? Need to include cooked sweet potato in a particular recipe? Then allow me to step in today and help you with a recipe for roasted sweet potatoes that is easy, simple, and delicious.
Roasted sweet potatoes are easy to make and there are many recipes out there. I have even previously shared a recipe for Easy Roasted Potatoes. Through the years I have boiled sweet potatoes in water, cubed them before roasting in the oven, and even sauteed them in a skillet.
Then one day I decided to cut a sweet potato and place it on a parchment-lined baking sheet with no seasoning or oil to see what would happen. When I removed it from the oven it yielded a soft, sweet, and completely no-fuss perfectly roasted sweet potato. Since then, I use this method to prepare my sweet potatoes weekly to add to any meal or eat as a filling snack.
Let's get started!
Jump to:
Ingredient Notes
Instructions
Serving Options
Storage
Recipe
More Recipes You'll Love:
Ingredient Notes
You will need these few ingredients to make these roasted sweet potatoes. They are easy to locate at any local grocery store.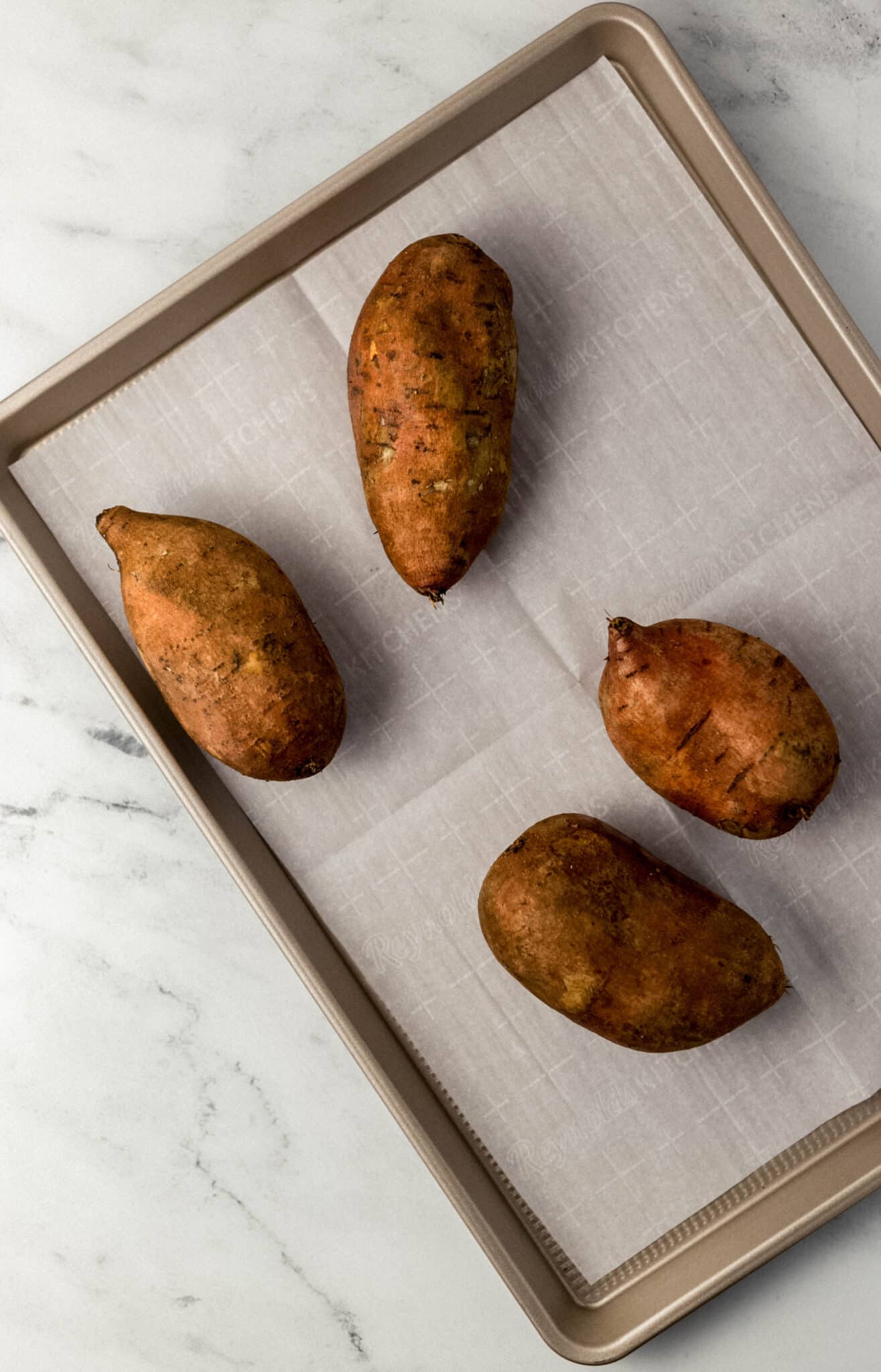 Sweet Potatoes – Use medium to large sweet potatoes.
Baking sheet – Use a large baking sheet or sheet pan. Make sure that it is large enough to space out the potatoes so they will roast while baking instead of steam.
Parchment paper – This will help so much with cleaning up and make the process easier.
See the recipe card below for exact ingredient quantities.
Instructions
Begin the recipe by preheating the oven to 400 degrees F. and line a large baking sheet with parchment paper. Prepare the sweet potatoes by cleaning the outside skin and cutting them in half or quarters. Place on the prepared baking sheet with the cut side down on the parchment paper.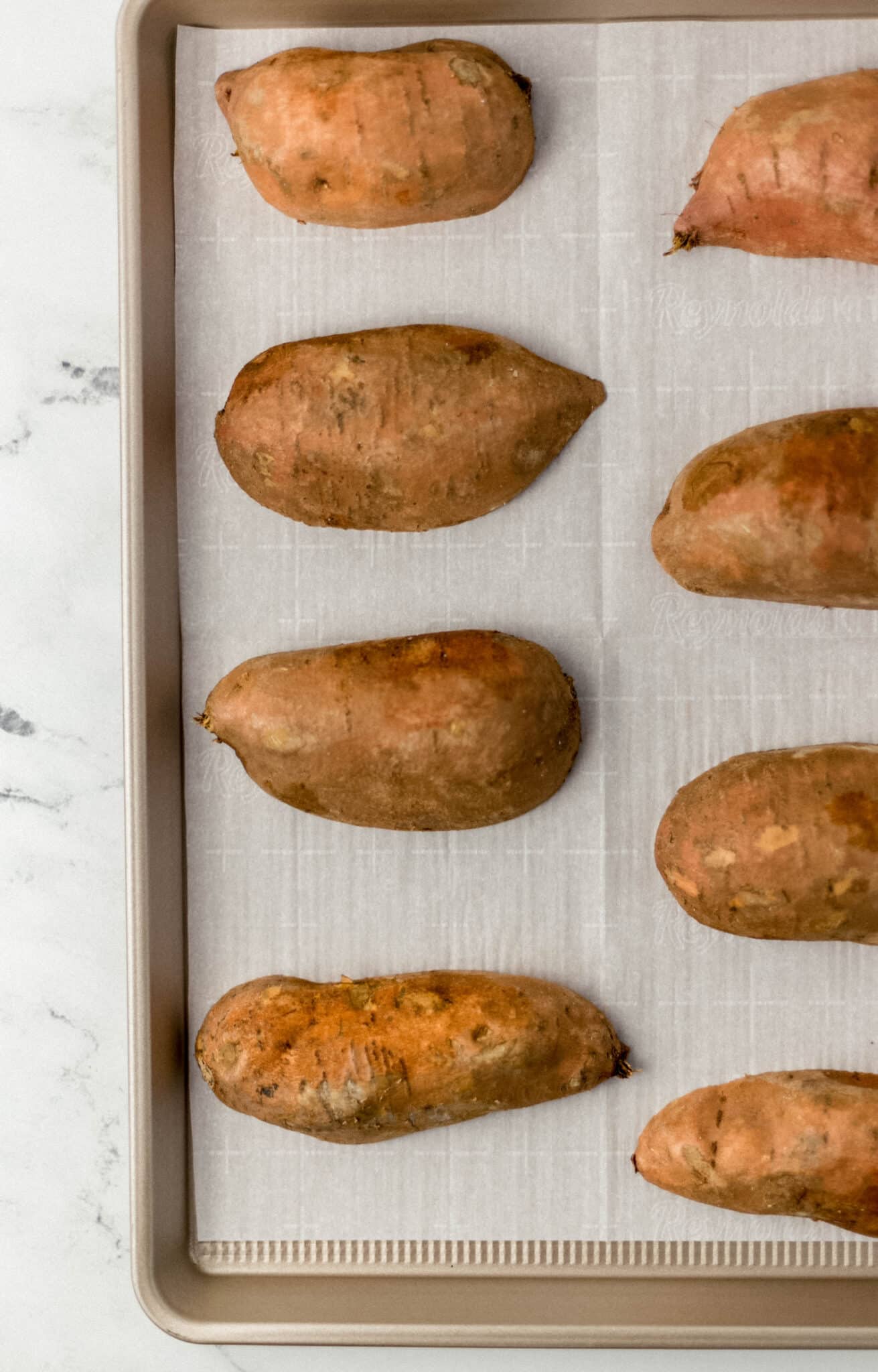 Bake until fork-tender.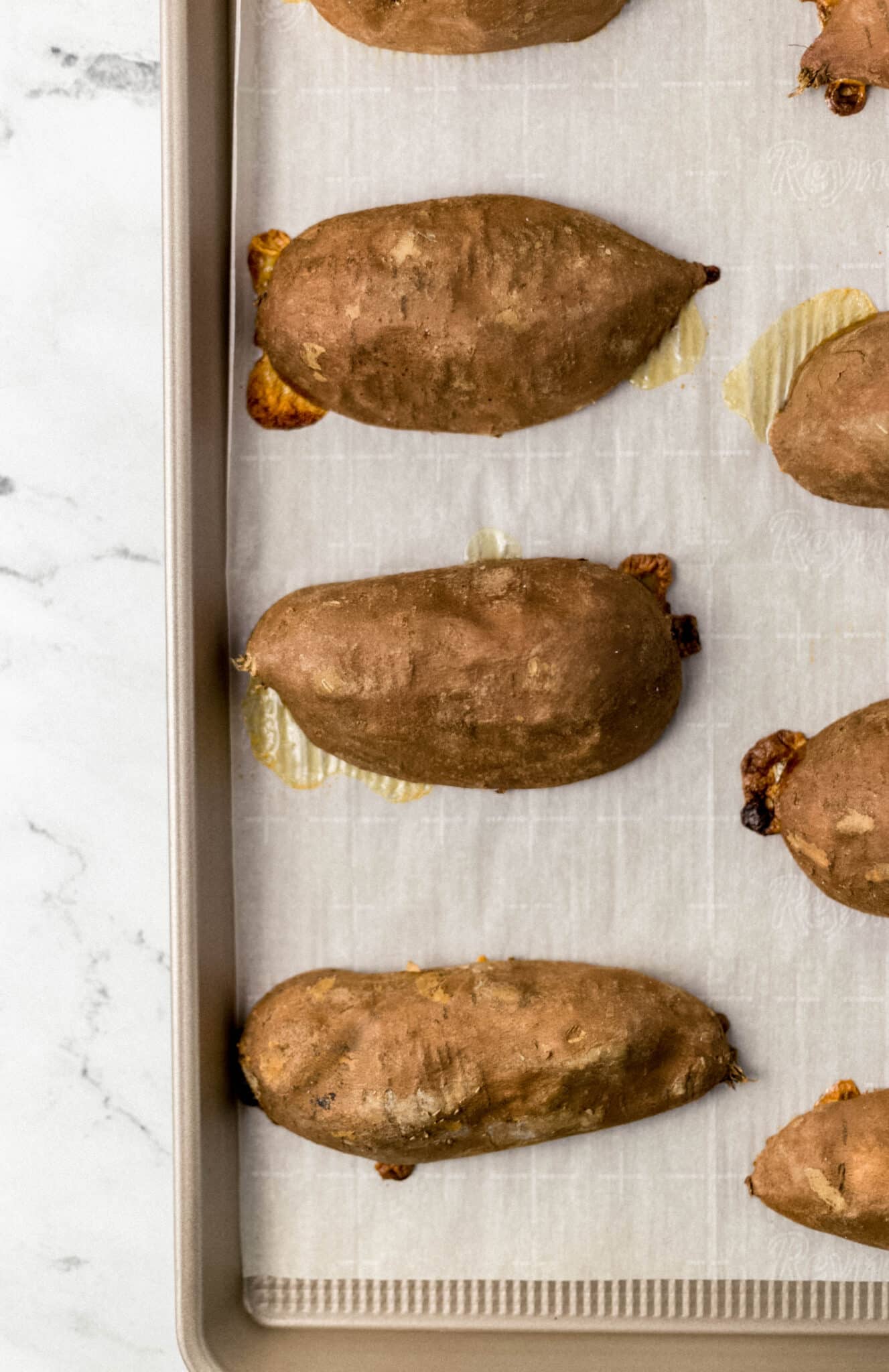 Carefully remove from the oven before serving or storing for later. Enjoy!
Serving Options
You can use roasted sweet potatoes in so many ways. Use them to compliment any meal as a side dish.
Toss them into a salad to make it a bit hardy and provide a vitamin-rich carbohydrate.
Use them to make soup.
Scoop all of the insides of the sweet potatoes and create a sweet potato mash with cinnamon and butter.
Make a healthy dog treat.
You can also use them in desserts such as Sweet Potato Pie or Sweet Potato Pound Cake.
The possibilities are truly endless. Give this recipe a try and let me know what you think in the comments below.
Storage
Store in an airtight container or plastic bag in the refrigerator for up to 4 days. Serve them warm by reheating in the microwave or cold straight from the refrigerator.
Recipe
Original post date 02/19/2019. Updated 06/13/2022.
More Recipes You'll Love:
Easy Roasted Potatoes
Sweet Potato Miso Soup
Easy Sweet Potato Pie
Chorizo and Sweet Potato Enchiladas
Have any comments, questions, or other delicious ways to use these Simple Roasted Sweet Potatoes? Please share them in the comments below!
Please see more list about How to roast sweet potatoes whole
Detail: 🔗