Easy vegan veggie peanut satay noodles! This stir fry is packed with fresh veg and creamy peanut butter sauce.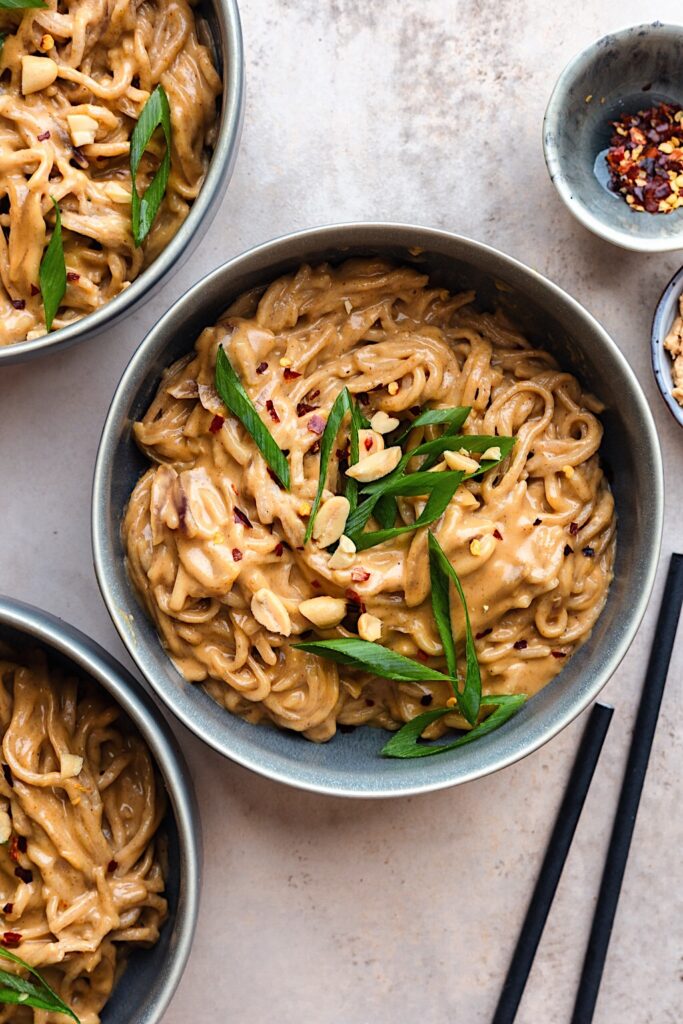 If there is one easy, quick weeknight meal I regularly make, it's noodles. And creamy peanut sauce is one of my all time favs.
Reading: simple satay vegetarian dish
It's funny, because I used to hate peanut butter (and most nuts in general) and now I don't know how I could live without them.
The peanut butter and coconut cream make for the most velvety, sweet and totally addictive satay sauce. I am almost certain you will be going in for seconds, and thirds.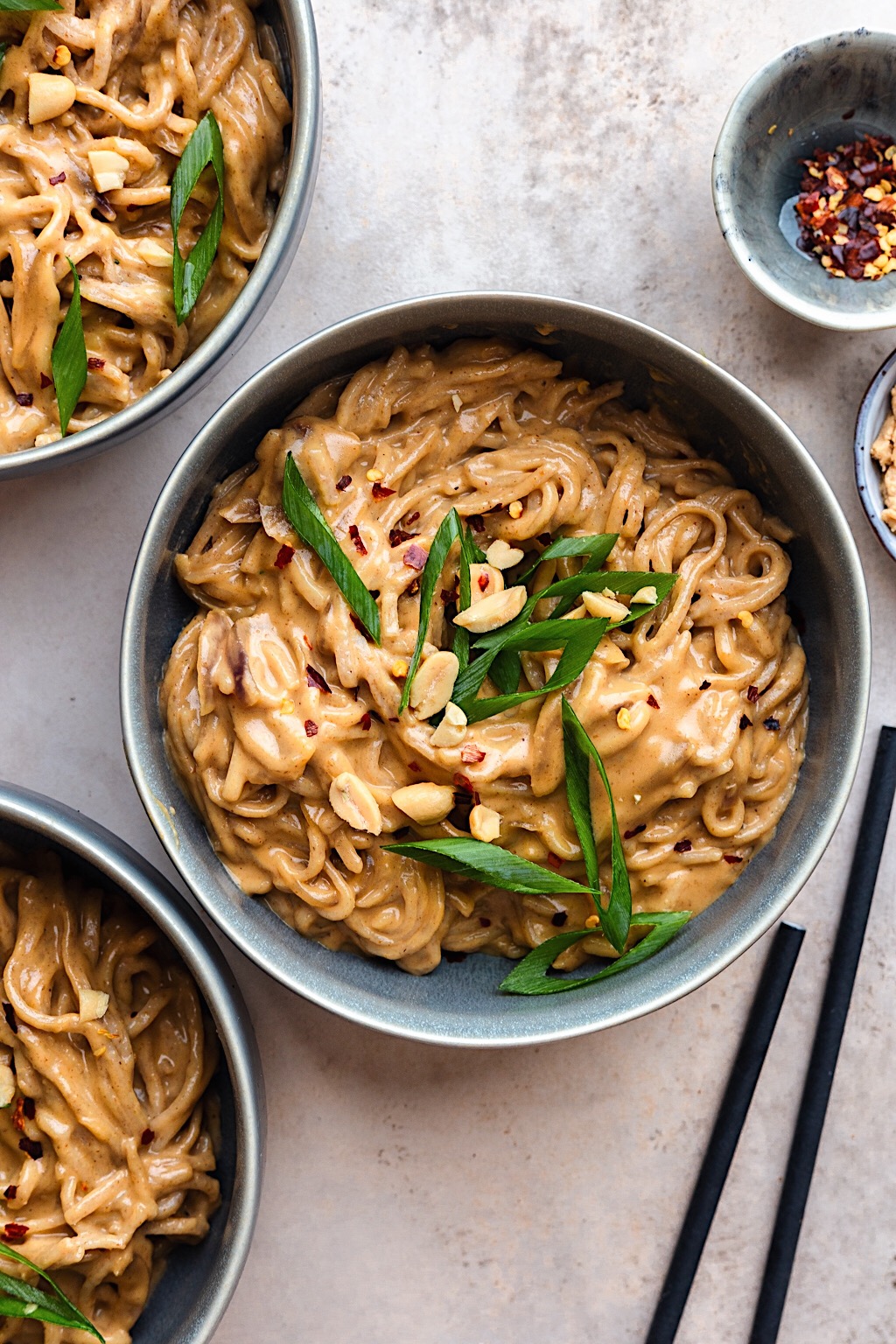 What you'll need for vegan peanut noodles:
Red onion
Light brown sugar
Peanut butter (good quality)
Coconut milk
Soy sauce
Maple syrup
Chilli flakes
Ground ginger
Vegetables of choice
Noodles
The veggies can be switched for what ever you have in the fridge/is in season, you can't really go wrong.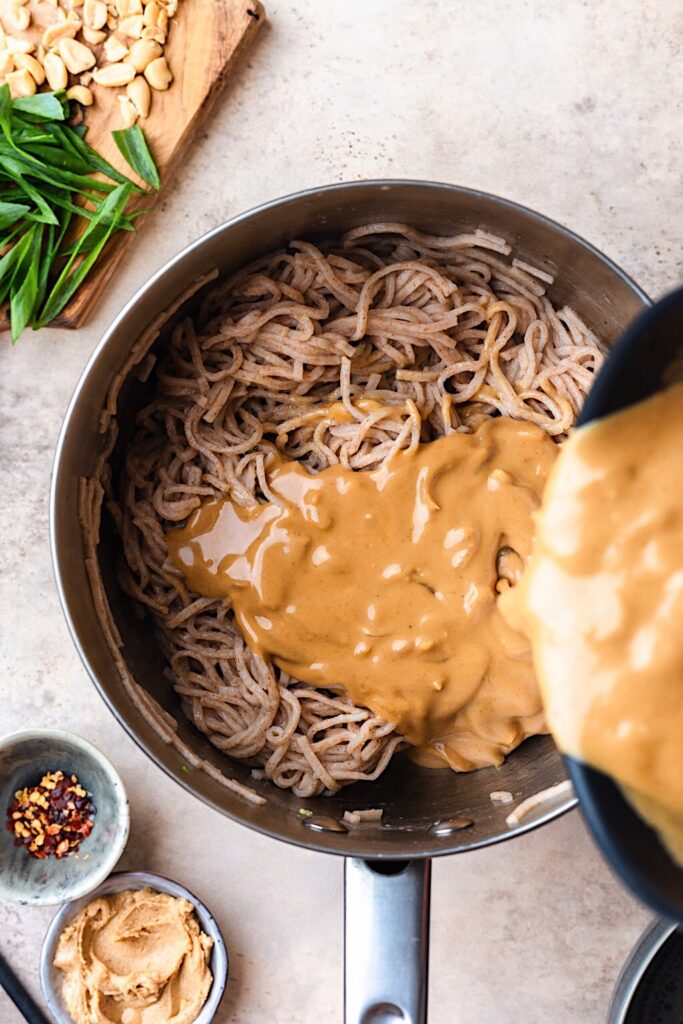 I love using broccoli and carrots as base vegetables for stir fries. But any and all would work! Or omit them and just have with the creamy peanut sauce!
Read more: Vegan Mexican Pasta Salad with Spicy Cashew Cream
The base to this sauce is caramelised red onions. They are sweet and packed with flavour.
Once the onions are ready we can add the remaining sauce ingredients – peanut butter, soy sauce, maple syrup, ginger and chilli.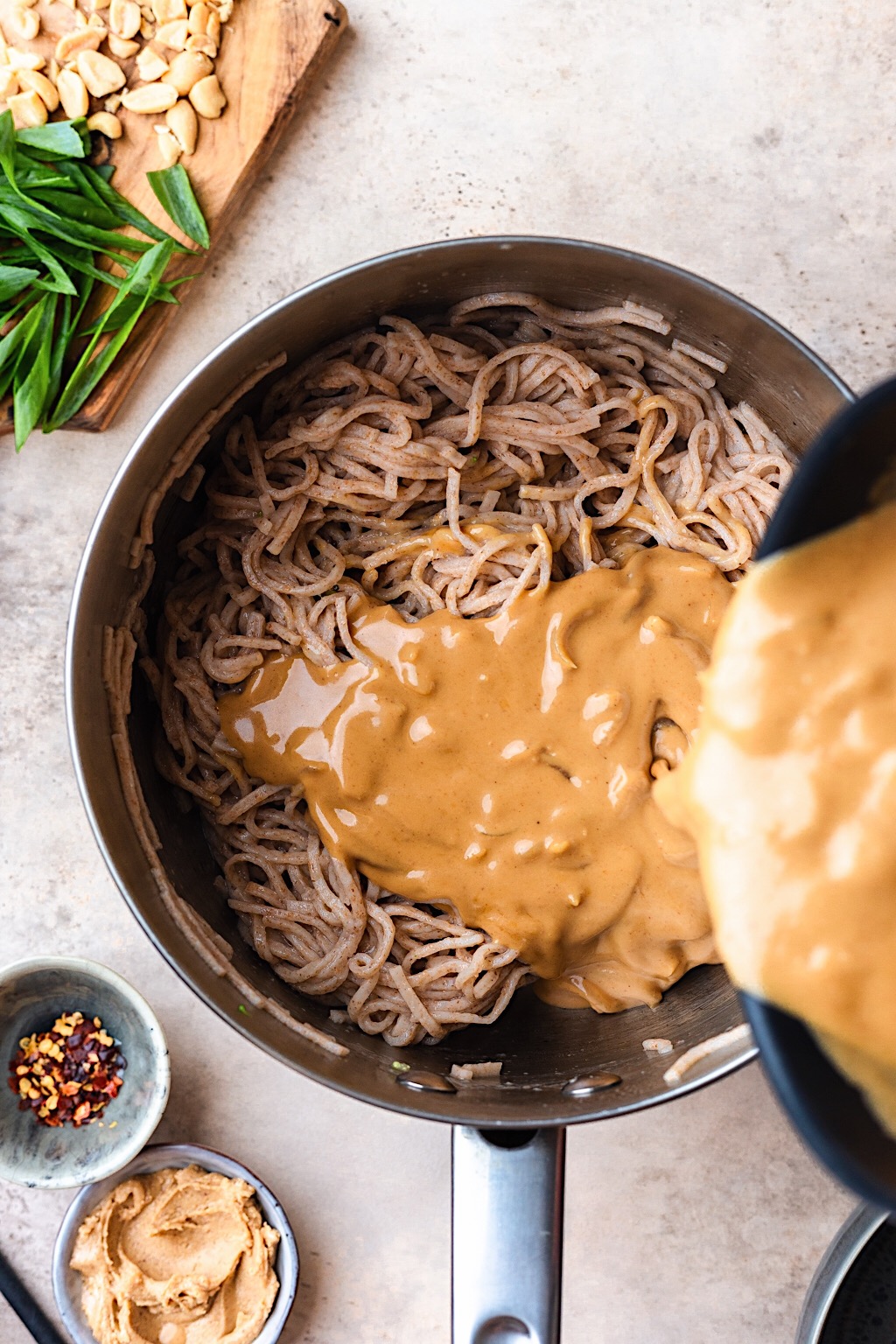 You want to use a good quality peanut butter for this. Cheap ones are packed with sweeteners and additives and will affect the flavour!
Whisk the sauce and bring to a gentle simmer whilst you stir fry the veggies and cook the noodles.
I used wholewheat noodles for these but you can use any noodles you like! Same with the veggies!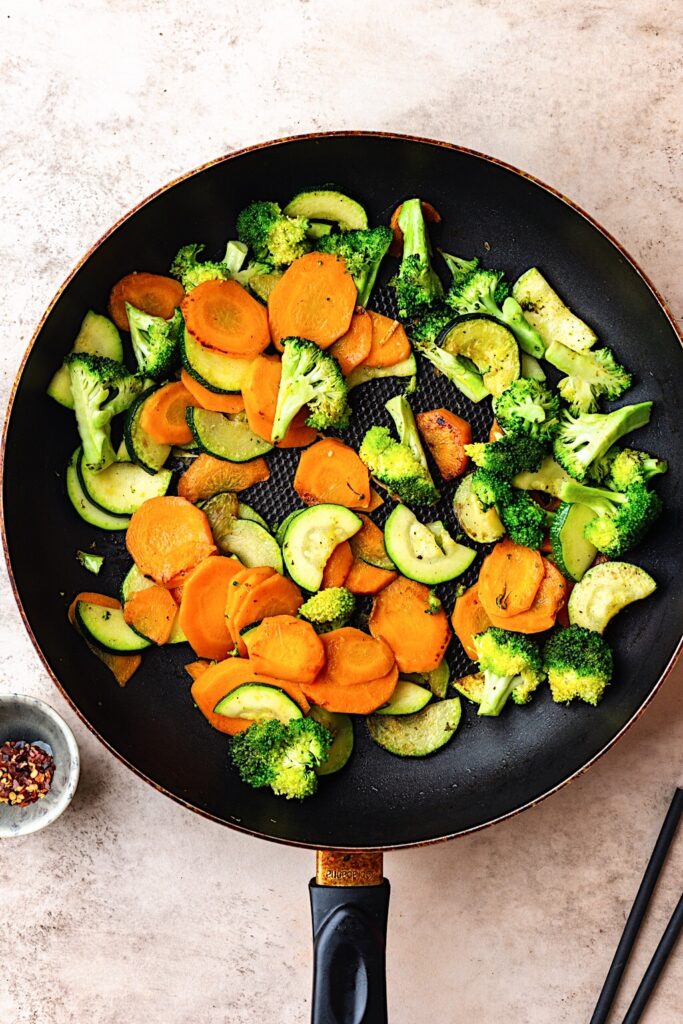 The peanut sauce will have thickened, taste and season. If you want it spicier add some extra chilli flakes. If you want it saltier add a bit more soy sauce!
Pour over cooked noodles, add the vegetables and serve! Best served straight away but leftovers will keep for a few days in the fridge.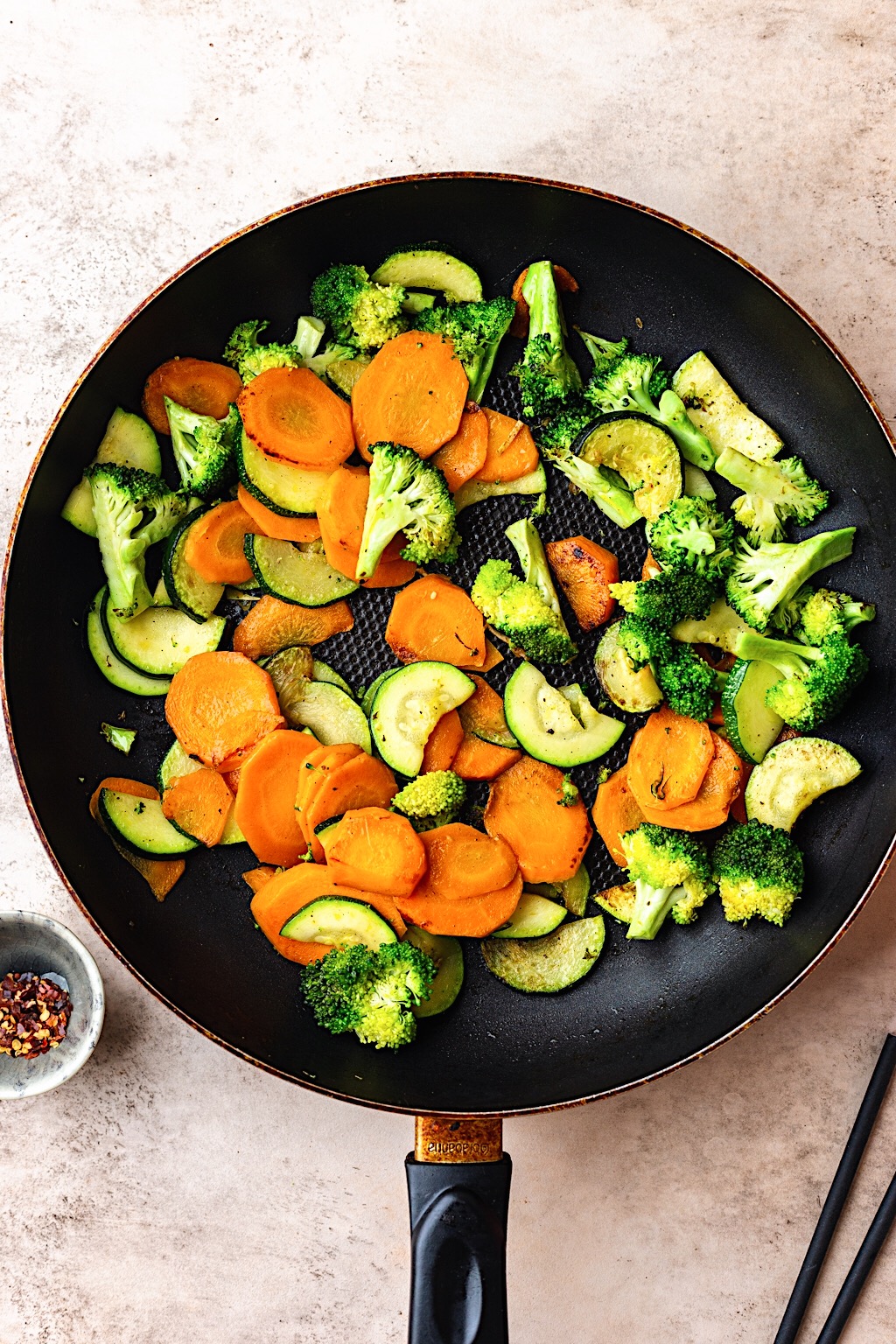 Read more: Vegan Shakshuka
For more noodle recipes you may enjoy these:
Thai drunken noodles
Spicy sweet chilli noodles
Vegetable chow mein
As always if you make these veggie satay noodles be sure to leave me a comment, rate this recipe and tag me on Instagram. I love seeing all your photos of my recipe recreations!
Don't forget to follow along on Facebook, Pinterest and Instagram – I'd love to see you all there!
NEVER MISS A RECIPE! GET MORE VEGAN RECIPES SENT STRAIGHT TO YOUR INBOX – SUBSCRIBE HERE 🙂
[the photos for this recipe were updated in July 2020, the recipe remains the same!]
Read more: what vegetarian dish goes with rice