How do you make beef stew from scratch? It's actually not as hard as you might think, especially if you're using this beef stew slow cooker recipe. With delicious and nutrient-rich ingredients like grass-fed beef, carrots, parsnips, sweet potatoes and hearty beef broth, this just may be the best beef stew recipe you've ever tasted!
Unlike stove top beef stew recipes, you don't have to worry about watching or stirring with this easy version of a classic recipe. This recipe for beef stew only takes about five minutes to put together, and the rest is just effortless cooking time.
If you're wondering, "How do you make beef stew on the stove?" You could use the same ingredients listed here, but you would have to brown the meat and the onion, combine all of the ingredients in a large pot, bring it to a boil, reduce the heat to low and then let it simmer for two hours, stirring every so often.
But if you want a quicker, easier recipe, stick with the directions I've laid out here. Get ready to create one of the tastiest beef stew recipes around!
Key Ingredient Switch-ups
Homemade beef stew recipes provide a comforting mix of flavors, textures and warmth that can't be beat, especially in the colder months of the year. Many people are looking for an old-fashioned beef stew recipe to experience that same goodness they loved eating as kids.
How do you make old-fashioned beef stew? It's really not very different from this beef stew recipe at all, yet here we are making a few significant ingredients switch-ups!
Parsnips: An old-fashioned beef stew meat recipe typically contains potatoes, but I'm using parsnips here instead because of their notable nutrition as well as their distinct earthy flavor that pairs so well with beef.
Sweet Potatoes: Typically the old white potato dominates a beef stew, but I encourage you to switch to sweet potato for their outstanding nutrient (and taste). They contain a good amount of fiber as well as vitamin A, vitamin C, manganese and several other vitamins and minerals.
Avocado oil: Unlike old-fashioned beef stew recipes, I'm also leaving out the unhealthy refined vegetable oil and using avocado oil instead. Avocado oil is a great source of healthy fats and nutrients, including vitamin E, and does well at high temperatures unlike traditional oils that become inflammatory.
Arrowroot: I'm also keeping this recipe completely gluten-free by using arrowroot starch rather than wheat flour. One of the easiest starches to digest, it also possesses anti-inflammatory properties.
How to Make This Slow Cooker Beef Stew Recipe
How do you make homemade beef stew? It's truly a 1-2-3 process with this recipe. First, place the avocado oil in a large pan on the stovetop. Or, if your slow cooker has this ability, use the saute function. Heat it to medium and add the sliced onions and beef. Brown for a few minutes and then add the sliced mushrooms to marry the flavors.
Add the contents of that entire pan into the slow cooker. Next, peel the carrots and parsnips and then chop them up. Add to the slow cooker. Scrub the sweet potatoes and then chop and add to mix.
Add the rest of the ingredients in a slow cooker (except for the fresh parsley), combine well and then set it to cook for six to eight hours. Yes, that's it! As you may have guessed, this low and long cooking time results in an incredibly flavorful stew that is perfect for lunch or dinner.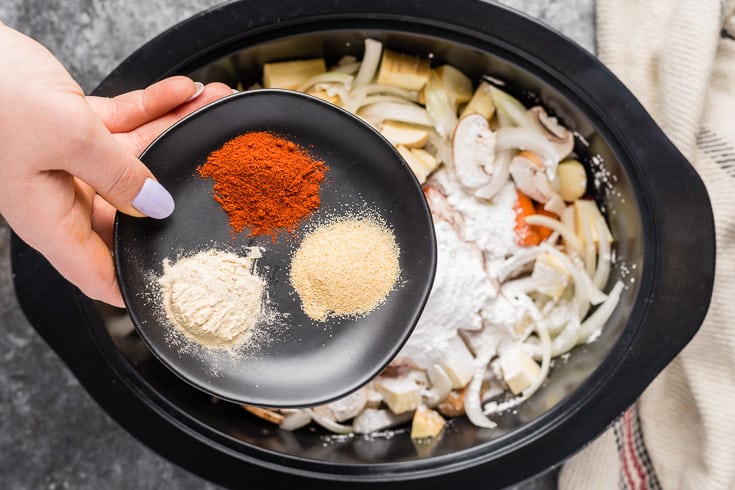 A too thin or too thick beef stew recipe misses the mark, but I think you'll find that this upgraded yet perfectly basic beef stew recipe has a consistency that is just right. If you have the time, don't forget about my beef bone broth recipe so you can make this recipe even more homemade.
Top with fresh chopped parsley and serve. I hope you enjoy this healthy take on a good old-fashioned beef stew recipe.
Print
Through this article, we hope to help you understand Beef stew paleo slow cooker
Detail: 🔗