You can't go wrong with Crockpot Brown Sugar Ham for the holiday dinner. Tender ham that has a brown sugar glaze along with pineapple and a touch of dijon mustard.
You can make the entire holiday dinner in slow cookers! I make mashed potatoes, green bean casserole, and cranberry sauce in my extra slow cookers.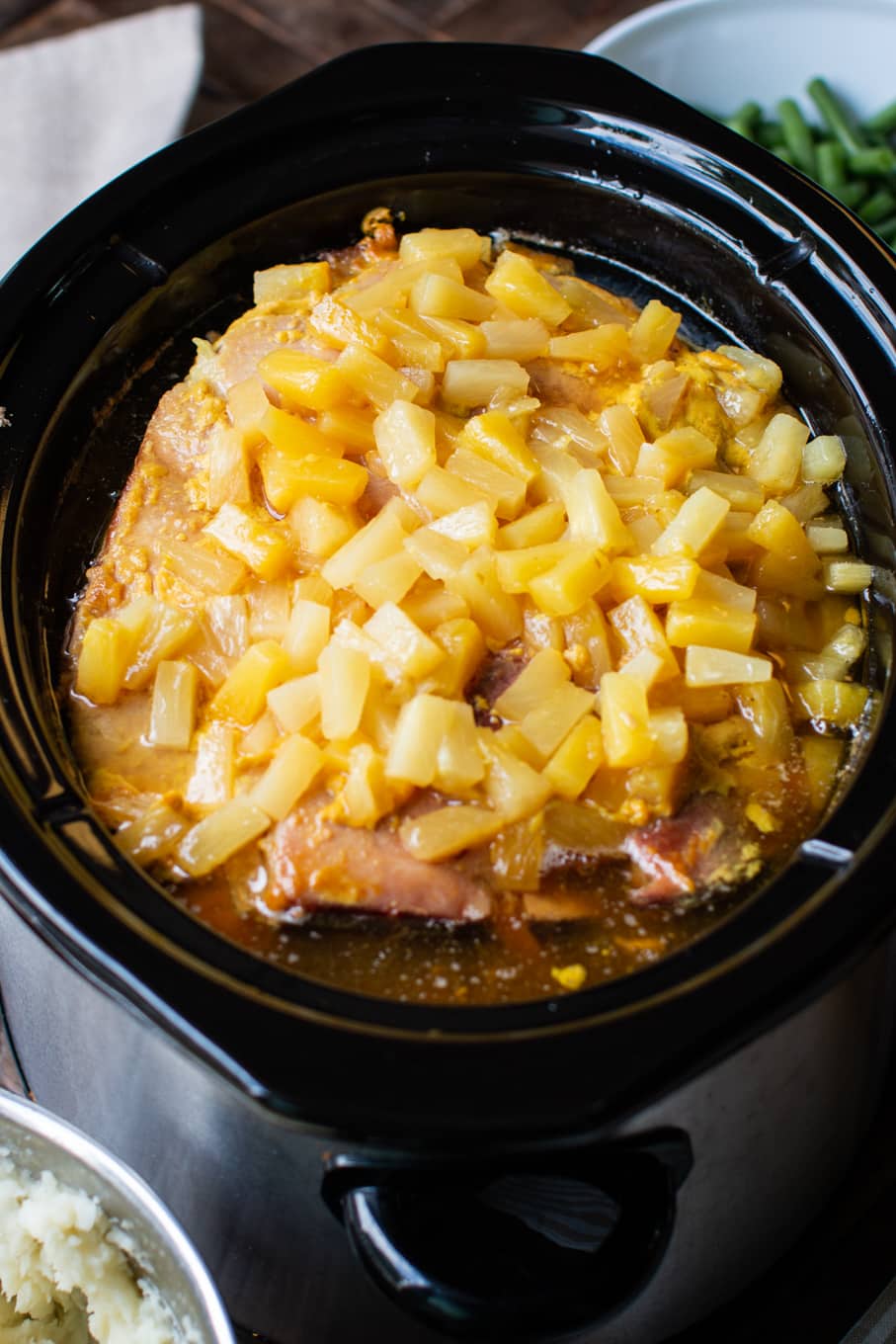 Why Make Brown Sugar Ham?
One bite of this recipe, and you will be in love. The combination of ham, brown sugar and pineapple is a classic, and it tastes fantastic. Make it for dinner at home or serve it at a holiday dinner and watch it disappear.
You might be wondering why to use the slow cooker when it is faster to heat it in the oven. It is quicker to heat the ham in the oven; however, using the slow cooker makes the entire process hands-off. You do not have to worry about dealing with the cooking process, and you can leave it to cook while you are busy with your day. Also, using the slow cooker helps the ham from drying out. The slow cooker keeps the moisture in the ham and gives you an incredibly tender, flavored brown sugar ham.
How to make crockpot ham:
Ingredients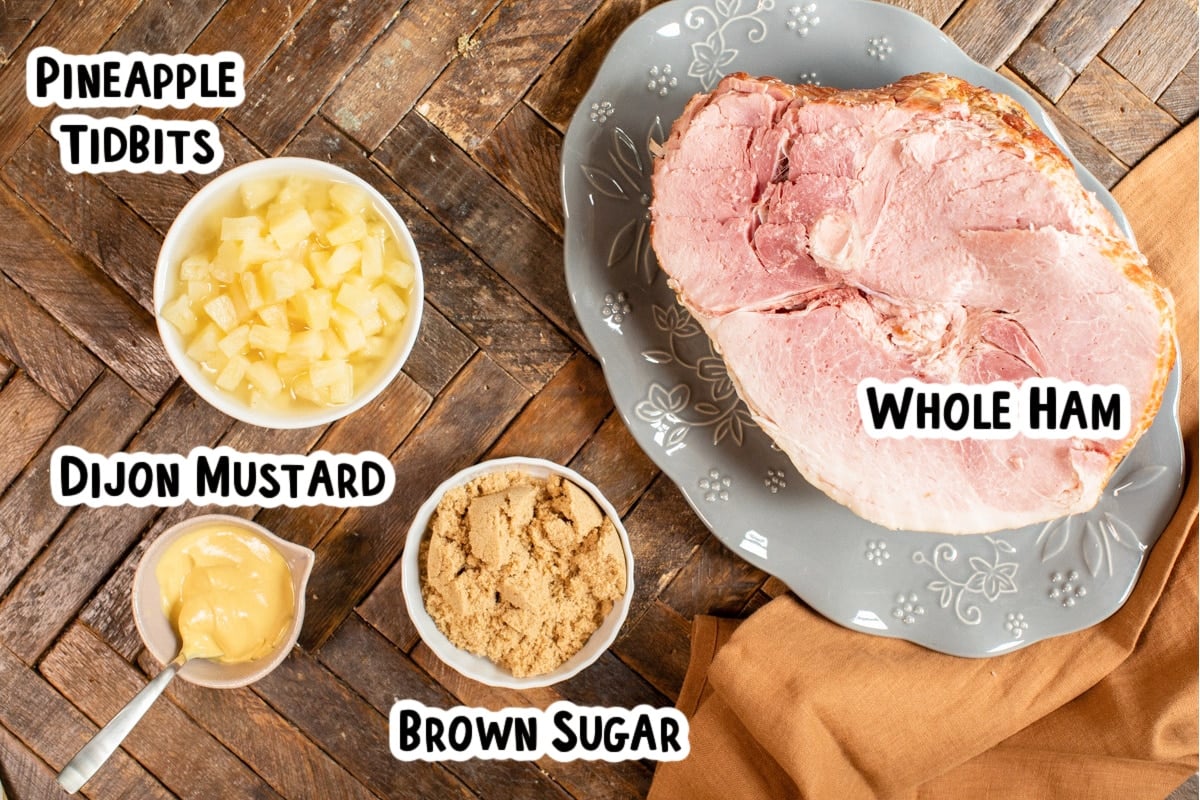 What kind of ham? Use either a pork shoulder picnic ham, bone-in spiral cut ham or black forest ham. Though, any ham will work great. Look for 6-7 pound ham, if you get one any larger you will need to cut a piece off the smaller end of the ham for it to fit in the crockpot. Make sure your ham is "cooked", not raw (very rare to find a raw ham, just want to be clear though that this recipe is for a cooked ham). If you are in question about if your ham is cooked or raw, ask your butcher or see this article on how to tell if your ham is fully cooked.
Mustard – Yellow, Dijon or stone ground. Not sure about adding mustard? Mustard adds tang to the ham and cuts down on the sweetness. Though, you can skip it if you don't like mustard. Maille Dijon Mustard is my go to for recipes, you can find it a most grocery stores.
Brown Sugar – Some recipes call for many cups of brown sugar, you do not need to overdo it! Just a half-cup of brown sugar sweetens ham perfectly.
Pineapple – Use crushed, tidbits or rings! Any will do. I use a different kind every time I make this ham. Be sure to add the juices from the can.
Step By Step Directions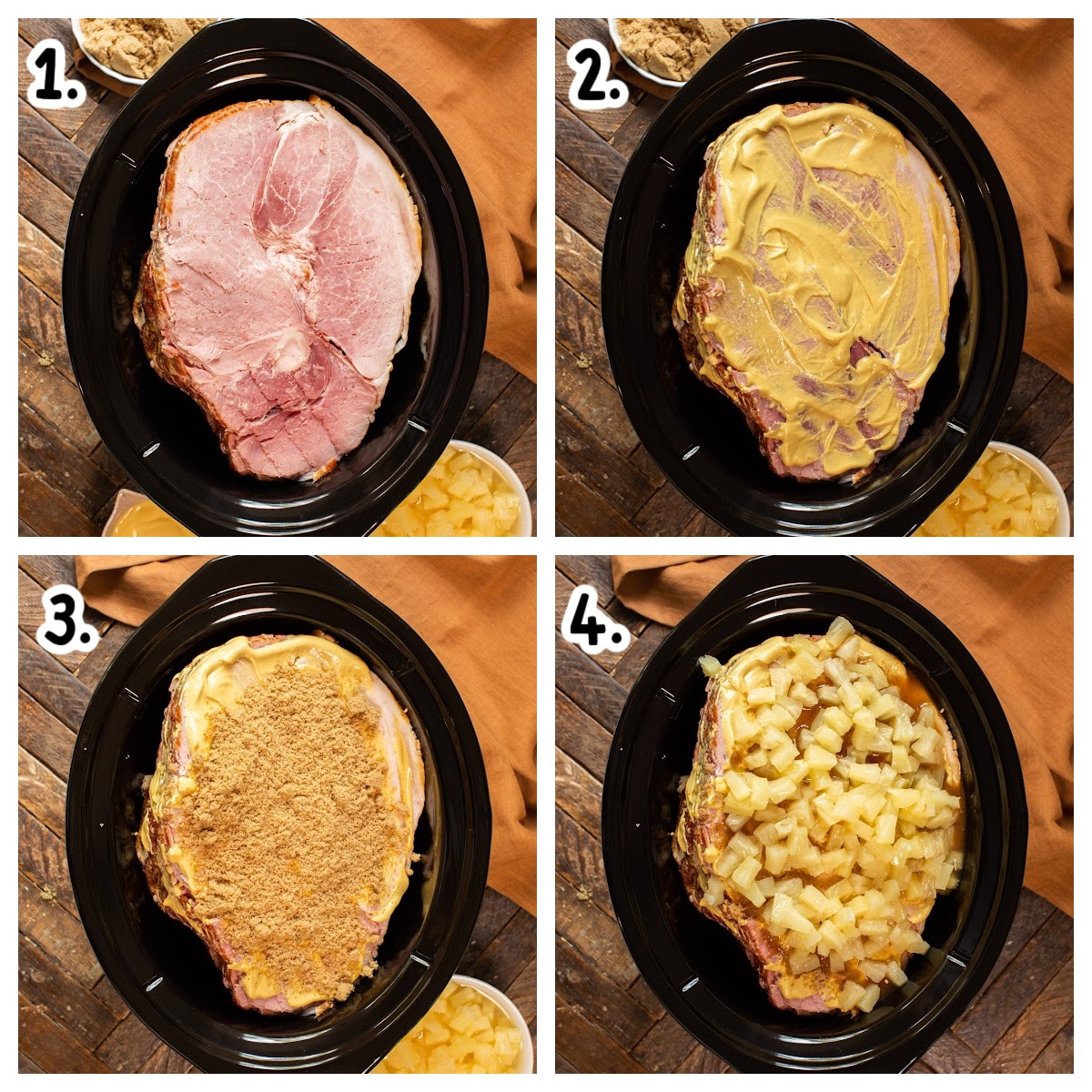 Step One: Add the ham to the slow cooker; if your ham is too large, cut the smaller end off. Use that ham for breakfast later in the week.
Step Two: Spread the mustard over the ham.
Step Three: Sprinkle the brown sugar over the mustard. The mustard, brown sugar, and pineapple juice will create a brown sugar glaze for the ham and simmer around it.
Step Four: Next, add the pineapple and juices. Place the lid on the slow cooker and then cook the ham for 5 hours on low. Be sure not to remove the lid and let the heat out. The short cooking time is because the ham is already cooked and needs to be warmed. You can overcook a ham, so time this correctly. When the cooking time is up slice and serve!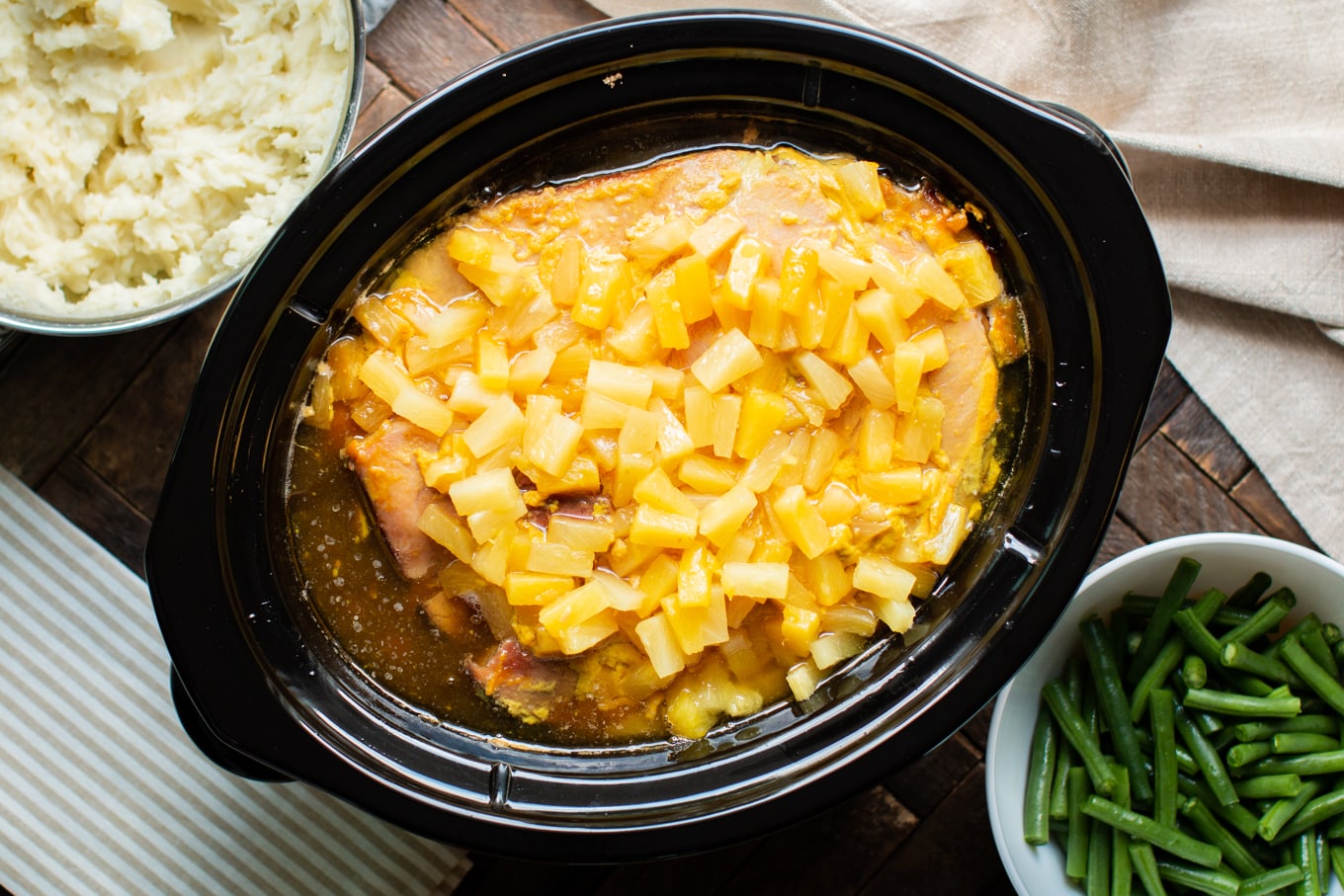 Sides for ham:
Ham is one of those fantastic mains that plenty of side dishes go well with; here are my favorites.
Slow Cooker Baked Beans – Try this! Even for the holidays, it is really a treat!
Slow Cooker Mashed Potatoes – This recipe makes a large batch and is very decadent.
Slow Cooker Creamed Corn – Tastes nothing like canned! This is filled with whole corn kernels and cream cheese.
Slow Cooker Green Bean Casserole – A holiday tradition, and easily made in the crockpot.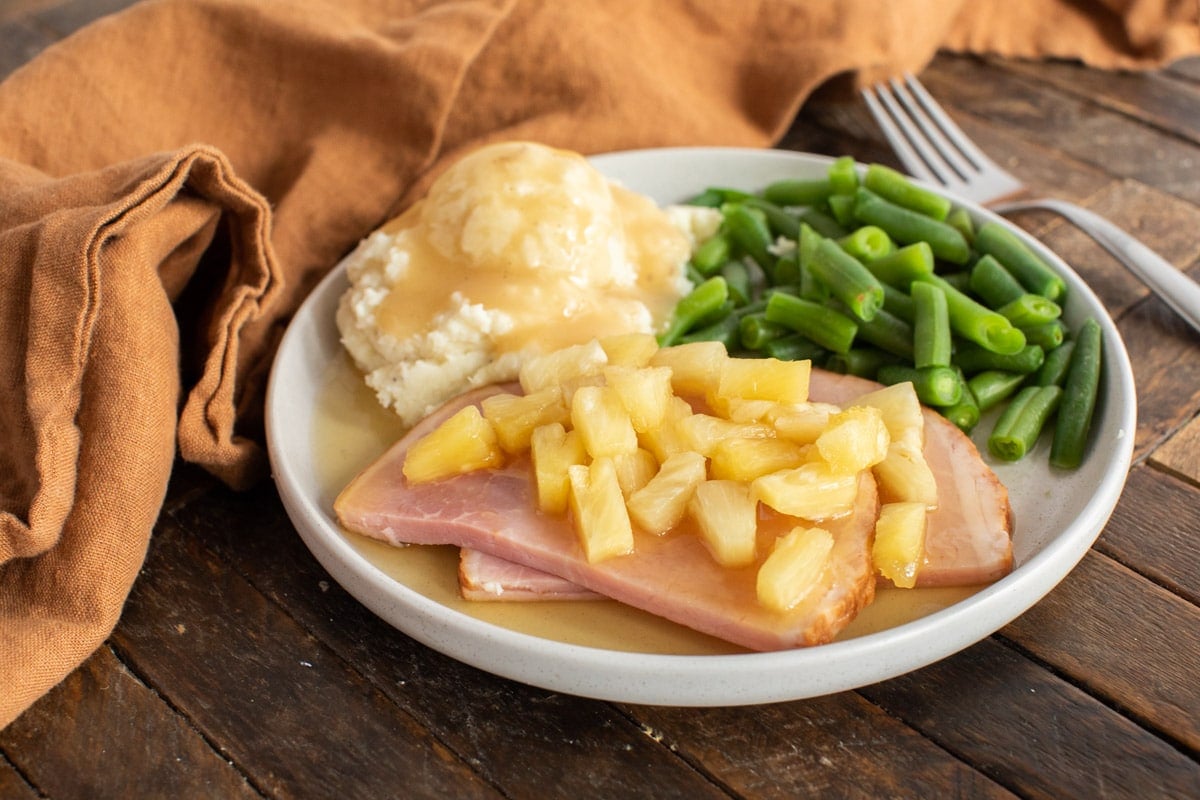 Recipe FAQS
Want to make more magic in your crockpot? Stay up to date and subscribe to my newsletter and follow along on Facebook, Instagram, Pinterest, Tik Tok, and YouTube.
Through this article, we hope to help you understand Ham roast in crock pot
Detail: 🔗