This fall-apart tender and flavorful Mexican shredded beef is several meals in one, making it an ideal go-to for any busy weeknight. The tender and slightly spicy beef is fall-apart tender and melts in your mouth.
A favorite thing to order at Mexican restaurants is shredded beef along with refried beans and rice! Now you can make it at home. If you want a chicken version, try my cilantro lime chicken recipe.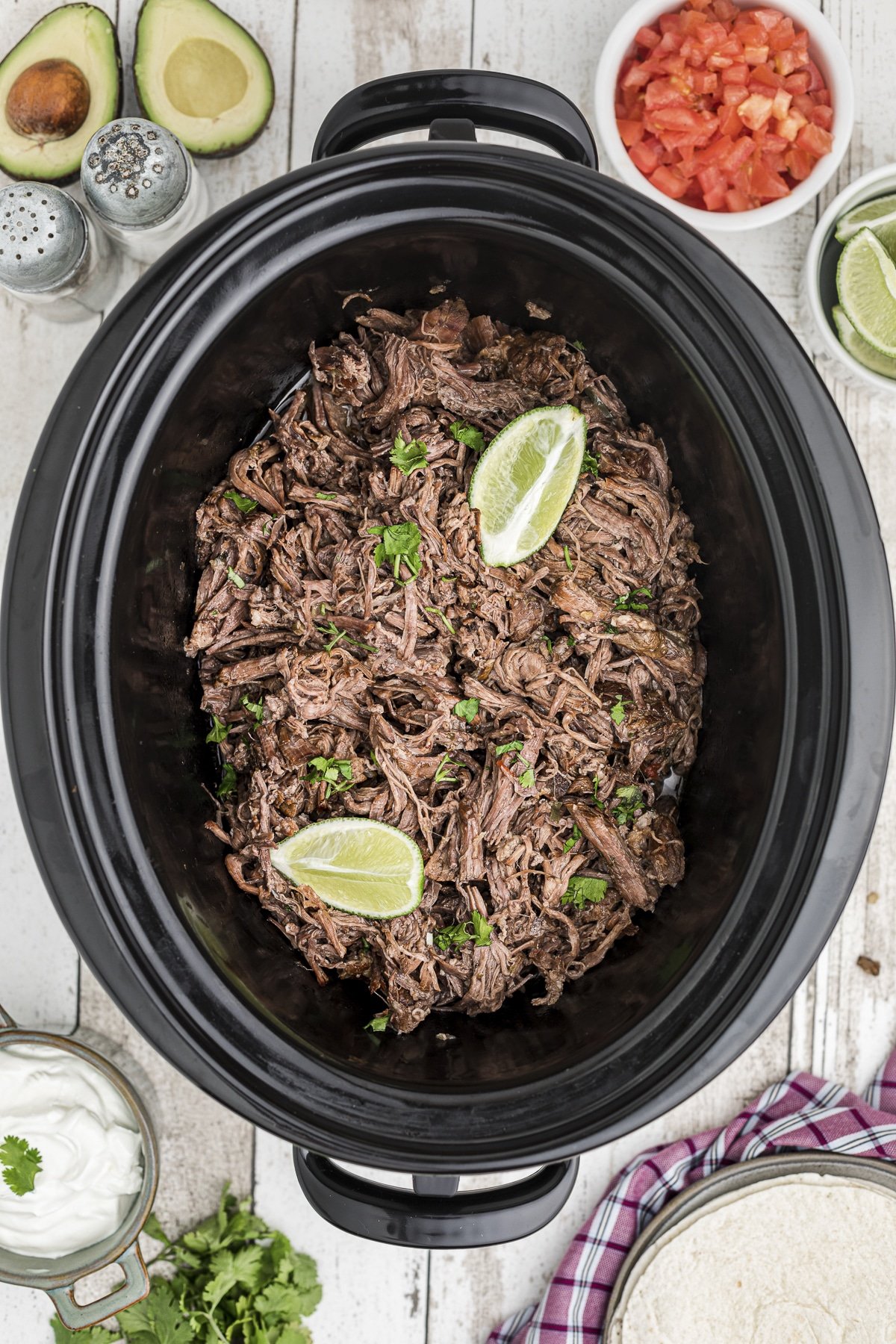 Why this recipe works
If you're looking for easy, put this recipe at the top of your list. It has one of the quickest preps and comes out to be delicious main course meat that can be used in multiple ways.
Meal preppers and planners rave about recipes that allow them to be flexible, and this one does just that. Because this recipe makes such a generous helping, you can have tacos one night and nachos for lunch the next day!
Recipe Ingredients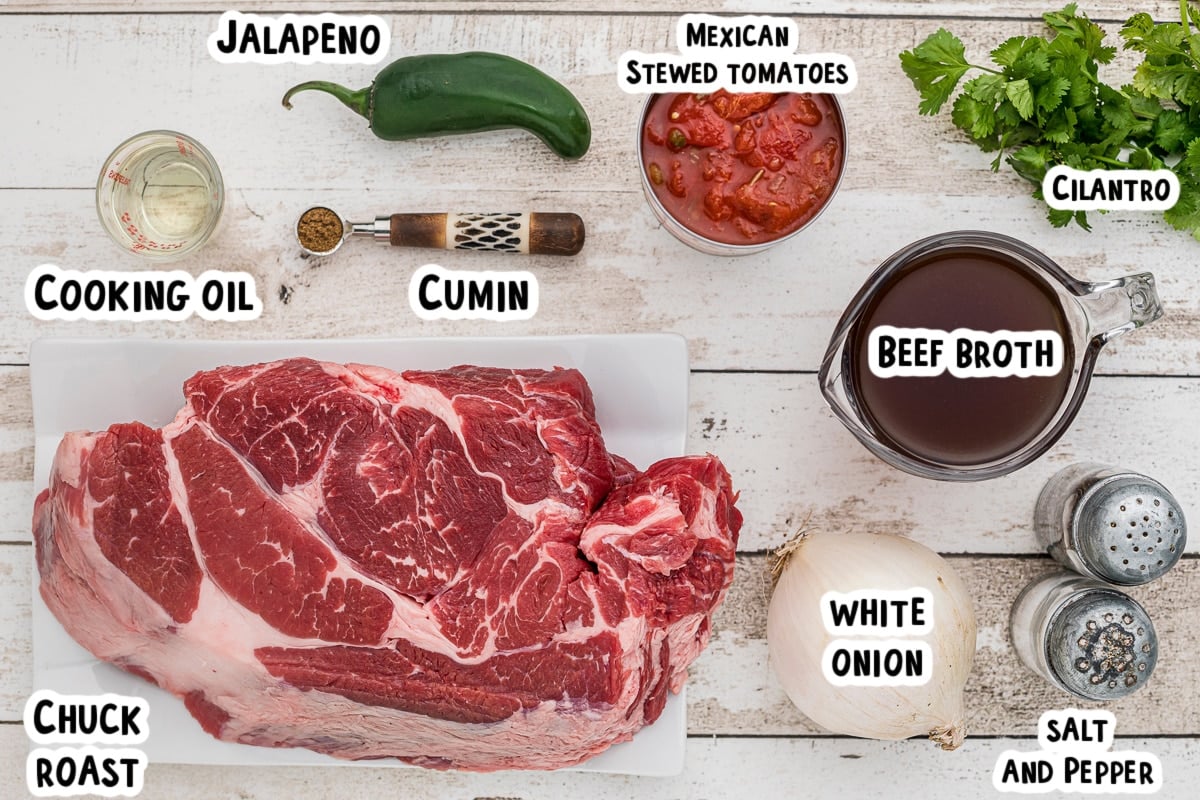 Beef Chuck Roast – Out of most cuts, this is the go-to when using a crock pot or slow cooker. As the meat cooks, the connective tissues begin to melt away, creating some of the most tender meat.
Beer – Any beer you like will do. This will help make the meat tender while adding the perfect combination of bitter and sweet to the overall dish. (You can also substitute beef broth or water.)
Stewed Tomatoes – Use the Mexican-flavored ones to add an extra kick to the dish.
Seasonings – As with any classic Mexican dish, you'll use a combination of salt, pepper, cumin, cilantro, and jalapeno.
White Onion – Diced onion (that is sauteed) adds the perfect flavor to this shredded beef recipe.
Step-by-Step Directions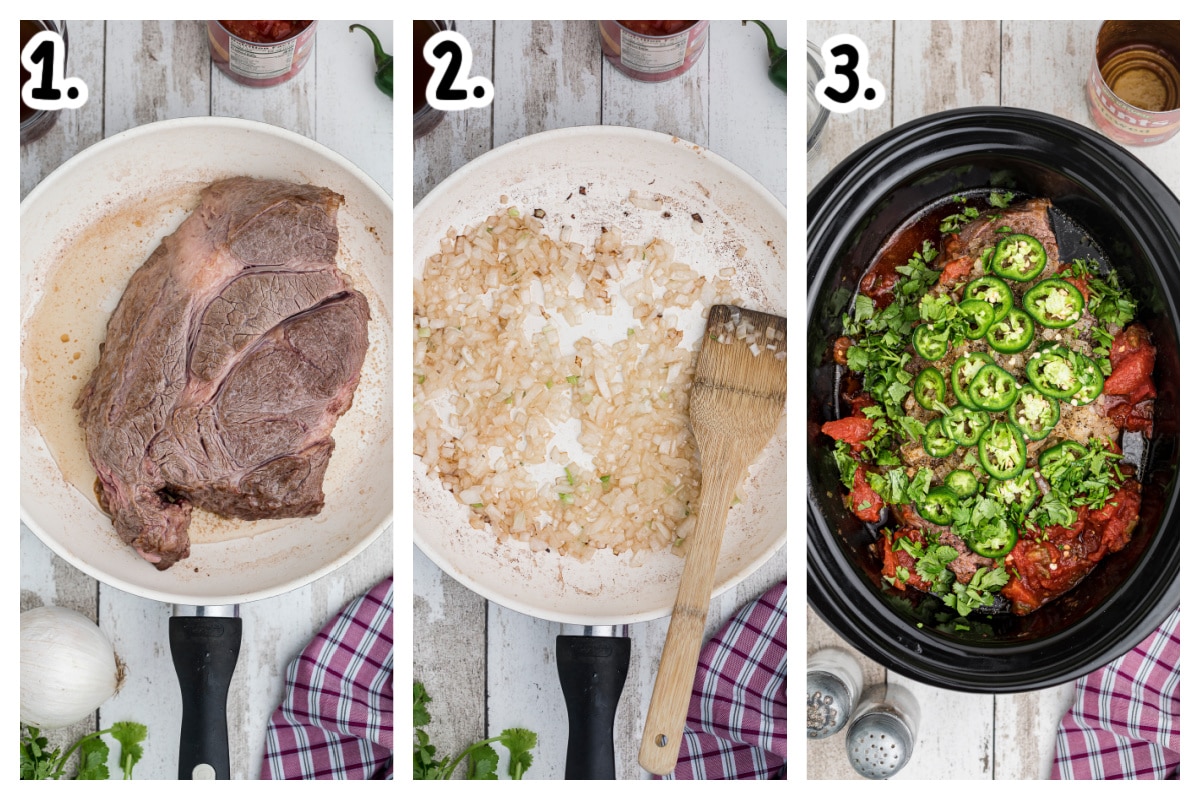 Step One – Brown the chuck roast on all sides using a couple of tablespoons of cooking oil over medium-high heat. (Place it in the crockpot when finished.)
Step Two – Over the same heat (and adding a bit more oil), sauté the onions until translucent and aromatic. Once finished, add them on top of the meat.
Step Three – Add the remaining ingredients into the slow cooker and cook on LOW for 9-10 hours.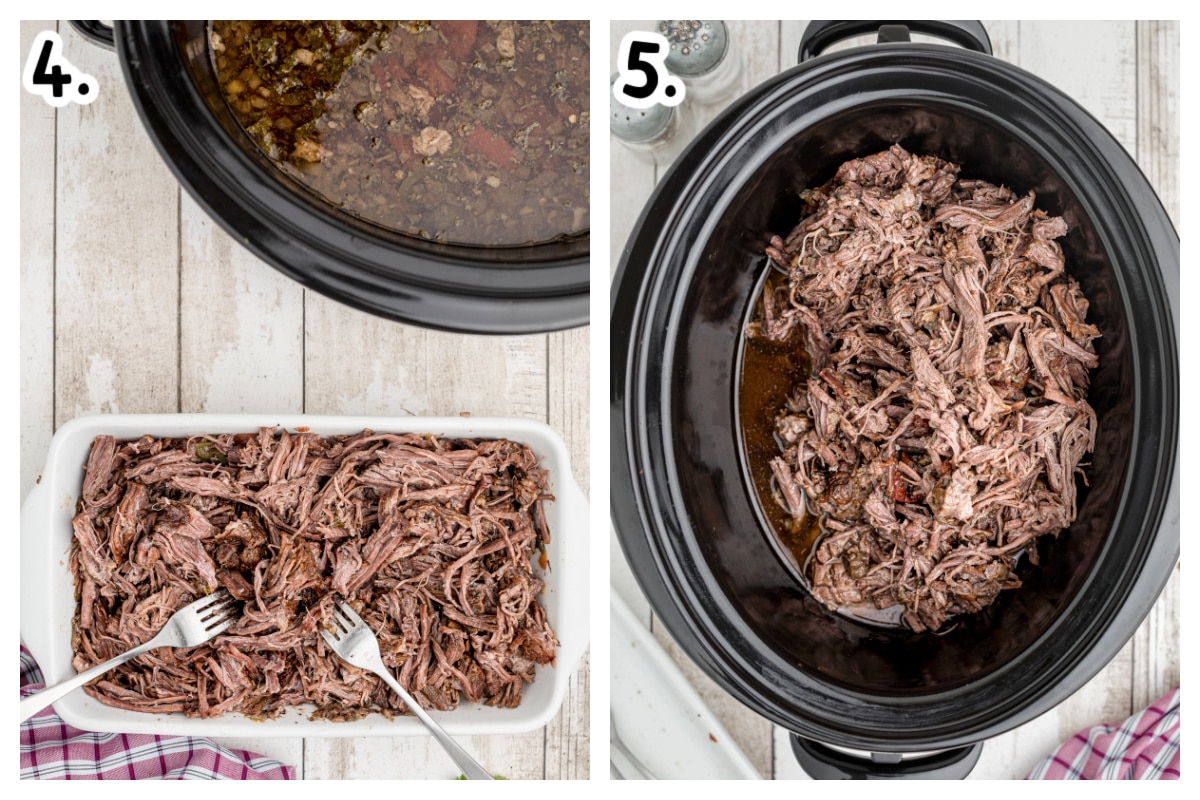 Step Four – After cooking, remove the meat to a plate and shred. Be sure to remove any fat.
Step Five – Add the meat back into the slow cooker, stir it and enjoy!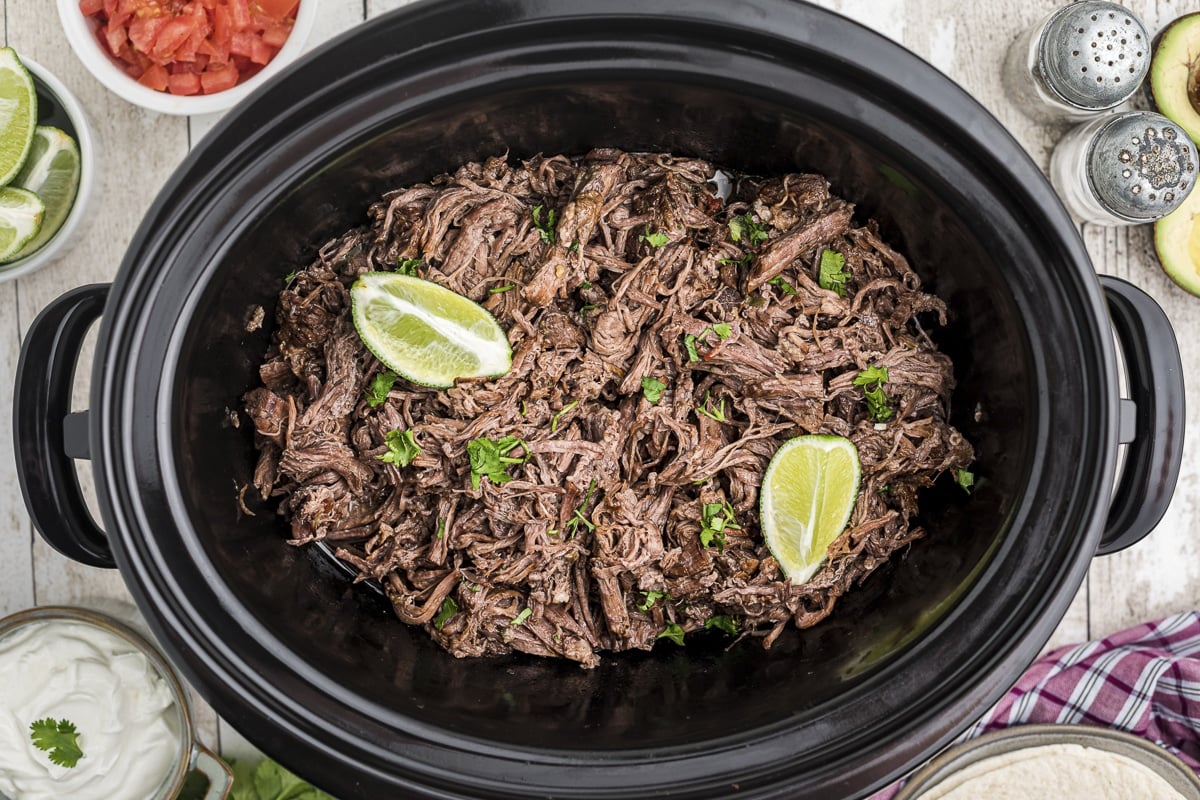 Ways to use this beef:
Tamales – Make this traditional Mexican dish using this shredded Mexican beef and serve along with spicy pinto beans. Here is my favorite tamale recipe I use with this beef, I splash a touch of enchilada sauce on top of the beef before forming the tamales.
Beef Enchiladas – Whip up some tasty enchiladas by using corn tortillas, enchilada sauce, and the slow cooker Mexican shredded beef. Bake until warmed through.
Burritos and Tacos – You can use tortillas, taco shells, or go for a burrito (or taco) bowl by layering the meat mixture with rice, pico de gallo, sour cream, and a splash of taco sauce.
Nachos – Create the tastiest nachos with this meat and all the toppings your prefer. We like to line a sheet pan with tortillas chips, add this beef, sprinkle over cheese then broil in the oven. Top with sour cream, diced onions and guacamole.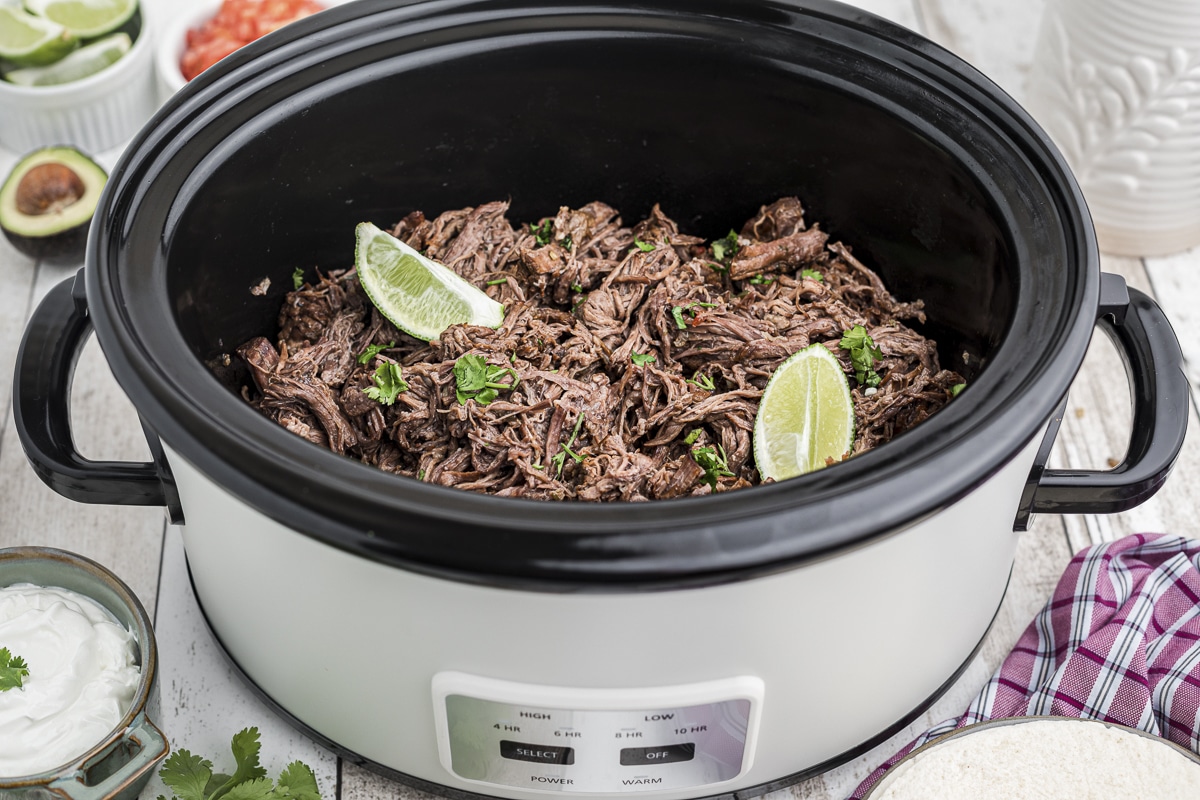 Recipe FAQs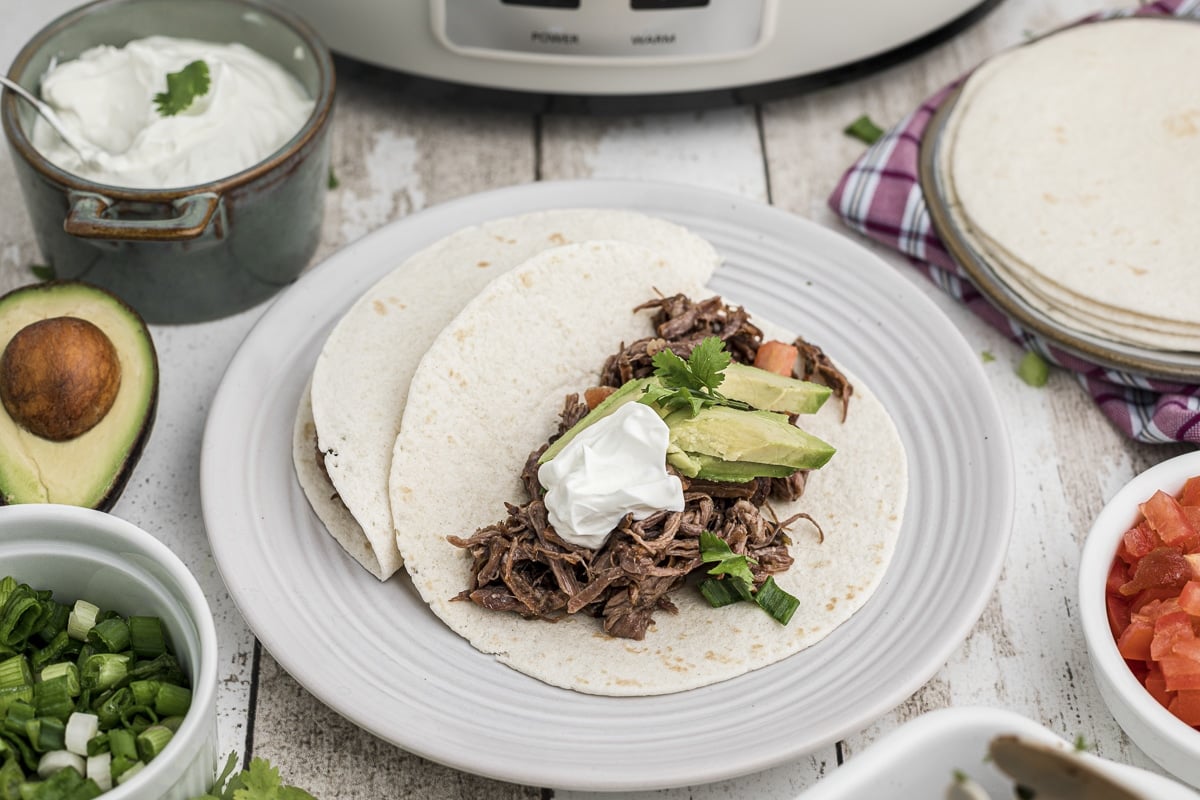 Want to make more magic in your crockpot? Stay up to date and subscribe to my newsletter and follow along on Facebook, Instagram, Pinterest, Tik Tok, and YouTube.
Other shredded beef recipes for the slow cooker:
Slow Cooker Shredded Beef Philly Cheese Steaks
Slow Cooker Shredded Beef Sheet Tray Nachos
Slow Cooker Garlic Beef French Dips
Slow Cooker Mexican Bubble Up Casserole
Slow Cooker Beer and Ketchup Pot Roast
For more information, please see more information about Slow cooker chuck roast tacos
Detail: 🔗