This website may contain affiliate links and advertising so that we can provide recipes to you. Read my privacy policy.
Slow Cooker Mississippi Pork Roast is a savory, sweet and spicy pork roast that is tender to the touch and falls apart with ease. It takes minutes to prepare and can be paired with a variety of sides. Your family will fall in love with this incredibly flavorful, melt in your mouth pork roast!
Reading: Pork roast pepperoncini ranch dressing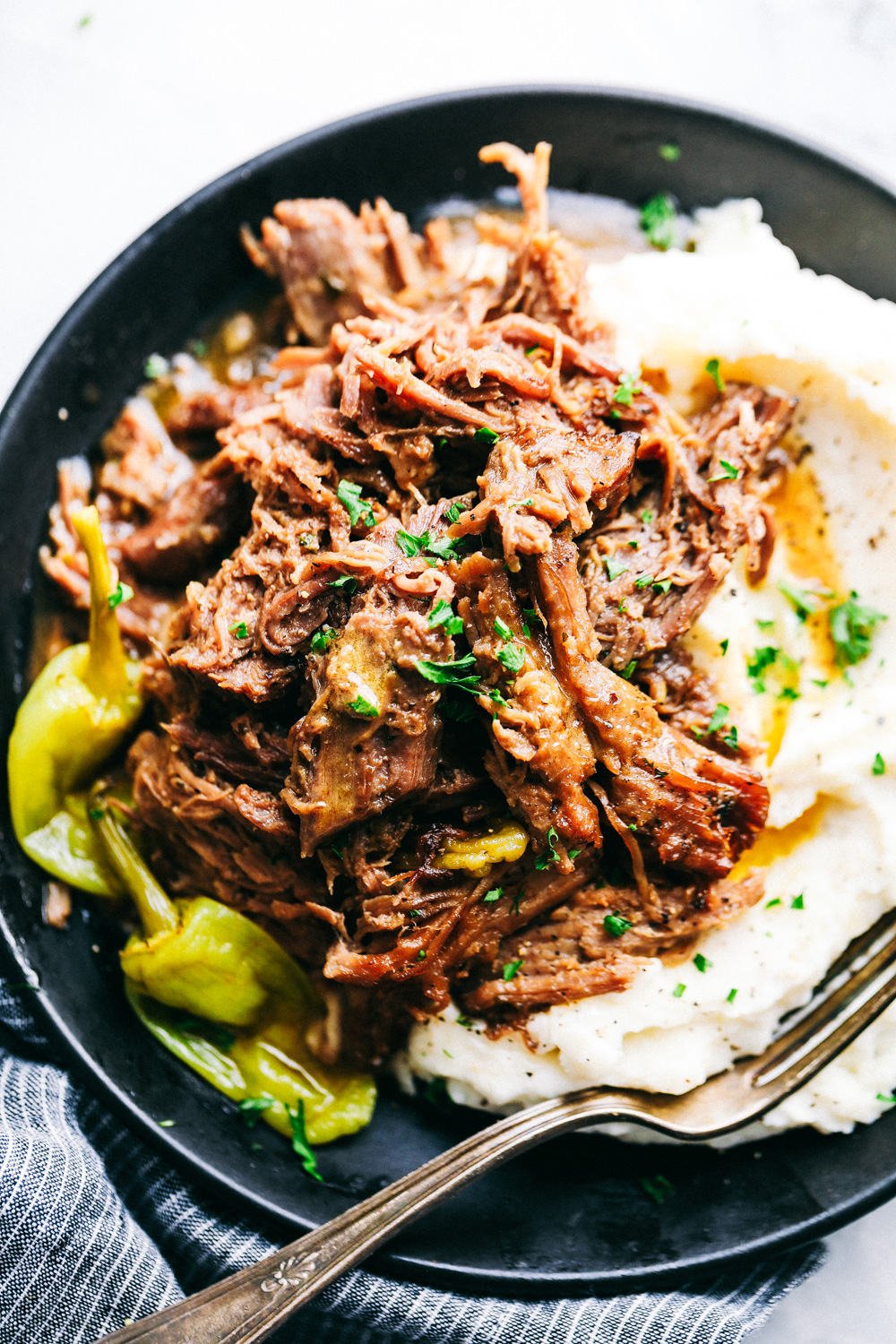 Slow Cooker Mississippi Pork Roast
I have fallen in love with this Smithfield Homestyle Fresh Pork Roast. It is tender, juicy and has all the flavor you need. It is so convenient and pre-seasoned which is why it is my go-to for creating an easy and incredible meal for my family. It turned out perfect in the slow cooker and I am here to tell you, it was one of the best meals that I have ever made. Since making this recipe a couple of weeks ago, I have already made it again twice. I keep asking everyone that I come in contact with if they have had Mississippi pork roast. How have I lived so long without trying it? This hands down had the best flavor and our family couldn't eat it fast enough.
Read more: Crispy Air Fryer Broccoli Parmesan
One of the best parts about this meal is that it is so incredibly easy. It takes less than 5 minutes to put everything in the slow cooker and within minutes it is ready for dinner. This tender, melt in your mouth pork has flavor that is to die for. Mississippi Roast usually calls for beef roast, but I love that you can always swap it out for pork. My entire family ate this meal and loved it. It was such a winner in our book and the reason why I keep making it again and again!
This meal is so versatile and can be served in so many different ways. We first loved it with a side of mashed potatoes, but throughout the week with the little bit of left overs that we had, I was able to create a few more outstanding recipes. You can use the pork roast on top of nachos, in a sandwich, or in tacos. There are so many uses for this recipe that you are going to love.
Simplify your life by using Marinated Fresh Pork. It comes in a wide assortment of mouthwatering flavors including; Roasted Garlic and Herb, Applewood Smoked Bacon, Sweet Teriyaki and Slow Smoked Mesquite. It also comes in a wide variety of cuts including; loin filets, chops, ribs, sirloins, and tenderloins. For more product information and recipe inspiration visit Smithfield.com.
What is in Mississippi Pork Roast?
Pork Roast
Au Jus Packet
Ranch Packet
Butter
Pepperoncini Peppers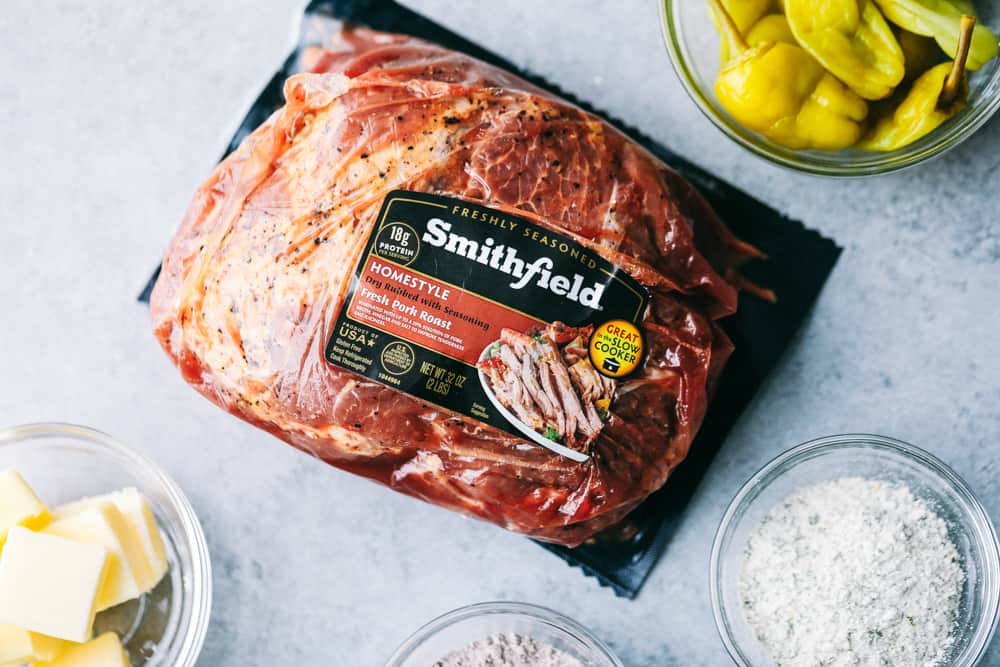 How do you make Slow Cooker Mississippi Pork Roast?
What is the proper temperature for pork roast?
The National Pork Board recommends cooking pork chops, roasts, and tenderloins to an internal temperature between 145° Fahrenheit (medium rare) and 160° Fahrenheit (medium), followed by a 3 minute rest. Since large cuts increase approximately 10° Fahrenheit while resting, remove them from the heat at 150° Fahrenheit followed by a 10 minute rest.
What are some ideas to make with Mississippi Pork Roast?
Sandwich
Tacos
Nachos
Burritos
Read more: Grilled Porterhouse Steak | Family Cuisine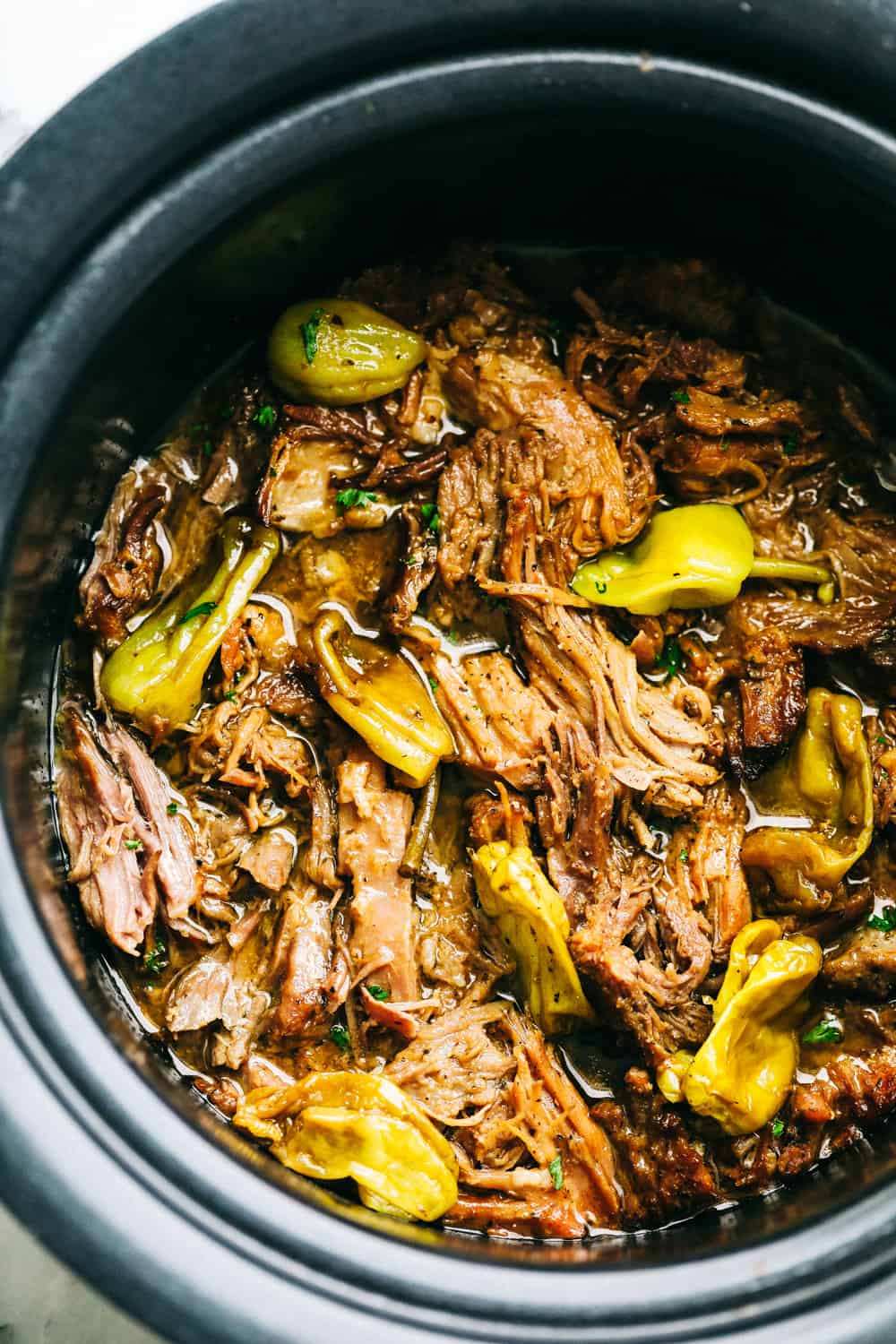 Be sure to check out these other delicious recipes on the blog using Smithfield Marinated Fresh Pork:
Creamy Pork Carnitas Pasta
Creamy Garlic Pork Marsala
Grilled Spinach and Herb Stuffed Pork Chops
Smithfield is helping at-home cooks reimagine mealtime and get creative in the kitchen with the Smithfield Fresh Pork "Shake it Up" contest! From now until April 26, visit Smithfield.com/ShakeItUp to submit a photo of your original dish along with a brief description on how you shake up your go-to recipes with Smithfield Fresh Pork instead of beef or chicken. Twenty finalists will win a $100 gift card and one grand prize winner will take home $5,000! For contest rules and more great recipe ideas visit Smithfield.com/ShakeItUp
Smithfield is available at select grocery stores nationwide, including ShopRite, Food Lion, Publix, Albertsons/Safeway, Save a Lot, and Walmart.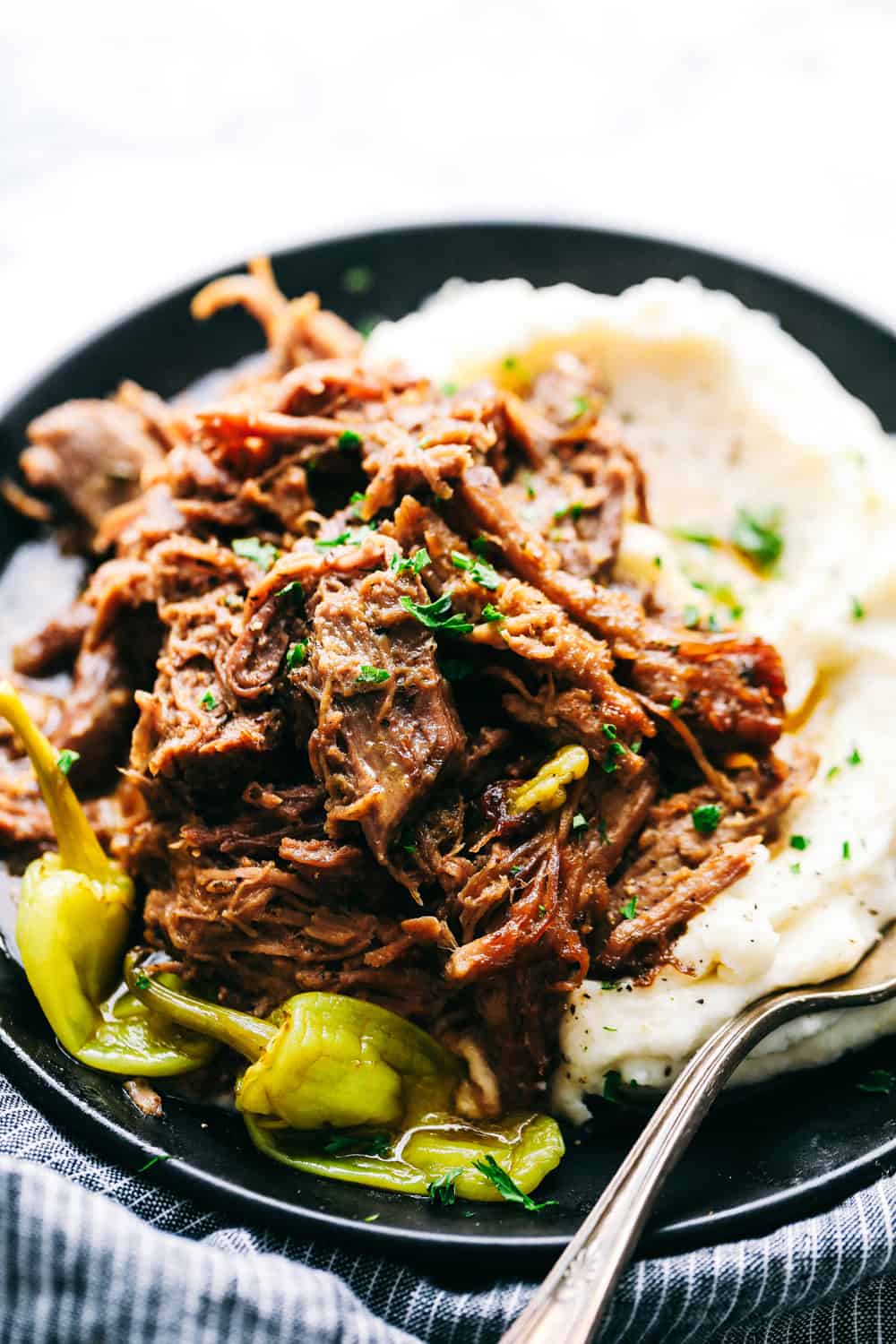 Watch a video on how to make Mississippi Pork Roast here:
Read more: Easy Slow Cooker Corned Beef and Cabbage
Through this article, we hope to help you understand Pork roast pepperoncini ranch dressing