Easy to make, this pernil is slow cooked in a crockpot before roasting for the most tender, tasty and effortless roasted pork.
Growing up, we always had pernil on Christmas Eve. Back in my country, we would roast an entire pork on an open fire. The entire process of killing the animal, cleaning, seasoning and cooking it took days. That is the reason it was usually a dish reserved for special occasions.
Now, roasting pork has become so easy that I do not wait for special occasions to come around so that we can have it. Yes, I still cook pernil asado for Christmas Eve. However, when we feel like eating carnitas, I don't have to think twice to make a delicious roast pork.
Perfectly seasoned and entirely delicious, this crispy roasted pork shoulder is perfect to eat with everything: rice, potatoes, tostones, on a sandwich and tortillas for awesome tacos.
Try this delicious pernil recipe to enjoy with your friends and family this holiday season!
What is Pernil?
Pernil is a bone-in and skin out roasted pork shoulder. It is often enjoyed during the holidays amongst many Latin American cultures such as Dominicans, Puerto Ricans, or Ecuadorians. It is a main dish that can be served with rice, beans, and salad and sometimes acts as a substitute for turkey during Thanksgiving or Christmas dinner.
Though often confused with pulled pork, pernil comes from the lower half of the pork shoulder, while pulled pork usually comes from pork butt. However, pernil can be used for pulled pork if so preferred.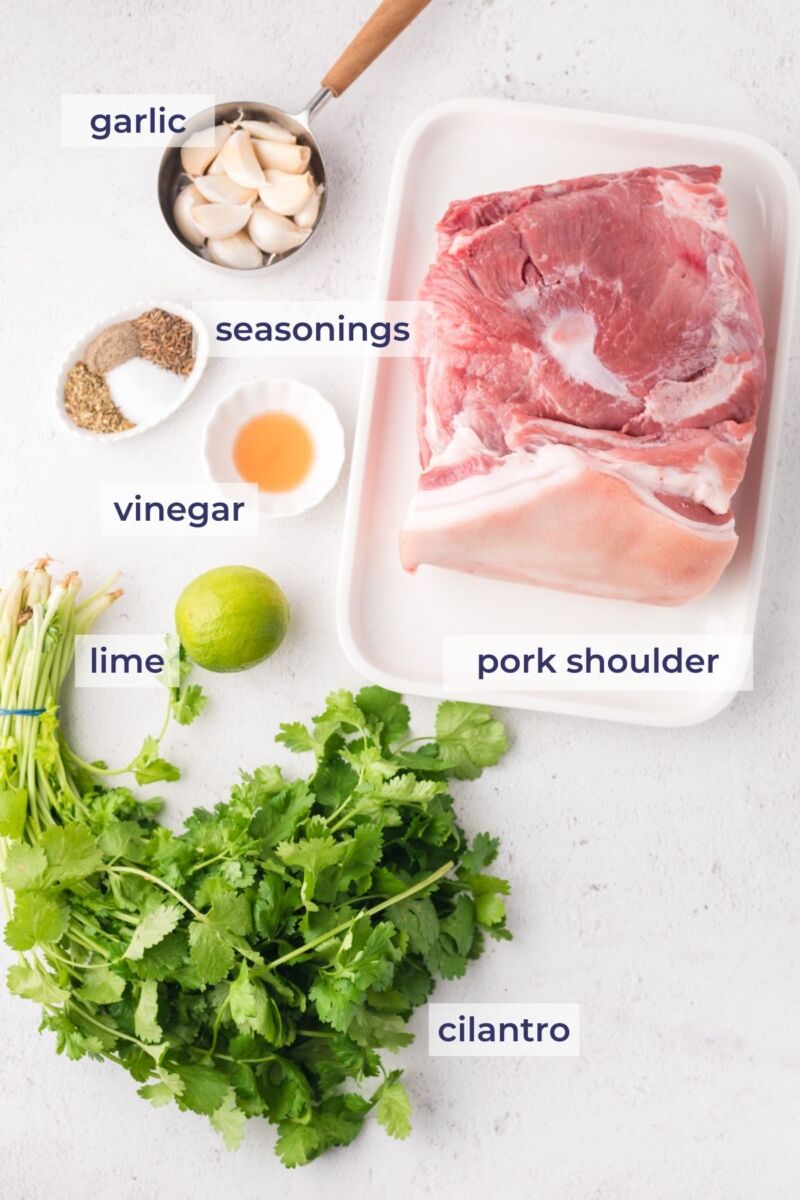 Ingredients
Pork Shoulder – Make sure your pork shoulder is bone-in and skin on. The bone will keep it juicy and flavorful and the skin will crisp up wonderfully.
Cilantro – adds delicious herb flavor to the pork.
Garlic – You can use garlic cloves or pre-packaged garlic in a jar, I prefer using fresh garlic cloves. You can also mash some garlic cloves with a tiny bit of olive oil using a pilón.
Seasonings – I use dried oregano, dried cumin, salt and ground black pepper.
Lime Juice – This ingredient is great as it helps balance out the fat to acidity ratio. For some extra juices in your seasoning, you can also try an orange juice marinade.
Apple Cider Vinegar– it also helps balance out the fat to acidity ratio and adds great flavor.
How To Cook Pernil In The Slow Cooker
How to Season Pernil
In a food processor, pulse together cilantro, garlic, oregano, cumin, salt, pepper, vinegar and lime juice. (Images 1 and 2 below)

For another choice of seasoning, you can also use adobo or try my homemade latin sofrito recipe.

Using a pointy knife, poke holes into the pork shoulder. (Image 3 below)
Rub the seasoning mixture all over the meat pushing some of the seasoning into the small holes. (Image 4 below)
Cover and place in the refrigerator. Let marinate overnight. (Image 5 below)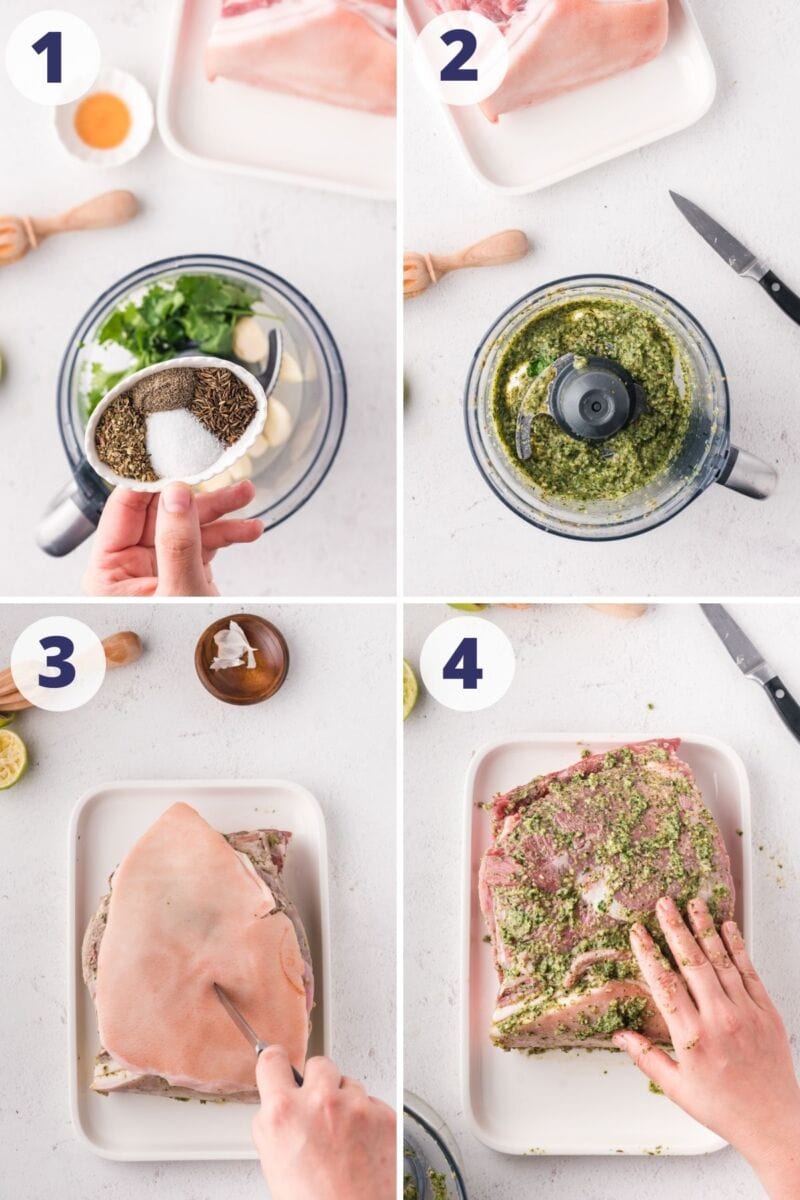 How long do I marinate a pernil?
I recommend marinating your pernil for at least 2-3 hours, preferably overnight. I feel the meat tastes better when it has marinated for a long time.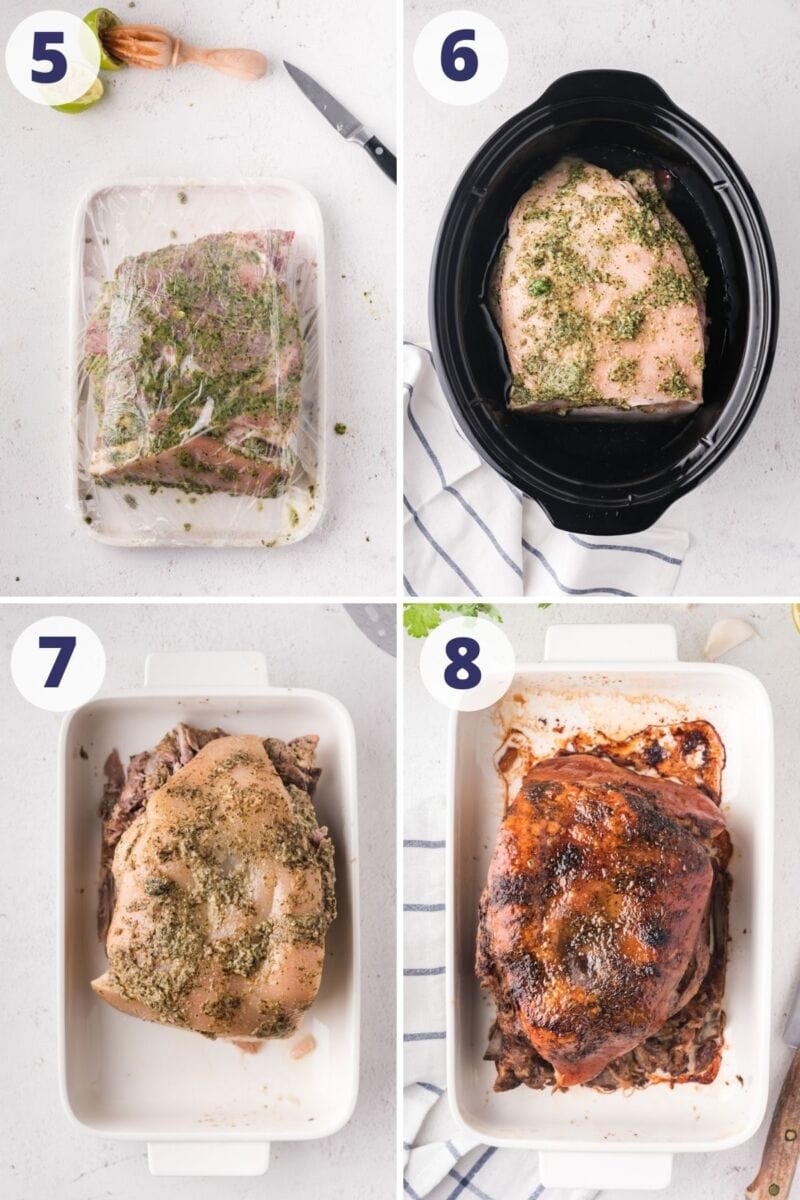 How long does pernil have to be cooked?
The next day, place the pork shoulder on the slow cooker and cover with water. Add enough water to cover at least ¾ of the meat inside the slow cooker. Cook on low for about 8 hours. (Image 6 above)
Once the meat is tender, carefully transfer it to a roasting pan. (Image 7 above)
Roast in the oven at 450 degrees until brown and crispy, about 1 hour. Take out of the oven and let rest for 15 minutes. Shred the meat using two forks. (Image 8 above)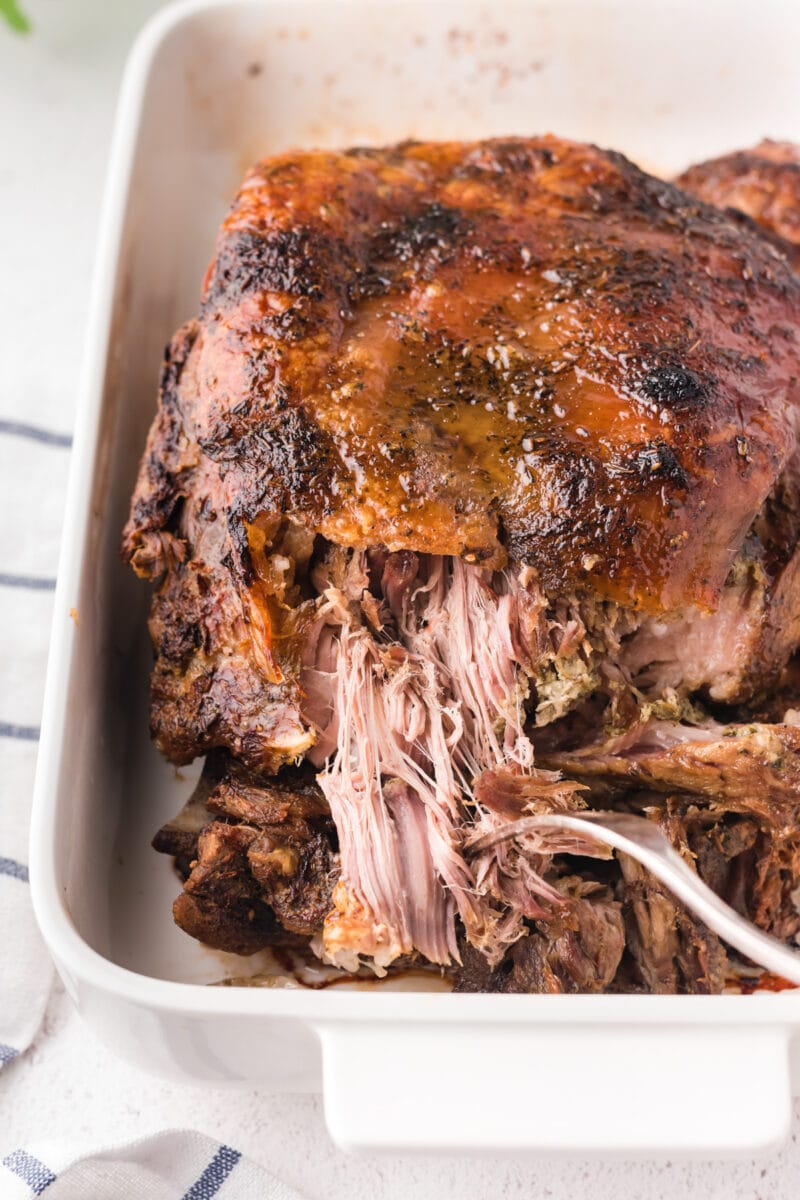 Frequently Asked Questions
Recipe Tips and Notes:
Use a pork shoulder that has it's bone-in and the skin on. The bone will keep it juicy and flavorful and the skin will crisp up wonderfully.
Marinate the pernil for at least 2 hours, preferably overnight if you can.
To roast the pork, be sure that your oven is preheated. This will help to get the skin crispy.
More Easy Slow Cooker Recipes:
Taco Chili Chicken
Slow Cooker Lentil Stew
Chicken Noodle Soup with Yuca
Slow Cooker Shredded Beef
Looking for more recipes to make this Christmas? Try these out:
Pomegranate Holiday Sangria
Pasteles en Hoja (Dominican Plantain Leaf Packets)
Easy Arroz con Gandules Recipe (Rice with Pigeon Peas)
Macaroni Salad (Ensalada de Coditos)
For more information please see the list of Pork roast marinade slow cooker
Detail: 🔗