This slow cooker sweet potato beef stew is made with sweet potatoes and chuck roast. It's an easy, comfort food that's healthy too! Throw everything in the crock pot so the veggies soften and the meat falls apart.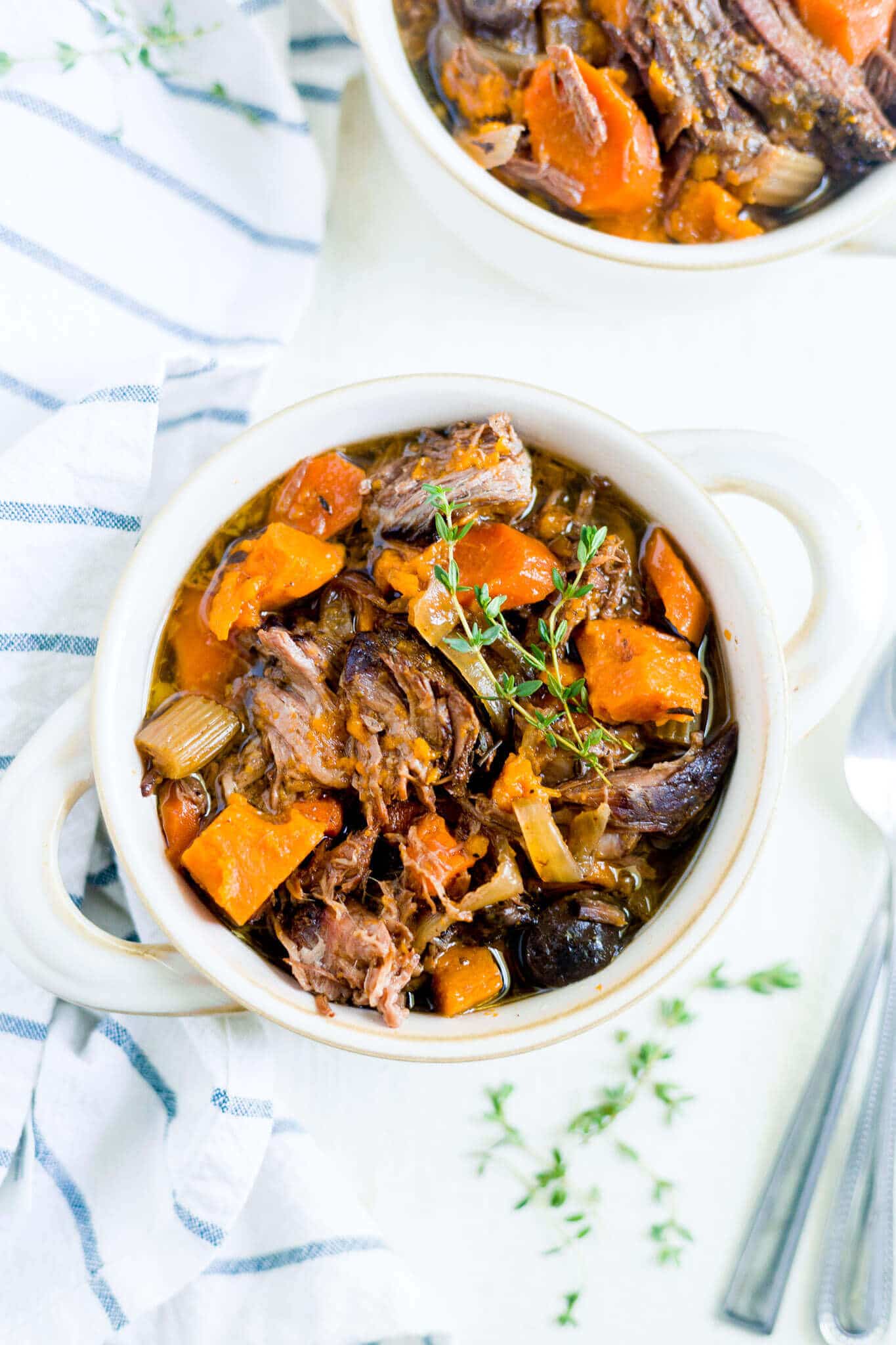 When I think of fall recipes, my mind instantly goes to a warm, hearty bowl of beef stew. My mom would make it when we were growing up and it reminds me of family and warmth. Every time I take a bite of this sweet potato beef stew that's what I think of!
I've tested recipes for beef stew a few times, and this time I got it just right. I think a lot of it has to do with the meat you get! You want to make sure you get a meat that's going to fall apart and shred easily.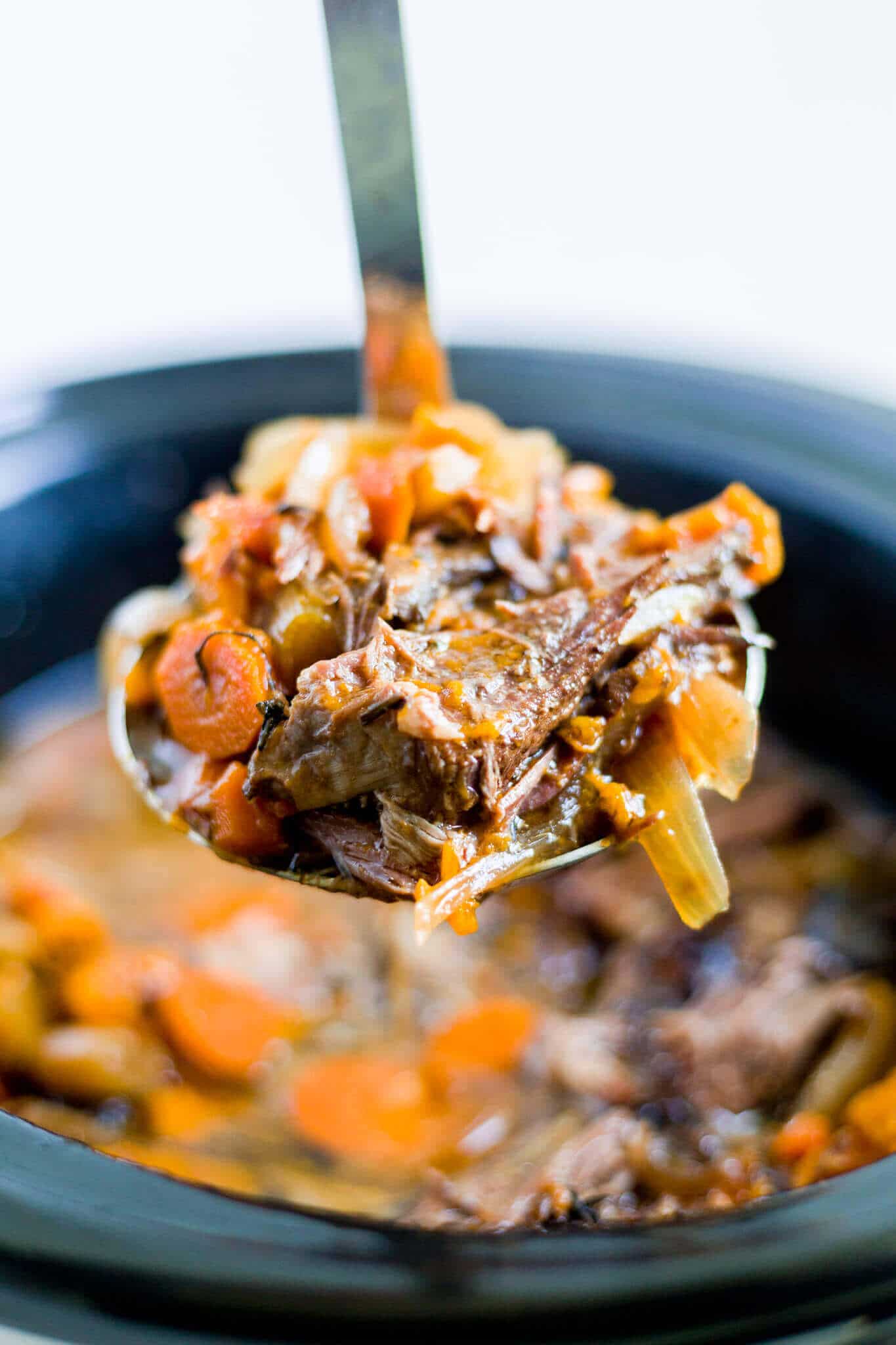 What meat to use in sweet potato beef stew:
Make sure you look for a boneless chuck roast. This recipe calls for a chuck roast that's about 2.5 – 3 pounds. You'll want one with lots of marbling because that's where all the yummy flavor comes from.
When cooked low and slow in the slow cooker, the chuck roast gets so tender you can use just one fork and it will fall apart. The natural marbling from the meat gets melted down and adds so much flavor.
Are sweet potatoes good in beef stew?
Sweet potatoes are delicious in beef stew! Especially if you follow a paleo or whole30 diet. However, you can opt for regular potatoes in this recipe too if you prefer.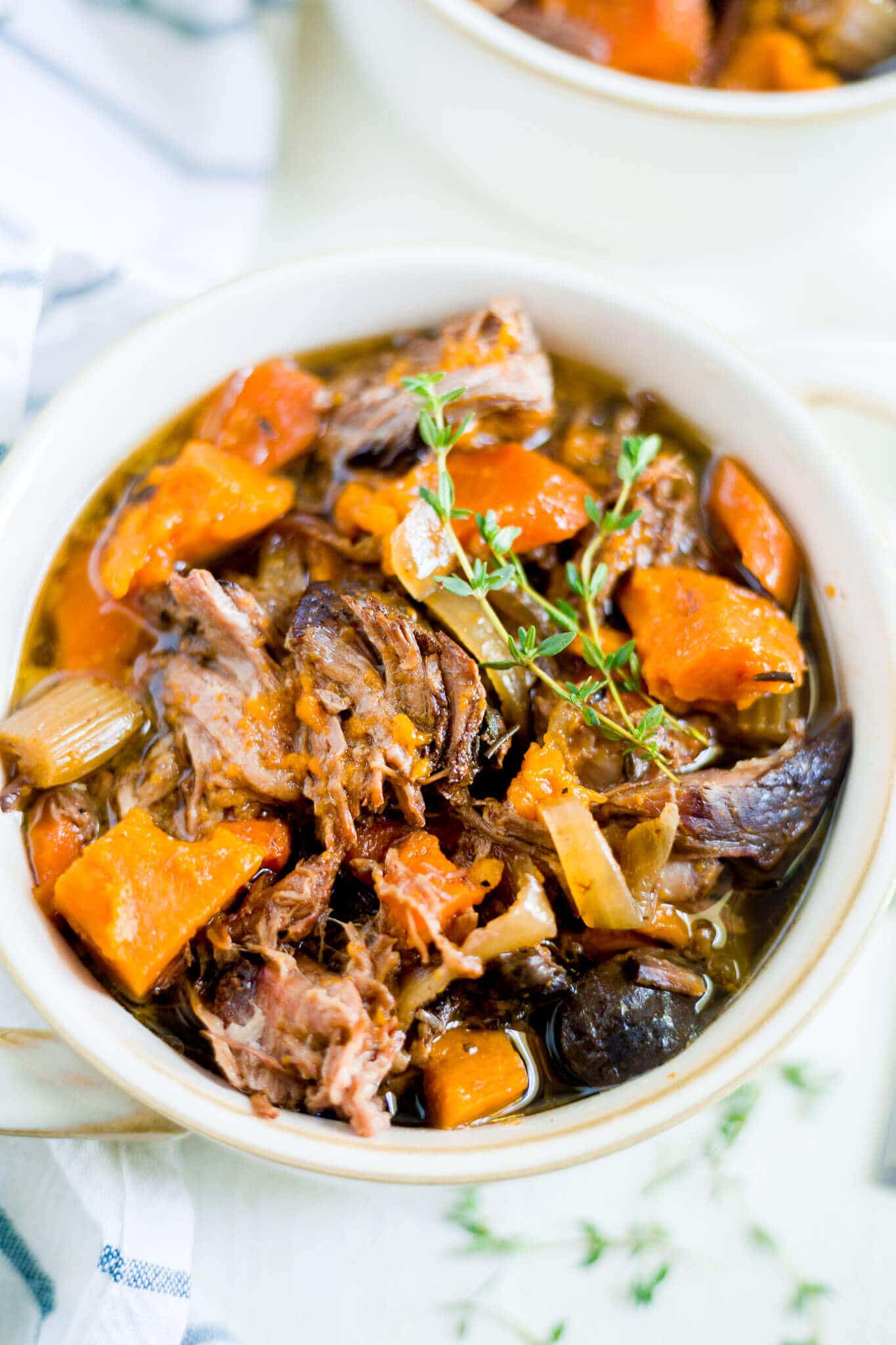 How to thicken slow cooker beef stew:
This beef stew thickens on it's own, without any thickeners like cornstarch or gravy. Some of the sweet potatoes in this recipe will fall apart and create a thicker stew. In addition, it's filled with lots of meat, which makes it thick and hearty too!
Even though it's paleo, it's definitely on the thicker side! It has soo much flavor.
There really doesn't get anything easier than beef stew. All you need is a few ingredients and a slow cooker to make this recipe. You turn it on low, leave it for 10 hours and you're done!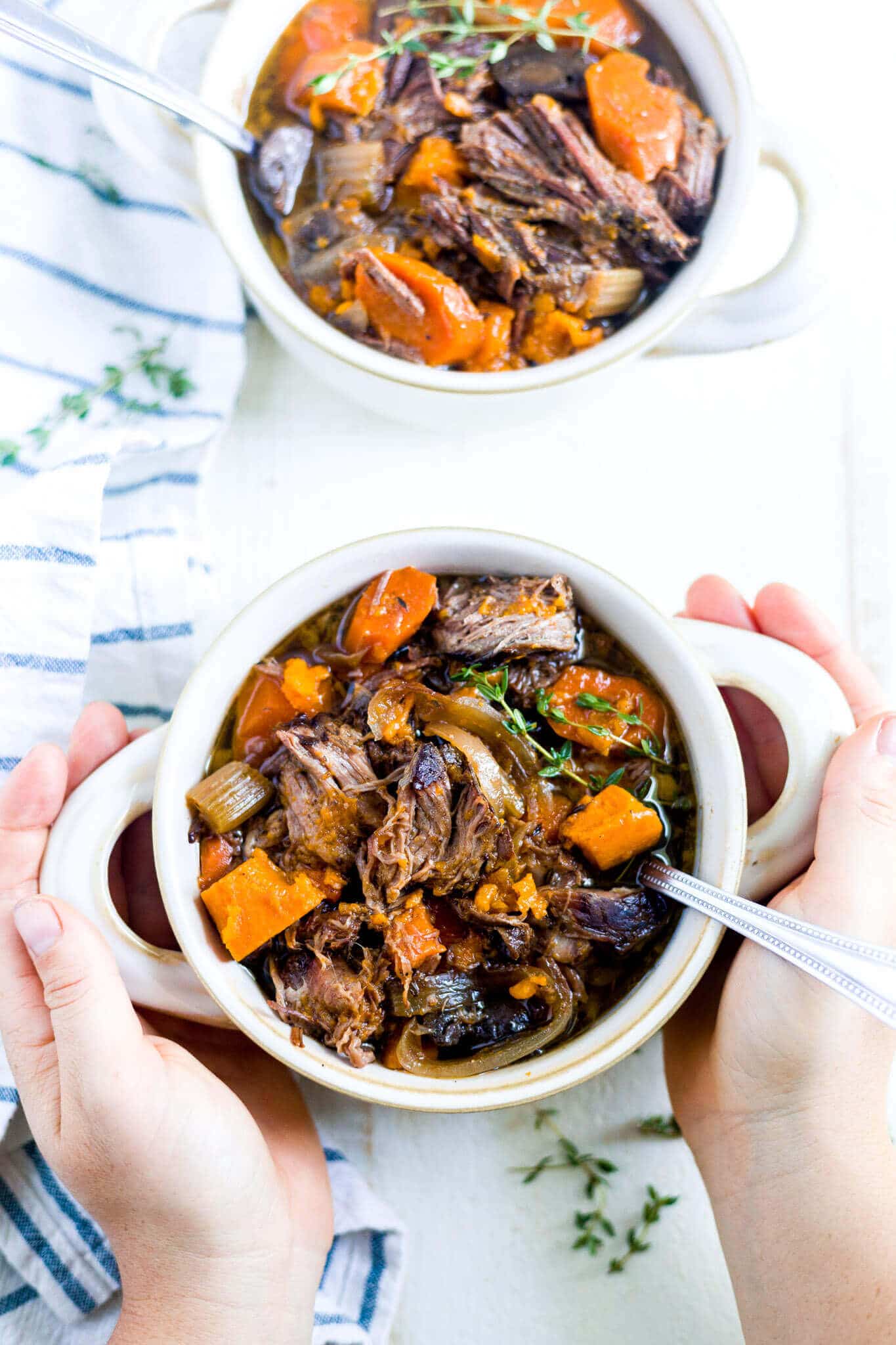 How to make slow cooker sweet potato beef stew:
Start by chopping all of the vegetables in the recipe: celery, sweet potatoes, onion, mushrooms and carrots. After that, toss them into the bottom of the slow cooker.
Next, heat a large skillet over medium-high eat with a tablespoon of olive oil or coconut oil and place the chuck roast in the pan. Sear it on all sides (about 20 seconds per side) then place it on top of the vegetables in the crock pot.
Finally, top the beef and veggies with beef broth (or bone broth) and the spices then close the lid. Cook on low for 10 hours. Once it's done cooking, use a fork to pull the beef apart. Stir well and serve.
How to store beef stew:
This sweet potato beef stew can be kept in an air tight container in the refrigerator for up to one week. You can also freeze it for up to 3 months! To thaw, place back in the slow cooker on medium heat to melt and warm.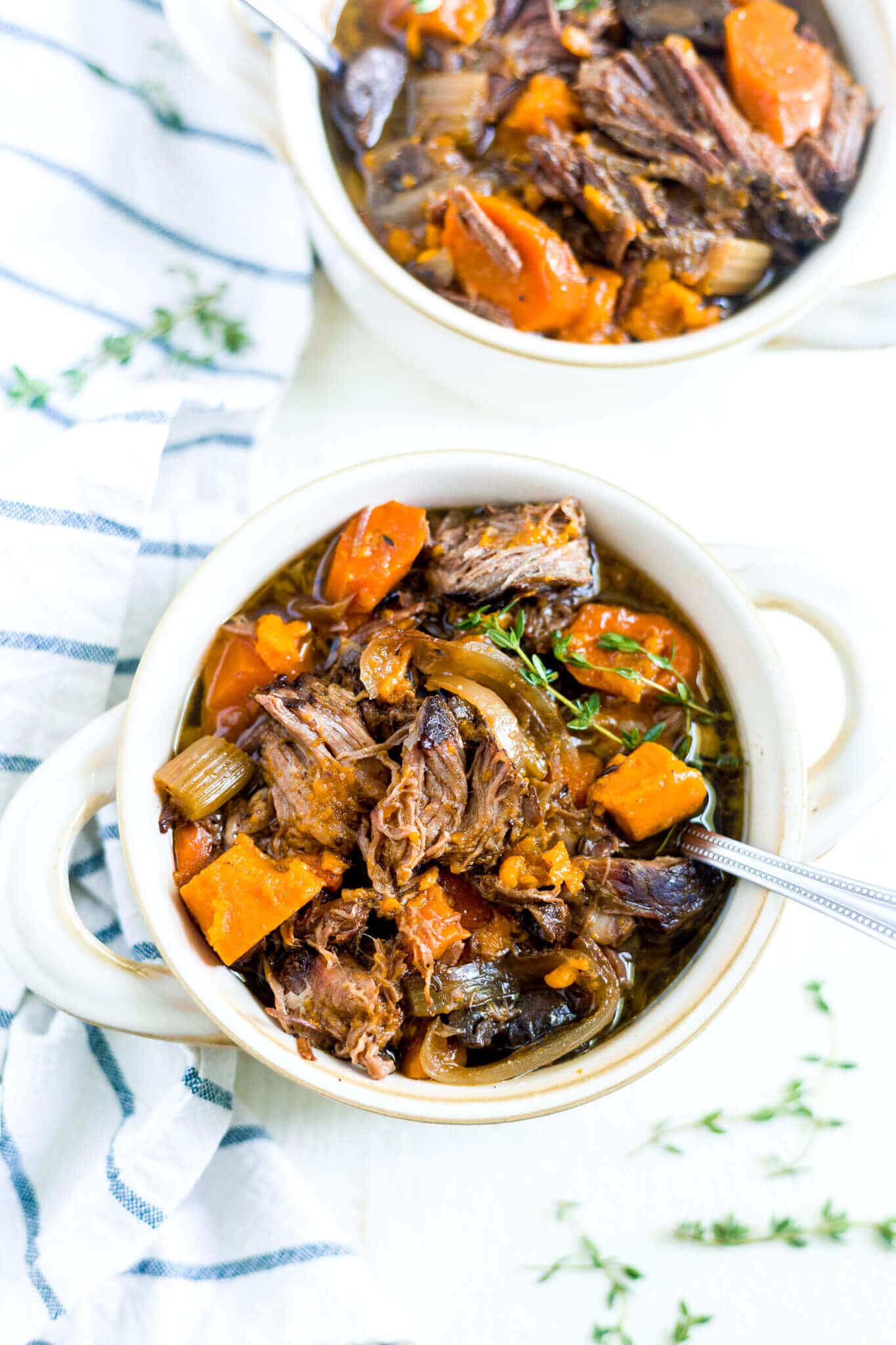 Thank you so much Ohio Beef for sponsoring this recipe. All opinions are 100% mine! I'm so grateful for brands like them who help me continue to share free recipes with all of you!
I hope you love this recipe as much as I do! It's a recipe we will be making almost every week in our house.
If you make it, don't forget to share a Picture on Instragram, Follow me, and tag me with @what_mollymade or #WhatMollyMade so I can see it and feature you!
More slow cooker recipes:
Slow cooker paleo chili
Slow cooker sweet potato chicken chili
Turkey vegetable low carb soup
35 healthy slow cooker recipes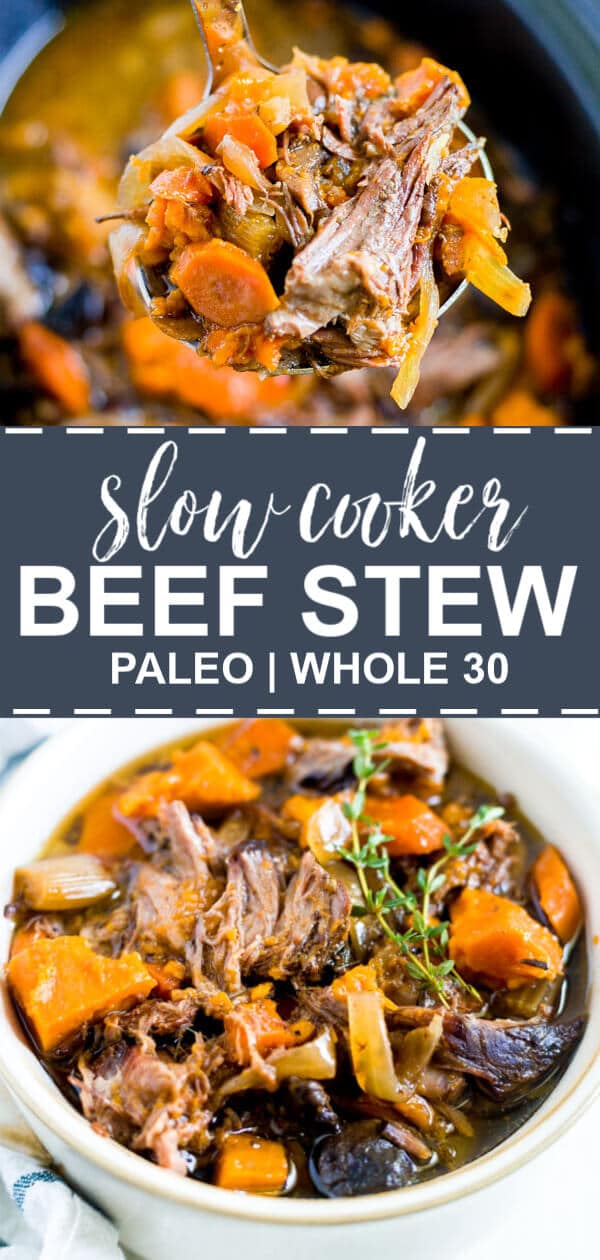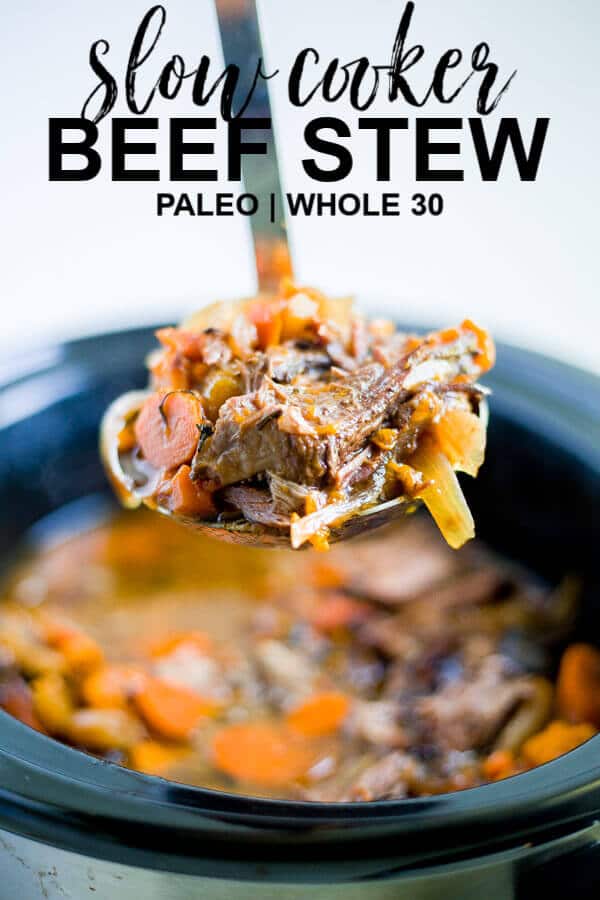 Please see more list about Beef stew with sweet potato
Detail: 🔗