Want to change up that leftover turkey? This turkey chowder is the ticket! Creamy and flavorful and a welcome change for leftovers.
We love a good chowder recipe, this turkey chowder is unique, but also try my easy clam chowder!
Reading: Turkey leftover stew slow cooker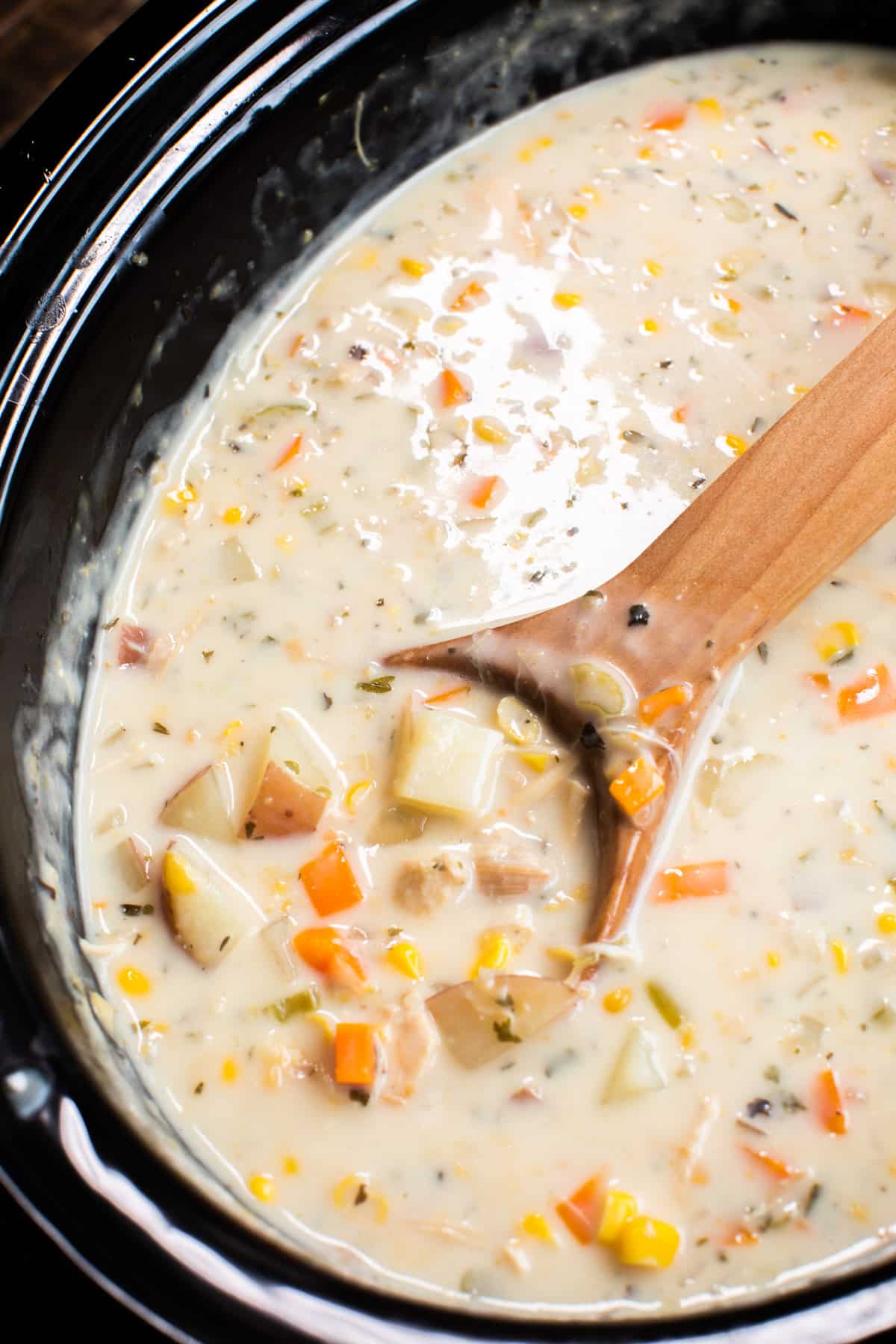 Read more: Easy Slow Cooker Beef Stew: Whole30, Paleo, Gluten-Free
If you are like me you like to use up all the leftover turkey. Roasted turkey is such a nice change from the rest of the year's meals and I always want to make as many meals as possible with it.
We often make turkey noodle soup, but this year I went in a different direction. I made creamy decadent turkey chowder that has chopped leftover turkey and small diced vegetables. This chowder is as good as any fancy restaurant!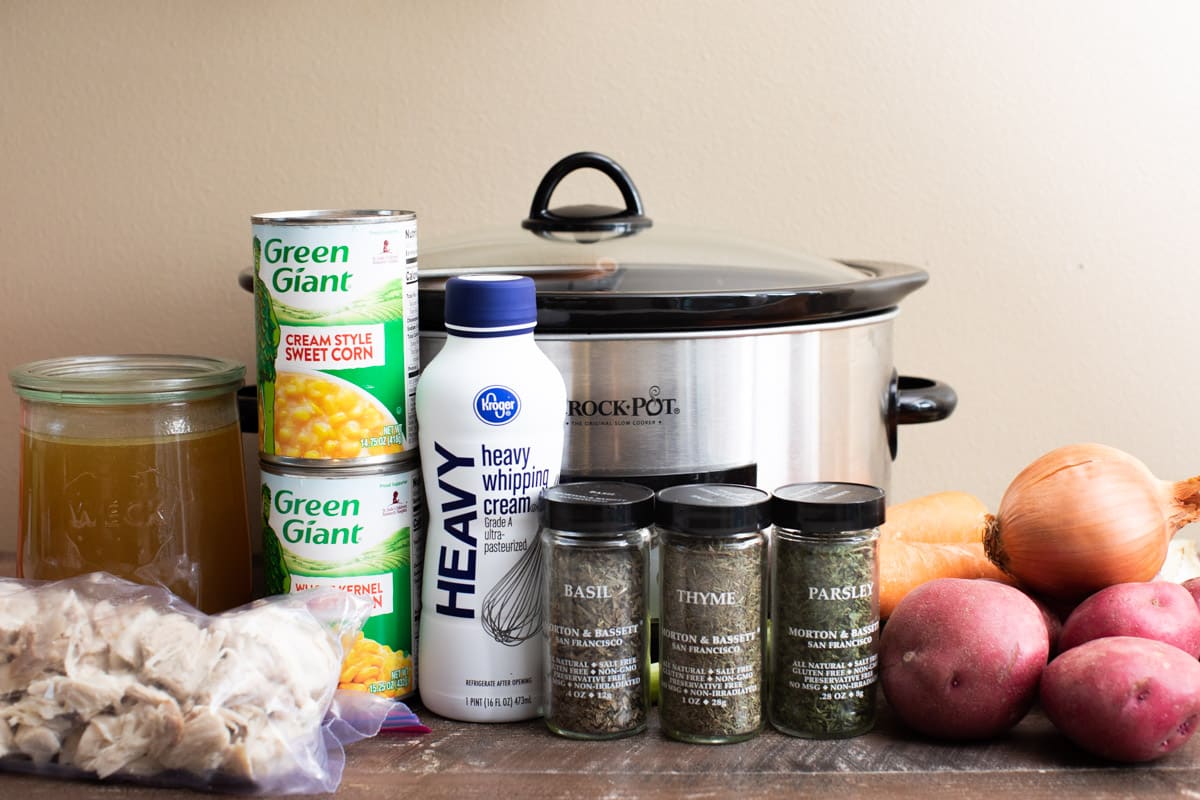 How to make turkey chowder in the crockpot:
Leftover turkey – Use up that extra turkey. Note that I DO NOT use turkey more than 3 days old. It tends to get a stale taste if left too long in the fridge.
Vegetables – Carrots, celery, onion, red potatoes
Corn – One can of cream-style corn and one can of drained kernel corn.
Broth – I make turkey stock from the leftover turkey bones (or you can use chicken broth).
Cornstarch – This will give the soup a thick chowder like consistency. Make a slurry from cold water and cornstarch and add at the end of the cooking time. Cook for 30 more minutes.
Heavy Cream – Adds flavor and helps to thicken the soup more.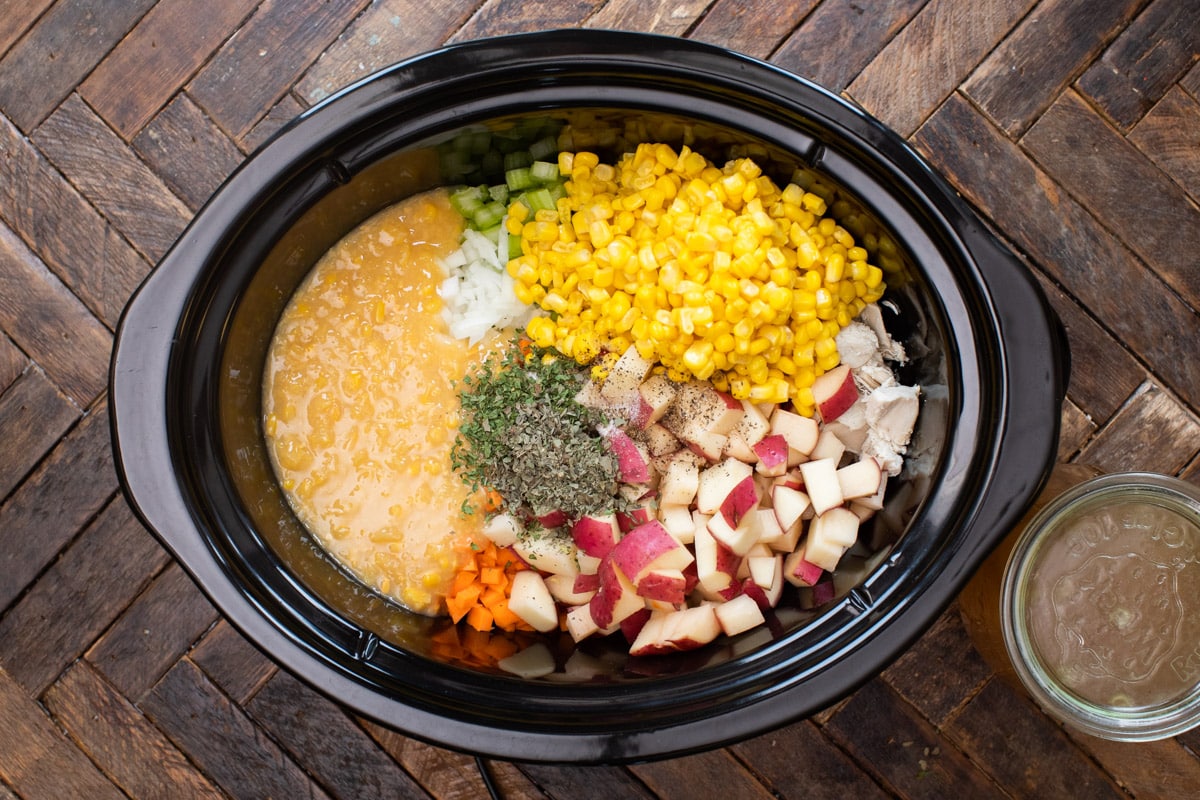 How long do I cook?
Place the lid on the slow cooker.
Cook on HIGH for 4 hours or LOW for 8 hours.
Now you will need to add a cornstarch slurry and continue cooking until thickened. See the next step on how to do this.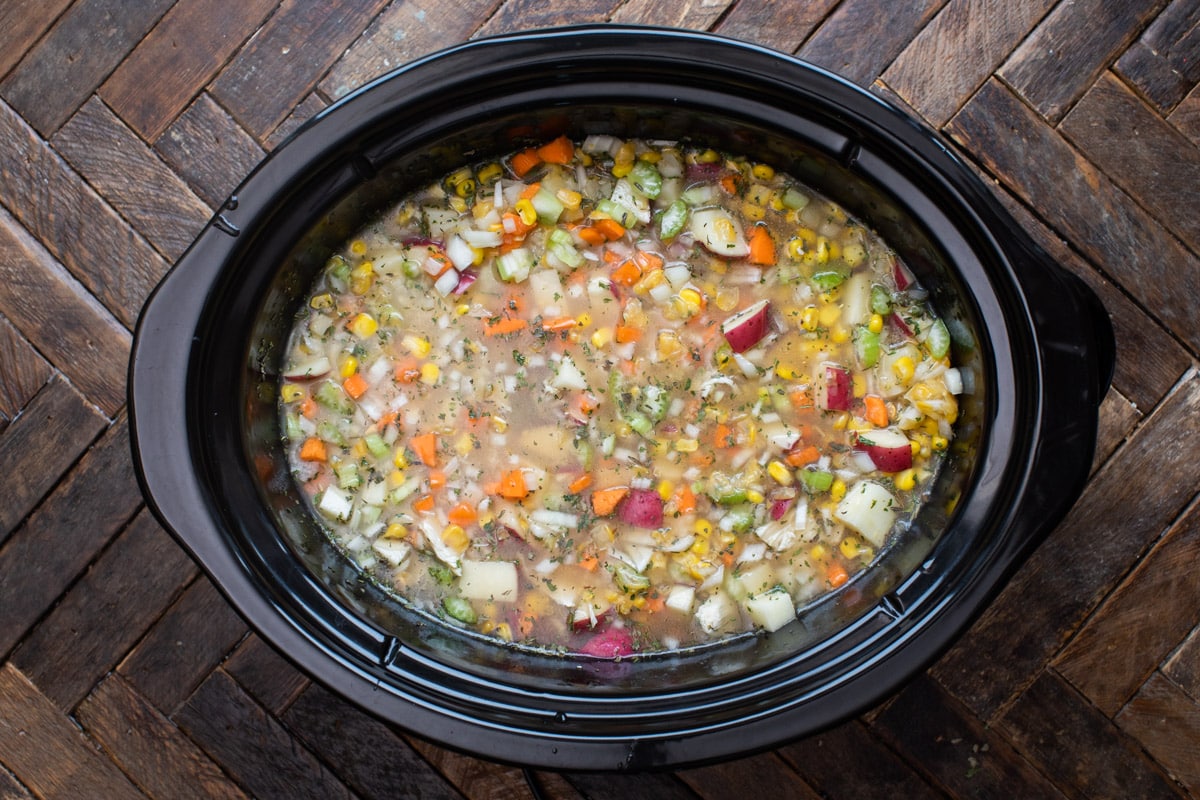 How do I add cornstarch to a soup in the slow cooker?
Mix equal parts of cold water and cornstarch and whisk together, this is called a cornstarch slurry.
Add to the hot soup in the slow cooker. Stir.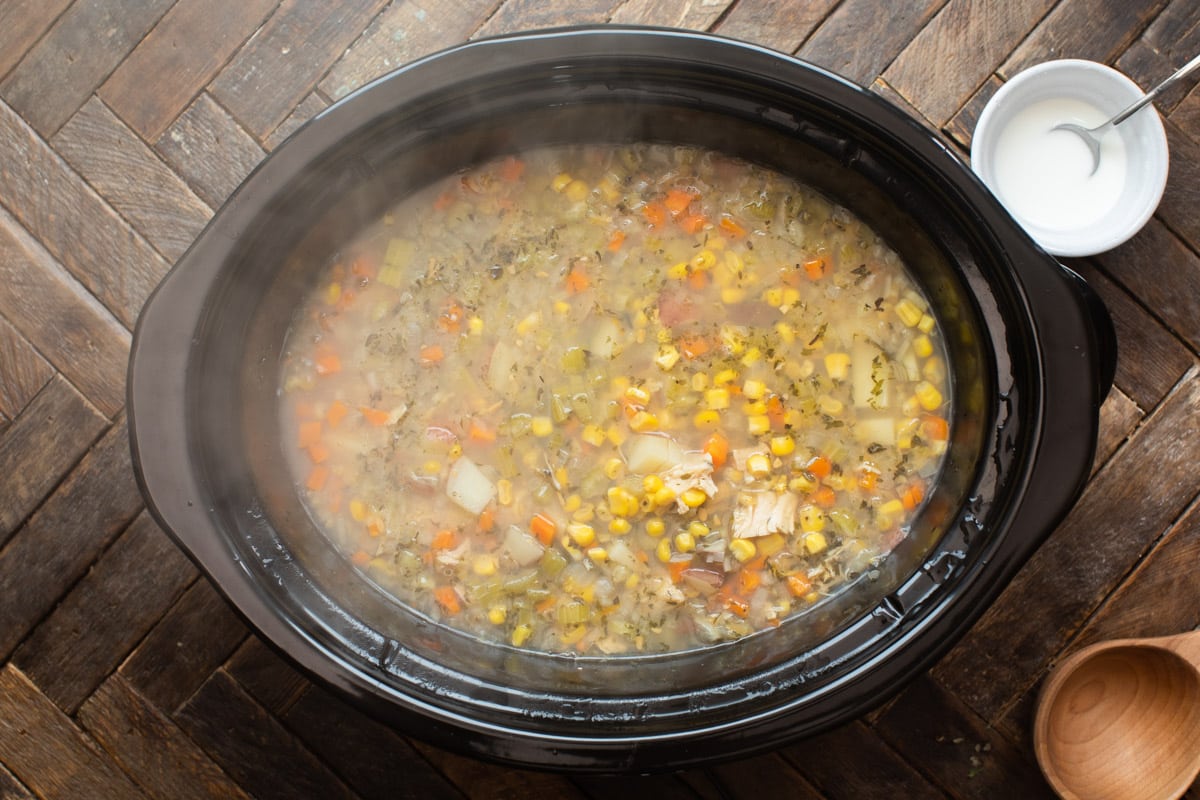 Add the heavy cream along with the cornstarch slurry to make this chowder creamy.
Turn the slow cooker to HIGH and cook for 30 minutes more, this will get the soup up to temperature so the cornstarch will activate and thicken.
Serve and enjoy!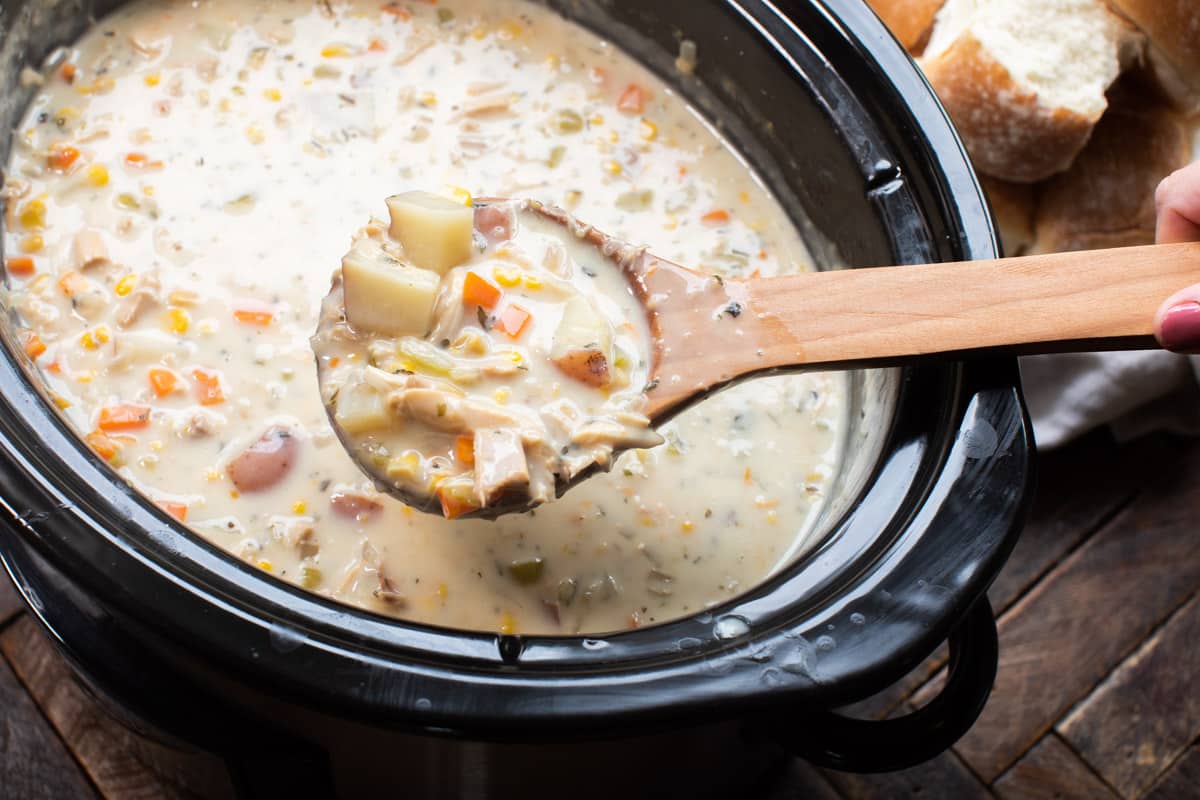 Can I use chicken instead of turkey?
Yes, you can use raw chicken breasts or cut up leftover chicken in this recipe.
The same amount of cooking time for raw or cooked, for the vegetables take just as long to cook.
More turkey soups to make in your crockpot:
Slow Cooker Turkey Stock
Slow Cooker Turkey Noodle Soup
Slow Cooker Southwest Turkey Soup – Recipe from A Mindful Mom
Slow Cooker Turkey and Brown Rice Soup
Slow Cooker Turkey Dumpling Soup – Recipe from Mildly Meandering
Slow Cooker Cajun 15 Bean Soup with Turkey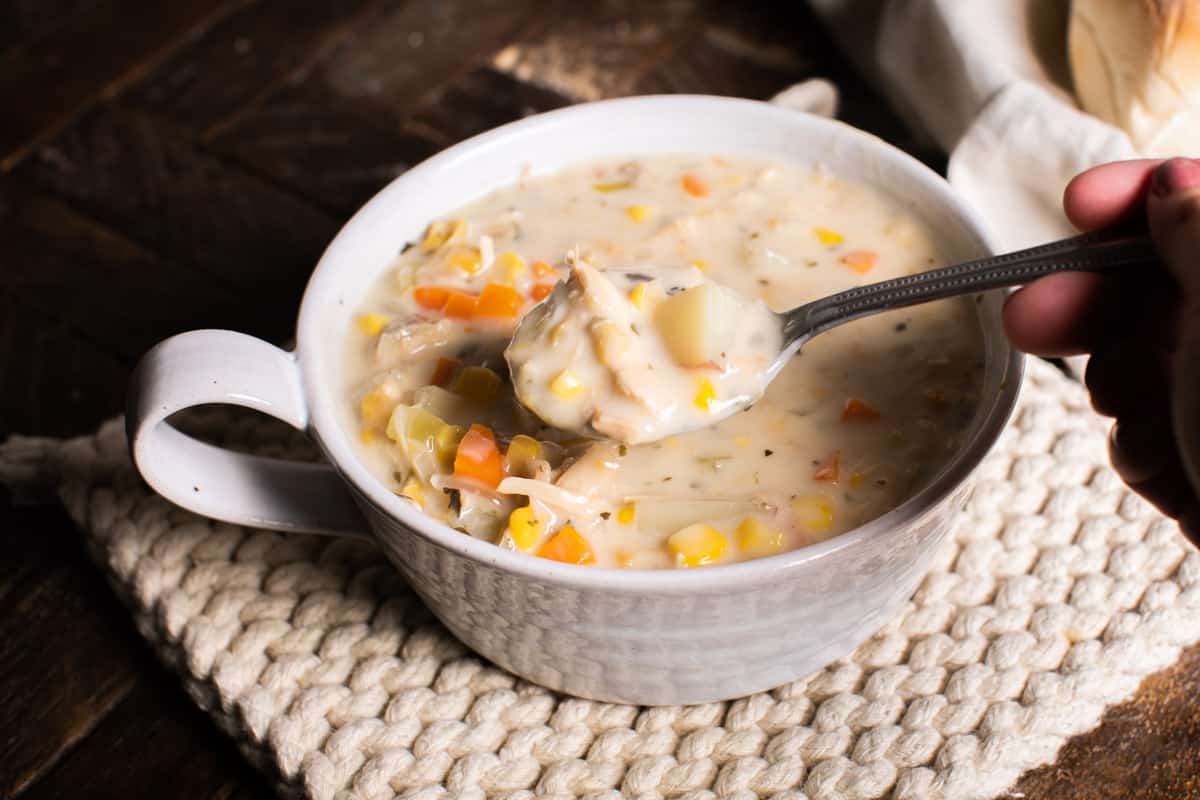 Read more: Dinty moore beef stew history
Want to make more magic in your crockpot? Stay up to date and subscribe to my newsletter and follow along on Facebook, Instagram, Pinterest and YouTube.
Recipe adapted from Just a Pinch – Turkey Soup Continental
Read more: The list of 16 instant pot meat stew setting
Please see more list about Turkey leftover stew slow cooker
Source: https://www.themagicalslowcooker.com/slow-cooker-turkey-chowder/