This Slow Cooker Whole Chicken Recipe takes just a few minutes of prep and results in tender, juicy chicken.
You'll also make flavorful veggies, potatoes and a silky gravy to go on top! Everything cooks in the crockpot with very little work on your part.
It's a complete meal in one pot!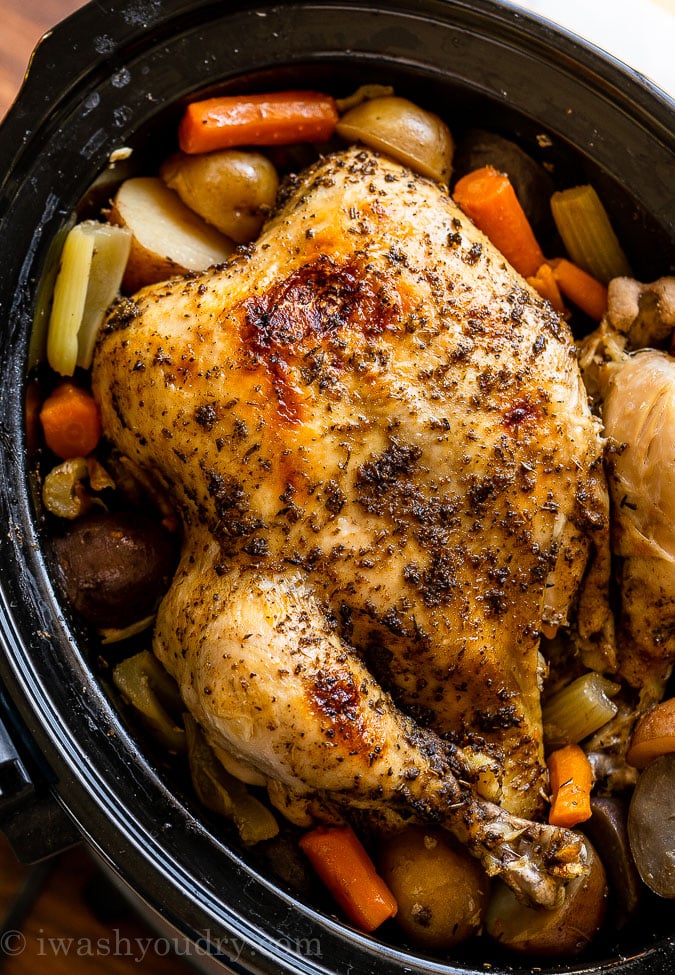 I'm a total convert to making this easy crockpot recipe for Sunday supper. I can just toss everything in the slow cooker, let it do it's magic and then at the end of the day, have glorious, rotisserie style chicken with veggies, potatoes and gravy too.
It's the perfect meal for my family. The chicken is juicy, flavorful and so extremely tender!
Slow Cooker Whole Chicken Recipe
Gone are the days of picking up a rotisserie chicken at the store. Did you know you can make a whole chicken in the slow cooker? It's the perfect way to make it without any fuss!
You can even get that golden brown, crispy skin with a simple little trick at the end!
Which Slow Cooker To Use?
For this recipe I'm using my oval shaped 7 quart Slow Cooker.
Also read: Crockpot Whole Chicken (+ Veggies) – Sweet Peas and Saffron
You'll want a slow cooker that's large enough to fit your chicken and have the lid fit nice a snug. I find the oval shape to be best for this recipe as it fits the bird nicely.
Ingredients Needed For Crockpot Chicken
I've taken the seasoning blend from my Roasted Chicken Thighs and turned it into a seasoning paste to coat every inch of this whole chicken.
Here's what you'll need…
3lb. Whole Chicken (must be thawed and NOT frozen) – these are actually quite cheap. I picked up a whole bird for just $3!
3 tsp Italian Seasoning
1.5 tsp Salt
1 tsp Pepper
1 tsp Garlic Powder
1.5 tsp Paprika
1 tsp Onion Powder
1 tbsp Olive Oil
Potato and Veggie Nest
We're going to use cut up veggies, potatoes and herbs to make a nest for our chicken to rest on in the slow cooker. This keeps it up off the bottom and from boiling in it's own juices.
Here's what you'll need for the bottom of the slow cooker –
6 ribs of celery
6 large carrots
1 large onion
24oz. baby potatoes – you can use any sort of baby potato
Fresh Rosemary & Thyme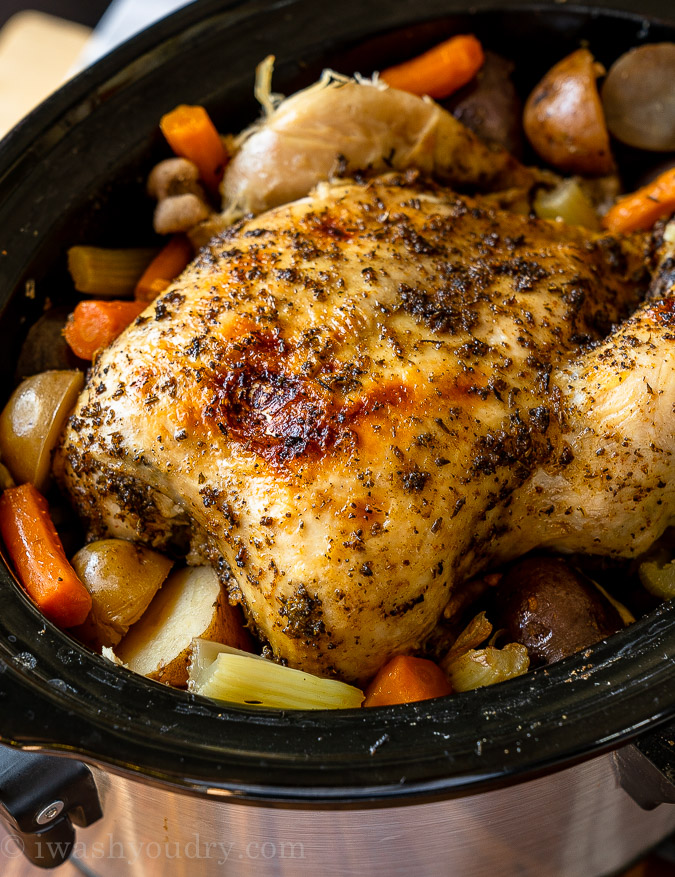 How To Make Whole Chicken in Slow Cooker
DO NOT RINSE RAW CHICKEN!!
Rinsing your chicken can spread dangerous bacteria around your kitchen, so it's best to not rinse it in your sink.
Rather, remove any giblets from the inside of the chicken and use plenty of paper towels to pat the skin dry as well as inside the cavity of the chicken.
Drying the skin of the chicken will help to adhere the seasonings and also create a crispier skin later on.
Also read: Slow Cooker Roast Chicken and Vegetables
Combine the seasonings in a small dish and add in the olive oil to create a seasoning paste. Then gently rub this mixture all over the bird, including the inside cavity.
Place the seasoned bird on top of the "nest" of veggies and then cover tightly with the lid.
How Long To Slow Cook Whole Chicken?
When cooking a whole chicken in the crockpot, you can either use the LOW setting or the HIGH setting.
LOW – 6 to 8 hours, or until chicken reaches 165 degrees F. in the breast
HIGH – 4 to 5 hours, or until chicken reaches 165 degrees F. in the breast
By cooking the chicken in the slow cooker, it slowly reaches the safe eating temperature, which creates a juicy, tender chicken!
You'll have to be extra careful when removing it from the crockpot as it'll want to start falling apart.
How To Get Crispy Skin on Chicken
If you really want to take this dish to the next level, all you need to do is carefully remove the chicken from the slow cooker once it's done cooking and place it on a lined baking sheet.
Brush a little olive oil on the top and pop it under the broiler (about 10 inches away from the heating element), until the skin gets nice and golden brown.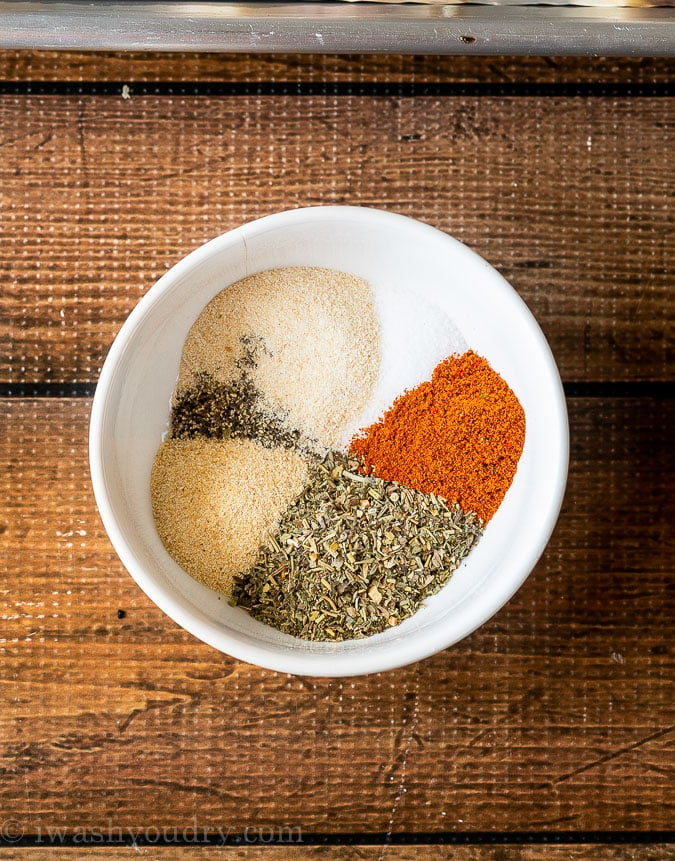 How To Make Gravy From Drippings?
One of my favorite things about making dishes like my Instant Pot Pot Roast, Roasted Turkey or this slow cooker chicken is turning the drippings into a nice, silky gravy.
Also read: Crockpot Whole Chicken (Paleo, Keto, Whole30)
All you need are two extra things… butter and flour!
STRAIN the liquid from the bottom of the crockpot into a fat separator.
MELT 2 tbsp of butter in a small pan until melted then whisk in 2 tbsp of all purpose flour.
WHISK gradually add in about 1 1/4 cup of the drippings, whisking until smooth.
SEASON with salt and pepper to taste.
PRO TIP – Add more drippings for a thinner consistency gravy.
What To Serve with Whole Chicken
We usually serve the veggies and potatoes that are cooked with the chicken alongside it. Here are some more of our favorite side dishes to serve with this whole chicken.
The BEST Fluffy Mashed Potatoes – perfect covered in the gravy!
Parmesan Roasted Green Beans
Homemade Dinner Rolls
Classic Stuffing Recipe
Brown Sugar Glazed Carrots
Looking For More Slow Cooker Chicken Recipes?
I love utilizing my slow cooker to make amazing chicken recipes. Here are a few more must-try recipes.
Crockpot Shredded Chicken
Slow Cooker Teriyaki Chicken
Slow Cooker Chicken Tortellini Soup
Not only can you serve this whole chicken recipe for a nice Sunday dinner (or any day of the week), but the chicken is also great for meal prep!
Use the slow cooker chicken shredded up in my creamy Chicken Salad, tossed in this Chicken Pot Pie Biscuit Skillet or stuffed in these Green Chicken Enchiladas. The options are endless!
I know you're going to enjoy this recipe as much as we do!
PIN THIS IMAGE TO SAVE THE RECIPE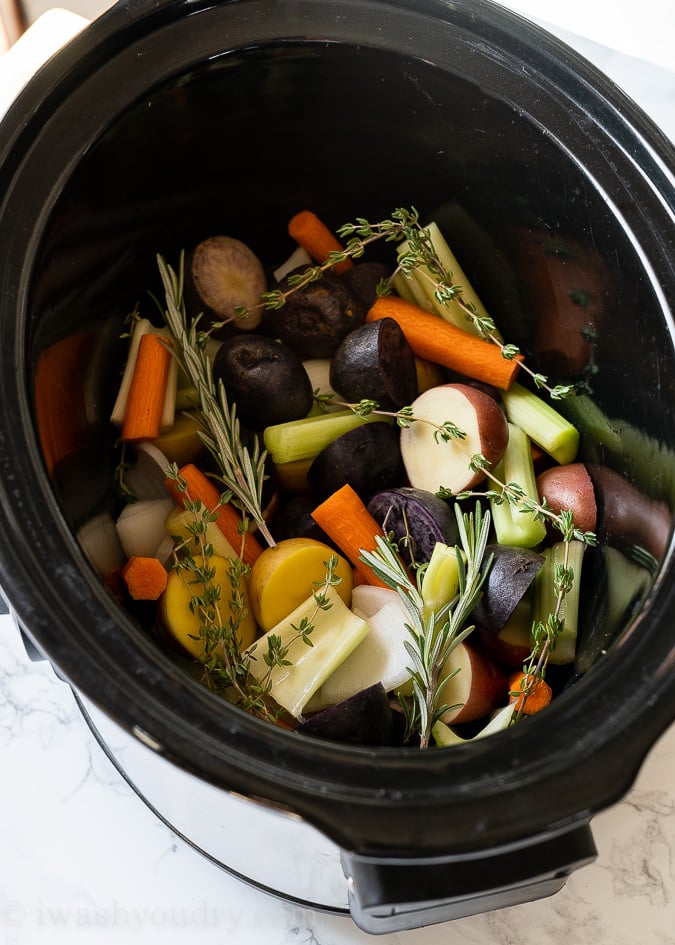 Please see more list about Chicken roast crock pot recipes