Last Updated on May 23, 2021 by Slow The Cook Down
This delicious slow roasted chicken is simple to prep and loaded with flavor. Rubbed with herb and garlic butter and slow roasted with lemons, the chicken comes out wonderfully juicy with a golden brown crispy skin. This whole roasted chicken is perfect for family meals and special occasions.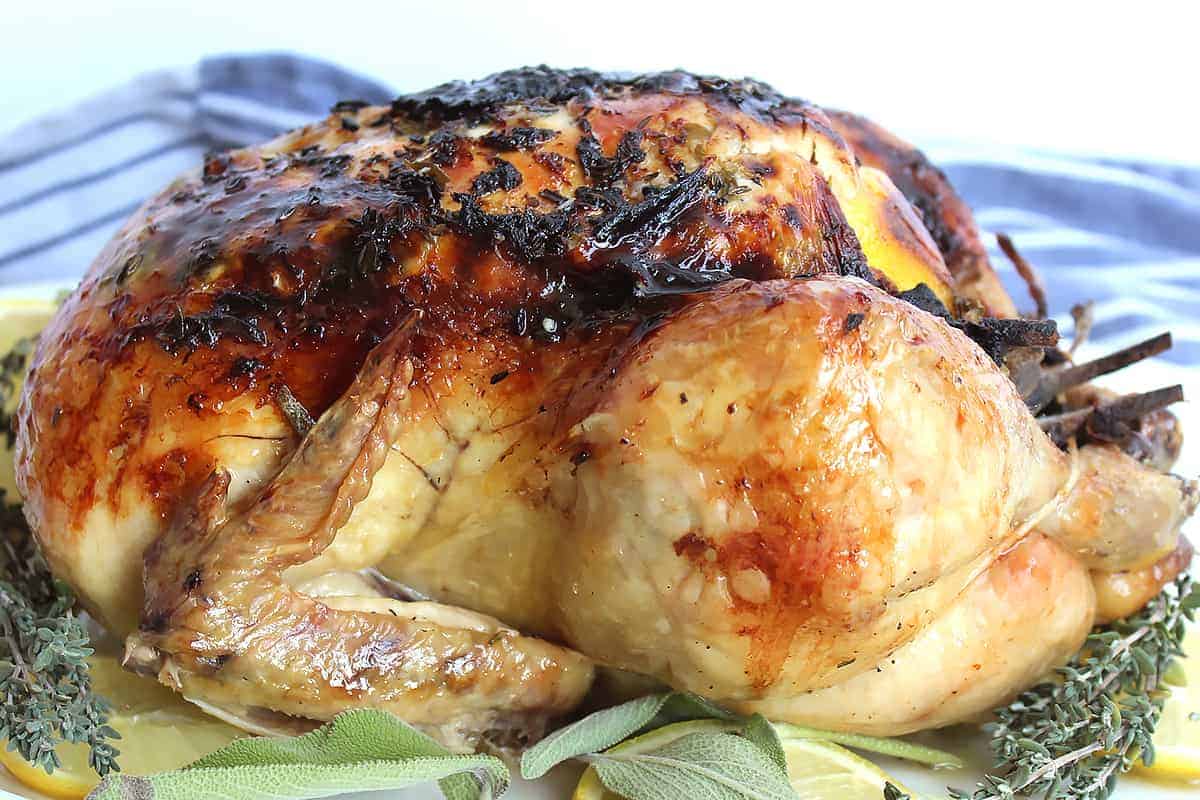 This recipe was first published in January 2016 and has been updated with new photos, tips and tricks!
One of the best things about growing up was a family Sunday roast. I totally didn't appreciate it at the time, but now that I'm all grown up it's a tradition that I really enjoy. It's such a great time to catch up with everyone and look forward to the week ahead.
I have perfected this recipe over many, many years! It's hands down my favorite way to make roasted chicken and is my go to recipe when I've got a roast dinner craving. Simple enough to serve up for a lazy Sunday feast and fancy enough for special occasions like Easter, Christmas and family birthdays.
No roast dinner is complete without the sides, so be sure to serve this up with my Roast Potatoes, Sautéed Brussels Sprouts and lashings of Red Onion Gravy. Go forth and feast, it's what Sunday's are for!
For a quicker method, be sure to check out my Buttermilk Roasted Chicken.
Be sure to check out all of my top tips to cook the perfect roasted chicken!
Ingredients You Will Need
The beauty of a roast chicken is it's simplicity. You don't need a load of fancy ingredients to make a wonderful meal.
Whole Chicken: Splash out on the best chicken you can. If you can, buy organic and it should be air-chilled, that's going to give you the best flavor. At the very least, for those living in the states, it should be anti-biotic and hormone free.
Lemons: You will need 4 lemons for this recipe and we use the zest and the juice. Don't be tempted to use bottled lemon juice, the results won't be near as good.
Garlic: This recipe requires a whole bulb of garlic, and the bigger the better.
Fresh thyme and sage: Thyme and sage are two of my favorite herbs for roasting. They both have slightly earthy tones with hints of lemon and mint.
Salted butter: Salted butter helps to get that skin wonderfully crispy and keeps the meat wonderfully juicy. You can, if you are in a pinch, use unsalted butter, if you do add a pinch of salt into the butter mixtures.
Salt and pepper: Seasoning is important. Always. It helps to bring out the flavors of the food. I recommend using kosher salt and freshly ground black pepper for this recipe.
How To Cook Slow Roasted Chicken
This recipe takes about 30 minutes to prep, and the cooking time is pretty much hands off. I used a meat injector to really get flavor into the chicken, but you can skip this step if you don't have one, it will still be delicious!
Scroll down to to the bottom of the page for the full recipe
In a bowl, mix butter with lemon zest, garlic, thyme and sage (photo 1).
Put a couple of good pinches of salt and cracked black pepper into the cavity of the chicken. Pop in the lemon, herbs and garlic (photo 2).
Using a spoon, gently lift the skin away from the breasts (photo 3).
Take the butter mixture and spoon this between the gap you have created between the skin and the breast. Use your hands to push this as far down the chicken as you can (photo 4).
In a small pan melt butter, lemon juice, garlic and herbs (photo 5).
Once it is all mixed and melted, use the syringe to inject this mixture into the chicken meat (photo 6).
Place the chicken, breast side down in a roasting tin, and pop any left over herbs around it, along with slices of lemon and the rest of the garlic cloves. Cover loosely with tin foil and put in the oven to slow roast (photo 7).
After two hours, take the chicken out of the oven and discard the foil (photo 8).
Carefully turn over the chicken so it is breast side up in the tin (photo 9).
Pour over the melted butter mixture. Place back in the oven for another hour (photo 10).
For a super crispy brown skin, place the chicken under the broiler (grill) for a few minutes.
Let the chicken rest before carving and serving.
What's the best chicken to buy?
We touched a little on this above, but it's totally worth a bit more of a rundown. The chicken is the star of the show, so always buy the best quality you can. When it comes to meat, don't skimp. If you have a farmer's market or a local butcher, first choice is to buy your chicken from there. It will be local, less likely to be massed produced, and as natural as a little chicken can get.
If you aren't lucky enough to have access to local chickens, then stores will carry several options:
Organic: Fed organic and natural food and had access to the outdoors.
Antibiotic Free: You really don't want to be eating meat that has been given antibiotics. It likely means they weren't kept in great conditions and you don't want to be ingesting antibiotics when you don't need to, especially when they are meant for chickens!
Cage-Free: Doesn't sound as good as you think! It just means they weren't kept in cages, but most likely they were cooped up in an overcrowded warehouse.
Free-Range: This means that the chicken had access to pasture, but doesn't necessarily mean it was raised in a grassy field.
Air-Chilled: If you can, always go for air-chilled. This means it wasn't submerged in water after being slaughtered and plucked. When they are submerged, they take on water, adds weight and dilutes the flavor.
So if you can, get organic and air-chilled chicken.
Trussing the chicken
Whenever you roast a chicken, it should always be trussed. Most store bought chickens have already been trussed, or if you ask your butcher to do it they will likely be happy to oblige. Trussing the chicken is important, without it, too much hot air will circulate inside the chicken and the breast meat will dry out. If you have to truss your own chicken, check out this how to video.
What size roasting tin should you use?
There's no need to use a giant tin when making this slow roasted chicken. Use one that it just fits into. If you have a cast iron skillet, that will work really well too. Use a tin with a fairly decent sized lip so that you don't get chicken juice all over your oven.
How long does it take to slow roast a chicken?
So, a lot of roasted chicken recipes you'll see will have a shorter cooking time, but trust me. Slow roasted is the way to go! It will take around 3 hours at 300F / 150c for a chicken weighing 3.5 to 4lbs or around 1.7. to 2kg.
How do you know when the chicken is cooked?
So bare in mind that ovens can run at different temperatures and cooking time will also vary depending on the size of your bird, so do not take the three hour cook time as gospel. The best way to check when a whole chicken is perfectly roasted is by using an instant read thermometer, insert it into the breast, not touching the bone, and it should register at 160-165F / 71-74c. Using a thermometer is the most fail safe way to serve perfectly cooked chicken.
If you don't have a meat thermometer, use a fork to pierce the skin on the breast of the chicken, the juices should run clear. If you use this method, just take care not to overcook it, or your chicken can become dry.
When you slice into the breast, it should be an even white colour throughout. Be aware that the darker thigh meat may show some pink in it, this is totally normal.
How to carve a roasted whole chicken
Once your slow roasted chicken is ready to serve, carving correctly is an important step. You want to get as much meat off of the bird as you can. For the best results use a carving knife and fork, this will make it much easier.
For step by step photos, be sure to check out this article for Taste Of Home, but the main steps are:
Slice the skin between the leg and the body, cut through the joint to remove the drumstick and thigh.
Separate the drumstick and thigh and repeat on the other side.
Remove the breast meat and cut into slices.
Remove the wings.
Serve and enjoy!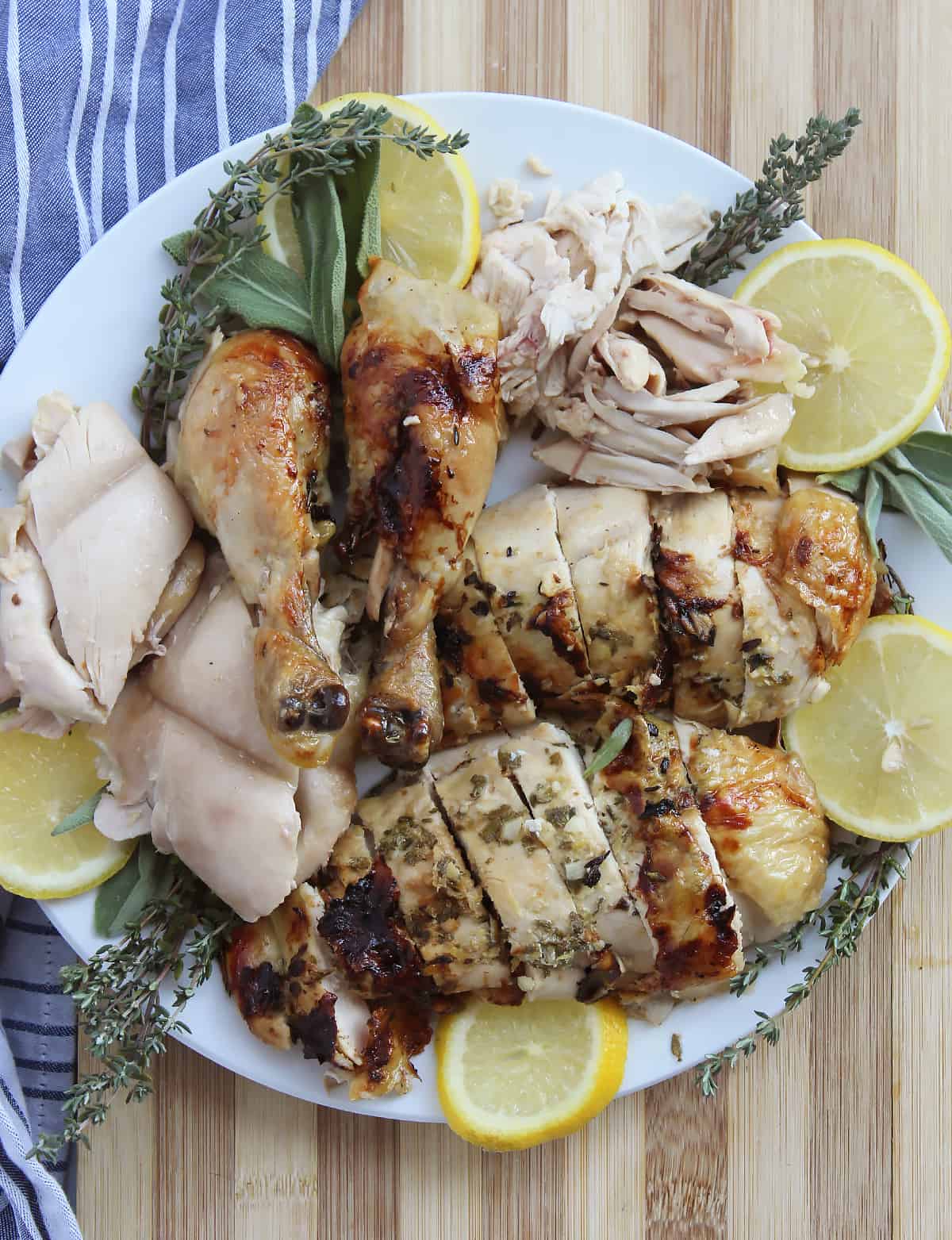 Cooking the chicken breast side down
Ok guys, here's a top trick. For the first part of cooking, I like to roast the chicken breast side down. It helps to keep the breast super tender an juicy. The chicken basically bastes itself this way, the fat from the thighs, moves into the breasts so that they don't dry out. For the last hour of cooking, gently flip the bird breast side up so that you get some lovely crispy skin to boot.
Recipe Notes and Tips
Get the chicken up to room temp before you start prepping it. Take the chicken out of the fridge about 30mins to an hour before you want to start the recipe. This will help it to cook more evenly.
Pat the chicken with kitchen paper to remove an excess moisture. This helps you to get a nice crispy skin.
If you don't have a meat injector, you can skip this step, just rub the butter under the skin. It's totally worth trying if you have one though!
Use a meat thermometer for the best chicken! It should register at 160-165F.
Rest the chicken for at least 15 minutes before carving it. This will mean that the juices redistribute to help keep it nice and juicy.
Drizzle a couple of tablespoons of the pan juices over the carved chicken for an extra flavor boost.
This is what Sundays is about; a quick prep with a few good fresh ingredients, then you can bung it in the oven and sit back and relax with a glass of your favourite tipple.
More Easy Chicken Recipes
White Bean Chili with Shredded Chicken
Sticky Chicken Wings with Honey and Sriracha
Stuffed Chicken One Sheet Meal
Chicken Tandoori Naan Bread Pizza
Honey & Mustard Marinated Chicken Salad
I love hearing from you!! If you have tried this yummy slow roasted chicken, be sure to scroll down, give it a star rating and let me know what you thought!
For more tasty treats, food inspiration and fun, be sure to follow me on Facebook, Instagram, Twitter and Pinterest – come say hi!
Be sure to keep in touch and sign up to Slow The Cook Down to grab your free e-book 'Stress Free Recipes Made For Sharing'
Through this article, we hope to help you understand Slow roasting a whole chicken in the oven
Detail: 🔗