Sunday Supper is an Amazon Associate and may receive compensation for purchases made through affiliate links.
My Slow Roasted Prime Rib recipe is a melt-in-your-mouth holiday classic. Using only 4 ingredients and hardly any prep work, this is an easy rib roast recipe that will really "wow" your guests!
This is one of our reader's favorite recipes on our website! It gets more views during the holidays than any other recipe! See what makes this my most popular holiday prime rib. Slow roasting is the best way to cook a rib roast!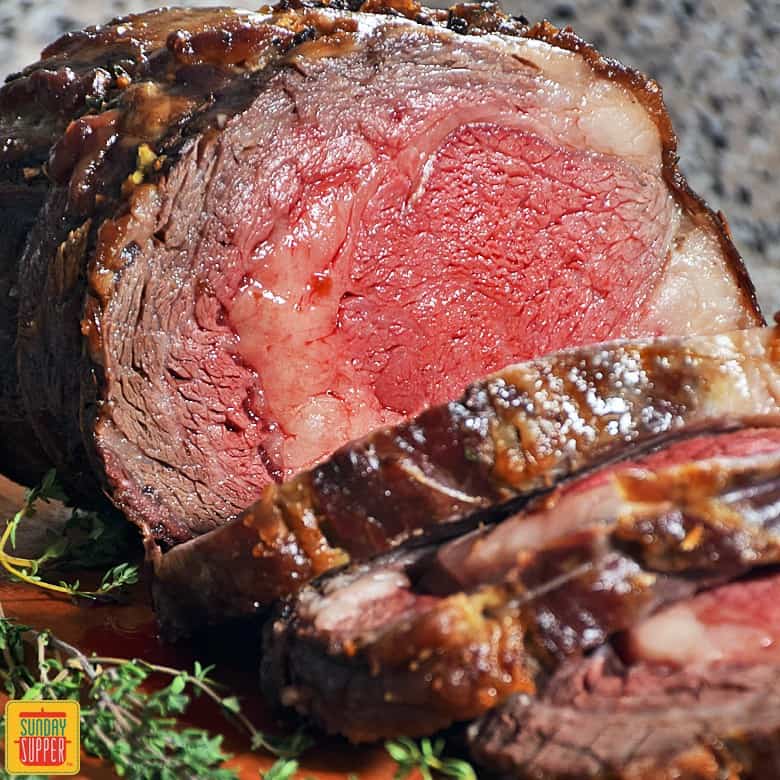 Jump to:
Best Slow Roasted Prime Rib Recipe
Prime Rib Roast Ingredients
How to Roast Prime Rib – Slow Roast Method
Slow Roasted Prime Rib Recipe Tips
Au Jus for Prime Rib
How to Buy a Perfect Prime Rib Roast
Best Prime Rib Seasoning
Slow Roasted Prime Rib Temperature Chart
How to Cut a Prime Rib
Slow Roast Prime Rib Questions Answered
What to do with Leftover Prime Rib
Reheating Prime Rib
Sauces for Prime Rib
Side Dishes for Prime Rib
Best Beef Roasts
Reader Reviews
📌 Pin it for later!
📋 Recipe
💬 Reviews
Best Slow Roasted Prime Rib Recipe
Low and slow cooking locks in all the juices for maximum flavor and tenderness! When you roast low and slow in the oven, you'll notice there will be a very small amount of juice that accumulates in the bottom of the roasting pan. All of the drippings remain in the roast, resulting in beef that is more tender and juicy than any other method of cooking.
Once it is slow roasted to the desired degree of doneness, put it in a high heat oven for about 15 minutes before serving to achieve a beautifully crisp, browned crust on the outside which adds tons of flavor. Serve this delicacy over instant pot mashed potatoes and you are sure to have your guests begging for more!
This recipe is always a winning Sunday dinner idea!
This was by far the best (and simplest) way to perfection with theprime rib….Thank you…the BEST recipe for rib I've ever done and I've been cooking them for Christmas and Thanksgiving for over 50 years!!

Sarah
Prime Rib Roast Ingredients
Prime Rib Roast
Kosher salt or sea salt
Olive oil
Black Pepper
That's it! It is that simple to impress your family and friends!
How to Roast Prime Rib – Slow Roast Method
Salt the roast all over with kosher salt the day before you plan on cooking it and refrigerate overnight, uncovered.
When ready to roast, preheat the oven to 200°F. Place the roast on rack in roasting pan. Rub the roast all over with olive oil and freshly cracked black pepper.
Place roasting pan in preheated oven until the center of the roast reads 120°F for medium-rare. This takes about 4 hours, but time will vary depending on the size of the roast. Use a meat thermometer and cook to 5 degrees below your desired degree of doneness.
Remove roast from oven and tent with foil to rest for at least 20 minutes. Turn oven temp up to 500°F.
Once the oven reaches 500°F, remove the foil and put the roast back in the oven. Cook until the outside is nicely browned and crisp, about 10-15 minutes. Transfer roast to a cutting board and rest the roast at least 15 minutes before serving.
Slow-roasting flips the traditional method on its head! It's easy and results in a delicious prime rib roast every time.
Slow Roasted Prime Rib Recipe Tips
The night before, cut and unwrap the beef and set it in the refrigerator. Keep it uncovered on the ​sheet pan with a rack. This allows the surface moisture to evaporate and will guarantee a beautiful brown crust when you sear it.
Three hours before roasting, take the beef out and place it on a sheet pan (to catch any juices) and keep at room temperature. This step is key to an evenly roasted roast beef recipe.
Rest for 15-20 before slicing. This will help keep in all the juices for the juiciest and moistest roast.
We love serving it rare and then using au jus gravy to finish cooking the meat. Perfection!
Au Jus for Prime Rib
Au jus is a French cooking term that literally means "with juice". It refers to a light sauce made using fat drippings from meat like roast beef.
The #1 ingredient you need to make au jus is beef drippings. It isn't au jus without the drippings! Aside from beef drippings, you will also need Worcestershire Sauce, Red Wine, and Beef Broth or extra juice from the roast beef.
Place the roasting pan from cooking roast beef on the stove-top over low heat after removing the roast from the pan. Whisk 1 tablespoon Worcestershire Sauce and Red Wine into the dish, along with drippings from the beef. If using the roasting pan, scrape up any brown bits from the bottom of the pan.
Add Juices from the roast beef.
Bring to a simmer and cook down the sauce until it thickens.
Check out our full guide on how to make au jus.
How to Buy a Perfect Prime Rib Roast
It is all about marbling! Trust me on this, the perfect beef roast will have lots of marbling.
What is marbling on beef?
The word marbling refers to white flecks and streaks of fat within the lean sections of beef, resembling a marble pattern. It is also called intramuscular fat. These flecks of fat are what gives the beef its texture and amazing flavor throughout each bite.
Best Prime Rib Seasoning
Before you cook your prime rib, you'll want to season it ahead of time and let it absorb the flavor of your seasoning.
Salt the roast the day before and refrigerate overnight. Do not add the pepper or olive oil yet.
When ready to cook, rub the roast all over with 2 tablespoons olive oil and 1-2 teaspoons freshly cracked black pepper.
That's it! That is all you need to make the perfect holiday roast with a simple yet delicious flavor!
If you want to add a bit more to it, this prime rib rub is excellent, especially when making a smoked prime rib.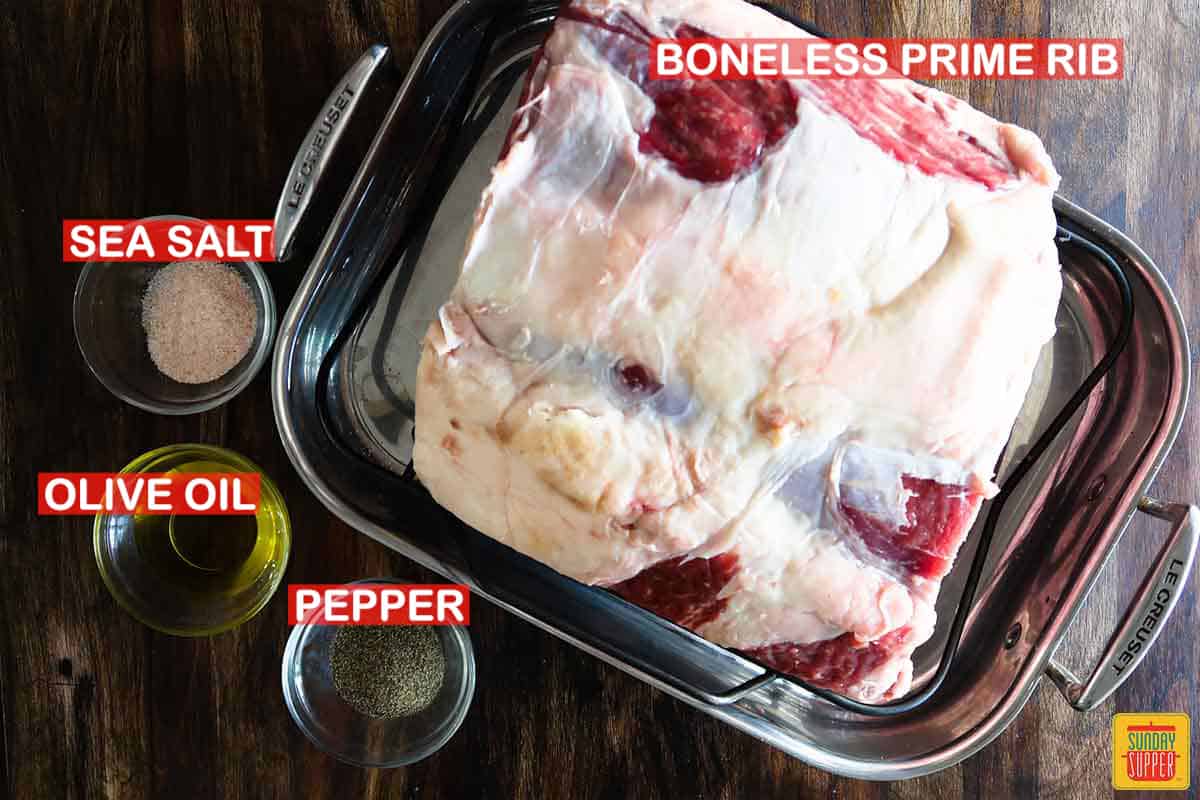 This truly is my favorite recipe for a holiday roast! I like to start our holiday meal with my amazing Candied Bacon followed by my shrimp bisque and these delicious Portobello Mushrooms on the side. These are so easy to make ahead of time and always a crowd-pleaser. It is the perfect combination.
Slow Roasted Prime Rib Temperature Chart
It is always best to use a meat thermometer to make sure your roast beef is done perfectly to your liking.
Rare: 120-125°F – Bright red interior
Medium Rare: 130-135°F – Pink on the outer crust with a deeper red center
Medium: 135-140°F – Mauve/light pink colored interior
Well-done: 145°F+ – Brown, no pink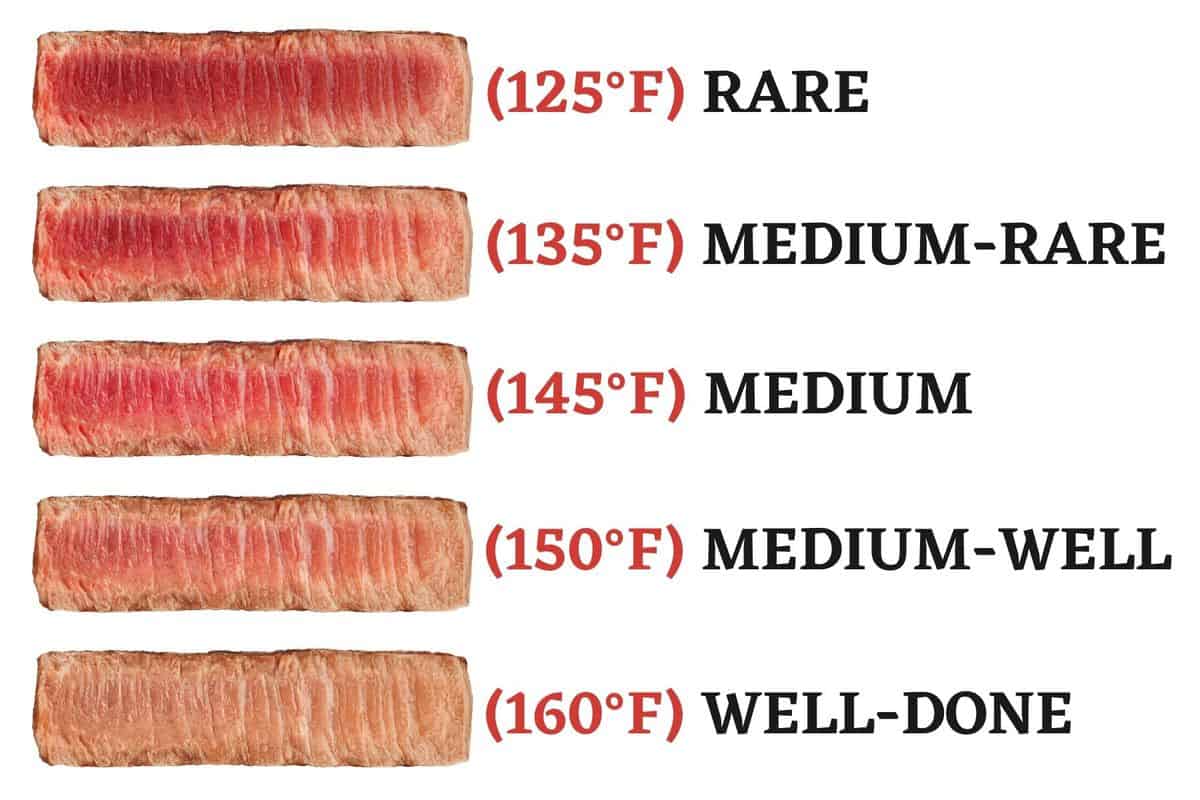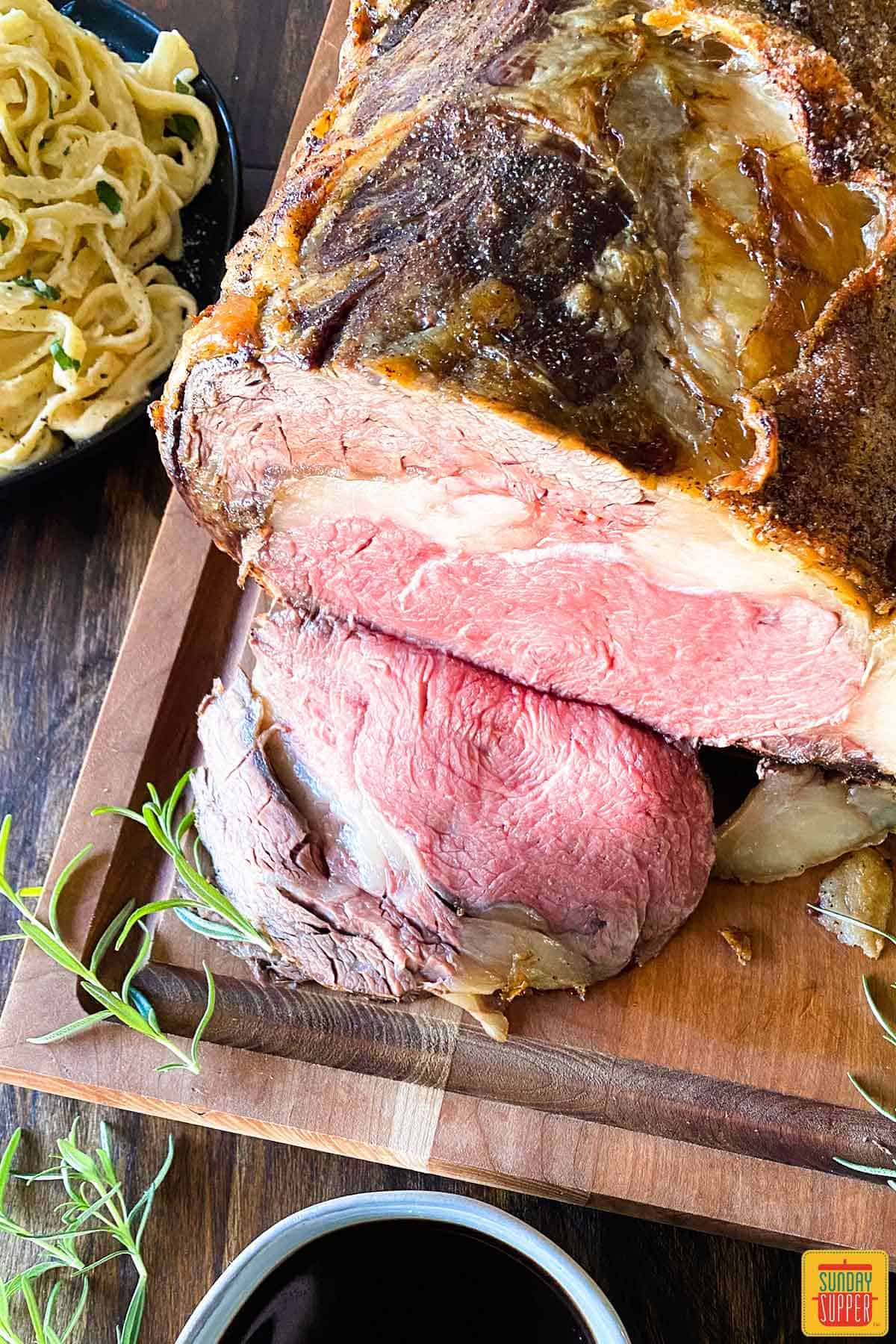 How to Cut a Prime Rib
Place your roast on a wooden meat cutting board with juice groove and choose the sharpest slicing knife you own.
Look at the direction on the grain of the beef and slice against the grain.
It is truly a personal preference if you slice thick or thin slices. Both work, so it depends on if you want a steak-like experience or more of a roast beef eating experience.
Slow Roast Prime Rib Questions Answered
What to do with Leftover Prime Rib
It is just as delicious the next day and we love reinventing leftovers. One of the best recipes you can make using leftovers is Creamy Penne Pasta.
It's like an amped-up Fettuccine Alfredo with steak. The combination of flavors is incredible!
And our absolute favorite is making a Hot Roast Beef Sandwich with Caramelized Onions and a remoulade sauce sandwich. You haven't lived until you try this leftover sandwich!
Reheating Prime Rib
I prefer to cook the meat to medium-rare so it can easily be reheated without drying out.
Once you cut your beef into approximately equal slices, you can reheat by placing the meat in a microwave-safe dish.
Add a bit of leftover au jus or beef stock. Cover your dish with a paper towel and microwave on high for about one minute.
Continue to heat in 30-second increments until your roast reaches an internal temp of about 160 to 165º F.
You can also reheat your beef on the stovetop.
Just add the sliced roast into a small pot with either leftover au jus or beef stock. Heat for approximately 5 minutes and serve.
Sauces for Prime Rib
It's all about the sauces. You can't go wrong with any of these sauces!
Horseradish Sauce
Garlic Butter Sauce
Au Jus Sauce
Side Dishes for Prime Rib
Au Gratin Potatoes
Creamy Mashed Potatoes
Brown Sugar Glazed Carrots
Yorkshire pudding
This is the ultimate Christmas dinner, especially when you pair it with these delicious prime rib side dishes.
Best Beef Roasts
Boneless Rib Roast
Standing Rib Roast
Instant Pot Prime Rib
Sous Vide Prime Rib
Smoked Prime Rib
Pair them with my Roast Beef Rub Recipe!
One of my all-time favorite easy holiday meals is this recipe for slow cooker short ribs. They are super easy to prepare, taking the stress out of the holiday meal preparation by cooking in the crockpot.
Make this dish with one of the gifts in our Gift Guide for Foodies!
Reader Reviews
This turned out perfect. Everyone absolutely loved it. This will the only recipe I use from now on.

Jay
We have just started using the reverse sear method for steaks, but hadn't thought of doing it with prime rib. Great tips in this recipe!

Pam
This is foolproof prime rib recipe. Set it and forget it.

David
Save the Video Pin
📋 Recipe
Please see more list about Low temp prime rib roast
Detail: 🔗