Smoked Ham is the perfect meal for any holiday, like Christmas or Easter dinner, or even to have on hand for sandwiches. This brown sugar glaze is absolutely incredible over the top of your smoked ham!
Smoking precooked ham is truly easy and a simple honey glaze is a great way to add incredible flavor. This is hands down the best ham recipe I've ever had in my life, and I hope you, and the people you cook it for, feel the same way!
What is Ham?
The ham comes from the rear leg of pork, or pork shank, versus the pork shoulder or pork butt. A ham is leaner than the shoulder and is most often cured. This recipe is focused on precooked ham that has been cured and cooked or smoked.
Most Ham will be purchased as:
Spiral Cut (or Spiralized) – This is ham that has been machined and a spiral shaped cut around the bone is meant to make it easier to slice and serve.
Whole Ham Bone-In – This is a large bone-in ham and is best for large crowds of 10-20 and takes the longest time to cook. It is so large because it includes the entire shank, thigh, and potentially part of the pelvic area of the pig.
Half Ham Bone-In – This is often the upper portion or "butt" portion of the ham. This is great for modest crowd sizes of 8-10 and one you see commonly in stores.
Boneless – Boneless hams are machined or carved to give the ham shape but without the bone. They may be seen in stores as petite, mini, or even a half ham. Boneless are cured in the same style and are simply butchered or machined to be boneless. These are great when cooking for a smaller crowd less than 8 people.
Our favorite style of ham is the whole bone-in ham from Snake River Farms. You can read more about the style of ham and Kurobuta pork here. The flavor profile is tender, refined, and has a pronounced pork or bacon like flavor that needs no additional seasoning other than a finishing glaze.
How to Smoke a Ham
Smoking a pre-cooked ham is really about heating up the ham to an internal temperature of 140 degrees Fahrenheit (F) and then adding any additional flavor. There is no need for a brine or other preparation.
Pat dry the ham prior to smoking.
Smoke at 225 – 250 degrees F. Keeping the temperature low prevents drying out the ham.
Make the honey glaze as the ham smokes.
Glaze once when the ham reaches an internal temperature of 130 degrees F, and continue cooking to allow the glaze to caramelize a bit.
Remove the ham when the internal temperature reaches 140 degrees F.
Add final glaze to the ham as it rests. Tent loosely with foil for up to 30 minutes and then serve.
When smoking a ham keep the temperature at low heat, between 225 and 250 degrees F, to retain the moisture of the ham.
How to Smoke on a Traeger or Pellet Grill
For any pellet grill, follow the same steps above versus using the smoke setting. The range for smoke is 160 – 180 degrees F, and will dramatically increase the smoke time with minimal additional smoke flavor.
Also consider adding a water pan to maintain humidity in the cooking chamber.
How to Smoke on a Big Green Egg or Kamado Grill
Follow the same steps as outlined above. Because of how efficient a Big Green Egg is, no water pan is needed. Keep the daisy wheel and the bottom vent almost completely closed after warm up to keep the temperature at 225 – 250 degrees F.
How to Smoke on a Yoder or Offset Smoker
Follow the same steps as outlined above. When preheating smoker start with lump charcoal and then cook using just wood chunks or split logs. The embers from the wood will maintain the heat while the wood adds the flavor.
We recommend a water pan in an offset smoker with the vents fully open for airflow.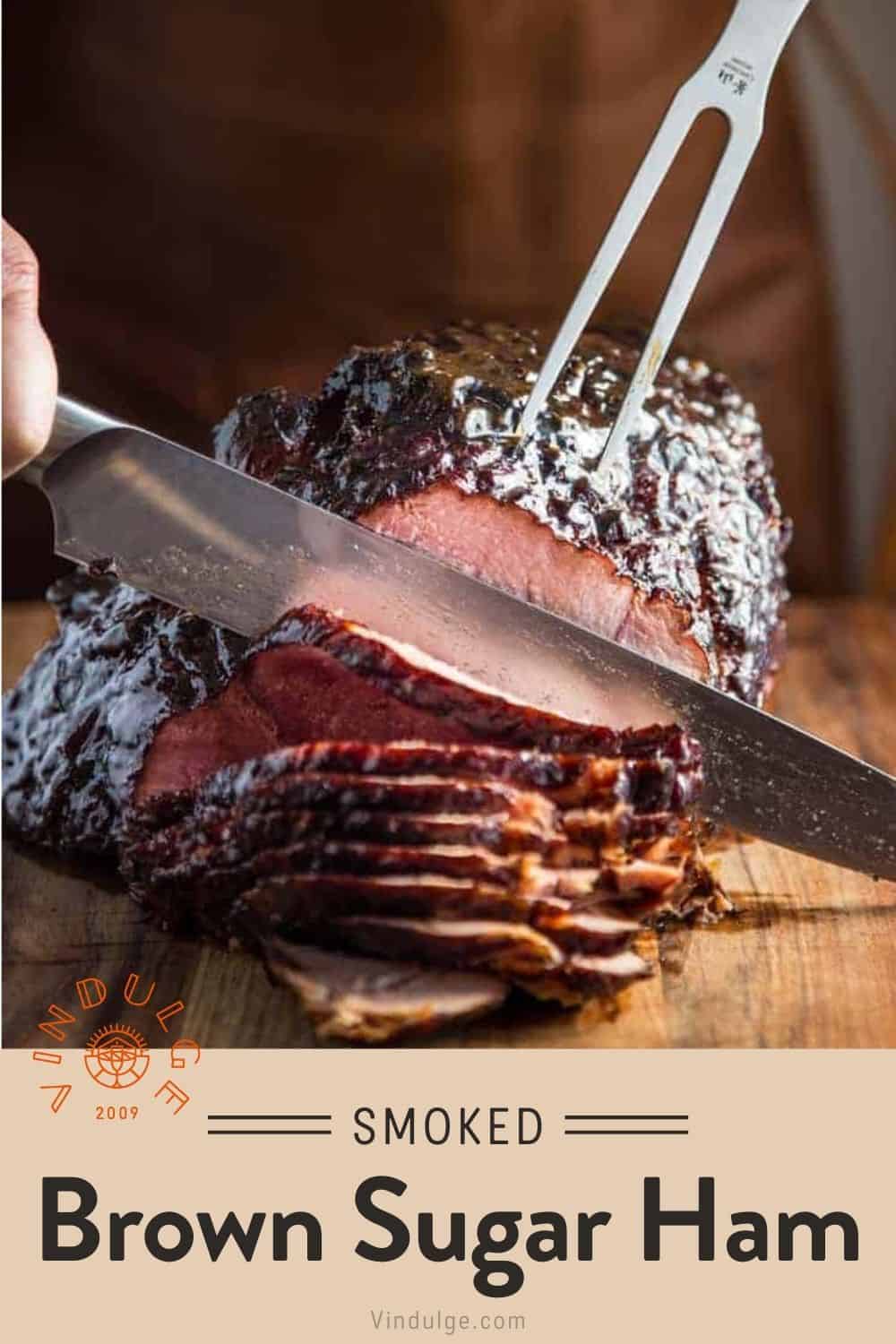 How Long to Smoke a Ham
Plan 20 minutes per pound for a typical half or whole smoked ham to reach 140 degrees. The smaller the ham, say a petite or quarter ham, the faster it will cook. So be mindful of the size ham selected.
Spiral cut ham will take less time as the amount of ham that is exposed to the heat allows the heat to get into the area closer to the bone. So judge 15 minutes per pound for spiral cut ham.
Best Tool For Monitoring Temperature
For monitoring the ongoing temperature of ham without having to open the smoker, the Thermoworks Smoke Unit is the best available. It has a wireless monitor and you can see two zones, the ambient temperature of the cooker and the internal temperature of the ham.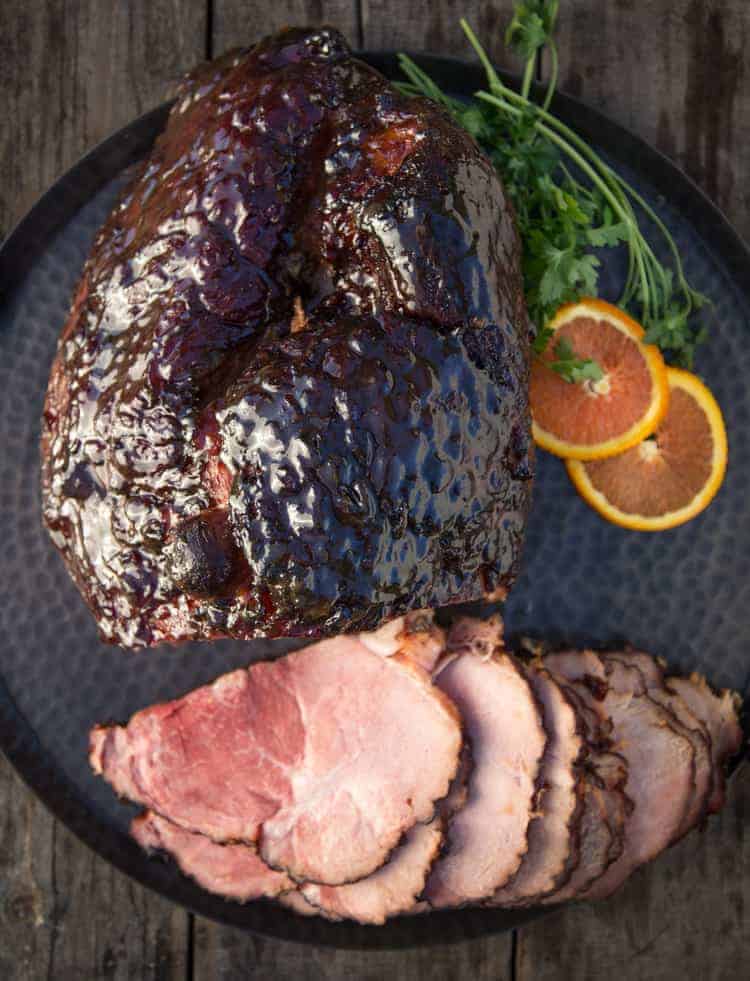 To probe around the ham, the other tool is the Thermoworks Thermapen. This instant read thermometer is a great tool to make sure all of the ham has reached the safe internal temperature, versus just one portion the Smoke unit monitors.
How to Make Brown Sugar Glaze
Some variation of a brown sugar glaze for ham is a perfect pairing for this savory meat. This is also why we don't season the ham with a rub. You don't need to with this ultra flavorful glaze!
In a medium size saucepan over medium heat add butter and let melt. Add shallots and sauté to soften but not caramelize (about 6 – 8 minutes). Then add garlic and sauté for additional 1 minute just to soften.
Finally add sugar, cider, honey, Dijon, cayenne, and salt to pan, slightly increase heat and bring to a simmer. Allow glaze to simmer for up to 10 minutes, taking care to not boil. The glaze will thicken as the sugar and liquids incorporate and slightly reduce.
Want something different for your glaze? Try our Double Smoked Ham with Cherry Bourbon Glaze.
How Much Ham Per Person
Plan on ¾ pound of pre-smoke weight ham per person. With sides, this is a couple of slices per person.
At the end of the day, you're going to want leftovers! This recipe makes for the best smoked ham sandwiches the day after. Or, if you want the ultimate breakfast, try our Smoked Ham Hash!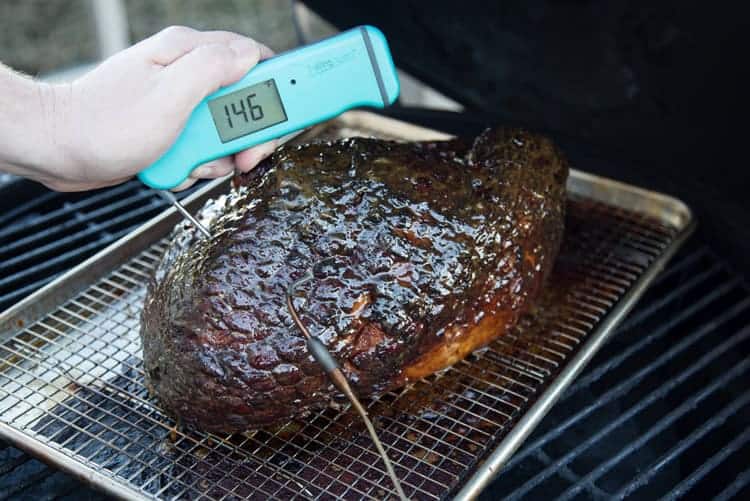 Wine Pairing for your Holiday Smoked Ham Dinner
This ham has a slightly smoky and savory flavor, juicy and tender meat, with a sweet caramelized glaze. Because of this profile, there's a wide range to choose from for your holiday dinner.
If you're craving white wine you can't go wrong with Riesling. It's almost meant for a ham dinner! Alternatively, Rosé and Pinot Gris (Grigio) work nicely too with their bright fruity flavors. A bold Chardonnay, from California for example, can be really interesting with the caramelized brown sugar honey notes from that glaze.
For red wine Pinot Noir is one of my favorites, followed by Gamay (think Beaujolais), or for something a little more bold and fruity try a Zinfandel.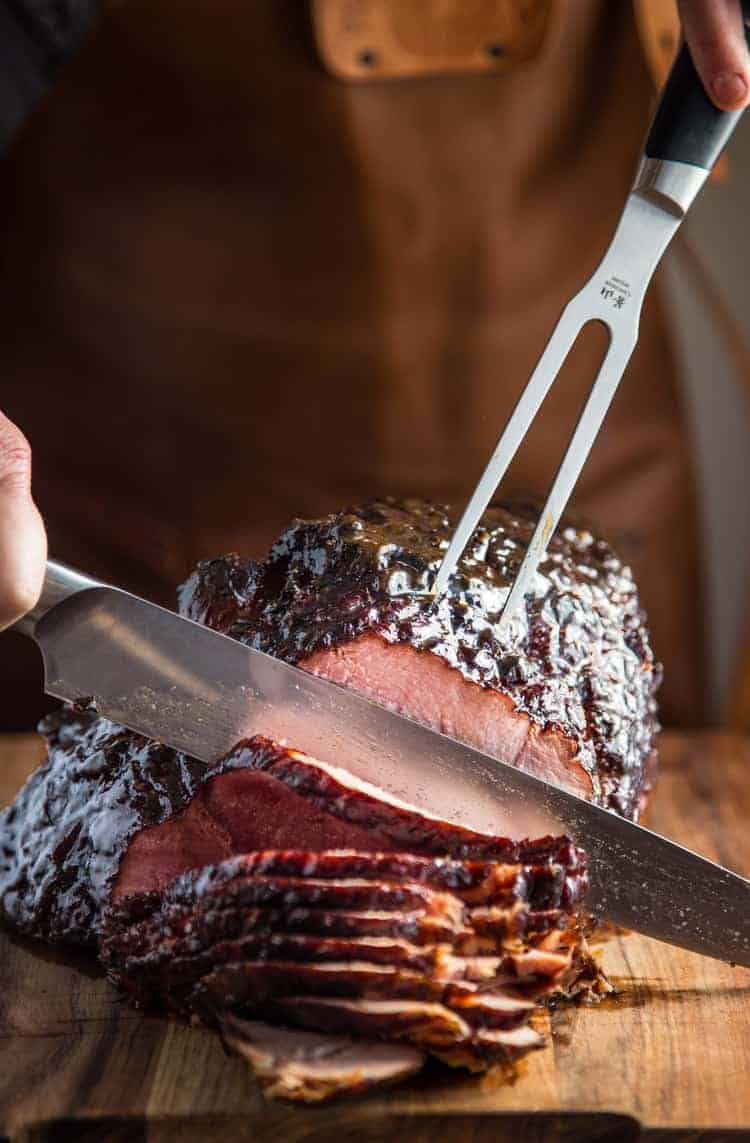 More Holiday Recipes
Double Smoked Ham with Cherry Bourbon Glaze
Smoked Prime Rib
Bourbon Brined Smoked Turkey
Grilled Rack of Pork
Smoked Beef Tenderloin
Side Dishes for Holiday Ham
Perfect Roasted Potatoes
Broccolini on the Grill
Brussels Sprouts Grilled Skewers
Grilled Green Beans with Grilled Lemon
Grilled and Glazed Carrots
Smoked Ham Recipe with Honey Brown Sugar Glaze
This post contains affiliate links, which means if you click on those links we may receive a small commission. We only partner with products we know and love, and it helps keep the blog going!
Please see more list about Smoked ham on pellet grill
Detail: 🔗