Best Beef Recipes is an Amazon Associate. We receive compensation for purchases made through affiliate links.
My Smoked Tomahawk Steak recipe is packed with flavor and so easy to make, even for total beginners to smoking beef! Complete with an amazing homemade steak seasoning and fresh thyme, and ready in under 2 hours, this simple smoked steak recipe is a must-try for beef lovers.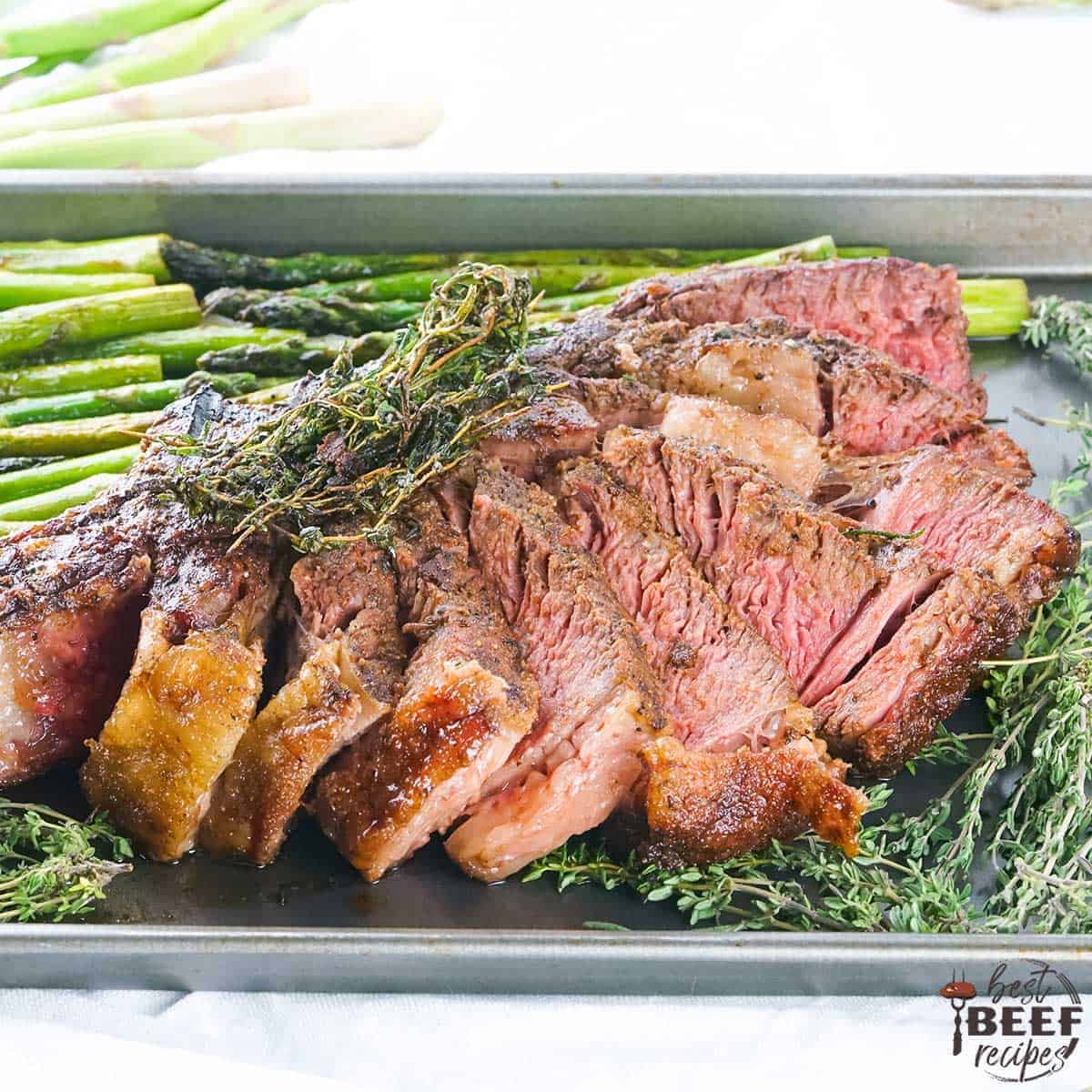 Jump to:
Best Smoked Tomahawk Steak
Tomahawk Steak Recipe Ingredients
How to Smoke Tomahawk Steak
Smoking Tomahawk Steak Recipe Tips
Tomahawk Steak Temperature
Tomahawk Steak Recipes FAQs
Recommended Tools for Smoking Beef
What to Serve with Tomahawk Steak
Smoked Beef Recipes
📋 Recipe
Best Smoked Tomahawk Steak
I am all about smoked beef recipes lately. My family and I just can't get enough of them! After trying everything from smoked beef ribs to prime rib, I knew I had to make an out-of-this-world smoked steak recipe.
This easy tomahawk steak cut is exactly that. Smoking tomahawk steak, seasoned with homemade steak seasoning and fresh thyme, makes the beef so tender and oh-so flavorful. After smoking, the steak is reverse-seared for ultimate flavor.
Give it a try and let me know what you think in the comments below. I know you're going to love smoked tomahawk steak as much as I do!
I love the reverse sear method on a steak and my reverse sear ribeye steak is out of this world! If you are looking for a quick, easy and delicious recipe, this is the way to go.
It was my first time smoking a tomahawk steak. This recipe was easy to follow and just perfect.

Joe on Pinterest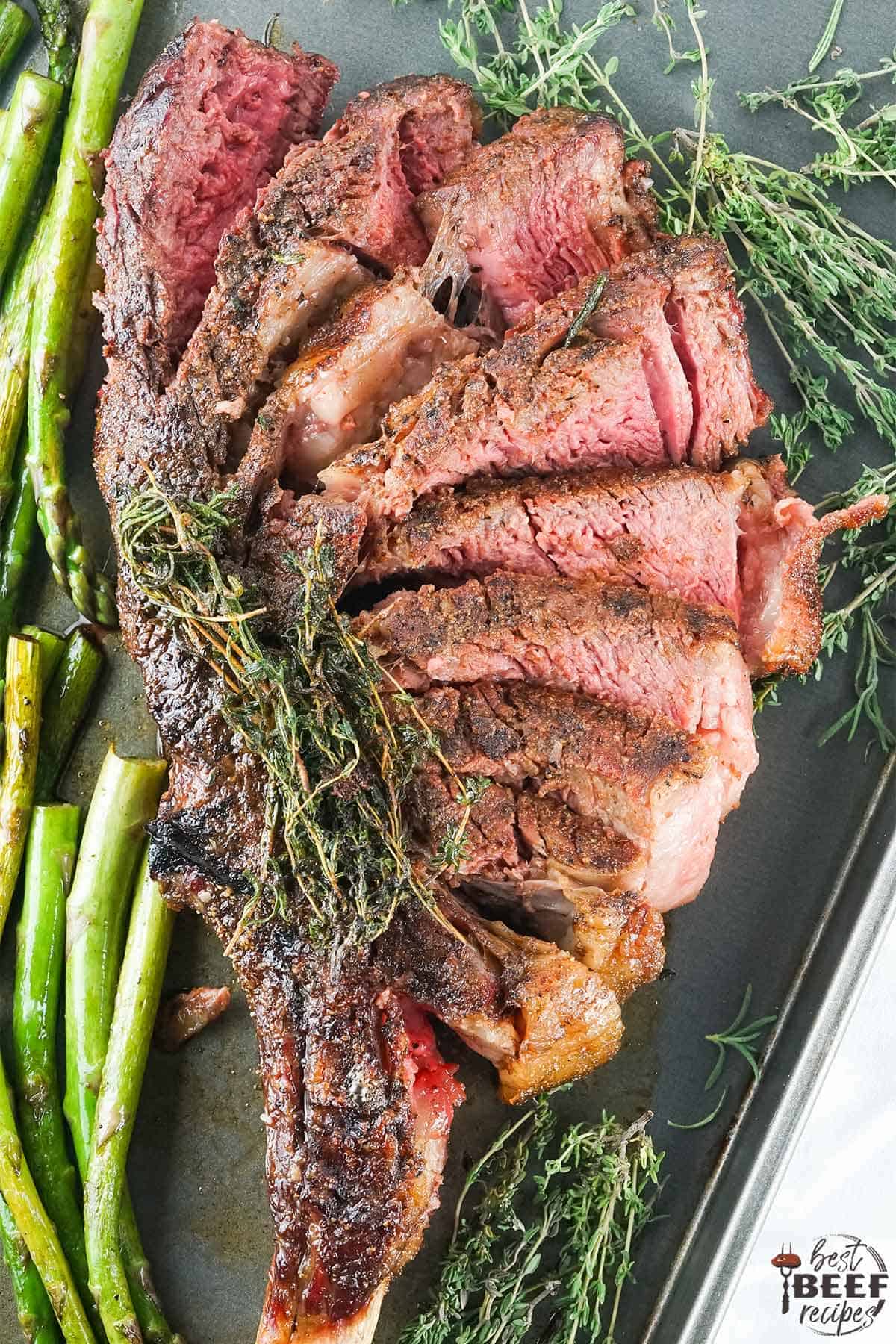 Tomahawk Steak Recipe Ingredients
Tomahawk Steak
Fresh Thyme
Butter
Coarse Sea Salt
Black Pepper
Granulated Garlic or Garlic Powder
Paprika
How to Smoke Tomahawk Steak
Smoking is the best way to cook tomahawk steak, and it is easy. Follow these simple instructions to smoke tomahawk steak.
Season room temperature tomahawk steak all over.
Place on the smoker for 1 hour and 20 minutes for an internal temperature of 125 degrees Fahrenheit.
Reverse sear tomahawk steak in a buttered cast iron skillet over medium-high heat.
Allow the steak to rest, then slice and serve.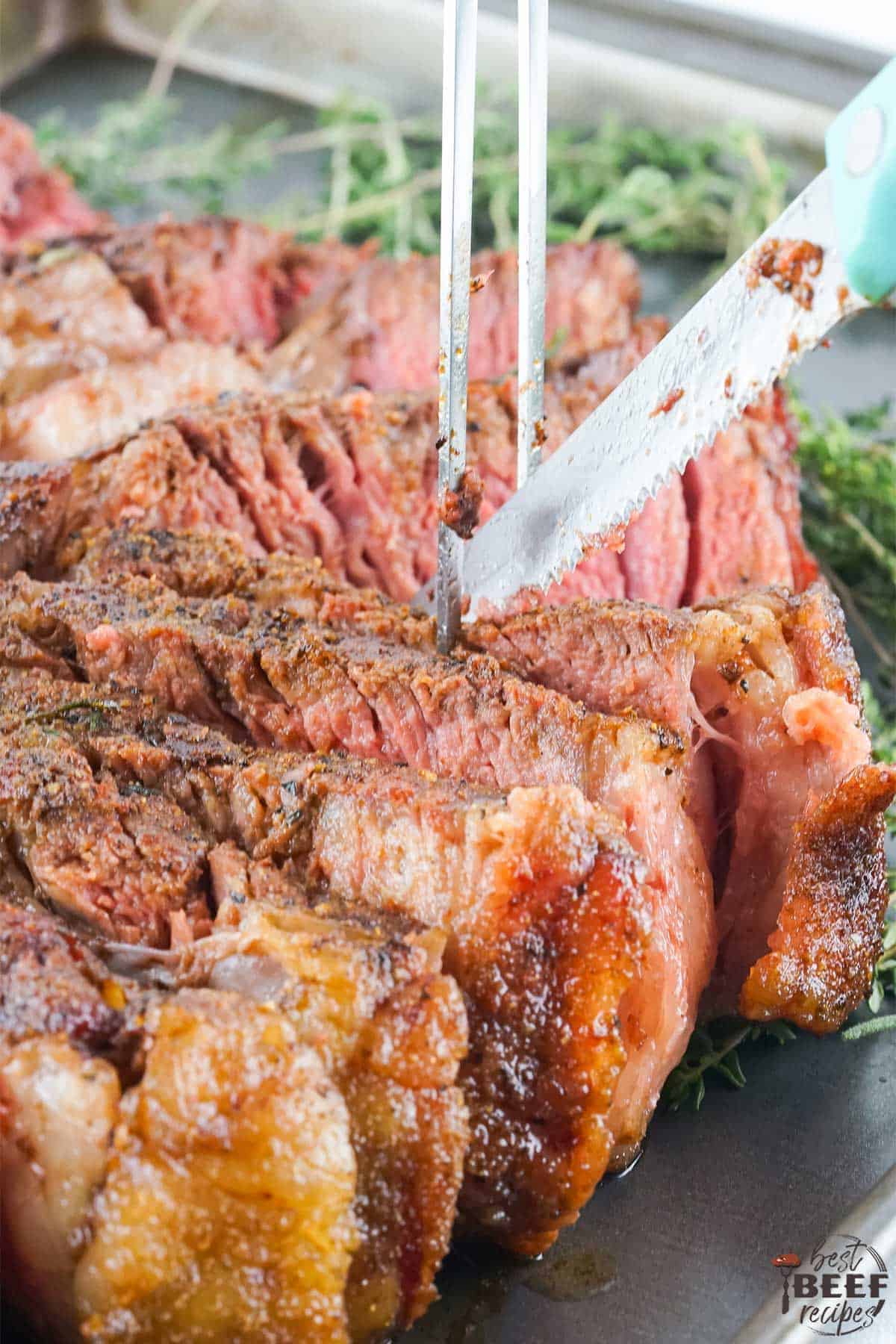 Smoking Tomahawk Steak Recipe Tips
Let your steaks come to room temperature for 30 minutes before cooking. The longer they cook, the more change for them to dry out. Letting them come to room temperate will give them a head start and guarantee a juicy steak.
Choose thick steaks, at least 1.5 inches thick. This will guarantee the juiciest tomahawk steak.
Look for well marbled steaks. They will have streaks of white running through them. Trust me on this, the little streaks of fat will guarantee an amazing eating experience!
Don't choose steaks with too much fat. Marbling is great, but you don't want pockets of fat, especially around the edges. Pick steaks that are well trimmed and without large pockets of fat.
Season the steak twice. I always season my beef before cooking and lightly season again right when it is pulled out of the smoker. This will guarantee the perfect flavor.
Allow your steaks to sit for 15 minutes and rest before slicing.
The Tomahawk is the ultimate show piece, and is sure to impress your guests. Always slice it against the grain. I like to slice it tableside and serve my guests immediately!
I used mesquite pellets for this recipe, but any pellet would do just fine.
If your steak is a different weight, simply check the internal temperature instead of going off of time, since the cooking time will change with the weight change. The internal temp is the deciding factor, no matter the size of the steak.
Tomahawk Steak Temperature
Check the steak of your beef using a meat thermometer and follow our Steak Temperature Chart for best results.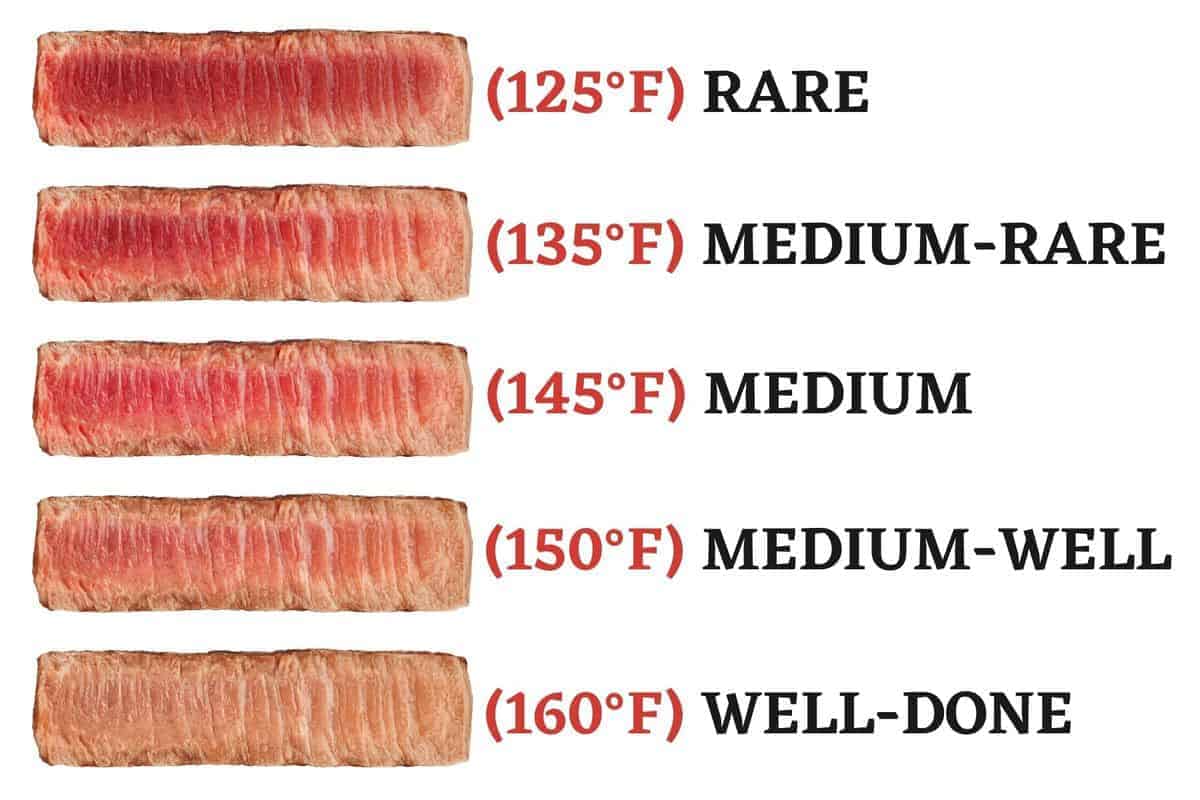 Tomahawk Steak Recipes FAQs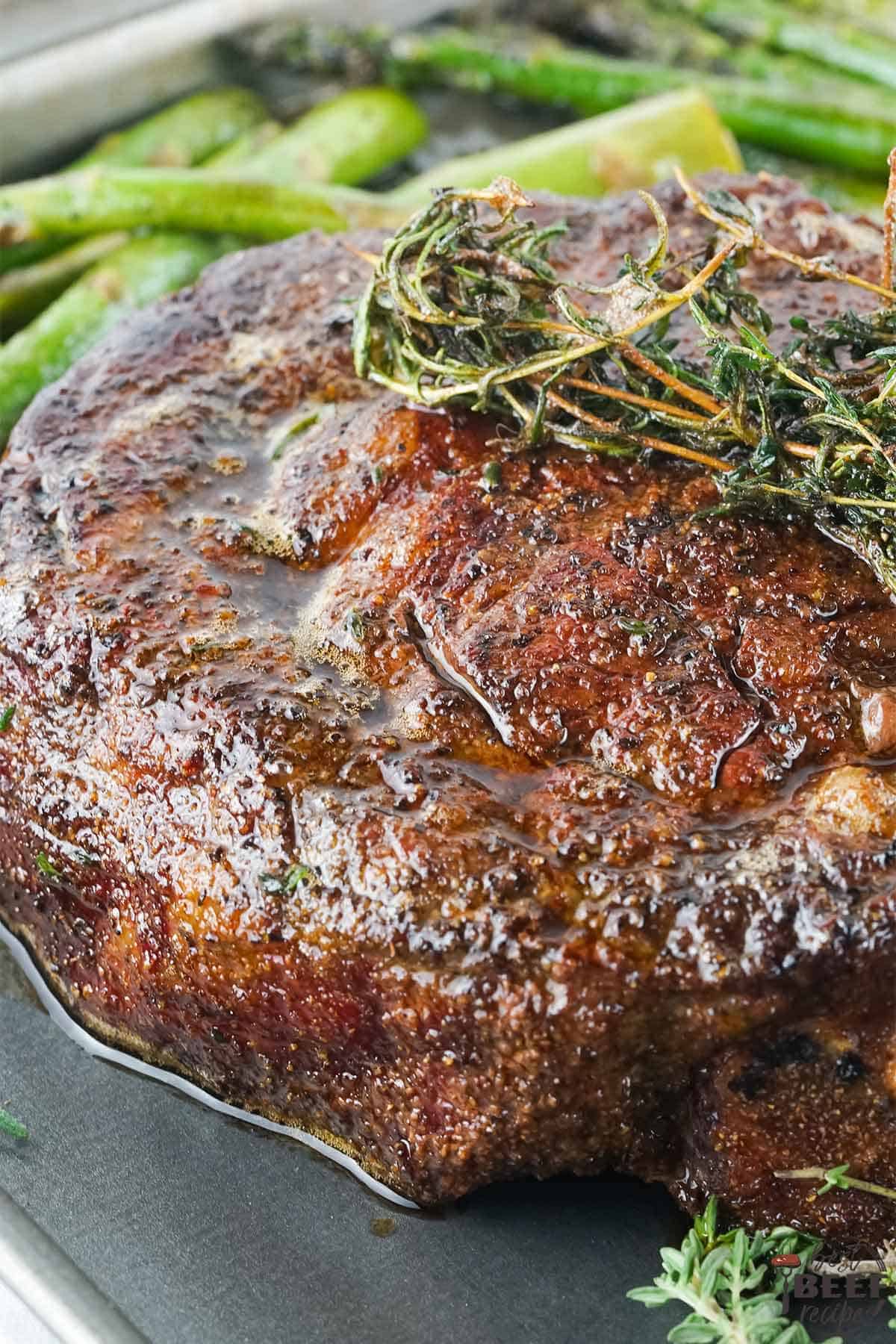 Recommended Tools for Smoking Beef
Meat thermometer: A meat thermometer allows you to easily check the temperature of any cut of beef. Insert it into the thickest part of the meat close to the center, through the side. If you don't already own a meat thermometer, you should!
Cast iron skillet: Cast iron skillets are the best for reverse searing beef. You will get a perfect, even sear every time.
What to Serve with Tomahawk Steak
Try smoked tomahawk steak with an easy sauce recipe, caramelized onions, mushrooms, and fried asparagus.
Garlic Butter Sauce for Steak
Caramelized Onions for Steak
Best Mushrooms for Steak
Air Fried Asparagus
Chimichurri Sauce for Steak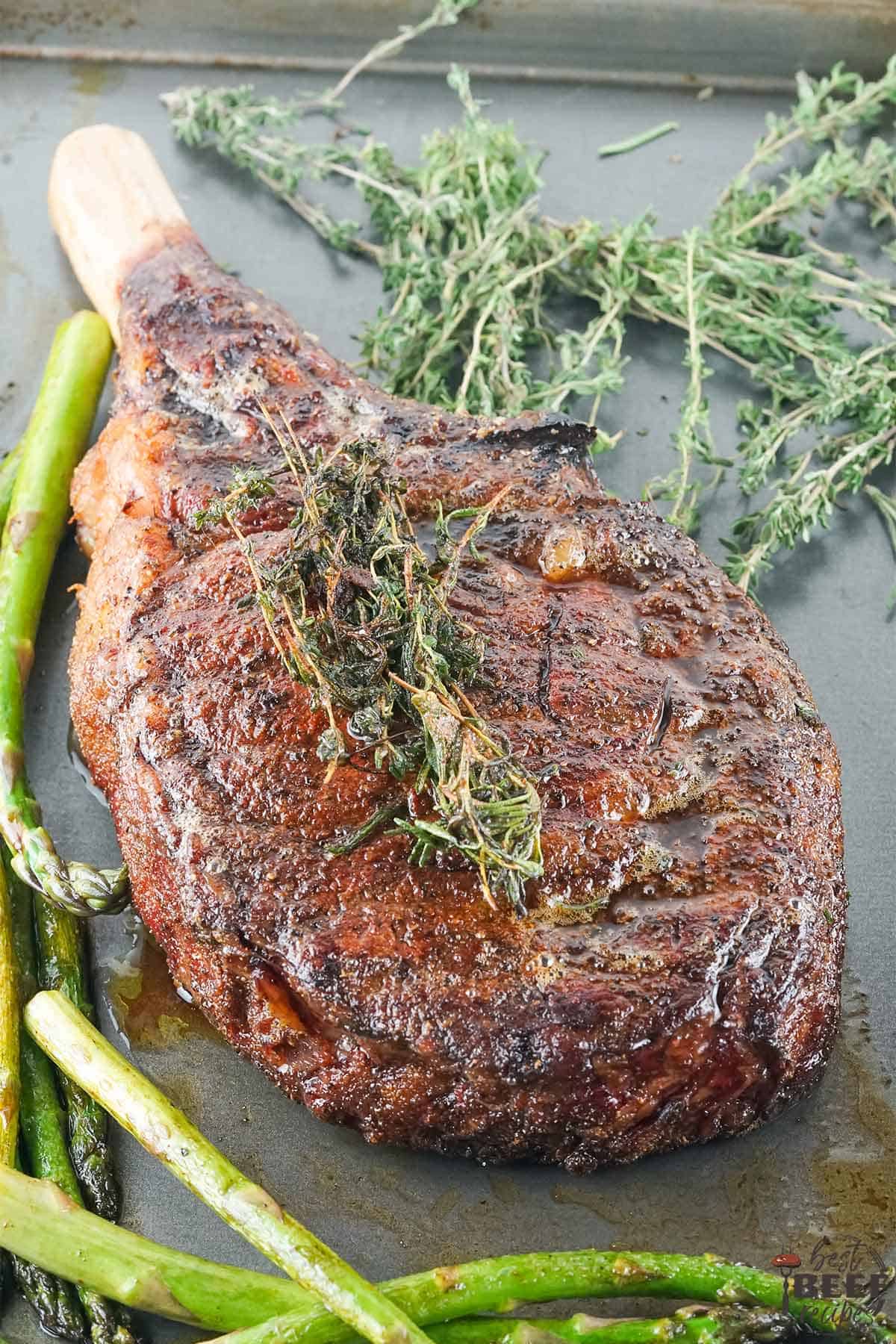 Smoked Beef Recipes
Try more of my favorite smoked beef recipes:
Smoked Beef Roast (Chuck Roast)
Smoked Rib Roast (Prime Rib)
Smoked Short Ribs
Smoked Brisket
Smoked Burgers
Love this tomahawk steak? You'll love our Grilled Porterhouse Steak, too! Have leftovers? Try making one of our best Leftover Steak Recipes!
Did you try this recipe? Leave a comment and a rating below to let us know what you think! We love to hear from you!
Try more of the best beef cuts according to your needs and budget by following my guide on the Best Cuts of Beef and our Popular Beef Dishes!
📋 Recipe
For more information, please see more information about Tomahawk steak on pellet grill
Detail: 🔗