I'm a huge fan of "refrigerator salads." Or salads that hold up well in the fridge so you can make them in the beginning of the week and have something wholesome to eat from all week long. This Smoky Quinoa and Black Bean Salad is the perfect example. It has tons of color, flavor, texture, and nutrients, so it doesn't get boring quickly. You can serve it as a side dish, eat it alone as a snack or in a larger portion as a light meal, or even stuff it into a wrap with some spinach for a quick lunch. Keeping this salad on hand gives you a lot of options!
Want more quinoa recipes? Check out my quinoa archives!
Smoky Quinoa and Black Bean Salad
P.S. I got my quinoa at Aldi, which was only $3.49 for a one pound bag (organic!). If you don't have an Aldi near you, look for stores that have quinoa in bulk bins, which are often less expensive than pre-packaged. Also, my red and yellow bell peppers were on sale, but if you can totally use green bell peppers if you can't find red or yellow for a decent price.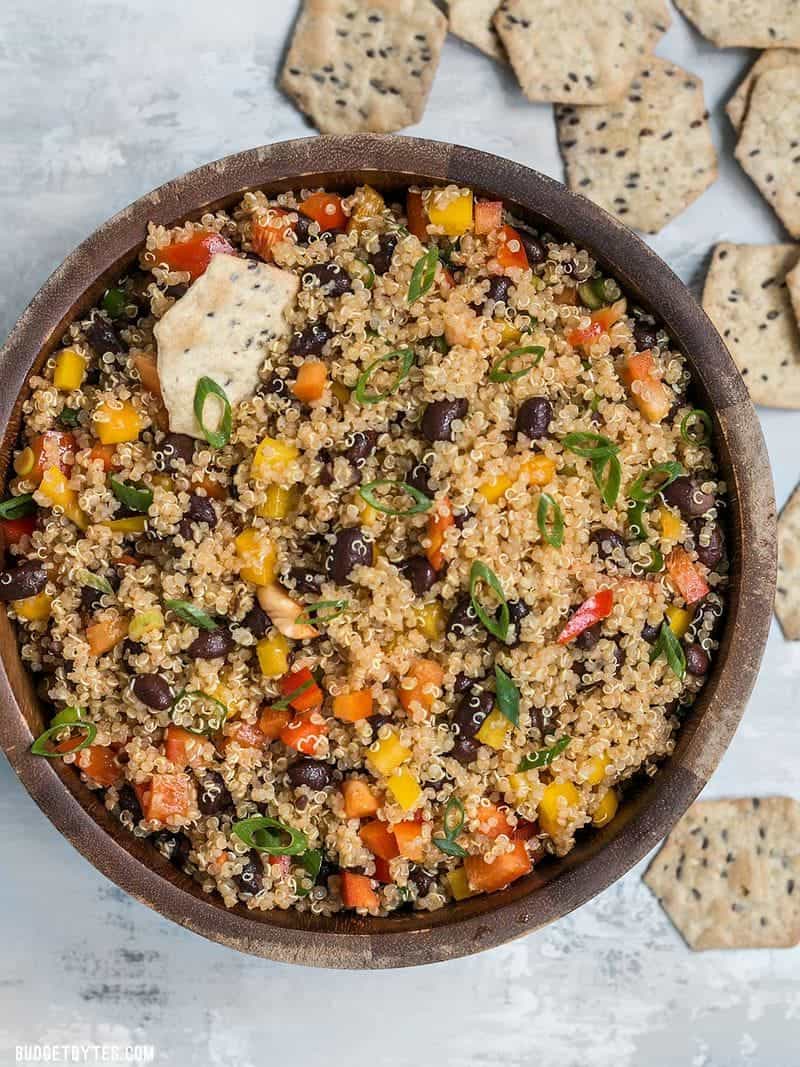 Step By Step Photos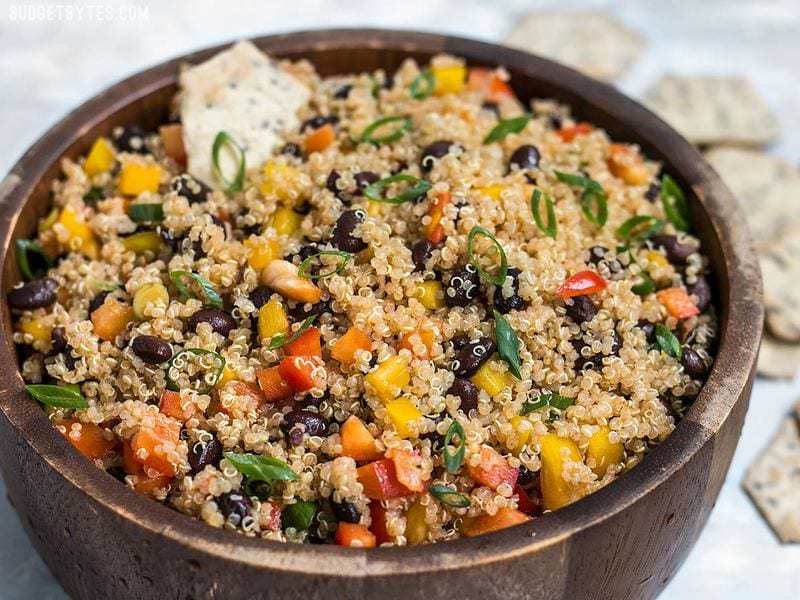 It's really important to rinse quinoa before you cook it because quinoa has a natural substance on its surface that can taste bitter. Because quinoa is so small, you'll probably need a wire mesh sieve for this job. If anyone has any other techniques that don't use a sieve, feel free to share them in the comments! 🙂

Once rinsed, place the quinoa in a pot. The directions on the package say to use 2 parts water to 1 part quinoa, but the quinoa already has some water in it from being rinsed, and using slightly less than a 2:1 ratio helps make sure the quinoa is nice and fluffy instead of sticky and mushy. So, I used 1.75 cups water to my 1 cup quinoa. (picture is before adding the water)
Place a lid on the pot and bring it up to a boil over high heat. Once boiling, turn the heat down to low and let it simmer for 15 minutes. After 15 minutes, turn the heat off and let it rest (with the lid still in place) for five more minutes. Finally, remove the lid and fluff it with a fork. Let the quinoa cool (I put mine in the fridge to help it cool faster).
While the quinoa is cooking and cooling, prepare the dressing. In a small bowl stir together 1/4 cup olive oil, 1 Tbsp apple cider vinegar, 1/2 tsp smoked paprika, 1/4 tsp cumin, 1/8 tsp garlic powder, 1/2 tsp salt, and some freshly cracked pepper. Set the dressing aside.
Rinse and drain one 15oz. can of black beans. Dice two bell peppers (preferably red, yellow, or orange), and slice two green onions. Place the black beans, bell peppers, and green onions in a large bowl.
Add the cooled quinoa to the bowl with the beans and vegetables and pour the prepared dressing over top.
Stir until everything is evenly mixed and coated in dressing. Taste the salad and adjust the salt if needed. Serve the Smoky Quinoa and Black Bean Salad immediately, or refrigerate until you're ready to eat. If stored for later, make sure to give it a stir before serving.
This post may contain affiliate links which won't change your price but will share some commission. As an Amazon Associate I earn from qualifying purchases.
For more information, please see more information about Recipe quinoa black bean salad
Detail: 🔗