When it comes to smoothies, fruit is typically what makes them sweet and delicious. However, when you combine several types of fruits into a single drink, the natural sugar content can start to add up quickly.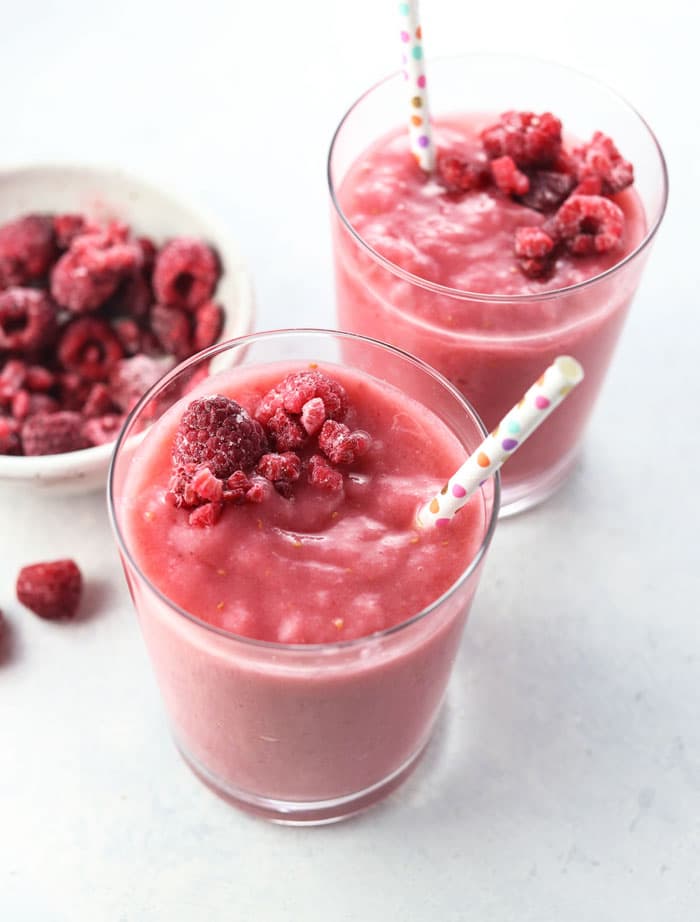 Reading: smoothies low in sugar
That's why I'm sharing two low sugar smoothie recipes with you today, along with several variations to help keep your week interesting. They're made with low-sugar berries, which are loaded with antioxidants, and a sneaky serving of frozen cauliflower and creamy avocado to help bulk them up, without adding extra sugar into your glass.
Which Fruits are Low in Sugar?
When trying to make a smoothie that is lower in sugar, I like to use a mix of low-sugar fruits and vegetables, along with a small amount of sweeter fruit, like banana, mango, or pineapple, to make the smoothie palatable. (I experimented with using low-sugar fruits exclusively, but they were not enjoyable at all- my taste testers wouldn't drink them.)
Here are some low-sugar fruits that you can try in your smoothies:
Raspberries (5 g per cup)
Strawberries (7 g per cup)
Blackberries (7g per cup)
Kiwi (6 g per fruit)
Blueberries (12 g per cup)
Lemons (1.5 g per fruit)
Avocado (1 g per avocado)
Granny Smith Apple (14 g per fruit)
And to help "bulk up" your smoothie without using extra fruit, you might also want to try adding in one or more of the following ingredients to help add fiber and more nutrition.
Zucchini
Cauliflower
Chia seeds
Hemp hearts
Almond butter (or another nut/seed butter)
Fresh spinach
These extra add-ins help add creaminess, without relying dairy, and are relatively neutral in flavor so they won't overpower the overall taste of your smoothie.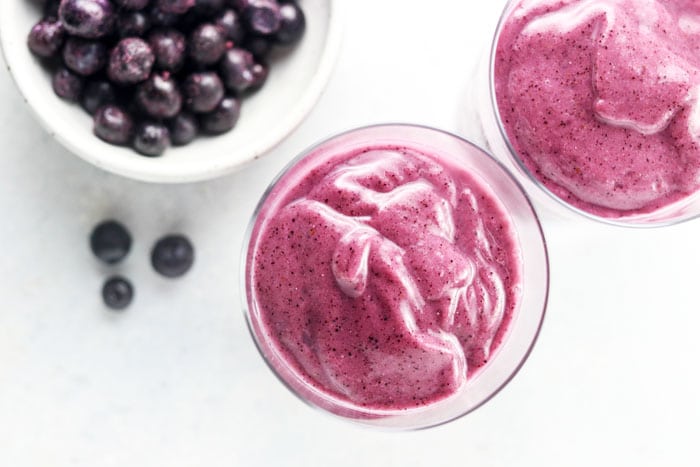 To keep your smoothie palatable, add a small amount of sweeter fruits. The following options are great for keeping your smoothies relatively low in sugar. (For these recipes, I aimed for less than 15 g of sugar per smoothie serving.)
Half a banana (7 g)
Half cup pineapple (7g)
One date, deglet noor variety (4.5 g)
Is Fruit Sugar Bad For You?
Read more: keto breakfast smoothies for weight loss
Now, I don't want this post to scare you about eating fruit, because I personally eat it quite liberally and don't think you should worry about the natural sugar it contains. Though the research is limited, small studies have shown that the fructose found in fruit does NOT act the same way in the body as industrial fructose, such as table sugar. (source)
Fruit contains numerous substances that block the effects of fructose, including vitamin C, potassium, and antioxidants, which may explain why the fructose from added sugars is associated with hypertension, but the fructose found in fruit is not. (source)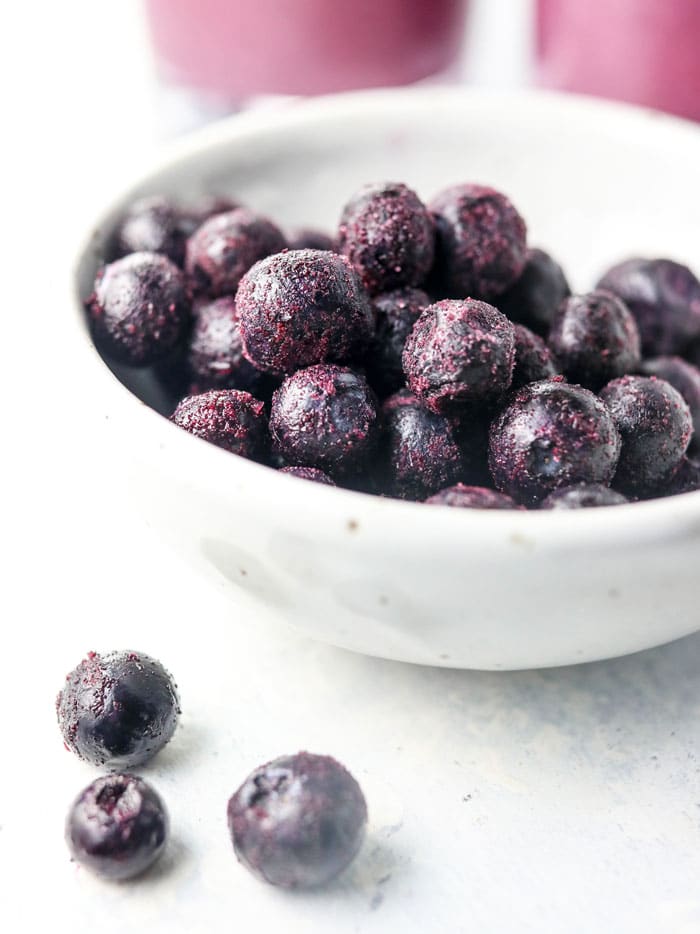 Eating fruit may also promote weight loss.
In this study, researchers compared a low-fructose group, that consumed no fructose or added fruit, to a moderate fructose group that included fruit in their diet. To their surprise, the group that consumed fruit lost more weight compared to those on the low-fructose plan, even though both groups were eating the same number of calories.
I share this information because I want you to LOVE everything you eat, and if you're avoiding fruit because you think it will help you lose weight faster or because you're scared of the natural sugar content, you might not be enjoying your meals to their fullest. You might even feel restricted and wind up stuck in a cycle of binge eating like I did.
Enjoying what you eat daily is key to sticking to a healthy lifestyle and achieving permanent results, so don't be scared to add more fruit to these recipes if that will make you enjoy them more. You'll get an extra nutrient boost as a bonus!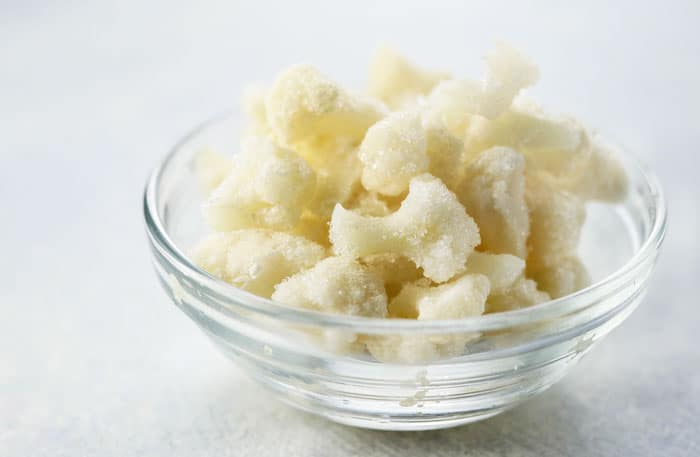 Keep in mind that a low sugar smoothie definitely tastes like it's low in sugar, too. (In other words, they are kind of bland compared to traditional smoothies.)
That's not necessarily a bad thing, especially if your taste buds have adapted to appreciating the natural sweetness found in fruits and even some veggies, but don't expect a low sugar smoothie to taste like one you'd get at a local smoothie bar. (Those are usually loaded with 50 grams or more of sugar per serving!)
I also wouldn't go adding zero-calorie sweeteners to this smoothie (you can read why I stopped using stevia here), because I feel like that might defeat the point of trying to reduce your sugar intake. Let your taste buds adapt to the natural sweetness of fruit, without skewing your taste buds, or add a little extra sweet fruit like the ones I mentioned above to boost the flavor.
Mango, which is a little higher in sugar, may help to control or even lower blood sugar levels (source), so don't be afraid to add an extra handful to improve your smoothie's overall flavor. Feel free to get creative!
Read more: how to make carrot juice without a juicer or blender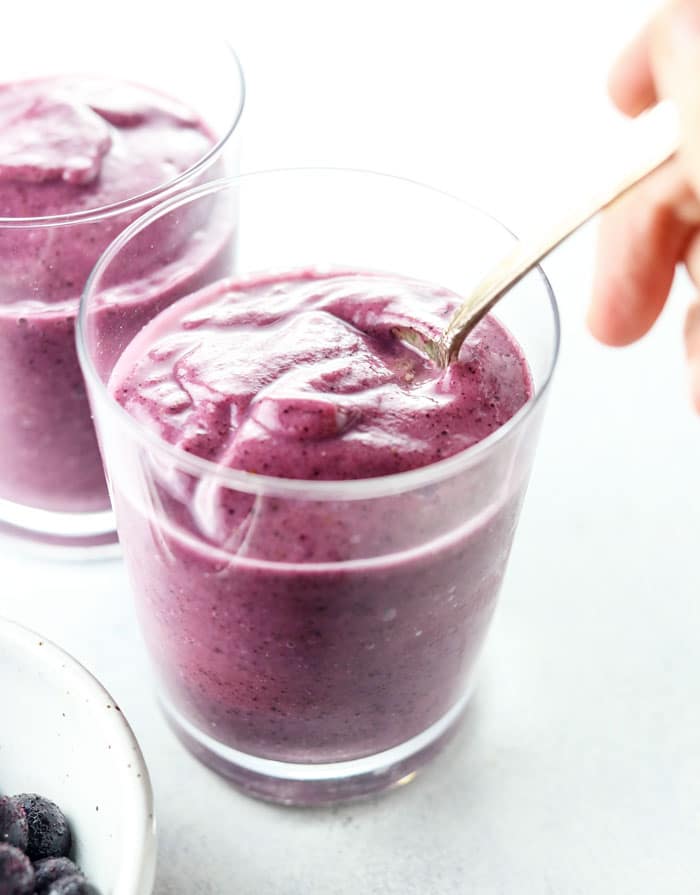 Per serving: Calories: 133, Carbohydrates: 24, Fiber: 6, Protein: 3, Fat: 4, Sugar: 12

Per serving: Calories: 112, Carbohydrates: 19, Fiber: 6, Protein: 2, Fat: 4, Sugar: 10
Recipe Notes:
To keep these smoothies affordable and accessible year-round, I used frozen fruit, but if you use fresh fruit these recipes will have more flavor. If berries are in season where you are, I'd encourage you to use fresh fruits and less water when you blend these.
Feel free to swap the fruit in these recipes with any of the other ones I mentioned above.
As always, if you try something different please leave a comment below so we can all benefit from your experience!
—
Reader Feedback: What's your favorite smoothie combination? Feel free to share recipes in the comments below!
SaveSave
Read more: how to make jamba juice banana berry
SaveSave
Read more: how to make jamba juice banana berry
SaveSaveSaveSave
SaveSaveSaveSave
SaveSave
Read more: how to make jamba juice banana berry
SaveSave
Read more: how to make jamba juice banana berry
SaveSave
Read more: how to make jamba juice banana berry