This Apple Snicker Salad is sure to make the family swoon. Crisp, tart apples, sweet chunks of Snickers bars, and a simple, creamy sauce bring this salad together, making it one of our FAVORITE salad recipes to date!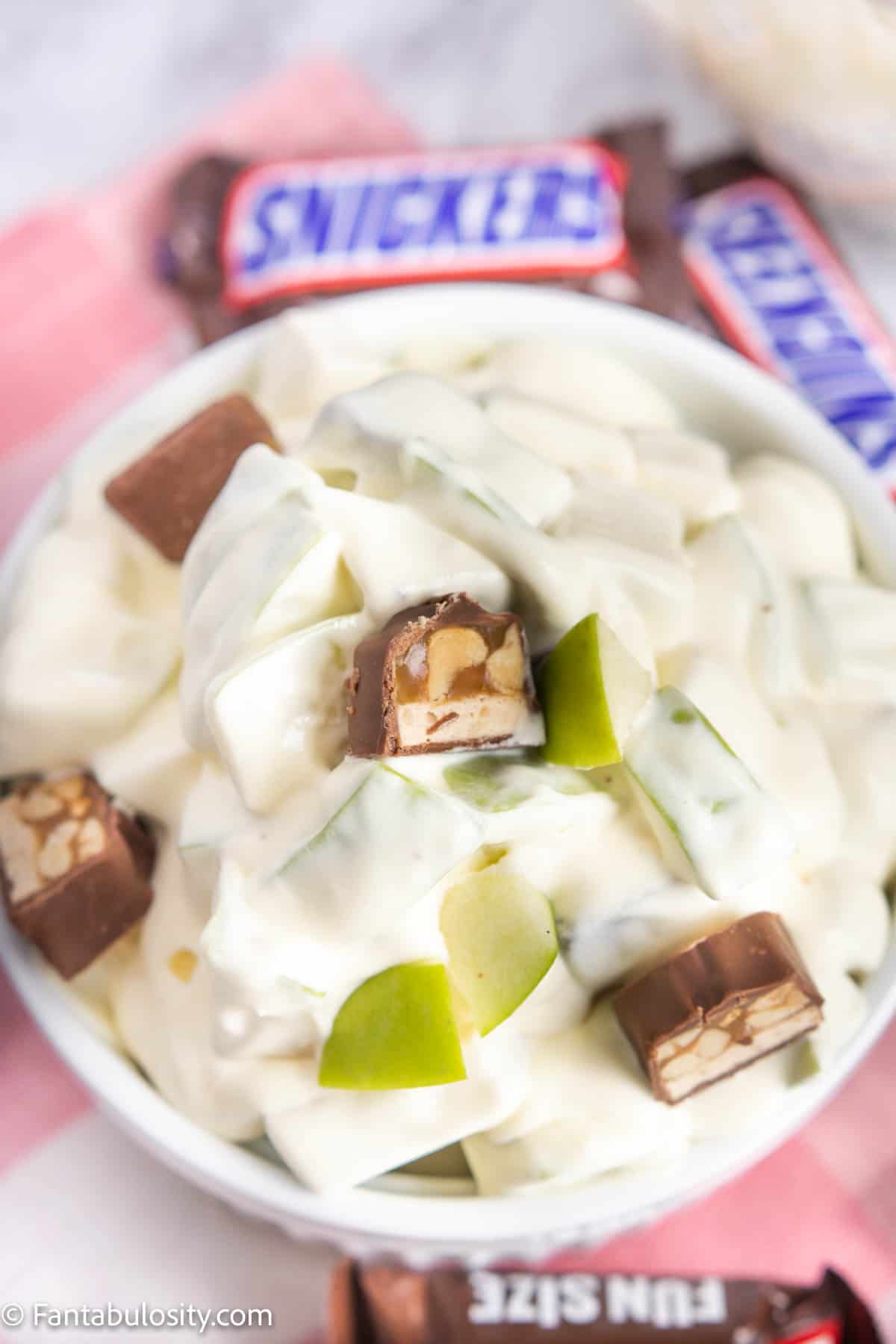 Why you'll love this recipe
Hey friends! This is a super simple and crazy delicious side dish (or dessert recipe) that you're going to NEED at your next potluck, Snickers Apple Salad.
It's Meg from Meg's Everyday Indulgence popping in again and I can't wait to share this recipe with you!
This midwestern classic dish consists of:
granny smith apples
chopped Snickers candy bars
and a creamy, pudding-based "dressing."
It all comes together in a tart, sweet magical little dish that you can bet is on most holiday and potluck tables for family gatherings.
I mean, when you can eat fruit and candy in the same bite AND call it salad, I think you're winning at life.
I also think you'll love this version of watergate salad (or ambrosia salad) as well, especially if you love dessert salads!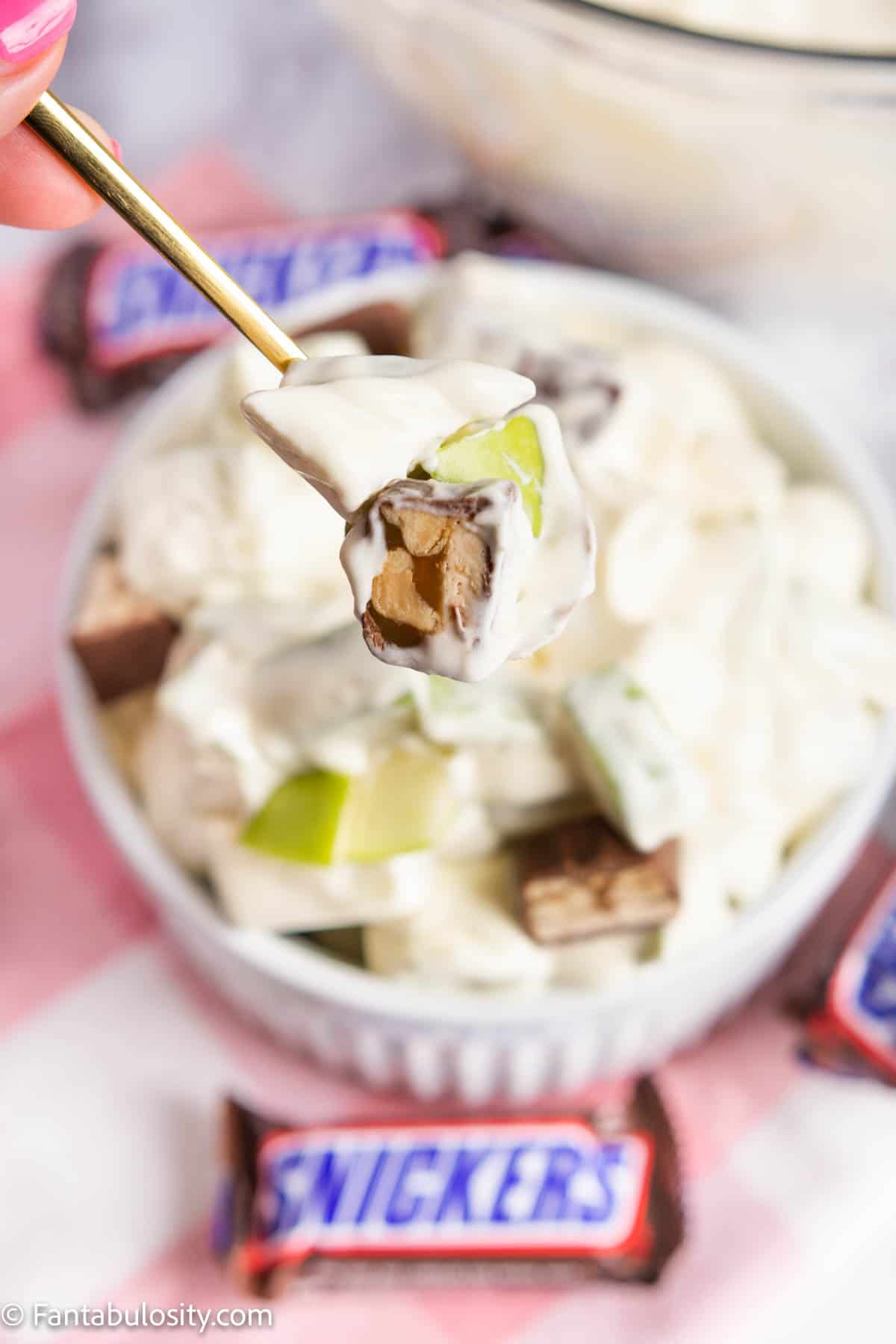 Ingredients
Would you believe it only takes a few ingredients to make this delicious recipe? It's true. You'll need:
5-6 cups diced green apples (This was about 3 large granny smith apples for me and believe fresh apples are the best apples to use. The crunchy apples are such a delicious contrast to the chewy candy and the smooth pudding.)
1.5 cups diced Snickers (this was about 12 fun size Snickers for us)
3.4 oz. box vanilla pudding mix
1 and 1/2 cups milk
8 oz. container Cool Whip, thawed
Instructions
Get ready for an easy dessert recipe (or sweet side dish) because it really doesn't get much easier than this!
First, pour the instant vanilla pudding mix in to large bowl and add milk.
Whisk together until pudding has become a thick mixture.
Next, fold in whipped topping (Cool Whip) and mix together until fully mixed in.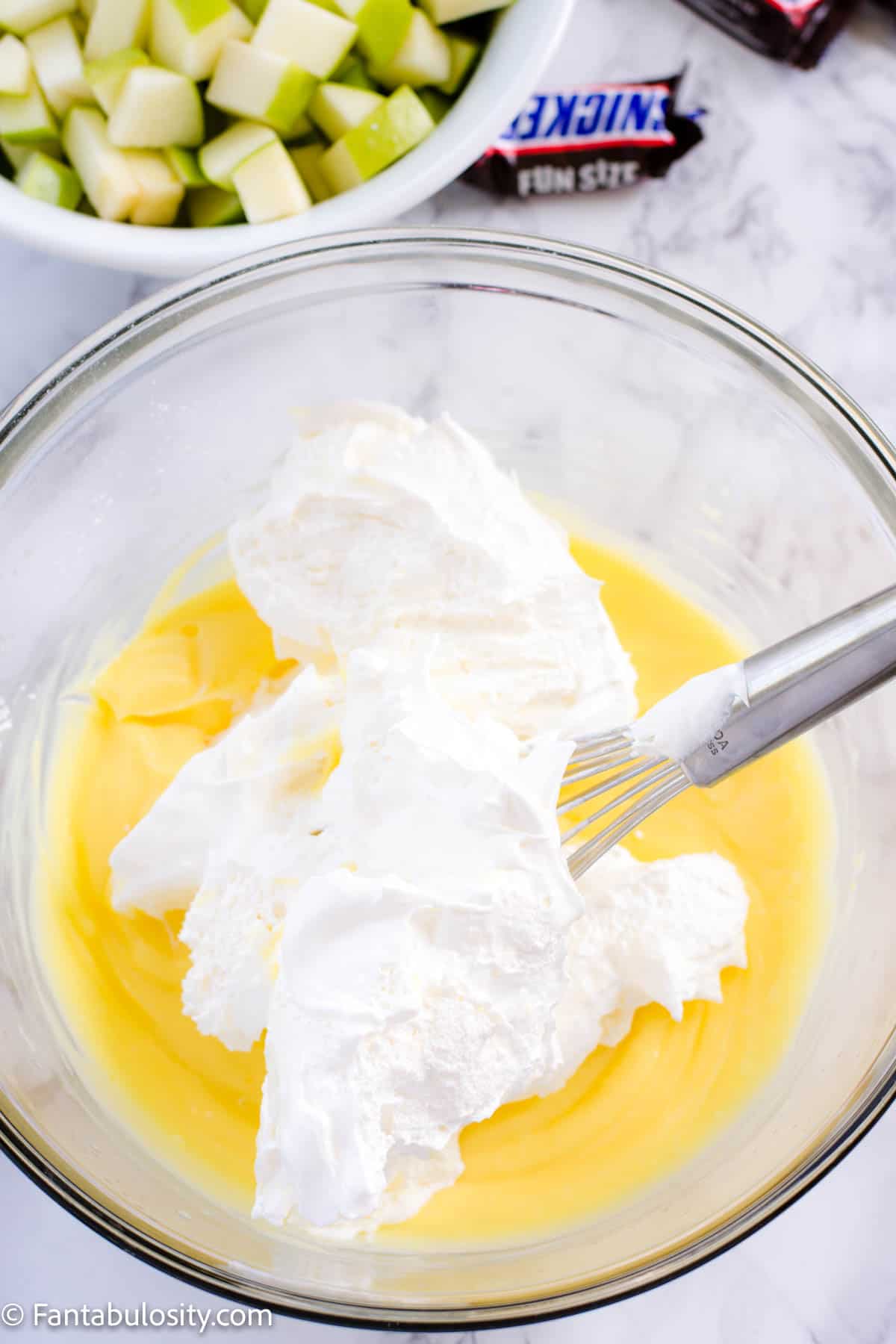 Pour in the chopped apples.
Then pour in the chopped Snickers.
Stir until evenly mixed together and enjoy right away or save for later! (See storing tips below!)
TIP: If you want to, or have any leftover, I think it's fun to chop extra candy bars and apples, so I can place them on top of the salad for a pretty presentation of this apple snickers salad recipe.
Storage
You can enjoy this salad as soon as you mix it up or you can store it for later. (Note: If you do end up dicing extra apples to place on top of the salad, to make it look pretty for an event such as a church event or just as a party dish, your apples may turn a bit brown. So you'll probably want to wait to add any extra chopped apples until right before serving.)
To store any leftovers, store in an airtight container, or cover the big bowl with plastic wrap, in the refrigerator and keep refrigerated when not serving.
It's best to enjoy within the same day but we've also enjoyed it the next day.
Variations
Although we love this candy bar salad just the way it is, I know it can be fun to experiment so I wanted to share some ideas that you can also try:
Add Caramel: Drizzle caramel sauce on top and make it a Snickers Caramel Apple Salad. Or even drizzle chocolate syrup on top for another fun spin on things!
Instant Pudding: Don't have vanilla pudding on hand? What about trying one of your other favorite flavors of pudding, such as butterscotch pudding or banana pudding? I think both of those would also create a fun recipe.
Apples: Curious about using red apples such as red delicious apples? You absolutely can but note that this recipe may be sweeter if so. The tart granny smith apples help offset the sweetness of everything else.
More desserts you'll love:
If you love apple salads, make sure to check out all of the apple salad recipes Jessica has gathered for you too!
If you love the idea of apples and pudding, like in this recipe, then don't miss this other apple salad recipe that is easy to make with pudding, nuts, and dried berries!
It's a flavorful crunch that will go along with any spread!
We're also BIG fans of this honey lime fruit salad, bread pudding recipe and this Butterbeer Recipe that I know you'll love too!
Did you make this? I'd be so grateful if you left a review below to let me know what you thought! Then next time you need a quick and easy recipe, come back to Fantabulosity to browse all of my easy recipes!
Through this article, we hope to help you understand Apple snicker salad without pudding
Detail: 🔗