Snicker Salad recipe is a traditional dessert salad or side dish popular at all our holidays, parties, picnics and backyard BBQs! It's light and fluffy from the Cool Whip and vanilla pudding mixture. Then it's loaded with your favorite Snickers candy bars and apples.
If you want a more fall twist to this favorite you have to try our Snickers Caramel Apple Salad that is just like your favorite Snickers Salad with caramel added to it!
PIN IT HERE FOR LATER!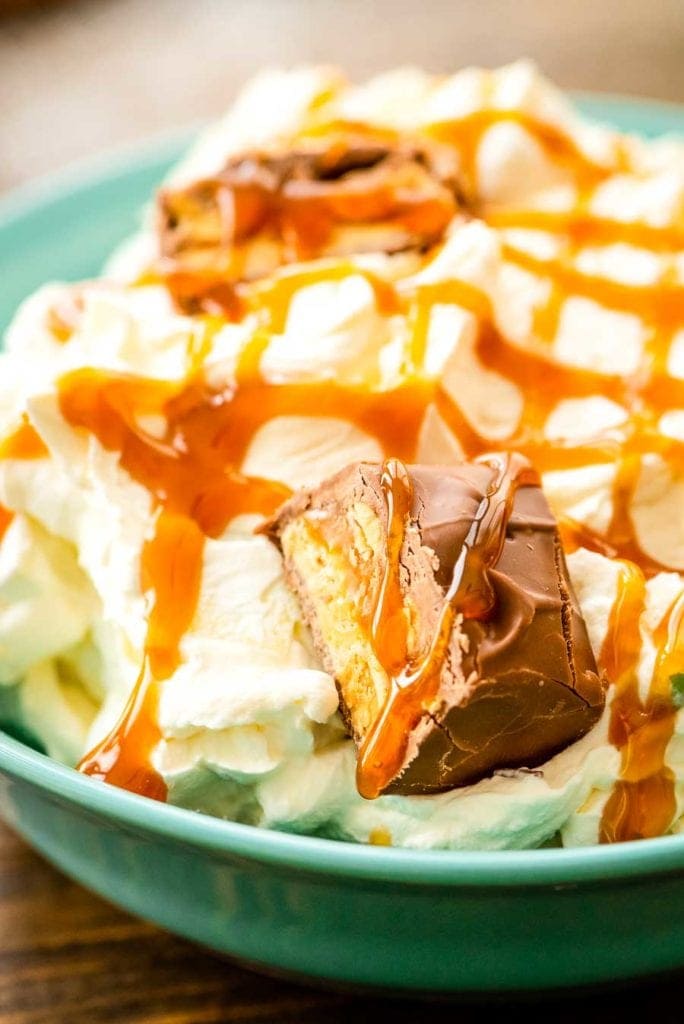 If you're not from the Midwest you might be wondering what the heck a Snickers Salad is – a salad with Cool Whip and candy bars? Yes, it's what we call a salad and it's a go-to side dish or dessert salad that you're guaranteed to find at all the Midwest potlucks, picnics, and BBQs. Everyone loves it!
I don't know about you, but I like to have plenty of easy recipes to make for events throughout the year and this Snickers dessert salad is one of our favorites. Between holidays, church potlucks, block parties, and BBQs there's always an excuse to whip up a batch of this light and fluffy Snickers Salad!
I love that you don't need a bunch of ingredients to make it and it's a low-prep dish that you can make ahead. The hardest part is not sneaking pieces of Snickers bars while you're making it!
What is Snicker Salad?
There are many variations of Snicker Salad, but it usually is a combination of cool whip, pudding, apples, and, of course, chopped up Snickers bars. I like to use vanilla pudding, but I've seen other versions with different flavored pudding.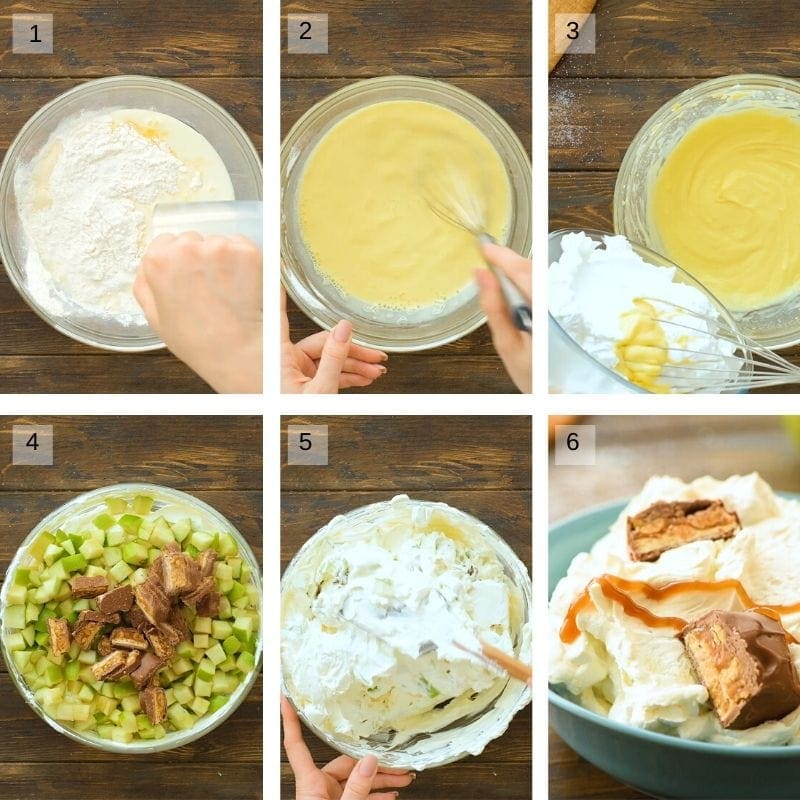 Ingredients Needed
Instant vanilla pudding mix
Milk
Cool Whip
Granny smith apples
Snickers bars
Caramel Sauce
How to Make Snickers Salad
Whip together the milk and pudding mixture in a big bowl and let sit until it is soft-set.
Fold in the Cool Whip, chopped apples and Snickers bars.
Before serving drizzle caramel sauce over salad if desired.
The best thing about Snickers Salad is that it's so easy to make. That's a good thing because our family makes it on repeat throughout the year for holidays, picnics, and BBQs. You only need five ingredients to make it!
Instant pudding and Cool Whip make this so easy to make and you only need a few minutes to prep the apples and candy bars. Plus, you can make this Snicker's Salad ahead – just keep it in the refrigerator until you're ready to serve it!
How do I fold in Cool Whip?
You don't want to stir it in because the Cool Whip will deflate and your salad won't have a light and fluffy texture. Instead, add the Cool Whip in a few small batches and, using a spatula, gently fold the cool whip into the pudding so they fall over each other until they combine. It takes a little patience, but I promise it's worth it! You will love the light and fluffy texture when it's time to serve the salad.
Mix in the chopped apples and Snickers bars and that's it! At this point, you can cover the bowl and chill the Snickers Salad in the refrigerator until you're ready to serve it.
What apples should I use?
I use tart granny smith apples because they are a great combination with sweet pudding. This dessert salad is light and fluffy and the combination of chocolate and apples is… well, I'm telling you, it's delicious! Everyone loves it!
You can use whatever apples you would like, but I personally recommend going for the Granny Smith! Other great options are Red Delicious or Gala.
What else can I add to Snicker Salad?
Sometimes it's made with grapes and other kinds of fruit, but I really love the classic combination of Snickers bars and fresh apples.
Here is a list of other ingredients that can be added to this delicious Snickers Salad!
Marshmallows
Grapes
Strawberries
Toffee
Firm sliced bananas
Swap the instant vanilla pudding mix for banana pudding mix
Crushed vanilla wafers, make sure to add right before serving
When it's served at potlucks and BBQs it's usually served alongside all of the other side dishes even though it's sweet and more like a dessert. When people load up their plates and I can guarantee everyone will want a generous scoop of Snickers Salad!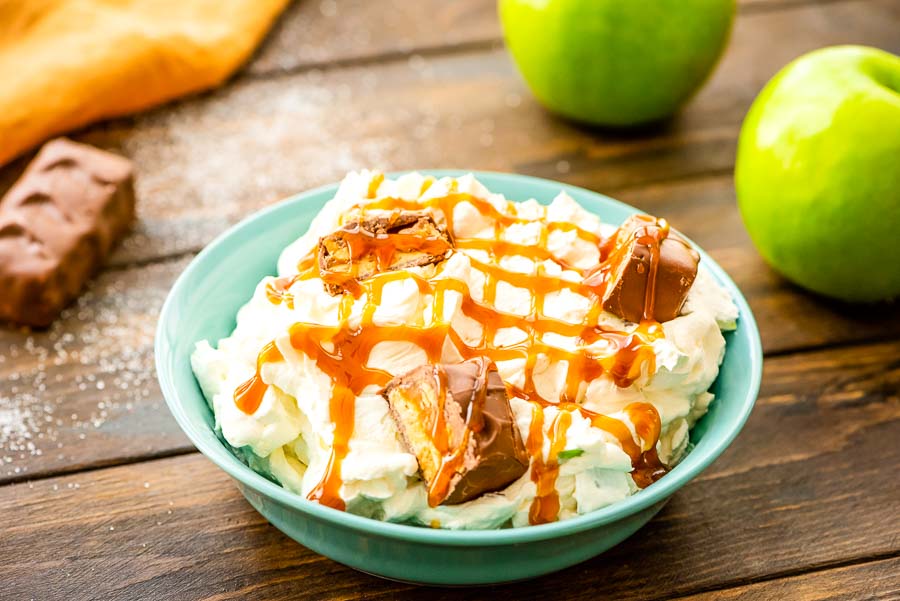 If you've never tried a dessert salad before I hope you give this Snickers Salad a try! Once you do (and I know you'll love it!) try some our other favorite dessert salad recipes!
More Dessert Salad Recipes!
Cookie Salad
Oreo Fluff
Strawberry Banana Pudding Fluff
Strawberry Pretzel Salad
Golden Oreo Dream Salad
Strawberry Tapioca Salad
Watergate Salad
WATCH THE STEP BY STEP VIDEO FOR THIS RECIPE BELOW:
If you enjoy watching these videos make sure you subscribe to my YouTube Channel to be notified each time I post a new video!
Try it and love it? Rate it, please!!! ? Seriously though a five-star rating below will make my day! If you snap a photo, please be sure tag me on Instagram at @julieseatsandtreats or #julieseatsandtreats so I can see your yummy treat!!
Please see more list about Can you make snicker salad the night before
Detail: 🔗