Sonoma Chickpea 'Chicken' Salad features protein rich chickpeas, juicy grapes, celery, and pecans tossed with a healthy maple-tahini poppy seed dressing – it's customizable, easy to make and delicious!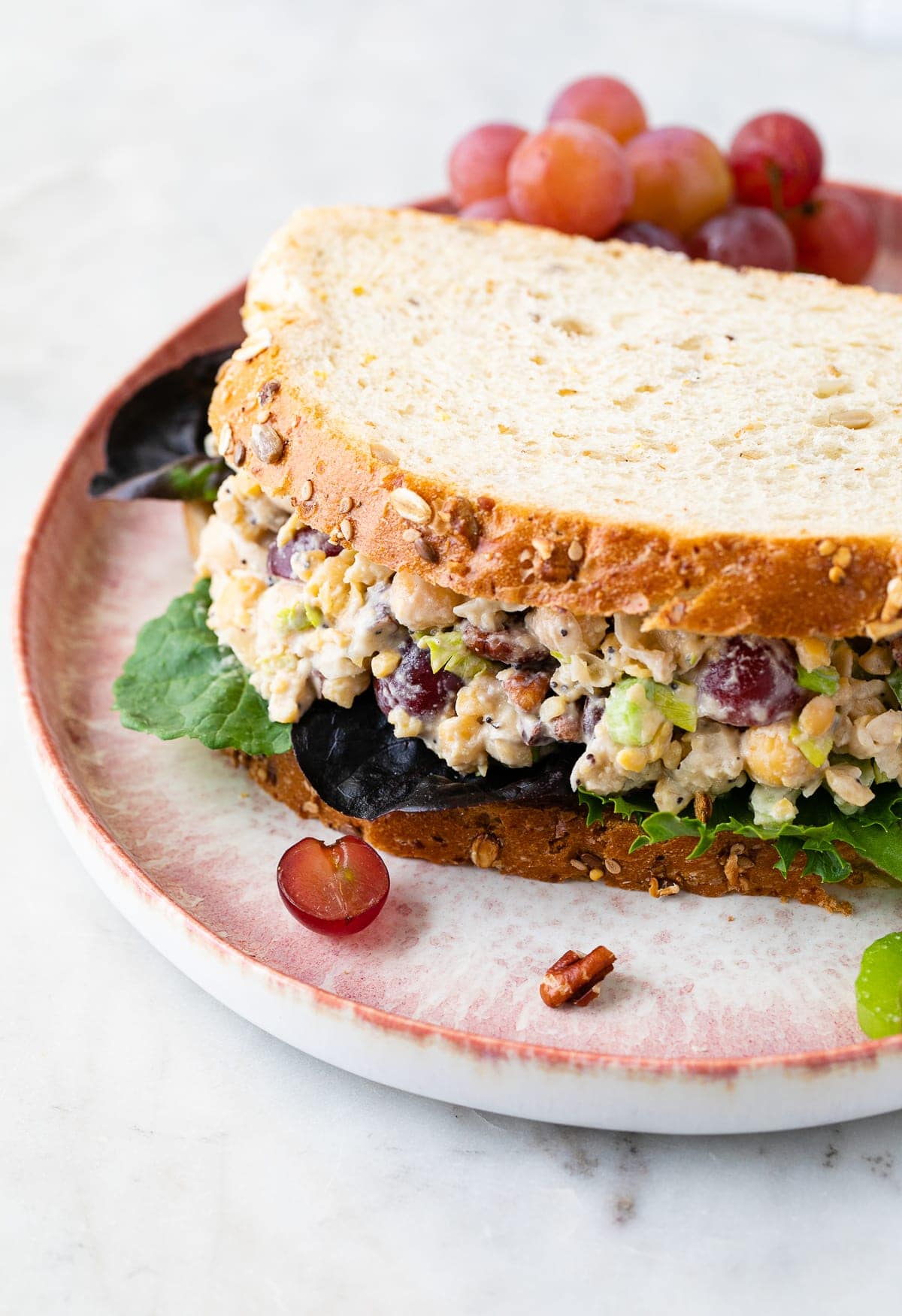 A new chickpea salad flavor-sensation is coming your way!
You may already be familiar with the Mashed Chickpea Salad Sandwich, Curried Chickpea Salad, Cranberry Walnut Vegan 'Chicken' Salad, and 'Chickpea of the Sea' Tuna Salad Sandwich. All of which are healthy and satisfyingly delicious!
Why We Love This Recipe!
For starters, because it's so quick, easy, and healthy. And you can never have too many chickpea salads in your recipe box!
I wanted to create a vegan copycat version of Trader Joe's classic Sonoma Chicken Salad. Chickpeas work great as a replacement for chicken in this recipe – you won't miss a thing, trust me!
It makes a great sandwich or wraps filling, or if you prefer, simply serve over the top a bed of leafy greens. However you choose, it's flavorful, filling, and tastes AMAZING!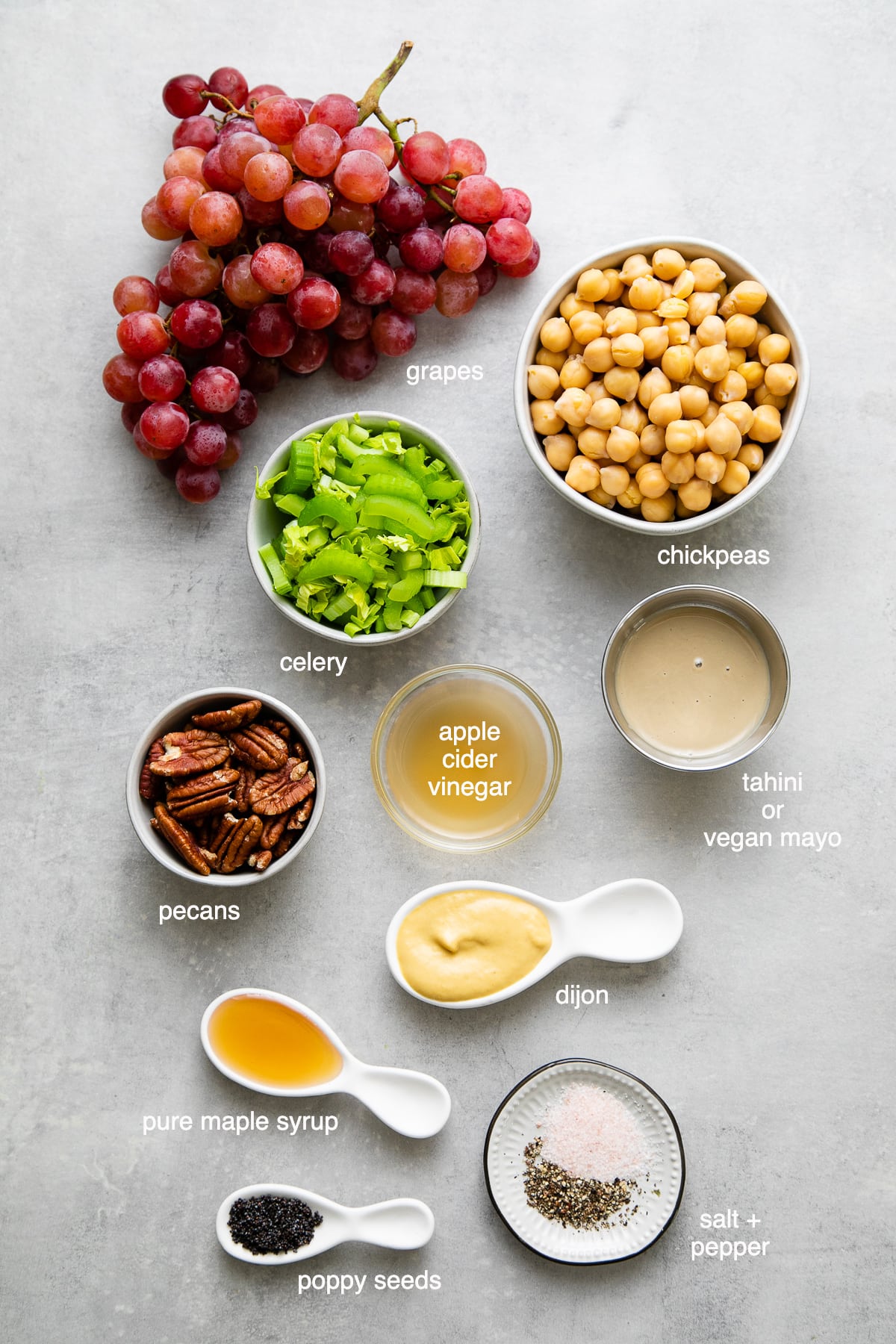 Ingredient Notes
The salad itself is very simple with only 4 ingredients and the dressing is just as simple. Feel free to use more or less of any ingredients to suit your taste.
Here is everything you will need, including ingredient variations:
Chickpeas – I used canned garbanzo beans for ease, but fresh cooked is great too.
Grapes – Feel free to add more grapes for extra juiciness. They are delicious here!
Celery – Adds crunch and coolness but can be omitted if you're not a fan.
Pecans -Because of their rich flavor profile I highly recommend using the pecans here, but walnuts are great too.
Tahini or vegan mayo – They work great, so use your preferred.
Apple cider vinegar – I used ACV, but you can sub with white wine vinegar or TJ's Orange Muscat Champagne Vinegar.
Pure maple syrup – Coconut nectar is a great sub for maple syrup.
Dijon – Can be optional – I've made this without and it's still delish!
Poppy seeds – These can be optional as well.
Salt + pepper – As always, use to taste.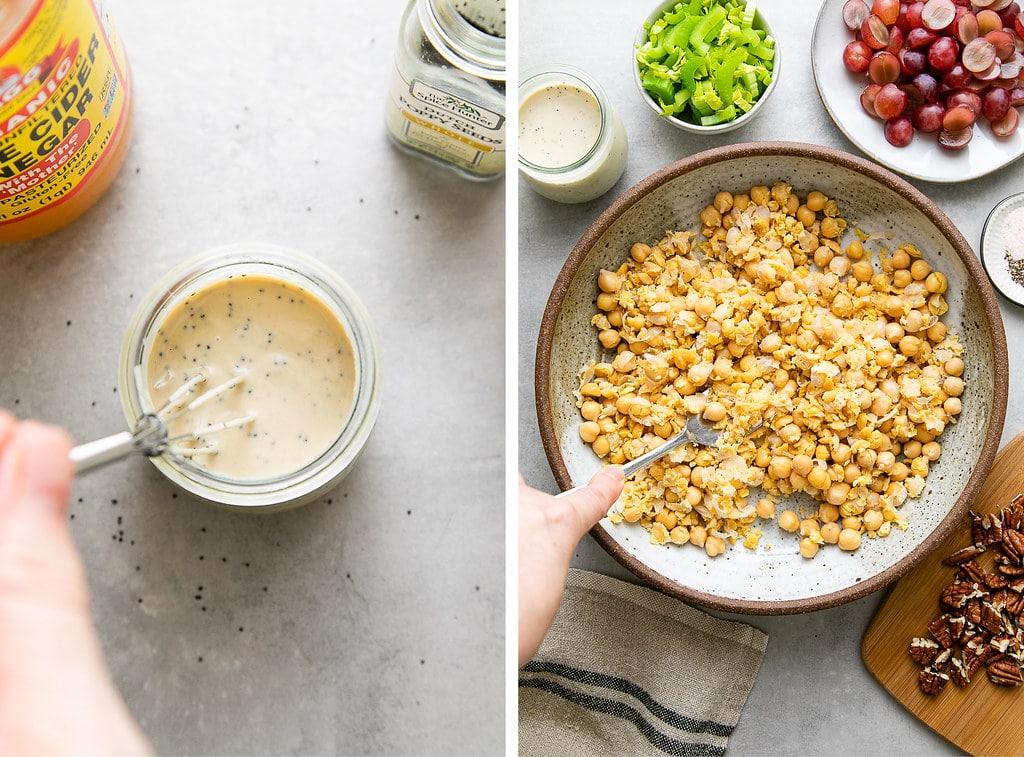 How To Make Chickpea 'Chicken' Salad
(Note – The full printable recipe is at the bottom of this post)
Make the creamy poppy seed dressing. In a small bowl, combine the tahini or vegan mayo, apple cider vinegar, maple syrup, dijon, garlic & onion powder and poppy seeds (above left).
Slice the celery and grapes. Use as much, or little, as you like.
Chop the pecans. Roughly chop the pecans.
Mash the chickpeas. When making these types of chickpea salads I like to roughly mash 1/2 – 3/4 of the chickpeas using the back of a sturdy fork (shown above right), potato masher or pastry blender. This can be optional.
Assemble the salad. Once your ingredients are prepped, add them to the chickpeas, grapes, celery, and pecans. Pour the dressing over top and mix to combine.
And now you're ready to enjoy this amazing salad!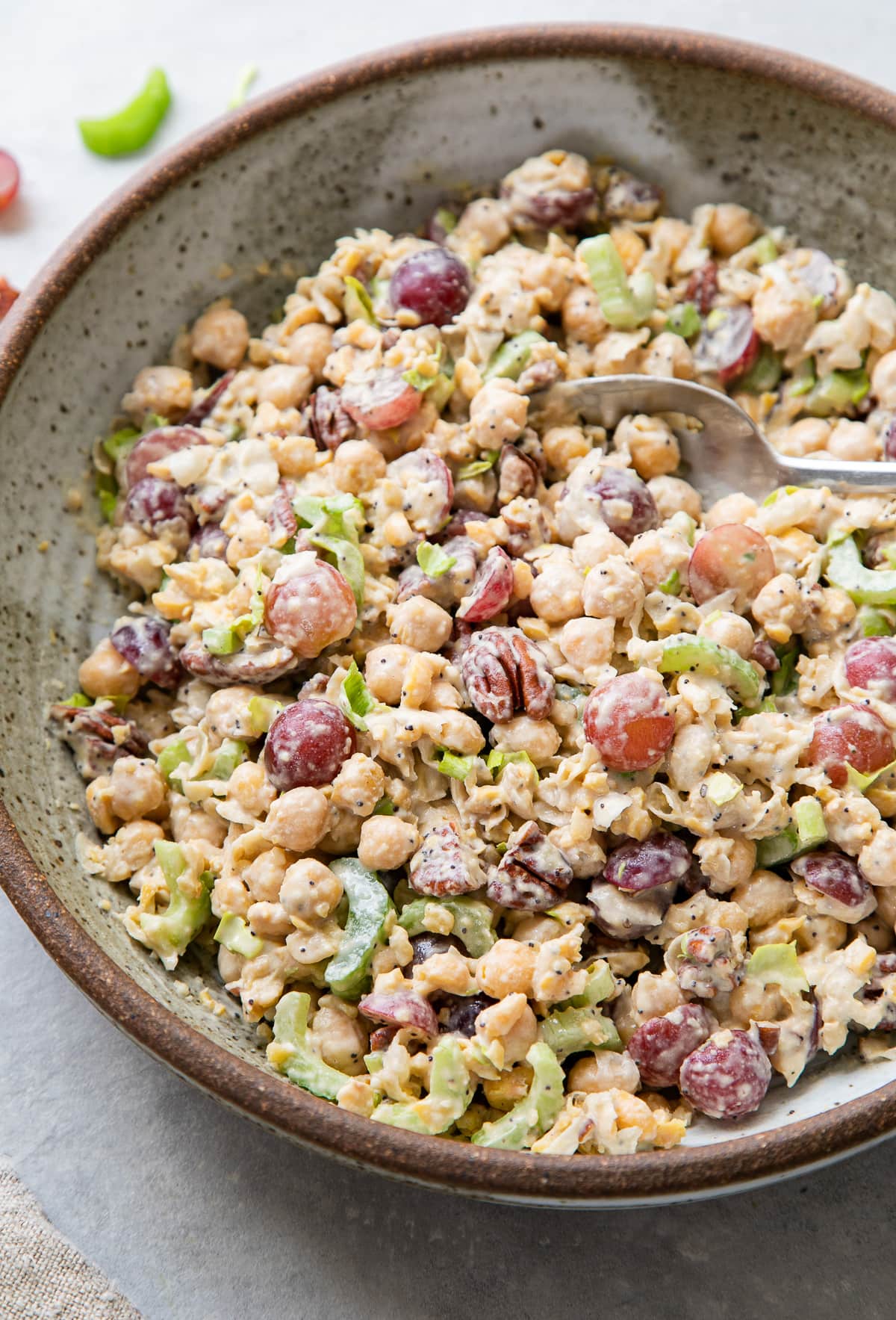 How To Store + Meal Prep
Refrigerator: Leftovers can be stored in the refrigerator for up to 5 days, in a covered container.
Meal prep: For meal prep, make the salad as directed and store in the refrigerator. Meal prep with leafy greens, or make sandwiches or wraps. See below for more serving suggestions.
Serving Suggestions
Here are a few of our favorite ways to serve this versatile sonoma chickpea chicken salad:
Salad: Serve on a bed of fresh leafy greens as a salad. Use chopped romaine, or keep it simple with a salad spring mix.
Wraps: Make lettuce wraps, roll into tortilla wraps, or tuck into pita bread.
Sandwiches: Of course, it's great as a sandwich filler or open-faced sandwich. Try pairing it with homemade Artisan Bread or a good fruit and nut bread.
Mashed or unmashed: Either way, mashed or un-mashed, can be eaten as is straight from the bowl!
Fruit: Serve with a side of fresh fruit (grapes, cantaloupe, watermelon, apple slices, etc.) for a healthy lunch or dinner.
More Easy Chickpea Recipes
Mediterranean Smashed Chickpea Salad
Smashed Chickpea Avocado Salad
Greek Pasta Salad
Lemon Chickpea Orzo Soup
Quick + Easy Chickpea Tacos
Chickpea 'Egg' Salad
If you try this healthy chickpea recipe, please let us know! Leave a comment and rate it below. I love to hear what you think, or any changes you make.
Print
FOLLOW TSV on Facebook, Instagram, Pinterest or RSS for more updates and inspiration!
For more information please see the list of Healthy chicken chickpea chopped salad
Detail: 🔗