This traditional Spanish chorizo and lentil stew is flavorful without being spicy. It's also packed with fiber and protein with Spanish pardina lentils and vegetables. Any brown or green lentils can be used in place of the pardina lentils.
*This post contains compensated links. Find more info in my DISCLAIMER. As an Amazon Associate I earn from qualifying purchases.
What Are Spanish Pardina Lentils
While living in the US I would have guaranteed that I would not be making a Spanish pardina lentil and chorizo stew. Until we moved to Spain, I had no idea what pardina lentils were.
There a lot of varieties of lentils. We cook a lot with red lentils because they cook quickly. Green and brown lentils tend to take longer to cook, but they hold their shape a bit better. This makes them perfect for salads and stews where you want the lentils to be more pronounced.
Spanish pardina lentils are brownish in color. They have an almosty nutty flavor, and a little bit of a creamy taste. Obviously, it was easy for me to find pardina lentils when living Spain, but really any brown or even green lentils would work in this recipe. But, Goya sells pardina lentils and you can buy them on Amazon here.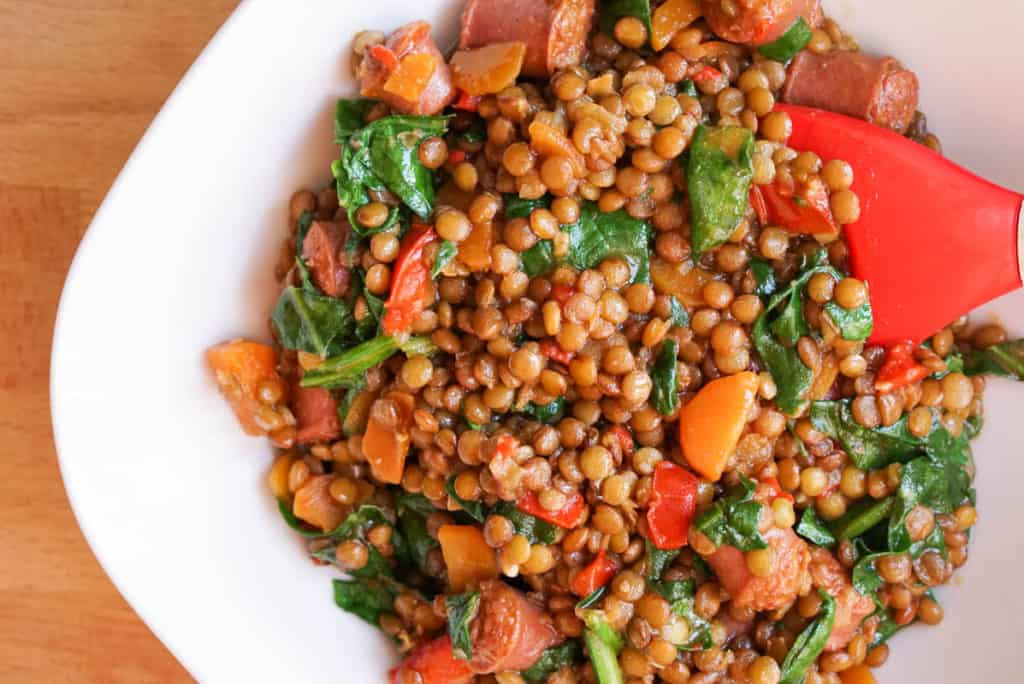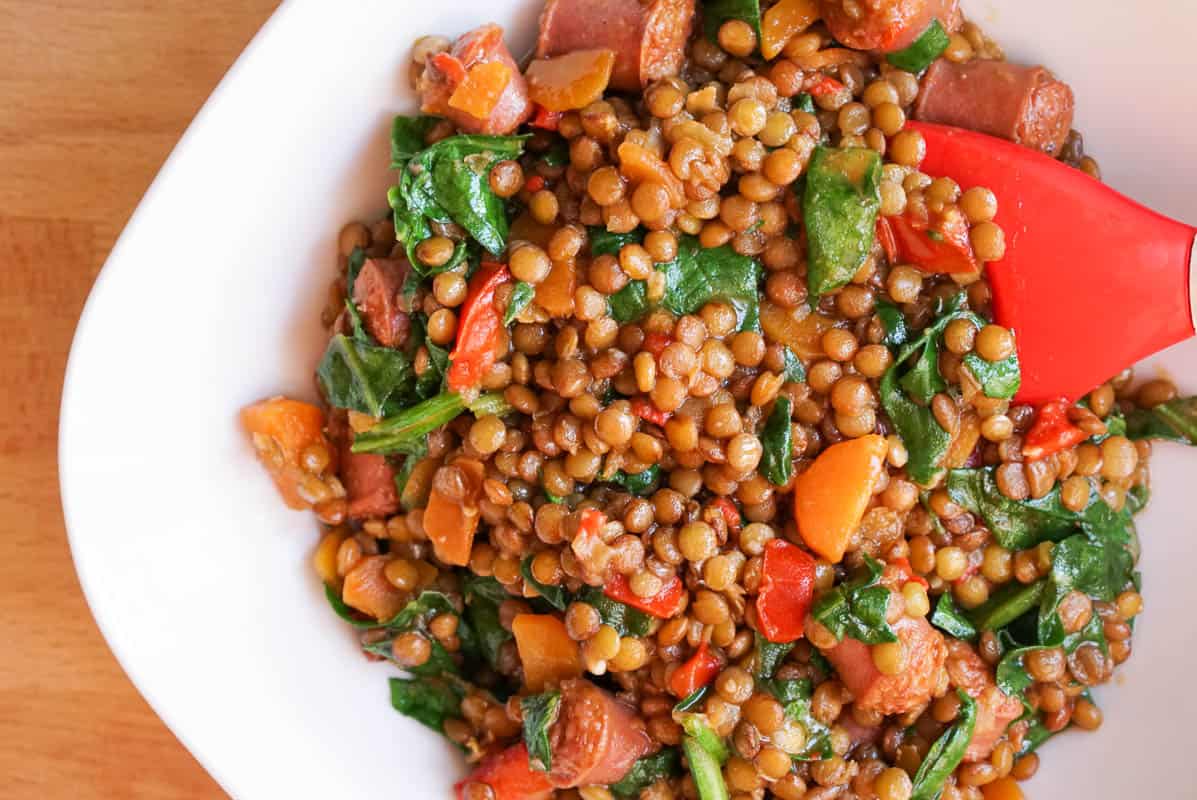 Check out our other authentic Spanish Recipes:
Authentic Spanish Ropa Vieja With Garbanzos
Spanish Chorizo And White Bean Recipes
Spanish Spinach And Chickpeas
Why Cook Chorizo And Lentils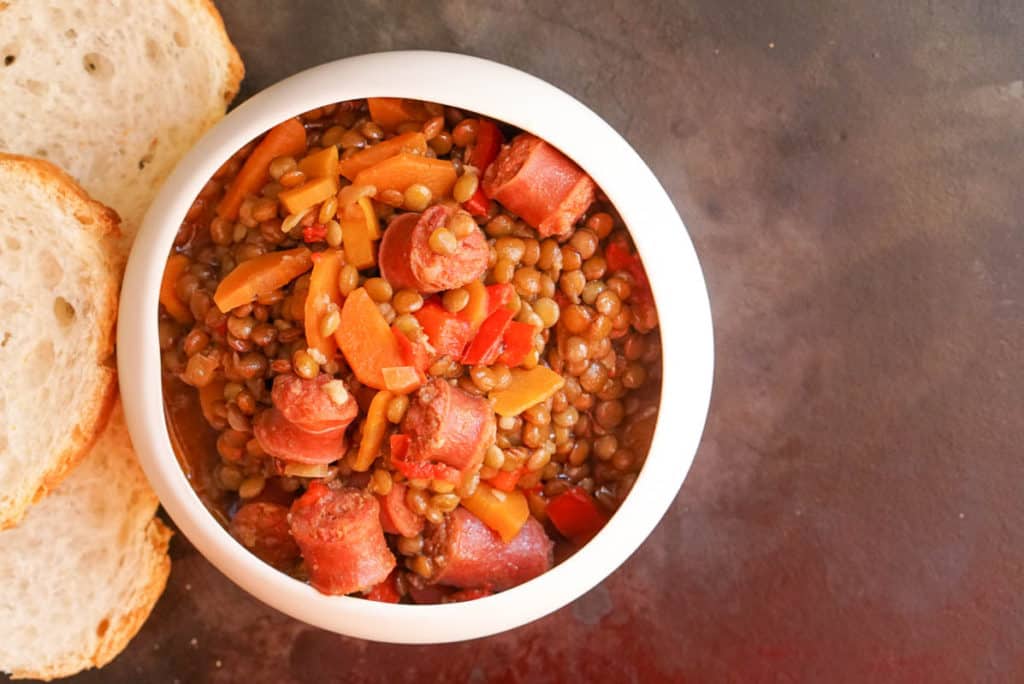 This Spanish chorizo and lentil stew was a regular rotation in our menu when we lived in Spain. Made with Spanish pardina lentils and spicy chorizo, it's an authentic Spanish recipe that is easy enough to make at home.
It's common to find chorizo and lentils cooked together in Spain. There is something about the spiciness of the chorizo and the creaminess of the lentils that just goes well together.
Love cooking with lentils? See our recommendations for some of the Best Healthy Lentil Recipes for every budget and every diet.
How To Cook Spanish Chorizo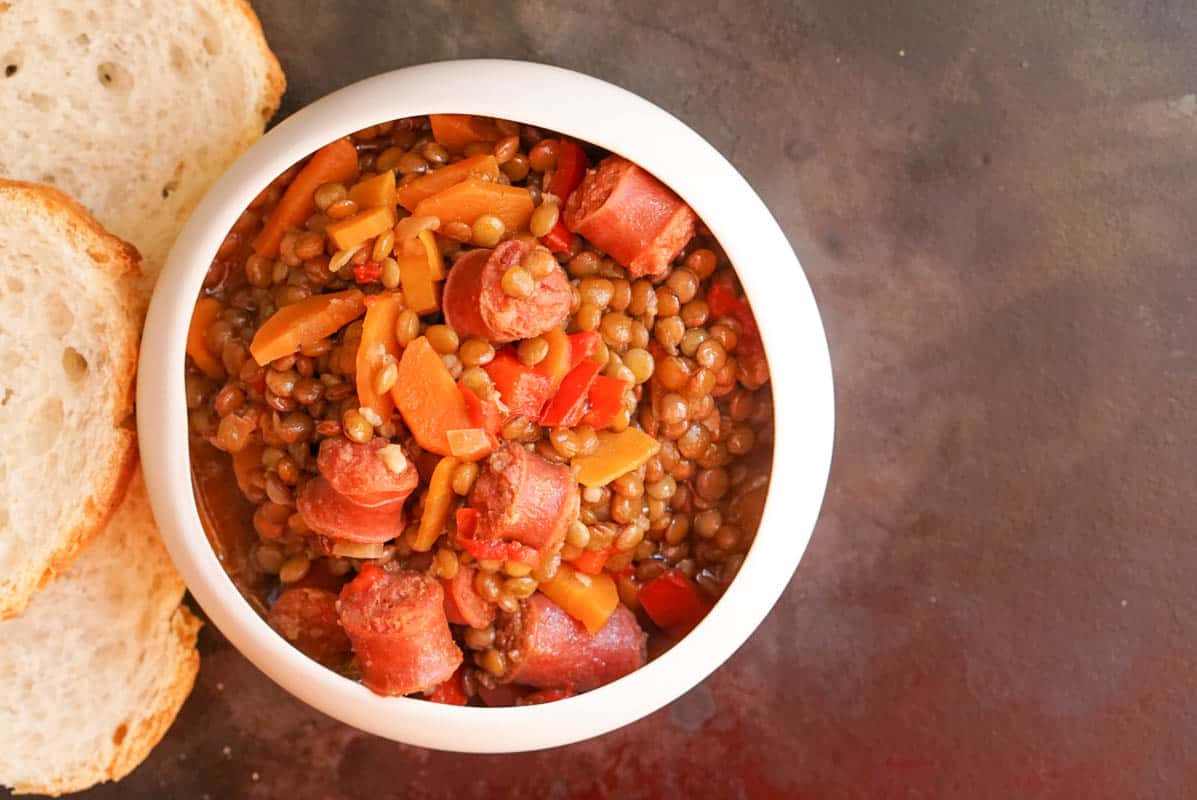 Cooking with chorizo is a little bit different than cooking with Italian sausage. Both are made with pork but Italian sausage has a more mild flavor. Chorizo is flavored with paprika and other spices, which is what gives it the red color. The pork inside is more finely ground giving it a different consistency than Italian sausage.
There is also a difference between Mexican and Spanish chorizo. When cooking Mexican chorizo, you want to remove it from the casing, whereas Spanish chorizo can be cooked in the casing.
You can generally find fresh Spanish chorizo at your local supermarket or Latino market. You can also find it on Amazon here. This version is fully cooked, but can still be added to this stew.
Ingredients For Spanish Lentil And Chorizo Stew
In addition to Spanish chorizo and pardina or brown lentils, the base of this dish includes olive oil (Spanish olive oil if possible), yellow onion, garlic, carrots, and red or yellow pepper.
The onion should be diced small. The garlic should be minced or pressed to avoid having large chunks of garlic in the lentil stew. I like to use a garlic press too so that there aren't big chunks of garlic in the stew. Try the Zulay stainless steel garlic press, which is easy to use. There's no need to even peel the garlic ahead of time. The carrot should be diced small so that it doesn't take too long to cook. I prefer using a red or yellow pepper because they are more sweet than green peppers.
The seasoning comes from salt, pepper, ground cumin, ground paprika, and bay leaves. These are all typical spices and seasonings used in many Spanish recipes. You can use smoked paprika or sweet paprika. We tend to use sweet paprika out of preference but smoked is probably more traditionally Spanish.
Don't be afraid to season with salt. Add it throughout the cooking process to blend the flavors together. Salt doesn't make a dish salty, it makes it more flavorful. Plus, it's better to add salt throughout the process rather than at the table because the salt will bring the flavors together.
All of this is cooked in chicken broth to cook the lentils. Vegetable broth can be used too.
How To Make This Spanish Chorizo And Lentil Recipe
Add the olive oil, onion, garlic, carrots, and pepper to a medium to large sized dutch oven. Cook over medium-high heat until the vegetables start to soften, about 5-7 minutes.
Add the bay leaves, cumin, paprika, salt, and pepper, and chorizo. Stir well and cook for about 2-3 minutes.
Add the lentils and coat in the mixture. Allow the lentils to cook until they start to sweat, about 2-3 minutes.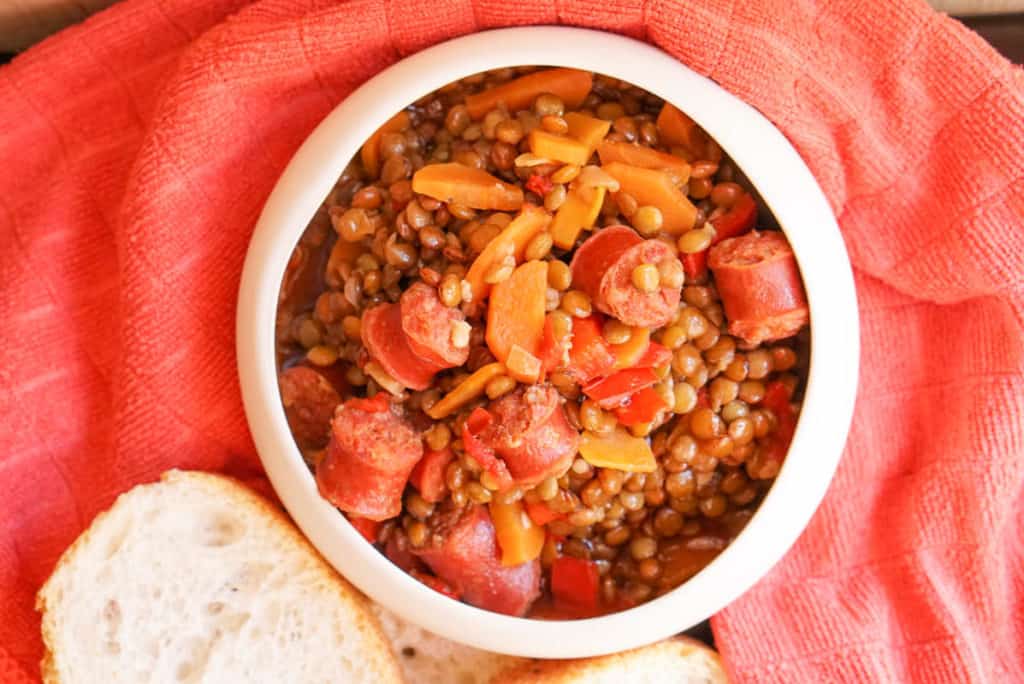 Add the chicken broth and stir well. Bring to a boil and then reduce the heat to simmer. Cook for about 35-40 minutes or until the lentils are soft. You can cover the dutch oven when cooking, but leave the lid slightly askew.
It's important to check the lentils every 5-7 minutes while they cook. Continue to stir and ensure there is sufficient liquid to allow the lentils to cook without drying out. If needed, add an additional half cup of broth or water to help the lentils cook.
How To Serve Spanish Chorizo And Lentils
Sometimes I like to add a little chopped spinach at the end. Or, when reheating, adding a bit of spinach and a squeeze of lemon juice can help revive a lentil stew that's been in the fridge, or spent time in the freezer.
To make a version that is a spicy lentils with chorizo, there are a few ways to add some spice. Add spicer chorizo, or add a half teaspoon of crushed red pepper with the spices. Spanish food, in general, is flavorful but not spicy. There's no reason, though, why you can't add a little bit of a kick if you like a spicy chorizo stew.
Through this article, we hope to help you understand Spanish pardina lentil and chorizo stew
Detail: 🔗