Hot bacon dressing may sound difficult, but it's easy to prepare and makes the perfect salad dressing for a hearty spinach salad. This spinach salad with hot bacon dressing makes a memorable dinner. It's filling enough to enjoy as a whole meal, especially if served with some crusty French bread to mop up the delicious juices.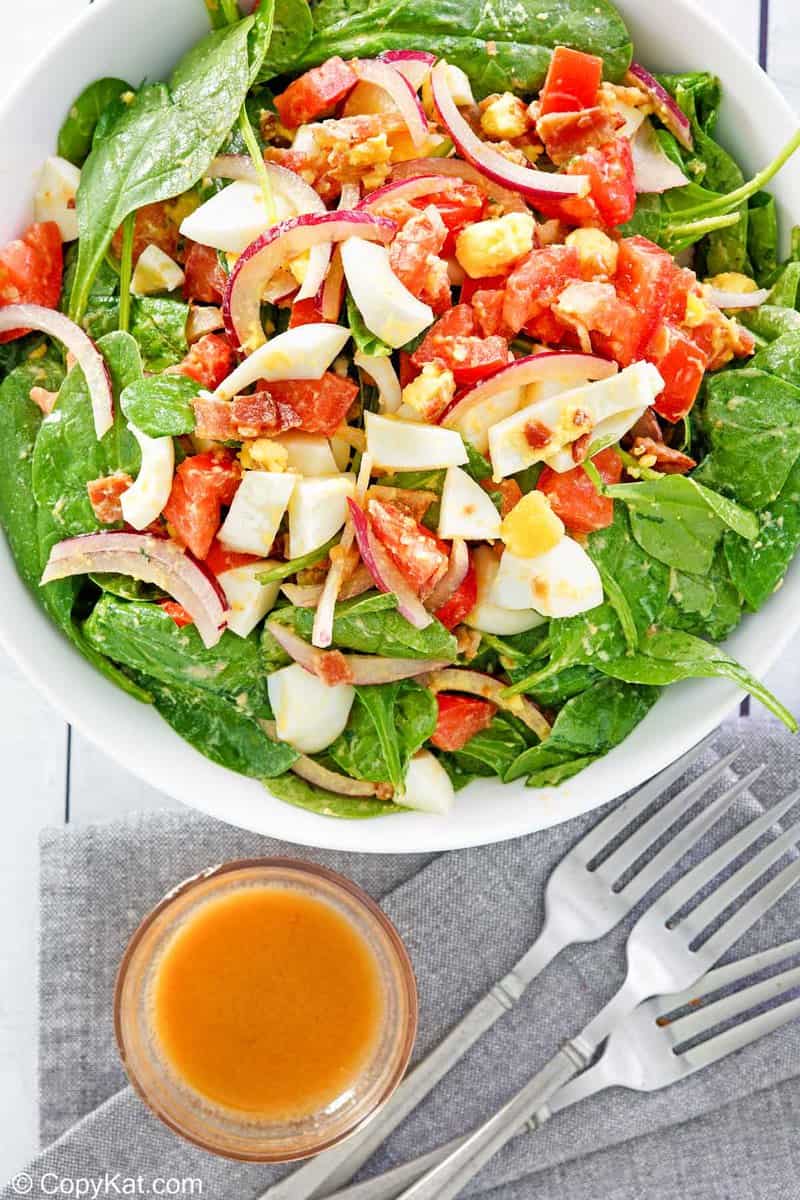 This post contains affiliate links. As an Amazon Associate, I earn from qualifying purchases.
Best Warm Bacon Dressing for Salads
Maybe you have dined out at Applebee's, TGI Friday's, or remember Bennigan's hot bacon dressing and spinach salad. However, you really don't need to go out for this delicious spinach salad with warm bacon dressing; it's really easy to make it at home.
This homemade spinach salad dressing may have its origins in Pennsylvania Dutch country where German-based food often combines the flavors of sweet and sour. This salad dressing is tangy, sweet, and rich with the smokiness, crispiness, and taste of the bacon. What's more, it's ready in minutes.
This is the best hot bacon dressing recipe. Try it on your family if they don't normally eat spinach, and you might be surprised!
Hot Bacon Dressing Recipe Ingredients
Here's a list of what you need:
Bacon
Baby spinach leaves
Tomatoes
Hard-boiled eggs
Red onion
Red wine vinegar
Sugar
Dijon mustard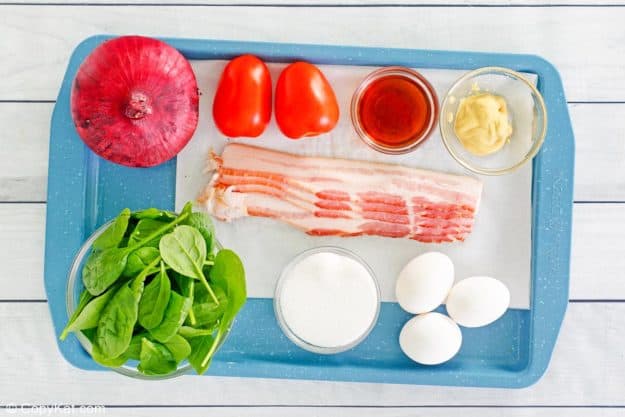 I like cooking bacon in the oven and retaining the bacon drippings for the salad. By using a wire rack resting on top of a jellyroll pan, the bacon drippings end up in the bottom of the pan so you can easily use them.
Ingredient Substitutions
If you like using honey or maple syrup, either can be substituted for the sugar.
If you don't want to use anything sugary, Stevia or another sugarless sweetener can be used.
Switch up the red wine vinegar called with champagne vinegar, sherry vinegar, or even balsamic vinegar for a bolder flavor.
If for some reason, you don't want to use eggs (maybe someone has an egg allergy), you could substitute them with crumbled blue or feta cheese and olives.
How to Make Hot Bacon Salad Dressing and Spinach Salad
Cook bacon in the oven until browned and crispy.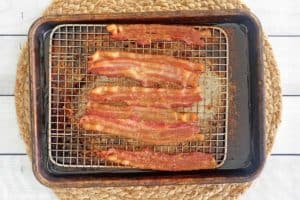 Chop the cooked bacon into pieces.
Reserve bacon grease for the dressing.
Place the spinach in a bowl and top with tomatoes, chopped hard-boiled eggs, sliced red onion, and bacon.
Place the bacon grease, vinegar, sugar, and mustard in a saucepan.
Heat to medium and whisk the salad dressing until it beings to boil and turns into a uniform mixture.
Pour the hot bacon salad dressing over the salad.
Toss the salad and enjoy!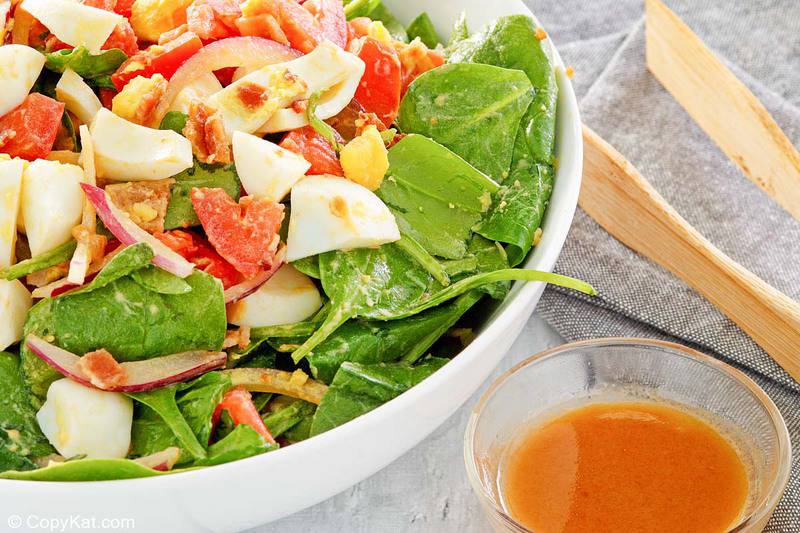 Where Can You Buy Hot Bacon Salad Dressing?
I didn't think you could buy bacon dressing for spinach salad, but a reader pointed me to Wos-Wit, a company that makes Pennsylvania Dutch foods. However, the best salad dressing does not come out of a bottle but rather is made fresh just before serving.
This salad dressing actually gets cooked just before it is served, but don't worry, there is minimal cooking time, and this is an easy salad dressing to put together.
Types of Greens to Use for this Salad
Growing up, my great-grandmother would serve up a wilted salad with a hot bacon dressing over whatever lettuce was in season. This salad was served up during the spring and summer. The flavor of the bacon dressing was out of this world when drizzled over a pile of greens.
This recipe is perfect for salad greens that are a little bitter. Often this salad is made with spinach (the classic), but you can use romaine or iceberg lettuce. It also works well with baby kale or even dandelion leaves early in the spring when the plants are small and the leaves are not too bitter.
It's also tasty to add in some endive, cooked mushrooms, or roasted red peppers.
Other Uses for Hot Bacon Dressing
This warm bacon dressing is so tasty it doesn't just have to be reserved for salads. Here are some other ideas:
Liven up boiled potatoes.
Pour over steamed green beans or oven roasted Brussel sprouts.
How to Store Warm Bacon Salad Dressing
If you know you aren't going to use up all of the dressing at once, allow the extra to cool to room temperature and transfer to an airtight container (minus the bacon). The dressing can be stored in the fridge for up to 5 days. Store the bacon in a separate container.
How to Reheat Cold Bacon Dressing
To reheat your dressing, microwave it on high power in 20-second increments until warmed through.
Alternatively, you can warm the dressing in a small saucepan over low heat.
Warm the bacon in the microwave for 10 seconds on a paper towel-lined plate until crisp.
How to Freeze Salad Dressings
The best way to freeze salad dressing is to make it into ice cubes. When the cubes are completely frozen, pop them out, place them in a freezer bag, press out the air, seal, and return to the freezer.
To freeze a large batch of salad dressing, pour it into a freezer-safe plastic container, leaving space at the top to allow for expansion.
FAQ About Bacon Dressing for Spinach Salad
More Homemade Salad Dressing Recipes
Avocado Lime Ranch Dressing
Blue Cheese Dressing
French Dressing
Japanese Salad Dressing
Olive Garden Dressing
Russian Dressing
Favorite Salad Recipes
Apple Pecan Chicken Salad
Applebees Oriental Chicken Salad
Chicken Salad Chick Chicken Salad
How to Make Ham Salad
Kale Brussel Sprout Salad
Spaghetti Salad Recipe
Wendy's Strawberry Salad
Check out more of my easy salad dressing recipes and the best salad recipes here on CopyKat!
For more information, please see more information about Spinach salad dressing with bacon
Detail: 🔗