Introduction: The Ultimate Winter Delight
When the colder months roll in, there are two things I eagerly anticipate: the weather and, of course, the food. And let's be honest, there's nothing quite like cozying up with a bowl of delicious, stick-to-your-ribs comfort food. That's why I simply can't resist the allure of potatoes, especially when they're loaded with tender beef and immersed in a smooth, cheesy broth. This Creamy Steak and Potato Soup is the epitome of comfort and is guaranteed to warm you up during those frosty winter months.
Why This Recipe Works
Potatoes take the spotlight in this recipe, and let's admit it, who doesn't love potatoes?
Chunks of tender beef add an extra level of heartiness, flavor, and protein.
The inclusion of sharp white cheddar cheese in the broth brings a delightful richness to the dish.
This soup is perfect for meal prep and can be enjoyed for lunches or paired with a sandwich or salad for a quick and easy dinner.
How to Make Creamy Steak and Potato Soup
Ingredients
1 tablespoon of extra virgin olive oil
1 pound of beef (cut into bite-size pieces) – tender cuts like top round or chuck roast work great in this recipe.
Salt and pepper
1 cup of onion (from about 1 medium-sized onion)
2 cloves of garlic (minced)
4 cups of beef stock
2 pounds of potatoes (peeled and cut into 1-inch cubes) – Russet, Yukon Gold, or red potatoes work best.
1/2 cup of butter
1/2 cup of all-purpose flour
3 cups of whole milk
1 cup of heavy whipping cream
8 ounces of white cheddar cheese (shredded)
Sliced green onions (optional garnish)
Prep!
Before we dive into cooking, let's tackle some prep work. Cut the beef and potatoes into bite-size pieces. Additionally, dice the onion, mince the garlic, and shred the cheese.
Chef's Tip: Shred the cheese from a block rather than buying pre-shredded bagged cheese. It melts so much better without any graininess from the added starch in the bagged kind.
Create!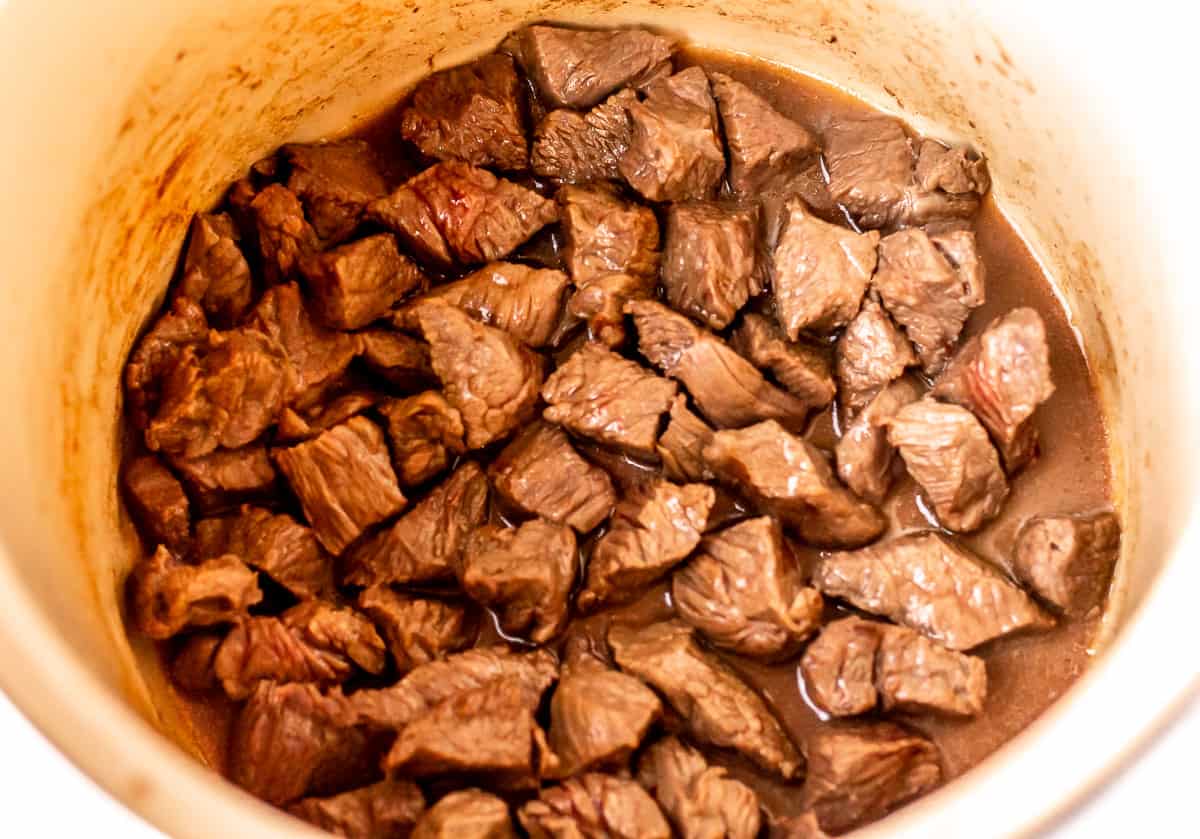 Heat the olive oil in a large pot or Dutch oven over medium heat. Season the steak with salt and pepper, then add it to the hot oil.
Cook the steak, stirring occasionally, until it's completely cooked through, which usually takes around 6-7 minutes. Remove the steak with a slotted spoon and set it aside. Retain the flavorful juices in the pot.
Add the onions and garlic to the pot with the beef juices. Cook for 2-3 minutes, or until they become tender and fragrant.
Next, add the beef stock and potatoes to the pot. Increase the heat to high and bring the mixture to a boil. Let it boil for approximately 10-12 minutes or until the potatoes are just fork-tender.
Meanwhile, in a separate pot over medium heat, melt the butter. Whisk in the flour until it's fully combined and cook for 1-2 minutes, stirring often.
Whisk in the milk, then pour the mixture into the pot with the potatoes. Stir until the soup thickens, which usually takes about 3-4 minutes.
Return the cooked steak to the pot, along with the heavy cream. Cook for a few more minutes until everything is heated through.
Remove the pot from the heat and stir in the white cheddar cheese until it's completely melted and well blended.
Taste and season the soup with more salt and pepper if desired.
Present!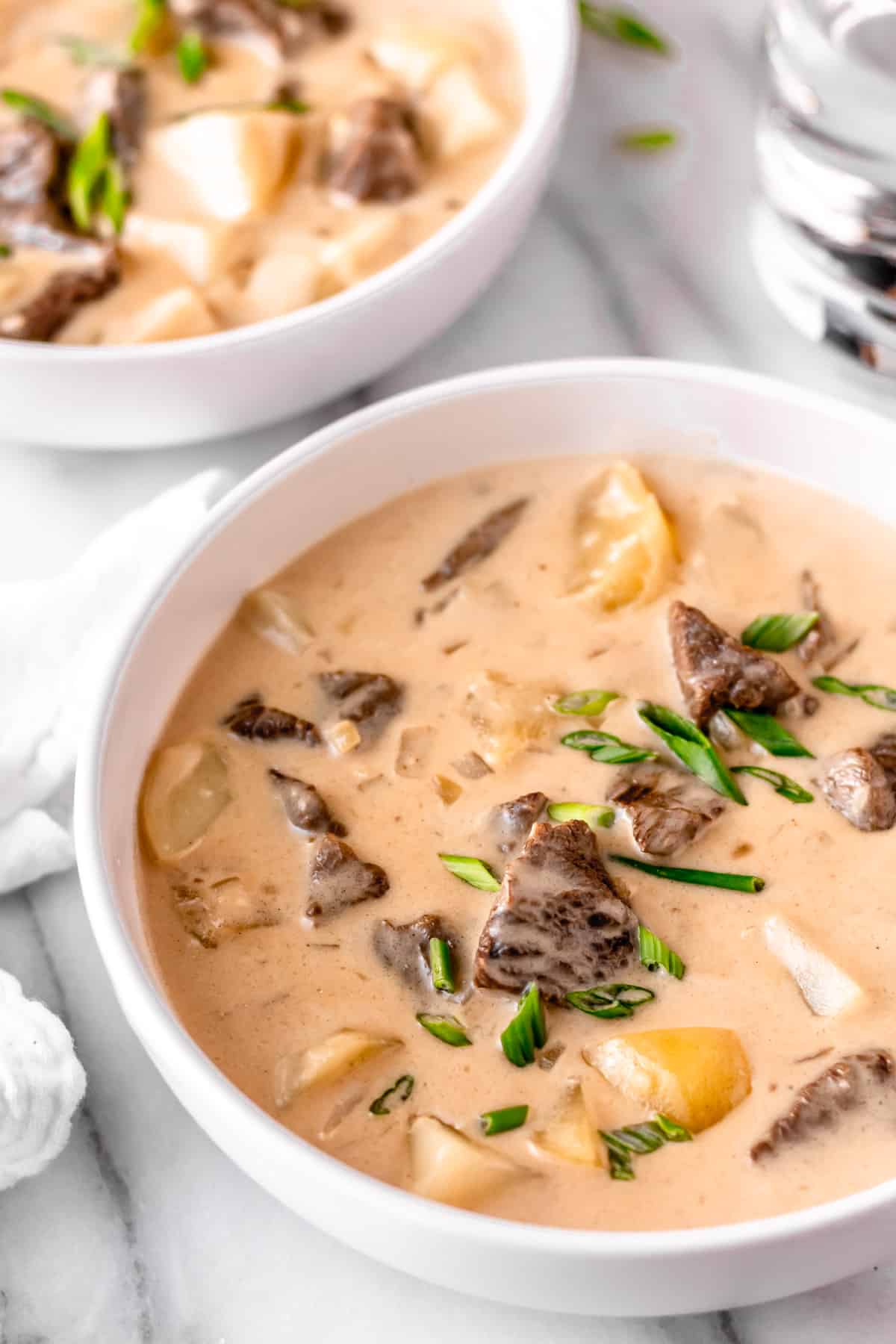 Ladle the soup into bowls and garnish with extra white cheddar cheese and slices of green onion, if desired.
Tips & Techniques for the Best Creamy Steak and Potato Soup
Shred the cheese from a block rather than buying pre-shredded bagged cheese. It melts so much better.
Opt for the most tender cut of beef available, such as top round steak or a chuck roast.
Store any leftover soup in individual airtight containers in the refrigerator, and consume within 3-4 days.
FAQs
What Kind Of Steak Is Best To Use In Soup?
For this soup, it's best to use tender cuts of steak. My personal favorites are top round steak and chuck roast.
What Are The Best Potatoes For Soup?
The best potatoes to use in soup are either Russet, Yukon gold, or red potatoes.
Can You Freeze Steak and Potato Soup?
While it's possible to freeze steak and potato soup, it's not recommended. Upon reheating, the texture of the soup may become grainy and less enjoyable.
Can You Substitute Half-And-Half For The Heavy Cream?
Yes, you can substitute half-and-half for heavy cream, although the soup may be slightly less thick.
What Kind Of Milk Is Best For This Creamy Soup Recipe?
Using full-fat dairy milk, either 2% or whole milk, will yield the creamiest results. However, if preferred, you can also use unsweetened almond milk. Just keep in mind that the broth won't become as thick and creamy, although it will still be delicious.
More Soup Recipes
Love this Creamy Steak and Potato Soup recipe? Follow me on Pinterest, Instagram, and Facebook for more!
If you give this recipe a try, please leave a comment and star rating. Your feedback is greatly appreciated.
Originally published on September 5, 2017. Updated with new images, step-by-step instructions, tips, techniques, and FAQs in January 2023.