Introduction
Are you ready to take on the back-to-school season with a protein-packed meal that will satisfy your entire family? Look no further than this mouthwatering Steak Stir Fry recipe! In partnership with Beef. It's What's for Dinner., on behalf of the Beef Checkoff, we've got you covered. Say goodbye to the stress of juggling school responsibilities and say hello to a delicious and nutritious dinner solution!
The Perfect Weeknight Dinner
When the chaos of the school season hits, it's not just about shopping for new school supplies. It's also about finding ways to ensure your family enjoys healthy meals despite the busy schedule. This Steak Stir Fry is a lifesaver for those time-strapped weeknights when you need a quick and flavorful dish on the table.
Versatile and Protein-Packed
Packed with tender beef and an array of colorful vegetables, this quick and easy stir fry is not only delicious but also incredibly versatile. Whether you're packing lunches, preparing after-school snacks, or meal prepping for the week, this recipe will keep you going strong. Trust us, once you try it, your family will be asking for it again and again!
How to Make Steak Stir Fry
Making this delectable dish is a breeze. Just follow these simple steps:
Prepare the Marinade: Whisk together the marinade ingredients until well combined. Set it aside.
Chop the Veggies: Chop the bell pepper, broccoli, onion, and green onion. Set them aside.
Slice the Steak: Using a sharp knife, slice the steak against the grain into thin strips.
Cook the Veggies: In a wok or deep-frying pan over medium heat, stir fry the vegetables until tender. Set them aside.
Stir Fry the Beef: In the same wok or pan, add the beef and stir fry over high heat until cooked to your desired level of doneness.
Add Veggies & Sauce: Return the cooked vegetables to the wok with the beef. Add the green onions and pour in the marinade sauce. Stir fry until the sauce thickens. Serve as-is or with steamed rice for a complete meal!
Tips for the Best Beef Stir Fry
To elevate your Steak Stir Fry to perfection, keep these tips in mind:
Slice the steak into similar-sized strips: Consistent slicing ensures even cooking throughout.
Partially freeze the steaks: Spend 30 minutes in the freezer for easier slicing.
Always slice against the grain: This technique guarantees a tender and easily chewable stir fry.
Choose high-quality steaks: Opt for Choice or Prime grade beef for the best results.
Pat the steaks dry: Remove excess moisture with paper towels to achieve a delightful crust.
Serving Suggestions
This Steak Stir Fry is perfect for lunch or dinner. It also makes a fantastic packed lunch or hearty after-school snack to keep your family energized. Pair it with steamed white or brown rice, quinoa, or buckwheat for a well-rounded and satisfying meal.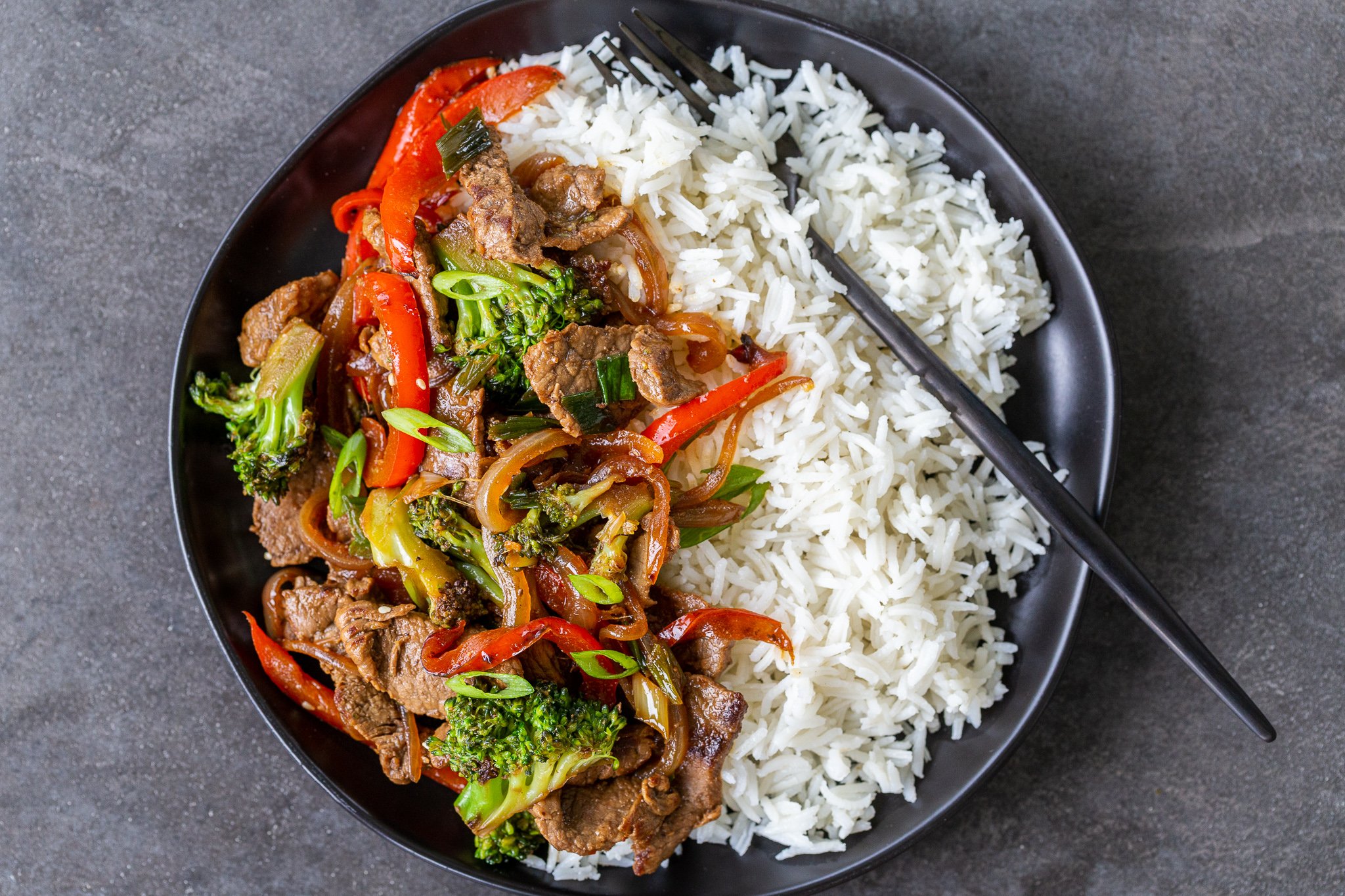 Storing Leftovers
If you have any leftovers, here's how you can store them:
Refrigerator: Place the leftover Steak Stir Fry in an airtight container and store it in the refrigerator. It will stay fresh for up to 5 days. When you're ready to enjoy it again, simply reheat it in the microwave or in a pan with a bit of oil.
Freezer: Allow the dish to cool completely before transferring it to a freezer-safe plastic bag or airtight container. Freeze for future use. To reheat, use the microwave or stir fry it in a pan with a bit of oil.
Explore More Steak Recipes
If you're a steak lover, here are a few more mouthwatering recipes you should check out:
Grilled Ribeye Steak – Classic ribeye cooked to perfection on the grill.
Easy Philly Cheesesteak (The Ultimate Guide) – A favorite recipe here at Family Cuisine.
Baked Steak with Vegetables – A delightful one-pan steak dinner.
30-Minute Pepper Steak Stir Fry – A vibrant and flavorful bell pepper and flank steak stir fry.
For more delicious recipes and food inspiration, visit Family Cuisine. Enjoy your cooking adventures!