I have a delightful treat to share with you today – a Strawberry Icebox Cake that is both incredibly delicious and super easy to make! With just three simple ingredients – strawberries, whipped cream, and graham crackers – you can create a no-bake wonder that will leave everyone craving for more.
Why this recipe works
You might be wondering how something as simple as strawberries, whipped cream, and graham crackers can create such a scrumptious dessert. Well, let me tell you, the magic happens when these ingredients are layered together and allowed to set in the refrigerator. The graham crackers soak up the sweetened cream, transforming into a soft cake-like texture. It may sound strange, but trust me, it works beautifully! The result is a sweet, light, and fresh dessert that isn't overly sugary.
If you're a fan of strawberries, you're in for a treat. While this recipe calls for strawberries, you can easily experiment with other berries like raspberries or blueberries. You can even try it with Oreos (check out our Oreo Icebox Cake!). Personally, when strawberries are in season, I go crazy for them!
Ingredients you will need
Before we dive into the recipe, let's gather the necessary ingredients. You can find all the measurements, ingredients, and instructions in the printable version at the end of this post.
LAYERS – While you have the option to use store-bought whipped cream, I recommend making a homemade whipped cream for the best flavor. The layers consist of whipped cream, graham crackers, more whipped cream, sliced strawberries, and repeat.
How to Make Strawberry Icebox Cake
These step-by-step photos and instructions will guide you through the process. You can also find a printable version with measurements and instructions at the bottom.
In a stand mixer or using a hand-held mixer, beat the cream, powdered sugar, and vanilla until stiff peaks form.
Spread a very thin layer of cream on the bottom of a 9×9 square pan.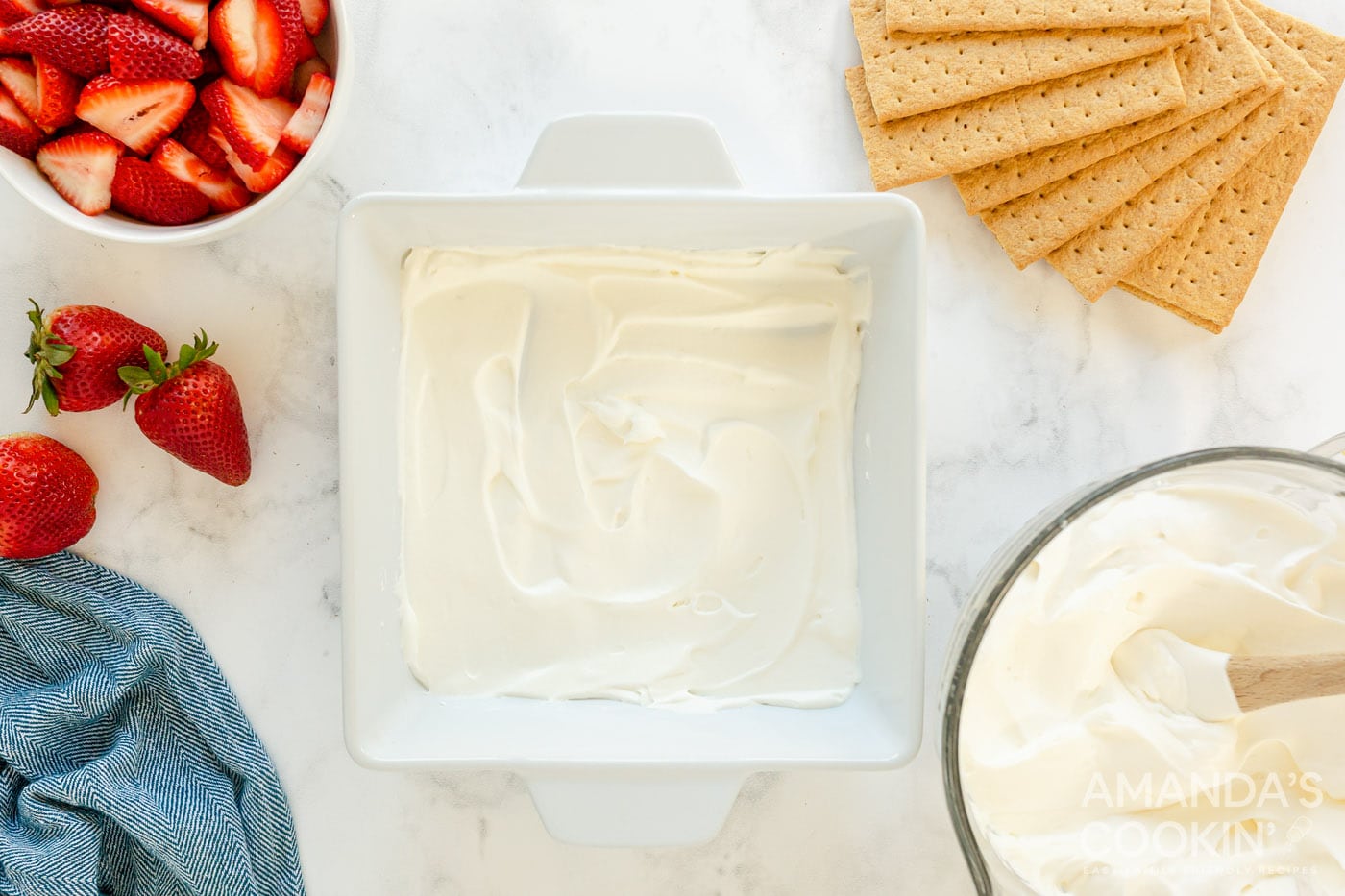 Next, add a single layer of graham crackers. Top it with 1/3 of the whipped cream and smooth it out with a rubber spatula.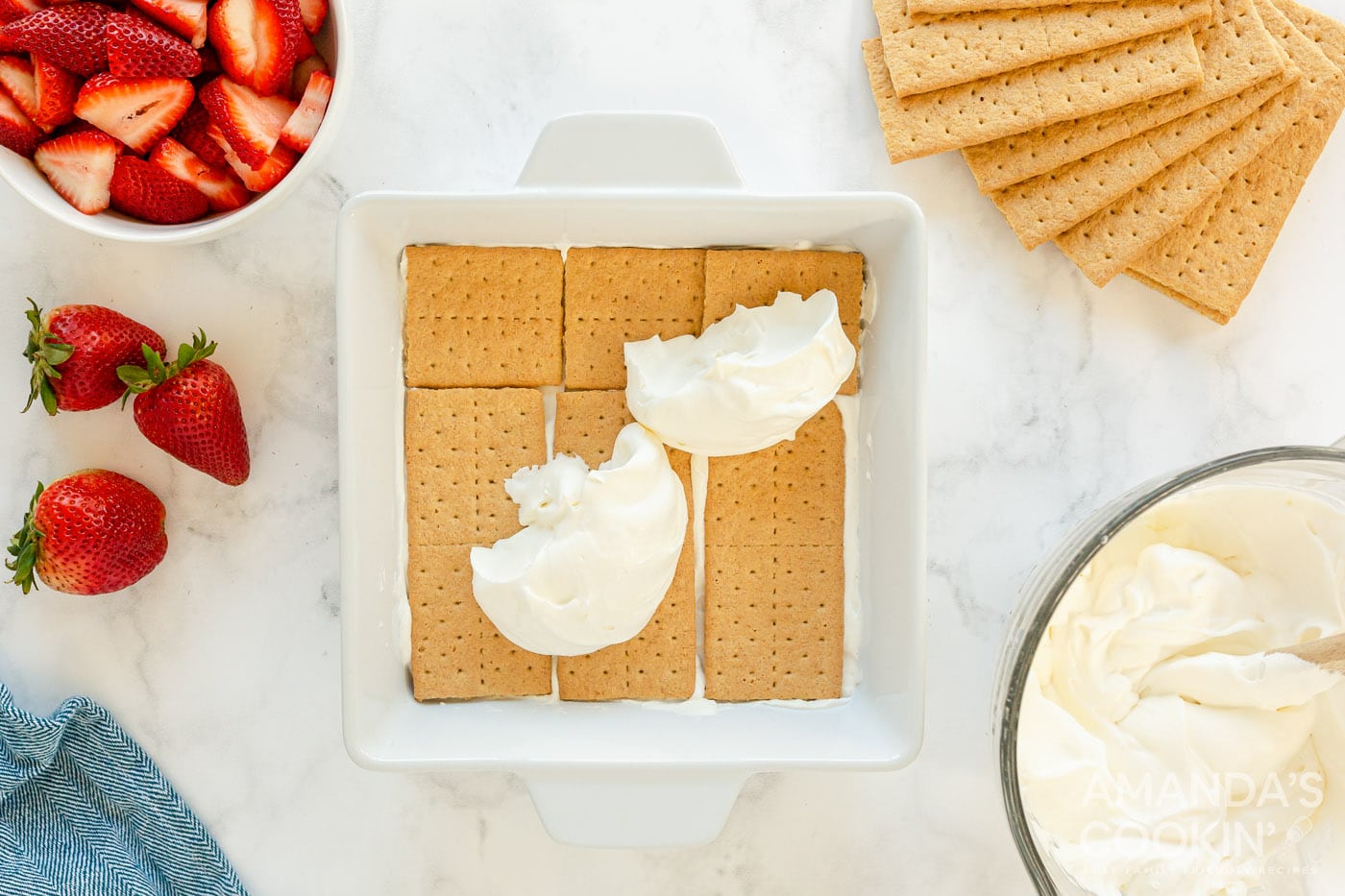 Add 1/3 of the sliced strawberries in an even layer.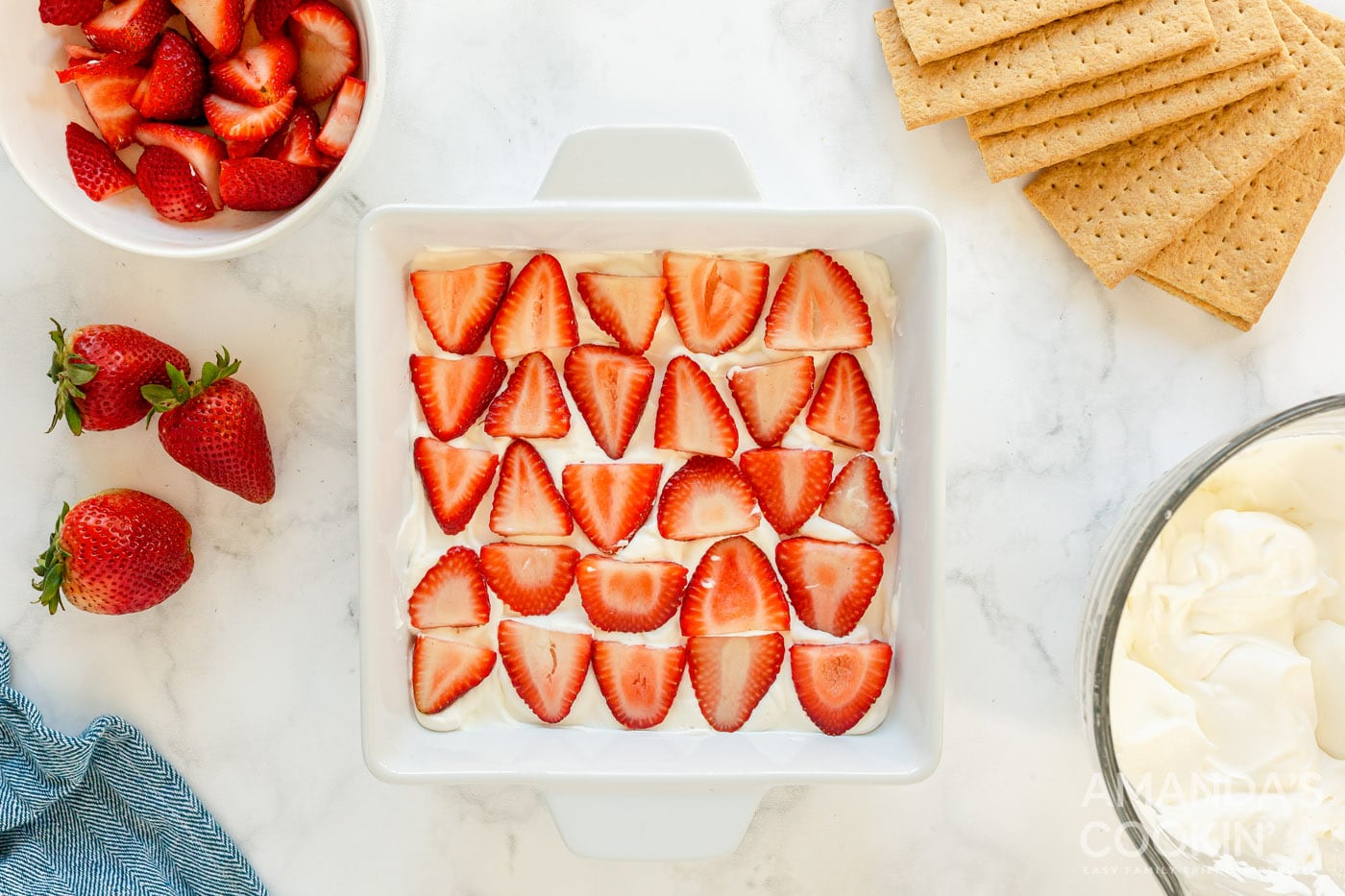 Repeat the layers two more times, ending with strawberries.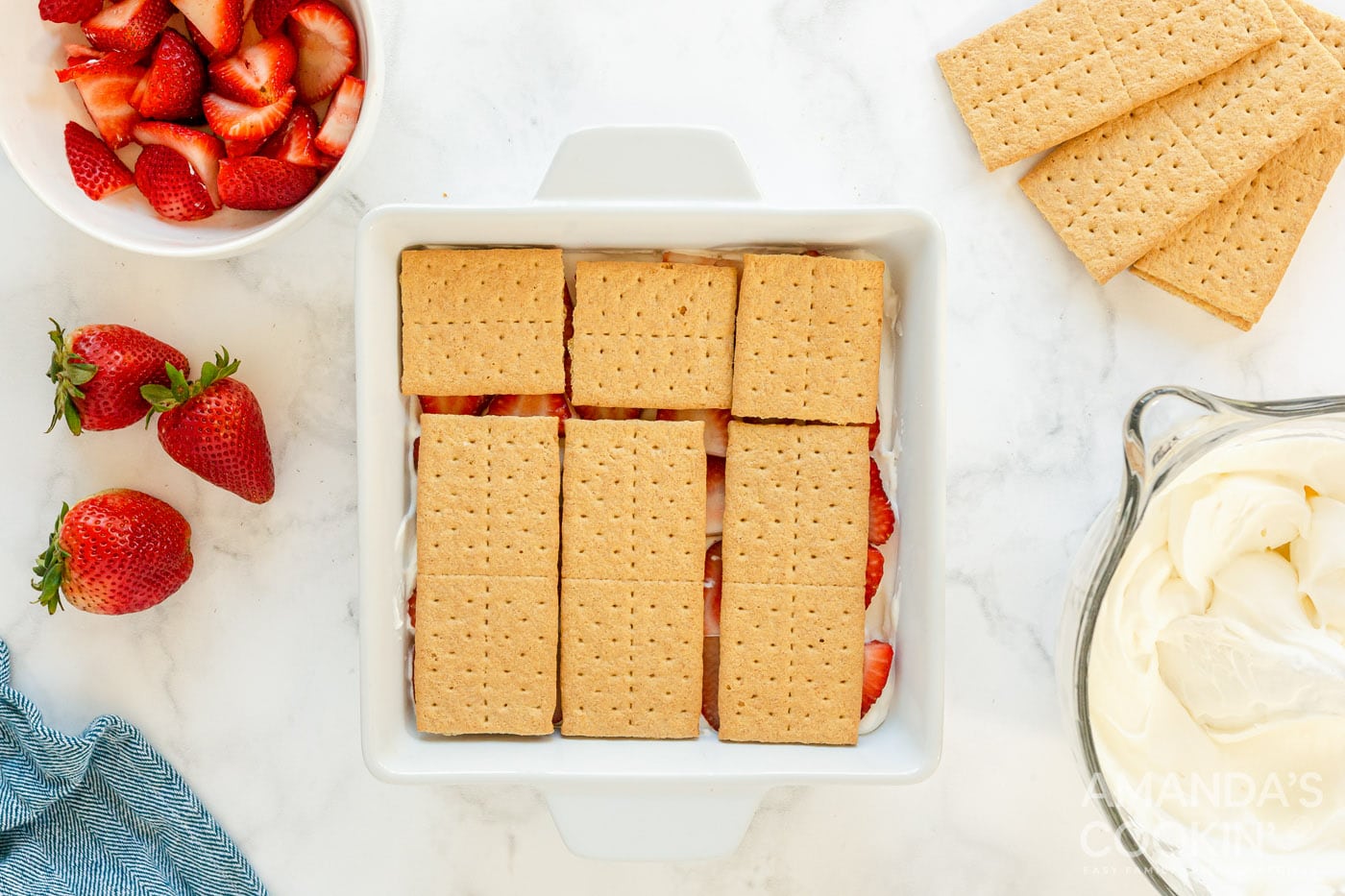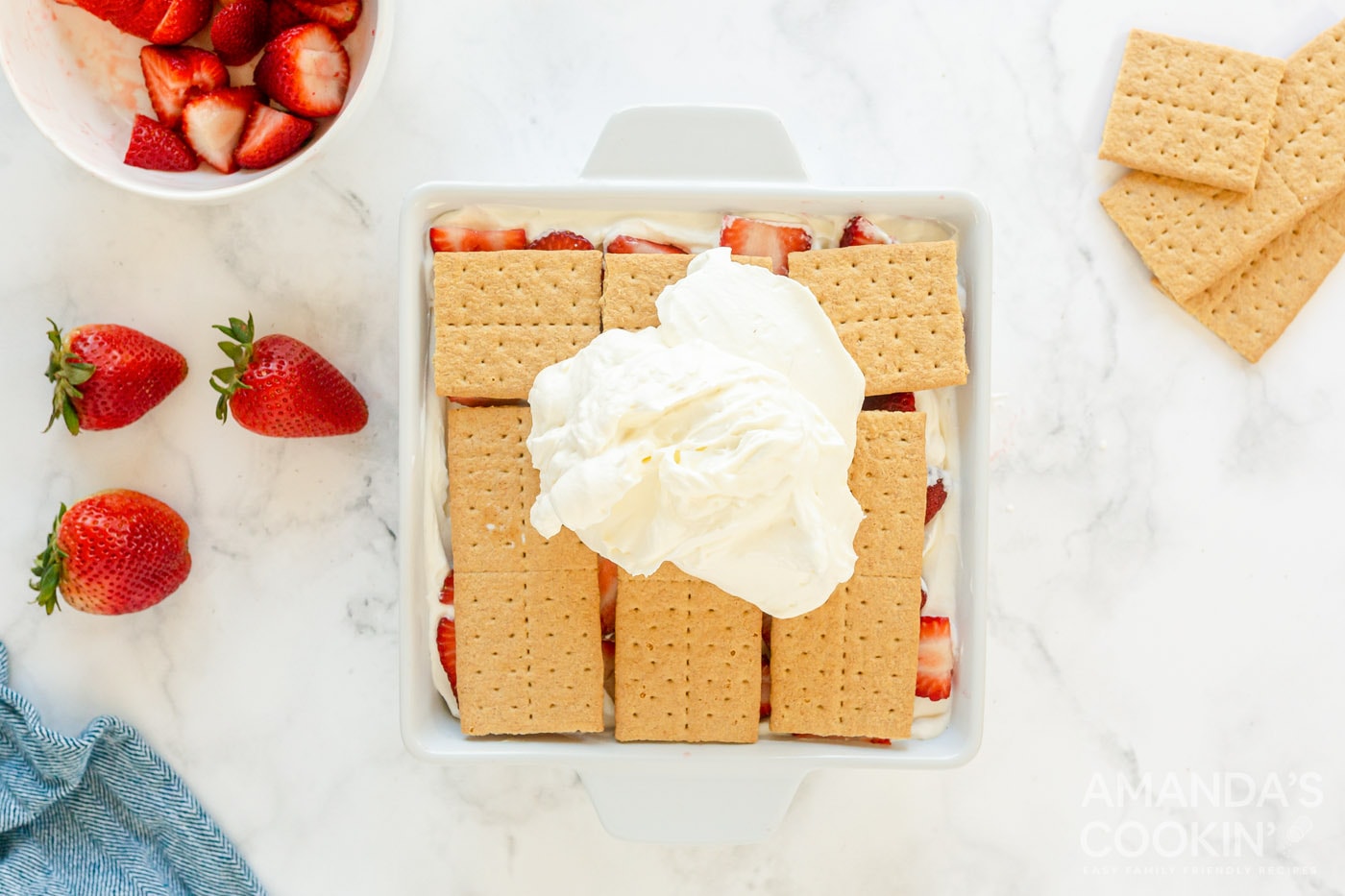 You can arrange the berries in a pretty pattern, if desired.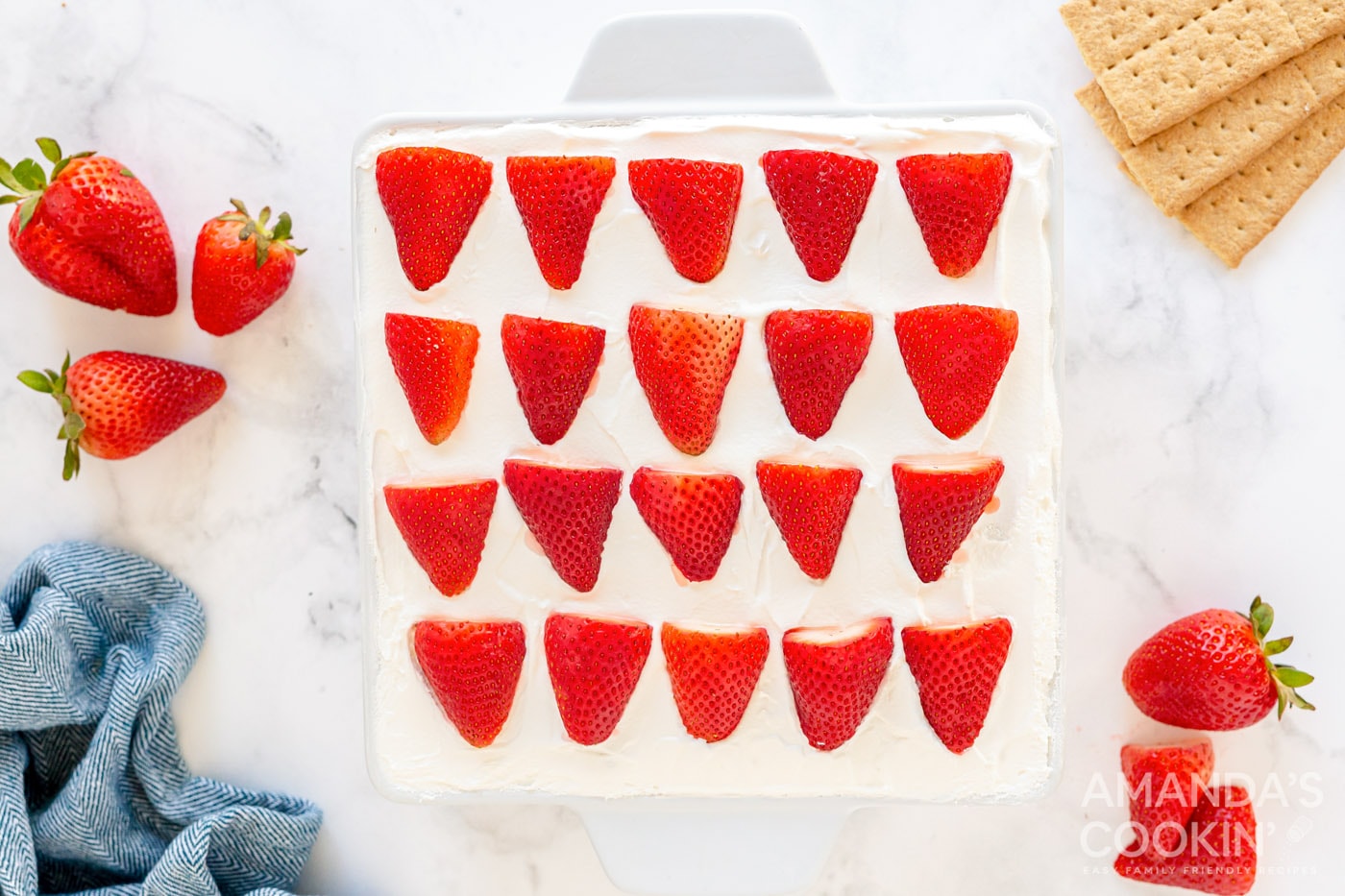 Cover the pan with plastic wrap and refrigerate for at least 4 hours or overnight before serving.
Frequently Asked Questions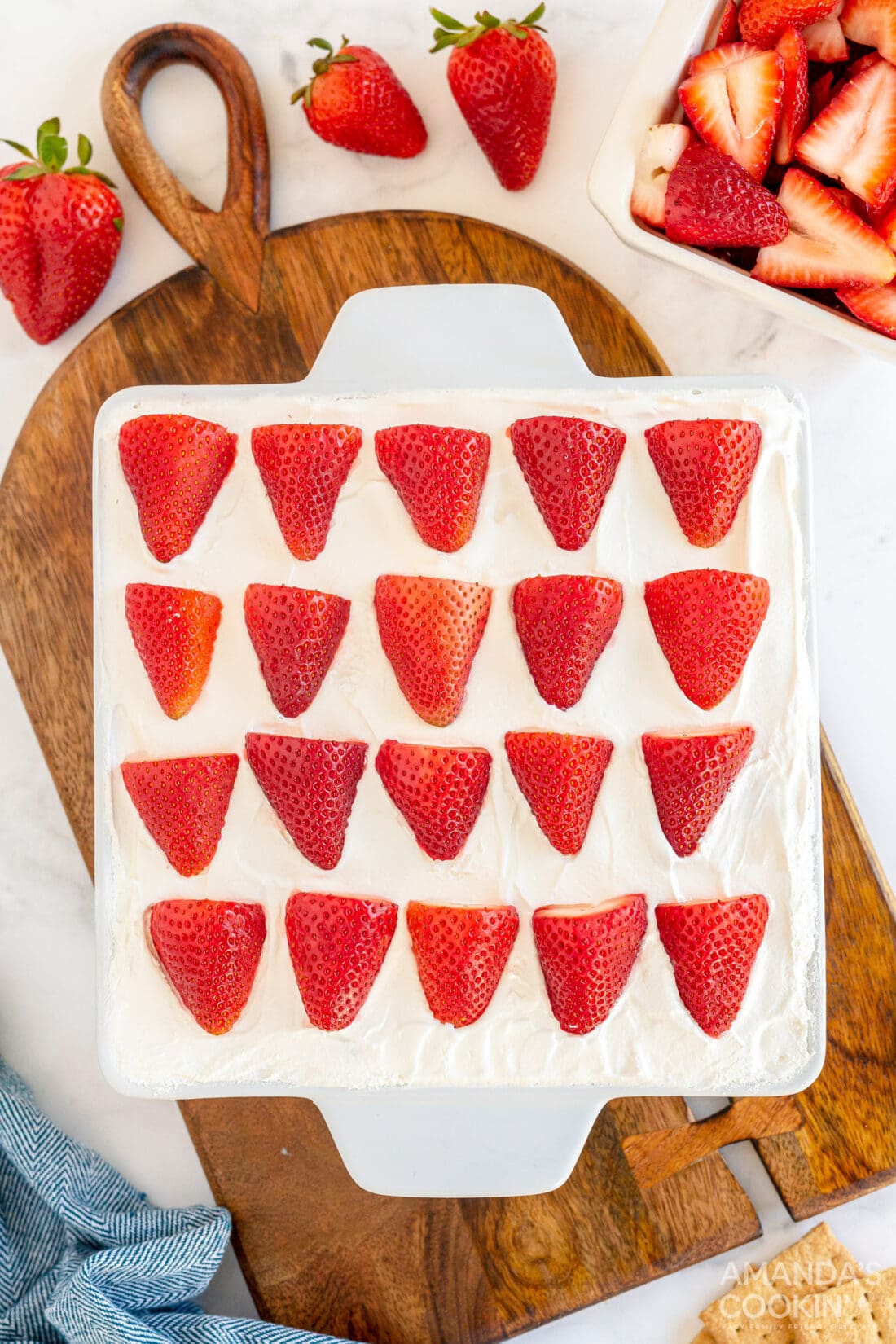 I must confess, strawberries are my weakness, and this strawberry icebox cake has become a staple dessert during spring and summer. It's perfect for potlucks and cookouts, and it's always a hit. I love using glass dishes to showcase the beautiful layers of this cake – it's not just desserts that look amazing in glass dishes! My layered Fiesta Bean Dip disappears within minutes every time.
More Icebox Cake Recipes
If you're a fan of icebox cakes, here are some more recipes you might enjoy:
Lemon Icebox Cake
Funfetti Icebox Cake
Lemon Blueberry Icebox Cake
Chocolate Chip Cookie Icebox Cake
S'mores Icebox Cake
Oreo Icebox Cake
Chocolate Icebox Cake
To discover more delicious recipes and cooking inspiration, visit Family Cuisine. Don't forget to subscribe to our newsletter for daily recipes delivered straight to your inbox!
Remember, sometimes the simplest recipes can bring the greatest joy. Give this Strawberry Icebox Cake a try, and prepare to be amazed by its delightful flavors and effortless preparation. Enjoy!