This post may contain affiliate links. Please read my disclosure policy.
This fresh strawberry spinach salad recipe is tossed with creamy avocado, toasted almonds, your choice of cheese and a honey-sweetened poppyseed dressing.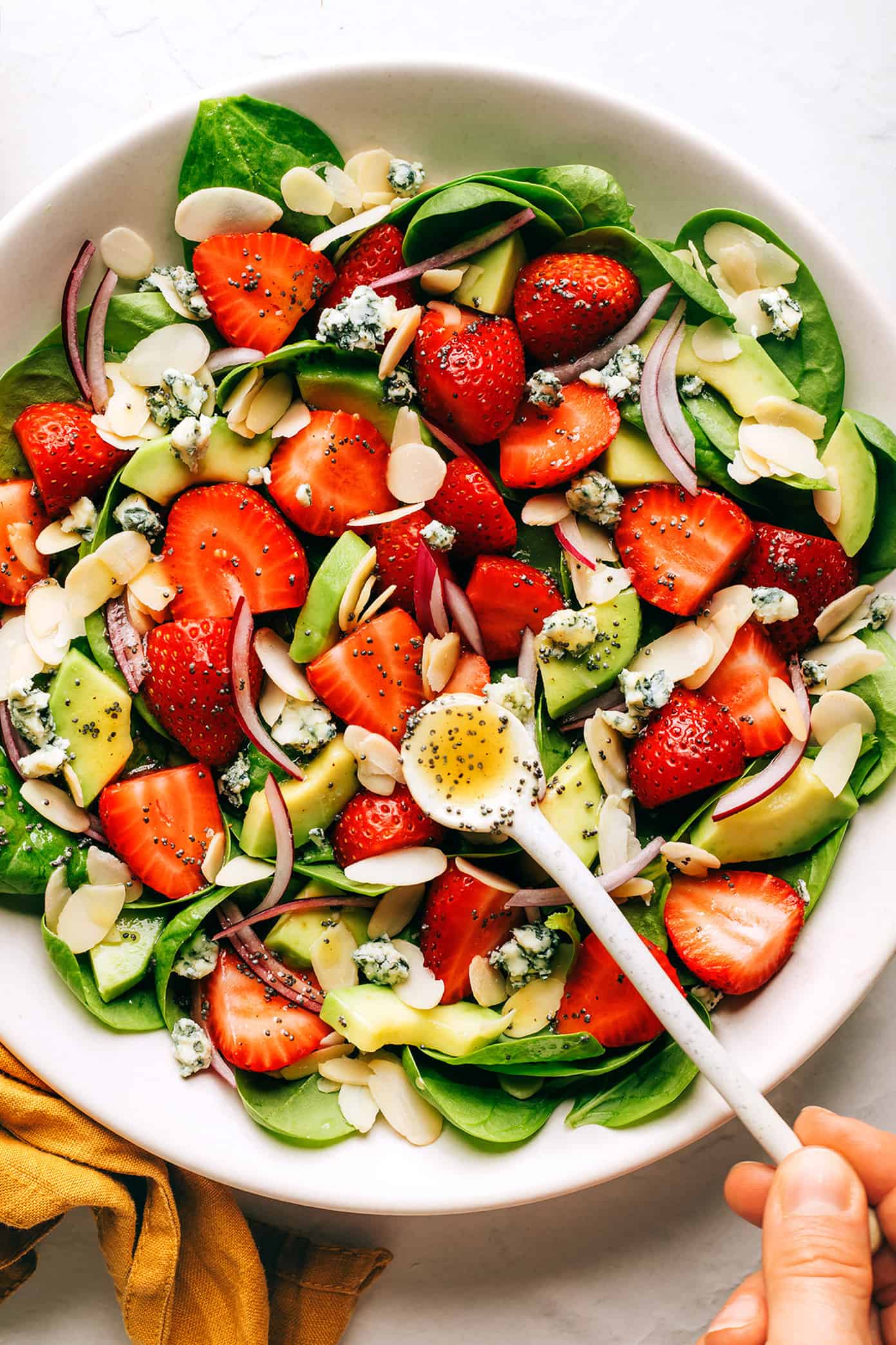 Forever and always one of my favorite salads to make this time of year. ♡
I first shared this strawberry spinach salad recipe here on Gimme Some Oven nearly a decade ago, but it's one of those classics that I'm certain I will be making for decades and decades to come. Made with loads of fresh strawberries, tender baby spinach, creamy avocado, toasted almonds, paper-thin red onions, crumbled blue cheese (or goat or feta), and my favorite lightly-sweetened honey poppyseed dressing, this salad is always the first recipe I want to make each spring when juicy ripe red strawberries come back in season. And it always tastes like such a treat.
Feel free, of course, to sub in your preferred kind of greens, nuts (or seeds), and cheese. And if you want to add in some protein, grilled chicken, shrimp or bacon are always delicious options.
So grab a pint of the ripe strawberries while they're in season, and let's make this gorgeous salad together!
Strawberry Avocado Spinach Salad Recipe | 1-Minute Video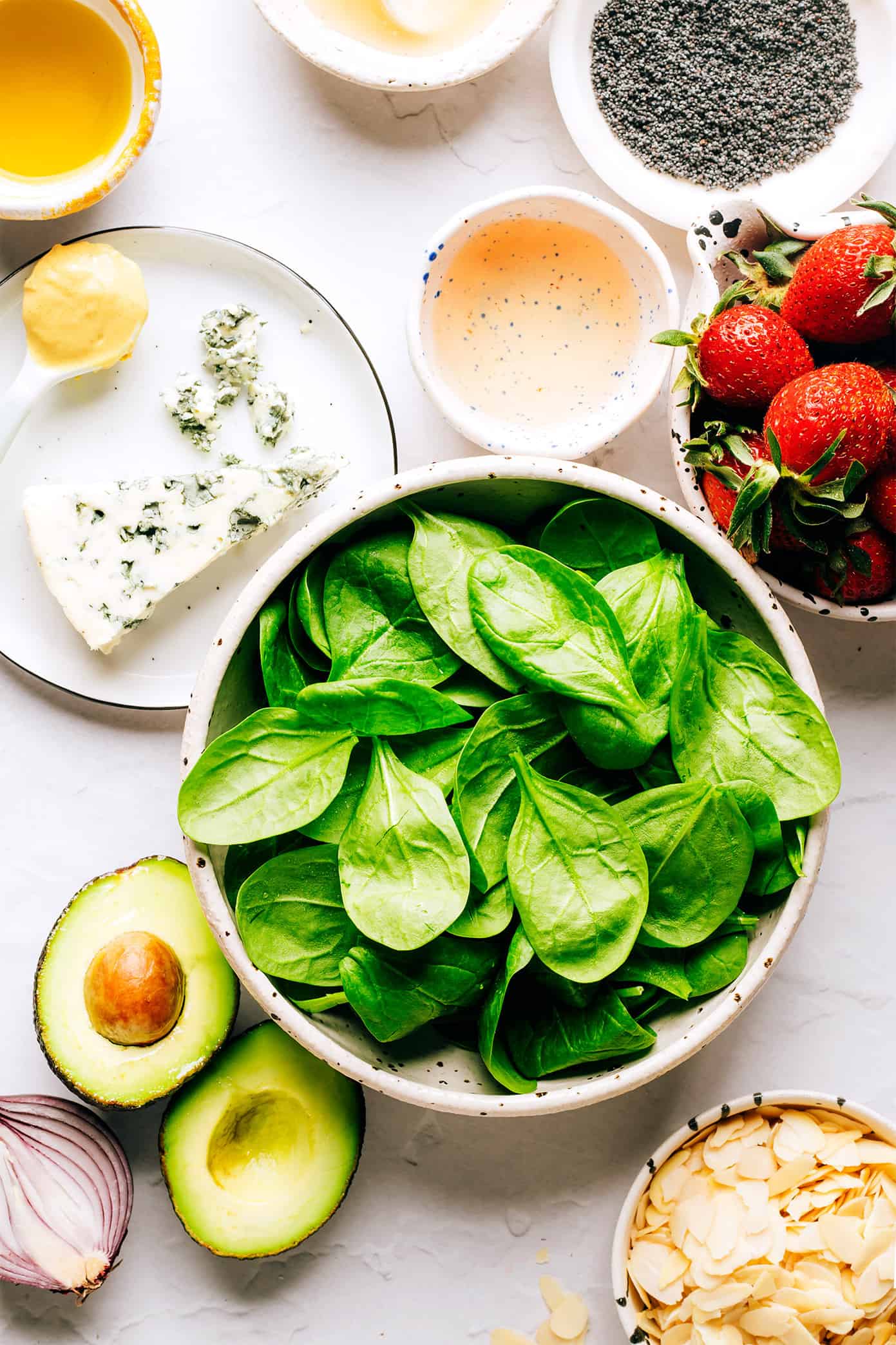 Strawberry Salad and Poppyseed Dressing Ingredients
Before we get to the full recipe below, here are a few notes about the ingredients you will need to make this strawberry salad recipe and poppyseed dressing…
Greens: I typically use baby spinach or a spring green mix for this strawberry salad, but feel free to use whatever salad greens you love best.
Strawberries: Look for fresh strawberries that are as ripe as possible.
Avocado: Sliced or diced avocado add a delicious extra bit of creaminess to this salad.
Crumbled cheese: We're partial to using crumbled blue cheese or goat cheese in this salad, but feta or burrata would be delicious options too.
Sliced almonds: Definitely recommend lightly toasting the almonds before adding them to the salad, to bring out their best flavor.
Red onion: I recommend slicing the onion paper-thin. If you prefer a milder onion flavor, just rinse the sliced onion briefly in cold water before adding it to the salad.
Poppyseed dressing: My favorite poppyseed dressing recipe is made simply with avocado oil (or olive oil), red wine vinegar, honey, poppy seeds, Dijon, salt and pepper.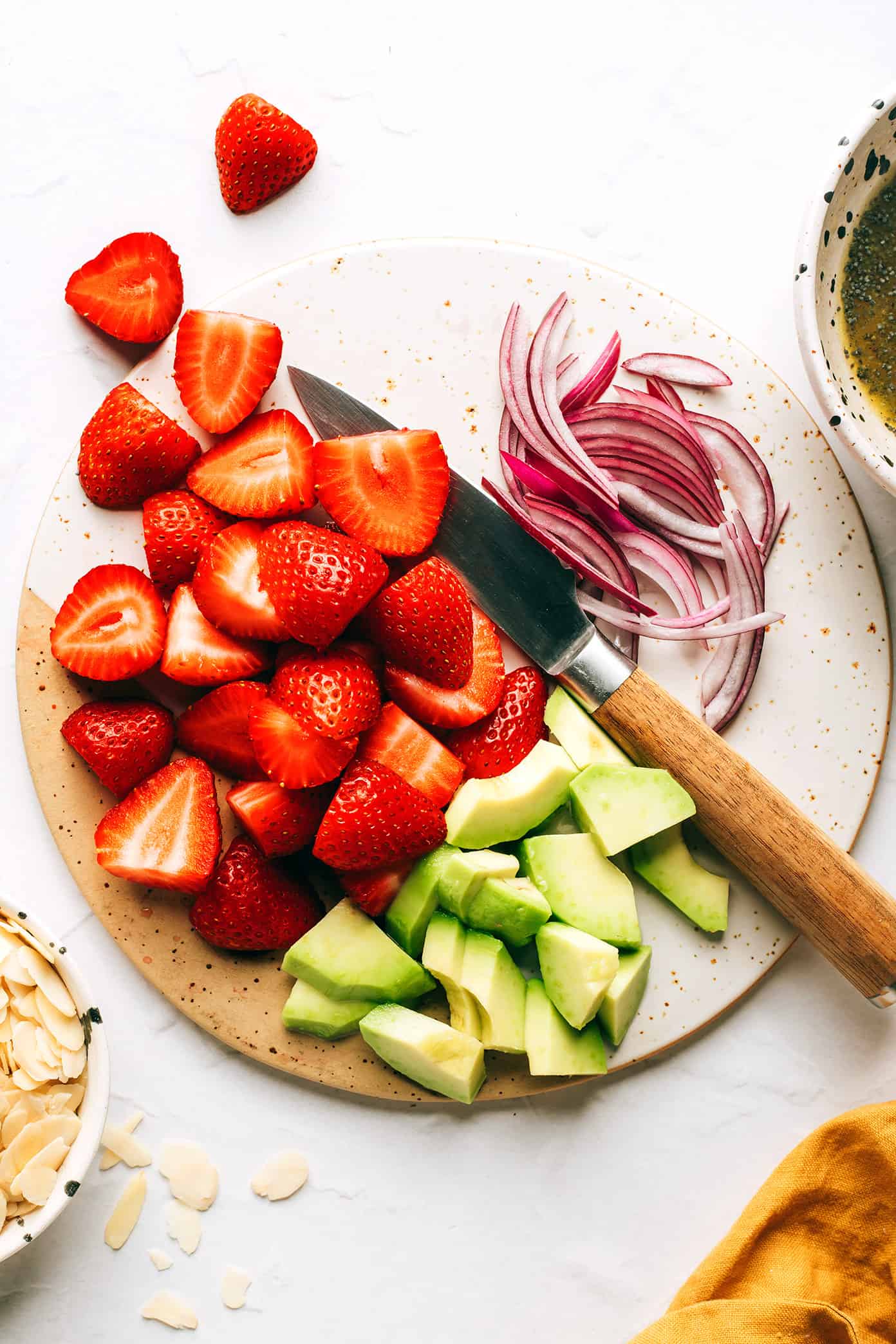 Recipe Variations
Here are a few ideas for different ways to customize this strawberry salad if you'd like…
Use different fruit: This salad also tastes wonderful using fresh blueberries, cherries, peaches, pears or pomegranate arils in place of (or mixed with) the strawberries.
Use different nuts/seeds: Pistachios, walnuts, pecans (or candied pecans), pepitas or sunflower seeds would all be delicious alternatives to almonds.
Add fennel: I also love adding some super-thinly sliced fennel to this salad.
Make it vegan: Use your favorite vegan cheese or omit the cheese entirely to make this a vegan strawberry salad.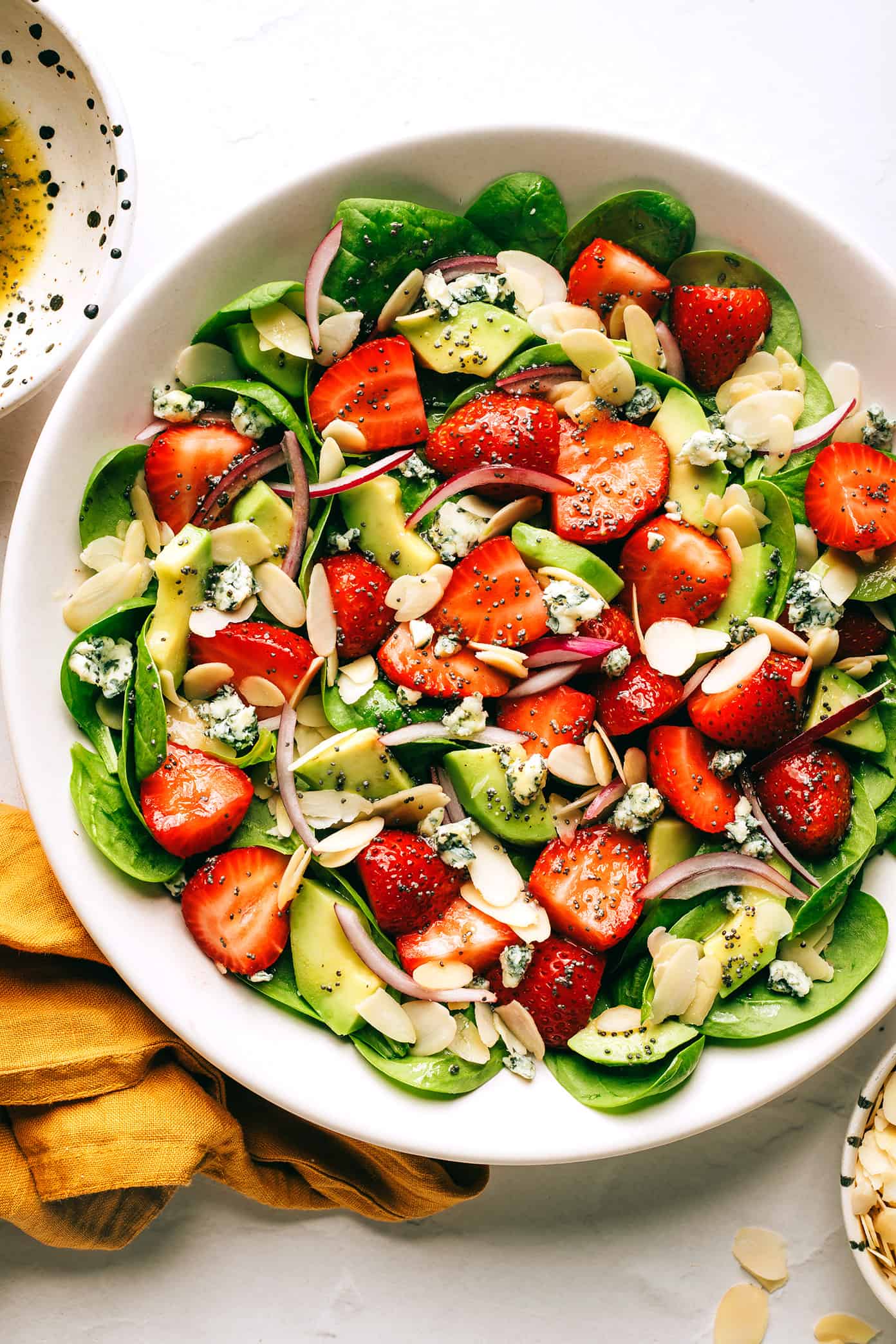 More Green Salad Recipes
Looking for more fruit-forward green salad recipes to try? Here are a few of my faves!
Pear Salad with Gorgonzola and Candied Walnuts
Orange, Fennel, Avocado Salad
Blueberry, Corn, Avocado Chopped Salad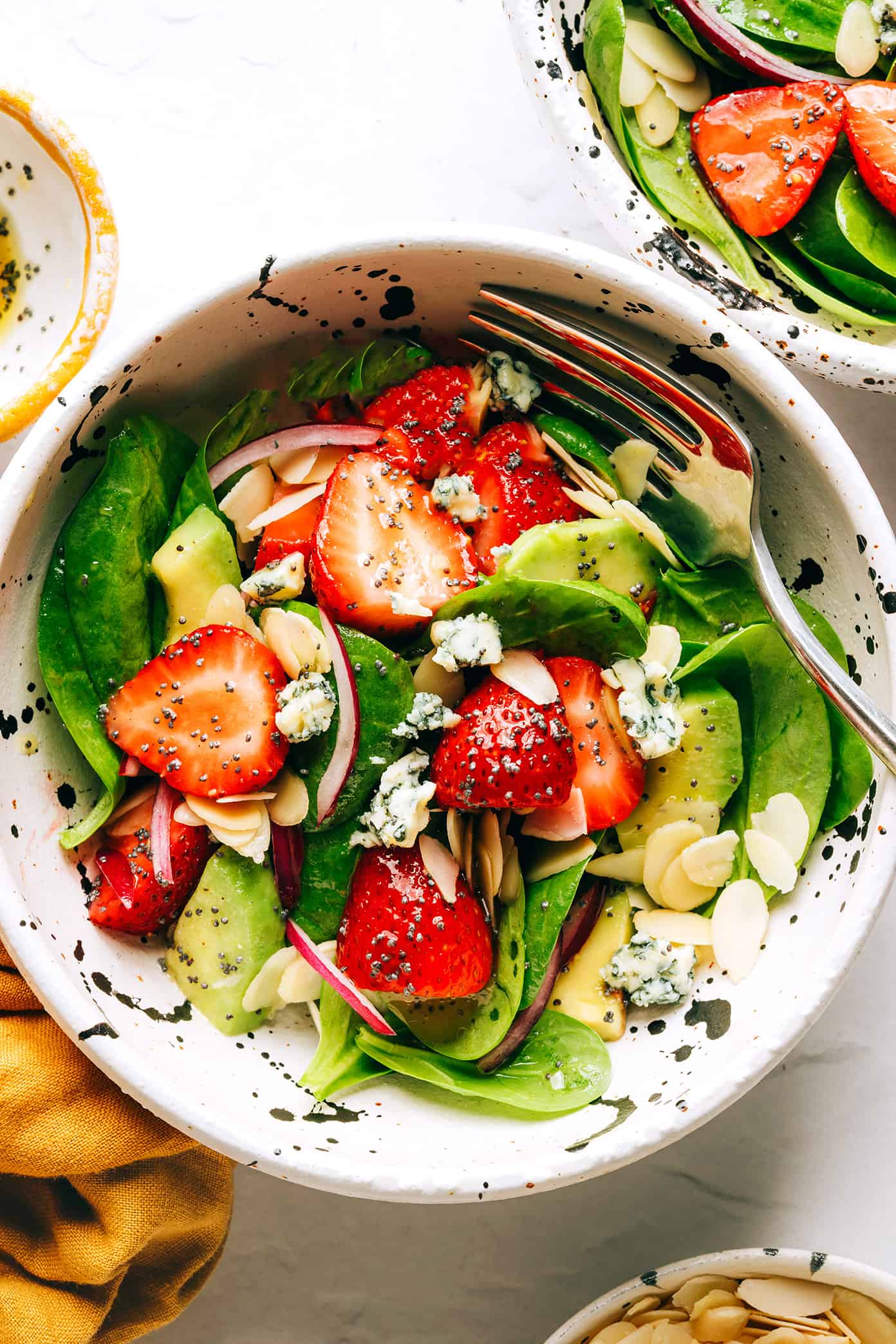 Print
Share this Post
For more information please see the list of Spinach salad with poppyseed dressing
Detail: 🔗