This strawberry broccoli salad is tossed in a homemade poppy seed dressing for the ultimate summer salad. Enjoy as a side or a main dish!
Super Fresh Strawberry Broccoli Salad
This strawberry broccoli salad with poppy seed dressing just tastes oh so FRESH. From the combination of fresh veggies, fruits and herbs, to the amazingly light lemon poppy seed dressing, you can't go wrong serving this salad to your family and friends!
Reading: Broccoli salad with poppy seed dressing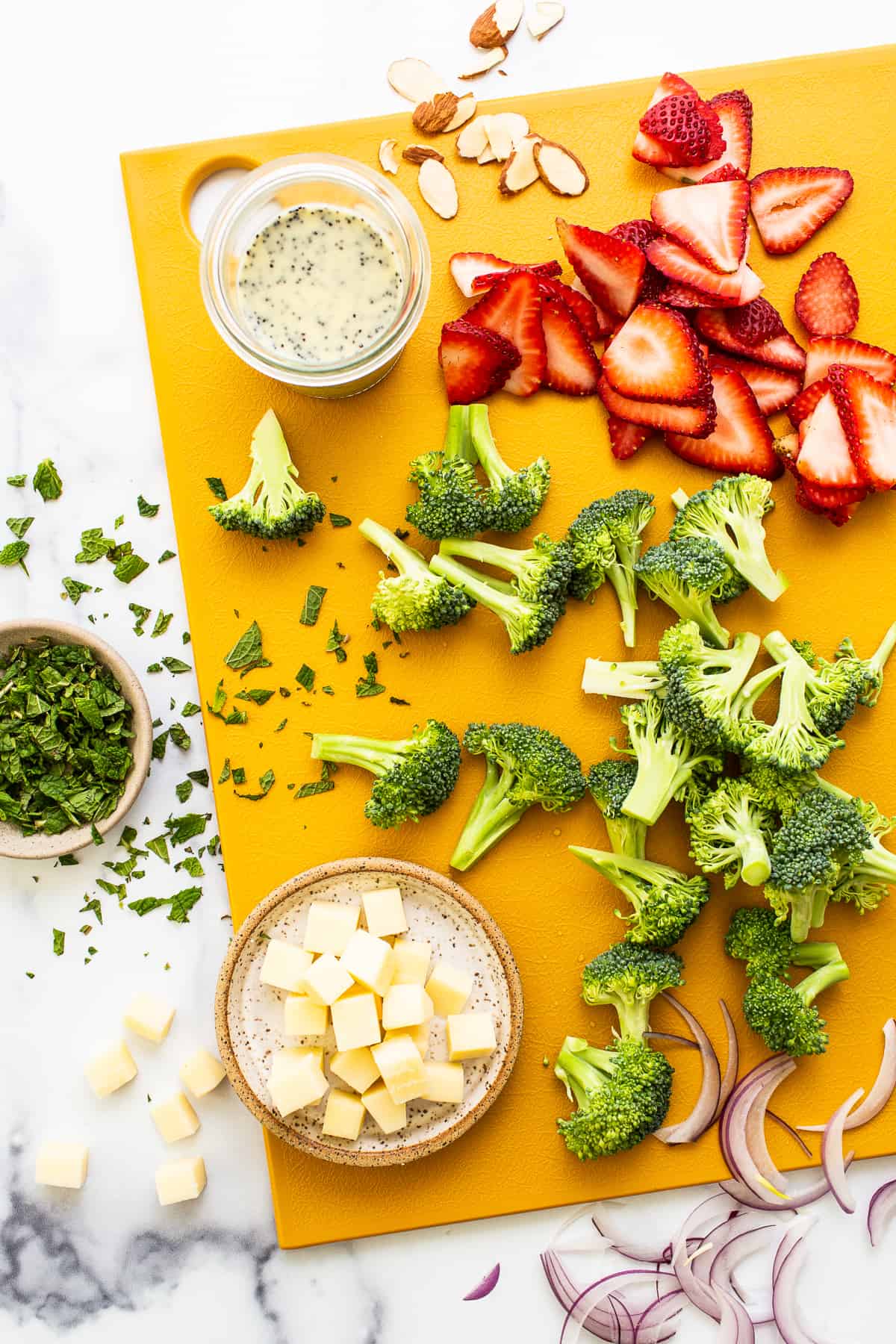 Featured Ingredients
The ingredients for this strawberry broccoli salad come down to two components. The salad and the dressing, of course! You'll need:
Broccoli Salad
Broccoli: this salad features fresh broccoli chopped into bite-sized pieces.
Red onion: we love using a mandolin to thinly slice the red onion for this salad.
Strawberries: you'll also want to thinly slice your strawberries — strawberries in every bite!
Raisins: raisins add great flavor to this strawberry broccoli salad! Feel free to use another dried fruit like craisins or dried cherries.
Fresh mint leaves: roughly chop your fresh mint leaves to infuse this entire salad with its amazing flavor.
Pecorino romano: white cheddar cheese is a great alternative if you prefer it! You'll be chopping it into small cubes.
Toasted slivered almonds: any toasted chopped or slivered nut will do.
Homemade Poppy seed Dressing
This homemade poppy seed dressing is best made in a jar with a lid. Make a double or triple batch for later! You'll need:
Olive oil
Plain, nonfat Greek yogurt
Lemon juice
Apple cider vinegar
Honey
Poppyseeds
Salt
Don't want to make your own dressing? Any store-bought lemon poppy seed dressing will also work for this recipe.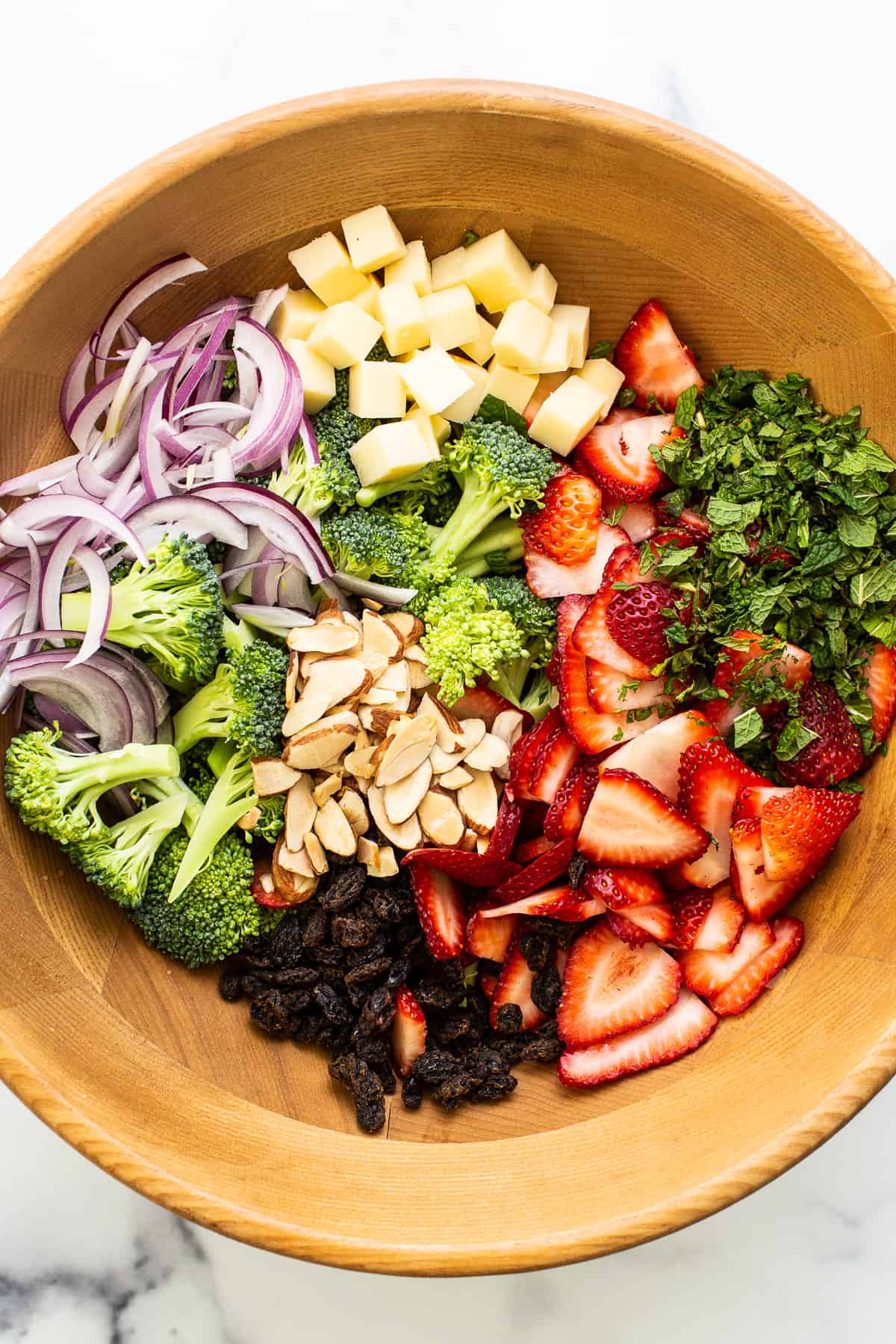 How to Make Strawberry Broccoli Salad
Prepare veggies & fruit
Read more: how to make mustard potato salad
First, slice your broccoli into bite-sized pieces and then place in a large salad bowl with red onion, strawberries, raisins, mint leaves and cheese.
Prepare poppy seed dressing
Prepare the dressing (if making our homemade poppy seed dressing) and then pour the dressing over the broccoli and other ingredients, and toss the salad so that all of the ingredients are coated.
Toast almonds
Next, toast the slivered almonds in a small skillet over medium heat. Move the almonds around with a wooden spoon and cook them until golden brown. Sprinkle the almonds and salt over the broccoli salad and toss the salad again.
Chill salad, then enjoy
Cover the salad and place the salad in the refrigerator and let the salad chill for 1 hour. This salad gets better over time, so feel free to make the salad the day before serving 😀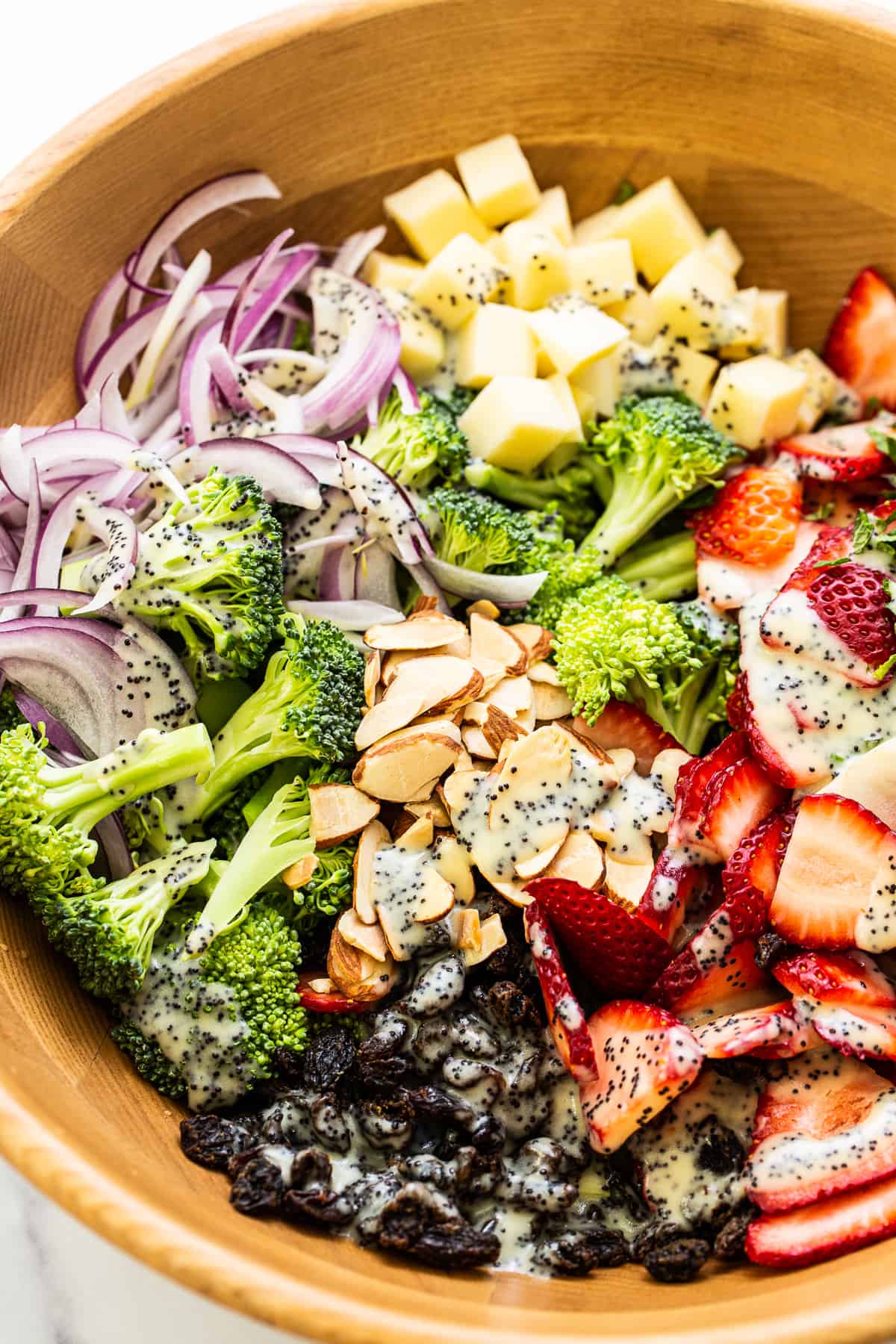 Top Tips for Strawberry Broccoli Salad
Make ahead: This salad gets better with time as the flavors combine, so feel free to make it the day before serving.
Read more: Ranch Macaroni Salad Recipe (Vegetarian, Gluten Free)
Tenderize the broccoli: Because broccoli florets are a hearty vegetable, we suggest cutting the broccoli into bite-sized pieces and let them sit in dressing for an hour or overnight.
Poppy seed dressing: Don't have time to make your own poppy seed dressing? Feel free to use your favorite store-bought variety.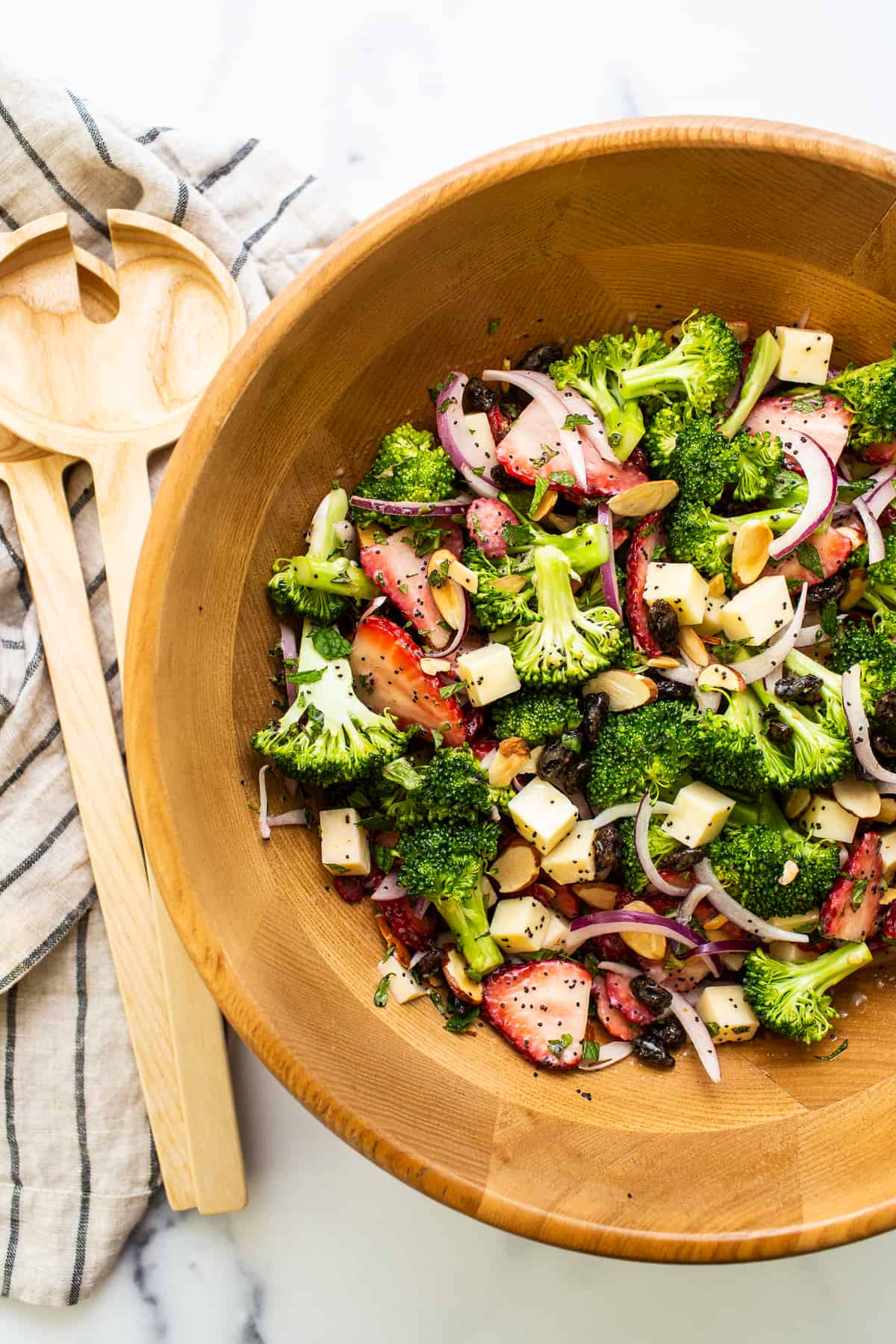 Storage
Store this strawberry broccoli salad in an airtight container in the refrigerator for 3-5 days.
When you are ready to eat your leftovers, try tossing your salad in a bit of additional poppy seed dressing if you find that the salad has dried out a bit.
For meal prep: We love that this salad gets better overnight, so feel free to make a double batch to enjoy throughout the week, or at the very least prep it the night before serving.
Read more: Arugula Salad with Berries – NatashasKitchen.com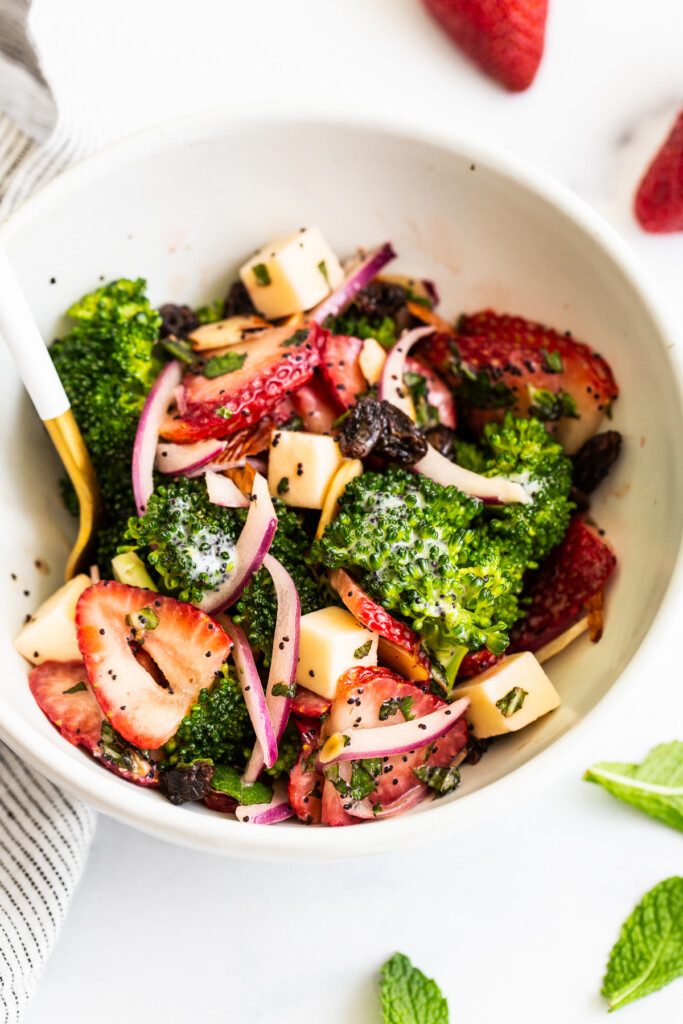 For more information, please see more information about Broccoli salad with poppy seed dressing
Source: https://fitfoodiefinds.com/strawberry-broccoli-salad/