These Super Green Smoothies are both nutritious AND delicious! They are easy to make, and are a healthy way to start the day. Your whole family will love them!
This post contains affiliate links. See my policy page for details.
Reading: super green smoothies recipes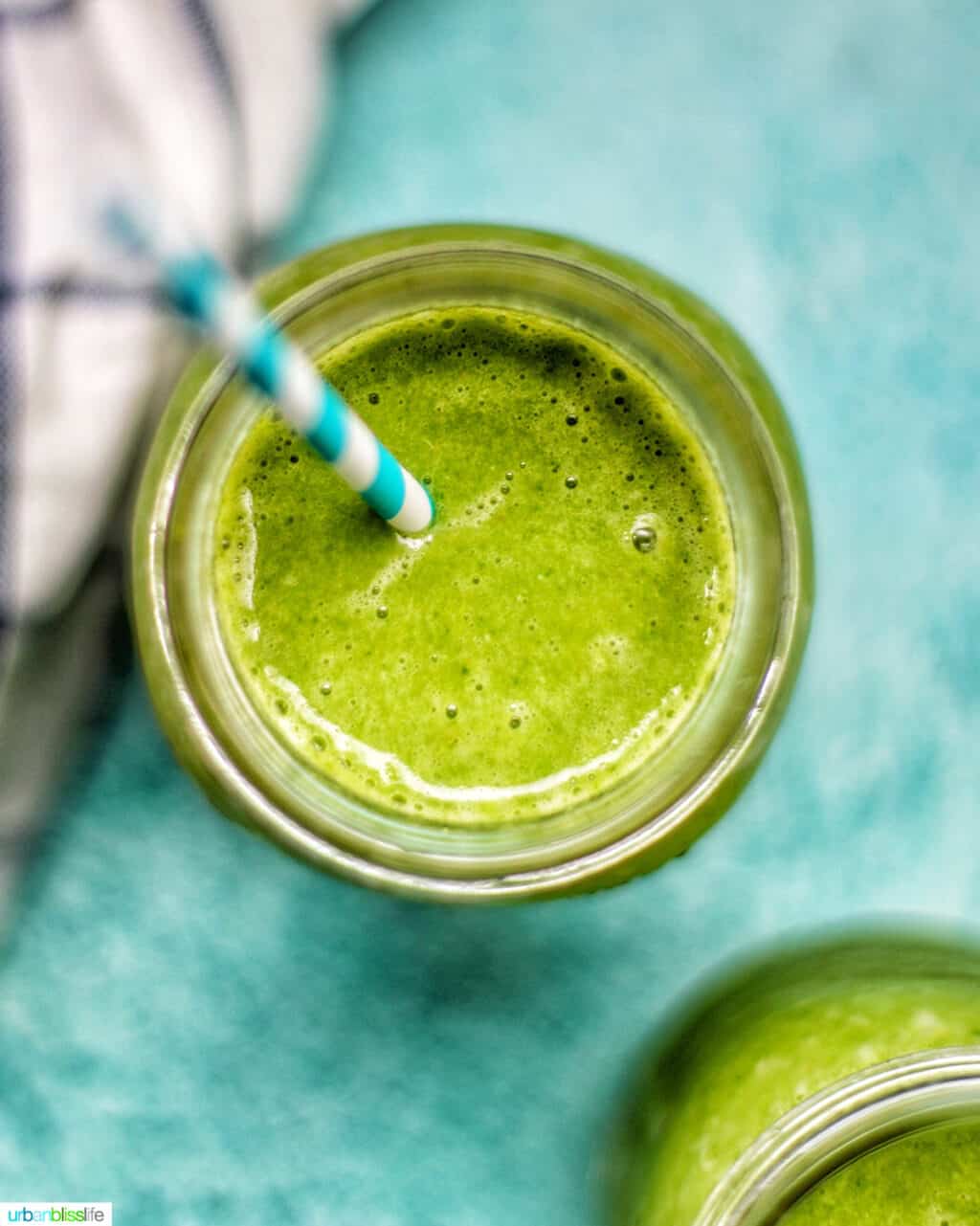 If you follow my Instagram stories, you know that we make a LOT of smoothies in our house.
We make a smoothie almost every day. Even if I forget to workout, our blender gets a daily morning workout! 😉
We love mango carrot smoothies, these pretty triple berry chia smoothies, and strawberry smoothies. We're always looking for new fruit & veggie combos!
One of our longtime faves is the Super Green Smoothie. This is the smoothie recipe I make at least a few times each week. It's my personal favorite healthy smoothie recipe!
Super Green Smoothies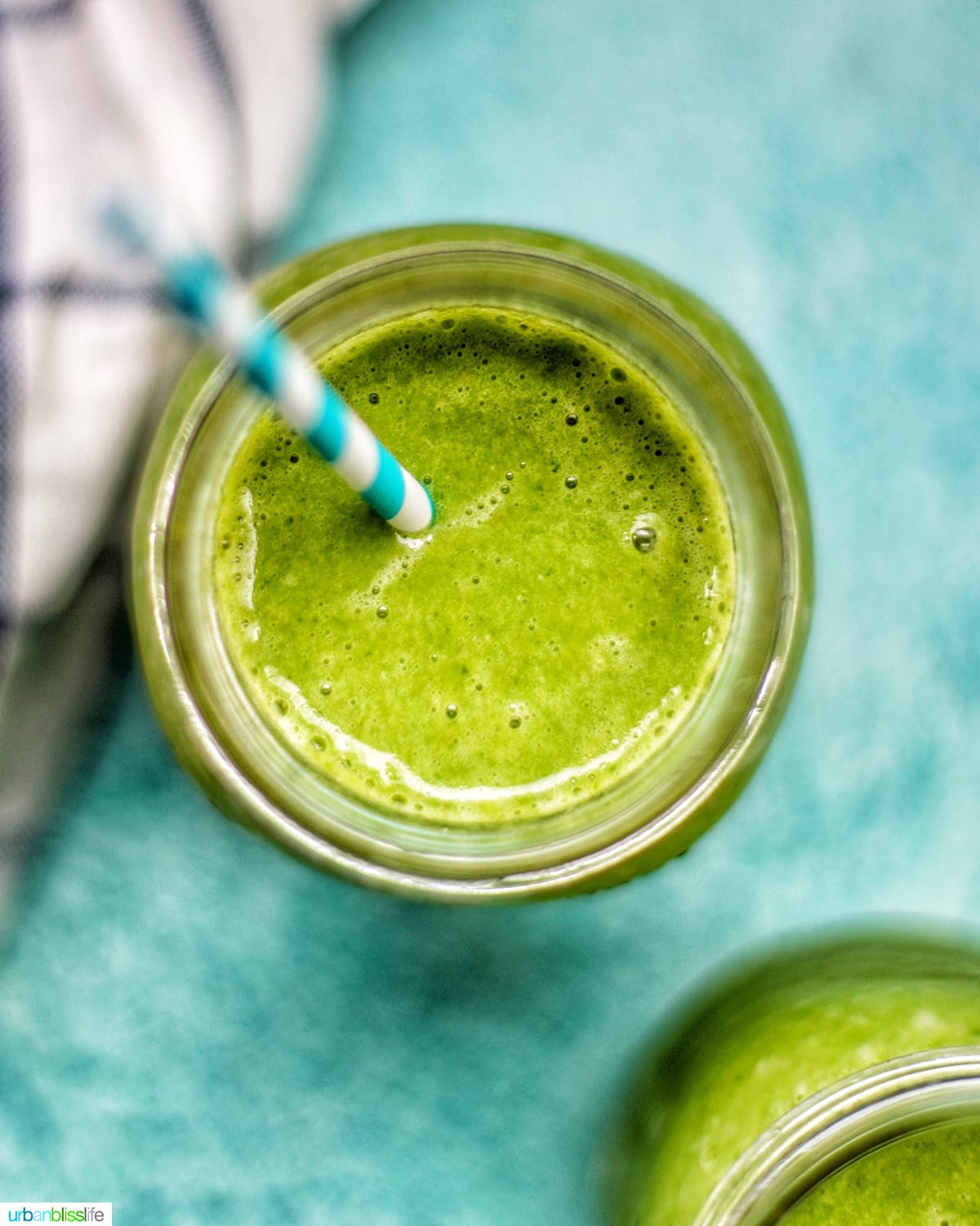 Read more: Constipation Smoothie (Paleo, GAPS, AIP, GF, effective)
This smoothie is the BEST green smoothie because:
It's fast to make. You can whip up 2-3 smoothies in less than 15 minutes!
This smoothie is also easy to make. I love smoothies because they are SO simple. No complicated instructions.
You can make it using ingredients you already have in your fridge or freezer.
It's super flexible. Sub out different leafy greens, different fruit, and use your favorite yogurt.
It's DELICIOUS!!
This is the smoothie recipe that I've been making for me and my kids for YEARS. The first time my then-7-year-old tried it, his eyes widened and he said "Oh this is GOOOOOOD!" And, smoothies are still one of the only ways my kids will eat leafy greens. I'll take it!
Are green smoothies really that good for you?
In a word: YES!Green smoothies are usually packed with fiber, which can help lower cholesterol and glucose levels. This can help keep you feeling fuller for a longer period of time. It also can help regulate your body's natural cleansing processes.
Green smoothies are also simply an easy and delicious way to make sure you're getting the fruits and veggies your body needs. Most of the ingredients in green smoothies provide important nutrients, such as vitamin A, vitamin C, folate and potassium.
Of course, this all depends on what you put into your green smoothie.
What can you put in a green smoothie?
There are three main components to the most delicious, healthiest green smoothie:
Leafy greens – Choose from kale, spinach, chard. These super foods provide fiber, calcium and vitamins A, C and K. They also contain powerful phytochemicals.
Green fruit – This recipe calls for green apples and green grapes. Fruit helps balance out the bitterness from leafy greens with the sweetness of fruit. Green apples and grapes also provide
Liquid – In addition to water, this healthy smoothie calls for a squeeze of fresh lemon juice. I also add ¼ cup of dairy-free plain yogurt.
Additional mix-in ingredients
Read more: Favorite Pregnancy Smoothie, 6 Ways
While those are the main components, green smoothies are super versatile. Consider these add-ins:
Chia seeds or flaxseed
Matcha powder or acai powder
Other fruit, such as pineapples, kiwi, or mango.
What equipment do you need to make healthy green smoothies?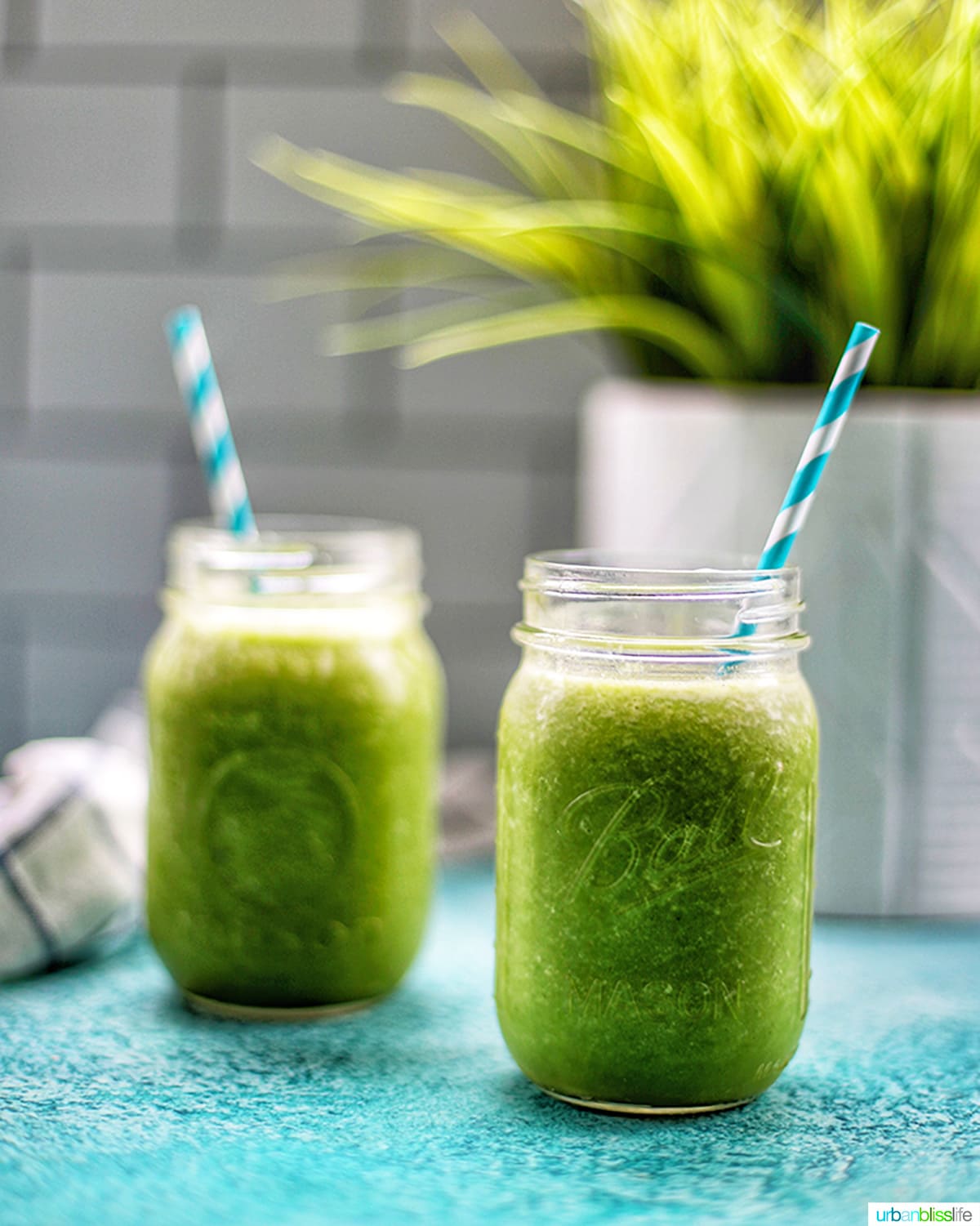 You'll need a high-powered blender to make smoothies. This is the Vitamix blender I have and love.
If you are looking for a basic blender or one that costs less, this blender isn't as high-powered but will still do a great job blending smoothies!
Make-Ahead Freezer Tips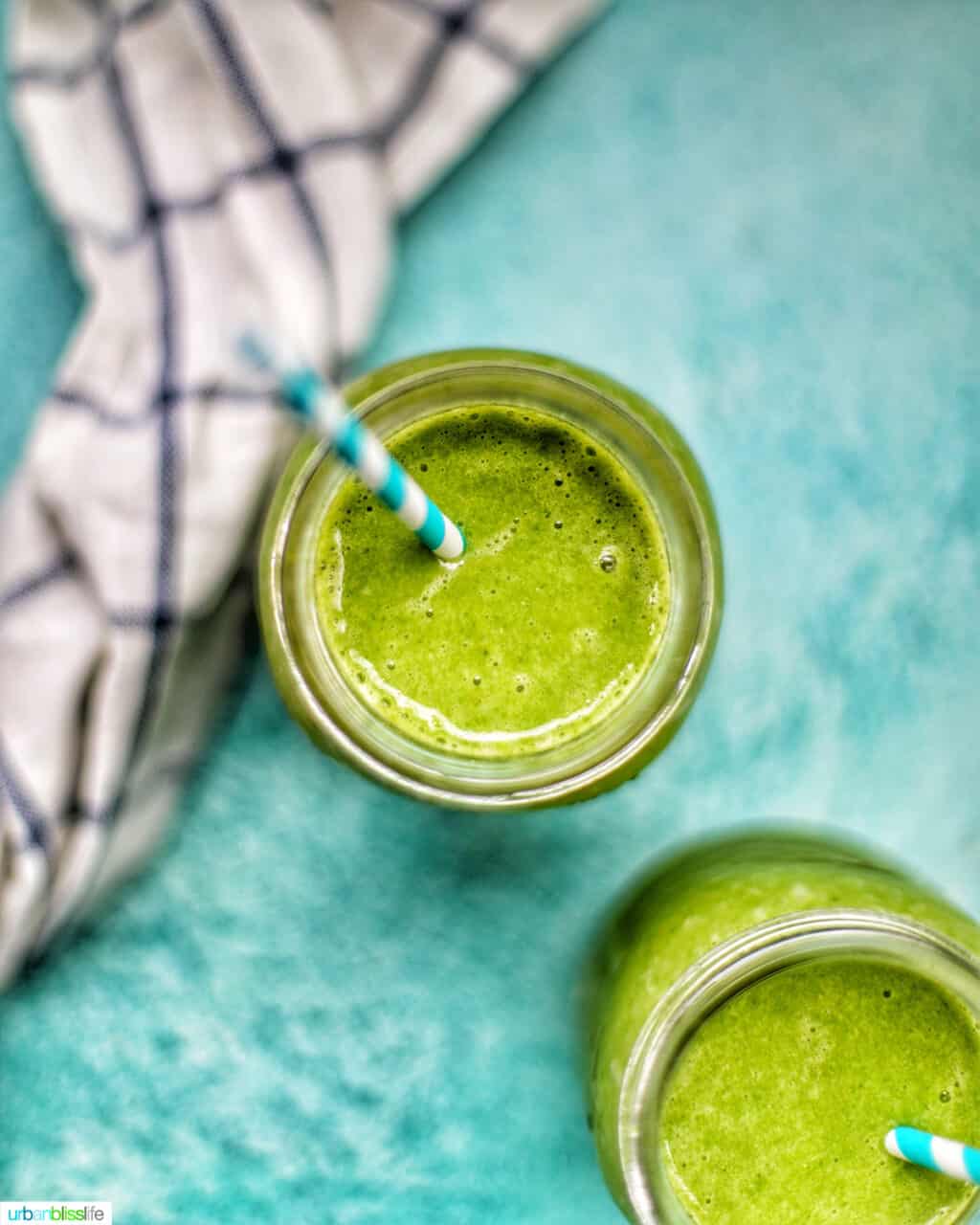 As part of my meal prep days, I like to prepare a week's worth of smoothie packs in advance. I pop them into the freezer, and take one bag out each morning.
To make-ahead & freeze: In a large resealable zip-top bag, place your leafy greens, cucumber, celery, apples, grapes, ginger. Seal and freeze for up to one month. When you're ready to drink, add all of the contents directly into a blender. Add the water, lemon juice, and dairy-free yogurt. Blend until smooth.
More smoothie recipes you might like:
Avocado Green Smoothie
Triple Berry Chia Whole30 Smoothie (Dairy-Free, Vegan, Paleo)
Healthy Smoothie Recipes: Mango Strawberry Carrot Smoothie
Vitamin C Almond Milk Smoothie
Summer's End Dairy Free Strawberry Smoothie
What else would YOU add to your Super Green Smoothie?
PIN IT: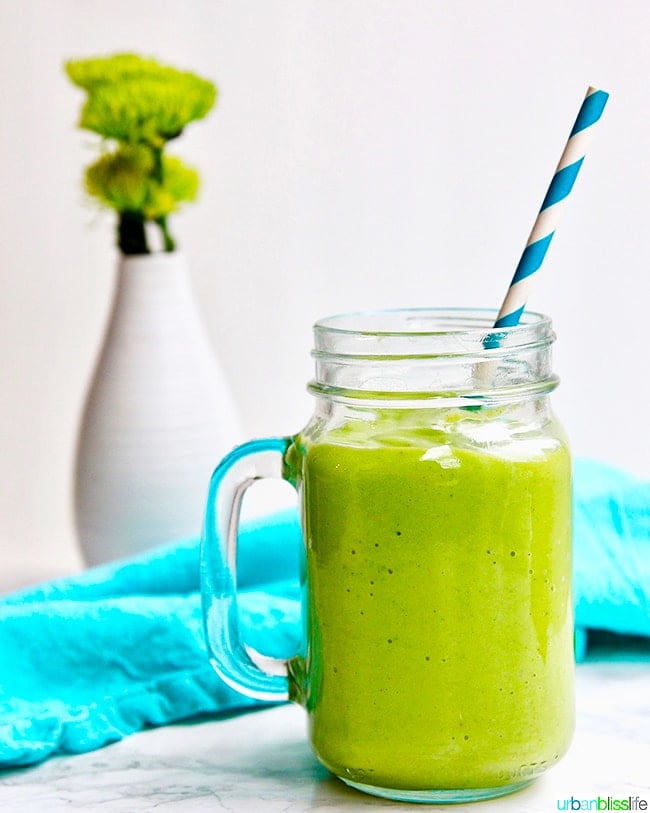 This recipe was originally posted in January 2012. I've updated it and republished on January 26, 2021 with updated photos, affiliate links, more helpful tips to make the best green smoothies. Enjoy! Even nine years after originally post, we still LOVE making this smoothie regularly!
Read more: How to make coffee strong, but not bitter