This Sweet Potato Beef Stew is a favorite of mine! It's the best recipe for fall and winter and best served with cornbread muffins.

I love a good stew recipe during the fall and winter. Nothing beats a warm and hearty soup, a fireplace, and hallmark movies. I'm counting down the days until fall, I can't wait for cooler weather and pumpkins.
I've been making this stew for years and I can't believe it has taken me this long to share it. It's a take on the classic beef stew and I think you are going to love it.
How to make Sweet Potato Beef Stew: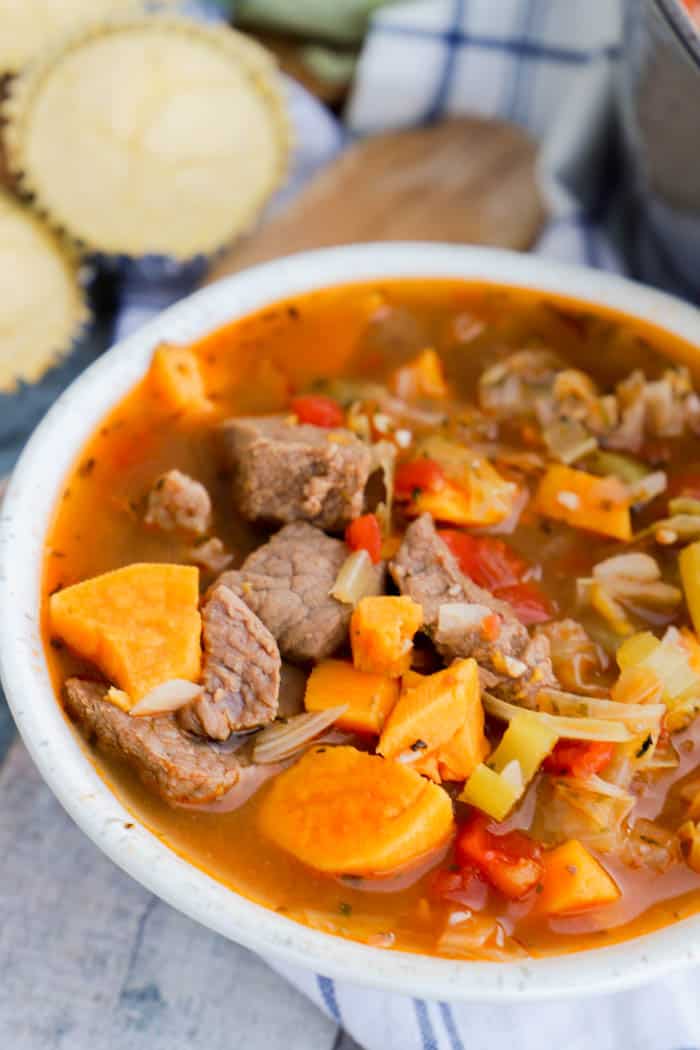 Comfort Food:
Nothing is better then stews and soup on a cool fall or winter day. Here are some of my favorite comfort food for fall days.
Slow Cooker Chicken and Rice Soup
Slow Cooker Tomato Soup
Cheeseburger Soup
Slow Cooker Taco Soup
Buffalo Chicken Soup
Italian Sausage Tortellini Soup
function extend(destination, source) { for (var prop in source) { destination[prop] = source[prop]; } }
if (!Mimi) var Mimi = {}; if (!Mimi.Signups) Mimi.Signups = {};
Mimi.Signups.EmbedValidation = function() { this.initialize();
var _this = this; if (document.addEventListener) { this.form.addEventListener('submit', function(e){ _this.onFormSubmit(e); }); } else { this.form.attachEvent('onsubmit', function(e){ _this.onFormSubmit(e); }); } };
extend(Mimi.Signups.EmbedValidation.prototype, { initialize: function() { this.form = document.getElementById('ema_signup_form'); this.submit = document.getElementById('webform_submit_button'); this.callbackName = 'jsonp_callback_' + Math.round(100000 * Math.random()); this.validEmail = /.+@.+..+/ },
onFormSubmit: function(e) { e.preventDefault();
this.validate(); if (this.isValid) { this.submitForm(); } else { this.revalidateOnChange(); } },
validate: function() { this.isValid = true; this.emailValidation(); this.fieldAndListValidation(); this.updateFormAfterValidation(); },
emailValidation: function() { var email = document.getElementById('signup_email');
if (this.validEmail.test(email.value)) { this.removeTextFieldError(email); } else { this.textFieldError(email); this.isValid = false; } },
fieldAndListValidation: function() { var fields = this.form.querySelectorAll('.mimi_field.required');
for (var i = 0; i < fields.length; ++i) { var field = fields[i], type = this.fieldType(field); if (type === 'checkboxes' || type === 'radio_buttons' || type === 'age_check') { this.checkboxAndRadioValidation(field); } else { this.textAndDropdownValidation(field, type); } } }, fieldType: function(field) { var type = field.querySelectorAll('.field_type'); if (type.length) { return type[0].getAttribute('data-field-type'); } else if (field.className.indexOf('checkgroup') >= 0) { return 'checkboxes'; } else { return 'text_field'; } },
checkboxAndRadioValidation: function(field) { var inputs = field.getElementsByTagName('input'), selected = false;
for (var i = 0; i < inputs.length; ++i) { var input = inputs[i]; if((input.type === 'checkbox' || input.type === 'radio') && input.checked) { selected = true; } } if (selected) { field.className = field.className.replace(/ invalid/g, "); } else { if (field.className.indexOf('invalid') === -1) { field.className += ' invalid'; } this.isValid = false; } }, textAndDropdownValidation: function(field, type) { var inputs = field.getElementsByTagName('input'); for (var i = 0; i < inputs.length; ++i) { var input = inputs[i]; if (input.name.indexOf('signup') >= 0) { if (type === 'text_field') { this.textValidation(input); } else { this.dropdownValidation(field, input); } } } this.htmlEmbedDropdownValidation(field); },
textValidation: function(input) { if (input.id === 'signup_email') return;
if (input.value) { this.removeTextFieldError(input); } else { this.textFieldError(input); this.isValid = false; } },
dropdownValidation: function(field, input) { if (input.value) { field.className = field.className.replace(/ invalid/g, "); } else { if (field.className.indexOf('invalid') === -1) field.className += ' invalid'; this.onSelectCallback(input); this.isValid = false; } },
htmlEmbedDropdownValidation: function(field) { var dropdowns = field.querySelectorAll('.mimi_html_dropdown'); var _this = this;
for (var i = 0; i < dropdowns.length; ++i) { var dropdown = dropdowns[i]; if (dropdown.value) { field.className = field.className.replace(/ invalid/g, "); } else { if (field.className.indexOf('invalid') === -1) field.className += ' invalid'; this.isValid = false; dropdown.onchange = (function(){ _this.validate(); }); } } }, textFieldError: function(input) { input.className = 'required invalid'; input.placeholder = input.getAttribute('data-required-field'); }, removeTextFieldError: function(input) { input.className = 'required'; input.placeholder = "; }, onSelectCallback: function(input) { if (typeof Widget === 'undefined' || !Widget.BasicDropdown) return; var dropdownEl = input.parentNode, instances = Widget.BasicDropdown.instances, _this = this; for (var i = 0; i < instances.length; ++i) { var instance = instances[i]; if (instance.wrapperEl === dropdownEl) { instance.onSelect = function(){ _this.validate() }; } } }, updateFormAfterValidation: function() { this.form.className = this.setFormClassName(); this.submit.value = this.submitButtonText(); this.submit.disabled = !this.isValid; this.submit.className = this.isValid ? 'submit' : 'disabled'; }, setFormClassName: function() { var name = this.form.className; if (this.isValid) { return name.replace(/s?mimi_invalid/, "); } else { if (name.indexOf('mimi_invalid') === -1) { return name += ' mimi_invalid'; } else { return name; } } }, submitButtonText: function() { var invalidFields = document.querySelectorAll('.invalid'), text; if (this.isValid || !invalidFields) { text = this.submit.getAttribute('data-default-text'); } else { if (invalidFields.length || invalidFields[0].className.indexOf('checkgroup') === -1) { text = this.submit.getAttribute('data-invalid-text'); } else { text = this.submit.getAttribute('data-choose-list'); } } return text; }, submitForm: function() { this.formSubmitting(); var _this = this; window[this.callbackName] = function(response) { delete window[this.callbackName]; document.body.removeChild(script); _this.onSubmitCallback(response); }; var script = document.createElement('script'); script.src = this.formUrl('json'); document.body.appendChild(script); }, formUrl: function(format) { var action = this.form.action; if (format === 'json') action += '.json'; return action + '?callback=' + this.callbackName + '&' + serialize(this.form); }, formSubmitting: function() { this.form.className += ' mimi_submitting'; this.submit.value = this.submit.getAttribute('data-submitting-text'); this.submit.disabled = true; this.submit.className = 'disabled'; }, onSubmitCallback: function(response) { if (response.success) { this.onSubmitSuccess(response.result); } else { top.location.href = this.formUrl('html'); } }, onSubmitSuccess: function(result) { if (result.has_redirect) { top.location.href = result.redirect; } else if(result.single_opt_in || !result.confirmation_html) { this.disableForm(); this.updateSubmitButtonText(this.submit.getAttribute('data-thanks')); } else { this.showConfirmationText(result.confirmation_html); } }, showConfirmationText: function(html) { var fields = this.form.querySelectorAll('.mimi_field'); for (var i = 0; i < fields.length; ++i) { fields[i].style['display'] = 'none'; } (this.form.querySelectorAll('fieldset')[0] || this.form).innerHTML = html; }, disableForm: function() { var elements = this.form.elements; for (var i = 0; i < elements.length; ++i) { elements[i].disabled = true; } }, updateSubmitButtonText: function(text) { this.submit.value = text; }, revalidateOnChange: function() { var fields = this.form.querySelectorAll(".mimi_field.required"), _this = this; var onTextFieldChange = function() { if (this.getAttribute('name') === 'signup[email]') { if (_this.validEmail.test(this.value)) _this.validate(); } else { if (this.value.length === 1) _this.validate(); } } for (var i = 0; i < fields.length; ++i) { var inputs = fields[i].getElementsByTagName('input'); for (var j = 0; j < inputs.length; ++j) { if (this.fieldType(fields[i]) === 'text_field') { inputs[j].onkeyup = onTextFieldChange; inputs[j].onchange = onTextFieldChange; } else { inputs[j].onchange = function(){ _this.validate() }; } } } } }); if (document.addEventListener) { document.addEventListener("DOMContentLoaded", function() { new Mimi.Signups.EmbedValidation(); }); } else { window.attachEvent('onload', function() { new Mimi.Signups.EmbedValidation(); }); } })(this);

SaveSaveSaveSave
SaveSave
SaveSave
SaveSave
SaveSave
SaveSave
SaveSave
SaveSave
SaveSave
For more information, please see more information about Beef stew with sweet potato
Detail: 🔗