Listen, I absolutely adore sweet potato fries. I can't get enough of them! But today, I want to talk about something equally important: the dipping sauce. While the classic smoky chipotle dip is undeniably delicious, there are so many other mouthwatering flavor combinations to explore. So, let's dive into how to create a basic sauce and discover the incredible possibilities. I am beyond excited!

NINE different dipping sauces for sweet potato fries. I'm in heaven.
Make the Aioli for your Sweet Potato Fries
The aioli will serve as the foundation for most of these delectable dipping sauces. By the way, it's incredibly delicious and easy to make. You might never go back to plain mayo again!
What is Aioli?
Aioli can mean different things to different people, but let me clarify for you: it's basically fancy gourmet mayonnaise. For me, aioli is always a homemade version of mayo, but it doesn't have to be (check out the shortcut versions below for quick aioli recipes). Another crucial aspect of aioli, in my opinion, is the addition of various flavors, even if it's just garlic. Let's elevate it from regular mayo, shall we?
Aioli is created by emulsifying egg, oil, and a touch of Dijon mustard to aid the emulsification process. The trickiest part is adding the oil very slowly to ensure the mixture thickens rather than separating. It's similar to making salad dressing.
We're using a neutral flavored oil here, but you can also use olive oil. Just be aware that it will impart a distinct flavor, so choose your other ingredients accordingly. Also, aioli usually contains raw garlic for flavoring, but we're keeping it versatile and leaving it out for now.
What makes it the Best Dipping Sauce for Sweet Potato Fries?
Two things: the incredibly scrumptious base flavor and its versatility. This aioli will provide the perfect foundation for your sweet potato dipping sauce, and I'll share plenty of suggestions below. But remember, you can create any kind of dip your heart desires. Let your imagination run wild!
How to Make Aioli for Your Dipping Sauce
Let's make this together. I personally prefer using an immersion blender—it takes a mere 3.5 seconds to whip up homemade aioli this way. You can also use a stand mixer or hand beaters (although I haven't tried the latter). Whisking by hand is possible, but it takes a considerable amount of time and arm strength (which, in my case, is laughable).
If you're using a whisk, you must add the oil very slowly. Almost a couple of drops at a time. Adding it too quickly is a one-way street. The mixture won't magically thicken for you. Stay strong!
Best Dipping Sauce Combos:
Here we go! These are some of my favorite combinations. They all start with the basic aioli we just made, and from there, the flavor profiles expand. I've categorized them as gourmet, sweet, and spicy. In my ideal world, if sweet potato fries were an appetizer, we'd have at least three of these sauces available for variety. As a side dish, one sauce would suffice.
Gourmet Sauces
Roasted Garlic & Parmesan: 1 cup of basic aioli + 1 bulb roasted garlic + ½ cup grated parmesan
Truffle & Black Pepper: 1 cup of basic aioli + 2 teaspoons truffle oil + 2 teaspoons freshly cracked black pepper
Lemon and Dill: 1 cup of basic aioli + juice of half a lemon + zest of one lemon + ¼ cup fresh dill
Rosemary: 1 cup of basic aioli + 3 tablespoons roughly chopped fresh rosemary + 1 teaspoon black pepper
Sweet Sauces
Cranberry: 1 cup of basic aioli + ½ cup burst cranberries (or ¼ cup cranberry sauce)
Toasted Marshmallow: The only one that doesn't start with aioli! Combine ¼ cup heavy whipping cream + 10 toasted marshmallows + use a blow torch to brown the tops (note: this sauce must be enjoyed warm, as the marshmallows firm up when cooled)
Maple Cinnamon: 1 cup of basic aioli + 3 tablespoons maple syrup + 1 teaspoon ground cinnamon
Spicy Sauces
Smoky Chipotle: 1 cup of basic aioli + 1 chili pepper in adobo sauce (finely chopped) + 1 teaspoon chipotle chili powder + juice of half a lime
Wasabi: 1 cup of basic aioli + 1 tablespoon wasabi paste + 1 teaspoon white wine vinegar
And that's it! Except for the toasted marshmallow sauce, simply mix the ingredients together, and voila—your best dipping sauces are ready!
FYI – don't be afraid to experiment with the ratios of these sauces. If you prefer a sweeter dip, add more maple syrup. Craving more heat? Toss in another chipotle. These guidelines are just meant to inspire you and get you started.
How to Make Multiple Sauces from One Aioli Recipe
Now, this may seem obvious, but let me stress it. For the amount of aioli this basic recipe yields, I recommend not dividing it into more than three different sauces. That way, you'll have about ⅓ cup for each sauce. Simply divide the other ingredients by three and you're good to go.
The Hack for any Sweet Potato Dipping Sauce
The shortcut version (excluding the toasted marshmallow sauce) is to replace the cup of aioli with a cup of your favorite mayo and keep everything else the same. That's it! You're done!
Can the Sweet Potato Dipping Sauce be Made Ahead?
Absolutely! In fact, the flavors meld together beautifully with time. You can prepare the aioli in advance; just remember to store it in the fridge. It will last for about a week.
How to Make Sweet Potato Fries
Now that we have these fantastic sweet potato fry dipping sauces, let's move on to making the fries themselves. Baking sweet potato fries isn't too difficult, but there are a couple of tips to achieve crispy, crunchy exteriors with soft and creamy interiors.
Cutting the Sweet Potatoes
This is crucial. We want to slice the sweet potato fries as thin and skinny as possible. This allows for quick cooking at high heat, which is vital for achieving crispiness. No slow and low cooking method here.
Soaking
Soaking the raw potatoes in cold water for at least an hour before baking is an essential step for any type of fries, whether sweet potato or regular. Soaking helps draw out the starch, which is the culprit behind soggy fries. It ensures that the fries remain light and creamy on the inside while turning crispy on the outside. Don't skip this step, even if you're tempted. Trust me, it's worth it!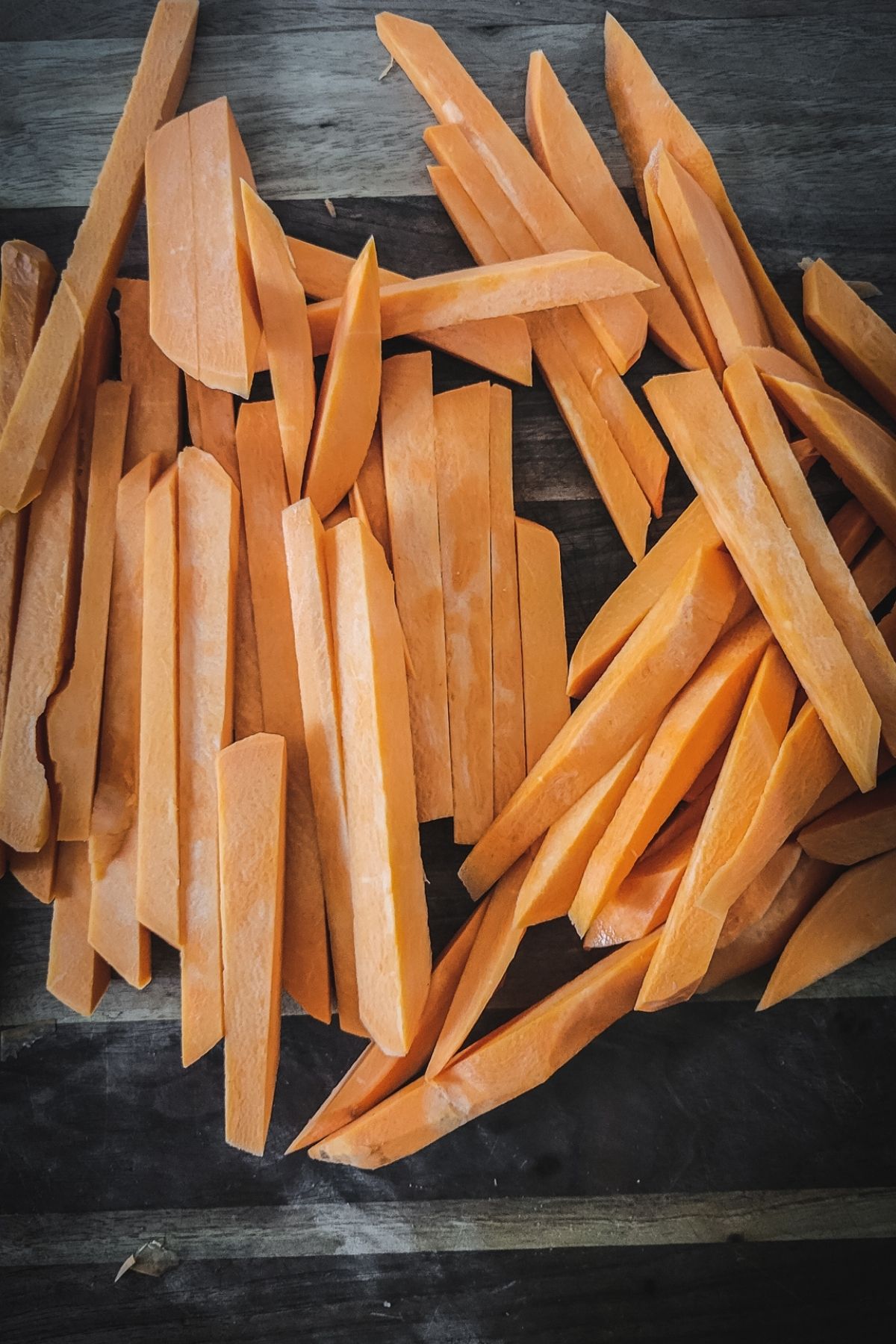 Important: After soaking, make sure to dry the fries as thoroughly as possible. I recommend using a dish towel to remove most of the excess water, then spreading the fries on a cooling rack to air dry for at least 30 minutes (the longer, the better).
Coating
If you've followed the previous steps correctly, you won't need much in terms of coating. We'll use olive oil for the fat content and cornstarch to create a delicate crust. Of course, don't forget the salt! And that's it—no need for any additional coatings.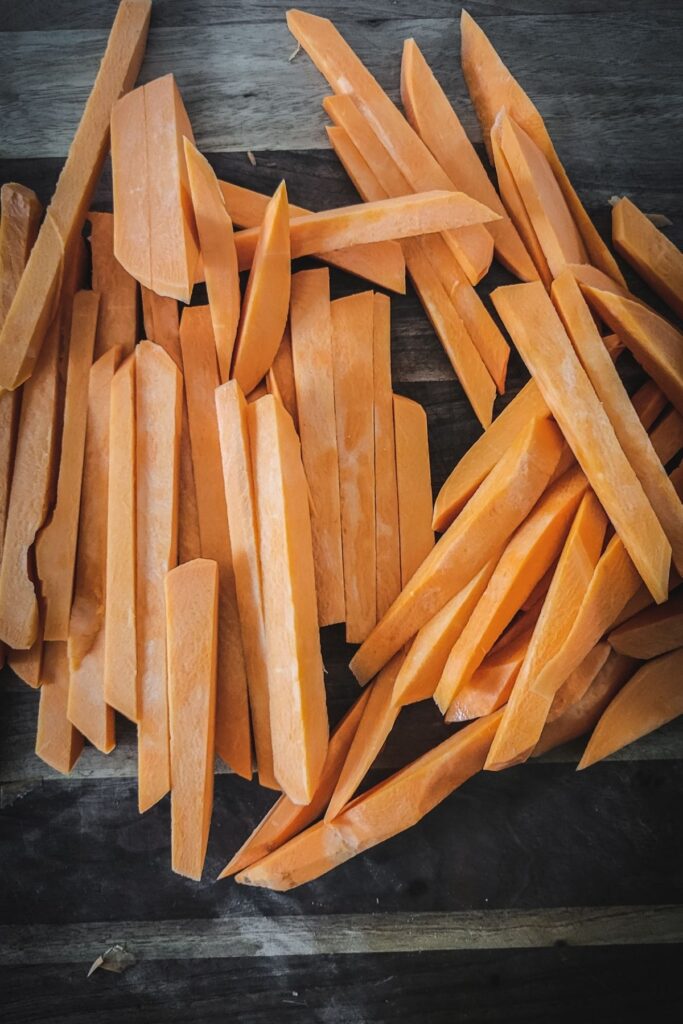 Baking
As I mentioned earlier, we're aiming for high heat and a short cooking time. Set your oven to 450°F (232°C) and bake the fries for 15 minutes. If you've cut your fries too thick, they won't turn out well—they'll have raw insides and burnt exteriors.
Spread the fries evenly in a single layer on a large baking sheet. If necessary, use two sheets to avoid crowding the fries. Overcrowding leads to steaming, which prevents them from becoming crispy.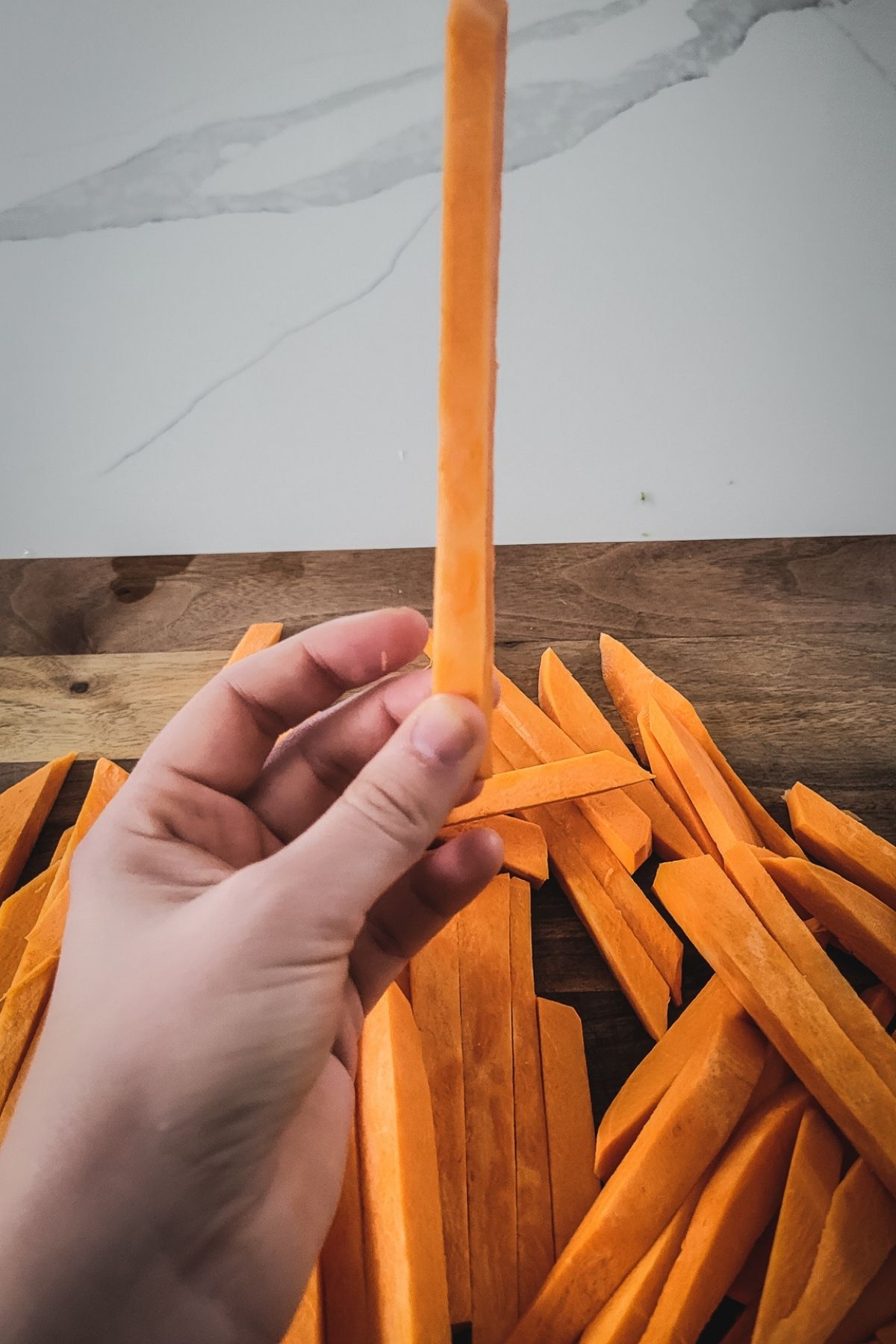 What to Serve
Sweet potato fries make an excellent side dish for various meals or a delightful appetizer on their own. Here are some of my favorite pairings:
Bison Short Ribs
Simple and Flavorful Cilantro Chicken Soup with Lime
Classic Fish Sandwiches with Tartar Sauce
Chicken Bacon Ranch Burgers
Cast Iron Rib-Eye Steak with Blistered Grapes
All right, are you ready? Let's dive into the world of sweet potato fries and take our taste buds on an unforgettable journey!
Recipe
Jump to:
Make the Aioli for your Sweet Potato Fries
How to Make Aioli for Your Dipping Sauce
Best Dipping Sauce Combos
How to Make Multiple Sauces from One Aioli Recipe
The Hack for any Sweet Potato Dipping Sauce
Can the Sweet Potato Dipping Sauce be Made Ahead?
How to Make Sweet Potato Fries
What to Serve
Recipe