This roasted sweet potato salad recipe is a perfect fall lunch or side dish! Feta cheese, avocado, and a bright tahini dressing fill it with flavor.
Sweet Potato Salad Recipe Ingredients
A few basic ingredients fill this sweet potato salad recipe with delicious texture and flavor:
Sweet potatoes, of course! I roast them until they're caramelized on the outside and tender in the middle.
Arugula – I'm obsessed with these soft bitter greens! If you don't have arugula on hand, spinach, massaged kale, or baby lettuces would be great here too.
Avocado – It adds creamy richness to this hearty sweet potato salad.
Pepitas – For crunch!
Feta cheese – I love how its tangy flavor plays off the caramelized sweet potatoes. If you're vegan, skip the cheese entirely, or replace it with a few pickled red onions for pop.
Tahini dressing – This bright, nutty dressing ties it all together! It's a simple mix of tahini, lemon juice, maple syrup, olive oil, sesame oil, garlic, water, and salt.
To make this recipe, roast the sweet potatoes and whisk together the dressing. Then, assemble the salad in a large bowl or platter with the arugula, roasted sweet potatoes, avocado, pepitas, and feta cheese. Drizzle on the dressing, and enjoy!
Find the complete recipe with measurements below.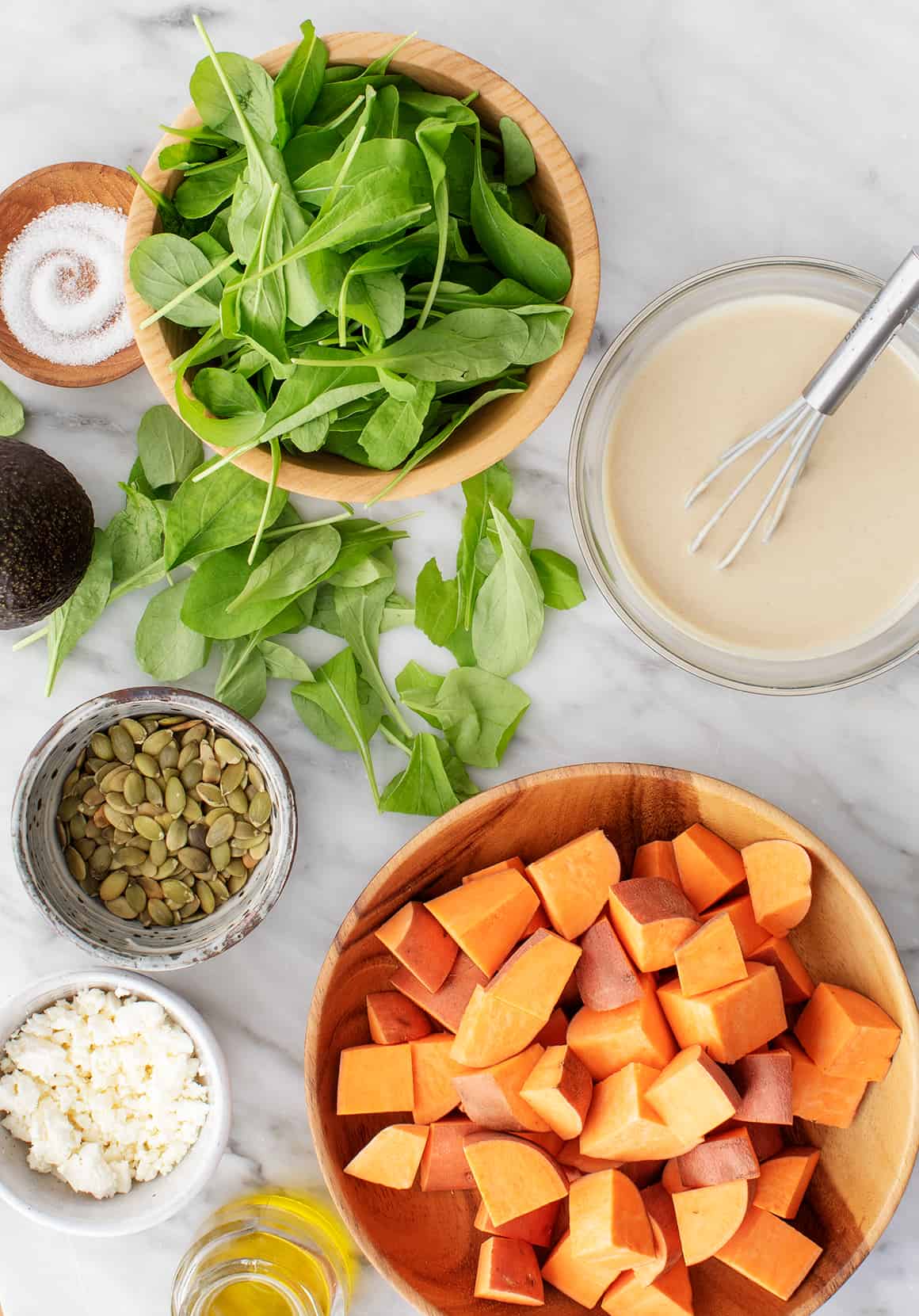 Tips and Variations
Let the sweet potatoes cool before you toss everything together. If you assemble the salad when the sweet potatoes are hot from the oven, the arugula will wilt. Instead, give them a chance to cool before you toss everything together. That way, the arugula will still be vibrant when you eat.
Add the dressing and the avocado at the last minute. This recipe is a great one to meal prep for lunch, but if you make it in advance, store the dressing and the avocado separately until you eat. If you add the dressing too early, the salad will get soggy. Similarly, if you cut the avocado too far ahead of time, it'll turn brown and bitter. But if you add them both at the last minute, it'll be delicious.
Change it up! I love this sweet potato salad recipe as-written, but feel free to get creative with it! Here are a few ideas to get you started:

Make a Southwest salad. Before you put the sweet potatoes in the oven, toss them with chili powder. Add black beans, red bell peppers, and green onions or pickled red onions to the salad, and replace the tahini dressing with cilantro lime dressing or chipotle sauce.
Bulk it up. Thanks to the sweet potatoes, avocado, and pepitas, this salad is already pretty hearty. But if you want to make it even more filling, toss in a handful of roasted chickpeas, cooked French green lentils, farro, or quinoa. You could also add extra veggies like roasted broccoli, cauliflower, or Brussels sprouts!
Add something sweet. Dried cranberries, dried tart cherries, or pomegranate seeds would taste fantastic with the caramelized sweet potatoes and tangy feta in this recipe.
Let me know what variations you try!
Sweet Potato Salad Serving Suggestions
This sweet potato salad recipe is a delicious healthy lunch! Enjoy it on its own, or pair it with a slice of avocado toast, crusty bread, or homemade focaccia. It'd also be yummy with a grilled cheese sandwich or a cup of soup like my Tomato Basil Soup, Carrot Ginger Soup, Many-Veggie Soup, Butternut Squash Soup, or Curried Lentil Soup. Find more of my favorite soup recipes here!
I also love to serve this sweet potato salad as a side dish. Pair it with your favorite protein, or serve it with one of these recipes for a fresh, healthy dinner:
Stuffed Peppers
Easy Black Bean Burgers or Best Veggie Burgers
Vegetable Frittata
Shakshuka
Baked Feta
Acorn Squash with Chickpeas and Chimichurri
For more easy dinner ideas, check out this post!
More Favorite Hearty Salads
If you love this sweet potato salad recipe, try one of these hearty salads next:
Kale Salad with Carrot Ginger Dressing
Best Broccoli Salad
Niçoise Salad
Butternut Squash Salad
Roasted Beet Salad
Farmhouse Farro Salad
Curried Lentil Salad
Homemade Caesar Salad
For more of my favorite salad recipes, check out this post!
Through this article, we hope to help you understand Salad recipes with sweet potato
Detail: 🔗