Man, I love a good Taco Salad.
Fortunately for me, my family loves a good Taco Salad with a passion equal to my own (excepting two little twin boys who groan a bit when Taco Salad is on the menu, dang em. Hoping their taste buds improve soon.) We end up having Taco Salad quite a lot through the summer months. It's such an easy fix that doesn't heat up the house much at all. I set all the toppings out and let everyone build their own salad according to their deepest wants and wishes. Less grumbling, that way…right. 🙂
Taco Salad served this way is also great if you are feeding a large crowd.
The recipe for the taco meat below is hearty and flavorful without being overly spicy. Hope you love it!
Now, let's make it!
Taco SaladPRINT RECIPE
Time: 30 minutes Yield: 8 servings Recipe adapted from MyDearMom
TACO MEAT: 2 pounds ground beef (I used 9% lean) 1/2 C onion, chopped 1 Tb garlic, chopped 2 (14.5 ounce) cans Mexican Stewed Tomatoes 2 Tb taco seasoning 1/4 ts sugar
SALAD TOPPINGS: 1 head romaine lettuce 1 bag tortilla chips (Fritos or Cool Ranch Tortilla Chips are also fabulous) Mexican cheese blend black beans red kidney beans grape tomatoes red or green onion olives avocado sour cream salsaCilantro Lime Dressing recipe HERE, or Ranch Dressing
1. To make your taco meat, heat a skillet up over medium high heat. Add 2 pounds ground beef and 1/2 cup chopped onion.
Add 1 tablespoon chopped garlic and hit the whole thing with a bit of salt and pepper. 2. Cook until the meat has browned and the onions are soft (should take about 10 minutes). Drain the grease from the pan. If you are using super lean ground beef you most likely won't need to drain it.
3. Grab a couple of cans Mexican Style Stewed Tomatoes. If you have diced tomatoes that would be fabulous.
If not, just put some scissors into the can and give everything nice chopping. Add the entire contents of the can into the pan.
4. Add 2 tablespoons of Taco Seasoning and 1/4 teaspoon sugar.
Give everything a nice stir to incorporate.
5. Cover the pan, with lid on sideways so some of the steam can escape. Allow it to simmer on medium low heat for 15 minutes. Longer, if you have the time.
6. Gather your topping ingredients while the meat is simmering on the stove top. You'll want some great looking tortilla chips. Yes, I see that the chips before you are Fritos. I couldn't find a single tortilla chip in my entire house, dad blast it. I wanted to show you some fabulous tortilla chips, but the thought of running back to the store for the second time in the same 60 minutes made me break out in a cold sweat. 🙂 Don't be like me. Make a better plan, won't you!
PS…turns out the Fritos chips were really good. So are Cool Ranch, just in case you were wondering. Thank you.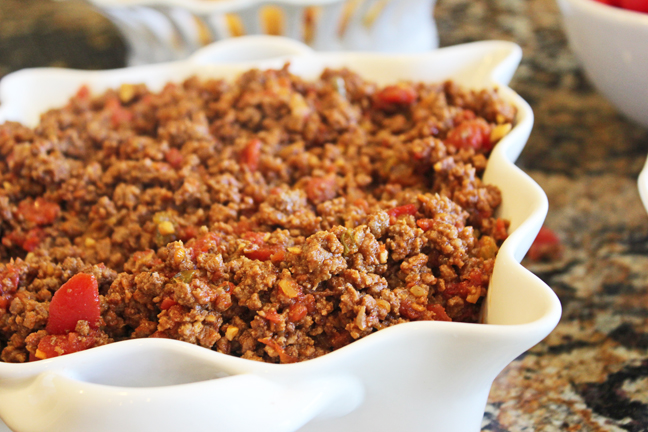 7. Add some hearty, flavorful meat to your chips…
Like this. Yum!
Sprinkle on a bit of cheese.
Top it with some chopped romaine lettuce…
and whatever else your little heart desires. Tomatoes, black beans, red kidney beans, red onion, salsa, avocado and sour cream are all good choices.
Beautiful!
Pour some Cilantro Lime Dressing (recipe HERE) over the top, or use regular Ranch Dressing. What ever you like best.
Enjoy!
Through this article, we hope to help you understand How to assemble taco salad
Detail: 🔗