A flavorful seasoning mix and special cooking technique create this perfectly Tender Eye of Round Roast Beef with Gravy. A meal special enough for a holiday but economical enough to serve any day of the week!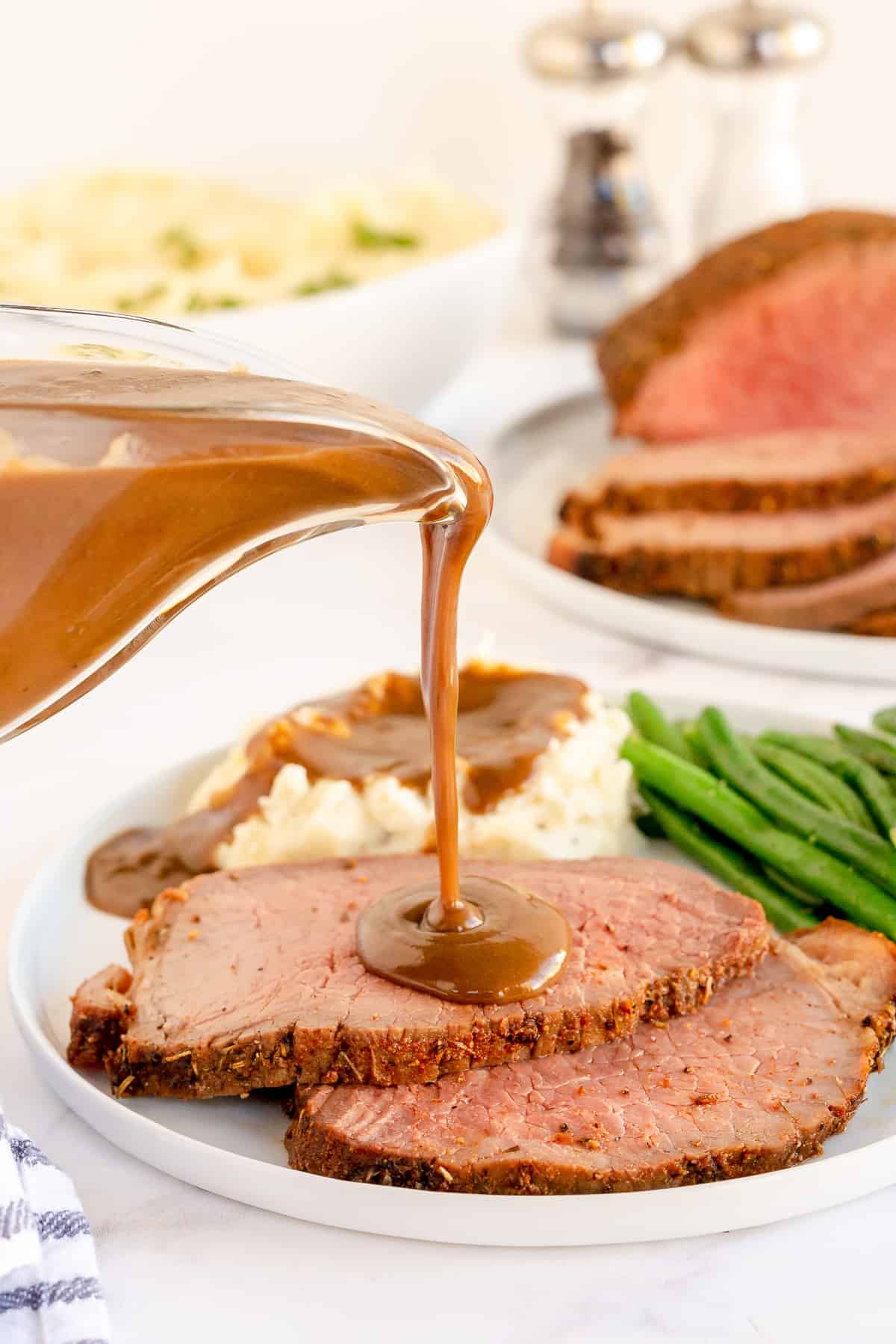 I'm really excited about this recipe, friends. If you've tried some of my recipes in the past and trust me, even just a little bit, I hope you will get this perfectly tender roast beef with gravy on your menu very soon. It has been a weird year and I know we're all changing up our holiday traditions a bit. It is my hope that this delicious but less expensive roast beef recipe comes to you at a good time.
We most often think of beef tenderloin or prime rib when it comes to tender roasted beef. But, you've really got something special when you can create a juicy, tender roast with an inexpensive cut like the eye of round! There is no need to reserve this meal for a special occasion. This recipe allows you to enjoy a roast beef dinner anytime the craving strikes.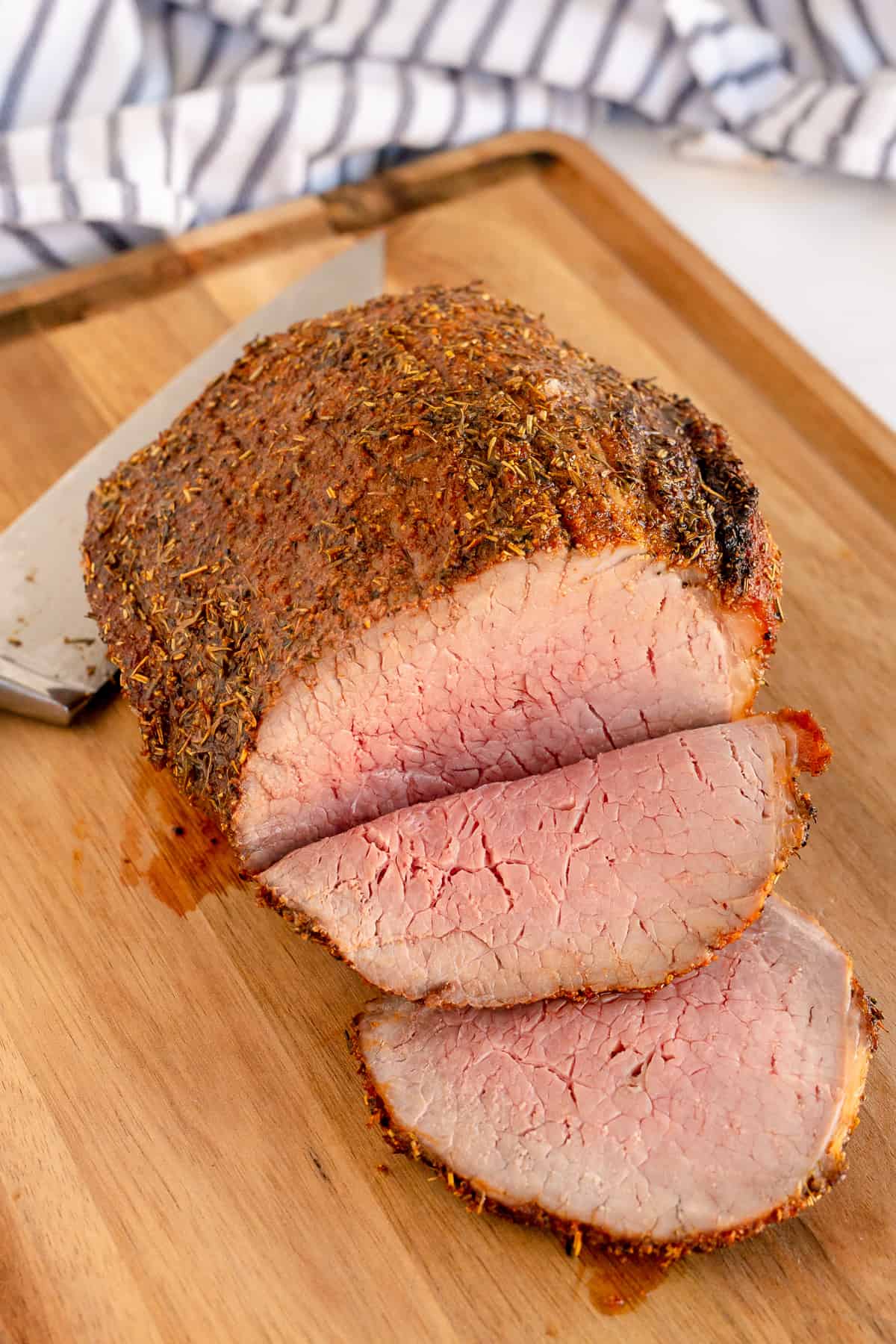 What is an Eye of Round Roast?
An eye of round is a lean but flavorful cut that comes from the "round" or hindquarters of the cow. This area gets a lot of movement so the beef is leaner and less tender than more expensive cuts of beef. The eye of round is an excellent choice for cooking on a budget and can be roasted to juicy, tender perfection if you know how to cook it properly.
The budget-friendly eye of round roast is my favorite cut for roast beef but other cuts will work. More cuts from the round area include top or bottom round, rump, or sirloin tip. This cut is also the best choice for my family's favorite Deli Style Roast Beef.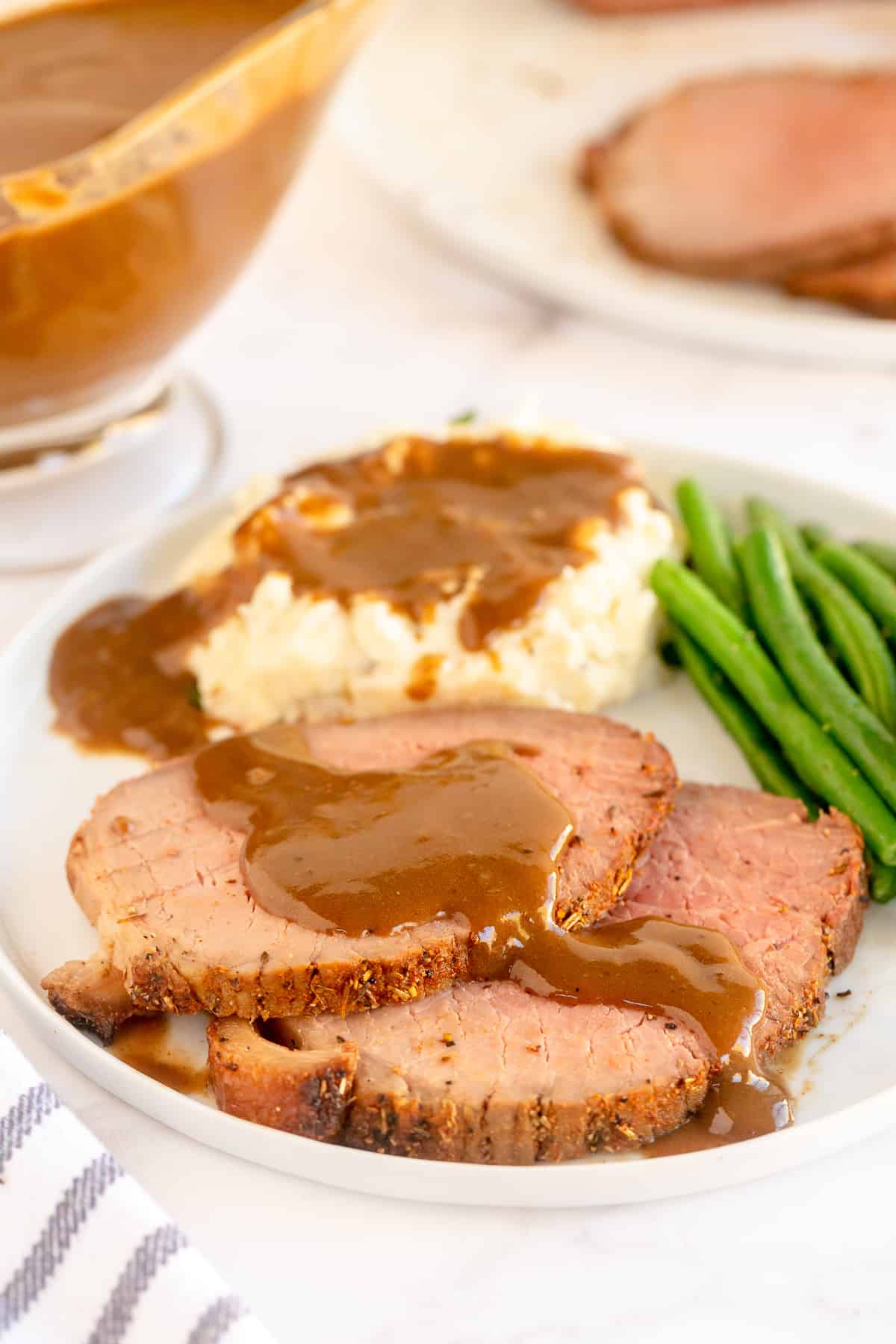 Ingredients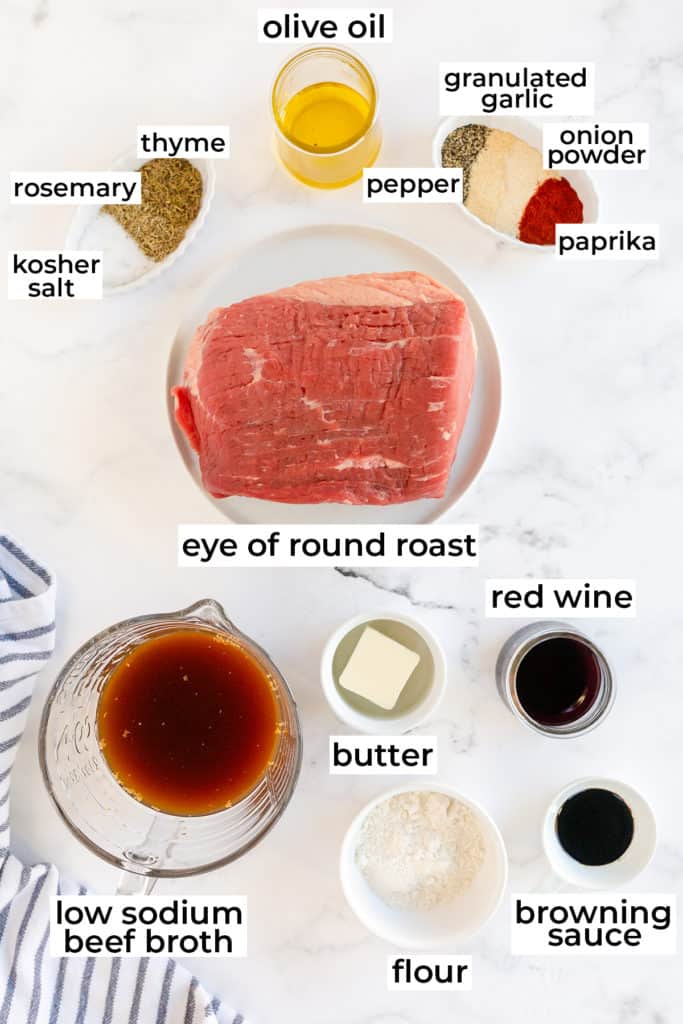 Eye of round roasts are typically easy to find at most grocery store chains. I buy mine at Costco. They sell prime eye of round roasts in a 2-pack at a very competitive price.
Like my Instant Pot Pot Roast and Classic Stovetop Beef Stew, the key to the flavor in this recipe comes from a special seasoning mix for roast beef. It is made up of aromatic, flavorful dry spices – rosemary, thyme, granulated garlic, onion powder, paprika, kosher salt, and freshly ground black pepper.
A little red wine goes a long way in adding great flavor to the luscious roast beef gravy. Most red wine will work just fine but I recommend going with a full-bodied cabernet sauvignon or a flavorful pinot noir or merlot. If you don't cook with wine, you can sub an equal amount of beef broth.
Browning sauce, like Kitchen Bouquet, is a great way to richen up the color and enhance the flavor of the gravies, stews, and meaty dishes. It has been a kitchen staple for home cooks since the 1800's!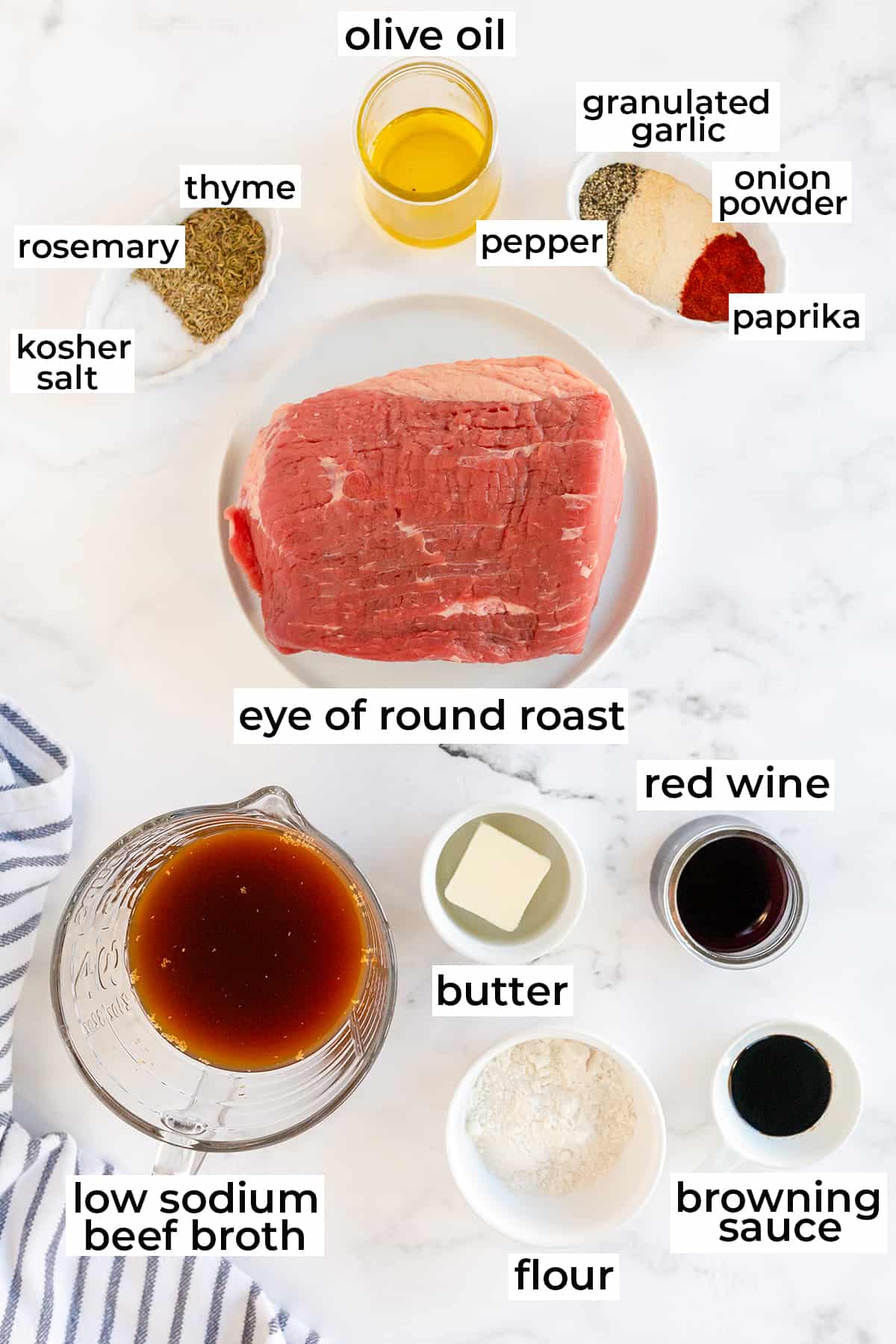 How to Cook an Eye of Round Roast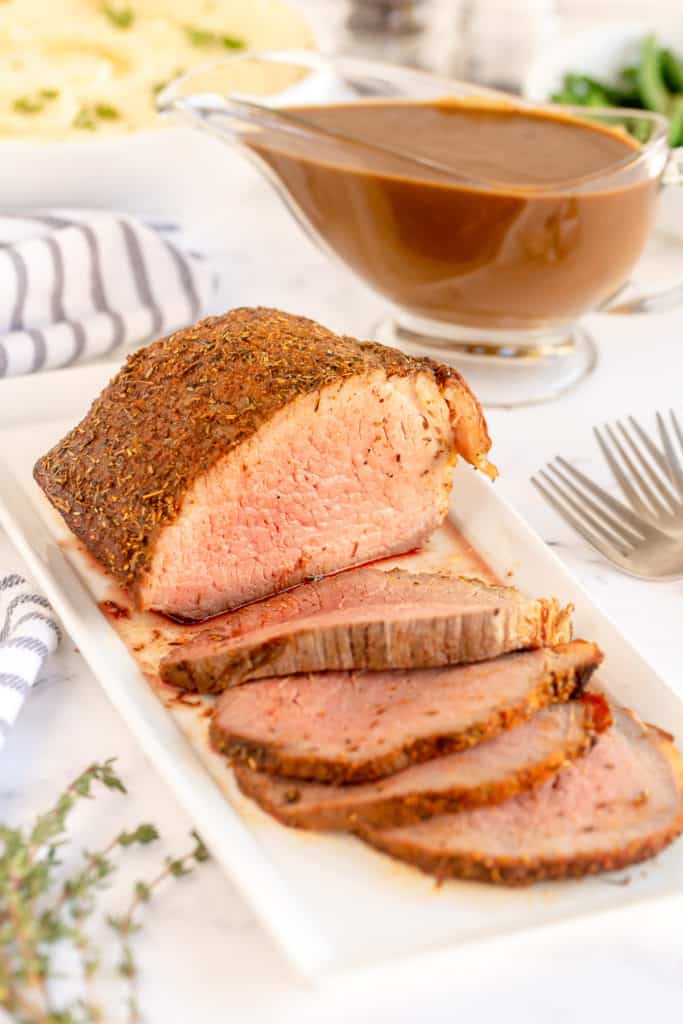 Remove your roast from the refrigerator and allow it to rest on the counter for 45 minutes to take the chill off. Combine all the Roast Beef Seasoning Mix ingredients in a small bowl.
Pat your roast with paper towels to dry the surface.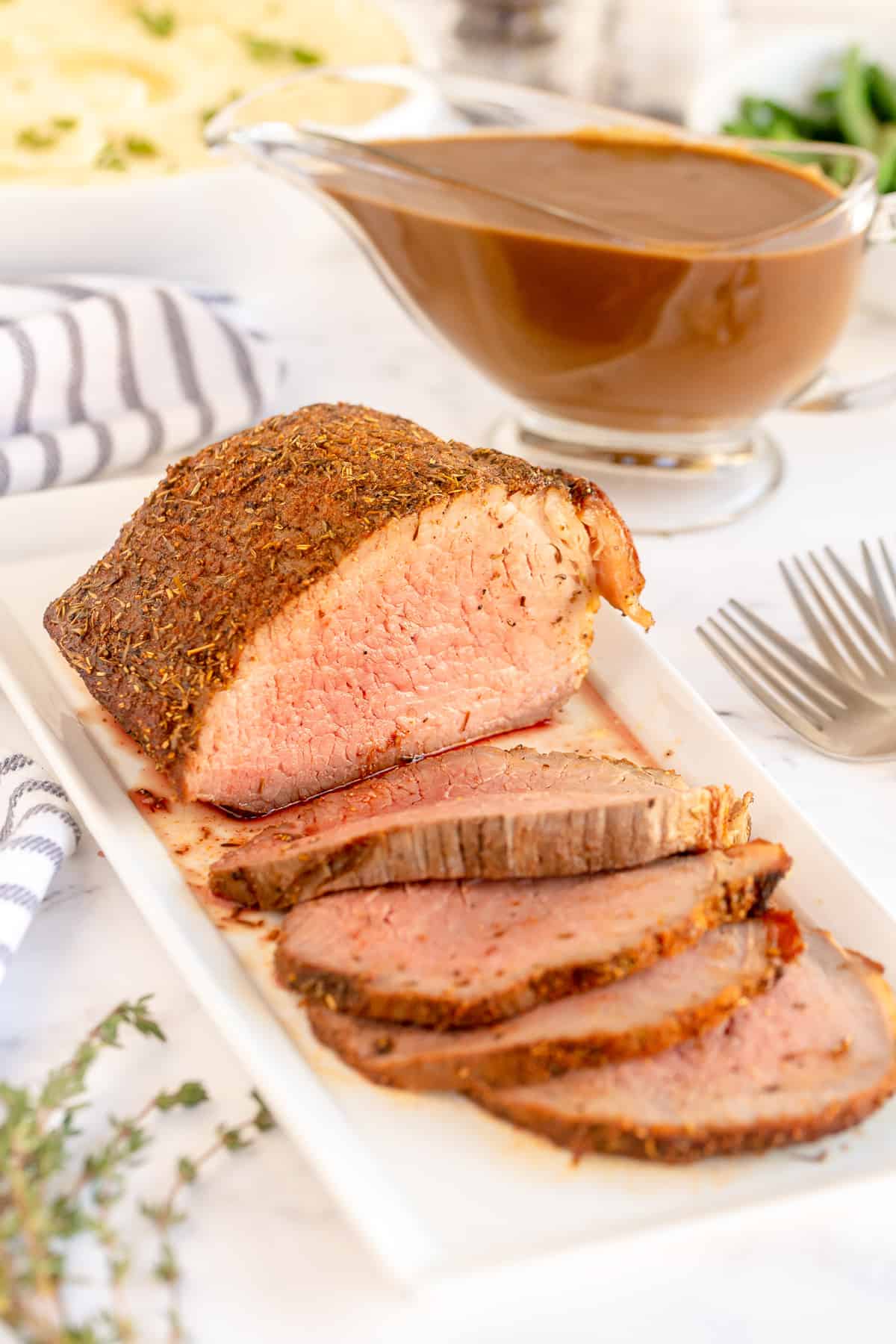 Drizzle the roast with olive oil and use your hands to rub the olive oil, coating all sides.
Sprinkle all sides, including ends, with the seasoning mix.
Place your roast on a rack in a roasting pan with the fat cap side facing up. Transfer it to your preheated to 500 degrees F oven. Roast for 15 minutes until nicely browned. Reduce the oven temperature to 300 degrees F and continue to roast for another 40 to 50 minutes. I don't recommend cooking this roast beyond 130 to 135 degrees F (medium rare) for the most tender, delicious result. Watch it closely because the temperature can rise quickly towards the end of the cooking time. An instant read thermometer is a must have kitchen item for roasting meats to perfection.
Transfer the roast to a cutting board to rest for about 20 minutes before slicing it against the grain.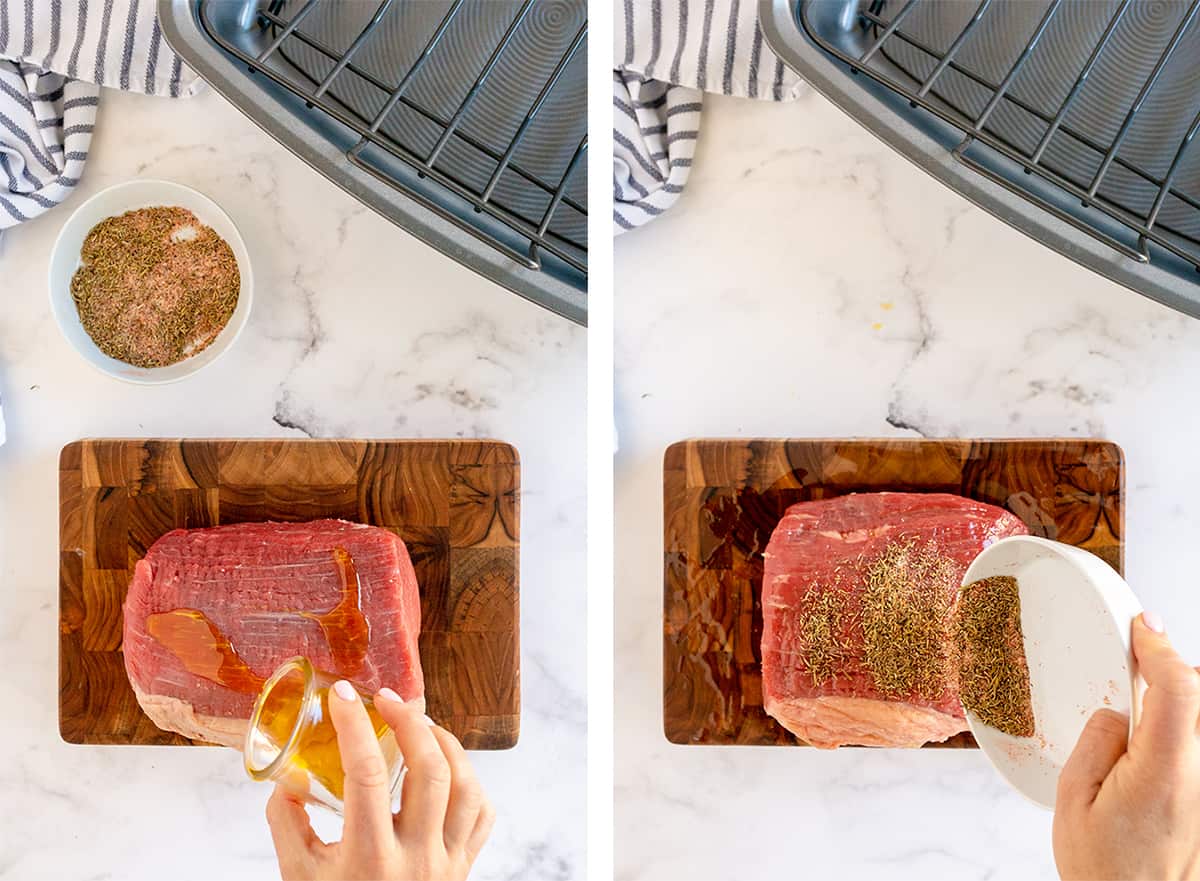 How to Make Perfect Roast Beef Gravy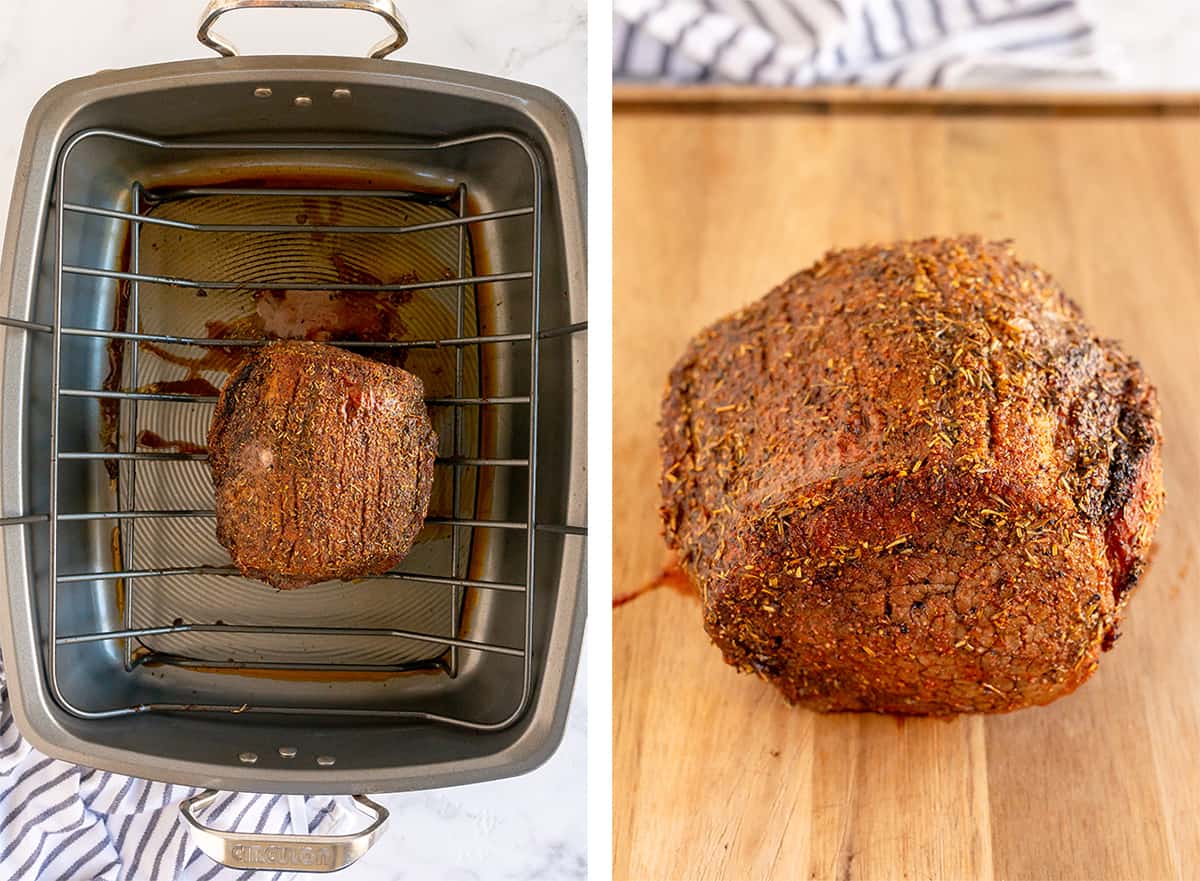 After slicing the roast, pour those precious juices that have accumulated on your cutting board into the roasting pan with the rest of the drippings. Drippings equal a more flavorful gravy! Place the roasting pan over medium heat and add the red wine. Whisk, scraping up any browned bits from the bottom, for several minutes to cook off some of the wine.
Add the low sodium beef broth.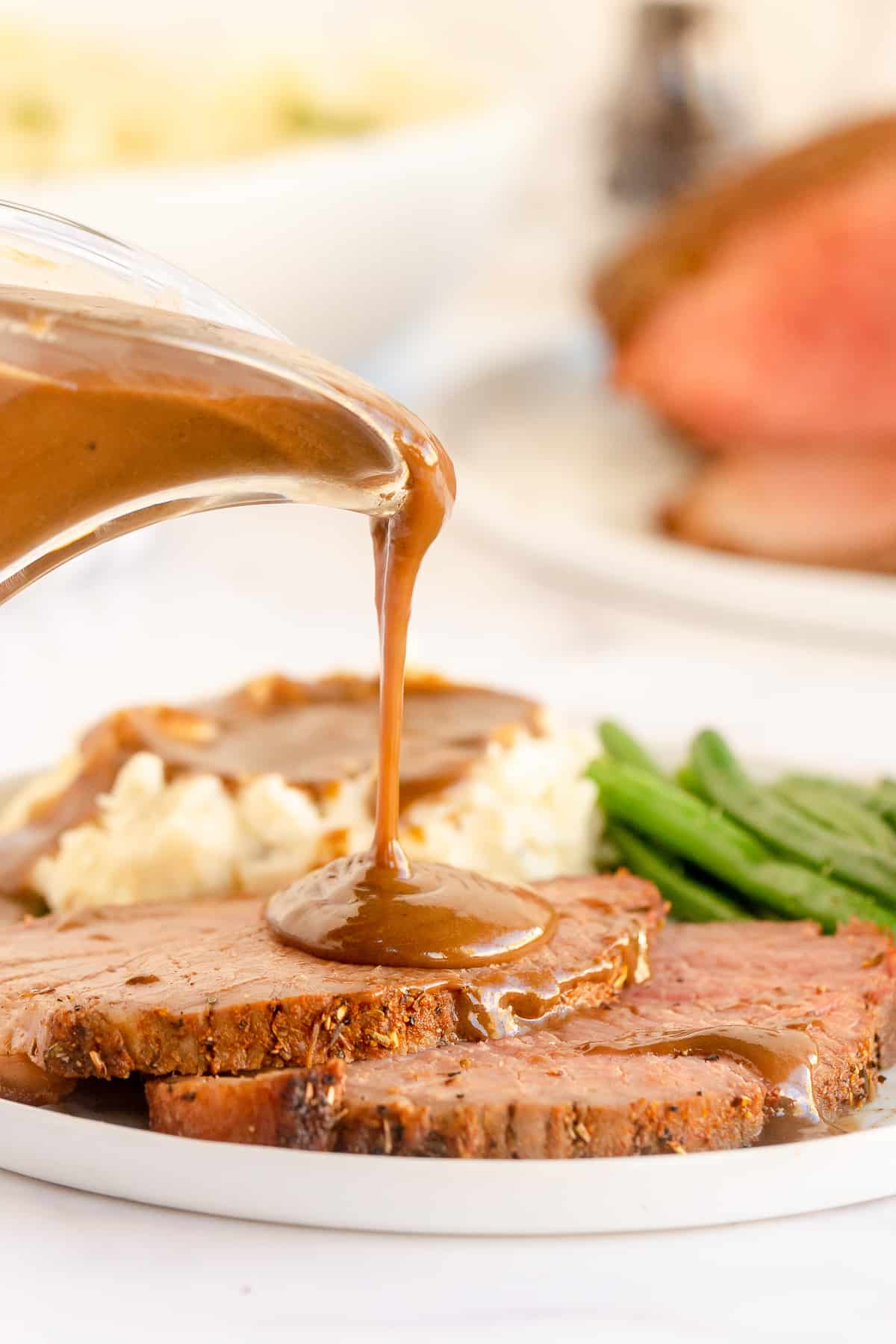 Add a paste mixture of softened butter and flour. Whisk the gravy vigorously until the butter mixture is completely melted into the sauce.
Add a little browning sauce (a little goes a long way!). Bring the mixture to a low boil. Reduce the heat as needed to keep the gravy at a low simmer until thickened, whisking occasionally. Transfer to a gravy boat for serving.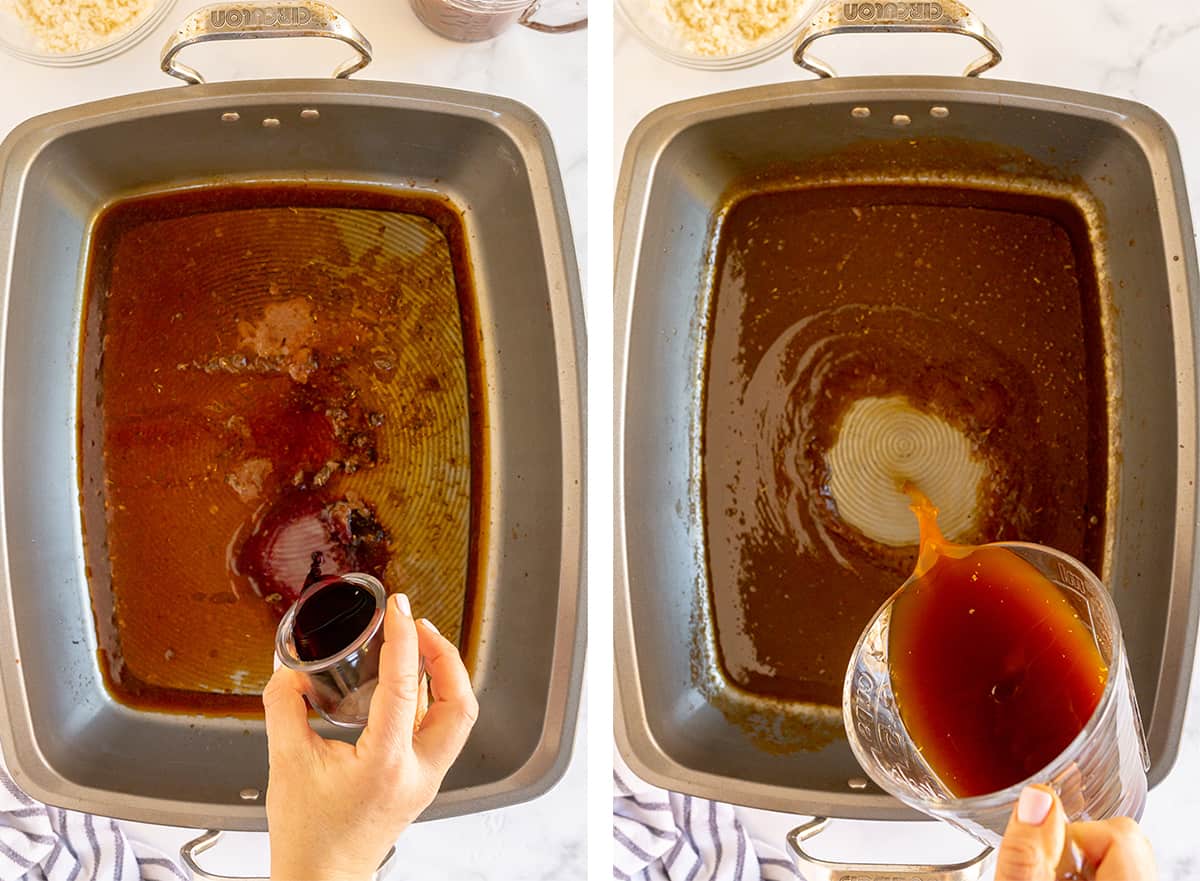 What to Serve with Roast Beef and Gravy
In my opinion, mashed potatoes are absolutely required as a base for this luscious gravy. My Buttermilk Mashed Potatoes are the perfect choice.
Delicious veggie side dish choices include my Broccoli Pearl Onion Casserole, Bourbon Glazed Carrots, Honey Roasted Carrots and Brussels Sprouts, or Green Beans with Almonds and Bacon.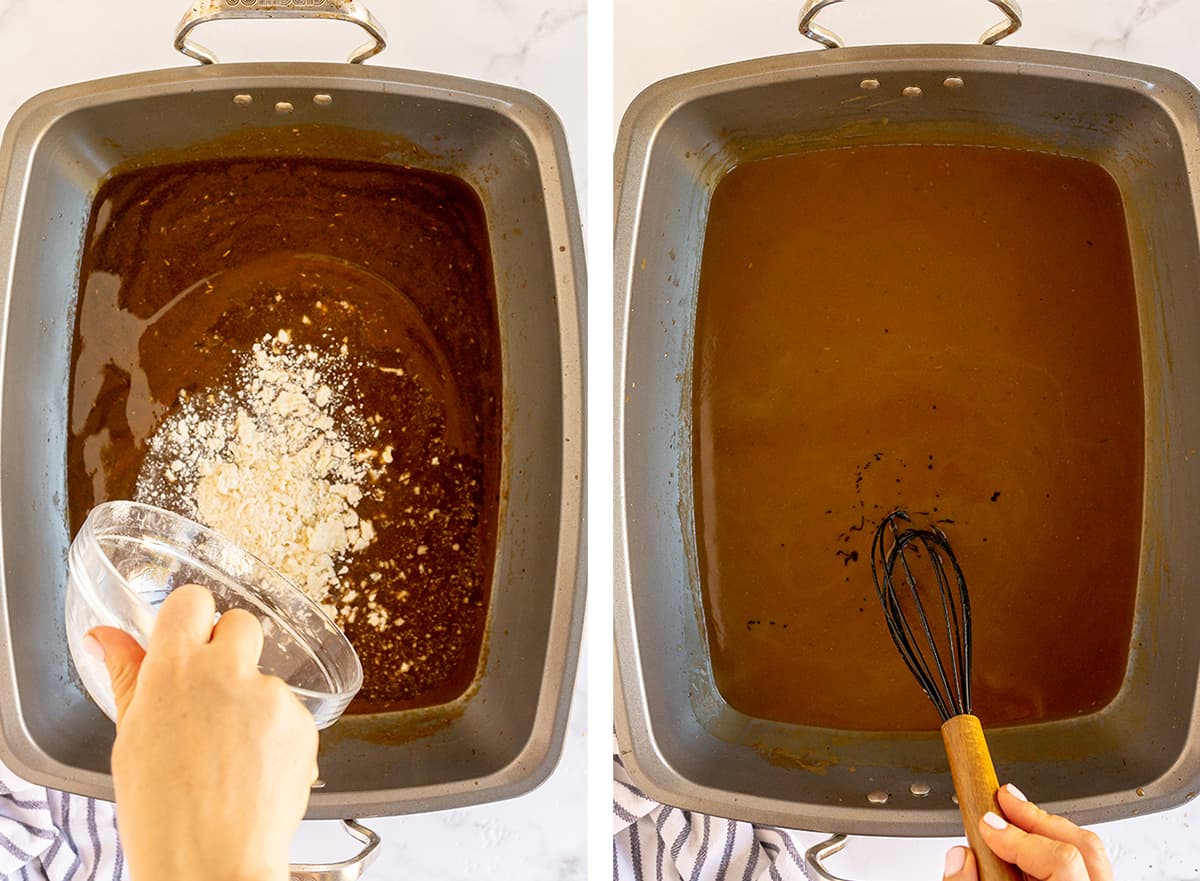 How Much Roast Beef Per Person?
When roast beef is the star of the meal and is served with a few sides, I recommend planning for 1/2 pound per person. Leftovers of this Tender Eye of Round Roast Beef are delicious served cold on sandwiches!
For more information, please see more information about How to cook eye round roast in the oven
Detail: 🔗