Slow cooker Tri-Tip roast is a delicious fall-apart beef dinner that is easy to prepare with only three ingredients! All that you need to do to make this tri-tip roast slow cooker recipe is place the ingredients into your slow cooker, set it to low, and let it cook all day. This is a delicious meal that the whole family will love.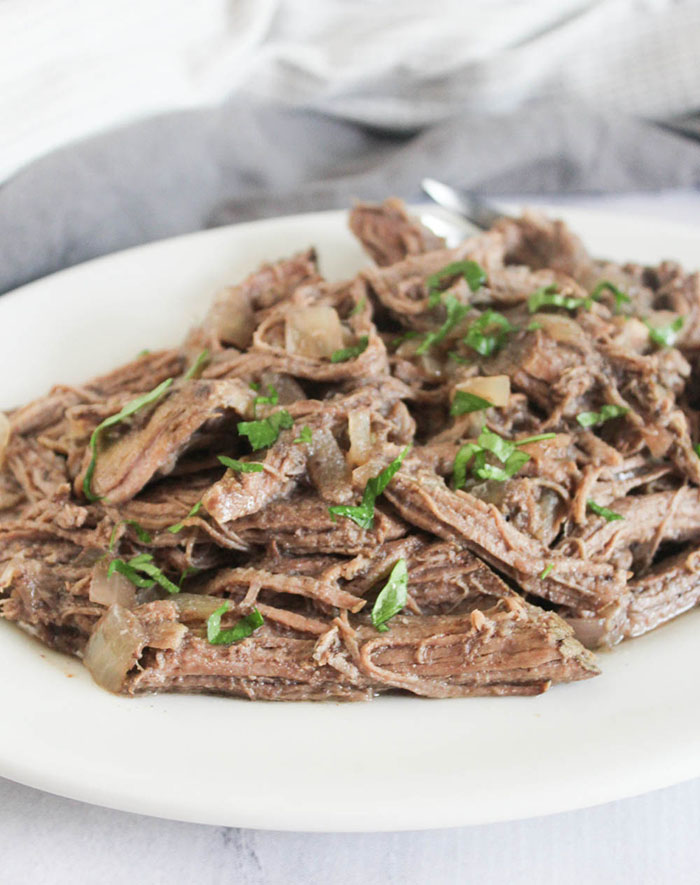 Serve this delicious beef slow cooker recipe with mashed potatoes and roasted vegetables such as roasted Brussels sprouts or in a sandwich with a spinach salad.
Reading: Fall apart sirloin tip roast slow cooker
Why This Recipe Works
It's a simple recipe that's also versatile with a ton of flavor!
It takes just a couple of minutes of prep time to make this slow cooker tri-tip roast.
Tri-Tip Roast Slow Cooker Ingredient List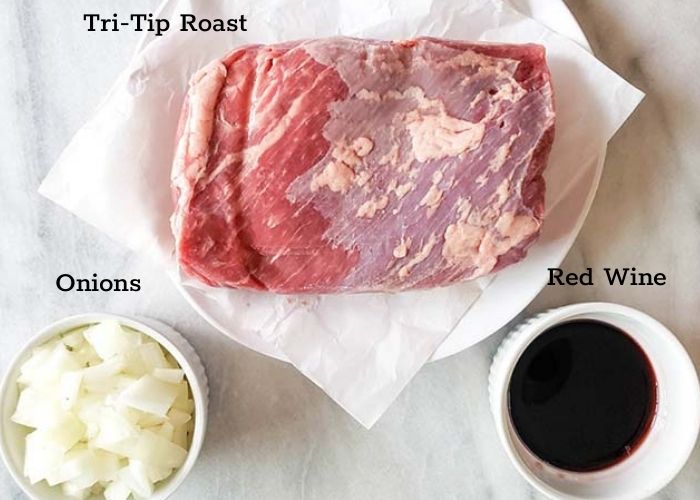 As an Amazon Associate, I earn from qualifying purchases.
This is an overview of the ingredients and steps to make this recipe, scroll down for a printable recipe card with exact measurements and instructions.
Tri-Tip Roast
All purpose yellow onion
Red wine
Sea salt and pepper (optional to flavor the meat)
Flour (optional to thicken the sauce)
Equipment Needed to Make this Recipe
How to Make Slow Cooker Tri-Tip Roast
Prepare the ingredients: Chop the onion, measure the wine, season the meat with a little bit of salt and pepper.
Top Tip!
The sauce in this recipe will be thin, if you prefer a thicker sauce, make a slurry of flour and water to thicken it. Mix 1 tablespoon of flour with 2 to 3 tablespoons of water in a small bowl. Gradually whisk in the flour-water mixture until the sauce reaches a consistency that you like (you may not need to use all of the flour and water mixture).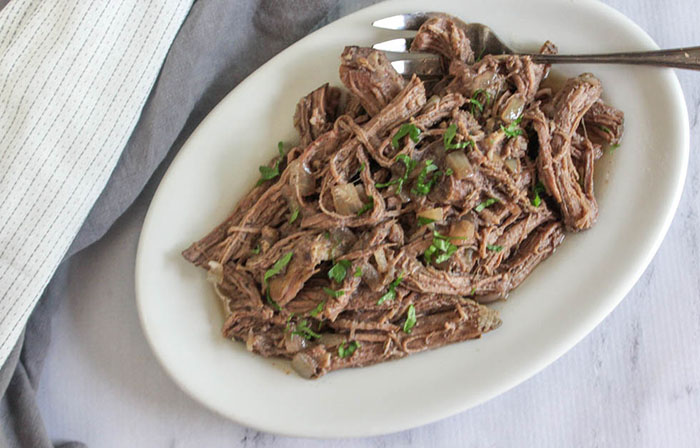 Read more: Toasting Nuts and Seeds Using Microwave, Oven or Stove-Top
Total Estimated Time to Make this Recipe: 6 hours 15 minutes to 6 hours 30 minutes.
Ingredient Notes & Substitutions
What is a Tri Tip Roast?
A tri-tip roast is also called a bottom sirloin roast and is a flavorful cut of beef taken from the bottom of the beef sirloin and is great for a variety of cooking methods. Tri-tip roasts are not typically high in fat but have just enough to add flavor. They taste great when they are grilled, roasted, or slow-cooked.
I like tri-tip roasts because they are lower in fat than most cuts of beef that you would typically slow cook, yet you can still turn it into shredded beef. Tri-tip steak or roast is easier to find on the west coast, but you can get them on the east coast too. Check with your local grocery store or butcher. They are also available from time to time from Butcherbox.
Substitutes for Tri Tip Roast
If you can't find a tri-tip roast, you can still make this recipe. Here are a few suggestions for alternatives to tri-tip: sirloin tip roast, chuck roast, beef brisket, or bottom round roast.
The Best Red Wine to Use for Slow Cooking
The best red wine to use in cooking is a full-bodied wine such as cabernet sauvignon. It doesn't have to be overly expensive, but choose one that is also acceptable to drink.
Substitutes For Red Wine
Red wine adds a wonderful flavor to this recipe but can be easily substituted one for one with beef broth, beef stock, chicken broth or chicken stock.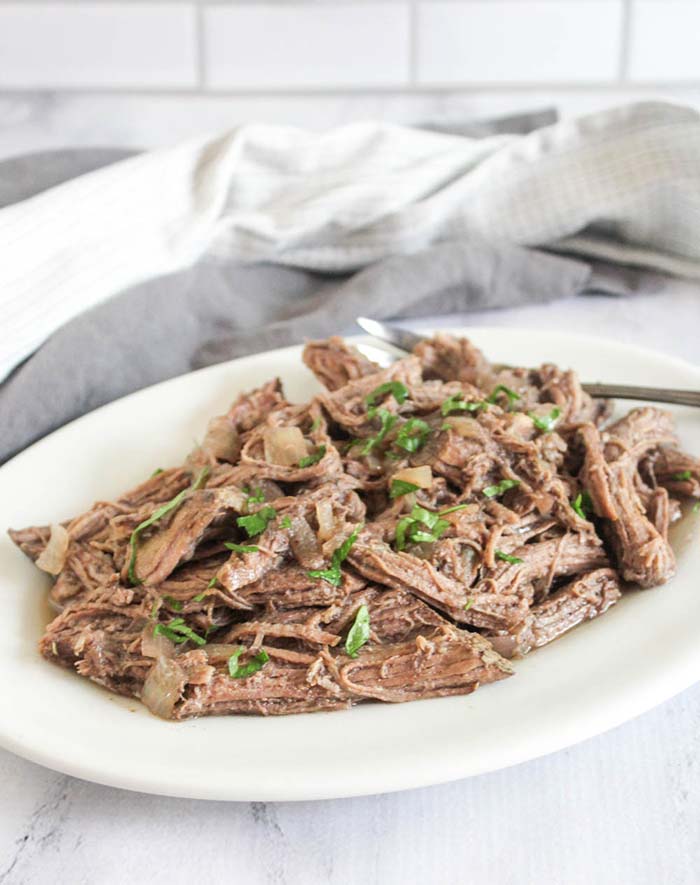 How To Store and Reheat Leftovers
This is the kind of recipe that you are going to want to make extra of because it definitely tastes better the next day.
Read more: Tenderloin roast on the grill
Store leftover slow cooker tri-tip roast in an airtight container for three to four days in the refrigerator.
Reheat leftover slow-cooked tri-tip on top of the stove in a covered skillet or in the oven.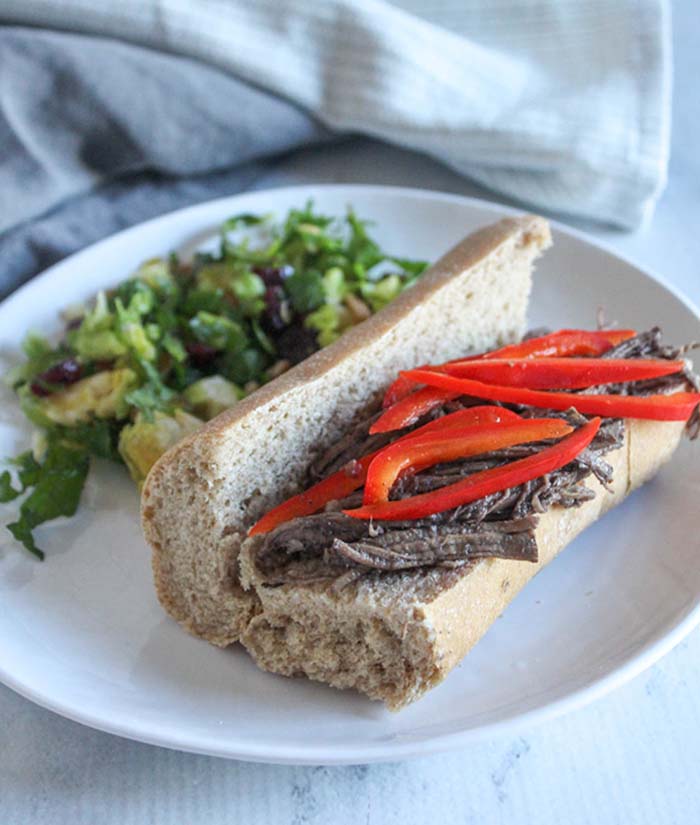 Serving Suggestions
This is such a versatile dish, here are some suggestions for how to serve slow-cooked tri-tip these are also good ideas for using leftovers too!
Burrito bowls, beef tacos, enchilidas or quesadillas with a sprinkle of chili poweror diced jalapeno peppers or spicy salsa.
Lettuce wraps or on a roll with a little bit of worcestershire sauce or steak sauce and sauteed peppers.
Stir fry leftover slow cooked tri tip with fresh veggies and a tablespoon of soy sauce.
Top mashed potatoes or egg noodles with slow cooker tri tip and a dash of Greek yogurt or sour cream.
Side Dish Suggestions
Try these side dish recipes with slow-cooked tri tip roast Air-Fryer Cauliflower , Buffalo Cauliflower, Smashed Roasted Baby Potatoes, Brussels Sprouts and Kale Salad or Green Beans with Almonds.
You Might Like These Slow Cooker Recipes
Slow Cooker Asian Pork
Slow Cooker BBQ Pulled Pork with Homemade Sauce
Slow Cooker Southwest Chicken and Black Beans
Slow Cooker Mediterranean Chicken
Slow Cooker Chipotle Chicken
If you like this recipe, please comment and rate it below!
For more simple and delicious recipes like this, subscribe to our newsletter and receive a free e-book and meal suggestions straight in your inbox!
If you've tried this recipe or any other recipe on simpleandsavory.com, don't forget to rate the recipe on the recipe card and leave a comment below. I would love to hear if you liked it, or you can tag me on Instagram with photos of your creation too!
Read more: List of 14 simple pot roast recipe with carrots and potatoes
For more information, please see more information about Fall apart sirloin tip roast slow cooker
Source: https://simpleandsavory.com/tender-tri-tip-roast-slow-cooker-recipe/