This crunchy Thai Salad is the type of salad that makes you crave more veggies. It features crunchy cabbage and carrots, fresh cilantro, and a creamy peanut dressing that will make you want to lick the bowl clean!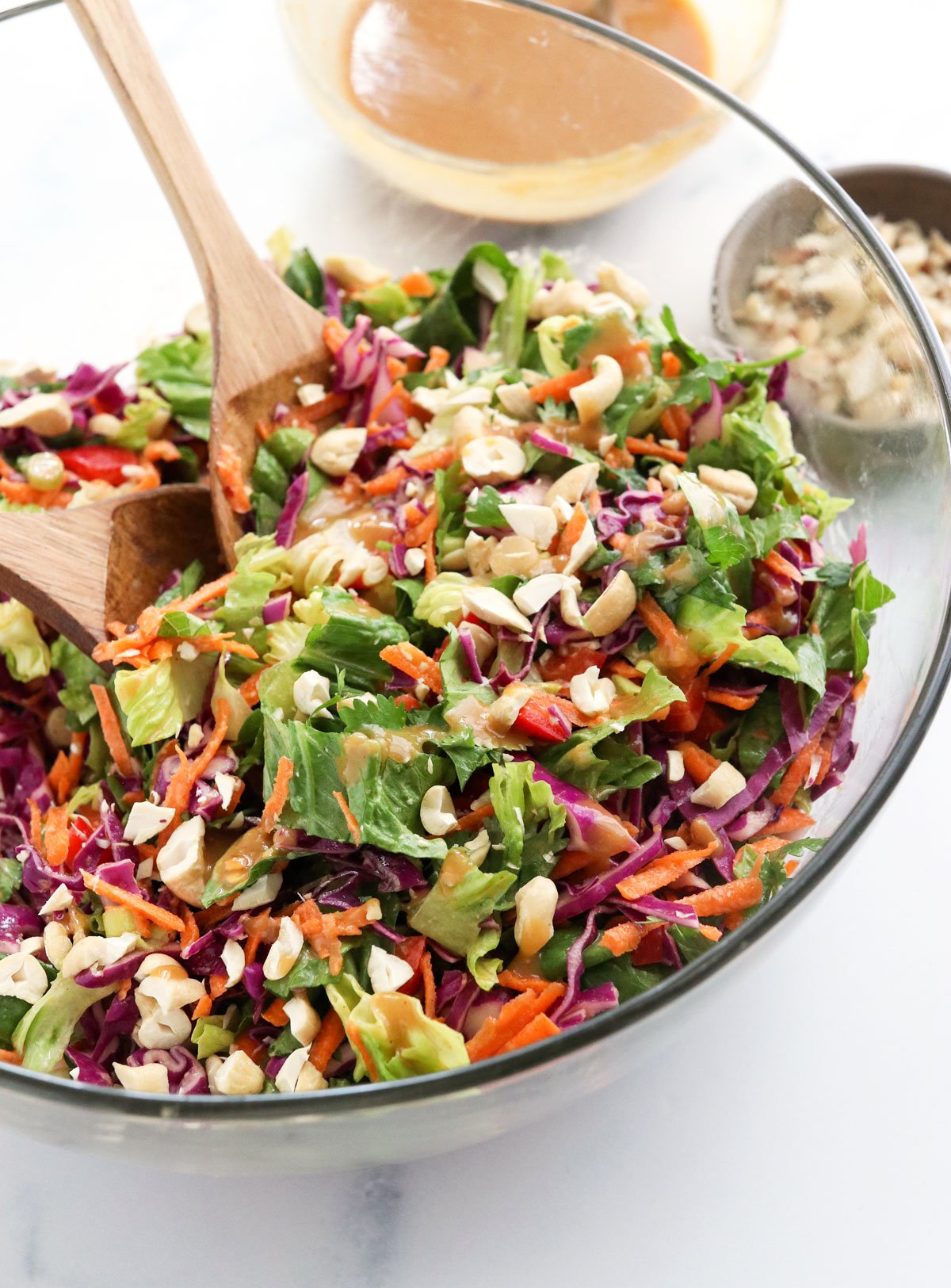 Reading: Asian peanut dressing for salad
If you don't eat peanut butter often, you'll also be happy to know that this recipe works beautifully with sunflower seed butter, almond butter, or cashew butter, too.
The nut butter simply provides a creamy base, and allows you to use less oil than a traditional dressing might call for.
Why You'll Love It
It's ultra-flavorful. This is a restaurant-quality Thai salad that you can make at home in less than 15 minutes. The peanut dressing brings all the veggies together, with a delicious crunch in each bite.
It's healthy. Who doesn't want to enjoy eating more veggies?
It's gluten-free. When you use tamari instead of soy sauce, you'll keep this recipe naturally gluten-free. (Yes, regular soy sauce contains gluten!)
It's dairy-free. The dressing is creamy, without using any dairy. If you sweeten it with maple syrup instead of honey, it's vegan, too.
It's flexible. I often use sunflower seed butter instead of the peanut butter in this recipe. And if you don't have one of the veggies on hand, you can certainly swap anything out that you need to. When fresh mango is in season, I love add that on top.
You can make it ahead of time. Chop the lettuce and stir the dressing together over the weekend, and then you can assemble a salad in less than 5 minutes during a busy week.
Read more: Wendy's Salads – Healthy Fast Food – Southern Kissed
I hope you'll give this Thai salad recipe a try, because it's one of my family's favorites. My husband told me he could eat this everyday!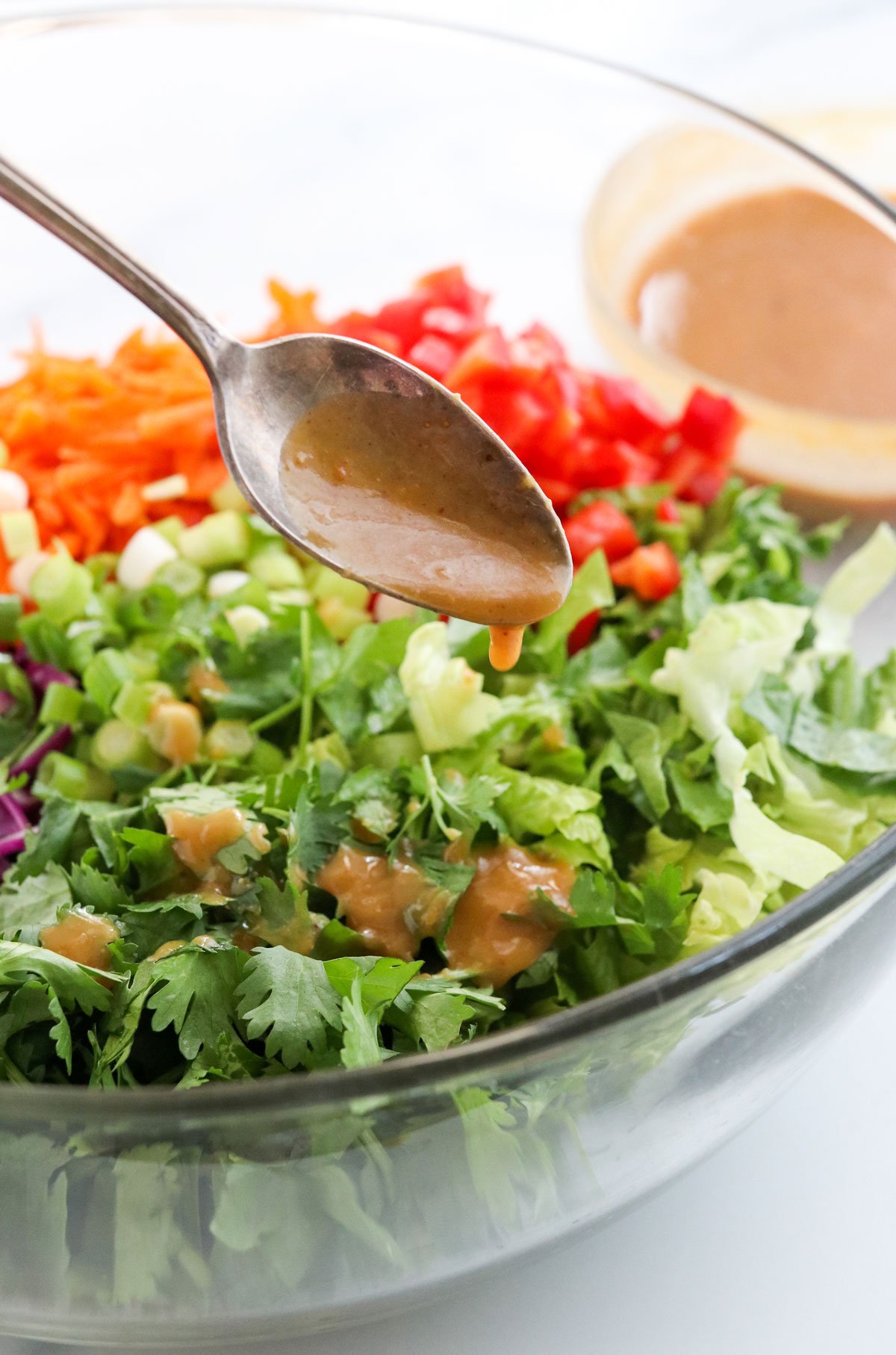 How to Make It
Mix the dressing. Add the peanut butter dressing ingredients to a jar or bowl, and whisk well. Set it aside to let the flavors develop, as you chop the salad veggies.
Chop the veggies. Use a knife to finely chop the romaine, cabbage, red bell pepper, green onions, and cilantro. I use a box grater to shred the carrots, or you can use a julienne peeler. (Or buy pre-shredded at the store!)
Toss it together. Pour the dressing over the salad ingredients and toss well. I usually start with only half the dressing, and then add more to taste.
Enjoy! Add any extra toppings you like, such as crushed peanuts or cashews for extra crunch.
Save any leftover dressing for future salads, or use it as a dip for Veggie Spring Rolls or sliced veggies.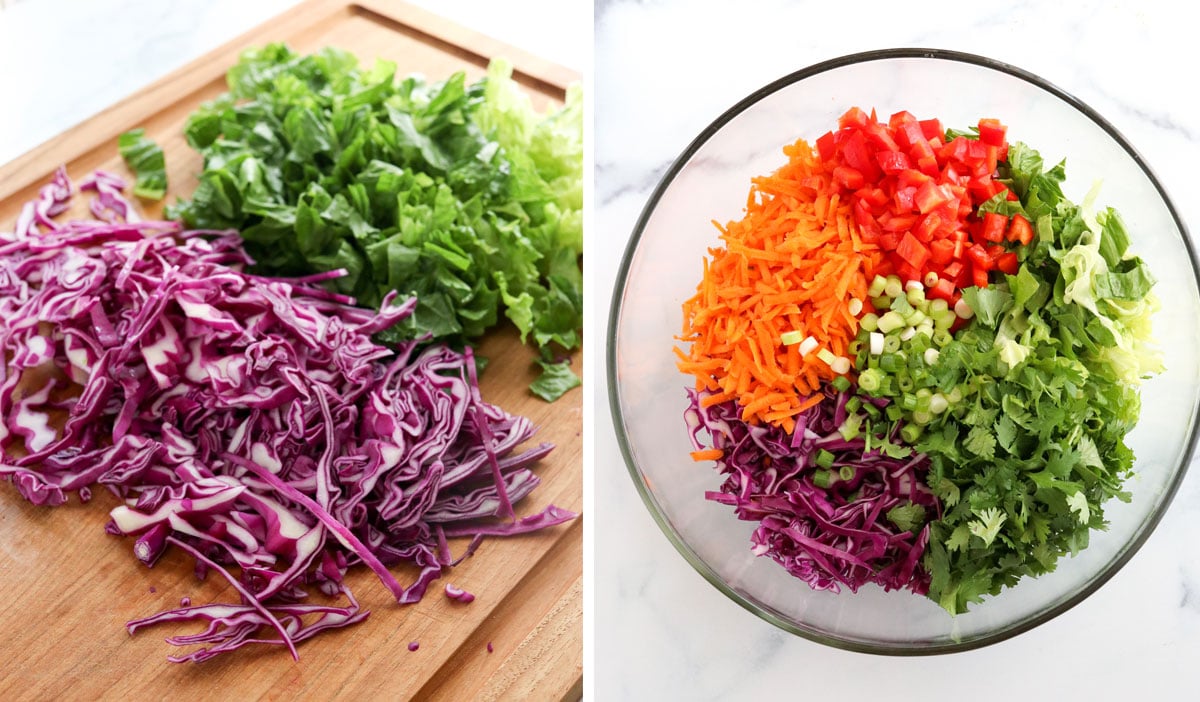 Variations
Make it nut-free. Use sunflower seed butter instead of peanut butter.
Make it vegan. Use maple syrup instead of honey.
Add mango. Fresh mango is a match made in heaven with this Thai peanut dressing.
Make it SCD-friendly. Use honey instead of maple syrup.
Use only vinegar. I've used an extra tablespoon of rice vinegar, instead of the lime juice, in a pinch.
I'd love to hear anything else you try with this Thai salad recipe, too! We can all benefit from each other's experiences.
Read more: Fruit Salad with Honey Lime Dressing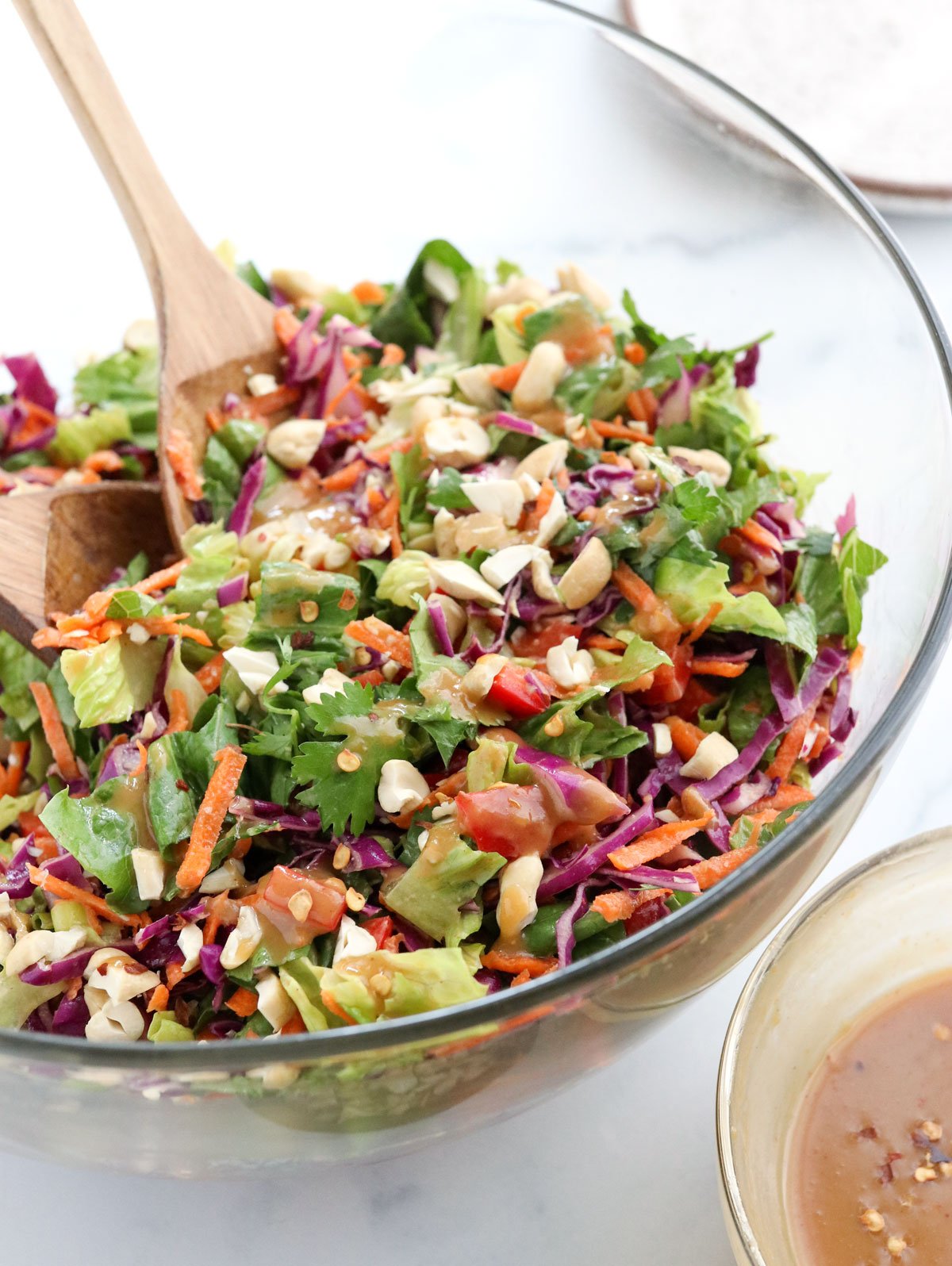 More Healthy Salad Recipes
Looking for more veggie inspiration? Try these!
Vegan Ranch Dressing
Strawberry Spinach Salad with Lemon Poppy Seed Dressing
Vegetarian Cobb Salad
Caesar Salad
Sesame-Lime Cabbage Salad
Kale Salad with Apple Cider Dressing
Arugula Salad with Raspberry Vinaigrette
Asian Cucumber Salad
If you try this Thai Salad, please leave a comment below letting me know how you like it!
—
Reader Feedback: Any other popular salads you'd like to see here?
Read more: how to make greek salad dressing with red wine vinegar
Please see more list about Asian peanut dressing for salad
Source: https://detoxinista.com/creamy-thai-peanut-dressing-dairy-free-nut-free/