Outback Steakhouse might've been born in 1988 in Tampa, Florida, but the Australian-inspired eatery has always prided itself on innovative creations, bold flavors, and traditional classics made the way you want it for affordable prices. If you're craving this popular steakhouse, you can certainly find healthy choices in the midst of the many options. There is, however, a possibility of falling into the comfort food calorie bomb traps that can have you rolling home. Below, you'll find some help navigating the lengthy Outback Steakhouse menu.
Here's a breakdown of the best and worst meals the Outback Steakhouse menu has to offer.
Appetizers
These fried onions are certainly one way to start off your meal. With close to 100 percent of your daily recommended calories (for the average American, it's 2,000 calories), you'll basically be reaching your total daily calories before the main dish even arrives. Unless you plan on sharing this one with a table of many people, skip it!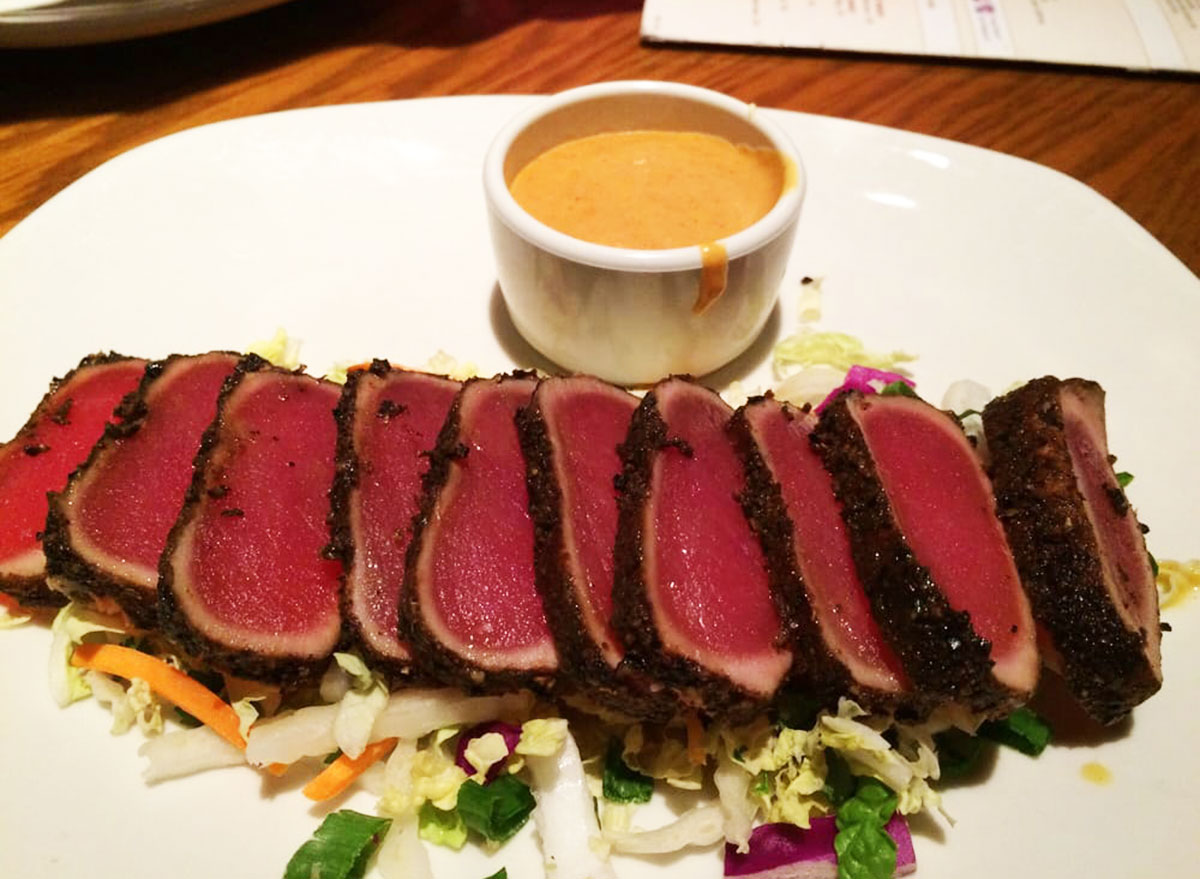 If you're in the mood for an appetizer, seared fish is always a healthful choice. Tuna provides healthy omega-3 fats, which has been shown to be beneficial for heart health, cognitive health, and eye health. This small-sized option is probably best for two people to share as an appetizer, or you can even enjoy it as a main dish with a healthy side.6254a4d1642c605c54bf1cab17d50f1e
Soups and Salads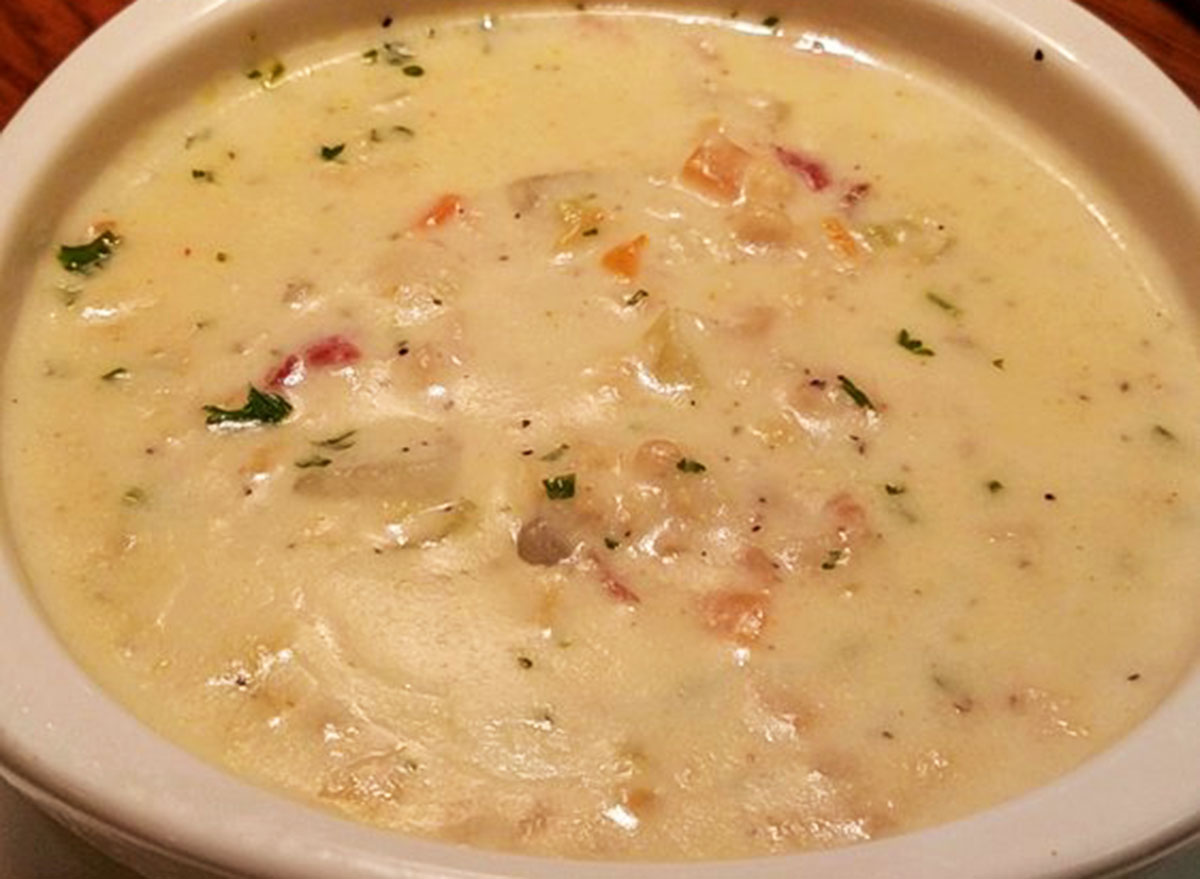 The 2015-2020 dietary guidelines for Americans recommend no more than 10 percent of total calories come from saturated fat—which is a max of 22 grams per day on a 2,000 average American diet. Eating a hearty bowl of the clam chowder will get you rather quickly to that daily saturated fat max, which you'll easily surpass once you start eating your main dish. This, plus the other soups on the menu have a nice dose of saturated fat, probably from the heavy cream and/or butter added, so if you're going to order it, opt for a cup size instead of a bowl.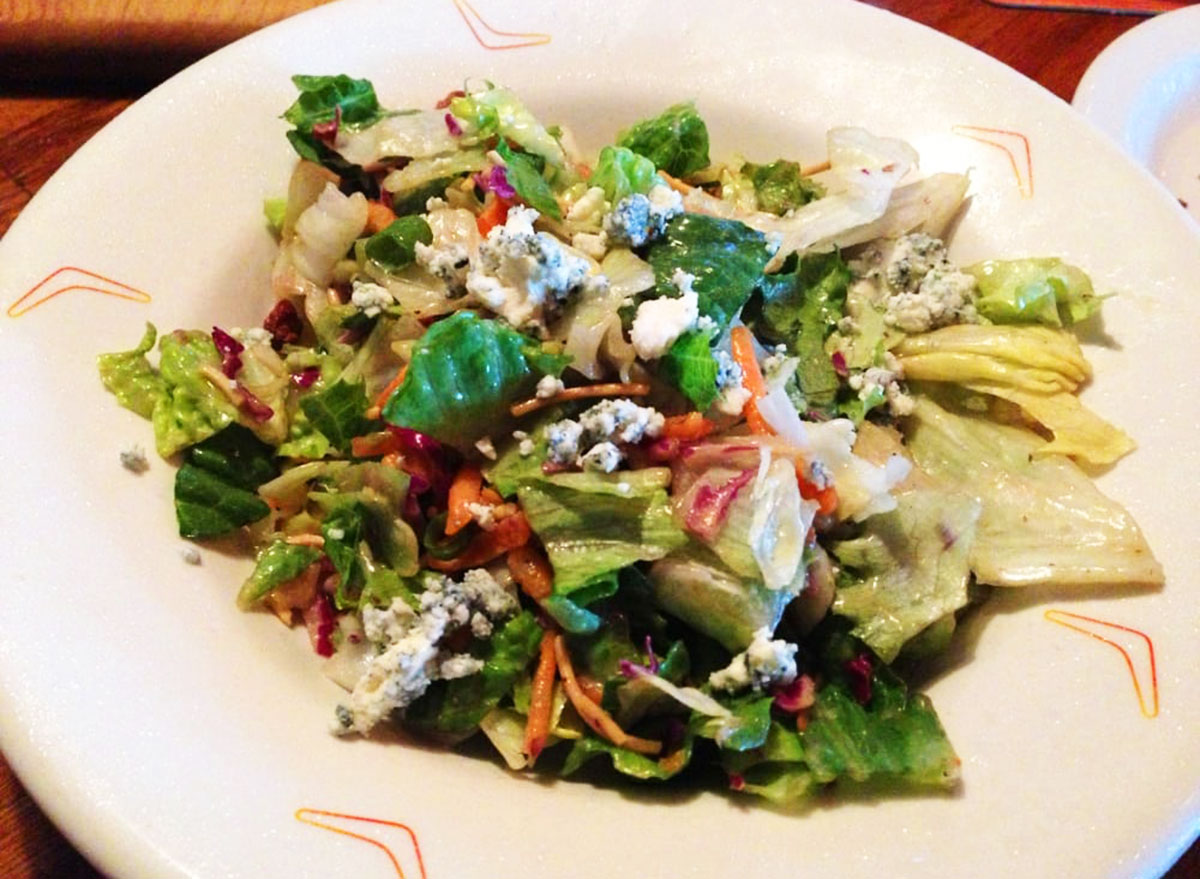 Although blue cheese is tasty with pecans, mixed into a creamy dressing it can up the artery-clogging saturated fat and calories. This side salad has the same number of calories you should be getting in an entire meal, and the sodium is 56 percent of the total daily recommended amount.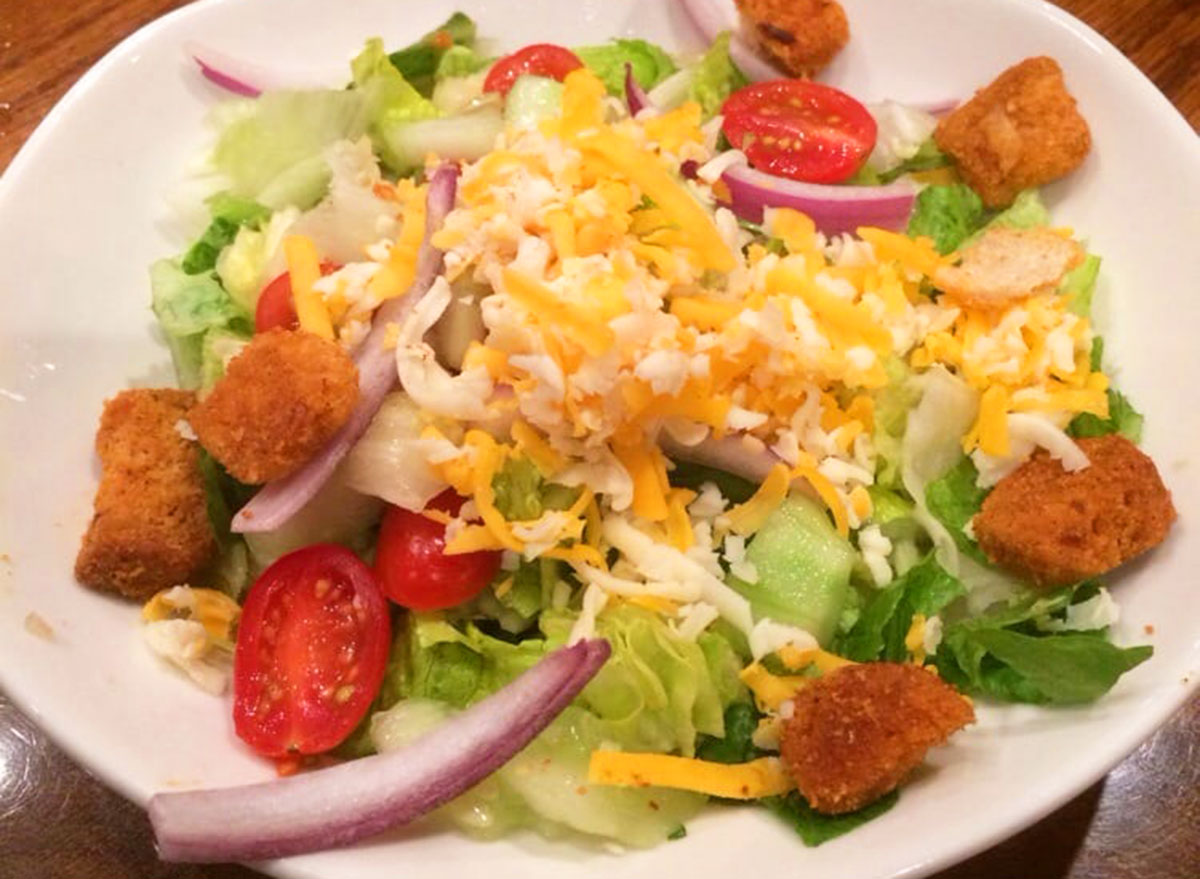 The house salad is always a nice way to take in vegetables. Oftentimes, however, the dressing can sabotage your simple side. That's why it's always important to crunch the numbers for the salad and the dressing. The Tangy Tomato Dressing has the least amount of calories and appears to be made with a plant-based oil, and is the best option to order with your side salad.
Signature Steaks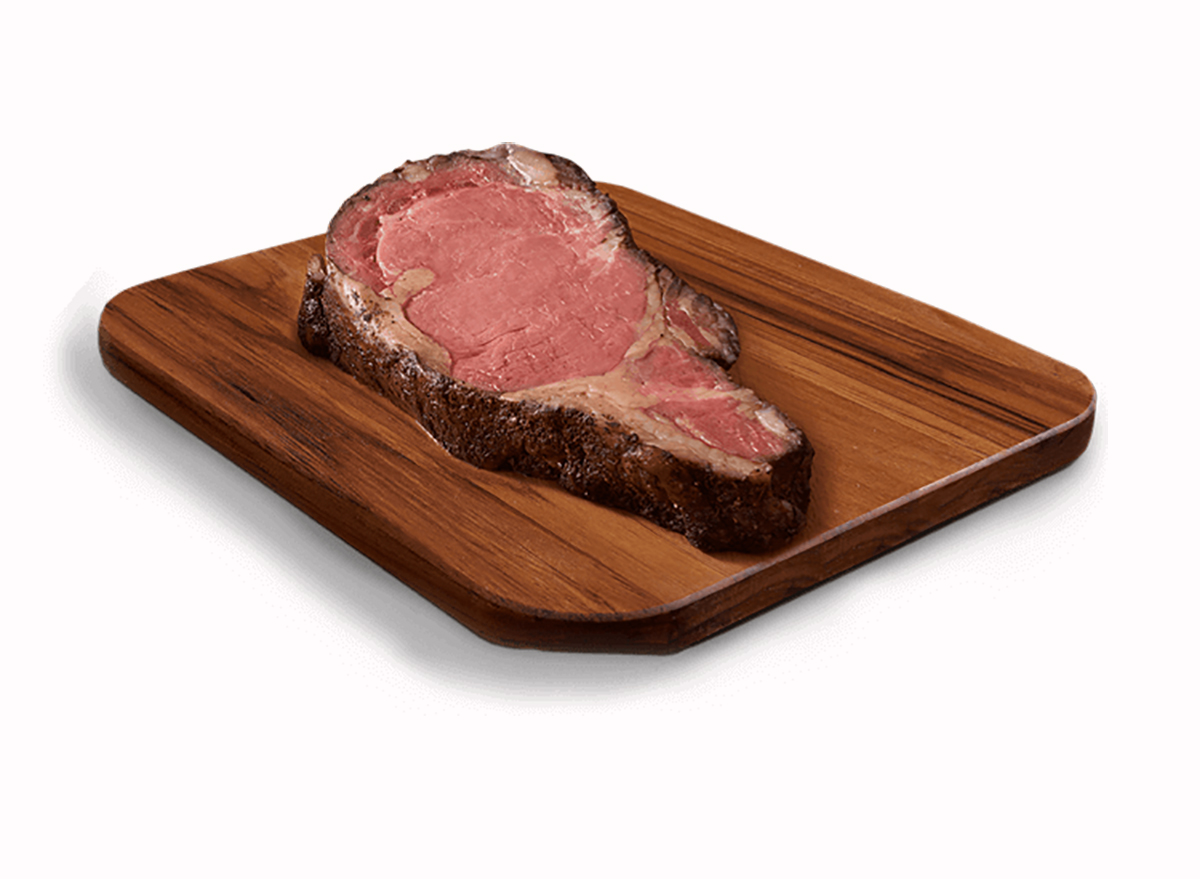 It's OK to love your meat, but 24 ounces of it takes portion control to a whole new level. Based on a 2,000 calories diet, you'll be taking in 105 percent of your total daily calories, 265 percent of your total daily fat, 390 percent of your total daily saturated fat, and 76 perfect your total recommended maximum of sodium. And I wouldn't be surprised if that size portion doesn't leave you with a stomachache and heartburn afterward.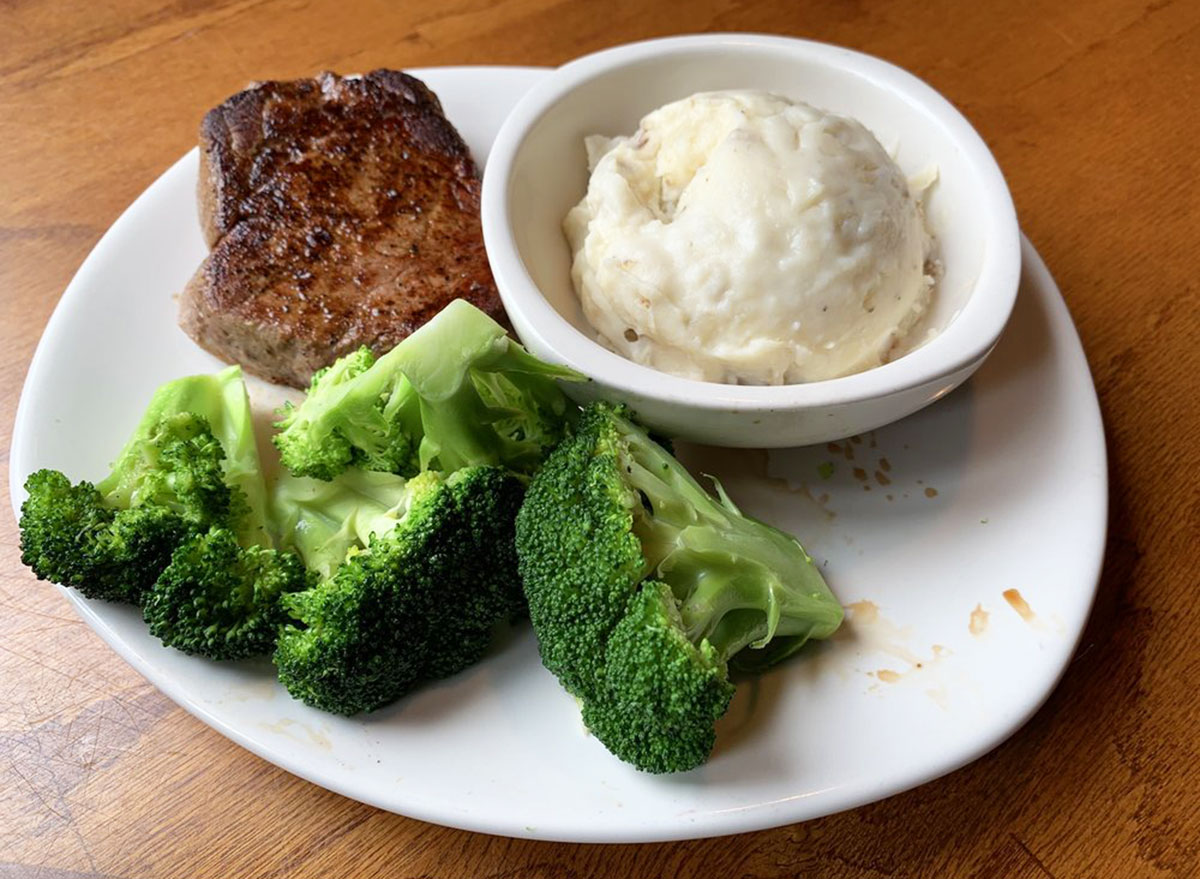 A nicely portioned filet of 6 ounces will provide you with a lean choice of beef and is an excellent source of protein, iron, and zinc. Opt for some healthfully cooked veggies and a starchy side (like a baked potato) for a well-balanced meal.
Surf and Turf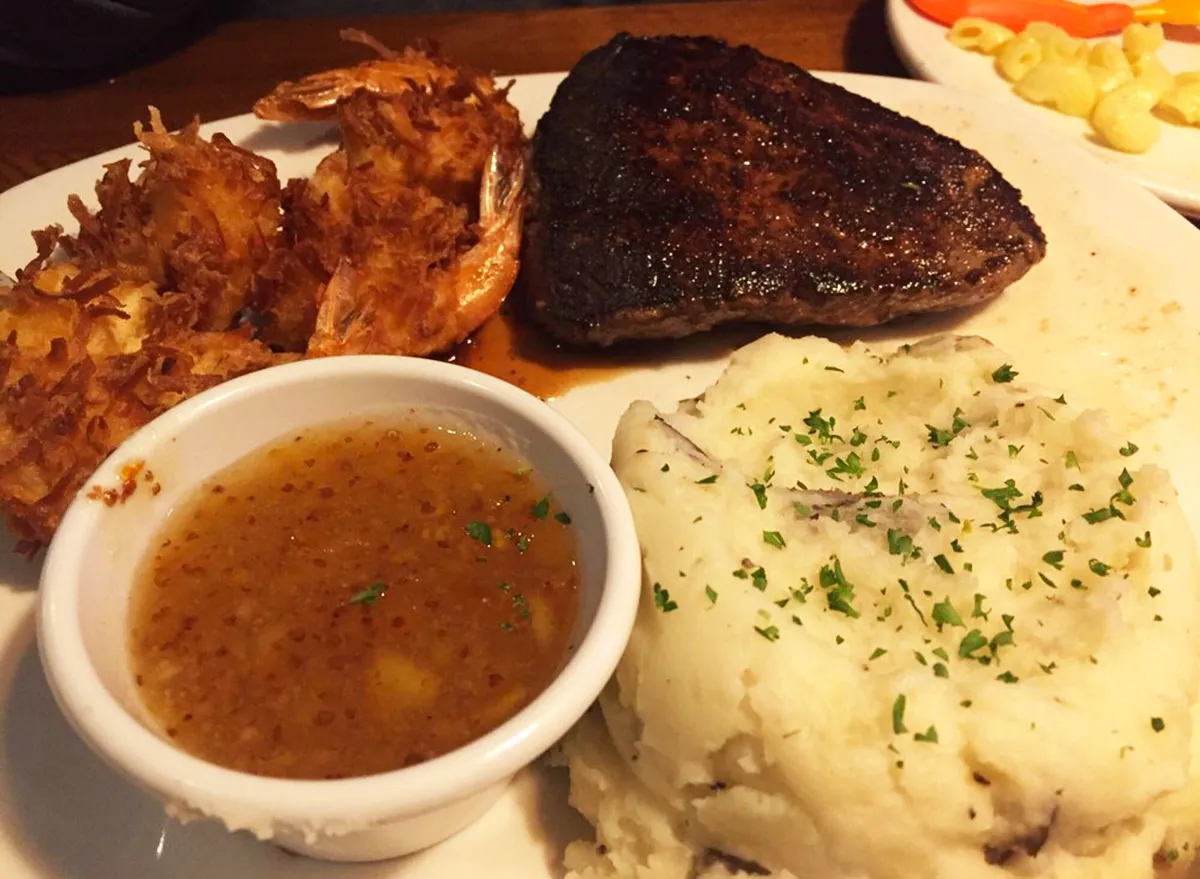 Although both beef and shrimp can be part of a healthy meal, this meal sabotages these delicious foods in several ways. The meat is three to four times the recommended portion size, with a healthful portion being 3 to 4 ounces. Plus, the shrimp is fried, which is not the best way of cooking them.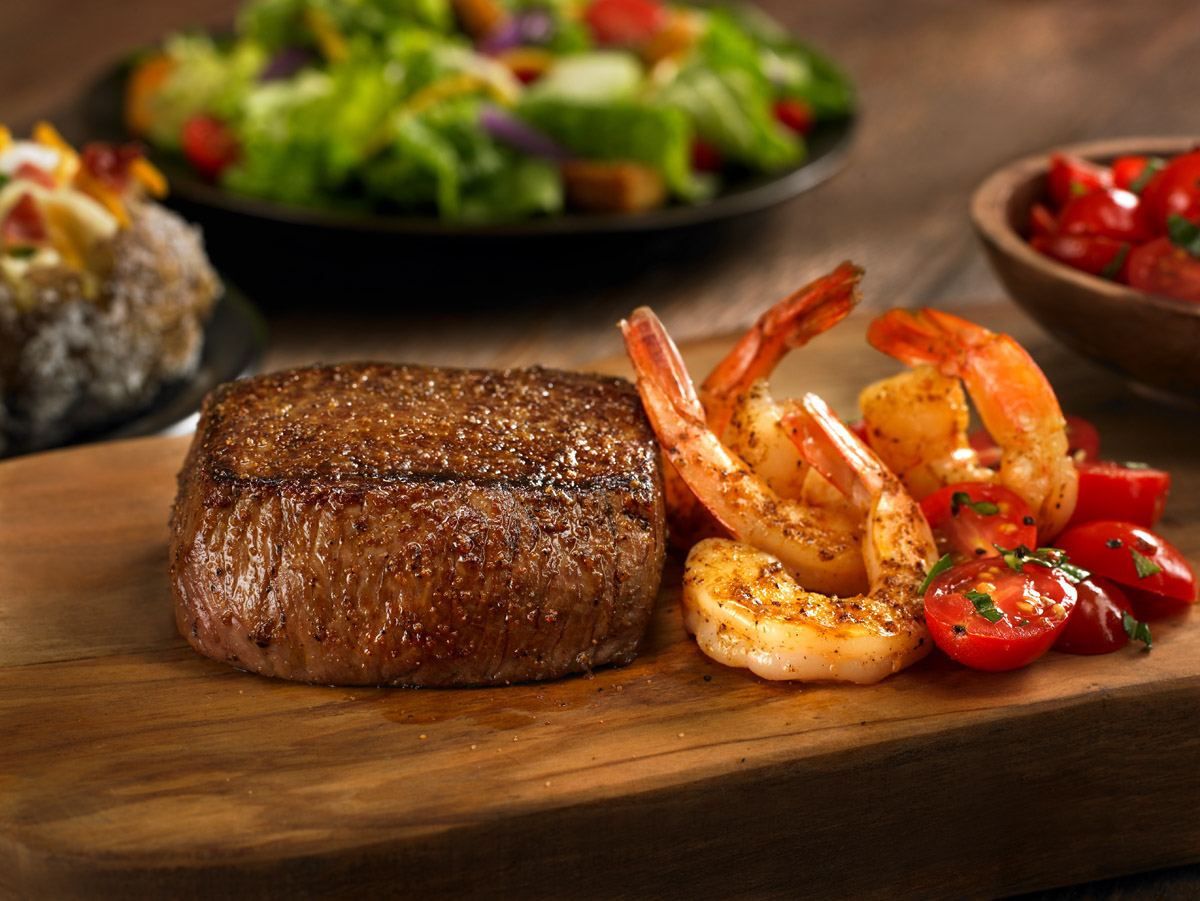 If you're in the mood for Surf and Turf, this is the dish for you! A nicely portioned piece of beef and grilled shrimp provide a lower-calorie, higher-protein option that will keep you satisfied. Complement it with some delicious veggies, and you've got a winner.
Forkless Features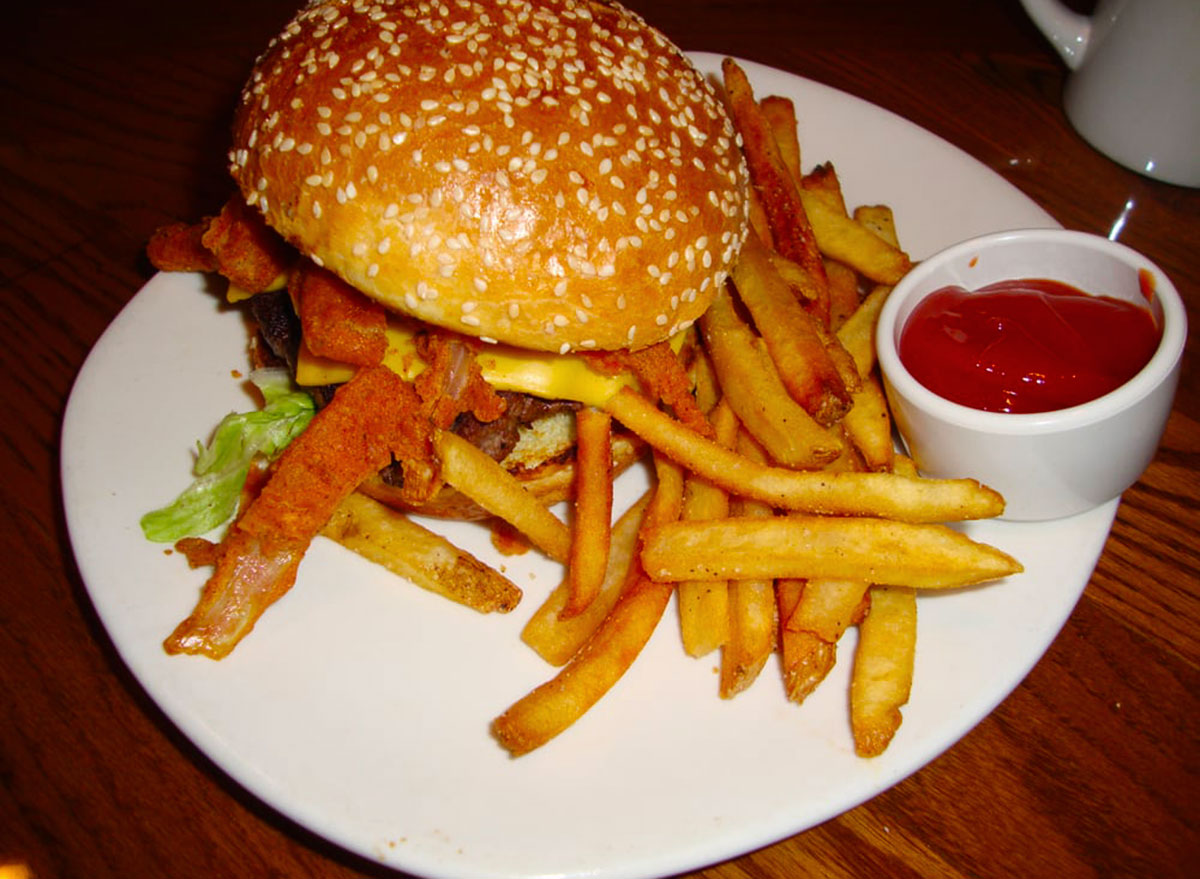 This oversized burger has 128 percent of the maximum total fat you should get in one day and 185 percent of the saturated fat. Although there are other "Forkless Features" on the menu, all the options have similar nutritionals. You'll find better choices throughout the menu, especially in the "Surf and Turf" and "Chicken, Ribs, Chops, and More" sections. But if you had to choose one…
The one menu item from this category that is the least offensive is the Outbacker Burger without cheese. It's much lower in calories and sodium than The Bloomin' Onion Burger, but keep in mind that this is the nutrition information without any sides, so you're better off skipping the fries to stay as low-calorie as possible.
Straight from the Sea
What will make you think twice about ordering this meal is the sodium. There are plenty of other options from this section of the menu that are overall better for you.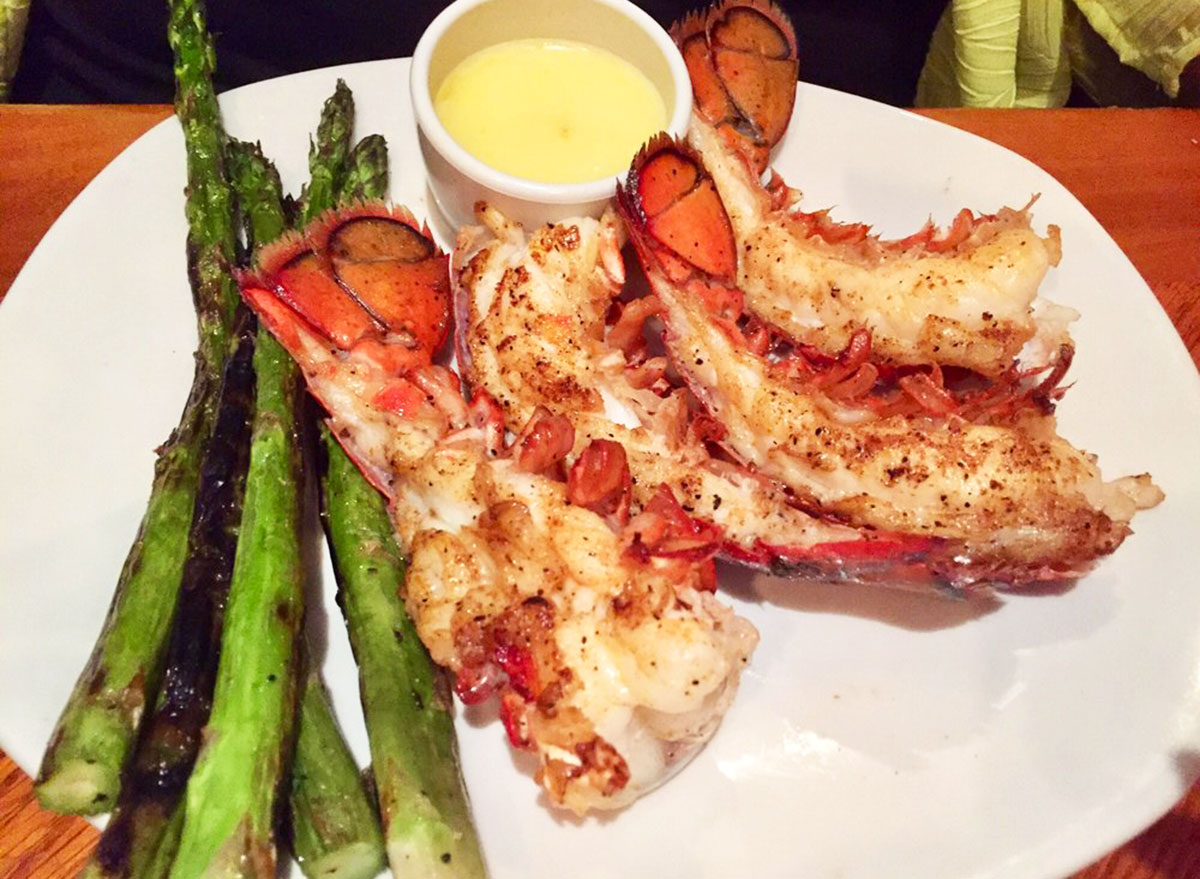 If you're craving lobster, steamed tails are a healthful choice. Be careful on how much butter you slather on your seafood delight though, and be sure to order up veggie sides that won't rack up unwanted calories from artery-clogging saturated fat.
Chicken, Ribs, Chops, and More
If you're heading to a steakhouse, there's no reason you should be ordering chicken tenders—plain and simple. But if you are so inclined, be aware that this order has 165 percent of the saturated fat you should be eating in one day and 108 percent your daily recommended max of sodium. There are certainly healthier ways to take in your protein on this menu without diving into this fried food health trap.
RELATED: The easy way to make healthier comfort foods.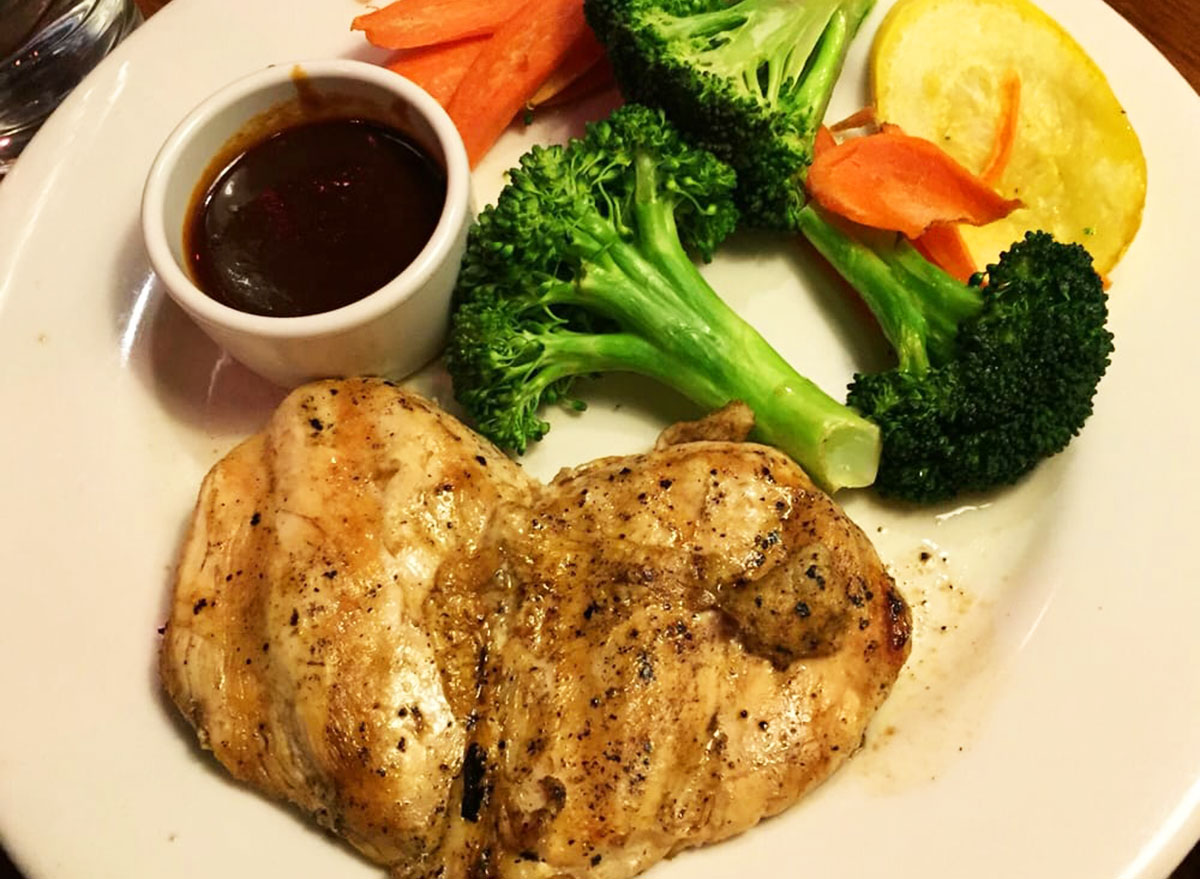 Grilled chicken and veggies are a simple, healthy way to go on this menu. The chicken is seasoned and cooked on a wood-fire grill with a signature BBQ sauce. If you're trying to cut back on sodium, ask for the BBQ sauce on the side or less of it.
Sides
Although you may like ooey-gooey mac and cheese on the side of your steak, this side dish has close to the amount of saturated fat as the burgers on this menu. If it's a must-have, split it among several people at the table and use my "Toby's two tablespoon rule" and enjoy two heaping tablespoons on the side.
You'll be getting lots of nutrition for fewer calories in this side dish. Asparagus is an excellent source of vitamin K and folic acid, shown to help decrease the risk of heart disease and cancer. It is also a good source of vitamins A and C and the B-vitamin thiamin.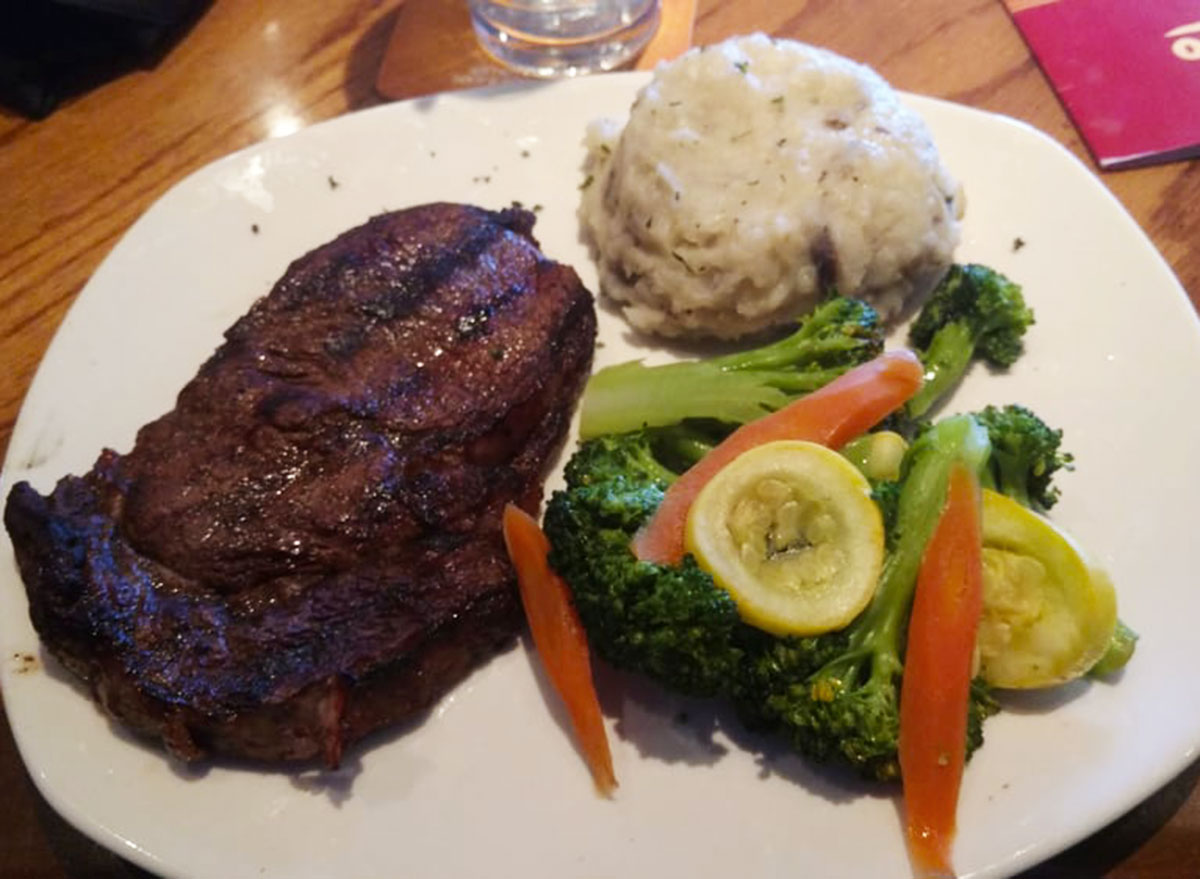 This side is a combo of fresh seasonal veggies, including broccoli, squash, and carrots. Although the veggies are steamed (a healthy cooking method), the added fat comes from seasoned butter that is added. Ask for no seasoned butter if you're looking to cut back on the saturated fat and sodium.
Desserts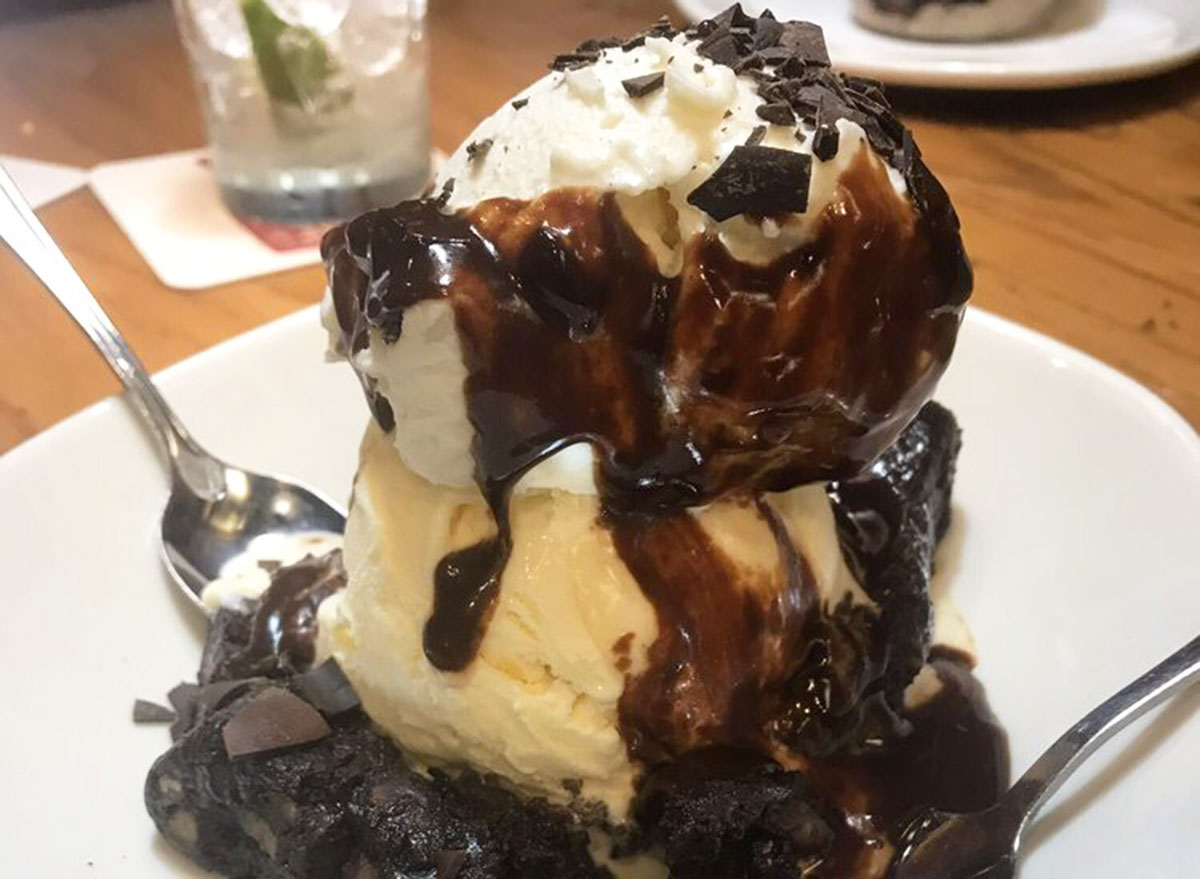 This dessert is made up of pure sugar, and it's all likely coming from added sources. And if you eat this by yourself along with an entree, you're exceeding the number of calories you should be eating for the entire day in just one meal. If you really need something sweet, ask if you can have 1 scoop of vanilla ice cream, or just wait to get home and munch on a piece of fruit.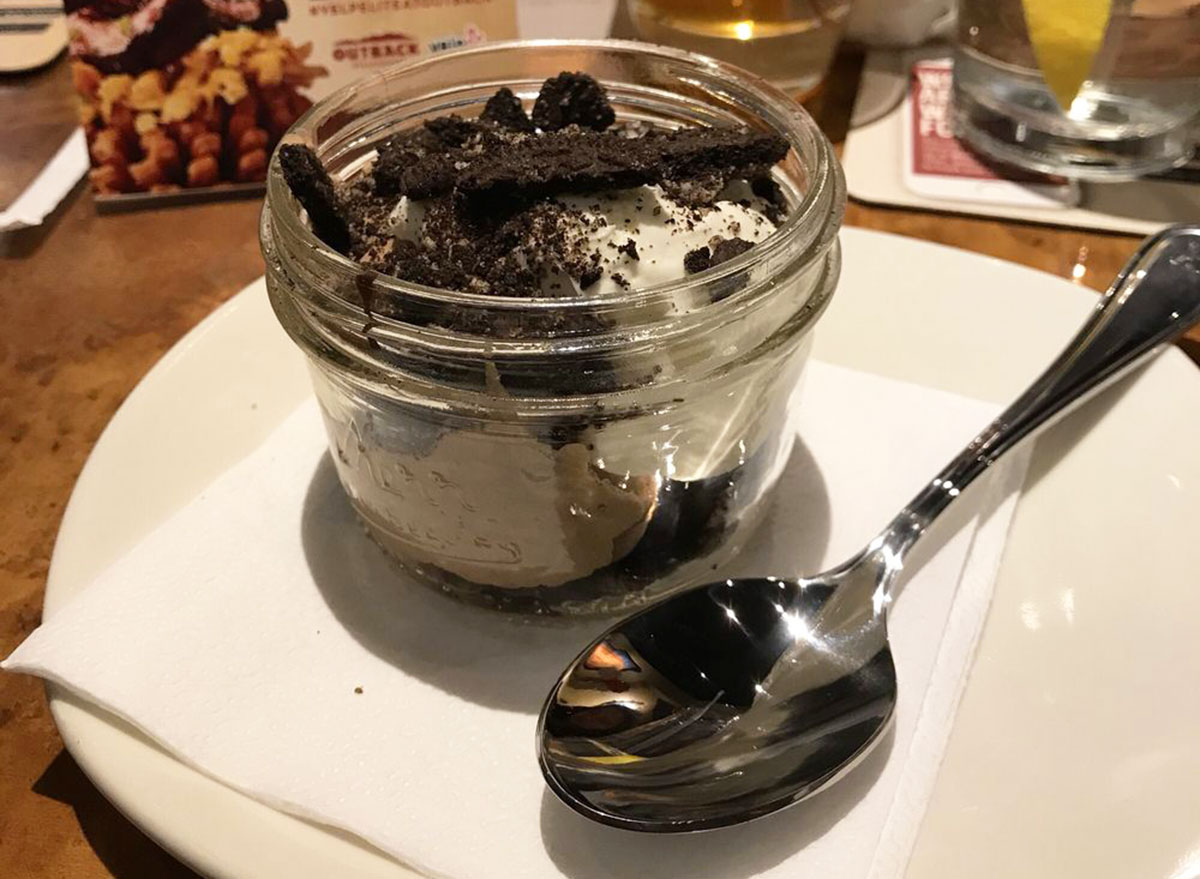 If you're really craving a chocolatey dessert, this mini parfait is the way to go. We still recommend sharing this though, as 41 grams of sugar is a lot to be consuming in one treat, and taking just a few bites will get you that sweet fix you're looking for.
Through this article, we hope to help you understand Outback all you can eat soup and salad
Detail: 🔗