Don't waste oven space — make a Crockpot Ham for the holidays instead! Loaded with flavor from an easy brown sugar and pineapple glaze, it's ready to go anytime your guests arrive!
Looking for more great holiday recipes? Try my almost famous green bean casserole, easy homemade mac and cheese, sweet corn casserole and my mom's sweet potato casserole!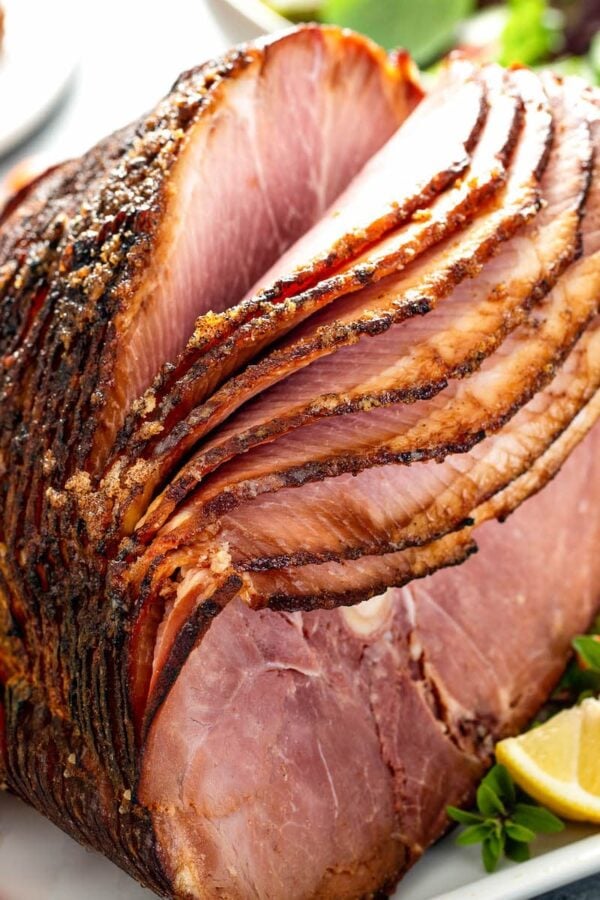 Crockpot Ham Recipe
Making a spiral ham in the crockpot is one of the easiest ways to make a ham! I was a little hesitant at first, but after discovering a trick to still get those crispy brown sugar edges I love from an oven baked version, I was all in!
Making this Crockpot Ham recipe is a big space saver in your oven on the holidays. If you have a large ham cooking low and slow in the oven, where do you cook all of your casseroles and side dishes? That's exactly where the crockpot comes in. Make a quick and easy glaze with brown sugar, butter and pineapple juice and coat your spiral ham with it. From there, you let the crockpot do the rest of the work for you!
This easy recipe is now the only way I like to make a spiral ham. Read below for all my tips and tricks on what to do if the lid to your crockpot doesn't fit, with the ham inside, and how to get those perfect brown sugar edges!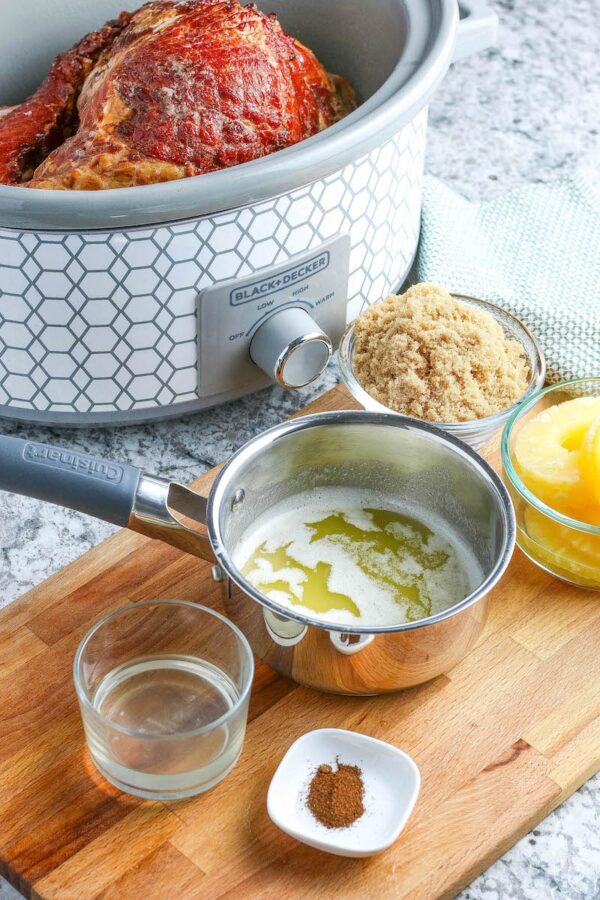 Ingredients for crockpot ham glaze
You only need a few ingredients for this crockpot ham recipe. First and foremost, you will need an 8 to 10 pound spiral ham. You will need the following ingredients to make the glaze:
butter
brown sugar
honey
ground cloves
pineapple slices (we also use the juice they came in!)
If you are not a fan of pineapple, you will want to find a substitute that will still help with the flavor and to tenderize the ham. If you need, I recommend trying apple cider vinegar or orange juice in place of the pineapple juice/rings in this recipe.
What if my ham doesn't fit in my crockpot?
You will need to use a large oval crockpot for a large ham to be able to fit. I was able to fit a 9 lb spiral ham in my crockpot with no issues.
However, if your ham happens to be too tall, you can use foil in place of your crockpot lid. Just tent the foil over the ham and seal it around the edges of the slow cooker.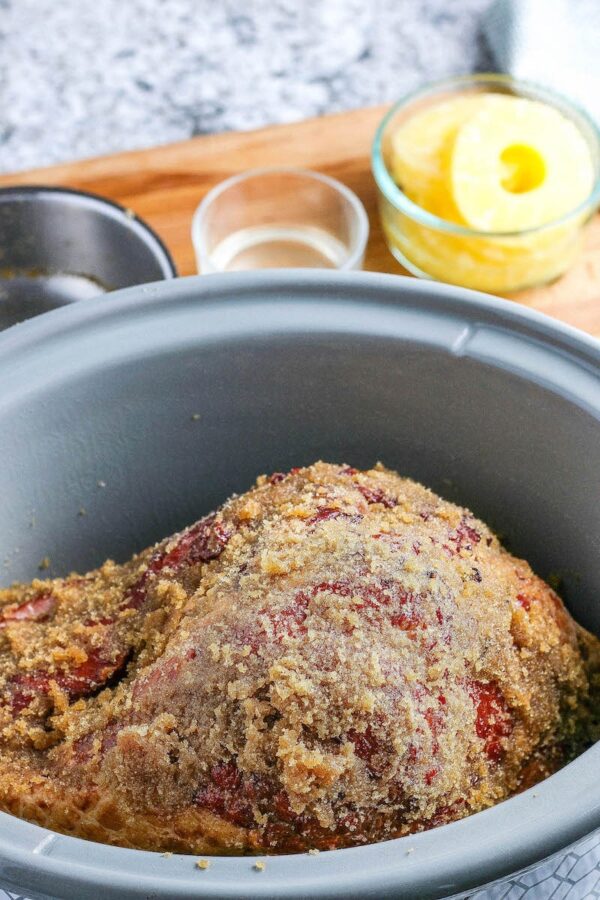 How to cook a spiral ham in crockpot
Add ham to the crockpot, spiral cut side down.
Mix together ingredients for glaze and press into the top of the ham.
Cover ham (with lid or foil, if needed) and cook for 3-4 hours.
Bakes with juice and let ham rest for 10 minutes before serving.
How to get still get those crispy brown sugar edges?
Worried you will miss those delicious brown sugar edges of the ham? I won't lie, I worried the same thing too when I pulled my crockpot ham out of the pot for the first time.
Then I had a brilliant idea! Right before serving, add a little more brown sugar and pop it under the broiler for a minute or two. Guess what? It was perfect! So below are my steps to crisp up the edges and give you that freshly baked ham feel, without all that time in the oven.
Heat the broiler on your oven.
Remove ham from crockpot and place on an oven safe dish or on a large cookie sheet.
Press additional brown sugar onto the edges of the ham.
Broil for about a minute or two, watching very closely. You just want the edges to start bubbling and crystallizing the brown sugar!
Remove from oven and serve immediately!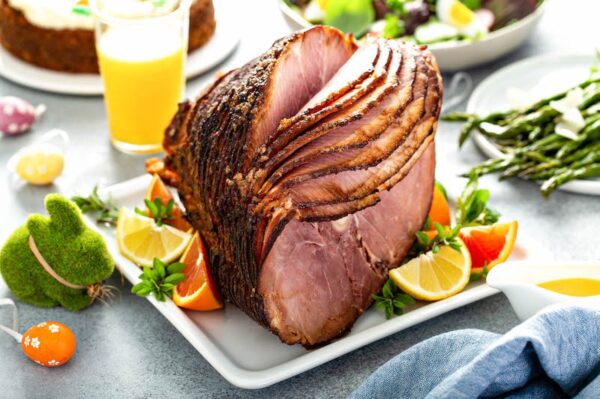 TIPS FOR CROCK POT HAM
Because of the size and shape of a ham, you will need a large oval slow cooker for this crockpot ham recipe. My slow cooker is 8 quarts and fit a 9 pound ham.
To serve, remove ham from pan and place on a serving platter. It is easier to cut and serve slices of the ham from a serving platter than from the slow cooker.
Baste that ham before serving with all the good juices below in the crockpot and let it rest for 1o minutes before serving.
Follow directions above if you want crispy edges like an oven baked ham. It's definitely not necessary, but is a nice touch!
Leftover Ham?
Store in an airtight container for up to a week in the refrigerator. Reheat in the microwave!
You can also freeze any leftover ham for use in recipes later. If you are looking for ways to use up leftover ham, below are my favorite recipes using ham or ham bones!
Creamy Ham Casserole
Slow Cooker Ham & Bean Soup
Baked Mustard, Ham & Cheese Sliders
Rosemary Ham Bean Soup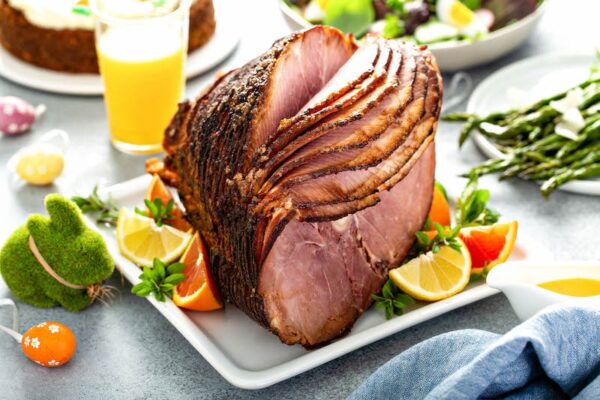 I know you are going to enjoy this Crockpot Ham recipe just as much as we do. It's so incredibly easy to put together and makes hosting a family holiday dinner just a little bit easier.
Please leave a review or comment below letting me know how this recipe turns out for you!
This post may contain affiliate links. Read my disclosure policy.
For more information please see the list of Ham roast in crock pot
Detail: 🔗