Try this Crockpot Pot Roast if you want to serve tender beef, perfectly cooked vegetables and the best gravy ever! Made with red wine and herbs for so much flavor.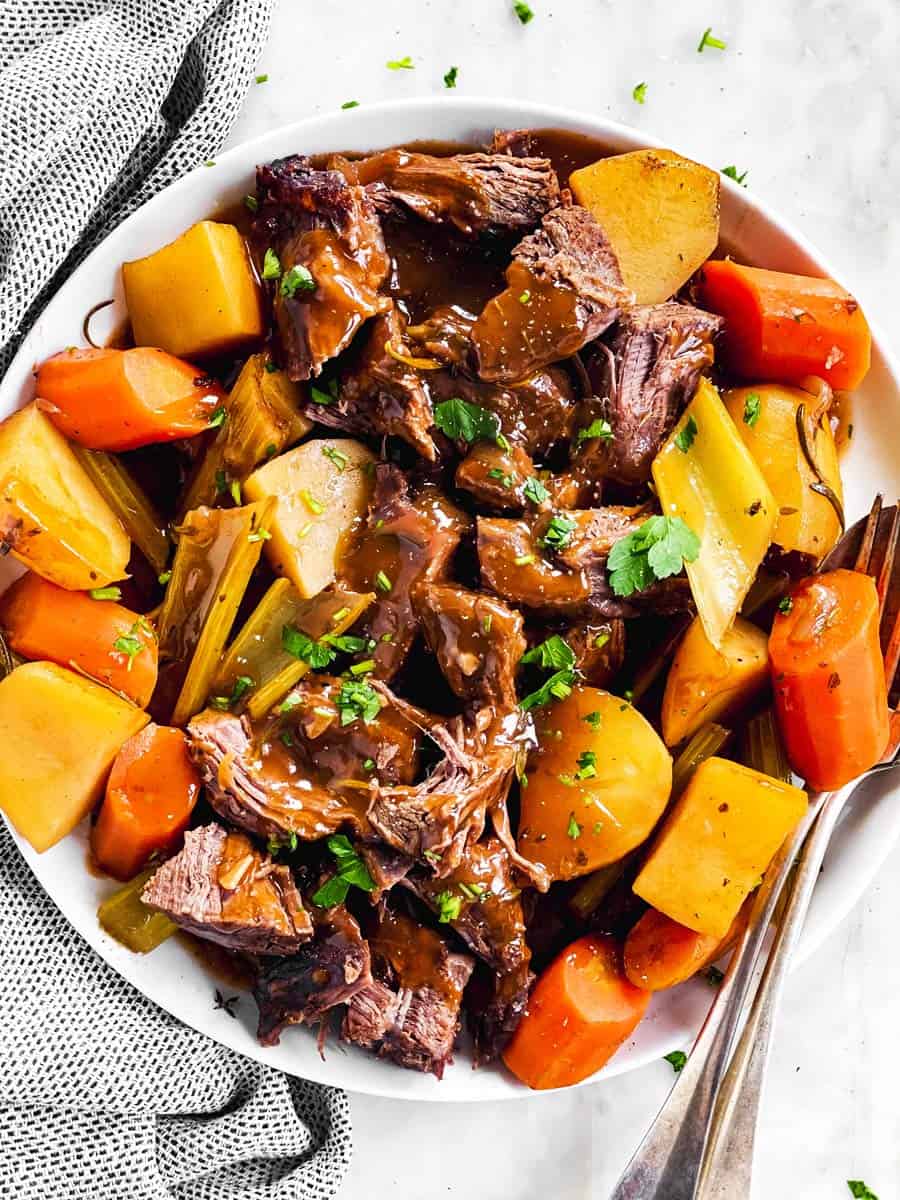 I have to admit: I'm extremely picky when it comes to these comfort food types of meals. I rarely meet a slow cooker pot roast I actually like, and I think it's because we tend to rush these recipes or use a lot of shortcuts or I don't know.
Reading: Pot roast crock pot red wine
If you're looking for a throw together kind of meal, I'll have to warn you that this is not it. I'm a firm believer that a good pot roast needs a little bit of extra work and delicious ingredients that go into it. But your reward will be a dinner that is so good, you'll actually want to cook it again! And I think that's worth it 😉
Ingredients you'll need
Here is a visual overview of the ingredients in the recipe. Scroll down to the printable recipe card at the bottom of this post for quantities!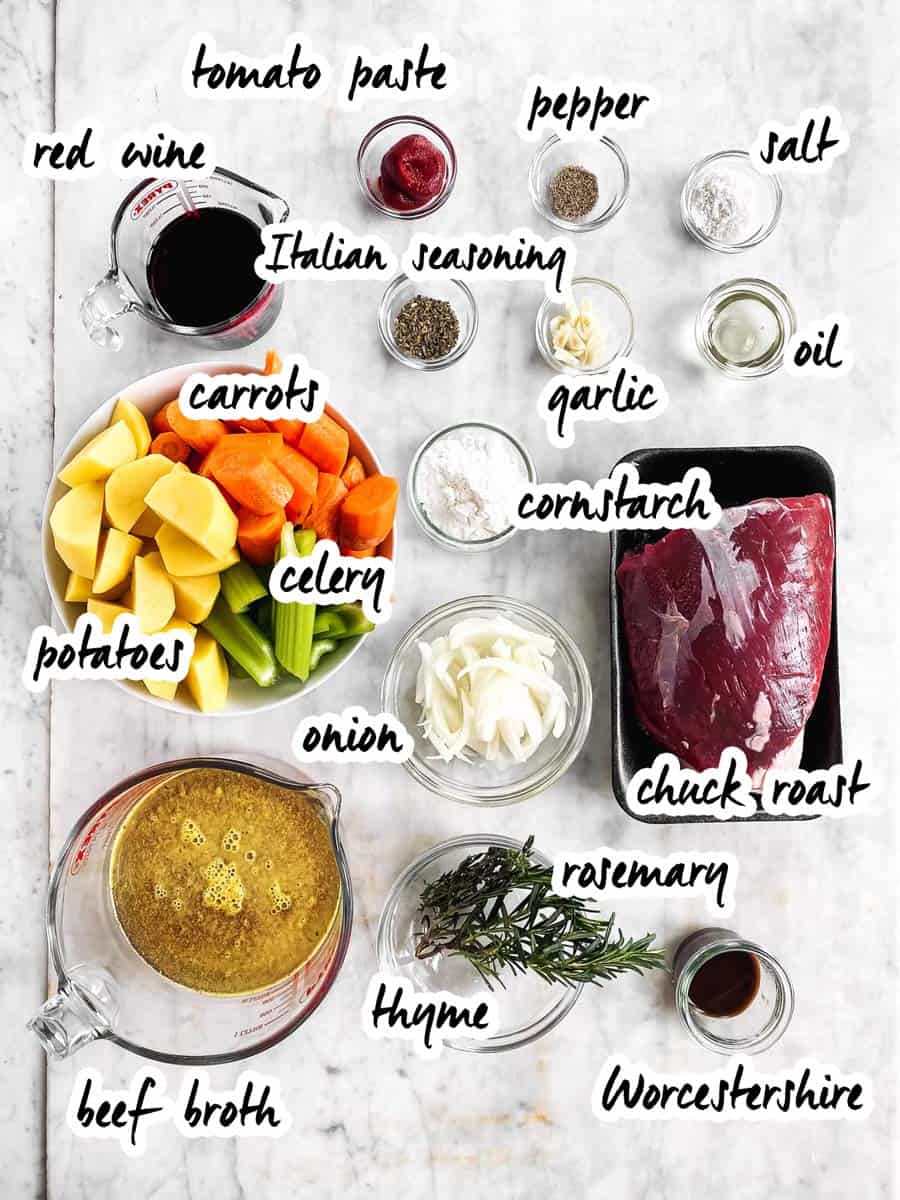 Ingredient notes
Beef: I used a boneless chuck roast. Bone-in chuck roast works just as well. I actually prefer using bone-in meats in the crockpot. They tend to yield more flavor, better meat texture and better gravy consistency. But they just had the boneless at the store. I would throw in a couple of beef bones with a boneless roast, but people tend to freak out about it when I show it on videos and in photos, so I left them out for the blog 😉
Worcestershire sauce: I always have a bottle in my fridge, but if you don't, try using soy sauce instead if you have it. And buy a bottle of Worcestershire if you're into comfort food 😉
Red wine: I recommend a red wine on the dry side, and one you would also enjoy drinking. I used a Merlot here. A Cabernet Sauvignon or Pinot Noir would also be great.
Italian seasoning: This doesn't actually make the roast taste like Italian food, ha! But it's a great seasoning blend to use here for the variety of herbs in there. If you want to use something else (or don't keep Italian seasoning on hand), try using a few different dried herbs such as parsley, rosemary, thyme and oregano. Go light on the oregano if you're making your own mix, because that's the one herb that does tend to make things taste more Mediterranean.
Tomato paste: I love the depth of flavor a little roasted tomato paste adds to a gravy. It will not make the gravy tomato-flavored, I promise. If you don't keep tomato paste on hand, feel free to just leave it out. It will alter the taste of the gravy a little and make it less rich, but it's still perfectly delicious.
Beef broth: I very much insist on sticking to beef broth here. Chicken or vegetable broth will not yield the same result.
Cornstarch: This is essential to thicken the gravy. Using flour as a substitute is very tricky, so it's not something I would recommend if you can get your hands on some cornstarch. If you must use flour, please know that you'll need to simmer the gravy for longer than the recipe indicates, and the results may not be the same.
How to make the best Pot Roast in the slow cooker
1. Start by patting the beef dry with paper towels, then season with salt and pepper. Brown it in a large skillet in oil until it's browned all around.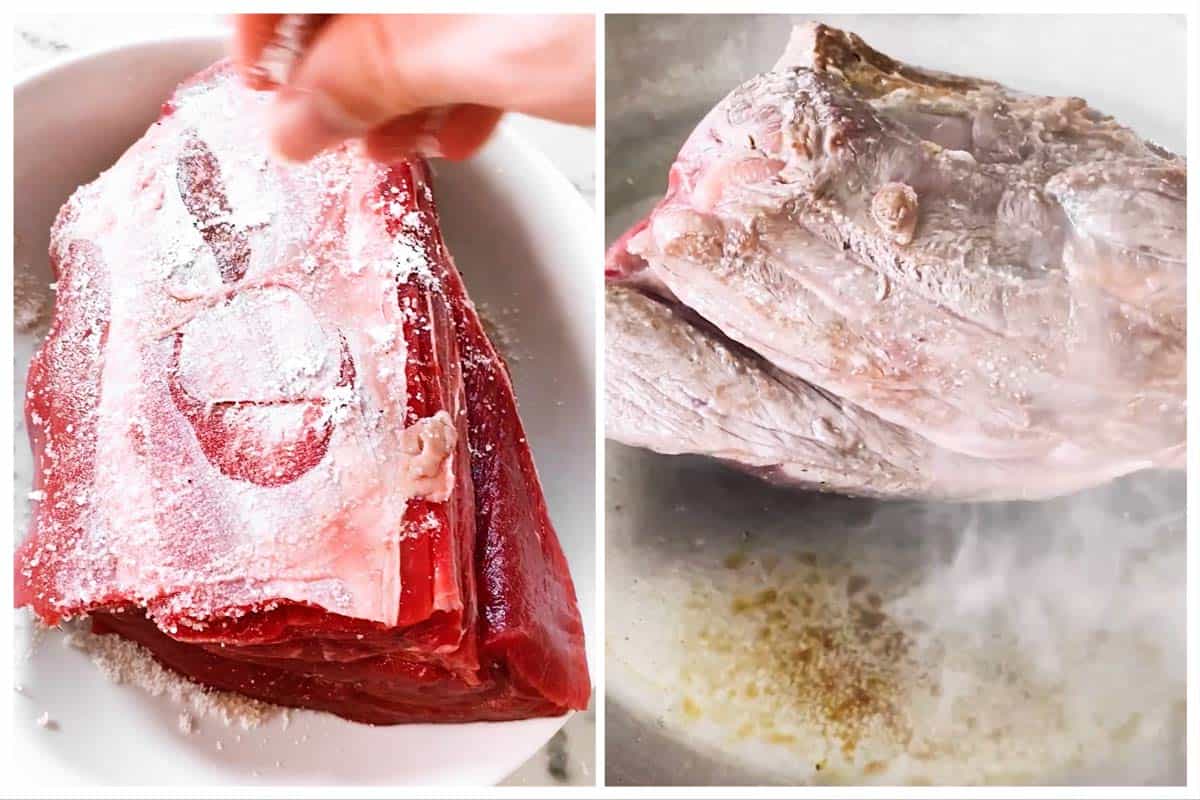 Note: The beef does not need to cook through at this point, you just need to brown the outside!
Read more: The Ultimate Smoked Prime Rib Roast Recipe
2. You'll want to add a splash of beef broth just to cover the bottom of your crock before placing the browned beef inside. This will help keep the beef from getting stuck on the bottom during cooking later.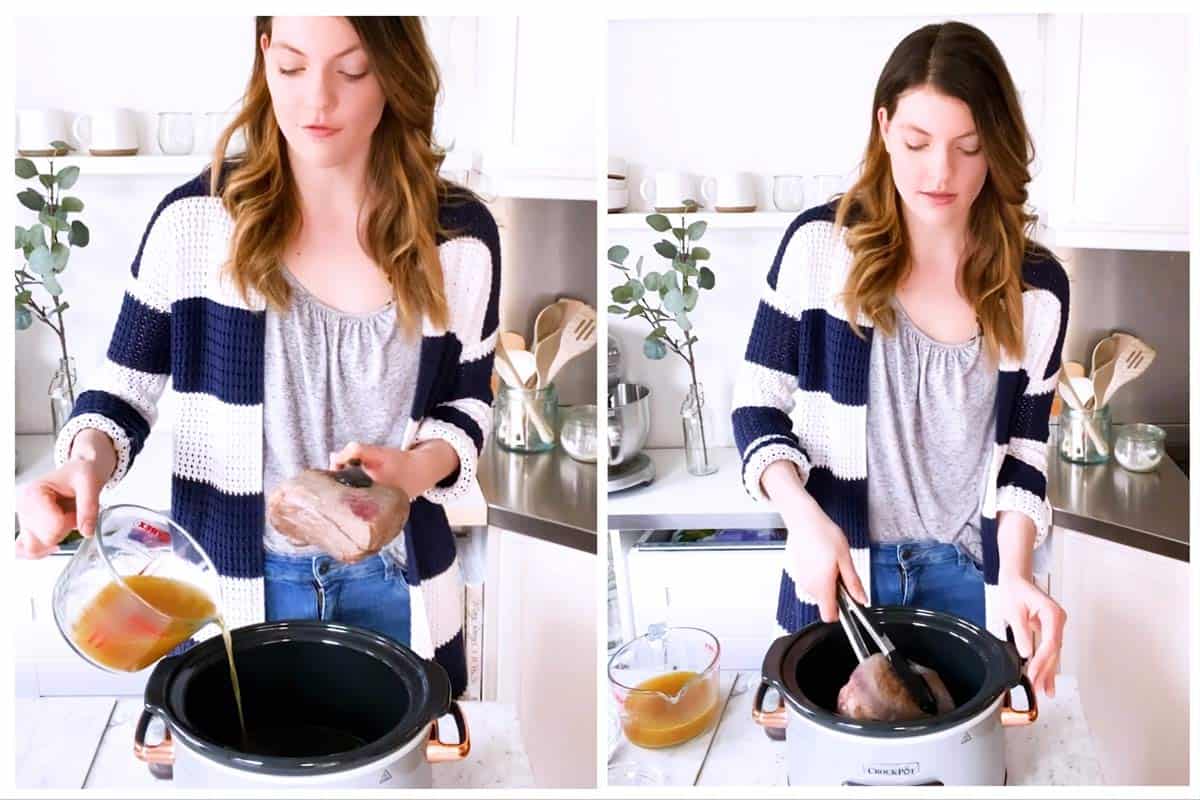 3. Next, you'll want to sauté the sliced onion in the same skillet you used to sear the beef. Wait for the onions to be very soft, about 5 minutes. You don't want to use raw onions in the slow cooker, because they'll never lose that raw, biting taste.
Once the onions are soft, stir in the sliced garlic, tomato paste and Italian seasoning.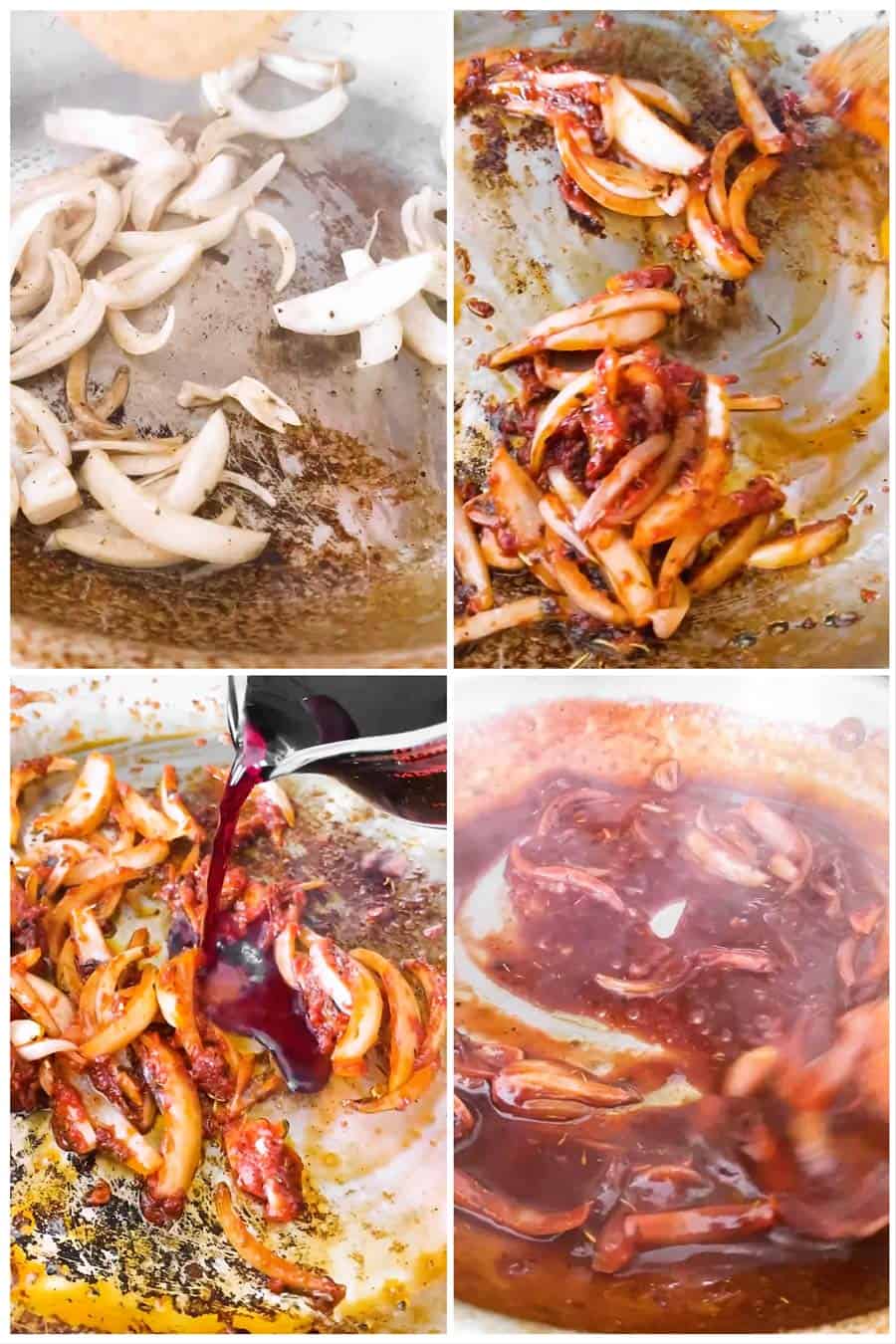 Then finally, deglaze with the red wine and allow it to simmer for a few minutes to reduce.
4. Transfer this onion mixture on top of the roast. Pour the beef broth over the roast and slow cook for 3-4 hours on low.
5. Once this time is up, you'll want to add the vegetables. By adding them at the halfway point, you'll ensure they're not overcooked.
Read more: Top 10+ how long to roast chestnuts in oven
Note: If you don't have the time available to add the vegetables at the halfway point, you could try adding them after waiting for just 2 hours. If that's not an option either, you can add them from the beginning, but you'll have to live with very cooked vegetables. OR prepare them on the stove or in the oven right before serving.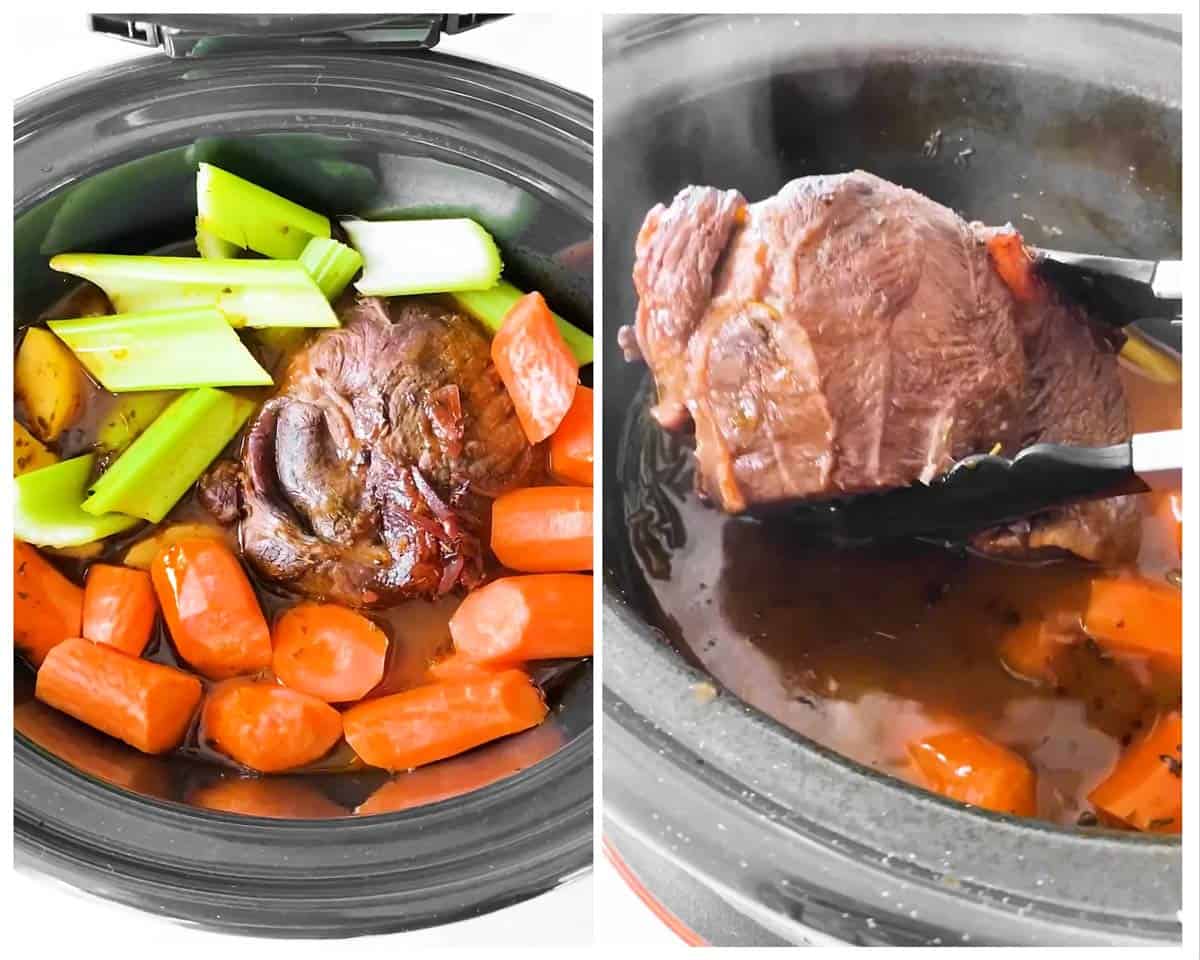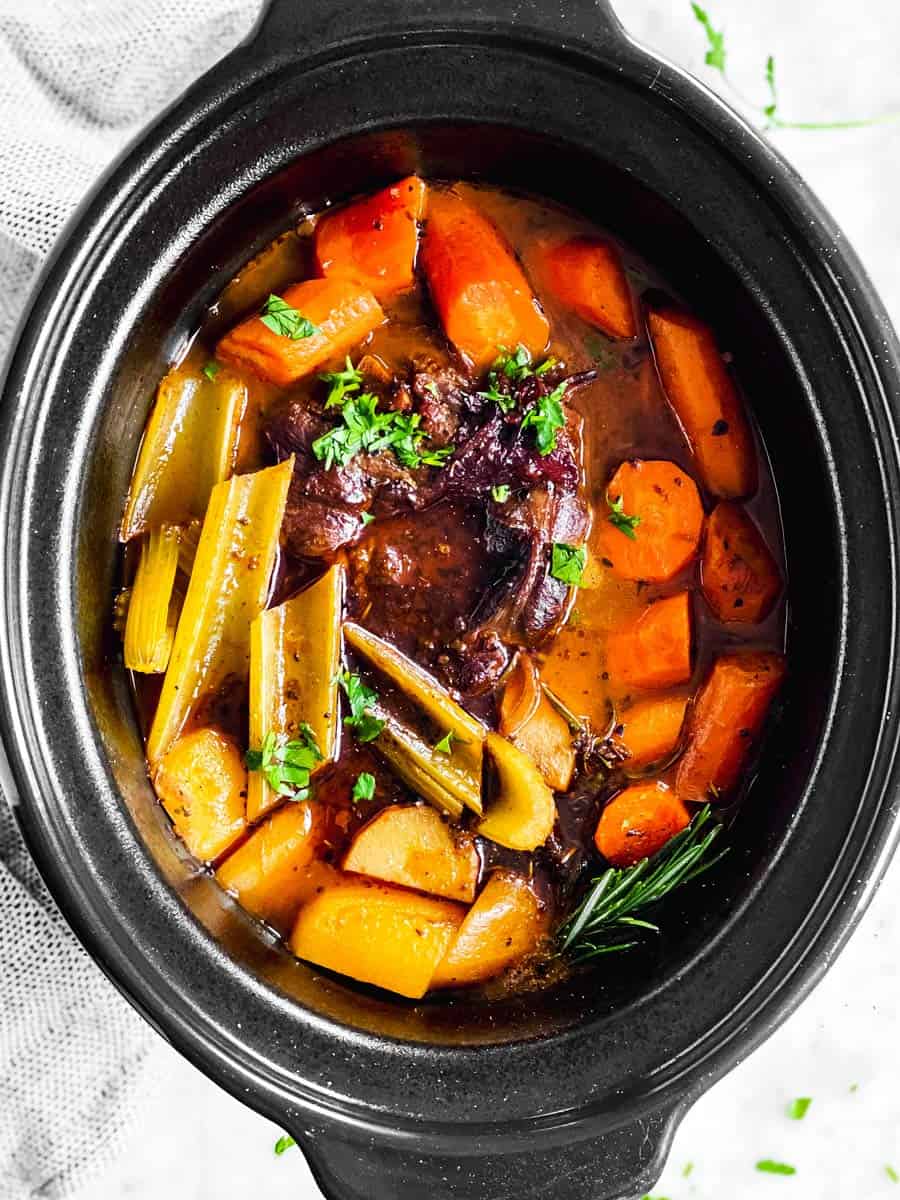 Once everything is cooked, remove the roast and the vegetables from the slow cooker and keep them warm on a serving platter.
6. Finally, stir your cornstarch slurry into the juices left in the crock. Either simmer the gravy in a pot on the stove, or leave it in the slow cooker and simmer it in there without the lid until the gravy has thickened.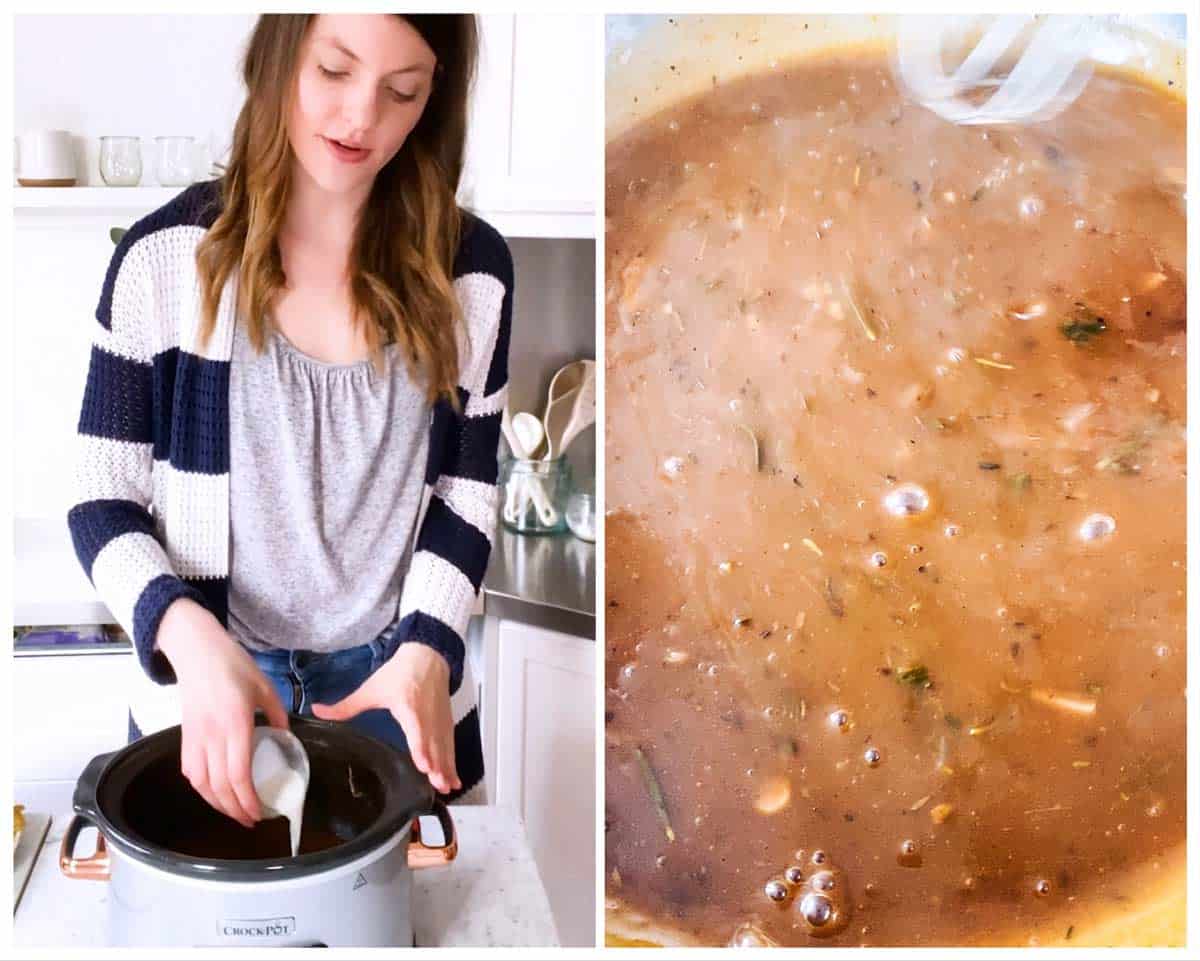 Serve over the torn up meat and vegetables.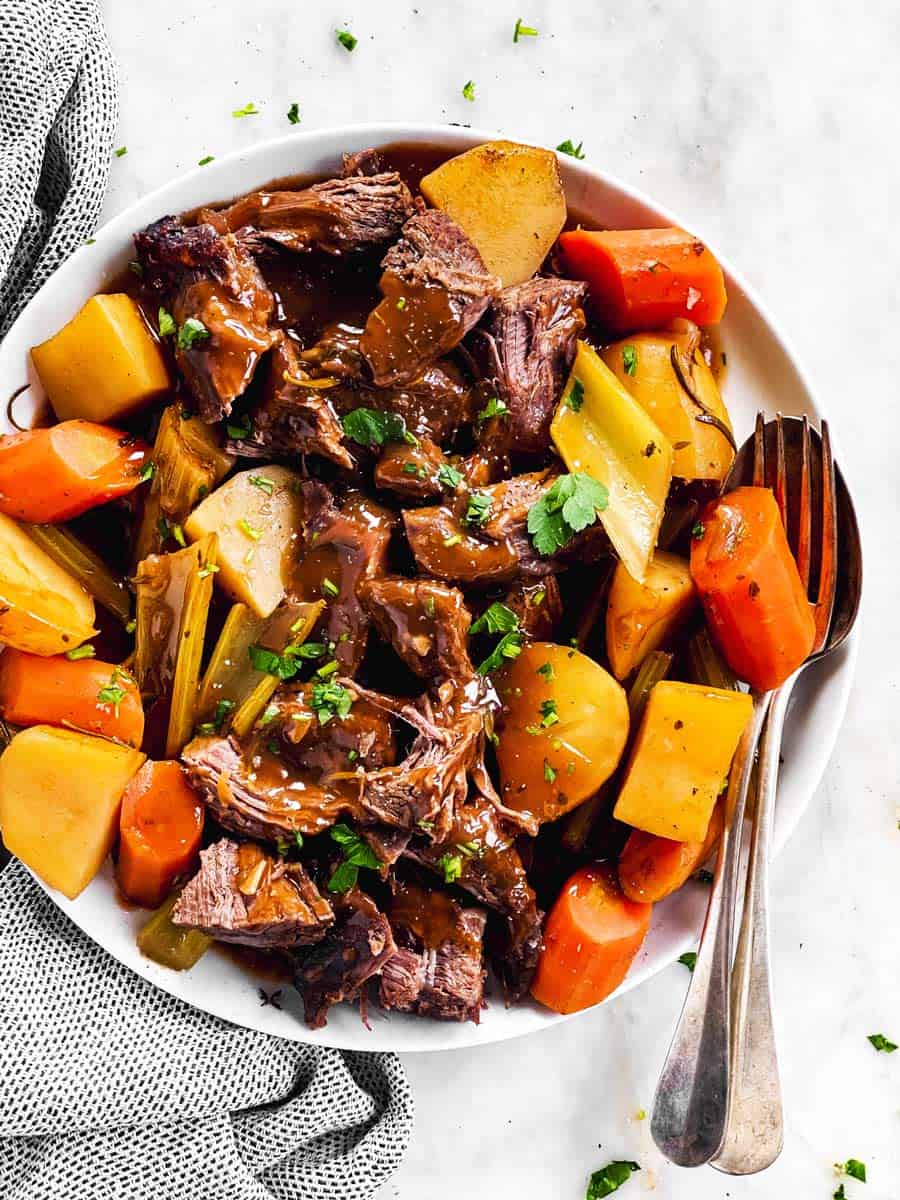 Watch the recipe video
Recipe tips
Do not skip browning the beef or sautéing the onion. It adds a lot of extra flavor to the gravy you're otherwise going to miss.
Make sure you allow the wine to simmer for a few minutes to reduce it and to cook away at least part of the alcohol. You want the concentrated flavor in the gravy, not just the actual wine.
If you don't have the time available to add the vegetables at the halfway point, you could try adding them after waiting for just 2 hours. If that's not an option either, you can add them from the beginning, but you'll have to live with very cooked vegetables. OR prepare them on the stove or in the oven right before serving.
The cooking time depends a lot on how hot your slow cooker runs, and the exact size of your roast. I have a very new crock and it runs hot, so my roast is always done after 6 hours. If your slow cooker is quite old (they tend to run less hot), you may need to increase the cooking time by 1-2 hours.
I let the roast sit as the gravy thickens, then tear it into pieces once the gravy is finished. The meats stays hot and more succulent this way!
You can also make a delicious pot roast in your instant pot!
Serving ideas
I'll be honest: We usually just mash the potatoes and serve the pot roast exactly as-is without any additional sides. If you have big eaters and want to round out your meal, here are some ideas:
Instant Pot Mashed Potatoes
Homemade Dinner Rolls
Sautéed Green Beans
More comfort food dinners
PS If you try this recipe, please leave a review in the comment section and add a star rating in the recipe card – I appreciate your feedback! Follow along on Pinterest, Facebook or Instagram. Sign up for my email list, too!
Read more: How Long to Smoke a Pork Shoulder at 250 (Infographic)
For more information, please see more information about Pot roast crock pot red wine
Source: https://www.savorynothings.com/the-best-crockpot-pot-roast/