The Best Easy Whole Roasted Cauliflower Recipe – super simple roasted whole cauliflower for a tender, delicious, never bitter cauliflower flavor everyone loves!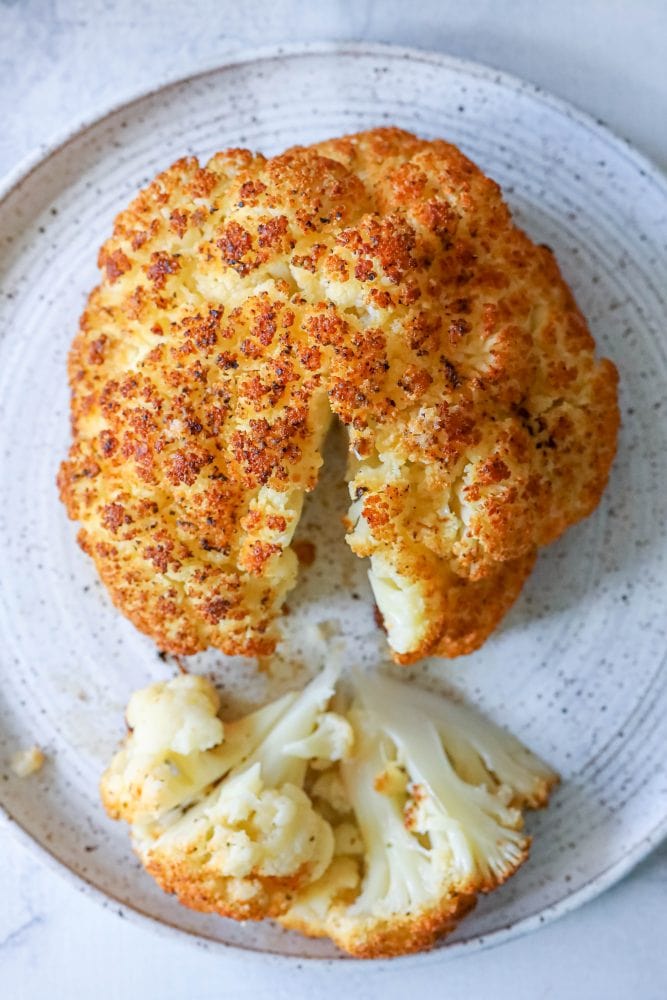 Here at Sweet C's, we have lots of types of readers – those who like to get straight to the recipe, and those who would like more information, including tips and tricks to feeling more comfortable in the kitchen.
We provide a skip to recipe button in the top left corner, as well as a clickable table of contents, just below, to help make this page easier to navigate.
If you're looking for a delicious, easy, and super simple spin on cauliflower (that actually tastes great), look no further.
This whole roasted cauliflower is a knockout – full of flavor, and incredibly healthy.
This cauliflower is naturally low carb and keto friendly, so it won't break your macros for the day.
We're slow roasting an entire head of cauliflower to help reduce the bitter flavor, and bring out a really simple, delicious nutty and buttery flavor that even picky eaters love – this is one of my all time favorite ways to eat cauliflower!
To see our web story for this recipe, click here.
We hope you love this easy roasted cauliflower recipe as much as we do!
Roasting cauliflower is incredibly easy – it just needs to be prepped, and then thrown in the oven.
To start roasting your cauliflower, you'll cook, covered with foil, for 30 minutes.
Covering the cauliflower in the pan with foil helps to steam the cauliflower from the inside out – making it soft and tender, without too much water cooking off.
We're going to finish off the process by letting the cauliflower brown up and get a lovely color that is perfect to serve.
Preheat oven to 350 degrees farenheit.
Remove stem and any leaves from cauliflower head.
Cover cauliflower in olive oil, rub in well.
Season with salt, pepper, garlic powder, and optional seasoning.
Place in baking dish and cover with foil.
Roast for 30 minutes with foil.
Remove foil and continue to roast until golden brown and softened, about 45 minutes.
Remove from oven and let cool – cauliflower will be extremely hot.
Slice and serve.
Enjoy!
This recipe is super adaptable – it is simple, delicious, and you can use any seasonings you'd like to change up the flavors.
Don't skip the foil cover – it helps keep the perfect texture of the cauliflower without over drying.
If you don't want to use foil, you can use a dutch oven or pot with a lid to create a steam effect.
After your cauliflower head has roasted and steamed in the oven for 30 minutes, remove the foil and cook for an additional hour, letting the cauliflower get lovely golden brown.
If you'd like more of a golden finish, baste with a bit of butter at the end and pop under the broiler for a gorgeous hue.
If you love this easy cauliflower, please check out more of our other favorite cauliflower based recipes!
You can find our entire cauliflower recipe archives here.
This delicious keto side dish pairs perfectly alongside our favorite easy main dishes like our Baked Garlic Butter Pork Tenderloin, The Best Air Fried Chicken Drumsticks, Baked Ranch Chicken Thighs, and The Best Ribeye Roast Recipe!
To find some more of our favorite main dishes, please check them out below:
You can find our entire main dish recipe index here.
If you love this easy recipe please click the stars below to give it a five star rating and leave a comment! Please also help me share on facebook and pinterest!
CONNECT WITH SWEET C'S!Be sure to follow me on social media, so you never miss a post!Facebook | Twitter | Youtube | Pinterest | Instagram Only have 30 minutes to get dinner on the table? Sign up for my 30 minute dinner plans direct to your inbox! Find and shop my favorite products in my Amazon storefront here!
Please see more list about Roasted cauliflower in the oven
Detail: 🔗