It's been a busy few days of entertainment, merchandise, and a whole lot of eats and drinks at the 2021 EPCOT Food & Wine Festival!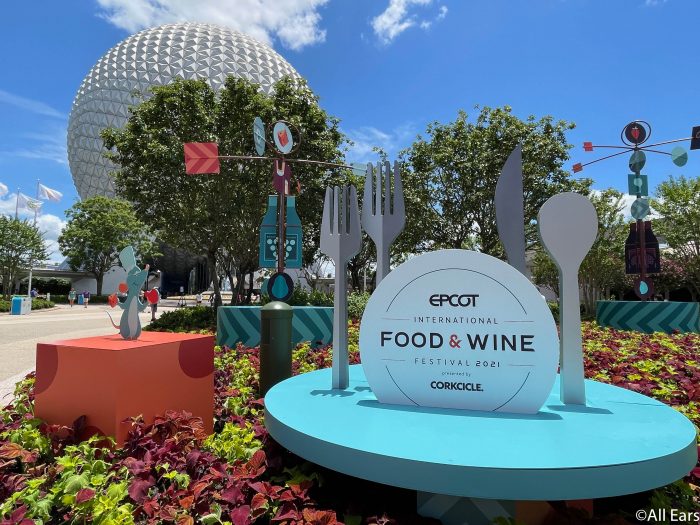 We've been tasting our way around the 23 food booths that opened yesterday (with NINE more to come on October 1st) and we've narrowed down the menus to our favorite eats, treats, and drinks! So, if you only have time to grab a few items (or you want to try some of the best), here are our top picks!
Entrees
Kalua Pork Slider
The Kalua Pork Slider from the Hawai'i booth has been a long-time festival favorite of ours and it is BACK on our top eats list once again! The slider is served with a sweet-and-sour DOLE pineapple chutney and spicy mayonnaise and it's the combination of the moist pork and sweet and spicy flavors that keeps us coming back for more.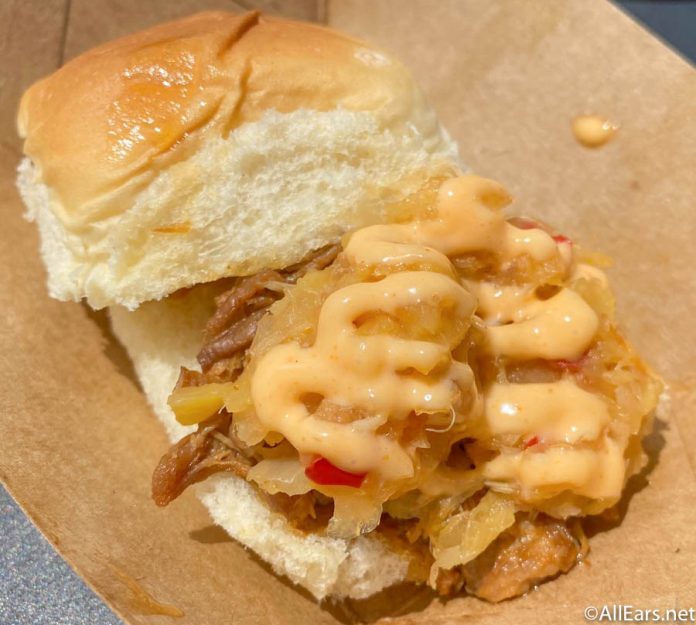 If you've never tried it before (or even if you have) it's worth stopping by and giving it a taste for $5.25.
Pig Ear Salad
Our next top eat comes from the BRAND NEW festival booth — The Swanky Saucy Swine! All of the menu items here are completely new, but it was the Pig Ear Salad that really stood out for us. It is made with Fire Roasted Tomatillo Sauce, Pickled Red Onions, Queso Fresco, Roasted Corn Salsa, and Avocado Cream and costs $5.25.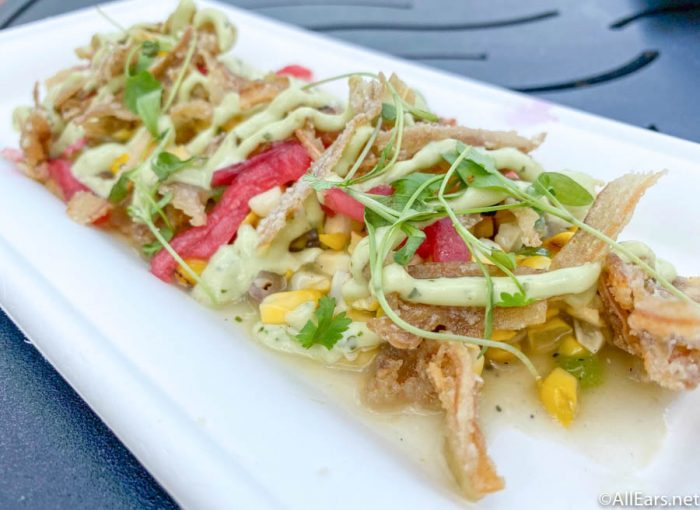 The pig ears themselves taste very similar to salty bacon and it pairs nicely with the tomatillo (which adds some heat to the dish). Plus, when you mix it with the roasted corn, avocado, and cheese, you've got one tasty bite!
Wild Mushroom and Truffle Tart
And, we found another delicious dish at the new spot in the American Adventure Rotunda — The Rotunda Bistro! The booth itself is located inside (so you'll get a break from the Florida heat) and if you're going to try one thing from the menu, we suggest it be the Wild Mushroom and Truffle Tart with Gruyère and Crème Fraîche for $5.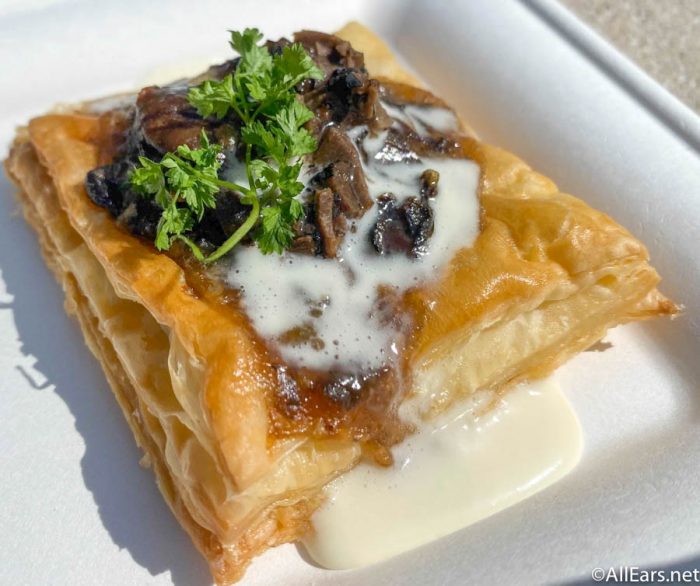 The tart had a super flaky texture and the cheese was by far the standout flavor in the (very) rich dish.
Beignet aux Trois Fromages
Over at the France booth, cheese lovers can rejoice over the Beignet aux Trois Fromages!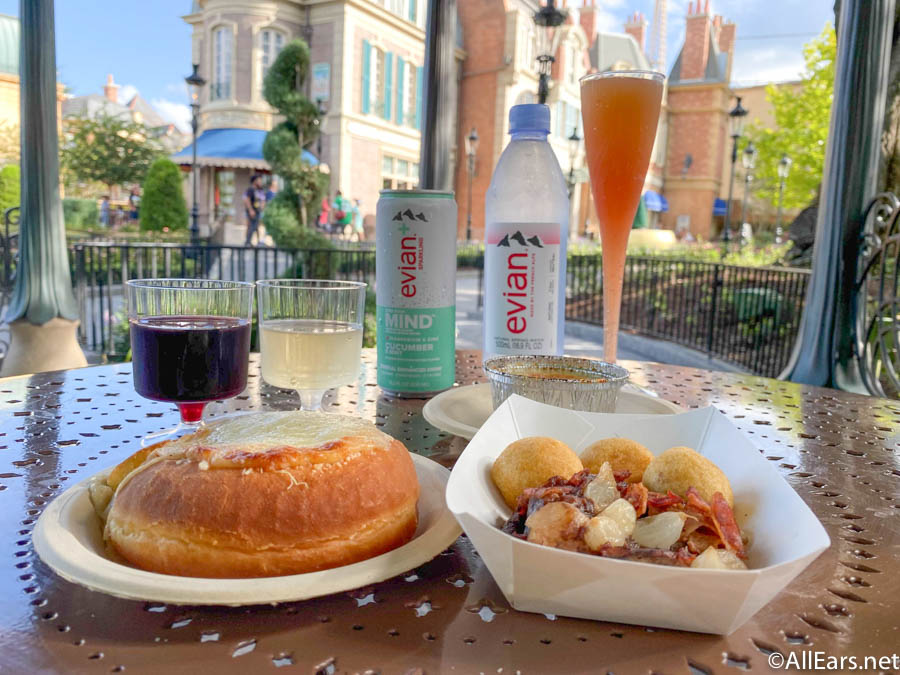 Available for $5.75, the cheesy dish consists of a warm beignet filled with three cheeses. To us, this savory dish hit the spot, and it's a must-get for anyone who love their cheese!
Braised Beef Poutine
And, speaking of cheese, there's also a whole lot of it on the NEW Braised Beef Poutine found at Refreshment Port!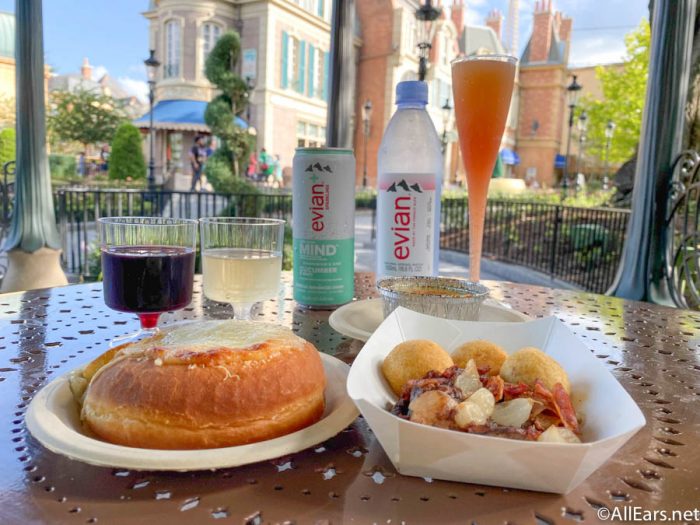 It features French Fries, Boursin Garlic & Fine Herbs Cheese Sauce, Cheese Curds, and Gherkin Relish, all for $9.50, and it's that cheese sauce that kicks this dish up a notch. It gives it a more creamy taste which you don't normally get from the cheese curds in a poutine!
Drinks
Cider Flight From Appleseed Orchard
Of course, we also had to try all the new (and returning) drinks at the festival this year and three of our favorites came from Appleseed Orchard, which is located inside the Canada Pavilion.
Here we picked up the Cider Flight that features all of their new ciders including the Collective Arts Brewing Circling the Sun Hard Cider from Ontario, Canada, the Original Sin Hard Cider McIntosh from New York, NY, and Blake's Hard Cider Co. Saint Chéri Bourbon Barrel Aged Cherry from Armada, MI. all for $9.75.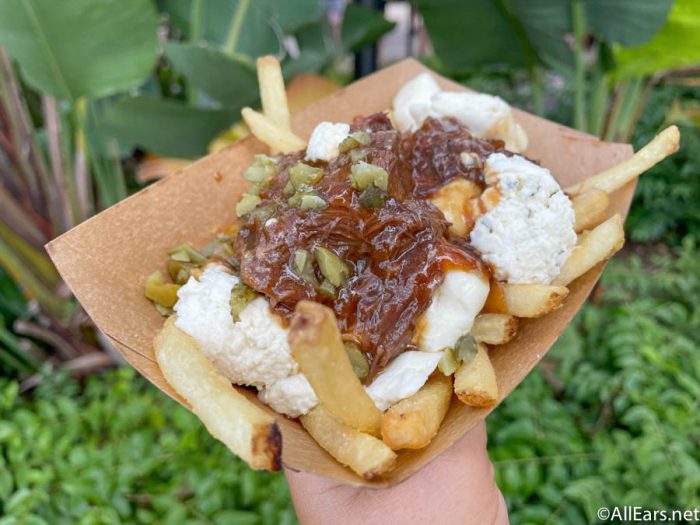 And, we wish that we could have had more of each one! The Collective Arts Brewing Circling the Sun Hard Cider had the heaviest apple flavor, the Original Sin Hard Cider McIntosh tasted very similar to apple cider, and the Blake's Hard Cider Co. Saint Chéri Bourbon Barrel Aged Cherry (which was our favorite) had a great taste of apple flavor with a hint of bourbon.
El Tigre Margarita
We also really like the NEW El Tigre Margarita from Mexico! It is made with Ojo de Tigre Mezcal with Pomegranate, Prickly Pear, Pineapple, and Ginger Juices and is served on the rocks with a Hibiscus Salt Rim and is available for $11.50.
What really made this drink stand out was the Mezcal — it adds a smoky flavor that takes this from any average sweet margarita to one that is a must-try. But, if you're not a fan of that smoky flavor (or Mezcal) then this is one to skip because that's the main flavor.
Best Beer
81Bay Brewing Co. Strawberry and Lime from Tampa, FL
The festival may have "wine" in the title, but there is also a whole lot of beer to try, and one of the best ones we tried this year is the 81Bay Brewing Co. Strawberry and Lime from Tampa, FL.
It can be found at Hops & Barley and can be purchased as a 6 oz. pour for $5, as a 12 oz. pour for $9, or as part of the Beer Flight for $9.75.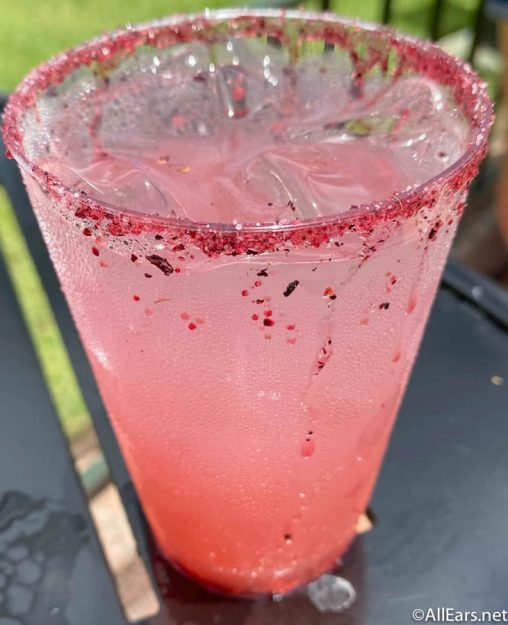 We opted for the Beer Flight and the 81Bay Brewing Co. Strawberry and Lime was the clear standout — it had a great flavor and the strawberry and lime didn't make it overly sweet.
Beer Flight From Brew-Wing
And, we simply couldn't choose just one favorite beer! Brew-Wing is a new festival booth for 2021 and is located in the EPCOT Experience, so you'll be treated to some air conditioning while you eat. And, the wings are certainly good, but it's the Beer Flight that was the standout eat here!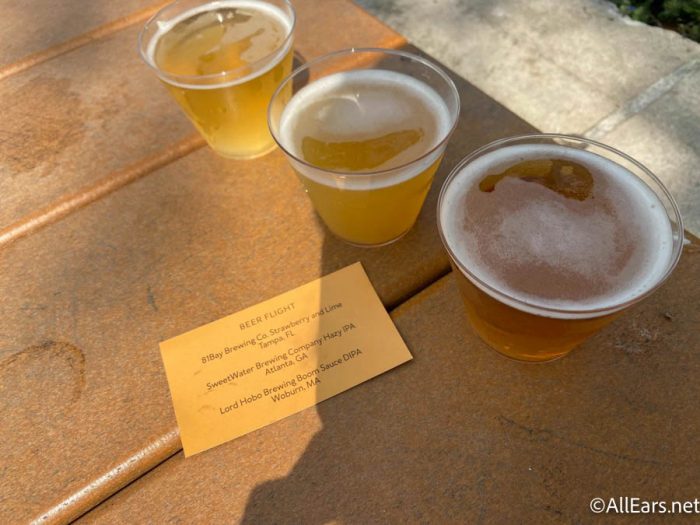 It costs $9.75 and includes the Ivanhoe Park Brewing Company Pineapple Vibes Blonde Ale., the Central 28 Beer Company Groveland Road Blood Orange IPA, and the Wicked Weed Brewing Watermelon Dragonfruit Session Sour. All of the beers were super refreshing and we would certainly order it again!
Best Dessert
Freshly Baked Carrot Cake with Cream Cheese Icing
Hops & Barley was also home to our favorite dessert at the festival this year. The Freshly Baked Carrot Cake with Cream Cheese Icing is a returning dish and it is just as good as we remembered!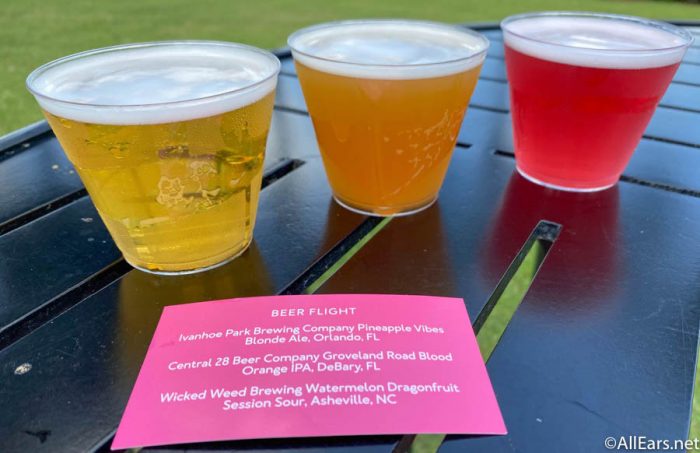 The cake features freshly grated carrot and has a great blend of spices that bring this cake to the next level. Plus, it's topped off with a generous amount of icing making it a great dish to share between two if you're craving something sweet. You can give it a try for $4.50.
Crispy Chicken on a Sriracha-glazed Donut
Now, this one definitely falls between entree and dessert, but no matter how you classify the Crispy Chicken on a Sriracha-glazed Donut from The Donut Box, it's a must-try!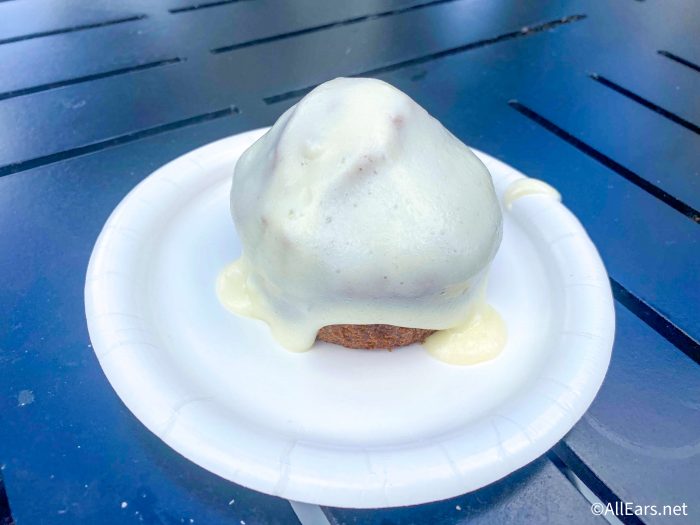 The donut will cost you $8.50, but you'll be getting a HUGE portion size and it's got everything from sweet and spicy flavors to crispy and crunch textures.
Best of the Cheese Crawl
Emile's Fromage Montage has returned once again this year and, if you aren't familiar with the activity, it's a CHEESE crawl! So, you can travel around World Showcase trying out five different cheesy dishes and get a prize at the end!
And, this year the choices were so good that we had TWO favorites!
Corned Beef Corner Route
First up is the Corned Beef Corner Route which can be found at Flavors of Fire hosted by the NFL on ESPN for $5.50. It is made with Smoked Corned Beef with Crispy Potatoes, Cheese Curds, Pickled Onions, AND Beer-Cheese Fondue — so LOTS of cheese!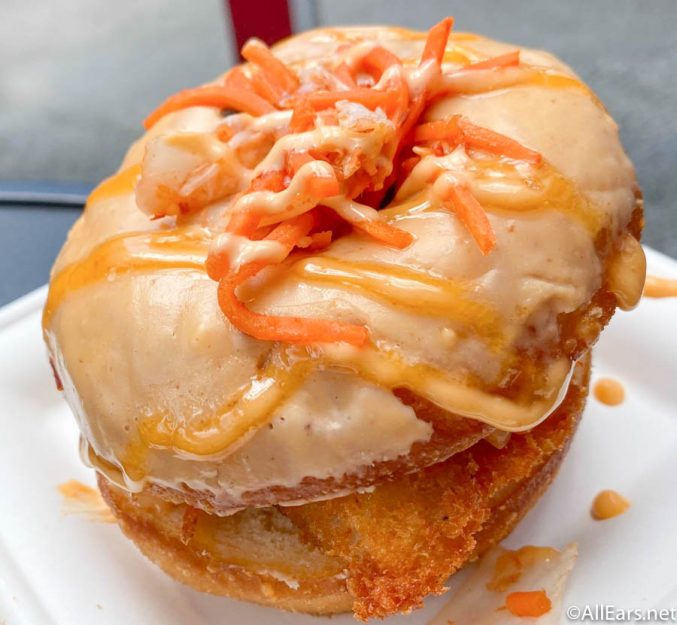 This is another returning eat at the festival, but the pairing of the salty beef, creamy cheese, chips, and pickled onions keep us coming back again and again.
Griddled Cheese
And, Greece is home to another one of our favorites on the Cheese Crawl — the Griddled Cheese! It is a basic slice of cheese topped with Pistachios and Honey for $4.50 but that certainly doesn't make its flavors basic.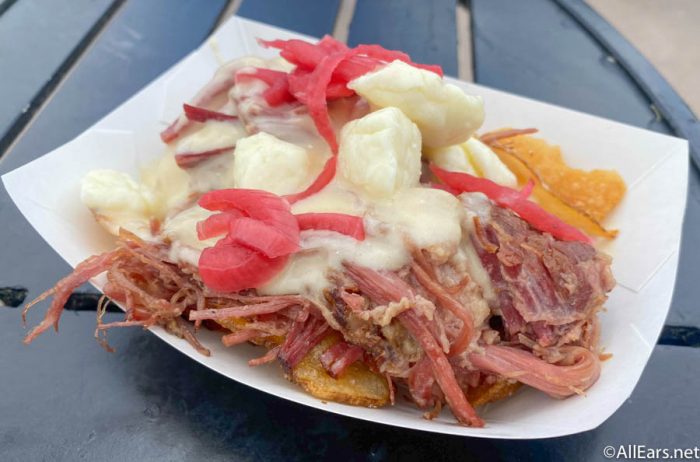 The cheese itself is creamy and the honey adds a lot of sweetness to the dish. Plus, the nuts not only give it a good crunch, but they also add a nutty flavor that balances well with the rest of the elements.
Best for Kids
Schinkennudeln
If you'll be taking on the EPCOT Food & Wine Festival with kids, we think that they're really going to enjoy the Schinkennudeln from the Germany booth! It is the same as it was last year and features a pasta gratin with ham, onions, and cheese for $4.25.
The pasta is tender but has some crispiness on the edges and the ham adds some saltiness to each bite. And, of course, there's lots of cheese in this one!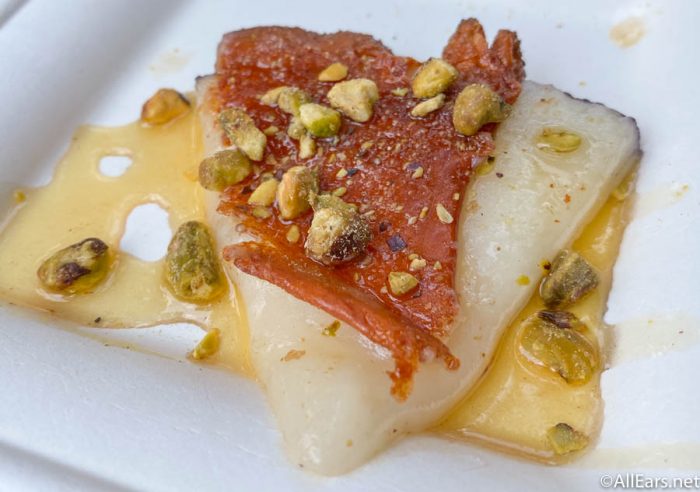 It's also part of Emile's Fromage Montage, so whether you're a kid or an adult, it's worth a try (and hey, you'll be one step closer to a prize)!
Shimmering Strawberry Soft-Serve
And, if you're looking for something a bit more fun (and sparkly) for the kiddos, the Shimmering Strawberry Soft-Serve is another great option at the Shimmering Sips booth!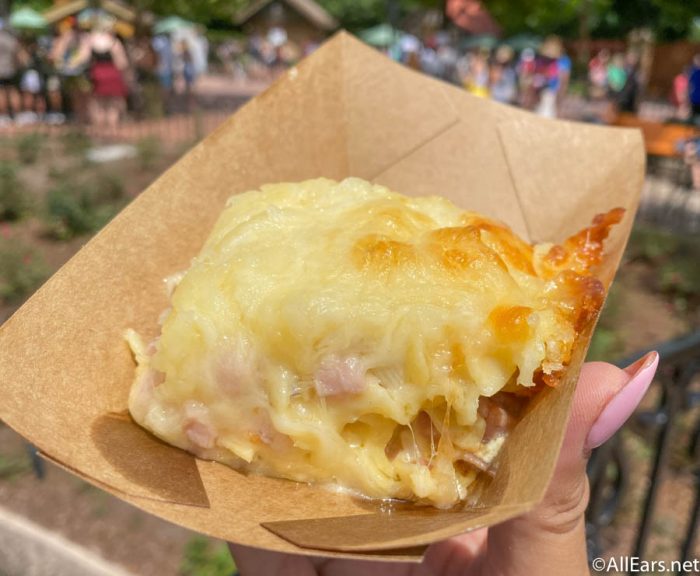 It is a simple strawberry soft-serve but it has glitter and comes in a waffle cone that is dipped in sprinkles. It's available for $5.25.
You can grab all these items and MUCH more at the EPCOT Food & Wine Festival now through November 20th. And, we'll continue to give you a look at everything else happening at the festival during its run through the fall in Disney World so stay tuned!
Click here for ALL the 2021 Food & Wine Festival Menus!
Join the AllEars.net Newsletter to stay on top of ALL the breaking Disney News! You'll also get access to AllEars tips, reviews, trivia, and MORE! Click here to Subscribe!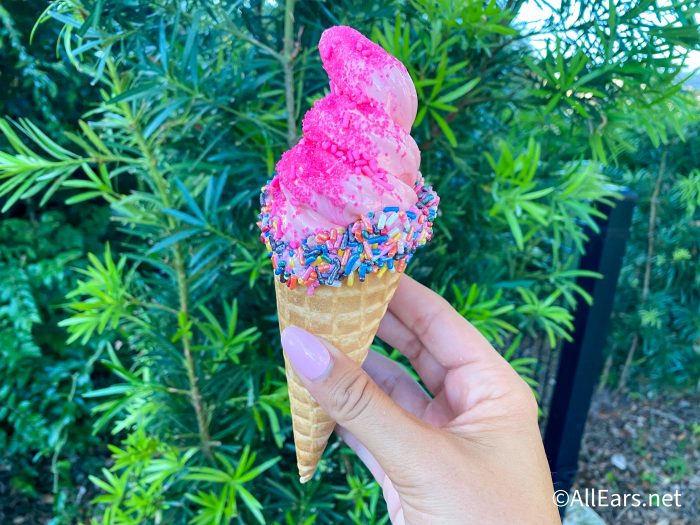 What are your favorite eats and drinks from the Food & Wine Festival? Let us know in the comments!
Post a Comment
For more information, please see more information about Best food in epcot 2021
Detail: 🔗