This easy Honey Baked Ham Recipe is the best holiday ham you'll ever put in your mouth. It is super juicy and tender, with a delish caramelized and sticky glaze. Its warm spices fill the house with an aroma that signals that the holidays are finally here. It's as yummy as the famous HoneyBaked Ham, but with added pros: it costs a fraction of the price that you'd pay at a store, and there is no waiting in line.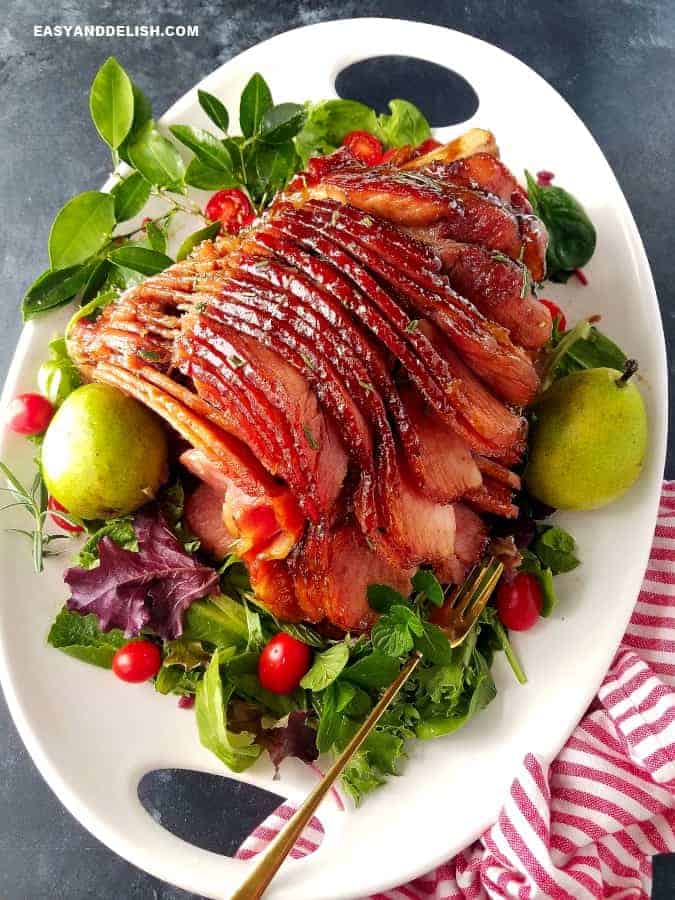 Are you excited for the holidays? I hope so because I am gonna be handling a gift to you: The best baked honey glazed ham recipe ever!
First of all, it's so easy to make that it will have you grinning from ear to ear.
Second, although it's not a HoneyBaked ham copycat, it is super JUICY, TENDER and darn DELICIOUS!
Third, our glazed ham recipe costs way less than at the store and you won't have to wait in line during the busiest time of the year.
Now isn't that a true Christmas gift? But of course, you can make this nonseasonal ham recipe for Easter/Thanksgiving as well as this slow cooker ham recipe (or our brined turkey)!
Well, ready to learn how to cook the best honey ham recipe and to learn all the answers to the most common questions people ask about baking honey ham?
WHAT KIND OF HAM SHOULD I BUY?
This is one of the first decisions that you'll face. There are fresh and fully cooked hams.
For this Honey Baked Ham, I advise you to get a fully cooked, bone-in spiral cut ham (aka spiral sliced ham). Why?
It's not only easier to find in stores, but also you'll only need to warm it up. They also cost less per pound than fresh ham and are more flavorful since they have been brined.
That means it is safe to eat it right from the package.
It you enjoy smoked meats, go one step further and buy a fully cooked, bone-in spiral sliced smoked ham.
WHICH IS BETTER BONE-IN OR BONELESS HAM?
There are pros and cons to both. Bone-in hams are moister and more flavorful, although it may be a challenge to slice them at certain points. Because the collagen in the connective tissues melts when heated, basting the meat, you will also wind up with delish juices for making soups, stocks, and stews.
On the other hand, for the same reasons listed above, boneless hams tend to be less moist and may be less flavorful than the bone-in hams. But they slice easier into nice, full slices.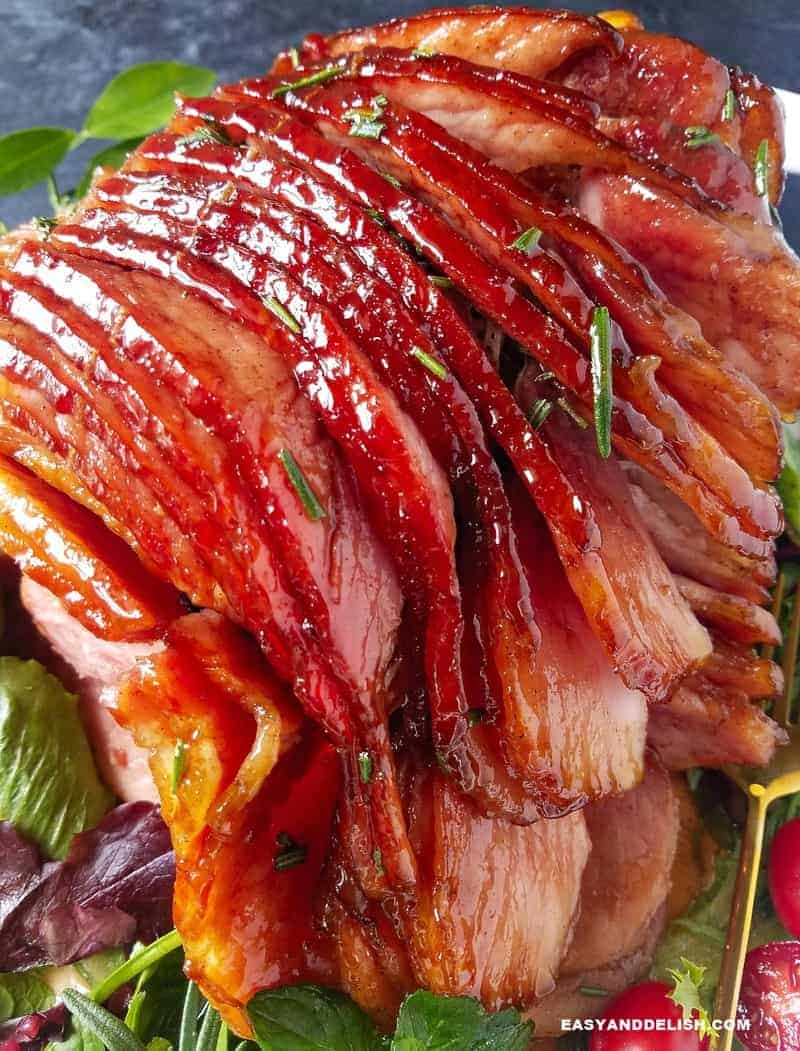 FRESH VS. CURED VS. SMOKED
Fresh or uncured hams are uncooked. They are also not so easy to find in most grocery stores in the U.S. and cost a bit more per pound. Many find them to be a healthier option since there is no addition of salt and nitrates/nitrites that can make some sick.
Cured hams have been dry or wet brined and fully cooked. Unlike fresh ham, you'll only have to reheat them. It's save you time both brining and cooking!
Smoked hams are cured hams that have undergone an additional smoking process. They may cost a little more than cured hams but less than fresh hams.
UNCUT VS. SPIRAL HAM
Even when fully cooked, uncut hams tend to be moister. They hold in the juices. But you had better have an electric knife to slice them.
On the other hand, spiral hams are easier to serve because they come sliced. But don't worry! Depending on how you reheat them, you can still have a moist ham such as our honey baked ham.
SLOW COOKER VS. ROASTING PAN
Again, both options have pros and cons. You can set the timer of the slow cooker or oven without worries. and can wind up with a moist ham in either case.
So how to choose one or the other?
I'd say by the size of the ham and how golden you want it to be.
If you own a 6-qt (standard) slow cooker, virtually no bone-in ham above 7-8 pounds is going to fit in the slow cooker. Believe me, I have learned the hard way!
In this case, you don't need to exchange back your ham. Just place it into a roasting pan and the oven will gladly take care of it. As a plus, you'll have a golden brown ham. 🙂
Can your ham get a "suntan" in the slow cooker. It may get a nice color, but usually not as great as it would in the oven. However, what you can do is place it into a shallow pan and then put it under the broiler for a few minutes to enhance the color.
WHAT IS THE BEST CUT OF HAM?
Overall, I would say a spiral cut. You can glaze in-between the slices, adding flavor to the entire ham, not just its surface. Moreover, you don't need to carve it!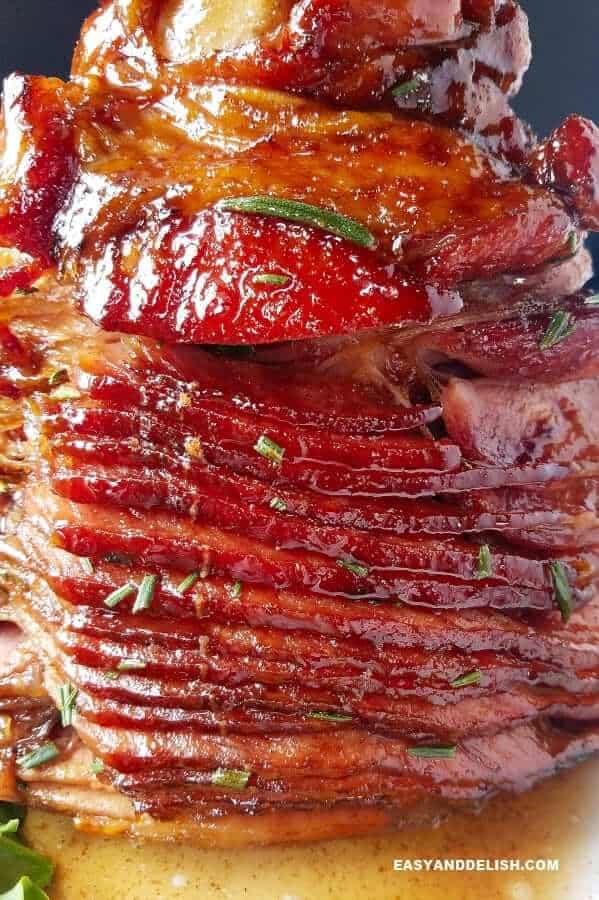 HOW MUCH HAM SHOULD I BUY?
The total weight depends on how many people you plan to feed. A good estimate is ¾ pound per person for a bone-in ham, and ½ pound for boneless ham. That way if you intend to buy a bone-in ham and feed 12 people, e.g, you will need to buy a 9-pound ham. .
AT WHAT TEMPERATURE SHOULD I BAKE MY HAM?
The ideal temperature is the one stated on on the package. For a fully-cooked, super moist ham, bake at 275 degrees F for 15 minutes per pound. If you are in a rush, you may bake at 350 degres F for 10 minutes per pound. In addition, pour a small amount of liquid in the bottom of the pan and tent ham with foil to keep moisture in.
HOW LONG SHOULD I COOK A HAM FOR?
For this Honey Baked Ham, bake until internal temp reaches 135 degrees F. For a 10 pound fully cooked ham this will take about 2 hours and 30 minutes to reheat at 275 degrees F.
HOW DO YOU CHECK THE TEMPERATURE OF HONEY BAKED HAM?
Just insert the thermometer into the thickest part of the ham. But make sure the thermometer doesn't touch the bone because the temp will much higher than that n the meat.
GLAZE FOR HONEY BAKED HAM RECIPE
To achieve an overall balanced flavor, you will need salt, sweetness, and acidity.
The salty element comes from brining a ham. The sweetness can come from sugar, honey, jams, or maple. The acidity can come from wine, mustard, fruit juices such as orange and pineapple juice, and vinegar.
We can't forget spices, which play a great role in flavor as well!
Our Honey Baked Ham comes brined and calls for brown sugar and honey, and also orange juice, possessing all the elements for the best baked glazed ham. Allspice, ginger, and garlic complete the combo.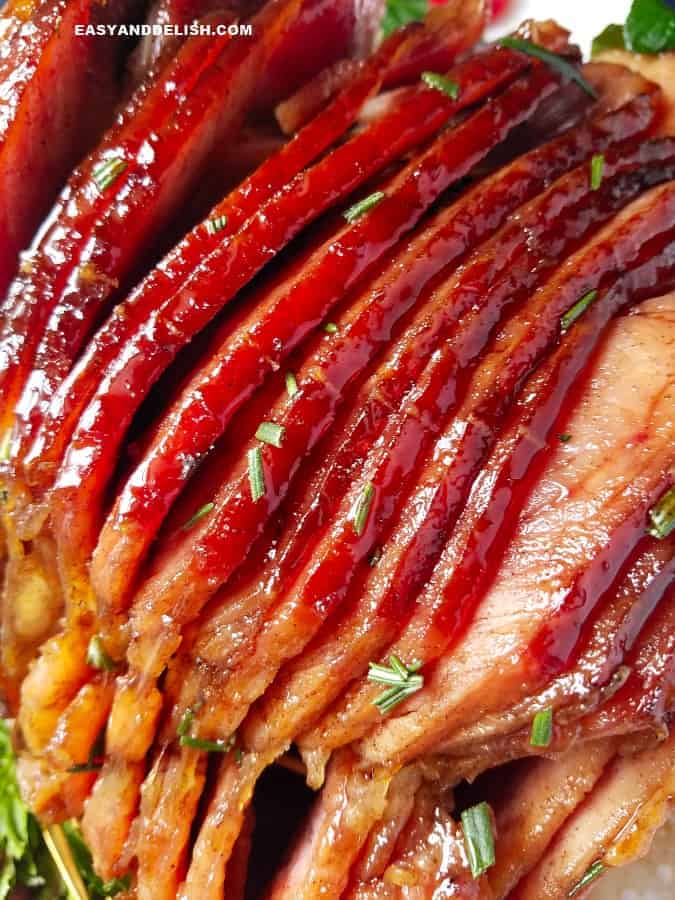 WHICH HAMS TO GLAZE
The sky is the limit! That means, you can glaze any ham. The glaze adds flavor and extra color: the browning factor! Many fully-cooked hams come with a glaze packet. You can use them or make your own.
WHAT DO I NEED FOR HONEY BAKED HAM?
For this Honey Baked Ham recipe, you will need the following:
8-10 pound fully cooked, bone-in spiral sliced ham
Water
Foil
Roasting pan
Gloves
Honey Glaze
Pastry brush
Thermometer
Oven
WHAT IF I DON'T OWN A ROASTING PAN?
If you don't own a roasting pan, you can buy a disposable aluminum foil pan at the dollar store. Since they are flimsy, I suggest that you buy 2 and place one inside the other for a sturdier bottom. Once ham is inside, hold the bottom firmly with two hands. Of course, don't forget your gloves!
WHAT IF I DON'T HAVE A THERMOMETER?
The meat thermometer helps:
To read the internal temp accurately;
Prevent overheating – this way the ham will not become too dry.
But if you don't own one, don't worry. Just pour water in the bottom of the pan, tent ham with foil, and bake at 275 degrees f for 15 minutes per pound. These will secure the moisture and the result will be a tender and juicy ham.
CAN I COOK A HONEY BAKED HAM IN A ROASTER?
If the ham fits in the roaster, yes! You can apply the same instructions for an oven-baked ham to one that is cooked in a roaster. The ham is fully reheated when reaches a temp of 135 F.
DO YOU ADD WATER TO BAKE HAM?
To lock in additional moisture, add liquids such as water, wine, or broth to the pan. Ham should face down in the roasting pan and be tented with foil. Set oven to low temp and let ham reheat slowly.
IS IT BETTER TO BAKE IN GLASS OR METAL?
For this honey baked ham recipe, it's better to cook in a metal pan as metal is a better conductor of heat than glass. It can also cook meats more uniformly than glass.
HOW TO MAKE HONEY BAKED HAM RECIPE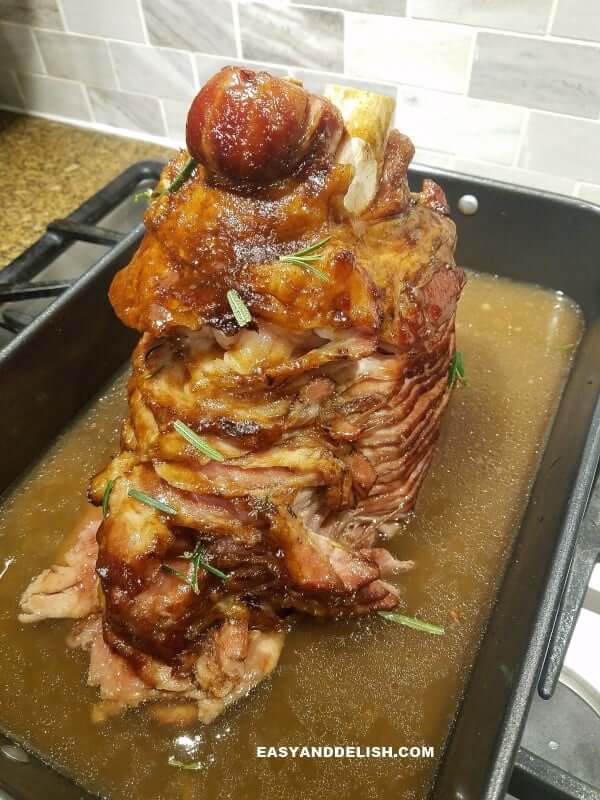 Let the ham sit at room temp for 1-2 hours before baking. This will help it cook/reheat more evenly.
Preheat oven to 275 degrees F. Place the oven rack on the lowest level – so that the center of the ham will be level with the center of the oven while baking, ensuring even cooking/reheating.
Add a liquid to the roasting pan: water, broth, wine, or a fruit juice. The liquid steams around the ham, creating a moister ham.
Position the ham face down so that the juices can baste the ham all over. If you have a rack, place the ham on it but if you don't, skip this step.
Tent ham with foil to secure moisture.
Bake ham at 275 for 15 minutes per pound or at 350 F for 10 minutes per pound.
About 30-45 minutes before fully reheating, take the ham out of the oven.
Baste ham with the liquid/drippings from the bottom of the pan.
Make the ham glaze. Whisk honey, brown sugar, and spices in a microwave-safe bowl. Microwave on high for 30 seconds. Stir and cook again for 30 seconds more.
Brush half of the honey mixture over the exterior of the ham, as well as brushing in between the slices so that the mixture can reach the middle of the ham.
Return ham to the oven, uncovered, and bake for the remaining time left.
Insert an instant-read thermometer in the thickest part of the ham but not touching the bone. The ham is ready when it reads 135 F.
Brush ham again with remaining glaze and serve ham with pan drippings.
HOW TO COOK A PRECOOKED HAM?
A precooked ham won't need cooking but rather reheating. So take the ham out of the package, place it into a roasting pan facing side down, pour water in the bottom of the pan, and tent ham with foil. Reheat to the temp stated in the package. The cook time depends on the weight of the ham. It is ready when it reaches 135 F internal temp.
SHOULD HONEY BAKED HAM BE SERVED AT ROOM TEMPERATURE?
Yes, it can. Allow Honey Baked Ham to rest for 15-30 minutes to reabsorb the juices. Serve either warm (better if serving hot sides), at room temp, or cold (ideal for sandwiches and meat boards).
SIDES TO SERVE WITH HONEY GLAZED HAM
Serve this Honey Baked Ham recipe with:
Broccoli Gratin
Mexican Cornbread Casserole
Mac and Cheese
Kale Pasta Salad
Tapioca Breadsticks
Cauliflower Mac and Cheese
Mashed Sweet Potatoes
Sweet Potato Casserole
Low Carb Biscuits
HOW TO USE HONEY BAKED HAM LEFTOVERS
Ham and Bean Soup
Ham Dip
Broccoli, Ham and Cheese Pop Tarts
Ham and Cheese Croissant Casserole
Ham and Grilled Cheese Sandwich
Potato and Ham Breakfast Casserole
Ham and Swiss Slab Pie
HOW LONG IS LEFTOVER HAM GOOD FOR?
Store Honey Baked Ham leftovers in an airtight container in the fridge for up to 5 days.
CAN I FREEZE LEFTOVER HAM?
Freeze Honey Baked Ham for up to 3-4 months.
SHOULD I TAKE THE RIND OFF?
Spiral hams, like ours, come already skinned, wet-cured, and cooked. There is no need to remove the rind off because it comes already witout.
But if you buy a fresh whole ham, you can remove the rind (not the fat underneath) to make the outside crispy. The fat is needed to baste the ham and keep it moist!
If you buy a skin-on cured ham, remove the skin because the amount of sugar of the brine will make the skin burn and get bitter before achieving the proper crisp.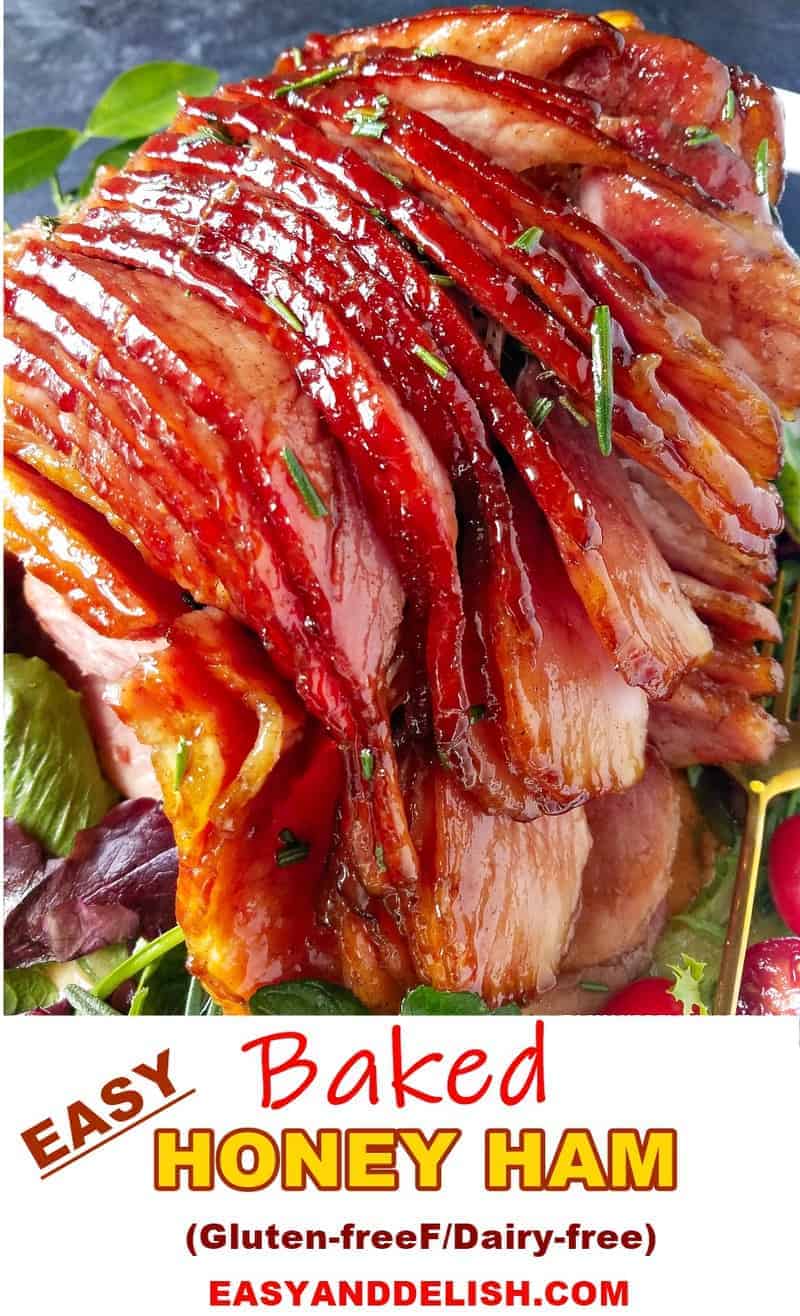 For more information, please see more information about Cooking ham in electric roaster
Detail: 🔗