These are the best oven baked chicken leg quarters – tender, crispy, and juicy on the inside, you simply brush with butter and simple seasonings before cooking them in the oven at a low temperature for an hour, with a final spike in the temp to crisp the skin up real nice at the end.
Simple Baked Chicken Leg Quarters
I love a budget-friendly and patience-friendly meal, and these oven baked chicken quarters cover all those bases and more. Chicken legs are fairly simple and inexpensive, but when you butter them up, season them well, and bake them low and slow in the oven, they become tender and juicy and perfect dinnertime contenders. I turn up the oven's heat at the very end to get the skin nice and crispy, and it's seriously delicious.
Plus, it takes about zero time for you to prep it all. Getting the chicken ready might cost you 5 minutes, and then you put them in the oven for an hour, freeing you up to get sides ready (or just chill for a bit!) while they bake. Chicken legs are no fuss as long as you know how to do them, and if you ask me, this recipe is the perfect place to start.
What is the best way to season chicken legs?
When it comes to seasoning, you can go as simple as salt and pepper, you can use your favorite seasoning blend (like Everything but the Bagel seasoning from Trader Joe's, Montreal Chicken Seasoning, Lemon Garlic, or anything else), or you can make your own magic season salt by combining ¼ cup kosher salt, 4 teaspoons garlic powder, 1 tablespoon ground black pepper, 2 teaspoons onion powder, and ½ teaspoon cayenne pepper, optional. I just toss everything in a little mason jar, add the lid, and shake to combine. This is a great basic season salt recipe. It's great on french fries and all kinds of meat.
What is the best way to bake chicken legs?
Slow and low is why I love this recipe. By starting out at a low temperature, you give the meat time to cook and become tender. Finishing it off at a higher temperature makes the skin delicious and crispy. It might take a little while in the oven but you only have 5 minutes of hands-on time.
What to do with the juice at the bottom of the pan when baking chicken legs:
The juice that is at the bottom of the pan is super good, just FYI. If you are serving some kind of vegetable with this dish, I'd spoon some of the chicken drippings over the top or even make gravy for potatoes with them.
How long to bake chicken legs:
You can make this recipe with a different cut of meat, but it will affect the cook time. You'll want to stick with a bone-in, skin-on cut, because they really help this to be a moist and flavorful dish. Use a thermometer to check your cut of meat if using something other than chicken leg quarters.
Should I remove chicken skin before cooking?
No! Please don't. Chicken skin adds so much flavor (as do the bones) and gives the outside such an incredible crispy texture. It's higher in fat, so this wouldn't be a meal you eat every day, but it certainly won't do any harm every once in a while! You've got to live a little, right?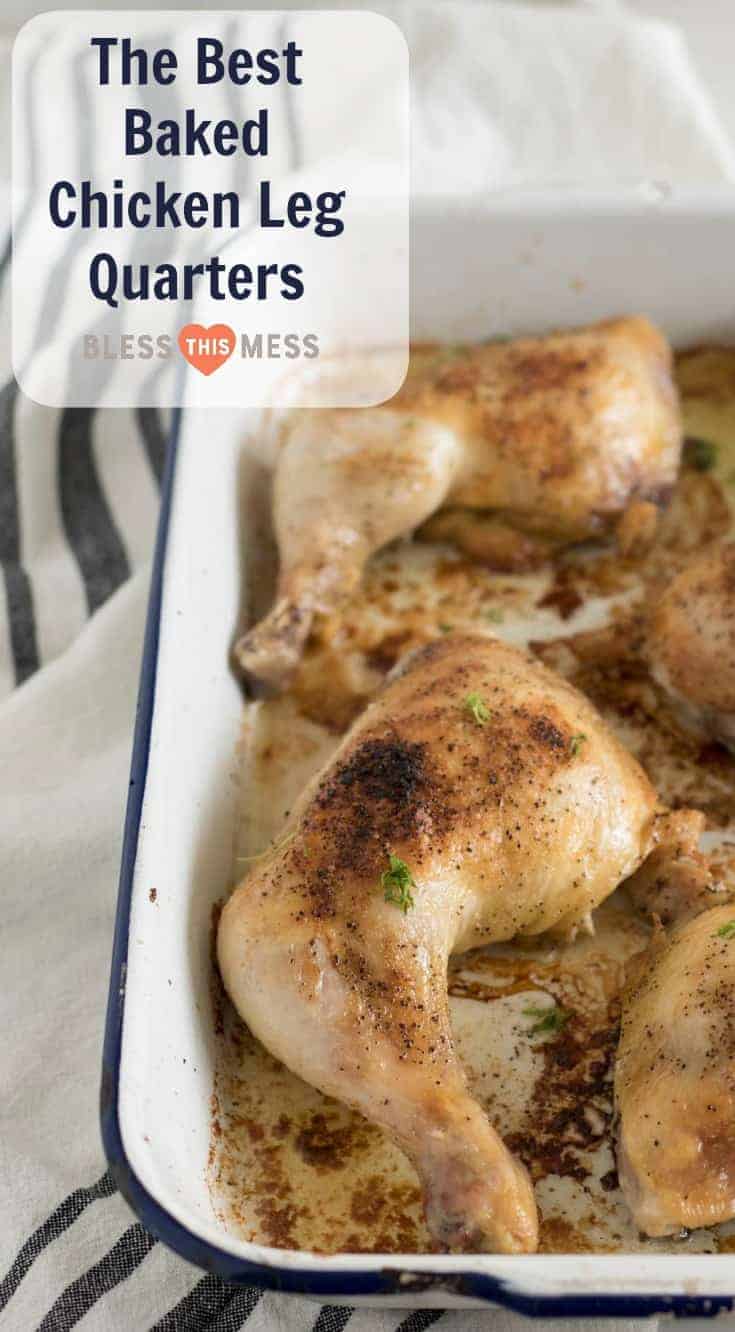 Round out this meal with:
My Favorite Cornbread Recipe
Deli-Style Broccoli Salad
Crispy Homemade Sweet Potato Fries
Classic Scalloped Potatoes
Sauteed Asparagus
Red Velvet Cake
Other baked chicken recipes you'll love:
The Best Baked Chicken Legs
Crispy Sheet Pan Baked Chicken Taco Meat
Lemon Garlic Baked Chicken Legs
4-Ingredient Honey Mustard Baked Chicken Legs
Crispy Panko-Crusted Baked Chicken Legs
5 Ingredient Slow Cooker Chicken Legs
8 Must-Make Recipes for Chicken Legs
Crispy Baked Chicken Drumsticks with a Pretzel Coating
Simple Oven Roasted Chicken Drumsticks
Print
Are chicken legs healthy?
Chicken, no matter the cut, is a great source of lean protein (yes, even the dark meat!). I know chicken breast is all the rage because it's a bit lower in fat and calories, but I'm on a mission to spread the gospel of chicken legs and all their flavor-filled, easy-to-make glory.
How long will baked chicken legs keep for?
You can store these in your fridge in a sealable bag or airtight container (whichever you choose, line the bottom with a paper towel to catch excess liquid and keep the legs from getting soggy) for up to 3 or 4 days. I recommend reheating them in the oven so the skin has a chance to re-crisp.
You must try making these fabulous chicken leg quarters recipe sometime soon because they're crispy, juicy, and perfectly seasoned!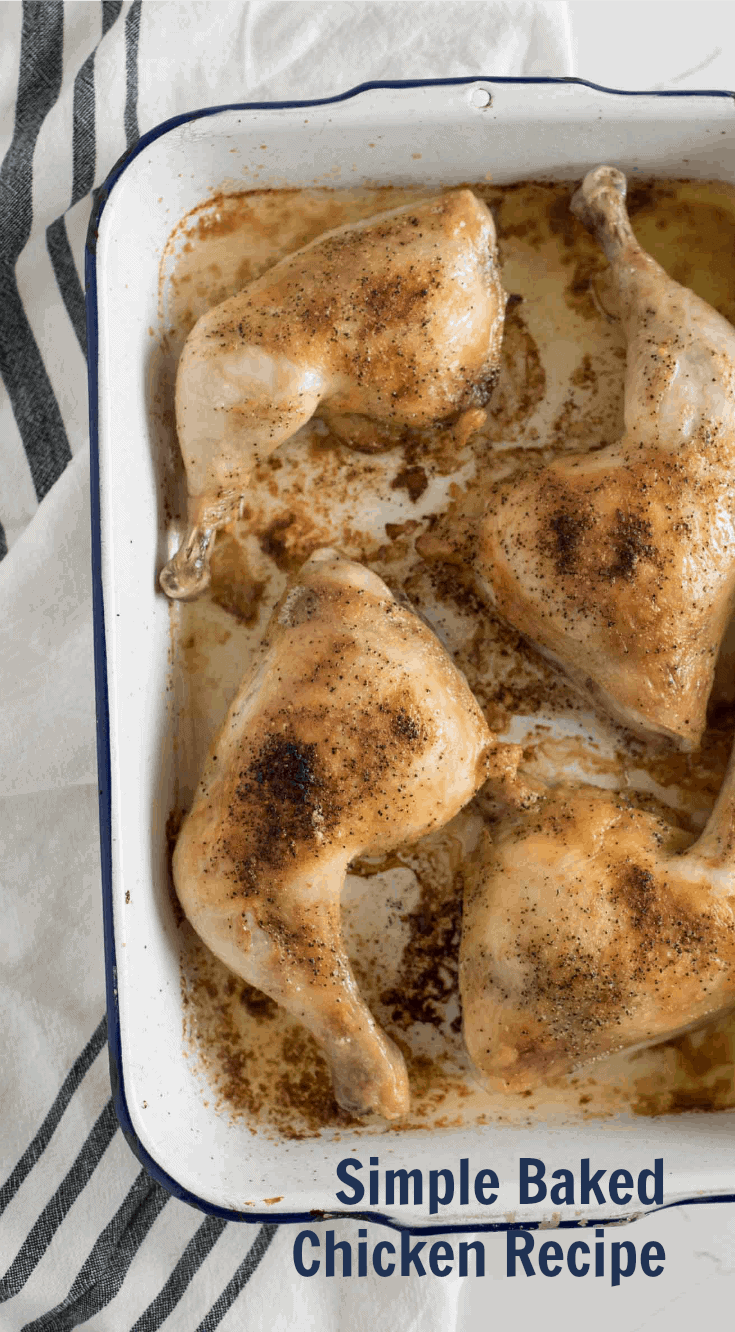 You'll love how great this simple baked chicken leg quarters recipe is! It's easy to make, you'll love how flavorful the chicken is, and it's one you'll make over and over again!
For more information, please see more information about Roast chicken quarters in oven
Detail: 🔗