The BEST Pork Chop Marinade is a quick and easy marinade made with pantry staples! It will make your pork chops extra juicy, full of flavor and delicious. This pork marinade works great if you are grilling outside or if you are inside using a grill pan!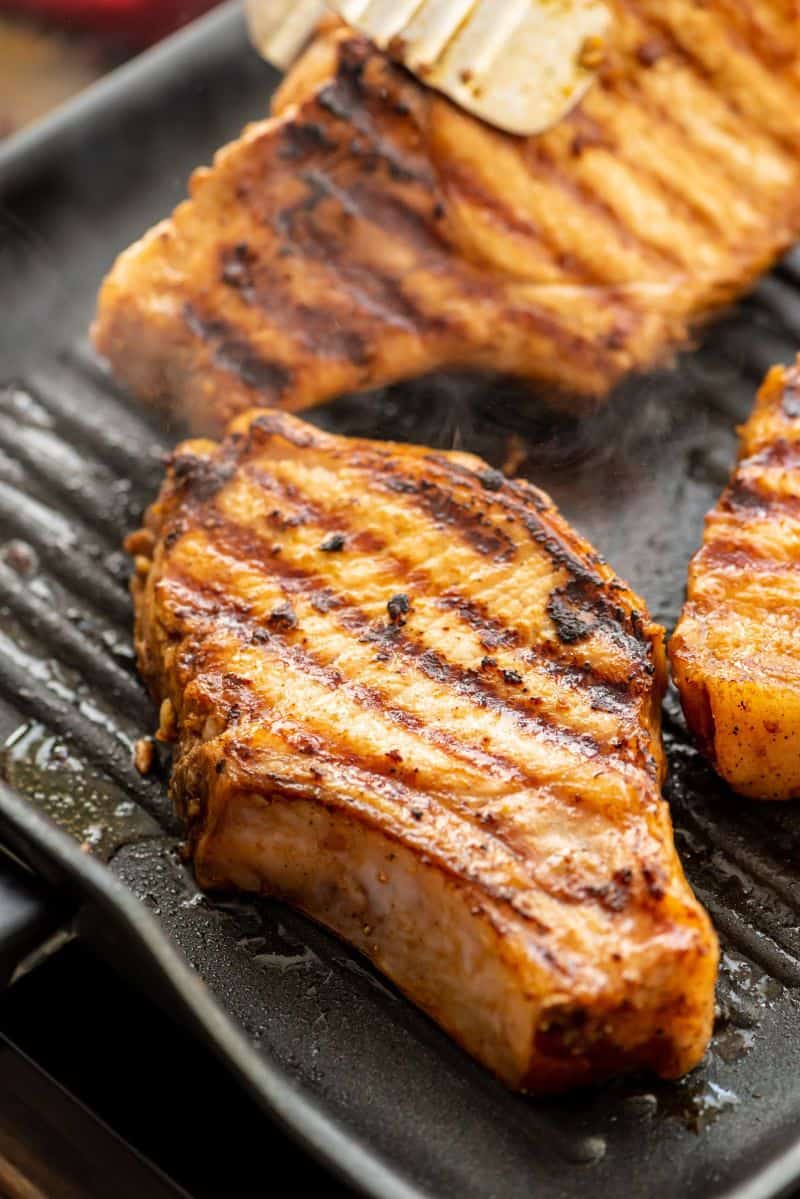 This post is sponsored by the Iowa Pork Producers Association. All text and opinions are my own.
There's nothing like firing up the grill on a summer evening and throwing some pork chops on it along with my favorite Grilled Asparagus and Grilled Baked Potatoes! It is an entire meal all prepared on the grill with minimal clean up in the kitchen. This is something I can get behind!
My eyes light up when my hubs says he's going to make pork chops on the grill with this marinade because it's the best marinade ever!
Imagine biting into a tender, juicy and delicious pork chop that's been marinaded for an amazing flavor.
Got ya, didn't I?
EPIC!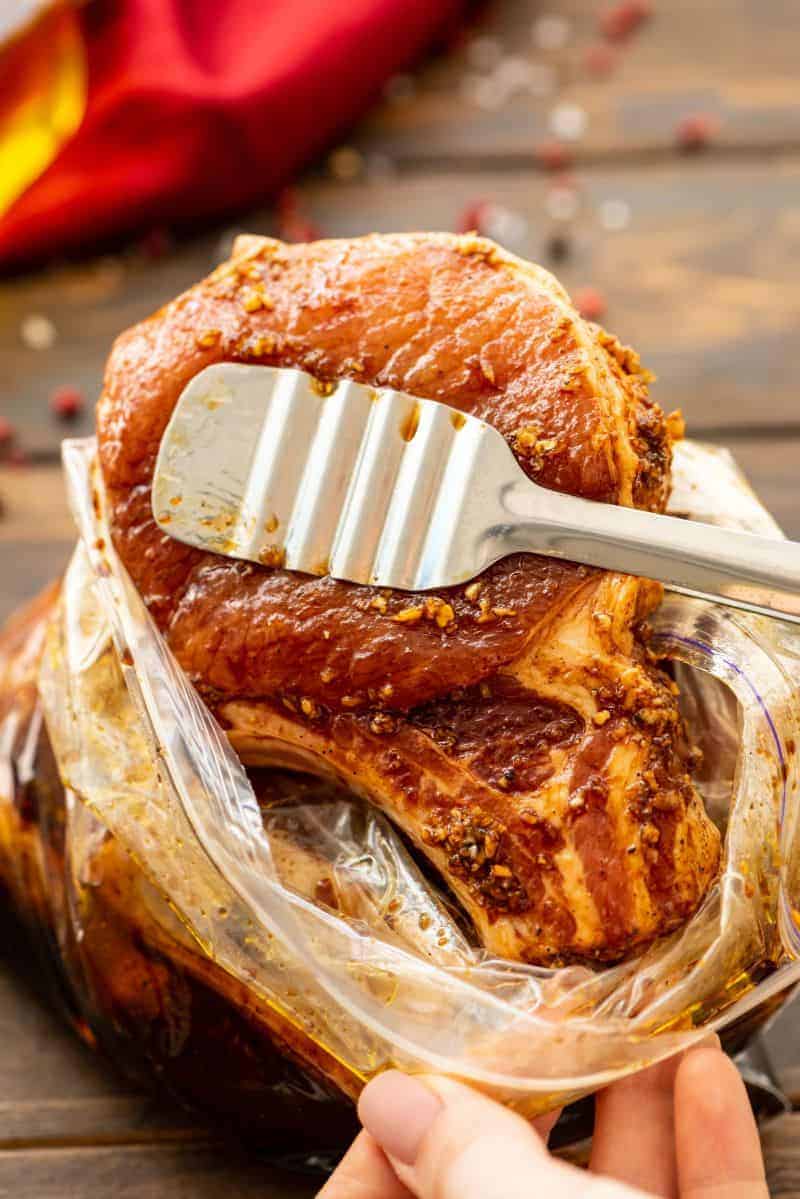 You know what else I can get behind? Supporting my favorite farmers! Especially my friends over in Iowa that produce amazing pork.
Also read: The Best Pork Chop Marinade
As many of you know, I grew up on a family farm and my family still owns and operates it today. We have moved on from raising livestock, but we used to raise pork, sheep and cattle. Today the farm is ran as a grain farm.
We only live a few miles away so I still get roped into helping out. During the fall I try to help take meals out to the field and I always have to chuckle because it's never a fast thing. Soon they have me running errands, moving equipment and every in between. I might think it will take a hour and soon it's been three hours! Once a farm girl, always a farm girl!
I'm sure they wouldn't turn me down if I offered to bring them out these delicious grilled pork chops for dinner or "supper", as we call it in the Midwest!
As I said before we have changed gears on our family farm to producing the feed like soybeans and corn that hogs eat in their feed, but I still love promoting both sides of the farming industry.
My Dad led by example and taught me early on in life that hard work is not optional it's just how you live life. I also realized that farming isn't his "job" it's truly his passion. He doesn't ever stop thinking, talking or doing something for the farm.
Our supper conversations around the table always included farming. He shared what the prices of crops or animals were, what was going on, the struggles they were currently facing and what he was going to do about them. I know that my success in life has been because of that. Giving up or taking the easy way out just isn't an option and I truly believe farmers believe that all over the U.S.!
Like I said, farming is in my soul and I love sharing the amazing world of it with everyone. I was so blessed to grow up and have roots on a family farm.
That's why I'm excited to share with you a little about the Iowa Pork Producers today!
First of all, did you know that one-third of all the pork raised in the U.S. comes from Iowa? That's amazing! Plus, most of the pork raised on those farms in Iowa is eaten right here in the United States.
Every time you pick up pork from a grocery store across the United States, you are supporting family farms in Iowa. Now that right there is awesome!
Also read: Juicy Pork Chop Marinade (5 Ingredients) – Fit Foodie Finds
Family farms are the key to pork production across Iowa.
So, go grab the ingredients for the pork chop marinade, fire up the grill and welcome in summer with a bang!
Plus, you'll be supporting the wonderful pork producers and families in Iowa!
Ingredients for Pork Chop Marinade
Brown Sugar
Extra Virgin Olive Oil
Reduced Sodium Soy Sauce
Worcestershire Sauce
Salt
Ground Black Pepper
Garlic
Bone-in pork chops
How to Grill Pork Chops
Mix Marinade – First, grab a small bowl and whisk all of the ingredients except pork chops together.
Marinate – Next, grab a resealable zip lock bag and large bowl and place the pork chops in it. Pour the marinade you prepared into it. Squeeze as much air out of bag as possible and seal. Marinate for at least 2 hours or overnight. '
Grill – When you are ready to grill the pork chops preheat grill or grill pan to medium heat. Place pork chops on grill or in pan. Discard remaining marinade. Grill the pork chops over medium heat for 4-5 minutes on each side or until a thermometer inserted in the middle of the meat reaches 145 degrees F. Remove from grill or grill pan.
Rest – Let pork chops stand for 5 minutes before eating to let juices redistribute. This gets you that super juicy, delicious pork chop!

Here are a few quick tips and tricks about this pork chop marinade.
If you have additional questions leave us a comment and we will do our best to answer them!
Do I need soy sauce in this marinade?
Yes! Yes you do! It's like a secret ingredient.
It acts as a brine, which injects the pork with tons of flavor and makes it juicy. It's way better than your basic salt and water brine because it also brings a flavor to your marinade.
No, don't worry, it won't make your pork chops take on an Asian flavor!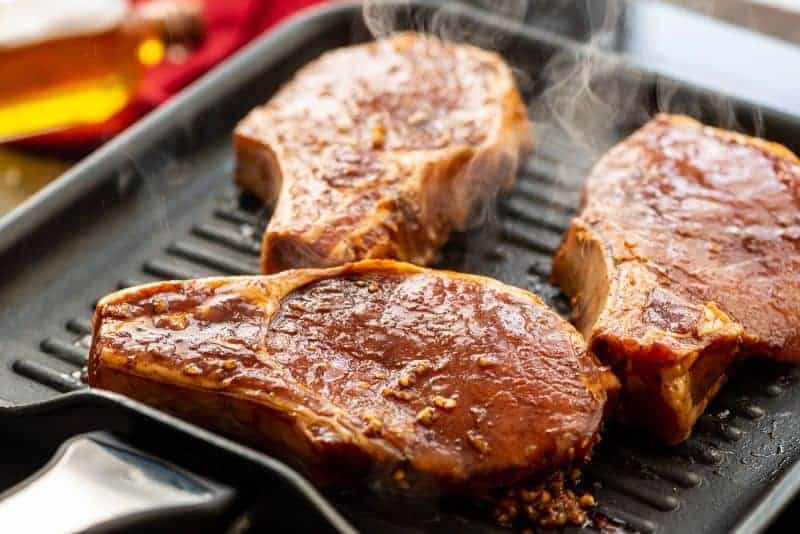 How should I marinade Pork Chops?
After a hour the pork chops will already benefit from the marinating. I prefer to let them marinate for at least 8 hours and up to 24 hours to get the most out of the marinade!
Also read: BEST EVER Pork Chop Marinade
I love throwing my pork chops in the marinade so when I come home they are ready to go and I can have dinner in about ten minutes!
Can you marinate Pork Chops to long?
After five days you want to discard the pork chops if they are in the marinade that long. This is due to food safety concerns.
Also read: BEST EVER Pork Chop Marinade
I love throwing my pork chops in the marinade so when I come home they are ready to go and I can have dinner in about ten minutes!
What temperature should Pork Chops be cooked too?
Research shows that pork can be consumed safely when cooked to an internal temperature of 145 degree F and followed by a three minute rest time. This yields a finished product that is pinker in color than home cooks were used to, but no worries it's totally safe!
Is this marinade freezer friendly?
Yes! This makes a great freezer meal!
I simply freeze uncooked pork in bag with marinade. To use, completely thaw in refrigerator. Grill as directed.
It can't get easier than that!
Double this recipe, freeze half of it and you just made two meals. This is my kind of cooking!

More Pork Chop Recipes!
Grilled Boneless Pork Chops
Smoked Pork Chops
Grilled Pineapple Pork Chops
Sheet Pan Parmesan Pork Chops
Try these side dish recipes!
Grilled Asparagus
Grilled Baked Potato
Bacon Wrapped Asparagus
WATCH THE STEP BY STEP VIDEO FOR THIS PORK CHOP MARINADE RECIPE BELOW:
If you enjoy watching these videos make sure you subscribe to my YouTube Channel to be notified each time a post a new video!
Tag me on Instagram when you make this @gimmesomegrilling or #gimmesomegrilling – love to see your delicious eats!!
Through this article, we hope to help you understand Marinade for pork chops to grill