A trip to Trader Joe's is unlike any other. From the food packaging to the displays to the fresh cut flowers that greet you at the front door, it's chock full of farmer's market vibes that are, quite frankly, hard to ignore. Another thing hard to ignore? Their pre-packaged salads and privately labeled salad dressings.
Find out why Trader Joe's salads and dressings are some of the most beloved grocery items, ahead.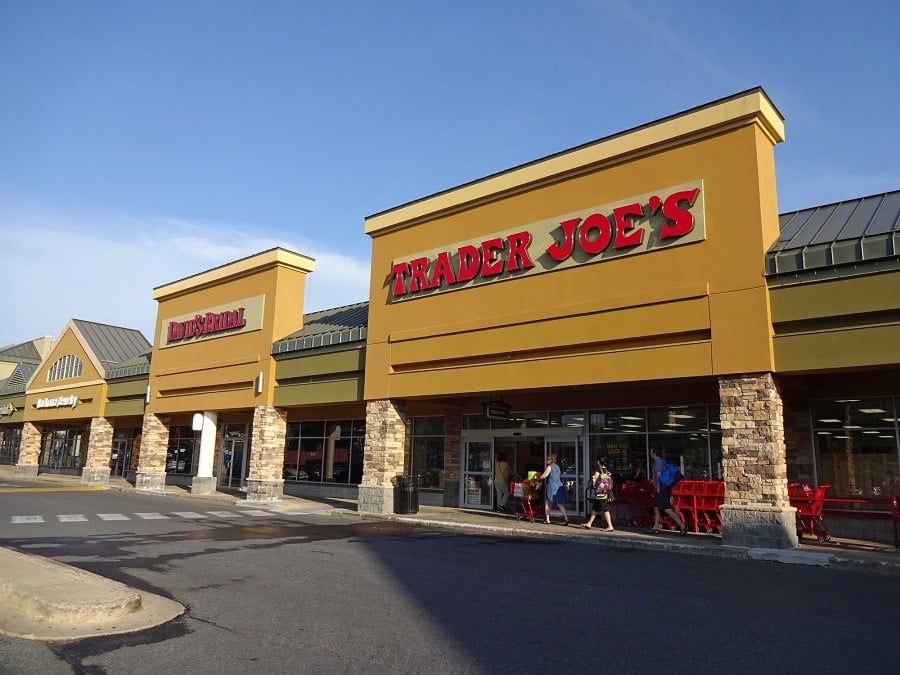 The best Trader Joe's Salads
It's no secret Trader Joe's has some of the best grocery deals in town. But, it's also home to some of the most affordable — and delicious — grab-and-go foods like wraps, sushi, and salads. Check out the best Trader Joe's salads, below.
Southwest Salad
Want to try one of Trader Joe's most beloved pre-packaged salads? Next time you're there, pick up the Southwest Salad. Created with romaine lettuce, black beans, corn, red onions, bell pepper, cotija cheese, and topped with a tangy ranch dressing, the fan-favorite is one of the most colorful options in the store. Not to mention: It's delicious.
Broccoli Slaw & Kale Salad with White Chicken Meat
Looking for a salad that has the right amount of sweet, crunchy, and tang? Look no further than Trader Joe's Broccoli Slaw & Kale Salad with White Chicken Meat. Made with the store's infamous broccoli slaw, chopped kale, white chicken meat, sunflower seeds, cranberries, and topped with a sweet and spicy dressing, the favorite salad is as delicious as it is healthy.
Lemon Chicken and Arugula Salad
For a fresh take on an arugula salad, try Trader Joe's Lemon Chicken and Arugula Salad. Made with Moroccan-style couscous, red quinoa, seasoned white chicken breast, and a spicy pimiento dressing, the hearty salad is a favorite amongst both its customers and employees.
Tabouli
Switch things up with Trader Joe's Tabouli salad. Albeit a little more work than a typical salad, the TJ's Tabouli tastes excellent on top of toasted naan bread coated with Trader Joe's Garlic Spread Dip. Cut it up with a pizza slicer and serve.
The best Trader Joe's salad dressings
Those that love to make their own salads know that the secret is in the dressing. That said, not all salad dressings are created equal. Luckily, Trader Joe's carries some delicious dressing varieties. Check out the best Trader Joe's salad dressings, below.
Green Goddess Dressing Salad Dressing
It's no secret that the Green Goddess Dressing from Trader Joe's is a fan-favorite. Created with avocado, apple cider vinegar, green onions, lemon juice, and other flavorful ingredients, the dressing can liven up any homemade salad or wrap.
Almond Butter Turmeric Salad Dressing
Brainstorming new ways to add superfood turmeric to your diet? Why not try in your salad with the Trader Joe's Almond Butter Turmeric Salad Dressing! Some reviews describe it as "most familiar to that dressing that comes with the side salad on sushi lunch specials," but its flavor composition is so much more than that. The tangy, gingery, creamy dressing tastes excellent with Asian salads or on top of fish or chicken as a marinade.
Check out The Cheat Sheet on Facebook!
Through this article, we hope to help you understand Trader joe's salad dressings