Hands-down this is The Best Tuna Pasta Salad I've ever had! It's a cold pasta salad with Mediterranean flavors and features whole chunk light tuna (packed in water), peas, celery, green onions, tomatoes, kalamata olives, pepperoncini and parsley. Make it with macaroni noodles and call it a Tuna Macaroni Salad.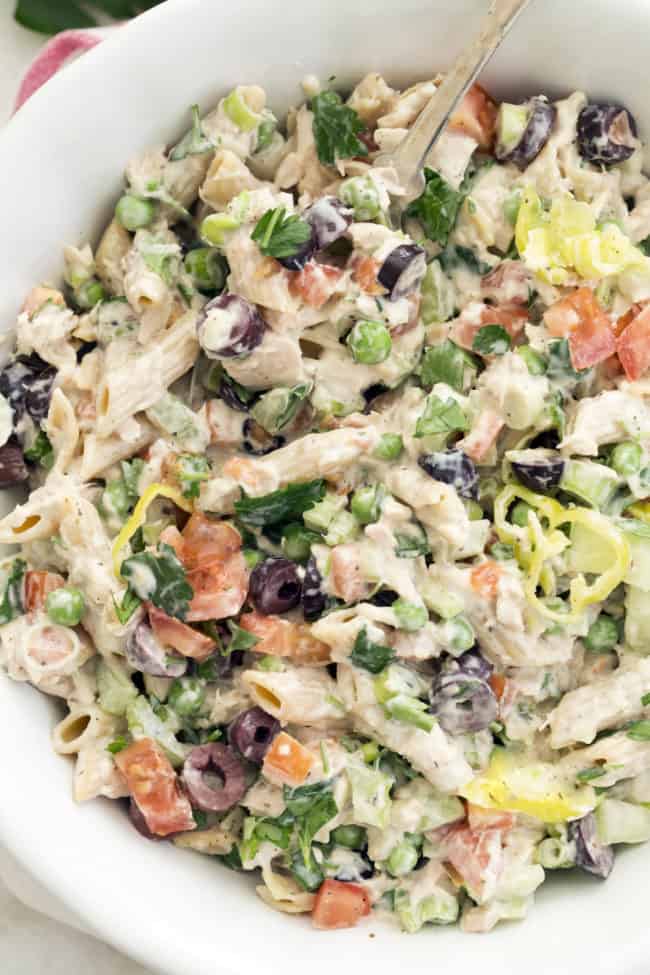 Reading: Natasha's kitchen italian pasta salad
I've called this The Best Tuna Pasta Salad for a reason! It has a really incredible combination of flavors and healthy ingredients, and it's always popular at picnics, parties and potlucks! Your whole family will love it!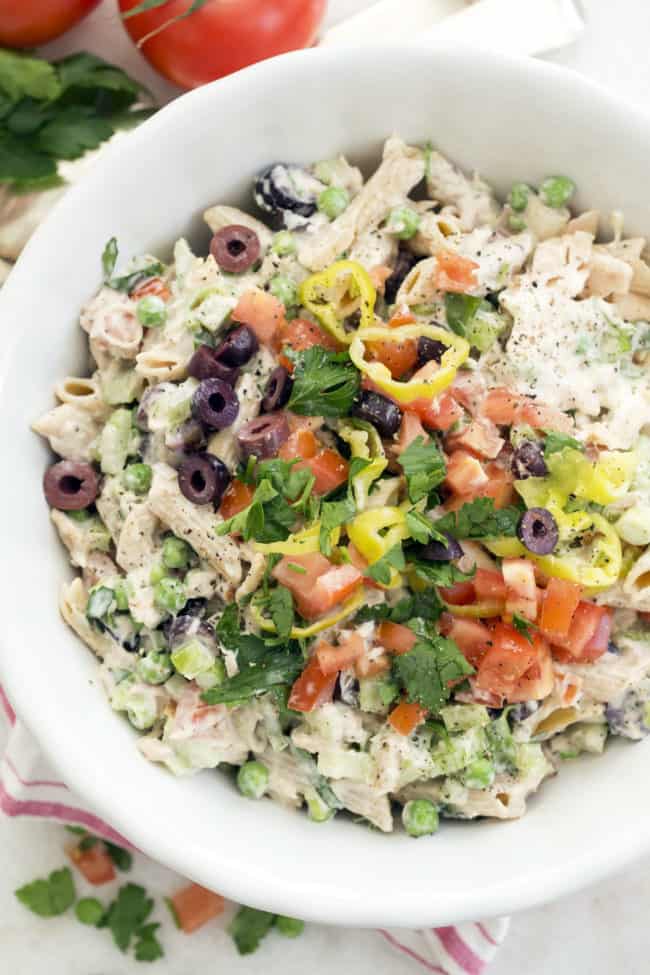 Read more: Keep Potato Salad For Longer: How to Freeze and Thaw it
This healthy pasta salad recipe is a riff on a salad served at Gardunos (my favorite little local Italian spot) that my family has loved for years. You won't find it on their menu year-round as they reserve this delicious pasta salad for the warmer spring and summer months.
Tuna Pasta Salad Recipe
This cold pasta salad is loaded with tomatoes, peas and parsley, giving it a lot of flavor and added nutrition. I've used penne noodles here, but you could easily use corkscrew noodles, or use macaroni noodles instead for a tuna macaroni salad.
Dolphin safe canned tuna
Penne noodles (or use macaroni to make this a tuna macaroni salad)
Kalamata olives,
Frozen peas
Chopped tomatoes, celery and green onions
Pepperoncini (optional)
Flat leaf (Italian) parsley
Mayo
Pasta salad dressing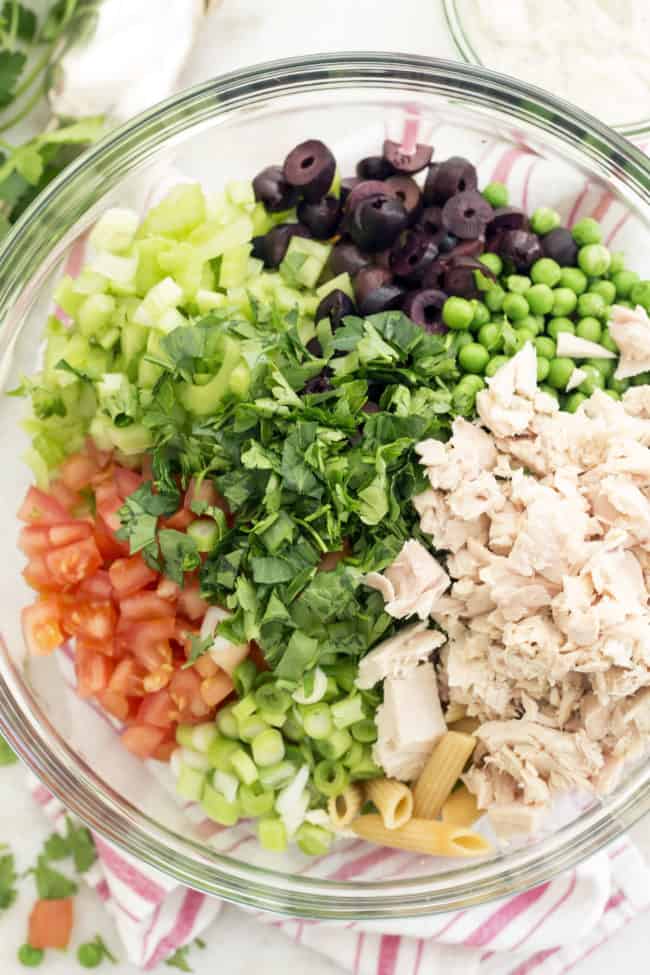 How to Make Tuna Pasta Salad
This is an easy pasta salad to make. It's best chilled for an hour or so before serving.
Cook pasta: Cook pasta until al dente
Steam peas: Place the peas in a colander and place in a pot with boiling water to steam or just pour boiling water over them for a quick blanch. Drain and set aside to cool.
Make tuna pasta salad dressing: Mix the ingredients for the dressing (Italian Salad Dressing recipe below) in a small bow.
Mix ingredients: Place the tuna with the water from the cans in a large bowl. With a fork, break up the tuna. Add the pasta, celery, green onion, and peas.
Toss ingredients in dressing: Pour the tuna pasta salad dressing over the salad ingredients and gently toss to coat the ingredients well.
Serve: Mound this cold tuna pasta salad on a platter and top with the chopped tomatoes, olives, and parsley. Toss all ingredients together just before serving so the tomatoes won't get soggy.
Pasta Salad Dressing
Best Foods Mayonnaise (add more as needed)
We stir in just a bit of Italian Salad Dressing or this Greek Salad Dressing (or you can use your favorite Italian salad dressing)
Read more: how to make egg salad with mayo
This pasta salad dressing is super easy to make! Just add the ingredients to a bowl and whisk well. If it's too thick, you can add a teaspoon or two of water to thin it out a bit.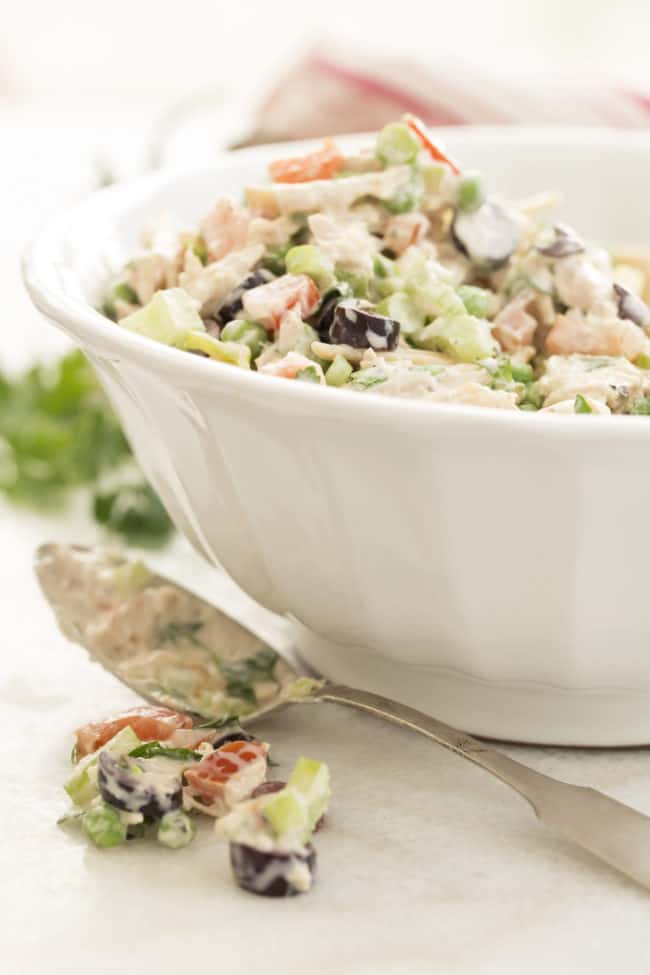 Variations
Use macaroni or corkscrew noodles instead of penne for a tuna macaroni salad
Add fresh dill or basil instead of parsley
Use black olives instead of kalamata
Gluten-free noodles instead of regular
Add more pepperoncini
Toss in a few capers
Add a few tablespoons of Parmesan cheese (because Parmesan cheese makes everything better)
Use salmon instead of tuna or chicken if you don't like fish
Add more veggies and chickpeas and omit the fish altogether for a vegetarian pasta salad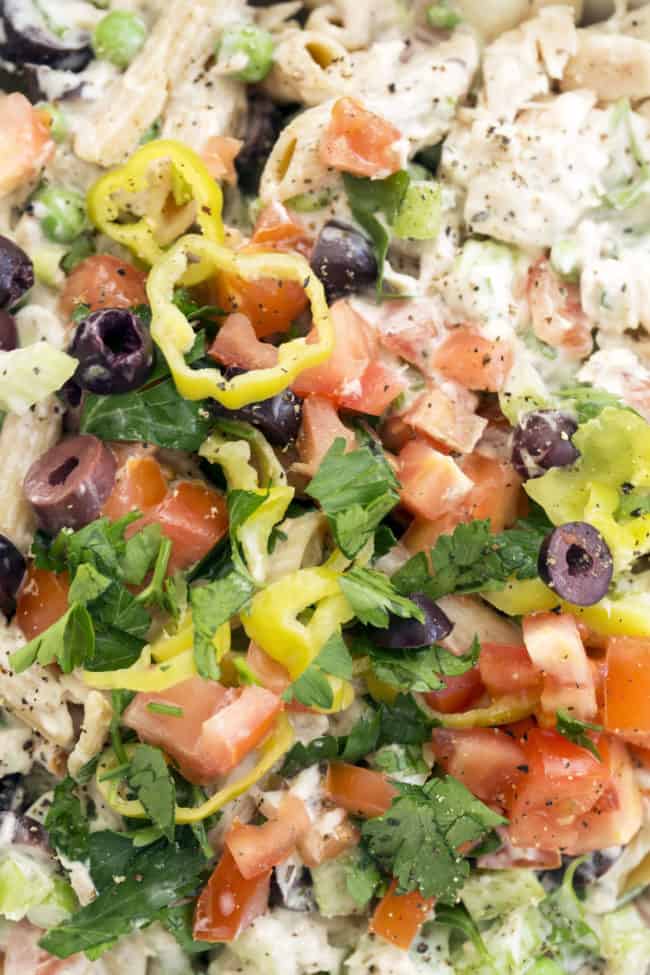 More Healthy Salad Recipes You'll Love
Italian Pasta Salad
Mediterranean Quinoa Salad
Italian Chopped Salad
Mediterranean Chickpea and Cucumber Salad
Still want more ideas? Check out all my healthy salad recipes here.
Read more: Sour cream in chicken salad – Takeout Food
Looking for More Canned Tuna Recipes to Make?
Mediterranean Tuna Melt
Tuna Salad (great for sandwiches)
Chickpea Tuna Salad (also great for sandwiches as a delicious vegetarian alternative)
For more information, please see more information about Natasha's kitchen italian pasta salad
Source: https://www.theharvestkitchen.com/the-best-tuna-pasta-salad/