This easy shredded beef is perfect for simply prepping shredded beef for tacos, hashes, and more! It's made with minimal ingredients in the instant pot or the slow cooker.

Prepping proteins can take a lot of effort at times! Perfectly cooking a steak, or making a juicy chicken can be a little bit more labor-intensive than I'm willing to do some days. Sometimes you just need a shortcut and a quick hack to have healthy protein on hand that you can transform for any kind of dish.
This shredded beef is the perfect multi-use protein that takes almost no effort to make! I love using it for tacos, enchiladas, hashes, or just eating on it's own with a simple side. All you need is a shortlist of ingredients and a bit of time to just set it and forget it in the instant pot. This recipe is paleo, whole30, keto, and AIP-friendly!
The Ingredients for making shredded beef in the slow cooker
Chuck Roast. See above for the best cut!
Beef broth. You definitely want to use broth rather than something like water. It adds a ton more flavor and keeps the beef juicy.
Salt, pepper, bay leaves, garlic, and onion powder. Since this is a multi-purpose beef, the seasonings are minimal. However, if you know you'll be using this beef for something specific, feel free to mix up the seasonings to fit the recipe better.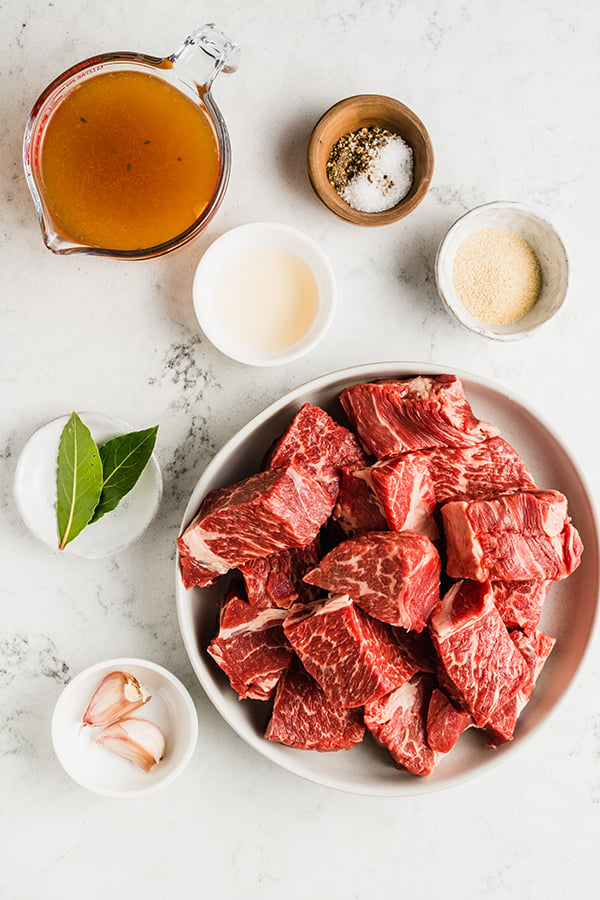 Slice the chuck roast and sear
Heat the oil in a large pan over medium heat and lightly sear the chuck roast for 1-2 minutes on each side until lightly browned.
Add the chuck roast pieces of the base of the slow cooker and add the broth and apple cider vinegar. Season with garlic cloves, onion powder, and top with bay leaves.
Cover the slow cooker and cook on low for 8 hours or until the beef easily shreds.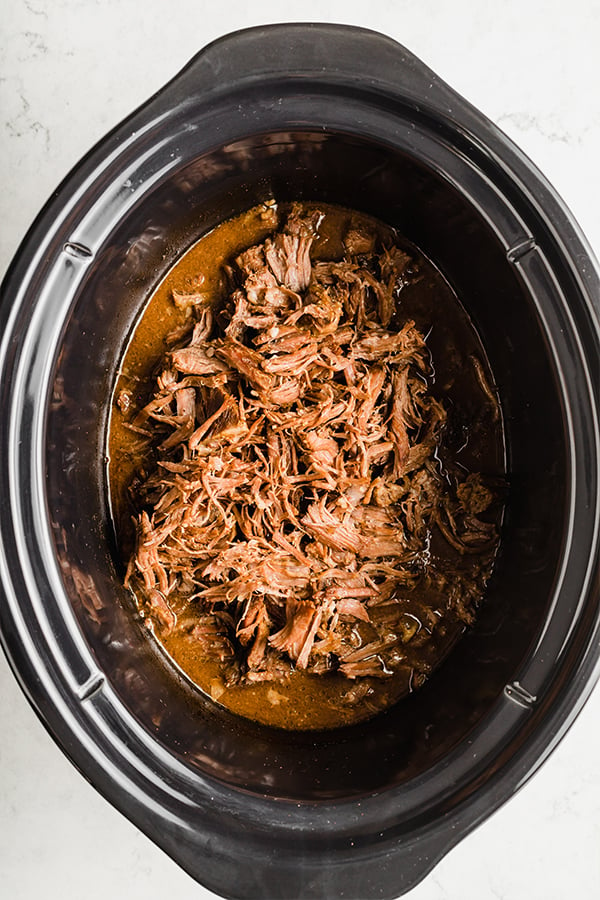 How to make Shredded Beef in the Instant Pot
Slice and sear the beef.
Add the remainder of the ingredients to the instant pot. Place the lid on the instant pot with the pressure valve sealed. Hit "Manual" and cook on high pressure for 90 minutes.
Allow the instant pot to come to pressure, cook, and let the pressure release naturally. Once the pressure is released, remove the lid from the instant pot.
Remove the bay leaves and carefully shred the meat with two forks.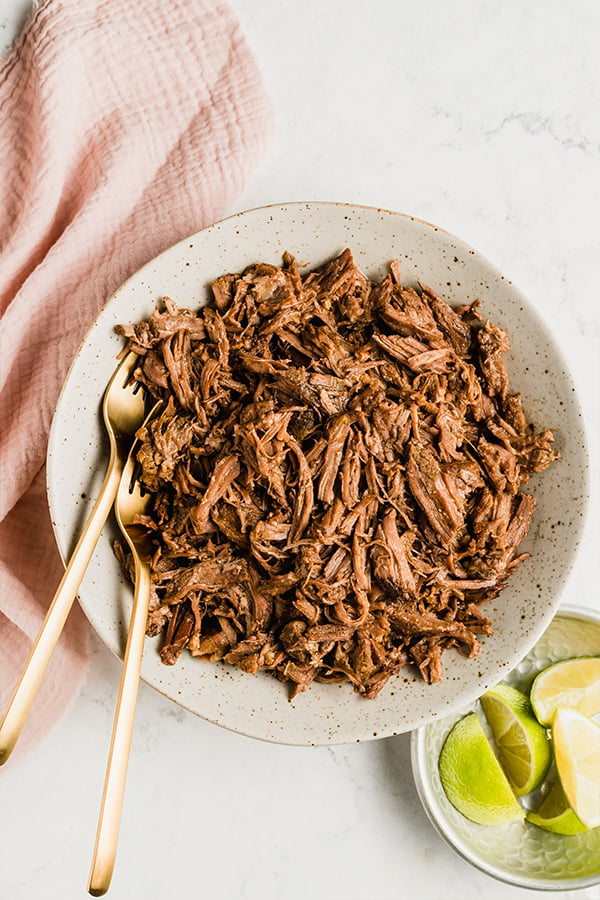 Do you need to sear meat before you add it to the slow cooker?
You don't need to do this step, however, it does help develop extra flavor.
How do you make this recipe into a freezer meal?
Add all of the ingredients to a freezer-safe bag and freeze flat for 2-3 months.
Fully defrost when you're ready to cook it. You can skip the browning and add the meat directly to the slow cooker and cook as directed.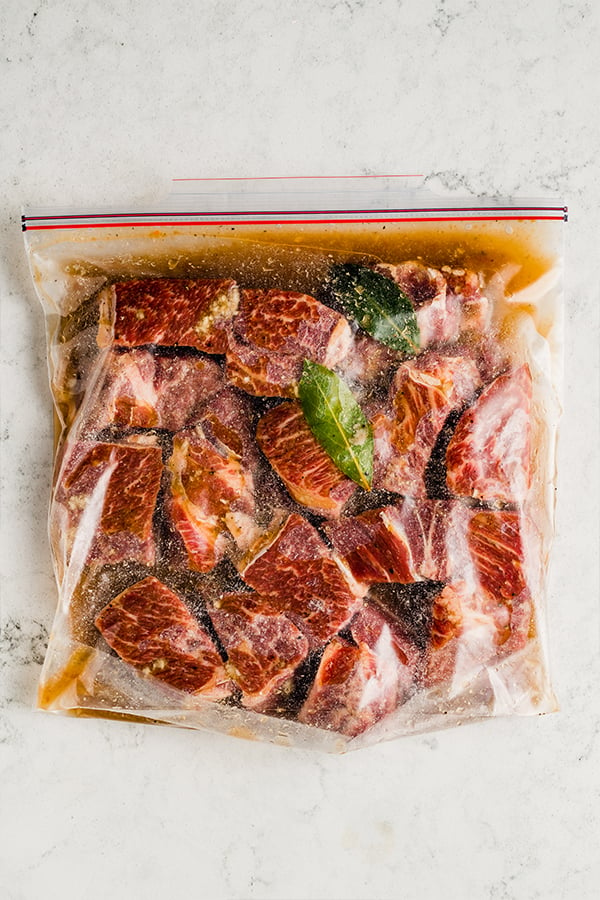 Can you switch up the seasoning?
For sure! This recipe is a canvas, so you can easily add specifics seasonings to fit a certain recipe. For example, I used this recipe for tacos and added lime juice, cilantro, and oregano to the mix. If you're using it for an Italian recipe, you can do something like parsley and balsamic vinegar. If it's for a savory breakfast hash, you can add something like rosemary. There's lots of room for creativity!
What's the best cut of beef to use for shredded beef?
Chuck roast. Slicing up a chuck roast is a great option to make shredded beef!
Stew meat. I also like to use stew meat for this recipe as it's already sliced up, and it nice and tender.
How can you serve this beef?
Hashes. Serve over crispy sweet potatoes and other veggies of your choice
Enchiladas. Stay tuned for an upcoming enchilada recipe with this beef!
Served with a side. Serve it with roasted veggies of your choice for a simple meal.
Tacos! Add some cilantro and lime juice and you've got some easy taco meat to pair with avocado and red onion.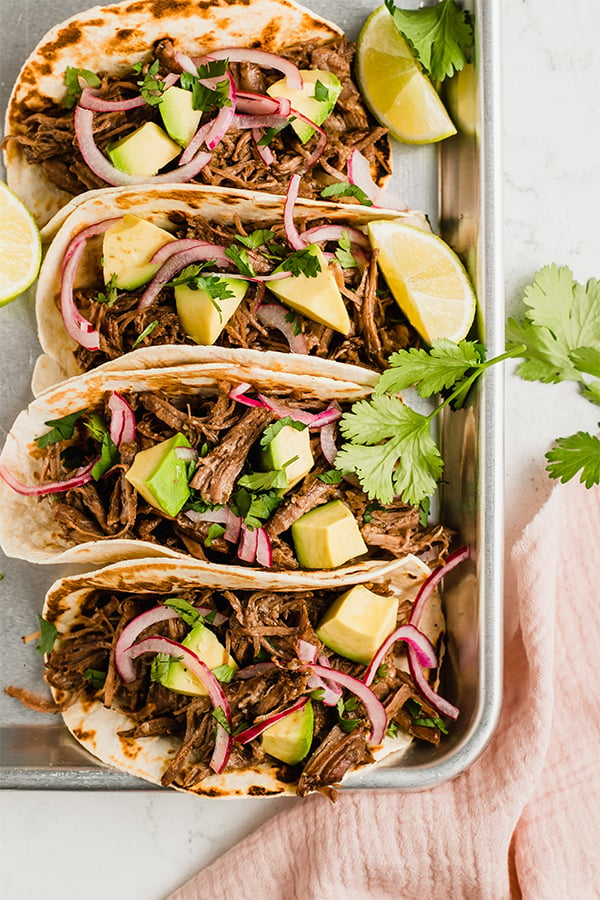 You'll also love…
Balsamic Steak Bites and Asparagus
Slow Cooker Beef Bourguignon
Print
This recipe was published in 2020 and updated in April 2022. Photos by Eat Love Eats.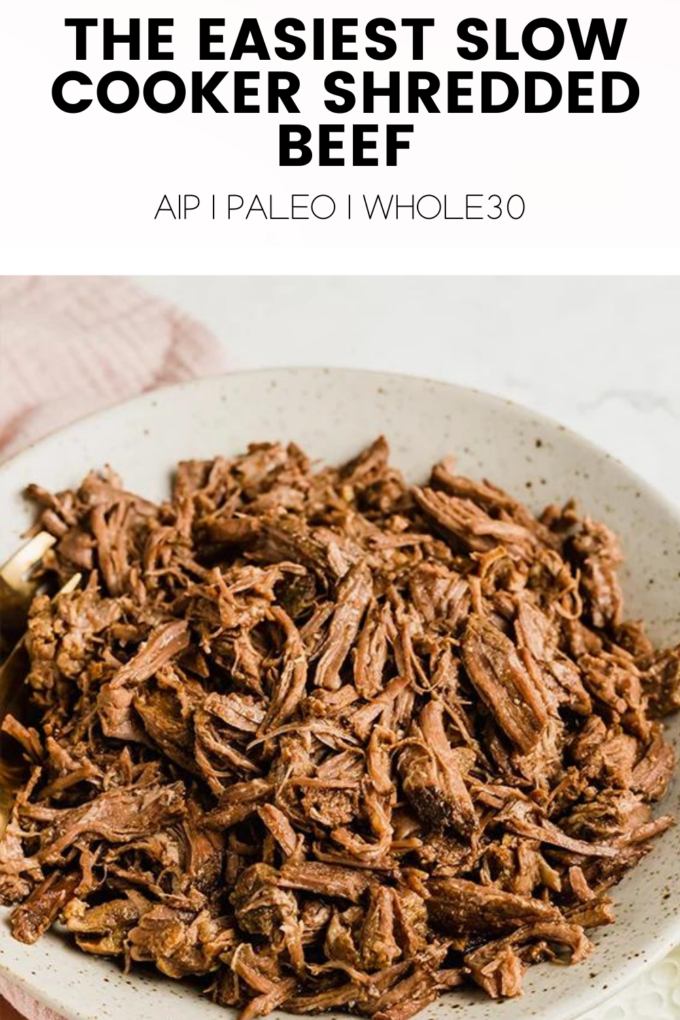 For more information, please see more information about Beef stew with shredded beef
Detail: 🔗