How to make homemade Paneer Cheese – a fresh, Indian Cheese that can be made at home to use in Indian curry, masala, wraps and stews! An easy, step-by-step guide! Can be made in 2 hours with ½ hour hands-on time.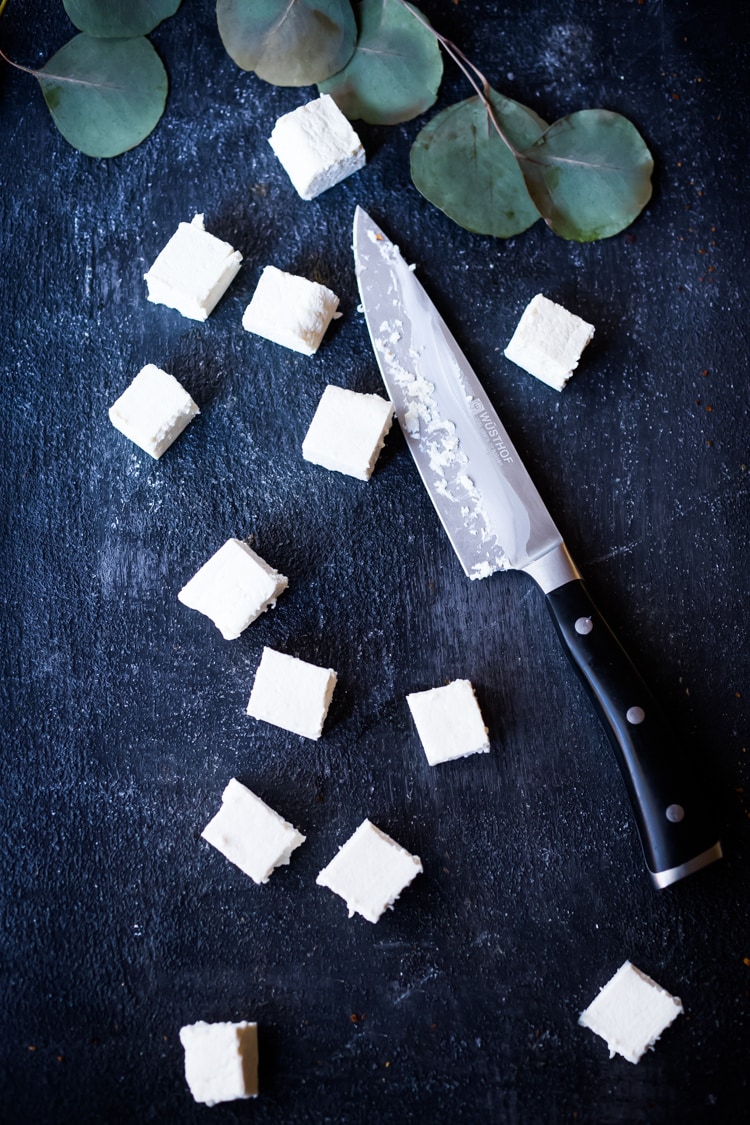 We can only be what we give ourselves power to be. ~Native American Saying
Reading: the great vegetarian dish to make for someone
For those of you, like me who enjoy tinkering in the kitchen, because it is fun and relaxing- this recipe for homemade paneer cheese is for you.
Paneer is one the main staples of India's mostly vegetarian diet. Soft pillowy cubes of fresh, mild cheese are the perfect accompaniment to the stronger flavors of curries and stews, absorbing these easily.
Paneer is readily available at grocery stores, but if you'd like to have a bit of fun, it's incredibly easy to make at home! From start to finish, it takes about 2 hours, with just a half-hour of actual hands-on time. So easy and fast!
How to make Paneer | 60-sec video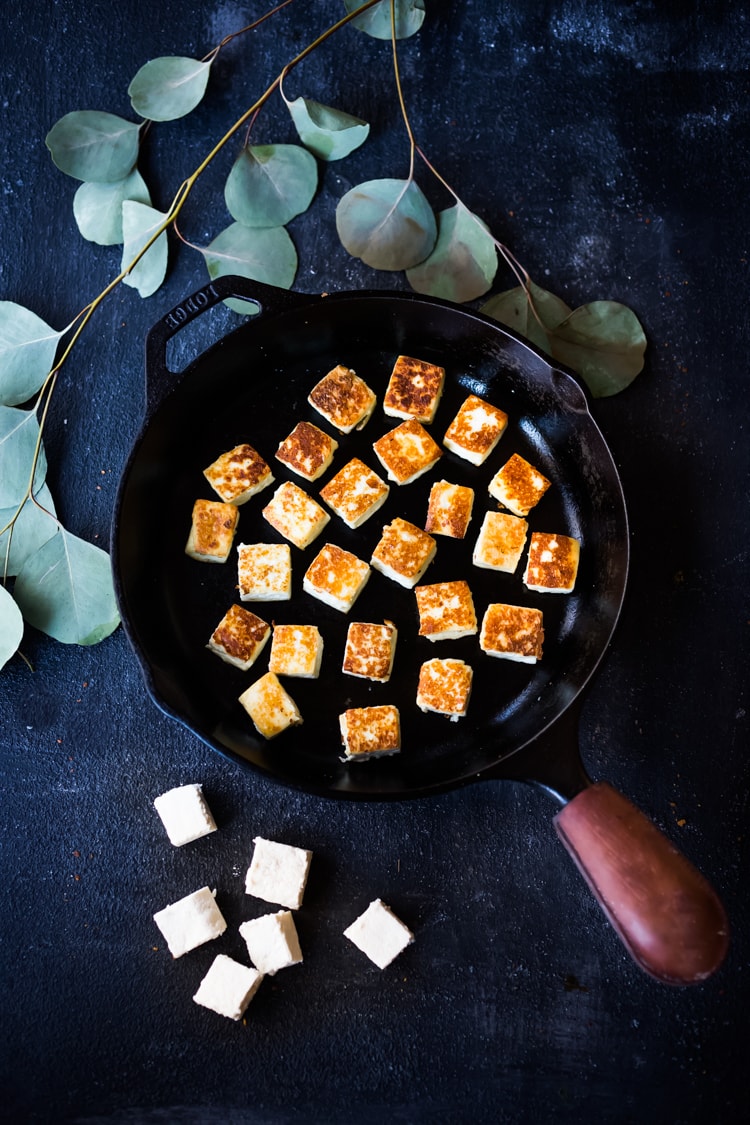 To make paneer, all you need is whole milk, vinegar and cheese cloth. That's it!
How to make Paneer:
Heat a gallon of whole milk until it simmers. Turn heat off.
Add vinegar -water, which will separate the curds from the whey. Cool.
Strain the curds in a cheesecloth, drain for 1 hour, then press into a square with a weighted plate.
Let it rest in the fridge for 15 minutes.
Cut into cubes!
Paneer can be eaten fresh or pan-seared ( like you see above.)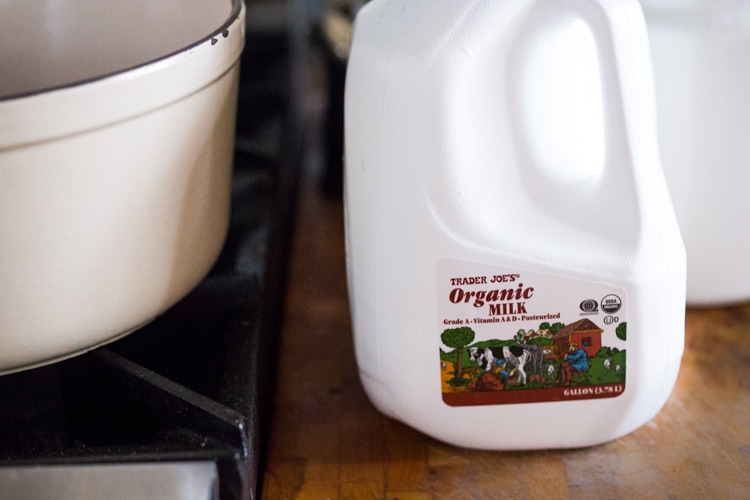 Start with the best quality milk you can get. Organic, whole milk. Raw milk would work great too. I've heard half and half works too, but have not personally tried this. Goat's milk will work as well, as long as it is whole. (Do not use UHT Milk, or milk that has gone through ultra-high temperature processing, sometimes called "ultra-pasteurization". )
Skim or low-fat milk will not give you enough curds, so be sure to use whole milk.
A gallon of milk yields 24 ounces of Paneer which is about 4 cups cubed, which is about an 8 x 8 inch square, about an inch thick.
This is a bigger batch and if you want to start off smaller, feel free to half the recipe.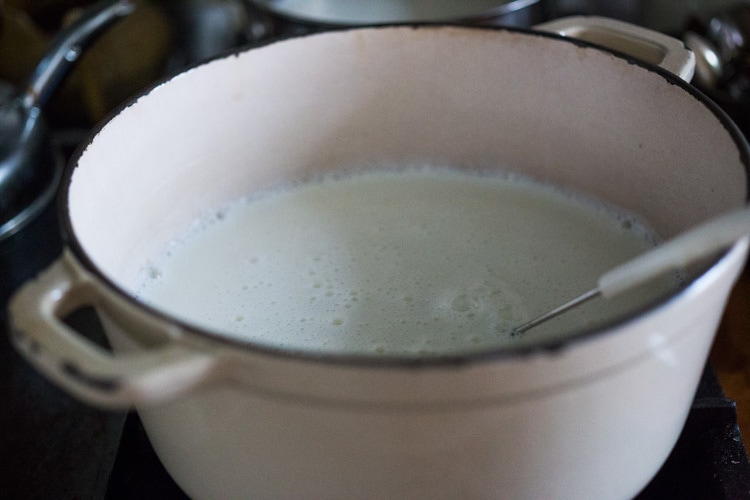 Heat the milk in a large non-stick pot, or dutch oven, over medium heat until it comes to a simmer. This will take 20 minutes. Turn heat off and let cool for 5-10 minutes. Skim the foam off the top.
Add vinegar water, a little at a time, stirring very very gently, until the cheese curds start separating from the whey. Stirring slowly helps keep the curds intact.
The paneer will begin to curdle into big lumps (which is good!). The bigger the lumps, the creamier the paneer. Be patient here.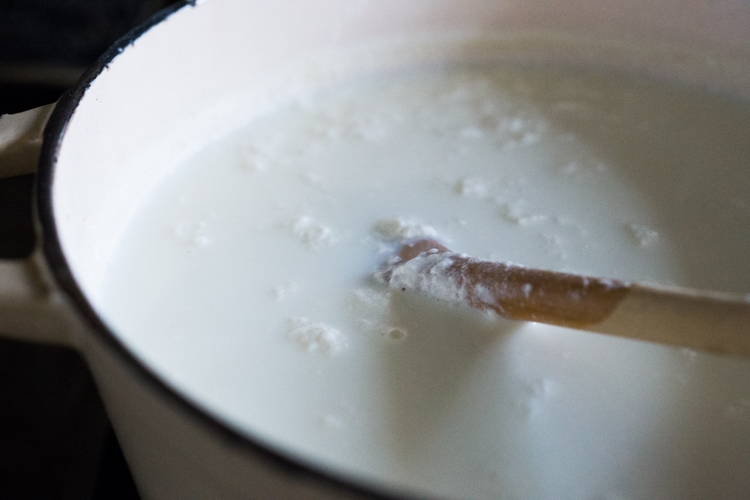 Read more: simple recipe for vegetarian asian dish
As it cools, the curds will continue separating. You can do other things while its cooling.
Let the mixture cool completely before straining.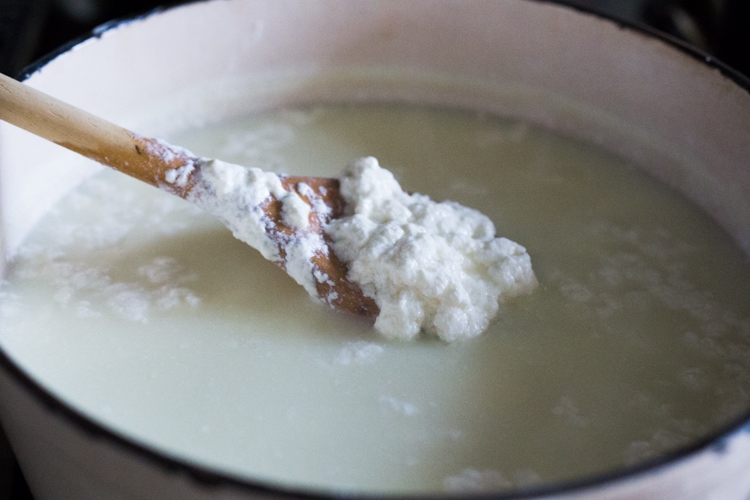 The milk will gradually go from cloudy, to clear-ish, as it cools, and the whey will have a slightly greenish hue.
Place two layers of cheese cloth over a colander, and over a bowl if you want to save the whey.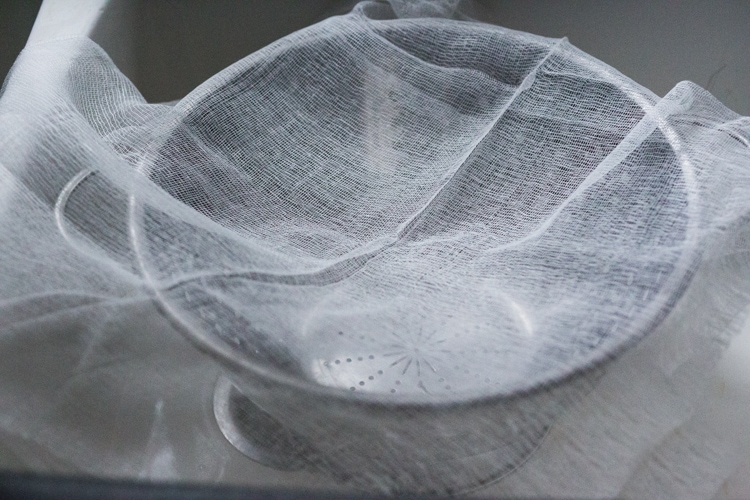 When completely cooled, gently pour and strain.
Let the curds drain, and gently rinse with lukewarm water (to remove vinegar)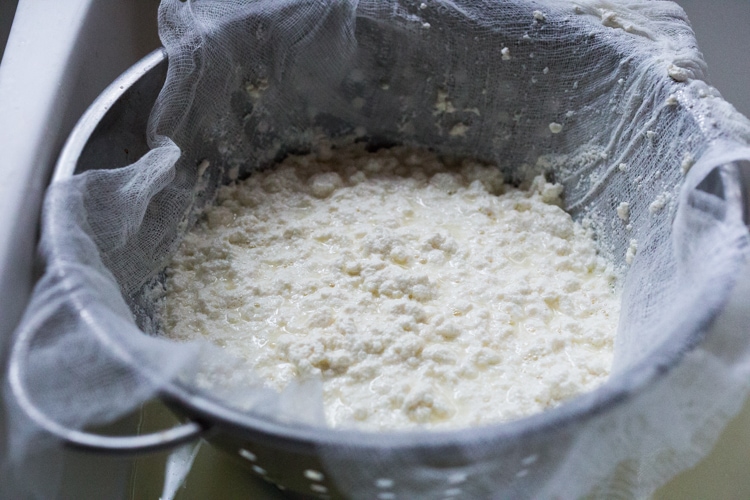 Gather the ends of the cheesecloth together, resisting the temptation to squeeze the water out – and let it drain naturally for one hour, hanging.
Tie the ends of the cheesecloth to a large wood spoon over a bowl.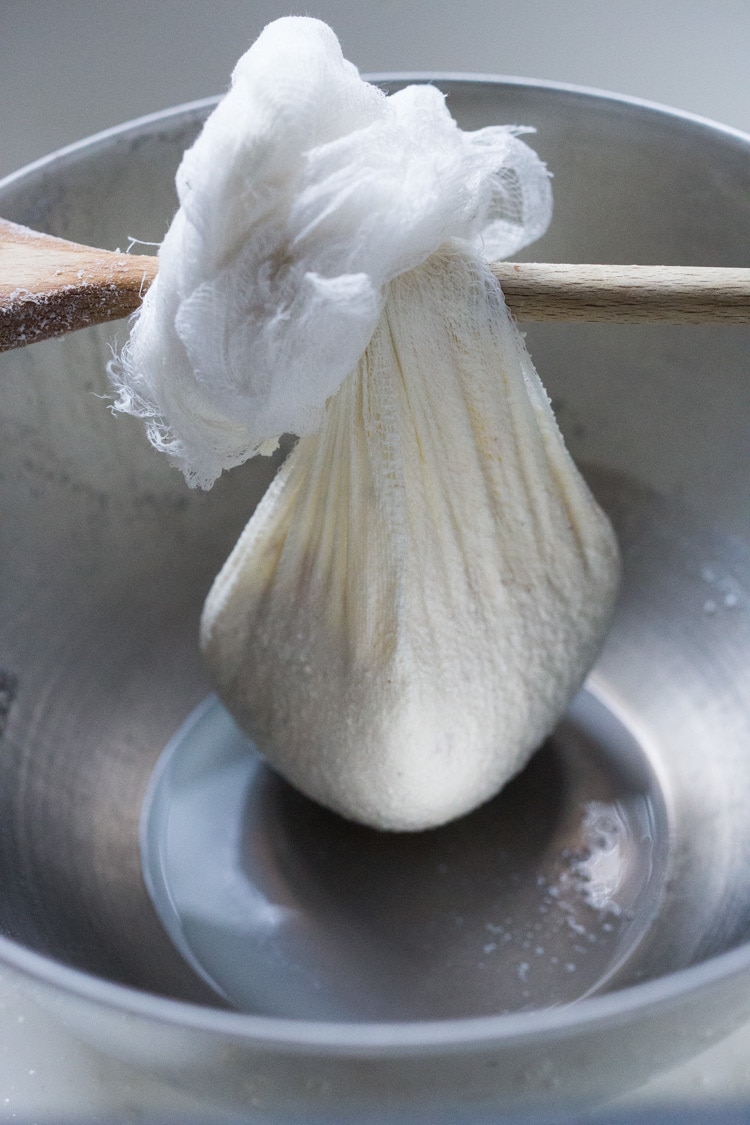 Or tie to your kitchen faucet like in India.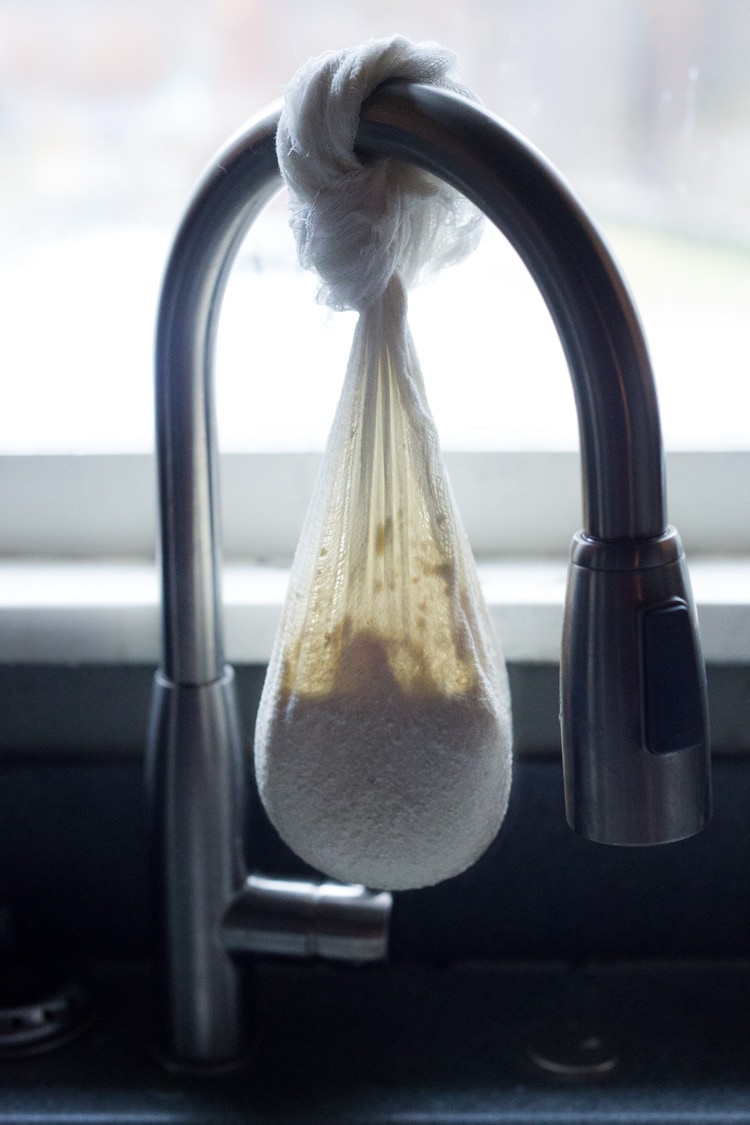 Once it has drained, place the paneer on a thin kitchen towel.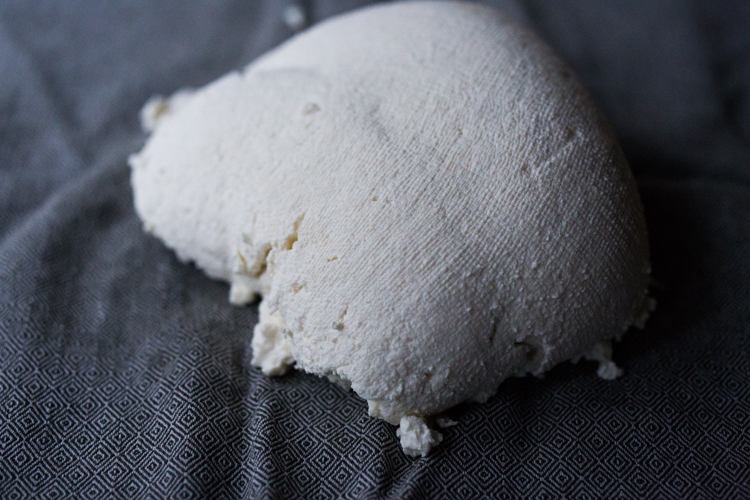 Begin lightly massaging the paneer onto the towel with the base of your palm, pressing gently and smearing it upwards and away from you. This removes more water while creating a creamy texture.
Read more: recipe vegetarian dish with asparagus, mushrooms, cauliflower rice
TIP: A lot of recipes skip this step, but I've found that doing this really makes the paneer creamy vs. grainy.
So press and smear. Gently.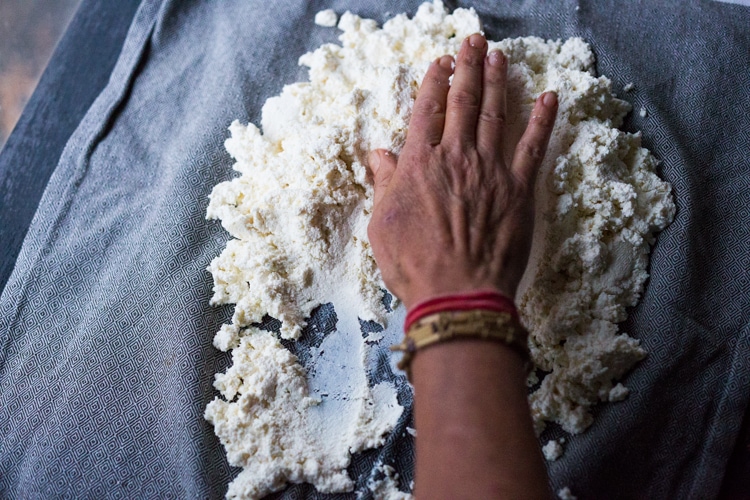 Gently break up the curds by pressing up and into the cloth with the heel of your palm.
Add salt – a generous pinch of sea salt is perfect.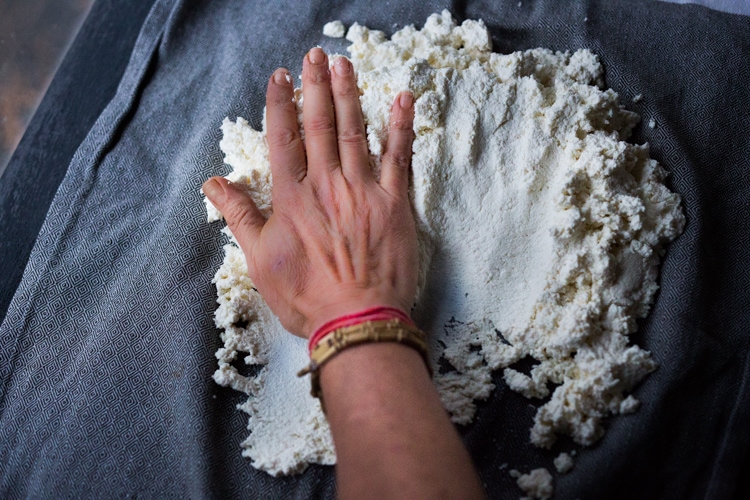 Form a ball with the paneer in the center of the cloth and fold the cloth into a 8 x 8 inch square.
If your cloth is very wet, grab a fresh one.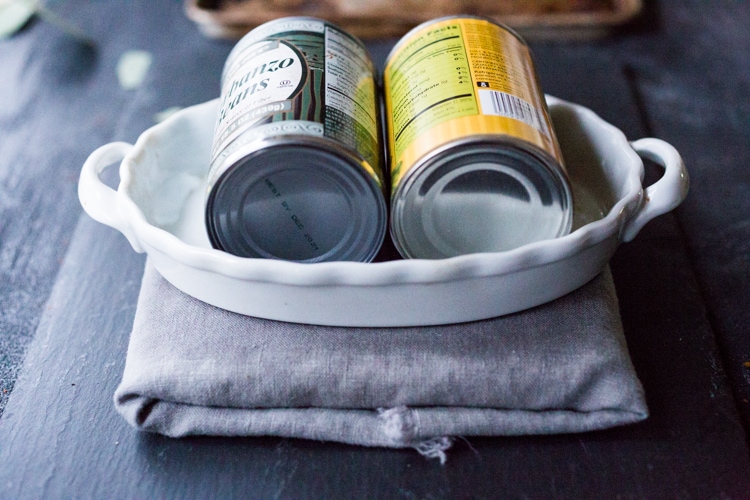 Place a plate or platter over top of the ball and press down all around until the paneer fills out to all the edges of the cloth and you have a nice square shape. Weight the plate down and place in the fridge for at least 15 minutes.
Unwrap it and cut it into squares.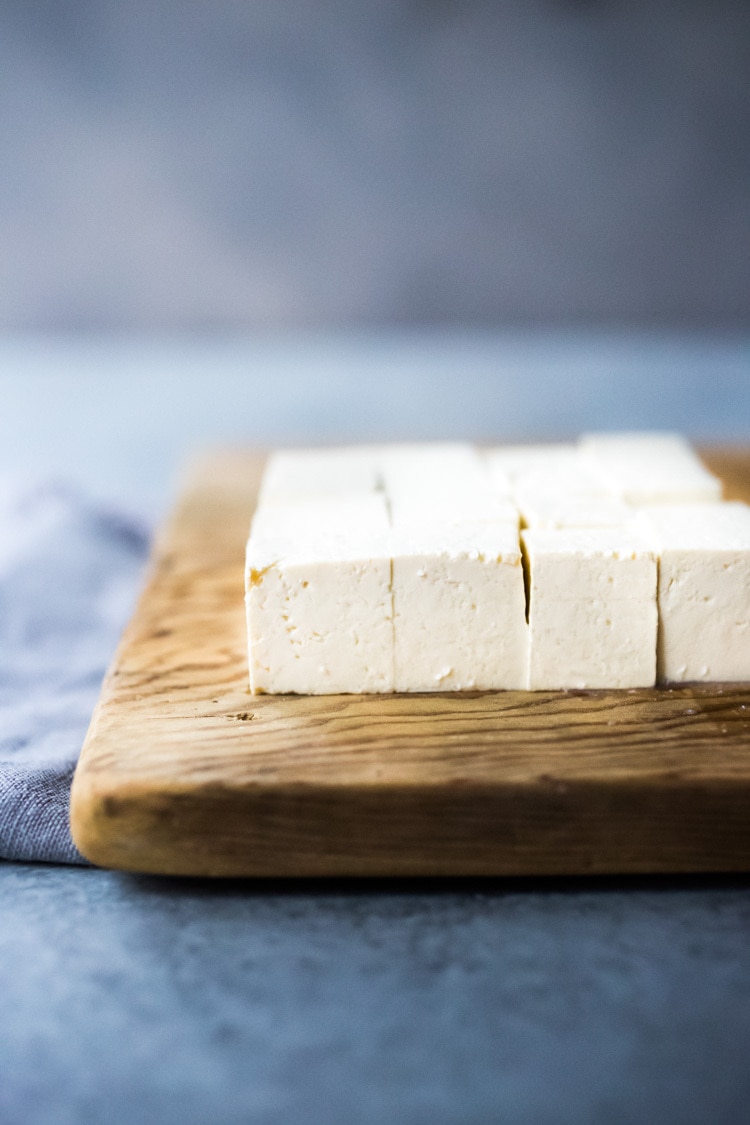 Add the fresh paneer to Indian curries and stews or give it a gentle searing, like you see here.
If you pan-sear the paneer, season the oil in the pan with a generous pinch of salt and pepper first.
Making homemade paneer is a fun little project to make with your kids or family that is surprisingly fun, easy and uncomplicated!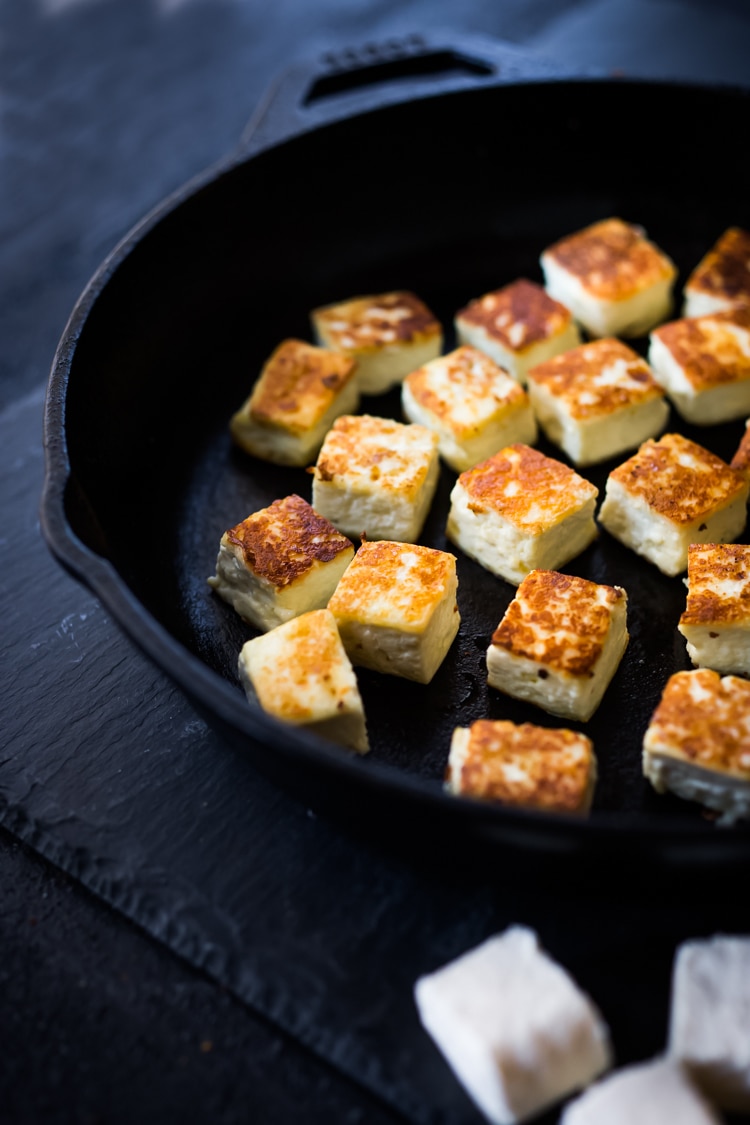 Use the homemade paneer, like you would tofu!
I love it in this PALAK PANEER RECIPE… the best!
In bowls, curries, folded into wraps, even tossed into salads! So yummy! I'm excited for you to try this!
Read more: best vegetarian main dish to serve at a special dinner
Print