This post may contain affiliate links. Please read my disclosure policy.
Learn how to make the juiciest grilled chicken kabobs with this easy chicken recipe. Multiple seasoning options included!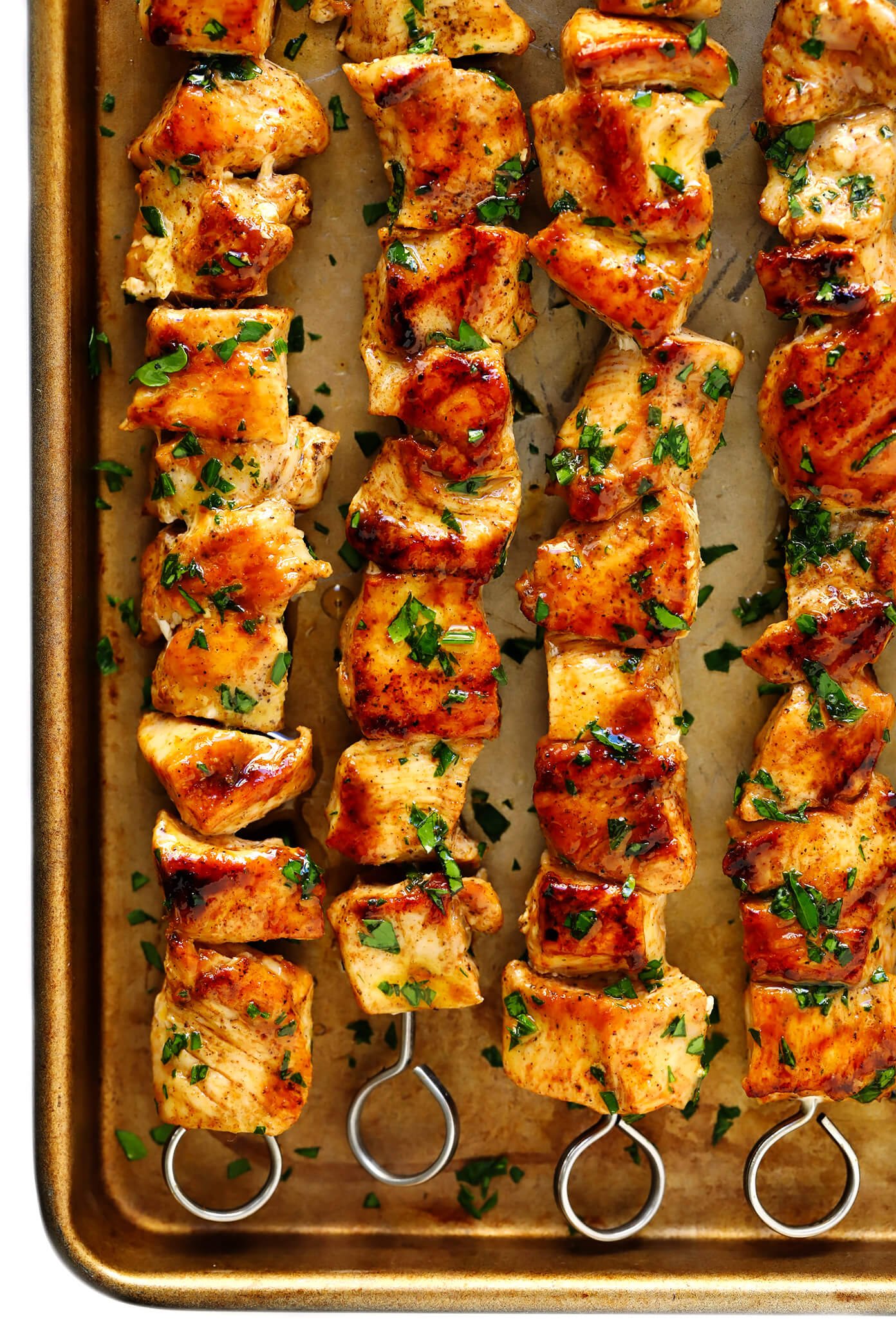 Cheers to the long weekend ahead everyone! ♡
I hope that lots of warm summery sunshine, ice cold drinks, flowy sundresses and flip flops, maybe some splashes in the pool, long evenings outdoors, and easy hangs with the people you love most are on the agenda wherever life may find you this weekend.
I've been counting down the days until this weekend for months myself because — you guys — Barclay and I are finally headed home to Kansas City together for the first time since moving to Barcelona!! Last year, we both ended up having to take separate trips back for different commitments that we both had on the calendar. But this will be the first time that we've returned to KC in nearly two years as a couple, and I absolutely cannot wait. We're so ready to be back in the Midwest, see the friends and family we adore, eat all of the Mexican food and drink all of the iced coffees we can find, make a much-anticipated (and long overdue) Target run, celebrate one of my best friend's wedding, and leave behind the European double-kiss for awhile to give out so many hugs. Oh man, I'm so excited. Can't wait to be back home.
I'm planning to take some time off while we're away, so the blog may be quieter for a bit these next two weeks. But in honor of grills firing up everywhere this weekend, I wanted to leave you with a summertime recipe that never lets me down — how to cook the absolute juiciest grilled chicken kabobs! If you've followed this blog for any amount of time, you know that I have a thing for perfectly cooked (i.e. not dried out) chicken. And when it comes to grilling, this simple method will ensure that your chicken kabobs are extra-juicy and tender and full of the best flavors. I've included my everyday chicken seasoning in the recipe below, which is my easy go-to and seriously goes with just about everything. But feel free to get creative and use whatever dry seasonings you happen to be craving. And I promise these chicken kabobs will not disappoint.
So for those of you in the States, I hope that you have a happy and meaningful Memorial Day weekend ahead. And know that we're so excited to be back in your part of the world soon! ♡♡♡
The Juiciest Grilled Chicken Kabobs Recipe | 1-Minute Video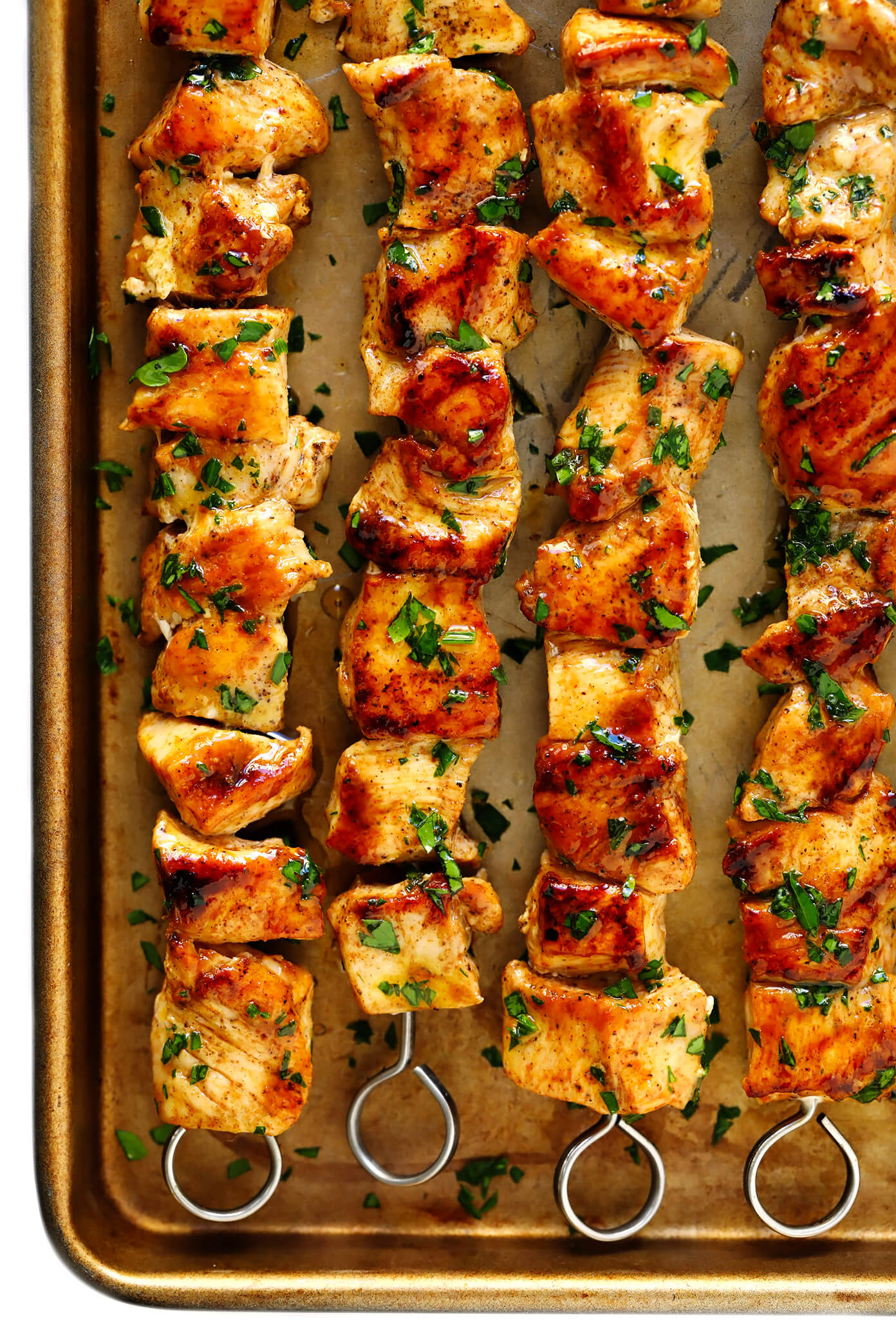 Grilled Chicken Kabob Ingredients:
To make these grilled chicken kabobs, you will need:
Boneless skinless chicken breasts (or boneless thighs): You can either purchased fresh (my preference) or frozen chicken (which you will need to completely thaw before using). Also, note that some chicken also comes pre-brined nowadays! So check the label, and if your chicken has already been brined, skip that step below.
Oil: Since we will be grilling over high-heat, I recommend any olive with a higher smoking point such as avocado oil, safflower oil, grapeseed oil, or just a regular (not extra-virgin) olive oil.
Kosher Salt: An essential ingredient in our brine, which we will also use to season the chicken.
Seasonings: I included an all-purpose blend of smoked paprika, garlic powder, salt and black pepper in the recipe below, which is super-delicious and goes with pretty much anything. But feel free to sub in any dry seasoning blend that you prefer.
You will also need:
Skewers: Either reusable metal skewers (my preference) or wooden skewers (be sure to soak those in water 15 minutes before using to prevent burning)
Grill: Time to fire up the charcoal or gas grill! Or if you prefer to cook the chicken indoors, you can use a grill pan instead.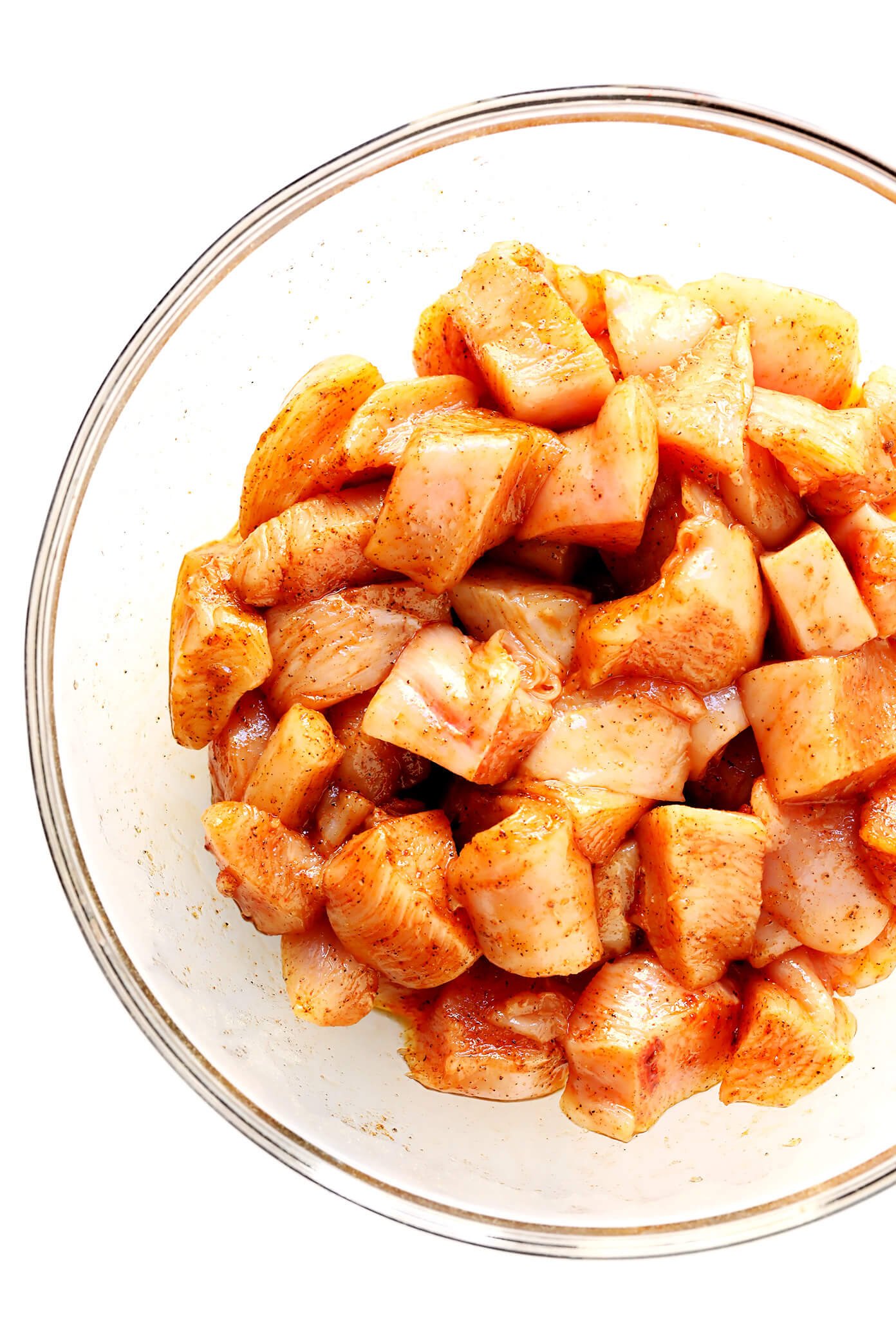 How To Cook Chicken Kabobs:
As we discuss in my post on how to bake chicken breasts, the first step here is the game-changer when it comes to how to cook chicken so that it's perfectly juicy and tender — brining the chicken. Also known as giving the chicken a lil' saltwater bath. It's a super-simple extra step that just takes 15 minutes. But I'm telling you — it will makes a world of a difference when it comes to locking in those juices to prevent the chicken from drying out. Beyond that, the instructions for how to grill chicken kabobs are pretty standard here! Simply…
Brine the chicken. Soak the (whole) chicken breasts in a mixture of lukewarm water and salt for at least 15 minutes. Then rinse the chicken off with some cold water, pat the breasts dry with paper towels, and cut the chicken into bite-sized pieces.
Season the chicken. Drizzle the chicken bites with olive oil, sprinkle with your desired seasonings, and toss well until the chicken is evenly coated. (I recommend doing this with your hands — it's easier!)
Prep the grill and skewers. Heat your grill to medium-high heat. Thread the chicken evenly onto your skewers.
Grill. Then grill, baby, grill! Cook the chicken for about 10-14 minutes, turning once halfway through, until the chicken is golden brown and cooked through. (Definitely avoid undercooking the chicken, but try to avoid overcooking as well so that it doesn't dry out!)
Serve warm. Transfer the kabobs to a clean plate, and loosely tent with aluminum foil for about 5 minutes. Then serve while they're still nice and warm and juicy!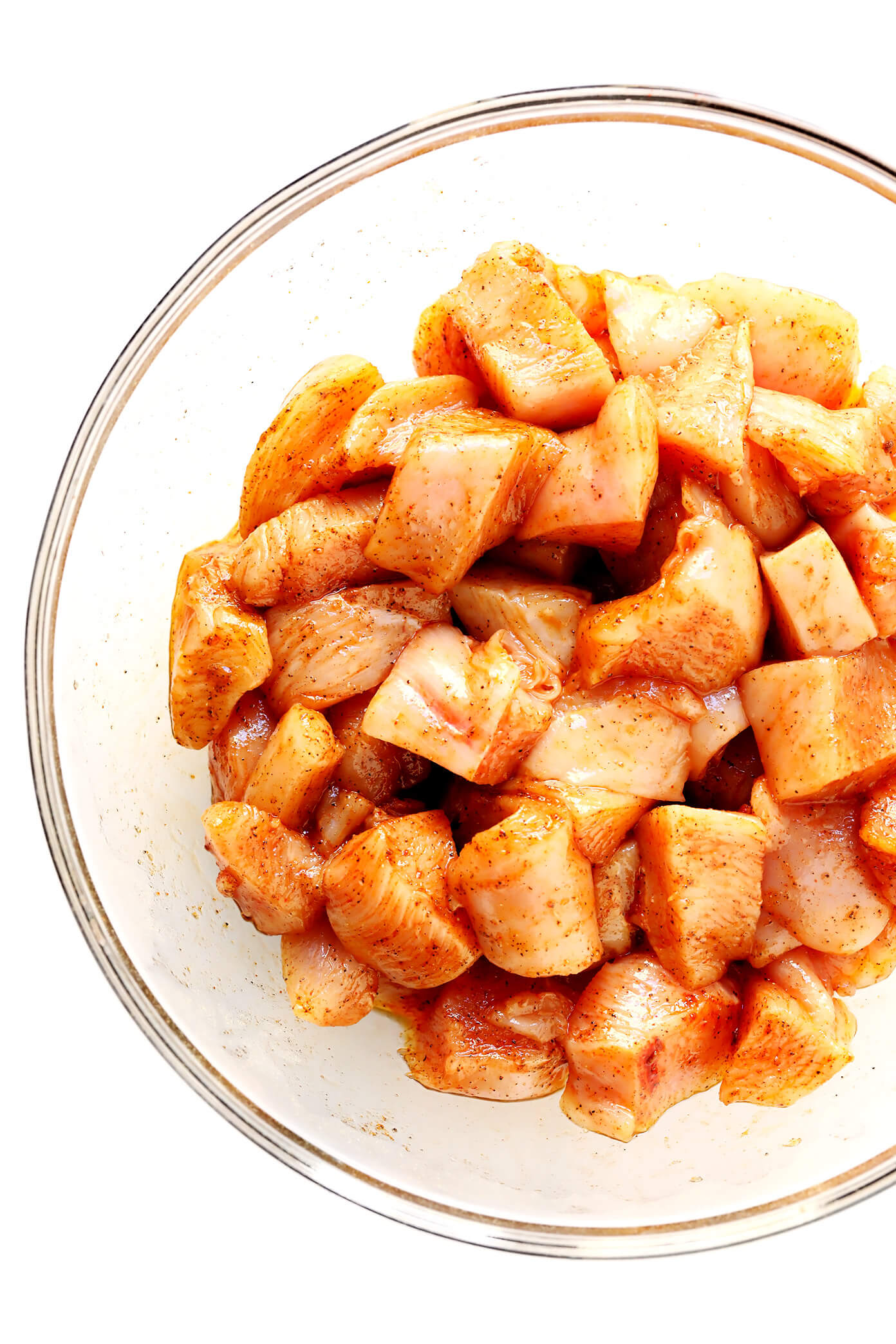 Different Seasoning Options:
If you would like to mix things up from the garlic-paprika-pepper seasoning listed below, feel free to sub in any of your favorite dry seasoning blends such as:
Italian Seasoning
Cajun Seasoning
Za'atar Seasoning
Taco Seasoning
Everything Bagel Seasoning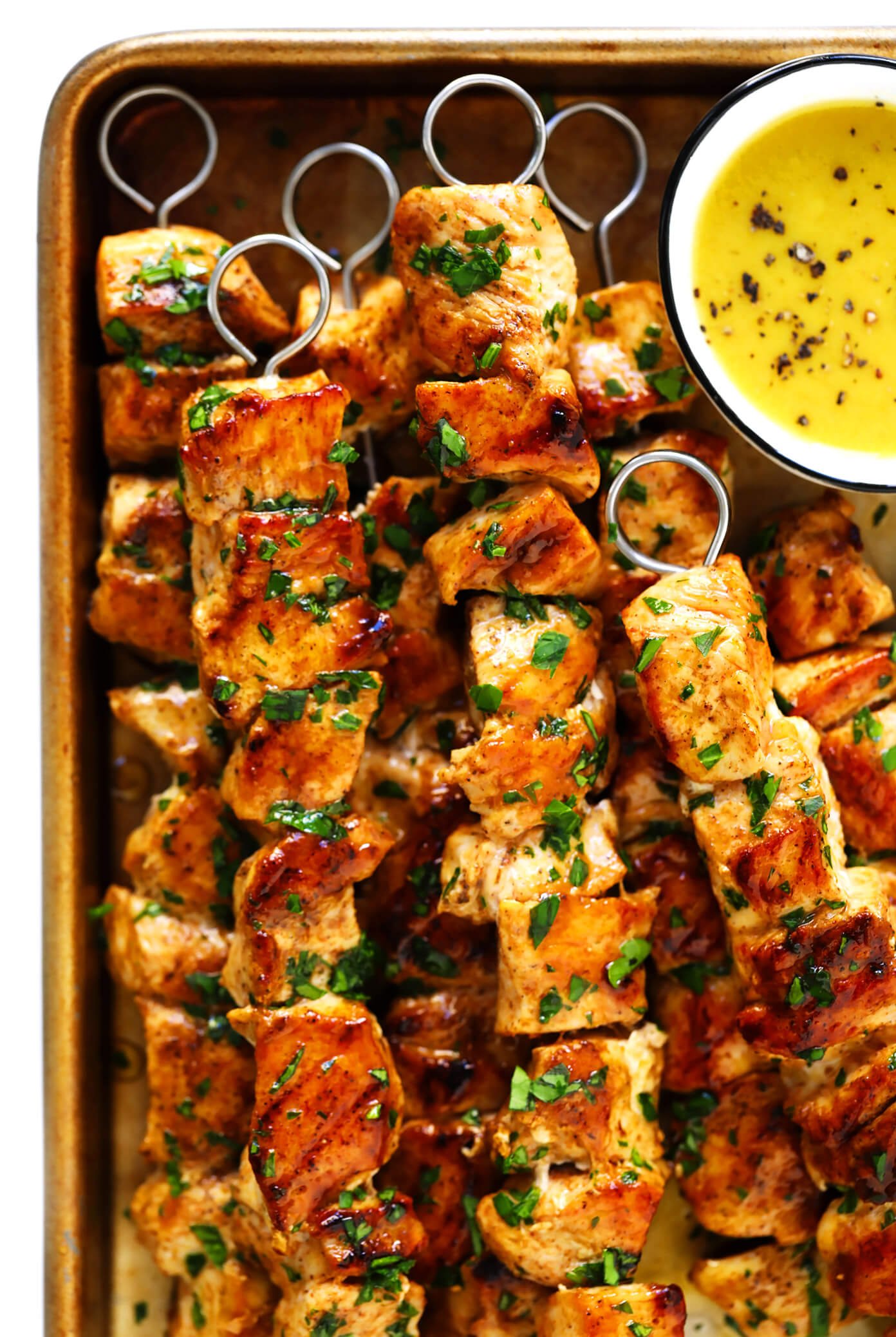 What To Serve With Grilled Chicken:
There are so many ways that you can serve these grilled chicken kebabs! Feel free to serve them up with any of your favorite sauces. And if you happen to be grilling outside this weekend, here are a few summery faves that would go well with this chicken:
Green Salad: Everyday Salad or Our Family's Favorite Salad
Pasta Salad: 5-Ingredient Pasta Salad or Lemony Artichoke Pasta Salad
Potatoes: Baked Potatoes or crusty bread
Veggies: Perfect Roasted Brussels Sprouts or Roasted Asparagus
Dessert: Easy Rum-Soaked Grilled Pineapple or Mini Fruit Crisps
Print
This post includes affiliate links.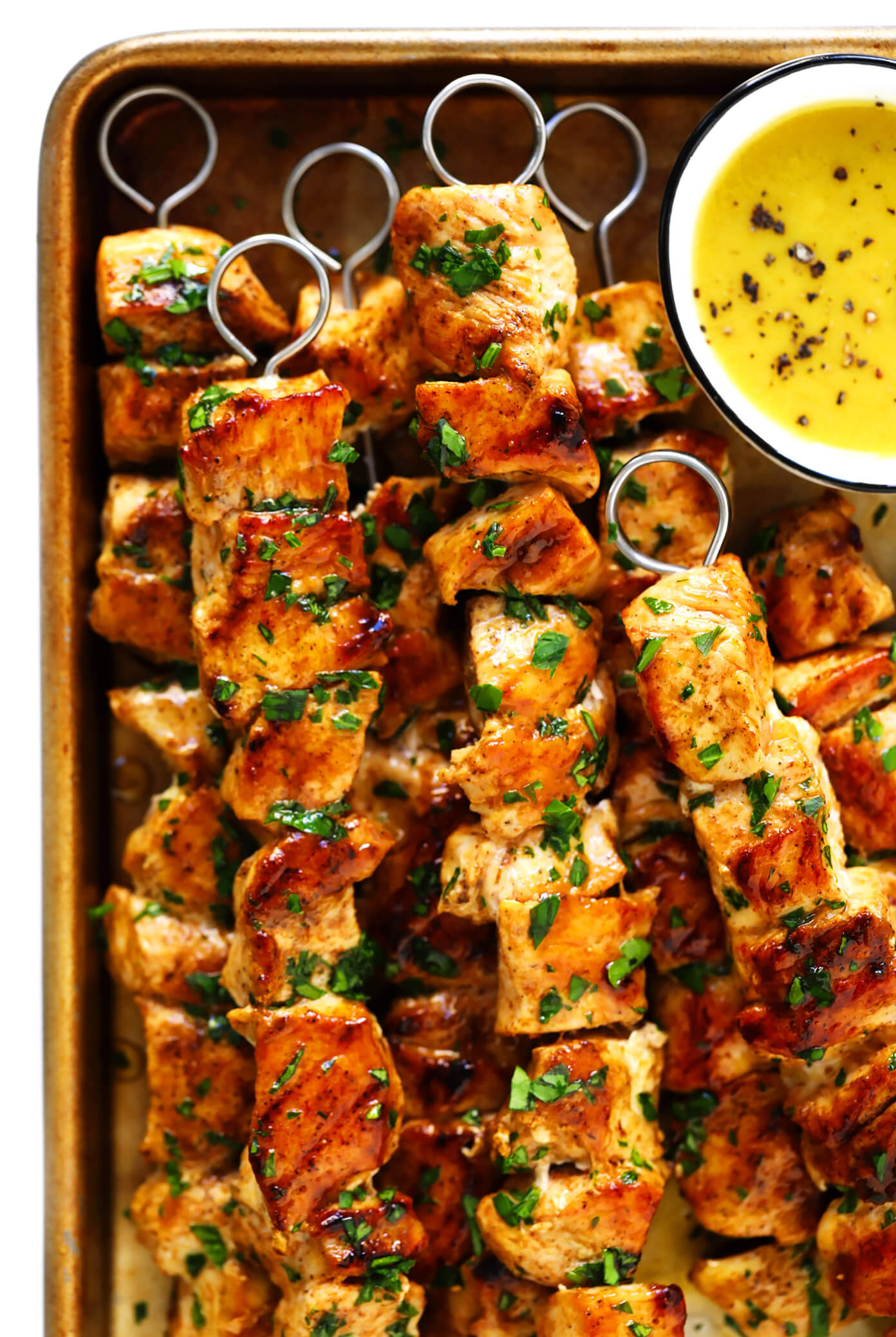 Share this Post
For more information, please see more information about Recipe for kabobs on grill
Detail: 🔗