With an increase in the number of states where people are legally allowed to grow marijuana, it was inevitable that the fertilizer market would take off. Without the right fertilizers and nutrients, there is no hope of your weed producing fat buds. While you need to be careful not to overdo it and cause nutrient burn, a lack of fertilizer will ultimately harm your plant.
In this guide, we look at the best fertilizers and provide a quick guide on making your own.
Vermiculite and Perlite
While these materials are often considered to be interchangeable, they are different entities. They are both relatively sterile inorganic products but look and act differently. Perlite is hard and porous and is made by heating volcanic glass to an extremely high temperature. Vermiculite is soft and spongy and made by heating mica to an incredibly high temperature.
Perlite is normally white, traps water, and has a slightly alkaline pH. Vermiculite is tan or brown, absorbs water, and has an almost neutral pH. The two materials are often sold together despite their differences, and the combination absorbs water up to four times its weight.
These materials are ideal for preventing your soil from hardening when it dries.
Most importantly perhaps, vermiculite and perlite provide calcium, magnesium, and potassium, which gets into the soil and nourishes your marijuana. If you have a hydroponics setup, you can create a fertilizer that includes 50% of perlite and vermiculite, with the rest made up of peat moss and water. If you are using soil, you only need 10% of perlite and vermiculite in your fertilizer.
Human Urine
As bizarre as it sounds, your urine is a fantastic fertilizer for your marijuana plants. Fresh human urine is high in nitrogen, one of the key nutrients in weed growth. The breakdown of your urine depends on your diet. If you follow a 'Western' diet, the nitrogen, phosphorus, potassium (NPK) ratio is 11-1-2. For reference, blood meal is 12-2-1.
As urine contains a lot of salt, it must be diluted to a ratio of at least one-part urine, 10 parts water. DO NOT URINATE DIRECTLY ON THE PLANTS! It will probably kill them. If you plan to use your wee on potted plants or seedlings, dilute the urine to a 1:20 ratio in water.
It should go without saying that you must only use your urine if you are healthy. Don't use it if you are on medication or have a urinary tract infection. By the way, if you are grossed out by the thought of using urine, how do you feel about bat guano or cow poop?
Wood Ashes
Yet another unexpected fertilizer, wood ash contains ample potassium and lime for your plants. Believe it or not, you can even use the ashes from your fireplace, assuming you have burned wood. You can lightly scatter the ashes on your plants, or add them to a compost heap. One issue is that the ash will produce high amounts of salt and lye if it gets wet.
It is also important to note that ashes from hardwood trees, such as maple and oak, contain more nutrients than ash from other trees, on average. Wood ash also acts as an effective pesticide by keeping slugs, snails, and other soft-bodied invertebrates at bay.
Bat Guano
A fancy term for bat poo, guano has been used as a soil enricher for eons. You can also use manure from other animals including chickens and cows. Bat guano is often worked into the soil or made into compost tea. Bat guano's NPK ratio is 10-3-1 which vegetative stage. Chicken manure releases nutrients slowly and can enhance yield.
Fish Meal
Fish meal is typically made from ground-up parts of the fish that are inedible. The result is a fine powder that can be added to your soil. Fish emulsion is pressed fish oil. When combined with the meal, it prolongs the release of the nutrients. Fish meal is high in nitrogen. Alternatives include blood, bone, and soy meal.
Worm Castings
This is what comes out of an earthworm once it digests soil or other organic components. It is laden with tiny organisms and loaded with nutrients. It is commonly added to compost tea because adding it directly to weed, especially during the flowering stage, could result in your marijuana tasting like worm feces.
Composting
Experienced gardeners know that organic material will ultimately grow back into the soil, and take with it the nutrients in the original matter. You could compost kitchen waste and other organic materials and expect to be rewarded with wonderfully fertile soil. As well as boosting your plant's growth, composting reduces your landfill contribution and enriches the soil in your locality.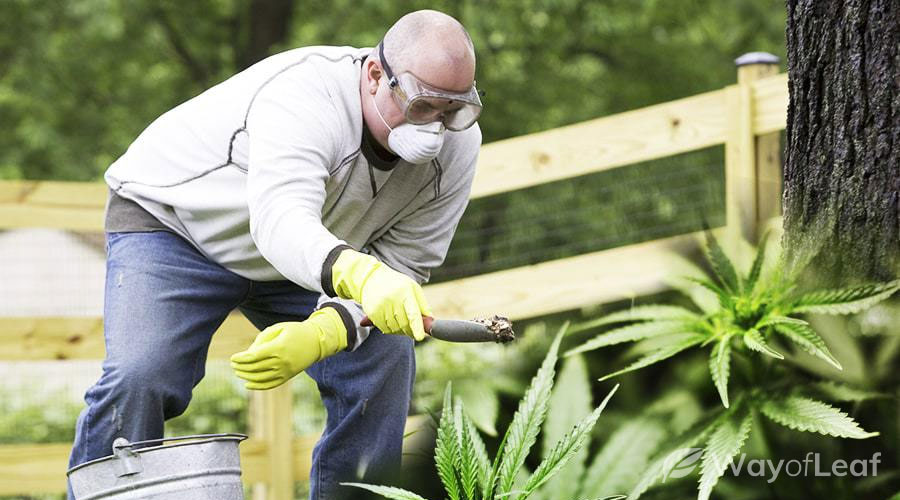 Your compost heap can contain anything; as long as it is organic.
This means the food you throw out, chicken manure, worm castings, and bone meal. After you have created your compost heap, turn the compost with a pitchfork (daily if possible) until the contents have been properly mixed. By doing this, you maximize decomposition and reduce the time it takes for the heap to become usable. As a rule of thumb, you can expect it to take three months for your compost to become usable.
You can also create a compost tea, which is basically a liquid version of your compost heap. You need organic molasses, organic compost, water, a bucket, and a few other materials. It normally takes around three days to make, and you should use it as soon as possible.
Hydroponics
If you have a hydroponics setup, it means you are using a growing medium such as Rockwool or coco coir instead of soil. As a result, you need store-bought nutrients made especially for hydroponics. These nutrients will contain no organic matter as they are provided through minerals, and should contain optimum NPK ratios.
With marijuana, you need high nitrogen, medium phosphorus, and high potassium during the vegetative stage. During the flowering stage, you need high phosphorus and potassium, and low nitrogen. What you buy must also contain various micronutrients such as iron, copper, boron, sulfur, manganese, and magnesium.
Carbon Dioxide Boosting
The process of photosynthesis involves plants using oxygen, sunlight, and carbon dioxide (CO2) to create energy. When you increase the CO2 in your grow room, you boost your marijuana plants' growth. One of the simplest ways to achieve this is by using white vinegar and baking soda. Set it up so that one drop of vinegar falls into a bowl of baking soda every two minutes, and marvel at the CO2 increase in the room.
In an outdoor setting, you need to improvise as the smell of vinegar could land you in trouble with the authorities. A useful CO2 increasing technique involves placing a large plastic bag over the plant. Then, fill an empty plastic jar with baking soda until it is 25% full. Put the open jar beneath the tent created by the plastic bag.
Pour a tablespoon of vinegar into the jar until it begins to foam, a sign that it is generating CO2. Reseal the bag, allow the plant to breathe for a quarter of an hour and add more vinegar to what's left of the baking soda. Stir with a stick and leave the bag over the plant for at least four hours.
If you are growing indoors, you could invest in a CO2 cylinder or a generator.
Synthetic or Organic Fertilizer?
There are tried and trusted products such as Miracle-Gro that are worth buying if you are a novice grower. Over time, however, you will learn that pre-packaged products are expensive and wasteful, not to mention bad for the environment. Once you learn how to create your own organic fertilizer, there's a danger you will get addicted!
As well as saving a small fortune, you learn so much more about plant nutrition, and gain an understanding of what your plants need, and when. Eventually, this knowledge will lead to larger yields and more potent buds. The key is to determine what nutrients each organic element brings. For example:
Nitrogen: Worm castings, bat guano, human urine, and chicken manure.
Phosphorus: Bone and fish meals, rock dust, and banana peels.
Potassium: Fish meal, wood ash, and kelp.
Calcium: Clay, gypsum, and limestone.
Magnesium: Epsom salts and dolomite.
When Should I Stop Fertilizing?
Make sure you create a feed chart to discover what happens when you feed specific nutrients to your plants at set growth stages. If the leaves of your marijuana plants are turning yellow or look burnt long before harvest, it could be a case of nitrogen burn. Check your feed chart to see if it is a likely reason.
If your plants are being overfed, perform a flush with pH neutral water, but don't do it in the week before forcing the plants into flowering.
Keep an eye out for deficiencies but resist the urge to add extra fertilizer. Marijuana plants often need fewer nutrients than you think. Perform a flush any time from two weeks away from harvest, or else your weed could taste of fertilizer!
Final Thoughts on Marijuana Fertilizers
If you see yellow leaves near the base of your plants as harvest time approaches, there's no need to panic as that's a normal occurrence. It is all too easy to overfeed your plants and cause nutrient burn, an issue that could damage your plant permanently, at least in an aesthetic sense.
If you are using a store-bought fertilizer, begin with half of the recommended dose unless there are clear signs of nutrient deficiency. The amount of nutrients your plant needs depends on the marijuana strain. When using organic fertilizer, start small and gradually increase the dose as and when it is needed.
Although you can use ready-made fertilizers as a novice, it is best to educate yourself on the topic and learn how to create organic fertilizers. Not only will it be better for the soil, and the environment in the long-term, it also helps you gain valuable insight into the world of gardening. The more knowledge you possess, the more likely it is that you will grow bigger plants and enjoy greater yields.
Through this article, we hope to help you understand Best food for weed plants
Detail: 🔗