Ferrets make for unique and rewarding pets, providing their basic needs are met. Finding the best ferret food for your fuzzy friend is the number one way to help them thrive for years to come, which is why it's important to find the best ferret food in Canada. Aside from the stigma of having a musky, corn chip-like odour at times, ferrets have a ton of upside as they are intelligent and affectionate little critters. They do not require much space, they are rarely destructive or messy, and are naturally quiet.
How do you find the best food for ferrets?
Ferrets are classed as Mustella, which includes animals like skunks, otters, badgers, mink and weasels. Ferrets, like cats, are obligate carnivores, meaning they require a diet consisting mostly of meat because they lack the ability to digest certain plant-based foods. Like other small meat-eating predators in the wild, ferrets hunt and feast on small rodents, birds, insects, and even reptiles.
Ferrets have very specific nutritional requirements, so feeding a high-quality, species-appropriate diet is essential for optimal health. Of course, they should have unlimited access to fresh, clean water at all times. Ferrets have a very short intestinal tract, which limits the amount of food they can consume at each meal, so feeding several small meals throughout the day is ideal. Ferrets perform best on diets containing high levels of protein, fat, and calories. Poultry and beef are among the most palatable flavours, however, fish is also a ferret fan-favourite, too.
Rotation Diets for Ferrets
To prevent fussy eating habits from creeping up, many ferret experts recommend rotating diets regularly. By rotating diets, you may prevent your ferret from developing a dependency on one product. Switching foods every so often allows ferrets to experience a variety of brands, textures, and flavours. Currently, there are several high-quality ferret diets on the market, each with their own unique formulations.
The Best Ferret Foods in Canada
1. Arthur Ferret Food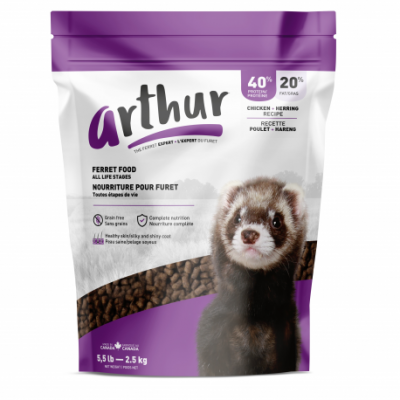 Proudly made in Canada, Arthur is a grain-free diet suitable for ferrets of all life stages. With 40% protein, and 20% fat, Arthur provides optimal nutrition to help ferrets thrive. 95% of the protein comes directly from animal ingredients, which is ideal to satisfy these furry carnivores.
Made with chicken, herring, whole eggs, potatoes, ground flaxseed, and other healthful wholefoods, Arthur ferret food is extremely palatable, and will please the palette of even the fussiest ferrets. Arthur ferret food comes in a 2.5KG bag, at a very affordable price.
2. Versele-Laga Complete Ferret Food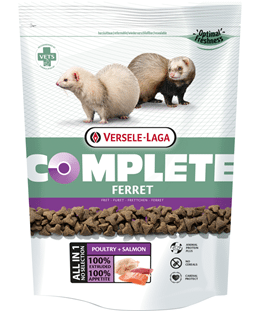 Originally based out of Belgium, Versele-Laga manufactures several species-appropriate diets for birds and small mammals. Versele-Laga Complete Ferret Food utilizes a unique compressed pellet to prevent fussy eating while promoting optimal dental health, digestion, and tastiness.
Also read: How to find the best cat food for ferrets!
This complete and balanced ferret food is made from 90% taurine-rich animal proteins; chicken, turkey, duck, and salmon. It is gluten-free and contains no cereals, which are important considerations for obligate carnivores. Versele-Laga Complete Ferret Food is available in 2.5kg and 10kg bags.
3. Wysong Epigen 90
This innovative, American-based manufacturer was the first to go beyond grain-free by removing all starches from their ferret foods. All Wysong ingredients are sourced within the USA, from FDA-inspected farms. Their 90% meat content makes Wysong one of the most popular, and most biologically appropriate ferret foods on the market. With 60% protein and 20% fat, ferrets will enjoy the benefits of this nutritionally complete diet.
Wysong Epigen 90 is loaded with prebiotics, probiotics, and digestive enzymes for optimal digestive health. Ferrets will boast a beautiful skin and coat from the omega-3, and other essential fatty acids in Wysong Epigen 90. For an easy-to-digest option, Wysong Epigen 90 Digestive is a great option, too. Both formulations are available in 5lb and 20lb options.
4. Totally Ferret Active
Based out of Colorado, Totally Ferret strives to make human-grade, high energy foods for ferrets with active lifestyles. This is the ideal food for ferrets who love to play, as well as those in agility or performance training. Totally Ferret Active offers two premium flavours to choose from: chicken and eggs, or turkey with venison and lamb.
This is a complete food that is not only nutritionally balanced, it is extremely palatable. Totally Active Ferret comes in 4lb, 15lb, and 30lb bags, and contains 36% protein and 22% fat. For everyday ferrets who are less active, Totally Ferret also makes a Complete formula, which is only available in 4lb bags.
5.Martin Little Friends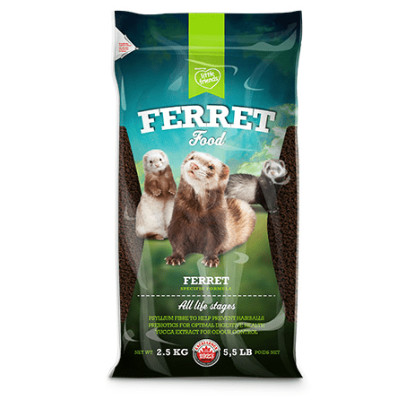 Canadian-based Martin Mills has a relatively new ferret food called Little Friends Ferret. This all-life-stage formula contains excellent protein sources in chicken, egg, and fish. This not only gives Little Friends Ferret the high protein content ferrets need, it also provides the taste they crave.
Also read: Best Kitten Food For Ferrets – How To Discuss
Other benefits to Martin Little Friends Ferret include yucca extract to control ferret odours, prebiotics to optimize digestion, and psyllium fibre to keep hairballs under control. It contains 41% protein, 21% fat, and is rich in Omega fatty acids. This food is available in a 2.5 KG bag.
6. Kaytee Forti Diet Pro Health
Based out of Wisconsin, and specially designed by an animal nutritionist, Kaytee Forti Diet Pro Health Ferret Food is a complete and balanced diet made for ferrets of all ages. This highly nutritious ferret diet contains prebiotics and probiotics for optimal digestive health, antioxidants, and essential omega fatty acids for healthy skin and coat.
Protein sources in this food include chicken, eggs, and fish, resulting in 35% protein and 20% fat. Kaytee Forti Diet Pro Health Ferret Food comes in a 3lb bag, containing large, crunchy pieces to promote good dental health.
7. Zupreem Premium Ferrets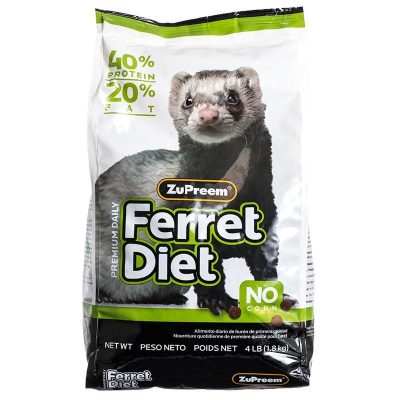 Based out of Kansas, Zupreem makes two appetizing ferret formulations; one is grain-free and the other is grain-friendly. Both formulas derive their protein from chicken and eggs, resulting in 40% protein and 20% fat. They are nutritionally complete, highly digestible, and quite palatable.
Beneficial natural probiotics ensure optimal gut health, while the omega fatty acids ensure your ferret has a healthy, shiny coat. Zupreem ferret foods are available in a 4lb, 8 lb, or 30 lb bag size.
8. Mazuri Ferret Diet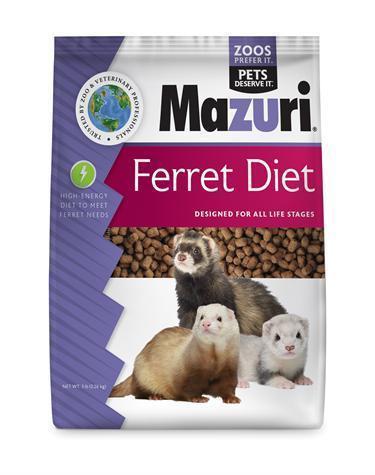 Mazuri's ferret diet is a nutritionally complete food for ferrets of all life stages. It is rich in essential omega fatty acids, natural antioxidants, and important urine acidifiers. This highly palatable extruded pellet is carnivore-friendly, containing less than 15% starches.
Also read: The Best Food & Cat Food for Ferret: Reviews & Guide 2022
Utilizing a variety of animal derived proteins, Mazuri ferret diet is not only easily digestible, its density results in low stool volume. Ferrets will love this high protein (38%) and high fat (20.5) diet. Available in a large 25lb bag, Mazuri ferret diet offers great value and quality.
9. Pretty Pets Natural Gold Ferret Food
Pretty Pets makes a meat-rich diet from chicken and hydrolyzed pork, that also includes probiotics and prebiotics for healthy digestion. This recipe is fortified to include all the nutrition your ferret needs to thrive, too. It has a whopping 50% protein, and the ideal combination of fat, fiber, and other nutrition.
This is a premium quality ferret diet that is low in carbohydrates, and ideal for active ferrets. Available in a 3 lb bag.
10. Totally Ferret Turkey, Venison, and Lamb Ferret Food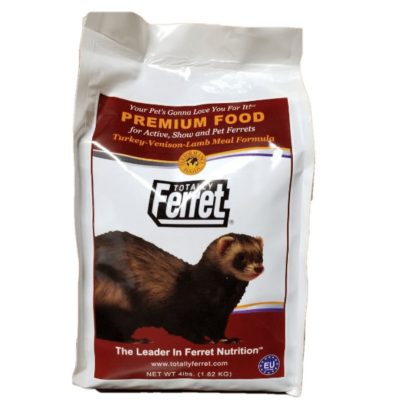 This recipe is unique from most ferret foods, as it is chicken-free. It's an ideal choice for picky eaters, as well as pets with allergies or sensitivities to chicken. It focuses on delicious turkey, egg, catfish, liver, venison, and lamb for a protein rich, premium diet. This well fortified diet is complete and balanced for all ferrets, and contains all of the great nutrition your ferret needs to live a long, healthy, and active lifestyle.
Best of all, it's available in a 4 lb, 15 lb, or 30 lb bag size.
Cat Food for Ferrets
Both cats and ferrets are obligate carnivores, so they share much of the same fundamental nutritional requirements. This is one of the reasons why many ferret owners choose to feed certain ferret-friendly cat foods. For ferret owners looking for ingredients from the healthiest sources, cat foods may have an edge. Cat food manufacturers invest exponentially more in research and development versus ferret food manufacturers, so many would argue the quality of high-end cat foods cannot be beaten. The main criteria to consider when it comes to feeding cat food to ferrets are: high protein, high fat, and grain-free, as ferrets cannot digest carbohydrates. Chicken and beef tend to be the most popular flavour choices among cat food-feeding ferret owners. Consider high-protein cat food brands like Orijen, Go!, Instinct Ultimate Protein, Smack, and Ziwi Peak.
The astute ferret owner understands the keys to sustained high quality of life includes lots of love, positive reinforcement, and a well-balanced diet. Today's ferret owners are fortunate to have a robust number of high-quality foods to choose from. Over time, experimenting with different brands of ferret food will provide first-rate perspective on which flavours and textures are most preferable.
For more information, please see more information about Best kitten food for ferrets