When you're pressed for time and craving a delicious meal, look no further than this Tofu Cabbage Stir Fry. In just 20 minutes, you can enjoy a spiced and sauteed dish, coated in a delectable sweet and savory sauce.
An Easy and Affordable Delight
Cabbage is a staple in my kitchen. It's both inexpensive and long-lasting, making it a go-to vegetable for a variety of dishes. When it's time to use up my cabbage supply, I often find myself turning to this Tofu Cabbage Stir Fry.
Sauteeing the cabbage and tossing it in the irresistible sauce elevates its taste and texture. Packed with protein and incredibly easy to make, this dish might just become your new favorite for quick and easy dinners.
Why You'll Love This Tofu and Cabbage Stir Fry
Effortlessly Prepared: With minimal chopping, this dish is ready to be savored in just 20 minutes.
Budget-Friendly and Nutritious: Featuring affordable ingredients like cabbage and tofu, this stir fry is not only easy on your wallet but also packed with protein and nutrients.
Perfect for Beginner Cooks: Easily customizable and simple to make, this recipe is ideal for those just starting their culinary journey.
Vegan, Gluten-Free, and Nut-Free: Catering to various dietary preferences and restrictions, this stir fry is suitable for a wide range of eaters.
Key Ingredients and Substitutions
Tofu: Opt for super firm or extra firm tofu for the best texture. If using extra firm tofu, make sure to press and drain it before incorporating it into the dish.
Cabbage: While green cabbage tends to soften more easily when stir-fried, red cabbage is also a great alternative. Additionally, you can experiment with other veggies such as shaved Brussel sprouts, kale, spinach, or broccoli.
Scallions: If scallions aren't readily available, you can easily swap them out for regular diced yellow onions.
Seasoning: We're enhancing the flavor profile with a combination of garlic, ginger, smoked paprika, and coriander, reminiscent of the classic egg roll from Chinese American restaurants.
Soy Sauce: For the best results, I recommend using a combination of light (regular) soy sauce and dark soy sauce. However, if you only have light soy sauce on hand, that will work as well. To mimic the dark soy sauce, you can add 1/2 tsp of molasses to the sauce for a richer flavor.
Rice Vinegar: Adding a touch of tang, rice vinegar beautifully complements the dish. However, if you don't have rice vinegar, feel free to substitute with apple cider vinegar, lime juice, or white wine vinegar.
Sweetener: You can use maple syrup or regular sugar as a sweetener. Feel free to adjust the amount or omit it according to your taste preferences.
How to Make Tofu Cabbage Stir Fry
Start by preparing the sauce in a separate bowl. Combine soy sauce, maple syrup, vinegar, sesame oil, and bouillon, and mix well. Set the sauce aside.
To a heated pan, add scallions and peppers, and sauté until the onion softens. Then, add garlic and ginger, and sauté until fragrant. Next, crumble the tofu and add it to the pan along with the spices. Finally, stir in the cabbage and sauté until it begins to soften. Pour in the prepared sauce, ensuring that the tofu and cabbage are evenly coated.
Continue sautéing until the tofu absorbs all the flavors from the sauce. Serve the dish with extra scallions for garnish and accompany it with rice or noodles.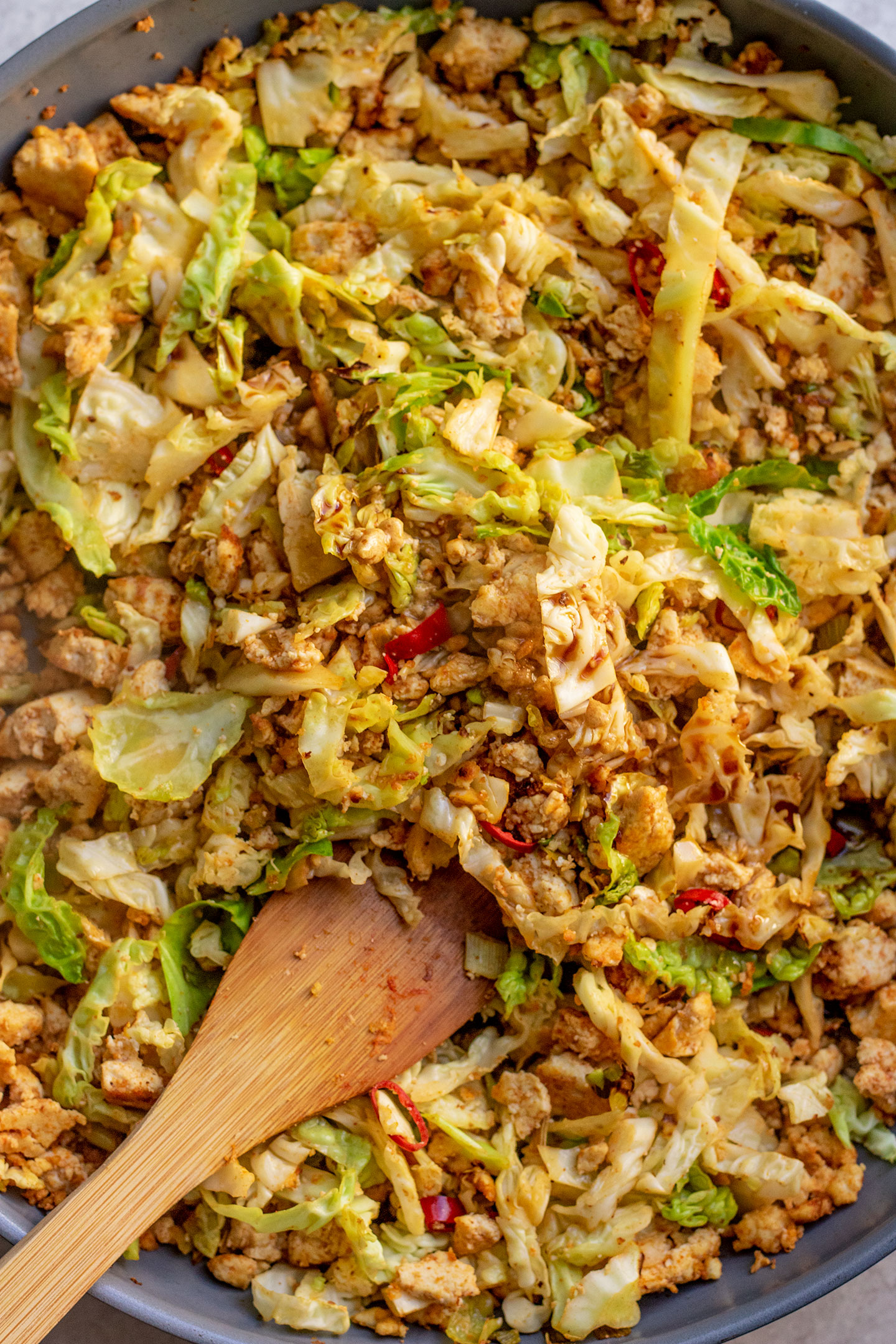 Expert Tips
Add more oil if needed: Since tofu replaces meat in this dish, adding a little extra fat will enhance the flavors and help retain moisture as it cooks.
Substituting dark soy sauce: If you don't have dark soy sauce, create a quick alternative by combining 1 tablespoon of regular soy sauce with 1/2 tsp of molasses. The molasses will lend thickness and sweetness, mimicking the richness of dark soy sauce.
Thinly slice the cabbage: Thinner slices will result in quicker cooking alongside the tofu. Larger pieces will take longer to soften.
Frequently Asked Questions
How to Serve
This Tofu Cabbage Stir Fry pairs perfectly with rice or noodles. For a fun handheld variation, you can even roll the filling into vegan egg roll wrappers or rice paper wrappers. If you're looking to add some extra sides to complete your meal, consider trying Smashed Cucumber Salad, Chili Oil, Chopped Kale Salad, or Edamame Crunch Salad.
More Vegan Take Out Inspiration
If you're craving more vegan takeout-inspired dishes, here are some recipes worth exploring:
15 Minute Mushroom Fried Rice
Garlic Sesame Noodles
Orange Tofu
Tofu Broccoli Stir Fry
Sesame Ginger Soy Curls
Sheet Pan Cashew Tofu
If you tried this recipe or any other on the blog, let me know what you thought in the comments below! Don't forget to rate it if you loved it. For more nutrition tips and recipe inspiration, feel free to follow me on Instagram, Pinterest, and TikTok.
★ Catherine
This article contains affiliate links, which means I may earn a small commission if you make a purchase through those links. Rest assured, I only recommend and share products that I personally know, trust, and use myself!